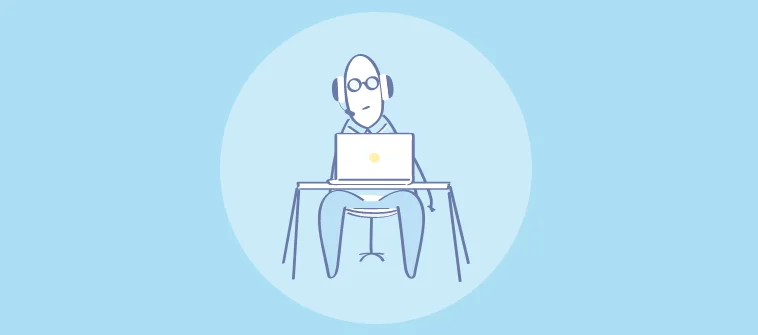 Whether we talk about the people who work in your company or those who buy from your brand – everyone needs timely support.
Yes, service desk software can help you offer delightful support to both internal employees and external customers. In fact, it creates a beautiful snowball effect.
When employees receive timely IT support, they can build and design better products and spend more time understanding customer pain points. And we all know how happy employees lead to happy customers. These customers return to buy again, and this cycle continues.
Sounds too good to be true, right?
Well, the best service desk software can make this a reality. If you wish to know more about this tool, its various types, and best practices, this guide is for you. Later, we will also discuss 13 service desk systems that will help you enhance productivity and service delivery.
What Is a Service Desk?
A service desk is a centralized point of contact for customers or end-users to request assistance, support, or information related to a product, service, or system. It is typically staffed by trained professionals who are responsible for managing and resolving customer issues or requests.
Service desks can be internal, serving employees within an organization, or external, serving customers outside of the organization. They can also be located in-house or outsourced to third-party providers. The ultimate goal of a service desk is to provide excellent customer service, improve customer satisfaction, and increase productivity by resolving issues quickly and effectively.
What Are the Types of Service Desks?
There are 3 types of service desks with their own strengths and weaknesses. Moreover, the type you choose will depend on the needs of the organization and its customers. Let's discuss them right away.
1. Centralized Service Desk
A centralized service desk is a model in which all service desk operations are consolidated into a single location, typically at the corporate headquarters of an organization. This allows for a unified approach to service delivery, standardized processes, and centralized management of resources. This type of service desk can be beneficial for organizations with multiple locations or a large customer base.
2. Local Service Desk
A local service desk is a model in which service desk operations are managed on a site-by-site basis. Each location or department has its own dedicated service desk to handle local requests and issues. This model is useful for organizations with multiple locations or departments that require localized support.
3. Virtual Service Desk
A virtual service desk, also known as a cloud service desk, is a model in which service desk operations are conducted remotely using digital channels such as phone, email, chat, and video conferencing. This allows organizations to provide support to customers and employees from anywhere in the world without the need for a physical location. This model can be especially useful for organizations with a remote workforce or for providing support to customers across multiple time zones.
Read More: Ten Tips on How to Improve Your IT Service Desk
What Are the Responsibilities of a Service Desk Management System?
A Service Desk Management System (SDMS) is responsible for managing how support is delivered to customers, employees, and other stakeholders.
The key responsibilities of a service desk management system include:
1. Incident Management
A service desk system is responsible for managing and resolving incidents reported by end users. The system should be able to track the entire lifecycle of incidents – from creation to resolution. Agents can provide timely updates to end-users and escalate incidents to the appropriate staff members or teams when necessary.
2. Request Management
The system should provide a mechanism for internal employees to request IT services, such as access to applications, software installations, and hardware requests. Moreover, it should also allow external customers to raise requests for password updates, product returns, refunds, etc. With robust request management features, agents can track all ongoing requests in one place.
3. Knowledge Management
The service desk allows your business to create a knowledge base that contains information on known issues, common solutions, and best practices. The information can be compiled in the form of easy-to-search articles, step-by-step guides, video tutorials, and more. This knowledge base should be accessible to end-users and support staff and should be regularly updated.
4. Asset Management
A service desk management system also helps support teams manage company-wide IT assets. The system maintains an accurate inventory of all hardware and software assets in use within the organization. It could help you track the location, status, and history of each asset throughout its lifecycle and schedule maintenance tasks.
5. Service Level Management
Another important responsibility of a service desk system is to ensure that end-users are assisted according to agreed-upon service levels. The system helps monitor service levels and provides reports on service availability, incident resolution times, and other key performance indicators. Agents can quickly view all the tickets that are nearing SLA breaches.
Read More: What is an SLA? Best Practices for Service-Level Agreements
Best Practices for Service Desk Software
Let's explore some of the proven service desk best practices that will help you streamline your support process.
1. Establish Clear Roles & Responsibilities
While deploying service desk software, it's important to let your agents know what their unique roles and responsibilities are. This will help you set the right expectations from the get-go.
For instance, many service desk systems come with multiple roles, such as Admin, Manager, Watcher, and Staff. These determine the level of access someone has to the system. While the manager can access reports, the staff members can view and respond to tickets. A clear distinction of roles and responsibilities will help you avoid confusion and speed up the issue resolution process.
2. Provide Self-Service Options to End-Users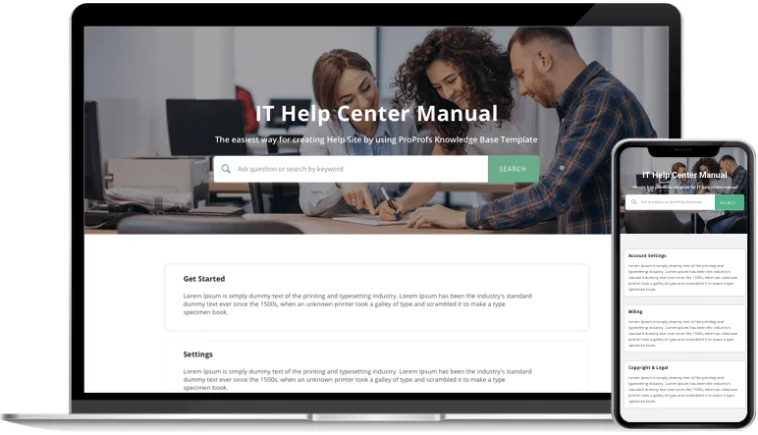 Whether an employee wants to reset their password or a customer wants to learn about your return policies, they do not always have to contact your support team. By promoting self-service, you can reduce the volume of common queries and give agents more time to focus on pressing issues.
Provide self-service options to your customers and employees, such as a knowledge base or online portal, so that they can find solutions to common issues on their own. It's also important to ensure your knowledge base articles are well-categorized and SEO-optimized for a delightful self-service experience.
Read More: How to Reduce Support Ticket Volume in 15 Sure-Fire Ways
3. Customize Your Service Desk Software
Every business is unique, and so are its support objectives and needs. To ensure your service desk is well-tuned to your process, you must make the most of its customization features.
Customization can include configuring workflows, fields, and automation that align with your business processes. For example, you can create custom ticket statuses (Pending with dev, bug report, etc.) for easy categorization of support tickets. In addition, you can even create custom fields to store additional information about issues such as date purchase, cost, etc.
Read More: 10 Ways to Customize Your Help Desk Software
4. Automate Repetitive Tasks
Service desk applications are designed to help your team achieve more in less time. With powerful automation features, you can avoid repetitive tasks and enhance agent productivity.
There are multiple processes you can automate using the service desk system. For example, you can automate the ticket routing process so agents don't have to waste time picking tickets manually. Similarly, you can create canned responses for common situations to avoid typing similar responses over and over.
Read More: 10 Service Desk Automation Ideas that Boost Performance and Quality
5. Measure Service Desk Performance
How do you know if end-users are happy with the support they receive? Is your team performing as per the set expectations? There is only one way to find out – reports and analytics.
To make your service desk a hit, you need to consistently measure the right metrics and KPIs. Monitor and analyze key performance metrics such as resolution times, customer satisfaction ratings, and ticket volume. This helps you identify areas for improvement and measure the success of your service desk.
Read More: 15 Help Desk Metrics to Improve Customer Support
Top 13 Service Desk Software Systems
This brings us to the main section of this blog. If you need help deciding which tool to pick for your team, we are to help. Here are 13 top service desk software you can consider this year.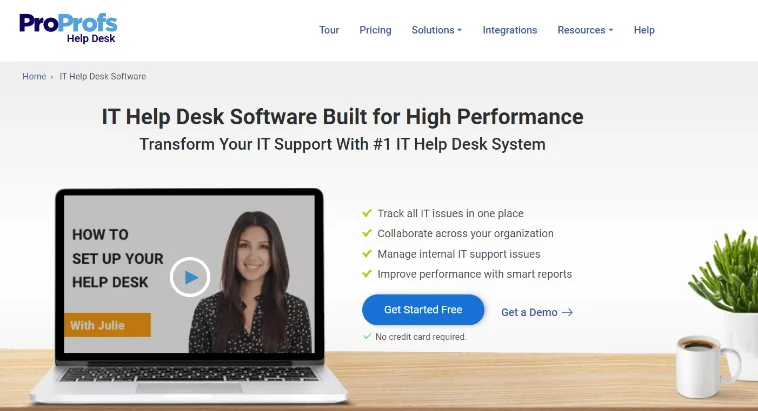 ProProfs Help Desk is designed to help IT support teams offer uninterrupted service to internal employees and external customers. End-users can share their requests or issues through multiple channels, such as email, live chat, chatbots, web forms, the help center, and more.
The tool helps your support team collaborate with one another and other departments using powerful internal collaboration features. For instance, agents can add notes to tickets, view who is working on what, and create canned responses for faster replies.
Top Features of ProProfs Help Desk:
Automatically route incoming tickets to the appropriate team members
Develop chatbots to automate customer service on your website
Capture in-depth information about tickets using web forms
Break complex tickets into multiple child tickets and assign them to different departments
Track ticket response times, resolution times, CSAT, and other help desk metrics
Pricing:
Starts at $20/agent/month (billed annually).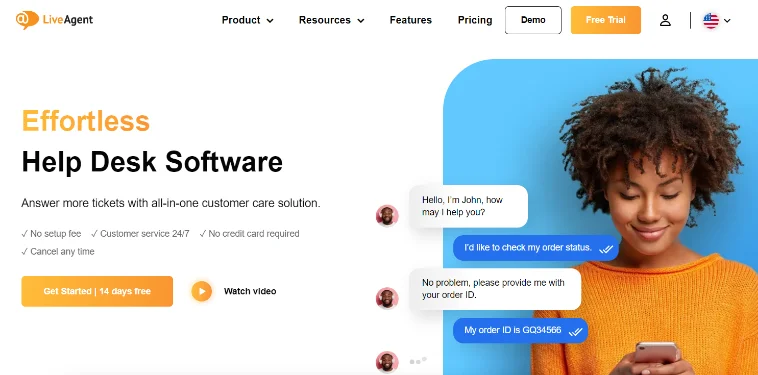 LiveAgent is a cloud-based service desk software that provides a range of customer support tools for businesses of all sizes. It offers features such as ticket management, live chat, social media integration, and knowledge base management.
LiveAgent also includes automation and reporting capabilities to help businesses streamline their customer support processes and improve their customer satisfaction levels. It is designed to be user-friendly, customizable, and scalable, making it a suitable solution for businesses in various industries.
Top Features of LiveAgent:
Create canned responses for common queries to enhance productivity
Use built-in contact forms to capture relevant information about tickets
Share automated email notifications for different ticket updates
Merge tickets that are similar in nature to avoid duplicate work
Choose from multiple customizable chat invitations
Pricing:
Starts at $9/user/month
Read More: Best Live Agent Alternatives for 2023
Compared to other service desk solutions in the market, Help Scout is quite easy to use. Your team can quickly get started with this tool and start resolving customer issues and requests in no time.
With the shared inbox feature, multiple agents can access emails using different team inboxes such as help@, billing@, and info@. Moreover, they can easily see who is working on what to avoid wasting time on duplicate work.
Top Features of Help Scout:
Access all support-related conversations and context in one place
Reduce support volume by creating a dedicated help center
Answer service requests across email, chat, and Messenger
View the complete customer information to offer personalized support
Collaborate on the move with Android and iOS mobile apps
Pricing:
Starts at $20/user/month
Read More: Best Help Scout Alternatives for 2023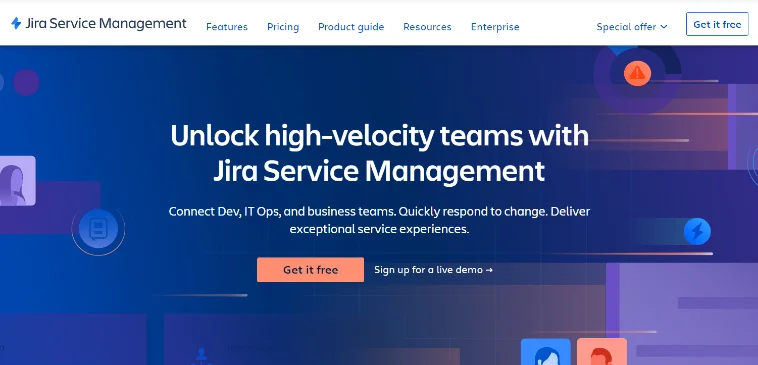 As a popular ITSM tool, Jira Service Management helps you connect your IT support teams with multiple other departments. With an open, collaborative platform, you can track tasks and work across the organization.
Jira Service Management ensures that everyone in your team is on the same page. For instance, you can keep stakeholders updated through different notification channels such as email, SMS, and mobile push.
Top Features of Jira Service Management
Track IT assets for improved inventory management
Share relevant help center articles wherever they are needed to deflect tickets
Leverage Jira's form builder to obtain all details about a request or incident
Integrate Jira with multiple other tools such as Salesforce, Zoom, and AWS
Take control of your service desk on the move with iOS and Android mobile apps
Pricing:
Starts at $47/user/month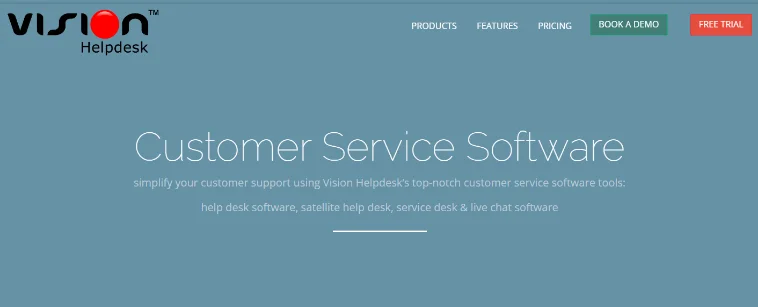 Vision Helpdesk enables your customer service staff members to receive, access, process, and respond to service requests and incidents. You can decide specific actions for the system to take if an SLA is not maintained by your team.
With the help of this tool, you can centralize all your support conversations taking place on the phone, chat, email, and social media channels. In addition, the tool helps you gamify your help desk platform through agent achievement levels and goals. This is a great strategy to keep your staff motivated and performing at their best.
Top Features of Vision Helpdesk:
Automatically close tickets if no client response is received
Create custom email response templates to enhance productivity
Send automated email alerts to staff members on certain conditions
Assign multiple tasks to support agents within seconds
Create round-robin rules to automate your service desk workflows
Pricing:
Starts at $12/user/month
Read More: Best Vision Helpdesk Alternatives for 2023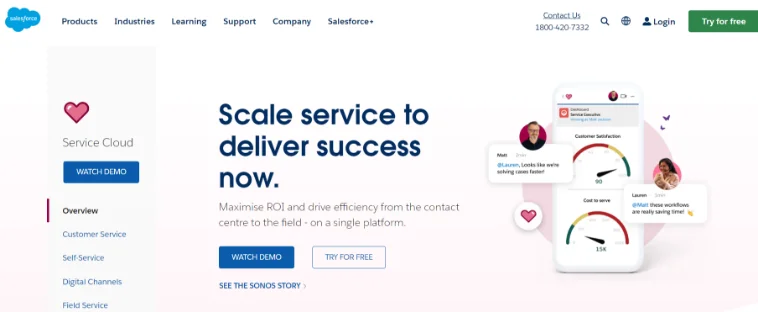 When people think of Salesforce, they often think of the popular CRM tool. However, the company offers an equally impressive customer service software called Salesforce Service Cloud.
You can build a self-service portal to empower customers to find answers on their own terms. With robust field service features, you can allow field agents to connect with one another, increase efficiency, and schedule tasks on the move.
Top Features of Salesforce Service Cloud:
Build mobile-responsive customer portals and communities
Share automated responses on WhatsApp, Facebook Messenger, and via SMS
Invite customers to chat with proactive chat invitations
Deflect routine requests with AI-powered chatbots
Allow field agents to view knowledge base articles and track SLA compliance
Pricing:
Starts at $25/user/month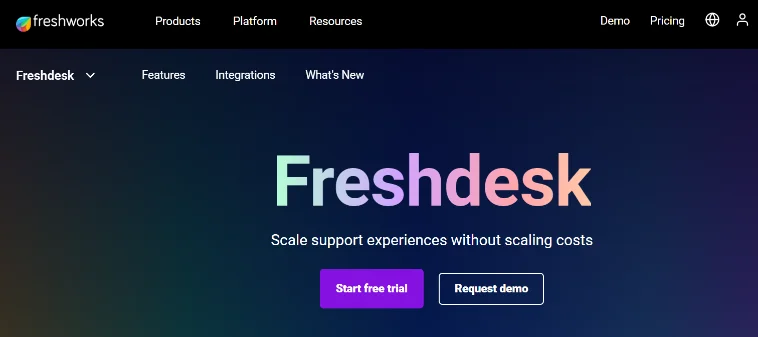 Freshdesk is an omnichannel service desk system allowing support teams to capture issues from multiple channels – email, phone, live chat, forms, social media, and web forms.
Freshdesk makes it easier for agents to prioritize, categorize, and distribute tickets to the right agents. Moreover, you can even use this tool to automate routine questions with AI-powered chatbots.
Top Features of Freshdesk:
Keep track of common issues and link related issues together
Engage prospects on live chat and never miss a website visitor again
Automatically display knowledge base articles to customers as they type
Provide support to customers on WhatsApp
Enable field agents to pick up tasks and update information on the go
Pricing:
Starts at $15/user/month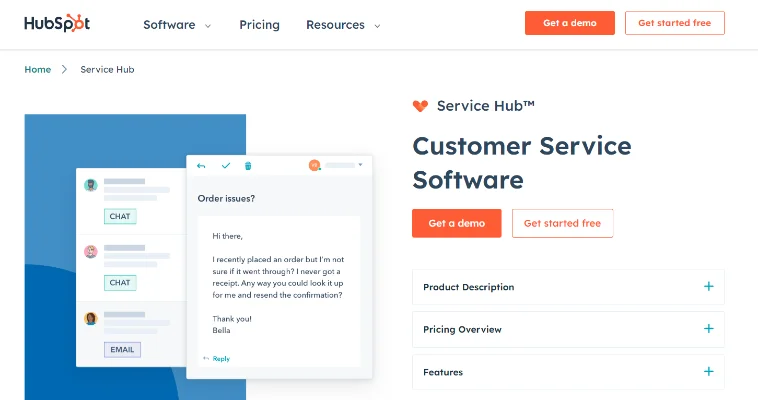 HubSpot Service Hub is a remarkable service desk management tool that comes with a simple interface. With integrated ticketing and CRM capabilities, you can assist, retain, and grow your customer base.
HubSpot Service Hub also offers features like ticketing, automation, knowledge base, and customer feedback collection to enhance the overall customer experience. One major drawback is that the tool is quite expensive, making it unsuitable for startups or small business owners.
Top Features of HubSpot Service Hub:
Reduce the number of support requests and issues with a knowledge base
Create a secure customer portal to allow them to track the progress of tickets
Automatically route chat conversations to the right team members
Deploy NPS, CSAT, and custom surveys to capture valuable feedback
Monitor support volume, chat wait time, and other relevant metrics
Pricing:
Starts at $450/month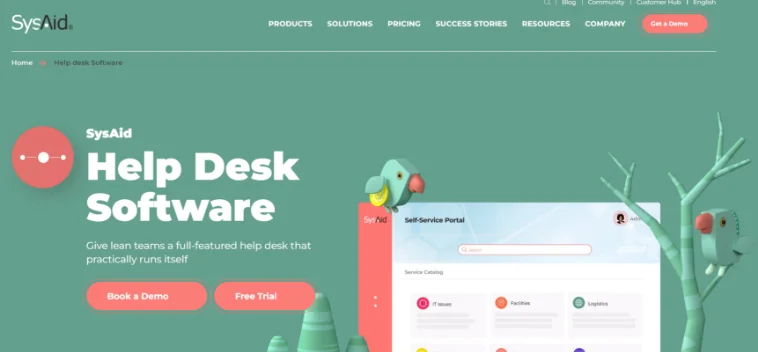 SysAid offers full-fled help desk software that comes with powerful automation features and capabilities. With self-service options such as automated password resets, you can give end-users the ability to resolve common problems on their own.
In SysAid, every incoming support is automatically sorted and routed to the right agents or teams. Moreover, agents can access all the records and data inside a ticket to speed up the issue resolution process.
Top Features of SysAid:
Allow agents to directly connect to users' machines with remote control features
Improve service performance with all the KPIs you need in one place
Prioritize help desk issues based on different factors
Assign due dates to tasks based on criteria, urgency, and SLA
Share automated reminders with support agents and customers
Pricing:
Get in touch with the company for a quote.
Read More: Best Sysaid Alternatives for 2023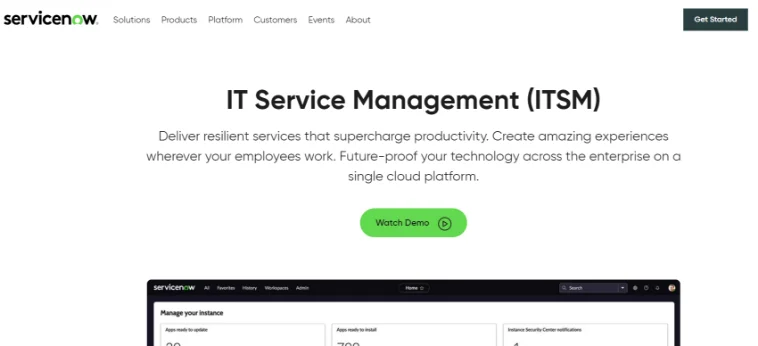 ServiceNow ITSM (IT Service Management) is a cloud-based platform designed to help organizations manage their IT operations and services. It is a popular choice for organizations of all sizes and industries, including healthcare, finance, and government.
This IT service desk software provides a wide range of tools and functionalities for managing incidents, service requests, changes, problems, and other IT-related tasks. IT support teams can easily customize their workflows, automate repetitive tasks, and improve service delivery.
Top Features of ServiceNow:
The tool can be used by IT, HR, Facilities, and other departments
Improve the self-service experience with conversational AI
Discover opportunities to automate workflows and processes
Anticipate service trends with real-time analytics and statistics
Integrate your tool with Adobe, DocuSign, and 3CLogic
Pricing:
Get in touch with the company for a quote.
Read More: Best Servicenow Alternatives for 2023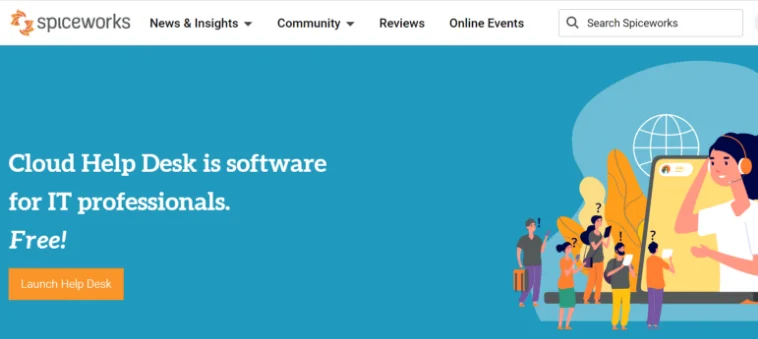 Spiceworks offers free service desk software that can be used by your team to manage end-user requests and complaints. Since the tool is free, Spiceworks users are made to view ads which can hamper their experience.
Powerful features such as ticket rules, custom ticket attributes, automated alerts, and reports make this tool a popular choice among customer service professionals.
Top Features of Spiceworks:
Commence a secure remote support session directly from support tickets
Receive push notifications on your Spiceworks mobile application
Allow users to raise requests via phone and email
Track ticket close time, first response time, and other important metrics
Use custom fields to add more data on tickets
Pricing:
Spiceworks is free for all users.
Read More: Best Spiceworks Service Desk Alternatives for 2023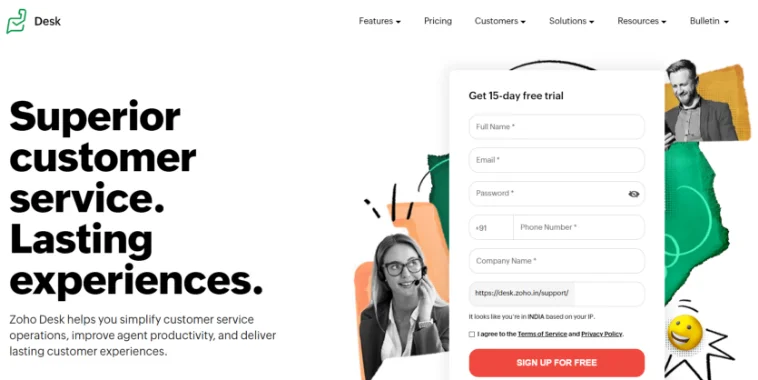 Zoho Desk is a context-aware service desk tool, meaning that your agents can get all the context needed to offer quick and personalized interactions. Your support reps can access powerful automation capabilities to stay organized and productive.
The best part about Zoho Desk is that it can be integrated with multiple applications that your business already uses. For instance, you can integrate it with other tools such as Slack, Mailchimp, Twilio, and, most importantly, Zoho CRM.
Top Features of Zoho Desk:
Be available for your customers in an instant via live chat
Automatically share relevant knowledge base articles with customers
Track the time spent resolving every service desk ticket
Create multiple templates for email notifications and online forms
Integrate with Zoho CRM to access complete customer information
Pricing:
Starts at $12/user/month
Read More – Zoho Desk Alternatives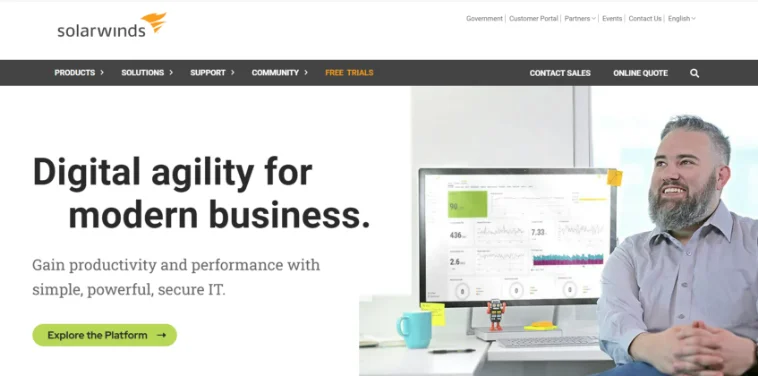 SolarWinds Service Desk offers a cloud-based ITSM platform to accelerate issue resolution and maximize productivity. The tool comes with the incident, change, problem, and release management modules to fulfill all your IT service needs.
Another plus point of this tool is that it helps you track performance with easy-to-understand reports. For instance, customer satisfaction (CSAT) scores and service level agreements to gain operational insights.
Top Features of SolarWinds Service Desk:
Track and manage the complete lifecycle of IT assets
Create a service catalog to deliver consistent quality in service delivery
Manage tickets submitted via phone calls, email, and chat
Automate ticket distribution and other repetitive tasks
Deflect repeat issues with a vast knowledge base
Pricing:
Starts at $19/user/month
Read More: Best Solarwinds Service Desk Alternatives for 2023
How to Choose the Right Service Desk for Your Company
Choosing the best service desk software can be a daunting task if you do not know where to start. However, there are several factors you should consider to ensure you make the right choice.
1. Define Your Unique Requirements
The first and foremost step is to understand your requirements. Before you start looking at different service desk software options, you should know why your team needs the tool in the first place. Make a list of the features and capabilities you need from the software. For example, do you need a self-service portal, asset management, or incident management? This will help you narrow down your options.
2. Evaluate the Ease of Use
This goes without saying. Look for a service desk solution that is easy to use for both your IT support staff and end-users. The software should have a user-friendly interface and be intuitive to navigate. This will save you time and effort in training your staff and will increase user adoption.
3. Consider Scalability
If you are a growing business, you should consider the scalability of your service desk system. Scalability basically means the system's ability to handle a growing number of support requests and users without any hurdles. This is important because if your tool does not offer scalability, you will have to switch to a different tool as and when your business grows.
4. Look for Integration Capabilities
Software integrations can help you enhance the overall capability of your service desk and ensure multiple teams can collaborate to enhance the service experience. Your service desk software should be able to integrate with other tools and systems you are already using. This will help you streamline your workflows and reduce the risk of errors.
5. Evaluate Customer Support
Whenever you adopt any software for the first time, there are good chances you will face issues you never faced before. As a result, it makes sense to look for a software vendor that provides excellent customer support. You should be able to get help quickly if you run into any issues or have questions.
Delight End-Users With Service Desk Software
No matter what business you run, complaints and issues are inevitable. However, how quickly and efficiently you manage end-user requests can make or break their trust in your support process.
Service desk software is a valuable tool for any organization looking to enhance the service experience. With its various features, such as ticket tracking, automation, and knowledge management, a service desk system can streamline workflows and improve customer satisfaction.
If you are looking for an automated service desk software, ProProfs Help Desk can be a good option. By centralizing communication and providing real-time updates, the tool facilitates better collaboration between different departments of your organization. The best part is that you can reduce your ticket volume through self-service channels such as a knowledge base, customer portal, and chatbots.
Do you want a free Help Desk?
We have the #1 Online Help Desk Software for delightful customer support