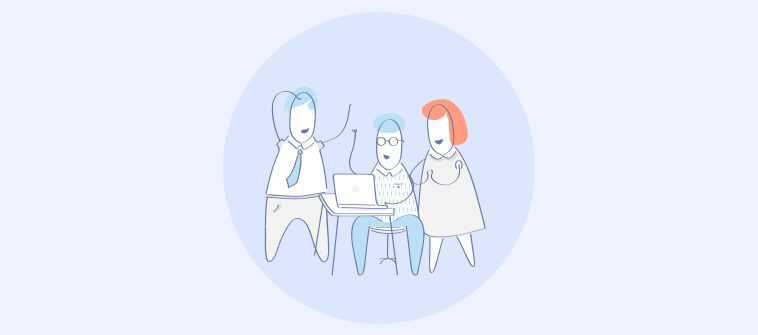 Every business in this world, whether it's a Silicon Valley startup or a Global business giant like Microsoft, has customers who demand top-notch assistance.
The truth is that your business will have to deal with innumerable issues, requests, or complaints as long as your business has customers.
In such a situation, a help desk software can prove to be a business savior and help your business manage customer requests in a breeze.
Businesses worldwide leverage help desk management software to automate processes and organize workflows. However, the help desk needs to be optimized to maximize its benefits for the business. This blog lists 15 help desk best practices and principles that will help you offer best-in-class assistance to customers round the clock.
What are the Important Help Desk Best Practices?
For exceptional customer service, it's important to have a high-performing help desk that goes above and beyond expectations and makes everyone's life easier.
In order to improve, you need to be aware of your current practices and also about the practices being followed by your competitors. The following are some of the top help desk best practices that growing businesses need to follow-
15 Important Help Desk Best Practices
Help Desk Practice 1: Start With the Existing Process
While employing help desk management software, most businesses think of building the infrastructure from scratch. So, they leave their existing processes and create a new process. Such organizations are required to re-train their service team and familiarize them with new procedures. Hence, it wastes a lot of time in training.
Furthermore, it may even confuse customers who are accustomed to the existing system. It is, therefore, better to integrate help desk software with an existing system. The software can be used to streamline and simplify current processes.
When you exploit help desk management software while keeping your existing processes intact, you don't need to train your agents. Instead, your representatives can devote more time to having quality conversations with end-users.
Help Desk Practice 2: Grow Iteratively
Slow and steady wins the race, which is a tried and tested strategy that applies very effectively to every business and organization. So, instead of making gigantic changes, it is better to make small improvements in the help desk system. The businesses that grow promptly are most likely to crash as many organizations fail in handling massive increases in the workload with their limited resources. An organization should start with new and smaller projects. The agents can then work on these small improvements and lead to iterative growth.
Help Desk Practice 3: Design Help Desk Catering to User Experience
Focusing on the user experience is a service desk best practice that often gets overlooked. The primary aim of the help desk management system is customer satisfaction. So, user experience should be considered while designing the help desk management system. User experience entails emotions, attitude, and experience that end users have while using the products/services.
The help desk should be designed to provide a meaningful experience to the users. You can think of creating an engaging interface, simple navigation, and efficient processes.
To create the best help desk software based on user experience, agents must collect feedback from the customers regularly. The feedback should be related to the needs and desires of customers. Then, changes should be made in the help desk system to make it customer-centric.
Help Desk Practice 4: Create a New Ticket for Every Customer Interaction
Since customers are at the core of every business, so every interaction with them is important. One of the best help desk best practices is to create a new ticket for every interaction with patrons.
This facilitates the business in keeping a track of open cases and in keeping information of the users updated. A record of all complaints about a single user is kept, which allows businesses to provide proactive and personalized customer support. So, you should create a new ticket for every in-person conversation, email, social media message, online request, phone call, alert, message even if it is from the same user.
Help Desk Practice 5: Offer Value to Customers
Customer is a key component of every business model, and delivering value to customers should be included in the list of help desk management best practices. Every business should strive to offer optimal value to its customers.
The purpose of a support interaction should not be to just resolve a particular issue. Ask your support agents to have deep conversations with customers and understand the other challenges they might be facing. They can share links to self-help articles or guide the customer by showing how your product can solve their problem. A meaningful conversation can go a big way in ensuring your customers have a delightful support experience.
Help Desk Practice 6: Organize Training Sessions for Your Agents
In the customer service industry, there is always room for improvement. To instill the core business values in your agents and ensure they are updated with the latest tools and trends, you must organize regular training sessions.
You should train your support team to go the extra mile to delight customers. They can hone their skills and expand their knowledge in areas where they need improvement. Train them to learn key customer service skills as a small empathetic or personalized gesture can gratify customers and build customer loyalty. So, your support team should be ready to do something out of their normal procedure to solve the issue of customers.
Read More: How to Develop Your First Employee Training Program
Help Desk Practice 7: Encourage Team Collaboration
Collaboration in team members is important not just for the organization but also for the customers. Collaborative efforts of the cross-functional team allow quick resolution of issues related to end-users.
With a robust help desk system, different departments can check open tickets and work closely to solve issues without delays. For instance, your finance team can update your customer service team on whether a customer is eligible to get a refund for a product that he bought last month. Or, the delivery team can update your customer service reps about the expected delays in deliveries that customers might encounter.
Read More: Enhance Service Process with Customer Service Collaboration
Help Desk Practice 8: Work Holistically
According to this principle, the help desk team should consider the whole value chain instead of focusing on a single process or activity. When a user contacts the help desk, the service team should consider a broader picture in mind. The concerned agent should think of how the issue can impact business and give an all-inclusive solution.
The solution provided by a customer representative should be such that it helps customers to achieve their intended outcome. For instance, a technical expert should not just offer technical help, but he should offer other solutions to fully resolve the issue.
Help Desk Practice 9: Focus on Transparency
An organization should offer transparency to customers at all times. When the customers are aware of the processes, systems, and status of their complaint requests, they tend to trust the organization even more. A transparent process can help you in establishing rapport with customers and in growing your customer base.
All businesses that are known for their awesome customer service facilitate sound communication between customers and support representatives and enhance transparency. To prioritize transparency, you can automate the updates to keep customers in the loop. With this, customers exactly know what is happening from time to time. This not just saves the time of your agents, but also reduces emails from customers seeking an update.
Help Desk Practice 10: Document Service Level Agreements (SLAs)
Service Level Agreements (SLA) define the quality of both internal as well as external services that are delivered by a business to its customers.
The SLA must be used to track performance against business objectives. It facilitates measuring the success of services based on expectations set. However, tracking SLAs is difficult as businesses are stuck in raw data. Using robust help desk management software is the best solution in such cases. The software uses tools to find metrics like how long it will take to fix an issue.
Help Desk Practice 11: Document Processes
Whenever a new help desk representative or a technical specialist enters the team, he may face problems in understanding the process. So, organizations must ensure quick on-boarding. This will allow every team member in helping customers in a time-efficient manner. For this, processes can be documented along with highlighting the different ways to solve different issues. So, new representatives can use predefined processes in solving customers' issues quickly.
Help Desk Practice 12: Capture Customer Feedback
There is no point in building a great customer service process if customers are left discontent after a support interaction. You must capture customer feedback right after a ticket has been resolved. Most help desks such as ProProfs Help Desk allow you to share automated survey emails.

Why should you capture customer feedback?
Customer feedback can help you measure the success of your customer service efforts through the eyes of your customers. You can ask your customers questions like- 'How was the experience of interacting with our support agent today?' or 'Was our support representative able to resolve your query today? The answers to these questions can help you measure customer satisfaction and reveal how your agents are performing.
Help Desk Practice 13: Examine Operational Costs
The best way to ensure effective IT helpdesk management is to examine operational outputs. The most important parameter is the cost. So, you need to find the operational cost of providing effective IT helpdesk services related to each ticket raised. After getting an indication of the cost, you'll be able to decide which issue can be resolved quickly and economically.
Remember that there is a subsequent to running any tool or any business process. Once, you have the costs under control, you can keep your business running while keeping your customer happy at the same time.
Help Desk Practice 14: Measure Performance
Capturing the right customer service metrics is considered one of the best practices for help desk support. You need to target the right Key Performance Indicators (KPIs) for well-streamlined operations.

Keep a firm track of your ticket volume which indicates the total number of tickets received by your team over a given period of time. Keep the number of open or unresolved tickets to a bare minimum. Moreover, to measure individual as well as team performance, track metrics such as average response time, first contact resolution, and customer satisfaction.
Help Desk Practice 15: Choose the Service Provider Wisely
While choosing a service provider for your free help desk software, you should act wisely. You should check all the features and offerings along with the costs to crack the best deal. You must ensure that the chosen help desk software offers enough scalability to offer end-to-end support.
The purpose of using a help desk management tool is to improve your workflow, streamline operations, improve business, and gratify customers. So, you should select software that aligns with your business goals. It should also include all the integrations and features that you need.
Ready to Optimize Your Help Desk for Awesome Support?
Just knowing about the help desk's best practices is not enough. You need to give your team enough time to completely understand and implement the best help desk procedures.
These were the top 15 help desk best practices and principles that every business should implement. You can execute some or all of these in your organization to optimize help desk management. If you are looking for the best help desk software that can take your support operations from average to awesome.
Do you want a free Help Desk?
We have the #1 Online Help Desk Software for delightful customer support