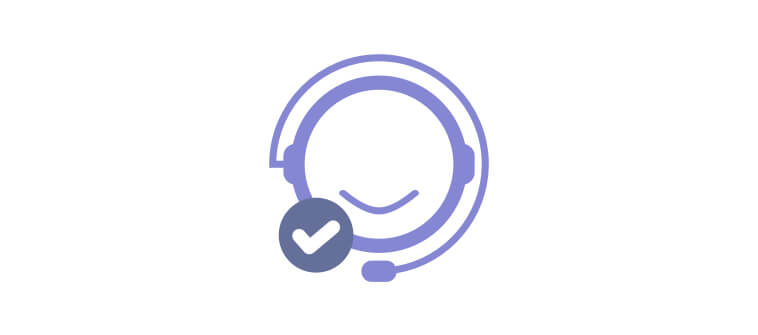 Customers today want their voices heard and problems resolved with the minimum turnaround time (TAT). Customer service, thus, is now recognized as the primary focus for enhanced customer interaction, loyalty, and retention. It is a key brand differentiator that rewards businesses with better brand loyalty and increased revenue.
Sixty two percent of companies perceive customer experience delivered by contact centers to be a competitive differentiator. Businesses with a well-crafted customer service approach do experience 92 percent customer retention. It is 6-7X costlier for companies to attract new customers than retaining the existing ones. These figures emphasize the importance of delivering a delightful customer experience.
Remember that a successful business growth strategy places focus primarily on customer service for ensuring survival. A help desk is a must-have customer service tool in this regard.
Dig in to know how choosing the right help desk helps to deliver the best customer support.
How Choosing the Right Help Desk Delivers the Best Customer Support
Here is a step-by-step buyers' guide to choosing the best help desk software:
1. Define great customer service
There is nothing like a good or bad help desk software. You don't need to be too choosy while selecting one. Remember the right customer service tool for your business is the one that lets your customer support team consistently and effectively serve their customers.
It is prudent to make an informed decision before you start comparing the features of different customer support tools.
2. Figure out customer expectations
What customers hate the most is to wait for getting answers to their queries. Most businesses are online now, and if you have an online store too, you better know your customers well. They expect timely responses from your customer support team, which ensures their satisfaction at the end of the day. You have to use multiple channels, knowledge base and foremost, a help desk ticketing system to live up to your customers' expectations.
3. Check for support teams' needs
A company has a responsibility to ease the lives of its employees and make it stress-free. This is particularly true for customer service teams since they handle a lot of stress. Agents' productivity and operational efficiency are dependent on the help desk ticketing software to a greater extent. Since it ensures faster ticket resolution, agents have more time left to themselves for delivering a delightful customer service experience. So customer success managers (CSMs) and administrators need to realize the significance of an Effective IT help desk solution for their customer support team.
4. Drill down key help desk features
a) Issue Tracking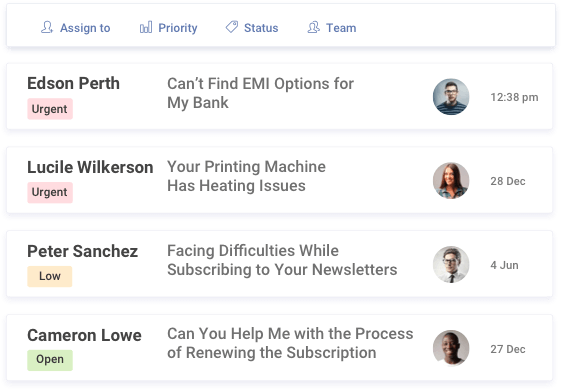 Issue tracking is one of the primary features of help desk software. Your agents can place all customer queries in a single place; thus, tracking becomes easy and fast. No customer issue would be missed, left unattended or, unresolved. Besides, there is a quicker ticket resolution, which makes for excellent customer service.
b) Ticket Prioritization
Ticket prioritization is one of the primary features you should look for while selecting a help desk software. Not only can you track customer issues appropriately, but also prioritize them. Prioritizing issues using labels, child tickets, and status ensures proper ticket resolution. You can also use filters to sort tickets based on assignee, status, and milestone.
c) Shared Inbox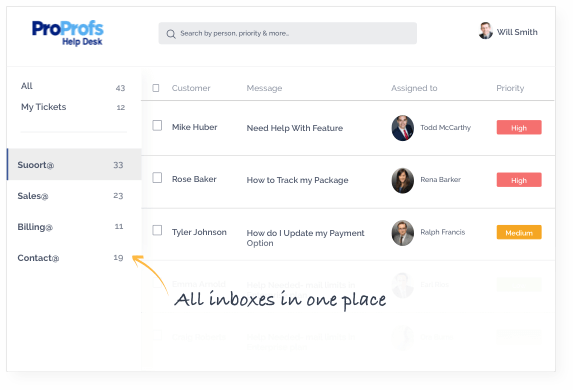 A shared inbox feature is what you need to look for while buying a help desk software. Your customer service software with an email-like interface should efficiently manage all customer-facing inboxes. When your agents can view and access shared inboxes such as [email protected], [email protected], [email protected], [email protected], and [email protected], they know who is working on what. Such information leads to timely responses and ultimately, happy customers.
d) Canned Responses
There may be times when your agents fail to respond to customers quickly. This is when canned responses come to your rescue. With these pre-populated and rule-based automated messages, you can automatically communicate at the time of ticket creation, update, assignment, and resolution. Improve your agents' performance and efficiency by using this unique help desk feature.
e) Team Collaboration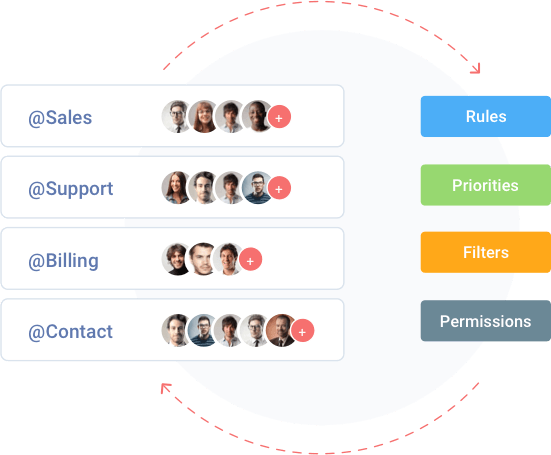 As a business, you comprehend the complexity of your customer issues. You may need more than an individual or department to resolve a ticket completely. A help desk software acts as a collaborative email to trigger a ticket resolution process. It comes with many collaboration tools that allow you to add internal comments and notes. Customer interaction history, alerts, sub-tickets make your agent's job simpler.
Help Desk Managers and CSMs gain the ability to label and mark tickets and assign them based on priorities. Besides, creating child tickets helps to track internal subtasks. Agents can get inputs from different individuals and teams. Reviewing the progress of your agents based on their ability to resolve customer issues comes in handy with the ticketing system.
f) Smarter Workflow
When your agents track all customer interactions with different individuals or departments through a shared inbox feature, they stay organized. There is no hassle of long CC emails. To ensure smarter workflow, you can create users and organize them into teams based on their roles and functions. Managing permissions, task assignments, and roles, thus, becomes easy. You can even set your workflow rules around priorities, filters, and service level agreements (SLAs).
g) Knowledge Base
It is profitable for your business to look for Knowledge Base in the best help desk ticketing software. This self-service tool helps to ward off tickets. It is similar to a primary defense line against customer queries. With Knowledge Base, you can provide answers to frequently asked questions, publish information about product features, pricing or whatever you want your customers to learn. Most importantly, it helps you with content optimization.
h) Chat Support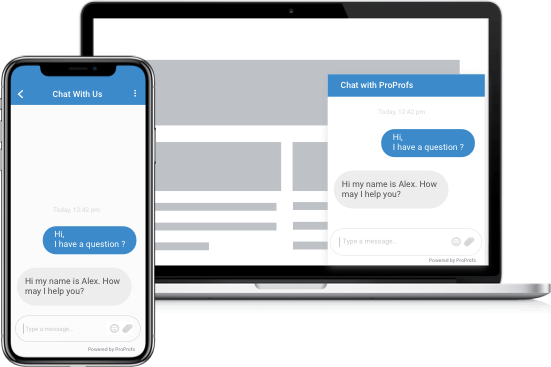 You cannot overlook live chat support when choosing a customer service software. Live chat helps to provide real-time support from within the help desk software. Since you can't be available online 24/7, the software you choose should allow automatic conversion of chat queries into tickets. Live chat queries are nothing less than sales opportunities. There is a higher probability of lead generation, and ultimately sales through this help desk feature.
i) Integrations
A Help Desk Software integrated with a Survey Maker leads to smarter employees and happier customers. Real-time customer surveys and Net Promoter Score (NPS) surveys help your customers to rate their service experience instantly. It becomes easy to monitor help desk ratings over time, capture customer feedback and improve it with targeted training.
Access to surveys and smart reports helps to keep track and assess your agents' performance, both individually and in teams.
5. Scalability is the key
Neglecting the scalability factor while purchasing a help desk software can be detrimental to your business growth. You need to check with your help desk sales and success teams if the solution you are considering can support a large volume of customers.
Scalability is the core element of any customer support software. Let us say, you have a small team at present but, business could expand at some point in the future. With business expansion, you need to empower your customer service team with a robust help desk ticketing system to handle the rising volume of customer queries.
A scalable and future-proof software helps you better manage customer communications and collaborate teams efficiently without losing on any customer queries.
Other Factors
Transparency, backups, reliable system uptime, data security, and portability are the other factors that determine the choice of help desk software. Opt for a company that provides you with real-time performance and historical data on your system performance and uptime. Safety and security of your crucial data would be in the hands of software companies. They run high-end servers protected by advanced security software for full data backup.
Besides, there should be multiple layers of data security; Cloudflare CDN, being the first layer of data security and SoftLayer, being the second layer. As a business, you should have full control over your data with security options for password protection and granting or revoking user access.
Try ProProfs Help Desk; We're a Little Biased!

Now that you know how to choose help desk software, you may try ProProfs Help Desk. The software offers a fantastic opportunity to rethink your customer support strategy and simultaneously streamline operations in the same direction.
Gear up for smarter, organized workflow with the most intelligent software!
Do you want a free Help Desk?
We have the #1 Help Desk for delightful customer support starting at $0