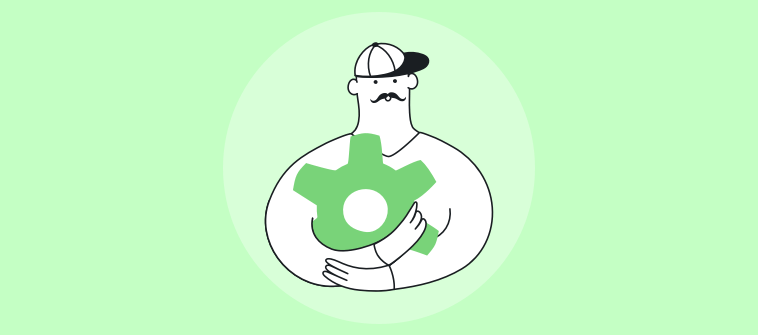 Are you looking for customizable help desk software that fits perfectly into your team?
Let's be honest, despite having similar goals, no two customers service teams are the same. They differ in aspects such as team size, workflow, hierarchy, and even how they monitor their performance.
The best thing about help desk customization is that you can mold it according to your needs. Although best help desk software comes with useful default options, you can leverage out-of-the-box customizations to deliver a personalized support experience.
To customize your help desk, you do not have to be a software developer or a technical guru. You can implement simple configurations with minimum effort and make the tool work for you.
Right from branding to generating custom reports, we have got you covered. In this blog, we will understand the importance of help desk customization and explore 10 ways of doing the same.
Let's go!
How to Customize Your Help Desk Software
It is important to note that the modern help desk software is not simply a ticketing system. In addition to ticket management, you get tools such as knowledge base, live chat, survey, etc., that you can customize for a delightful, consistent, and 360-degree support experience.
Do you wish to learn how to customize your help desk? Here are 10 tips that you must check out.
1. Assign Agent Roles & Permissions
Every customer service team comprises different people who have different roles and responsibilities. To create a custom help desk, you need to assign roles and permissions to everyone who will use the ticketing system.
Agent roles and permissions give your company the ability to control what users can and cannot do. For instance, ProProfs Help Desk offers 4 pre-defined roles: Super Admin, Admin, Manager, and Staff. Super Admin is the account that originally signed up for the help desk. Admins are added by the super admin and have the same privileges as them. A manager is an agent who can manipulate the inboxes they have access to. Staffs are agents who can manage, prioritize, and resolve tickets of the inbox they have access to.
A clear distinction of roles will ensure your team members understand what is expected of them and avoid stepping on each other's toes.
2. Help Desk Branding
Branding is an important element of customizing help desk software. You can customize how your help desk appears to agents, customers, or other key stakeholders.
To give your customer service team a unique meaning and identity, you can add subtle yet important branding touches to your help desk. For example, ProProfs Help Desk allows you to express your brand identity through your brand logo & colors.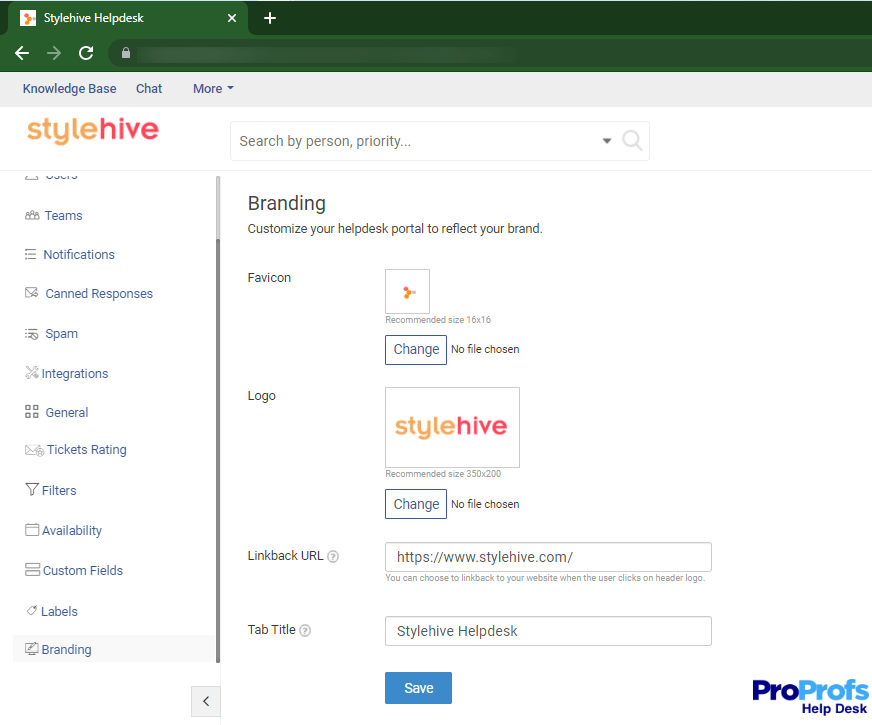 You can customize branding elements such as:
Favicon: Favicon is a small icon image that is displayed in a browser's address bar or next to a website name in the bookmark list.
Logo: To make your brand stand out, you can add your company logo. For best results, you must upload an image of the recommended size.
Linkback URL: Linkback URL is the website link to which users are redirected when they click on the header logo.
Tab Title: Tab title is the name that appears on the browser tab. When agents have multiple tabs open in their browser, they can easily locate their help desk dashboard.
3. Add Context With Custom Fields
Has it ever happened to you that you wanted to record additional data about a ticket, but there was no way of doing that? Well, "custom fields" is an important feature that can offer some help.
Custom fields are used to add additional information about a ticket. It enables your agents to track more details about a ticket and speed up the resolution process without any confusion. For instance, you can create a custom field about software bugs, and your team can use the custom fields to specify the type of bug even before the ticket is assigned to an agent.
Depending on your data-capturing needs, you can create seven types of custom fields in ProProfs Help Desk. You can add information using a drop-down, text box, multi-line, checkbox, date, numeric value, decimal, etc. You can even generate custom fields reports and access them in the Reports section.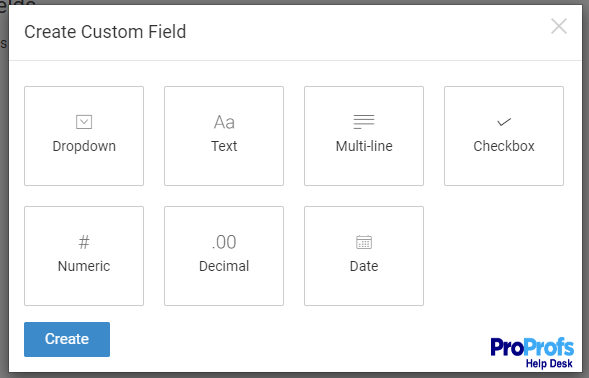 4. Customize Tickets With Labels
When you receive many customer issues or requests, it is always advised to keep your tickets well organized. Labels can help agents understand a ticket better and manage multiple issues quickly. But what are Labels?
Labels are like ticket tags that you can use to differentiate tickets based on their nature, what they are about, which team do they concern and so on. For instance, you can create labels such as 'Billing', "Error 407", "Bug", etc., and add them to tickets that fall under such categories.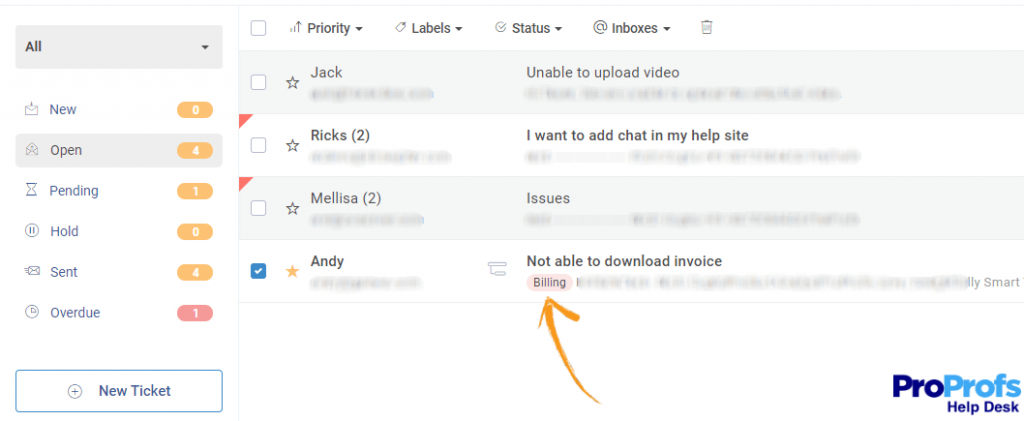 The labels appear in different colors with the ticket preview, as shown in the above screenshot. This helps agents easily identify tickets, prioritize them accordingly, and assign them to relevant teams or members without opening them.
5. Create Email Signatures
An email signature is another remarkable feature of a customizable help desk solution. An email signature is a personalized block of text that automatically appears at the bottom of an email message. When you respond to a ticket via an email ticketing system, the signature appears as a footer.
Along with the name of the agent or manager, you can customize the signature to include their designation, contact number, useful links to your website, web page, etc. To add a visual touch to emails, you can even insert your image. Here is how the email signature setting looks like: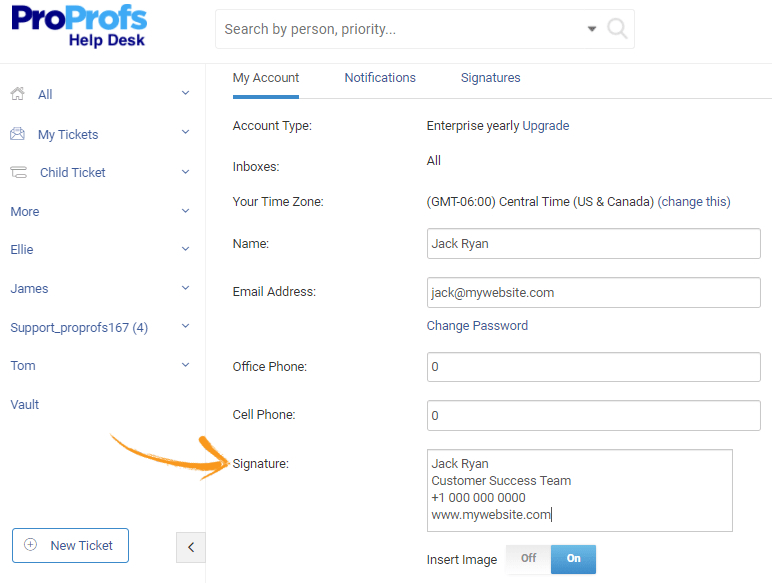 You can even create inbox-specific signatures so that every response sent from that inbox is consistent. For example, you can create unique signatures for your shared inbox such as support@, billing@, returns@, contact@, etc. This is a great way to make your emails appear professional and establish trust with your customers.
Read More:  10 Shared Inbox Best Practices for Lightning Fast Email Support
6. Customize Your Help Center
Your help desk tool customization is incomplete without creating a help center or knowledge base that matches your brand's unique personality. To leave a lasting impression and enhance the self-service experience, you can customize the home page of your help center.
The Homepage consists of various elements such as the top header, header, search bar, theme, categories, etc., that you can customize based on your audience's needs. Let's quickly see how we can do this:
Choose a Template: Help center templates are pre-designed layouts that dictate how your help center will appear to customers. Once you select a template, the entire appearance of your help center will change. ProProfs Help Desk gives you multiple options to choose from.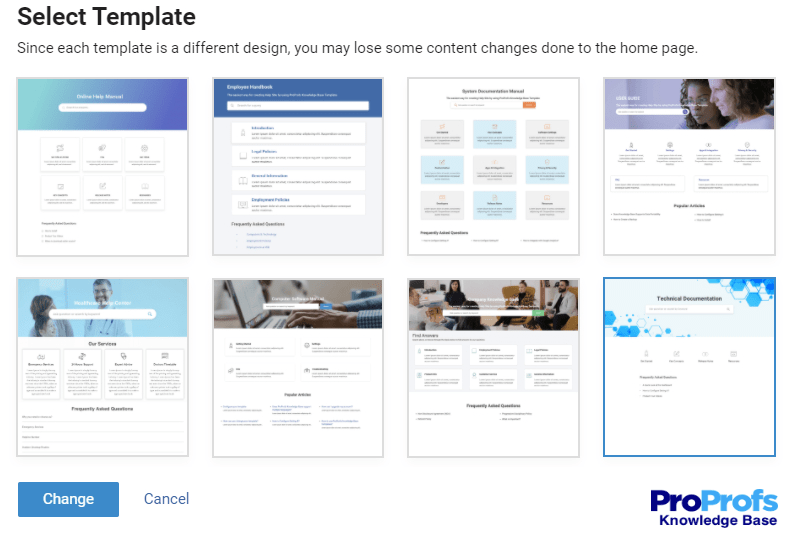 Customize the Top Header: The top header usually contains your business logo, menus, and a search bar, all of which are customizable. You can easily add your logo, customize the header color, enable a search bar, and add various menus to help customers navigate your site conveniently.
Add Relevant Featured Articles: Featured articles are help articles that can be added to the bottom of your home page. These featured articles give your website visitors easy access to useful content. Make sure you cover topics that are most commonly searched by customers.
7. Customize Your Live Chat Window
Live chat is becoming a dominant support channel due to the various benefits it brings to the table – real-time communication, personalization, mobile compatibility, and more. In fact, 38% of leading CX experts are currently using live chat to deliver instant support, while 26% plan to use one.
With ProProfs Help Desk, you can customize the live chat window that website visitors use to interact with an agent and seek assistance. In just a few clicks, you can modify the chat icon, its style, color, font, chatbox dimensions, and other options to meet your needs.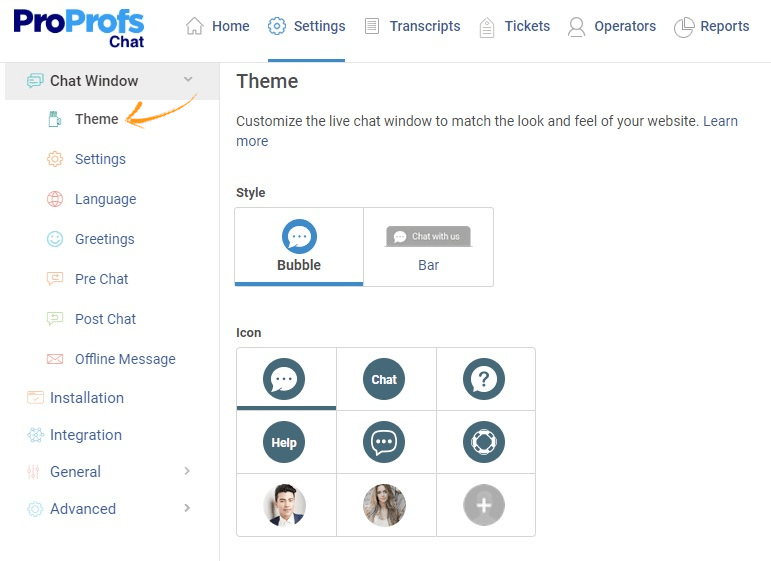 To add a human touch to conversations, you can create a Chat Avatar, give it a name, and add an image. You can even add your company logo to the chat window and win the trust of your audience. In addition to this, help desk users can even modify the Chatbox Position (Left, Right), Visitor Text Color, and Operator Text Color to enhance the support experience.
8. Generate Custom Help Desk Reports
Are you fishing for meaning in a sea of data? With a customizable help desk, you can generate custom reports and focus on the metrics that are important to your business. You can even schedule these reports to receive them over email when convenient for you.
ProProfs Help Desk offers three types of reports. Let's discuss them right away.
Summary Reports: The summary reports give you an overview of your customer service operations. You can view metrics such as Open Tickets, Average First Response Time, Average Resolution Time, and more. You can customize summary reports to view the daily, weekly, or monthly performance of your team.
Agent-Specific Reports: Here you can generate custom reports for specific inboxes or users. For instance, you can view the number of tickets resolved by an agent, their rated tickets, and their average rating.

Rating Reports: Rating reports reveal how customers have rated agents based on their service experience. Based on your needs, you can generate these reports for specific agents or for a specific time period.
Read More:  15 Help Desk Metrics to Improve Customer Support
9. Help Desk Templates
Help desk templates or canned responses are a great way to personalize your help desk. Anyone who has worked in customer support knows that a majority of customer queries are similar in nature – "Is the product available in stock?", "What is the status of my order?" and so on.
Instead of typing the same responses every time, agents can use pre-defined response templates, tweak them a little based on the situation, and respond within minutes. Canned responses are a great way to save time, reduce agent efforts, avoid errors, and improve your response time.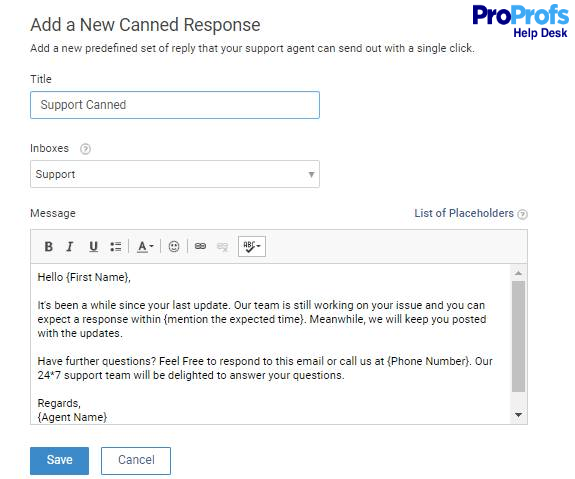 With ProProfs, agents can create a canned response once, save it and reuse it in tickets whenever they need it. While resolving a ticket, agents can search for a particular canned response through the search box. You can create these templates for order confirmations, feature requests, feedback, follow-ups, and other customer emails.
Read More:  11 Best Canned Response Templates for Customer Support Emails
10. Customize Email Notifications
When you receive hundreds of customer service emails or chats, keeping everyone updated can be a huge task. However, with custom help desk software, you can create email notifications for different situations and keep everyone on the same page.
Email notifications are automated alerts and responses that are sent to the customers and agents when a predefined condition is met. These automated notifications enable staff members and customers to keep track of tickets.
For example, wherever your team receives a new ticket, agents are going to get an automated 'New Ticket Notification' email. Similarly, when an agent responds to a customer's request, they are going to be automatically notified that their problem has been resolved.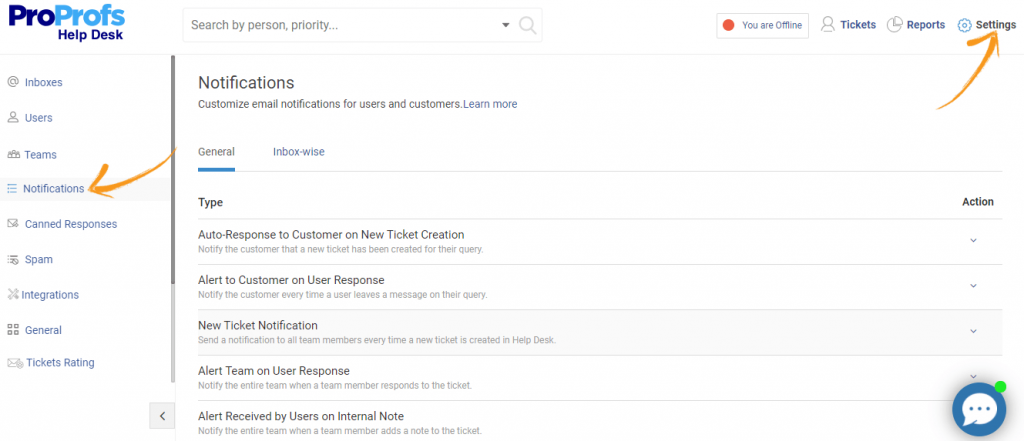 ProProfs Help Desk offers multiple conditions under which you can send and receive email notifications. Agents can get updates when – a new ticket is created, the ticket is assigned to them, a user responds on the ticket, or when a new internal note is added to a ticket.
Help Desk Customization: Make the Tool Work for You!
Customization is an important feature that can determine the success of your customer support team. With easy configurations, you can create tailor-made workflows, personalize customer interactions, and scale your process.
ProProfs offers customizable help desk software that adapts to the way you work and reflects what your brand stands for. Right from assigning roles to agents to monitoring team performance with custom reports, there is a lot you can do.
With the help desk customization tips shared in this blog, we are sure you will be able to resolve tickets the way you want and delight customers. We wish you good luck!
Do you want a free Help Desk?
We have the #1 Online Help Desk Software for delightful customer support