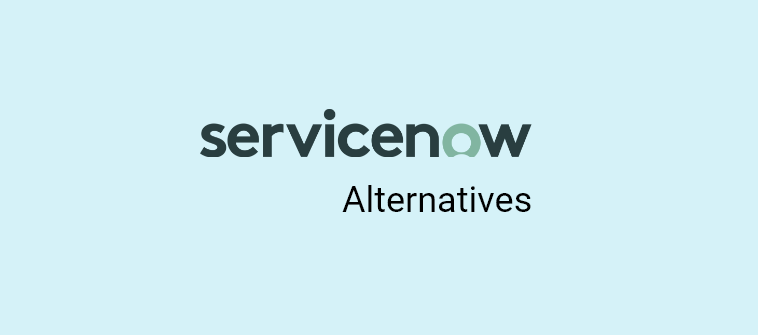 Are you searching for the best ServiceNow alternative? You have come to the right place.
ServiceNow is a popular ITSM tool that is used by businesses across the globe to track IT incidents, requests, problems, and assets. With this tool on board, you can expect powerful features such as incident management, virtual agents, knowledge management, agent workspace, and more.
However, when it comes to IT support, ServiceNow's features and capabilities have a few holes. For example, the tool comes with a steep learning curve and does not offer transparent pricing details on its website.
So if you are a support champ who is currently using ServiceNow or considering your options, we have put together a list of 10 alternatives to ServiceNow. We will explore the features of each and every alternative, understand the pros and cons, and check the pricing.
Let's jump right in!
ServiceNow Alternatives Feature & Price Table
Software
Key Features
Price
ProProfs Help Desk
Intuitive mobile app
Customer portal
Monitor CSAT & NPS
Integrate with CRM tools
Automated email notifications
Starts at $10/agent/month
SysAid
Customize the user interface
Escalate support tickets
Create a knowledge base
Automate password resets
Generate in-depth reports
Not Available
Salesforce Service Cloud
360-degree view of customers
Integrate with Slack
Share proactive service updates
Leverage field service app
Generate insightful reports
Starts at $25/user/month
Live Agent
Create workloads for agents
Capture social media messages
Set up survey widgets
Reward agents with badges
Use spam filtering
Starts at $15/agent/month
HaloITSM
Upload help articles
Problem management
Create a service catalog
Organize all your tasks
Track IT assets
Starts at $89/agent/month
Solarwinds Service Desk
Self-service portal
Track IT assets
Create a service catalog
Prioritize urgent tickets
Multiple integrations
Starts at $19/agent/month
Freshdesk
Create knowledge base articles
Parent-child ticketing
Track time & log billable hours
AI-powered chatbot
SLA management
Starts at $15/user/month
Zendesk
Unified view of the customer
Create help articles & guides
Actionable reports & analytics
Build help center & community forum
AI-powered answer bots
Starts at $49/agent/month
Help Scout
Create custom fields
Receive desktop notifications
Create mobile-friendly help articles
See key metrics for specific agents
View chat support history
Starts at $20/user/month
Jira Service Management
Create problem tickets
Link incidents to problems
Track asset ownership
Escalate critical incidents
Share ticket-related updates
Starts at $20/user/month
What Is ServiceNow?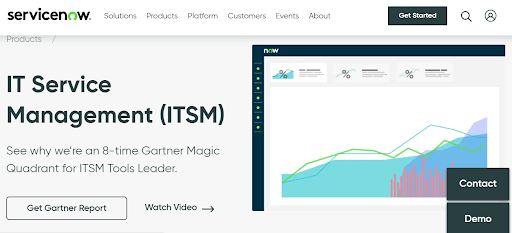 ServiceNow is a leading IT service management tool that helps your business enhance agent productivity and speed up issue resolution. The tool allows you to automate your IT support for common requests using virtual agents. These bots are designed to interact with end-users, share knowledge base articles, and understand simple, human language. Moreover, intelligent ticket routing and built-in internal collaboration tools can help restore services much faster and reduce their impact on your business.
Why Look For ServiceNow Alternatives?
If you are using ServiceNow, you must already be familiar with its drawbacks. However, if you are new to the game, we have jotted down some points of this tool. Let's explore them in detail.
Does Not Offer Clear or Transparent Pricing: To win the trust of customers, every SaaS company must offer clear and transparent pricing details on its website. This helps users compare the pricing of the tool with other similar tools in the market. However, unfortunately, ServiceNow does not offer any pricing information on its site. You will have to fill out an online form and wait for the company to share a custom quote.
Slow Loading Speed: Since the ServiceNow ITSM system is so large, it is very slow at times. Multiple users have complained about how the tool lags often, especially when multiple tabs are open. Frequent lags can hamper your productivity and delay the issue resolution process.
Steep Learning Curve: While setting up ServiceNow, be prepared to spend some days or weeks just to get the hang of the tool. Getting adjusted to the UI will take you a significant amount of time. Moreover, understanding the different features and capabilities will be time-consuming too.
Frequent Product Releases: ServiceNow shares between 2-3 product releases/updates yearly. Although these new releases introduce new features and capabilities, in most cases, they just create new problems. Frequent updates can confuse new users as they will require more time to learn the nitty-gritty details.
The Features ServiceNow Alternatives Should Have
Different IT support teams can have different expectations from their respective solutions. While one may demand a clean user interface, others might be more interested in detailed reports.
Now, every IT help desk tool cannot offer every single feature. Therefore, to make this ServiceNow comparison easier, we have chosen some must-have features that every alternative should offer.
Incident & Request Management: All ServiceNow alternatives must allow you to track all ongoing incidents and requests under one roof. This will ensure not a single ticket slips through the cracks.
Knowledge Management: The alternative systems should allow you to create a repository of help center articles, step-by-step guides, FAQ pages, etc., to encourage self-service and bring down ticket volume.
Customization: The alternatives to ServiceNow should offer multiple customization options so you can set rules and create workflows according to your needs.
Reports & Analytics: All the tools should offer in-depth reports and analytics. Powerful reports can help support managers monitor service desk metrics, gauge agent performance, and uncover improvement areas.
Our Selection Criteria for ServiceNow Alternatives
With plenty of options in the market, choosing the best ServiceNow alternative can get tricky. To ensure only the right tools are listed in this blog, here are our selection criteria.
Incident & Request Management: All the alternatives should offer incident and request management features such as ticket tracking, prioritization, escalations, etc.
Listed on Popular Software Review Platforms: The alternatives to ServiceNow should be listed on the most popular software review sites such as SoftwareWorld, Capterra, Getapp, etc.
Minimum 10 User Reviews: All software alternatives should have at least ten reviews from people who have used the tool. This will allow you to better analyze the tool's pros and cons.
What Are the Best ServiceNow Alternatives?
Now it's time to explore the top 10 alternatives to ServiceNow software. We will go through an in-depth comparison that will include features, pricing, pros, cons, etc., for every tool.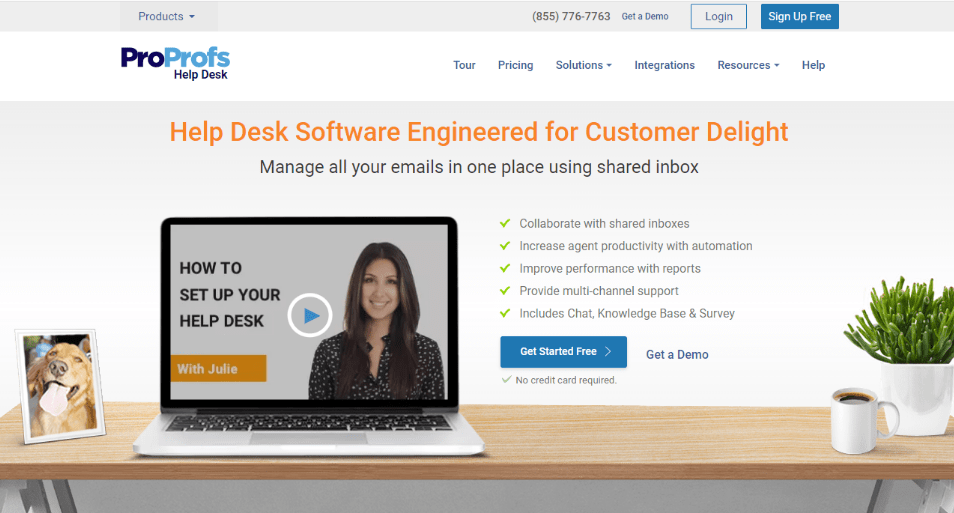 ProProfs Help Desk is the best alternative to the ServiceNow tool that equips your team with all the features needed to enhance the end-user experience. You can capture IT incidents and requests via multiple channels such as email, live chat, web forms, and the help center.
With a customizable live chat widget, you can share proactive chat invitations with customers and offer 24×7 assistance. You can even create an internal knowledge base and allow employees to find HR, IT, Admin, and other work-related documentation.
Top Features of ProProfs Help Desk:
Prioritize requests and incidents that demand urgent attention
Share automated notifications with agents and end-users
Monitor the end-user experience with email surveys
Restrict tool access with roles and permissions
Track ticket response times, resolution times, agent ratings, and other metrics
Why We Picked It:
Automate IT support with chatbots
The tool offers a simple and clean user interface
Choose it for: Shared inbox, chatbots, knowledge base, smart reports
3rd party integrations allowed: Yes
Suited for: Startups, small to mid-sized businesses, large enterprises
Case Study:
Opencart is a PHP-based e-commerce store management system that is designed to be user-friendly and feature-rich. From large online players to local businesses, OpenCart serves over 342,000 eCommerce entrepreneurs across the world.
ProProfs Help Desk offered Opencart users a single location to access user guides and easily find other information. This helped the company greatly reduce its call volume and allowed the support team to dedicate more time to improving customer relationships.
Pricing:
Starts at $20/agent/month (billed annually).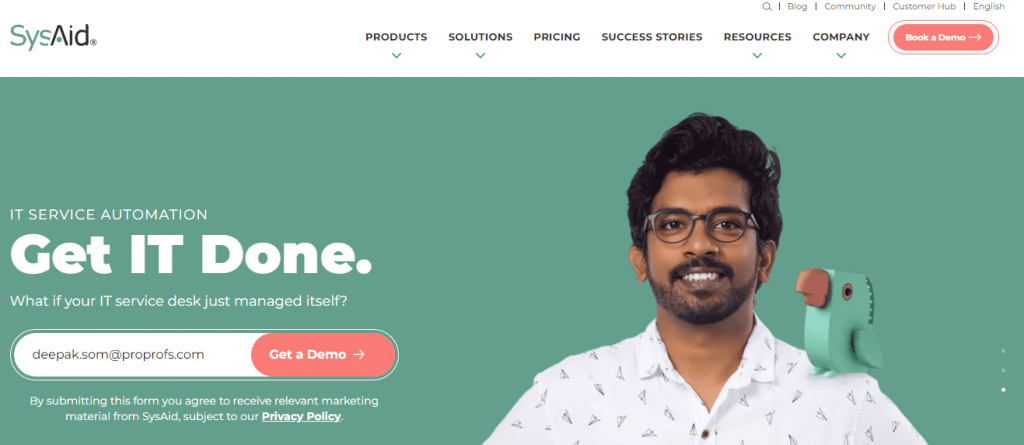 SysAid is a top ServiceNow competitor that can help you automate your incident management process. For instance, new email messages (along with their attachments) are automatically converted into tickets and assigned to relevant agents.
With a dedicated self-service portal, you can allow end-users to submit new tickets, track their ongoing issues or requests, and use the knowledge base to perform self-service actions.
Top Features of SysAid:
Customize the user interface, notifications, and knowledge base items
Escalate tickets to senior reps if SLAs are not met
Create a knowledge base that includes tips and how-to solutions
Allow end-users to reset their account passwords securely
Generate in-depth reports on service quality and IT performance
Why We Picked It:
Communicate with end-users via live chat
Multiple customization options to meet your unique needs
Choose it for: Performance analytics, ticket prioritization, workflow automation, asset management
3rd party integrations allowed: Yes
Suited for: Small to mid-sized businesses, large enterprises
Case Study:
Microdrones is a German company that provides drone LiDAR and photogrammetry surveying equipment, workflow, software, etc., for geospatial data collection. The IT team could not monitor PCs, servers, or software without an asset management system.
With SysAid on board, Microdrones drastically improved its asset management function. Asset performance issues were significantly reduced, and servers and workstations were always kept updated.
Pricing:
Get in touch with the company for a quote.
Read More: Best Sysaid Alternatives for 2023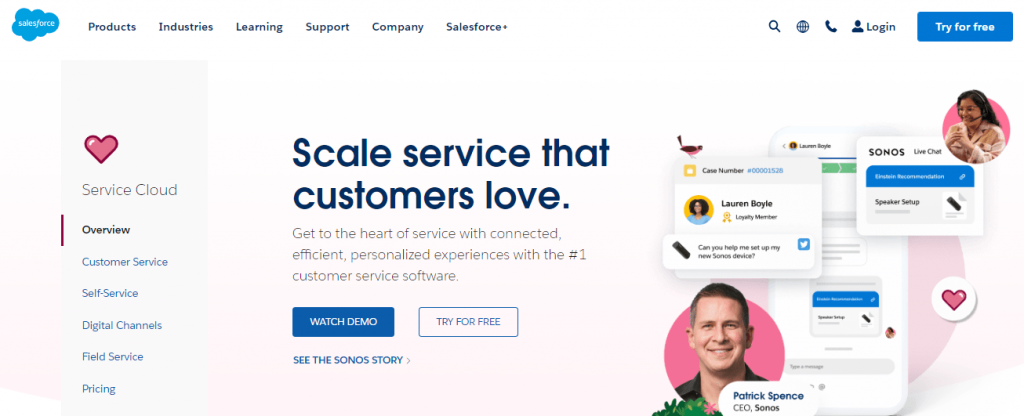 Salesforce Service Cloud is an omnichannel help desk system that can help your team manage customer conversations on the phone, messaging, chat, and other channels.
The tool gives your service reps a holistic view of every customer — whether they are working remotely or from the office premises. Overall, IT support agents can leverage all the context they need to provide meaningful and personalized customer experiences at scale.
Top Features of Salesforce Service Cloud:
Quickly set up a self-service help center and reduce ticket volume
Allow customers to book phone and video appointments
Access customer data to personalize interactions
Share proactive chat invitations with prospects and customers
Monitor email, social media, and SMS from a single dashboard
Why We Picked It:
AI-powered chatbots can help you deflect routine queries
Create mobile-responsive self-service portals
Choose it for: Video support, unified agent workspace, omnichannel routing
3rd party integrations allowed: Yes
Suited for: Small to mid-sized businesses, large enterprises
Case Study:
KPN is the largest landline and mobile telecommunications service provider based in Rotterdam, Netherlands. The company is known for offering secure, reliable, and future-proof services and networks.
KPN used Salesforce Service Cloud and Sales Cloud to align its sales and service processes. This allowed to company to gain 360-degree visibility, enhance customer satisfaction, and create a smoother customer experience.
Pricing:
Starts at $25/user/month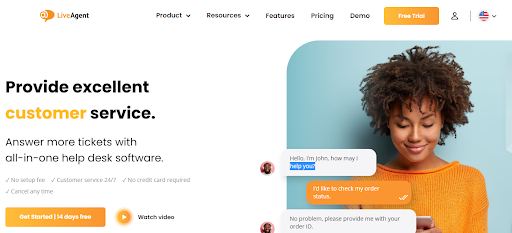 LiveAgent is a free ServiceNow alternative that helps you manage all customer messages in one app, automate repetitive tasks, and make better business decisions based on real insights.
LiveAgent comes with a powerful and customizable live chat widget that allows you to offer real-time support. You can invite website visitors to chat based on their time on a web page or their location.
Top Features of LiveAgent:
Avoid multiple agents from working on the same customer issue
Use a drag-and-drop feature to attach files to tickets
Create contact forms using pre-designed templates
Customize your chat windows and adjust their placement on your website
Merge multiple related tickets together for faster resolution
Why We Picked It:
Use the message sneak-peek feature to see what customers are typing
Integrate with leading social media platforms
Choose it for: Contact forms, spam filters, CRM integration, time tracking
3rd party integrations allowed: Yes
Suited for: Startups, small to mid-sized business
Case Study:
SolidTrust Pay is an electronic wallet system and payment gateway that allows businesses to accept credit card payments. The financial company was looking for a ticketing system to manage a massive influx in ticket volume.
SolidTrust Pay was attracted to LiveAgent's attractive features and affordable pricing. Their support team is able to receive voice calls directly from the support center. Moreover, customers can create their own service accounts to view the progress of their tickets.
Pricing:
Starts at $15/agent/month
Read More: Best Live Agent Alternatives for 2023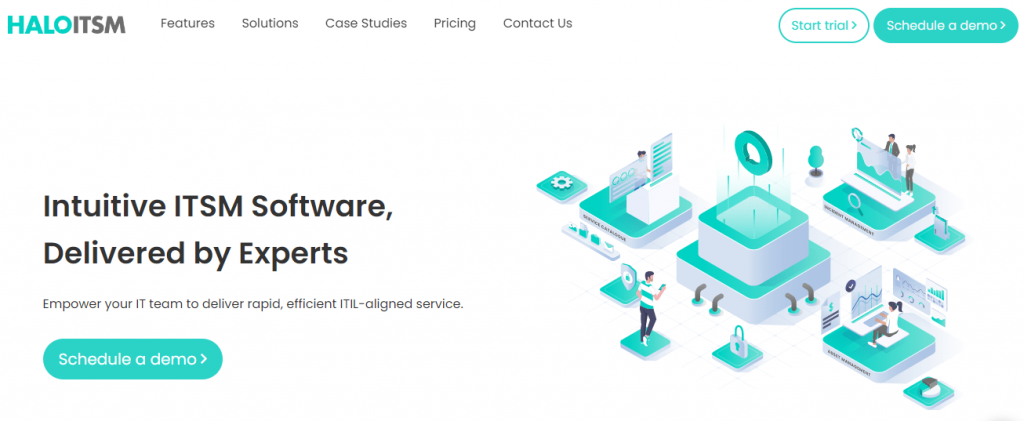 HaloITSM is a powerful ServiceNow alternative that can be used to offer high-quality IT support to end-users. With the help of this intuitive tool, you can monitor all incidents in one place, meet SLAs in time, and automate manual tasks.
This tool allows end-users to check all available services and opt for the ones they need from the self-service portal. In addition to this, HaloITSM offers multiple change management features so your team can easily track and execute organizational changes.
Top Features of HaloITSM:
Automate incident and problem management processes
Convert solutions offered by agents into knowledge-base articles
Track the usage of all IT assets across the organization
Keep tasks and IT projects organized in a central place
Create a service catalog for IT end-users
Why We Picked It:
Assign tasks and projects to your team members
Create detailed SLAs for different business processes
Choose it for: SLA management, incident tracking, knowledge base, service catalog
3rd party integrations allowed: Yes
Suited for: Large enterprises
Case Study:
Sports Direct International is UK's leading sporting goods and apparel retailer. Customers can buy sneakers, running shoes, tracksuits, gloves, helmets, backpacks, and other sports-related items.
Sports Direct was using an internal system to track service requests and wanted to migrate to an ITSM vendor. After partnering with HaloITSM, the sports retailer witnessed 80% first call resolution and a 24% increase in SLAs.
Pricing:
Starts at $89/agent/month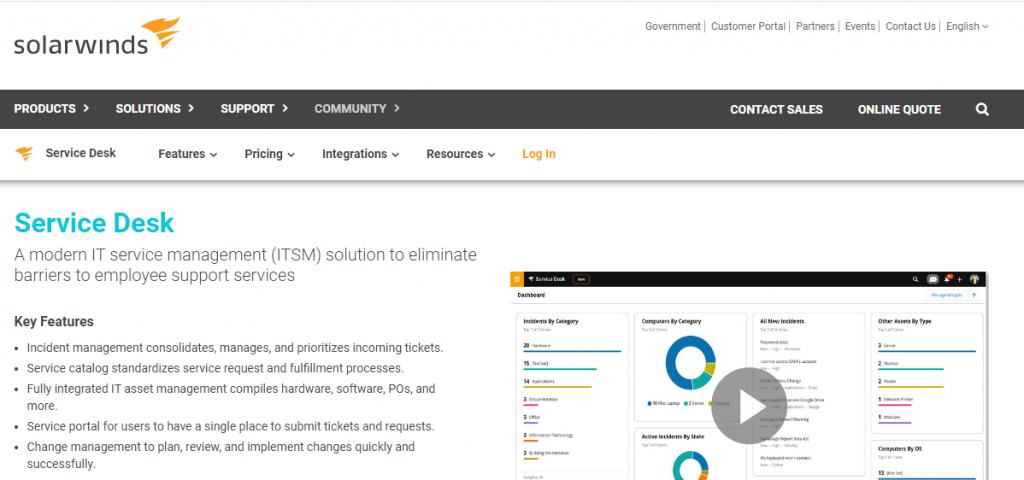 Solarwinds Service Desk enables your team to identify, prioritize, and track incidents, no matter how minor or major they may seem. With a powerful ticketing system, you can automatically route and prioritize issues.
When it comes to asset management, SolarWinds Service Desk does a commendable job. In addition to asset tracking, you can even manage the onboarding, assignment, and retiring of assets throughout their lifecycle.
Top Features of SolarWinds Service Desk:
Give technicians instant access to knowledge base articles
Share service desk reports with key stakeholders
Standardize service requests with a service catalog
Create a service portal for users to submit and view tickets
Offer support from anywhere using a dedicated mobile app
Why We Picked It:
Easily upload step-by-step articles to your knowledge base
Use the live chat feature to connect with employees instantly
Choose it for: Incident management, multichannel ticketing, employee self-service portal
3rd party integrations allowed: Yes
Suited for: Small to mid-sized businesses, Large enterprises
Case Study: Not available
Pricing:
Starts at $19/user/month
Read More: Best Solarwinds Service Desk Alternatives for 2023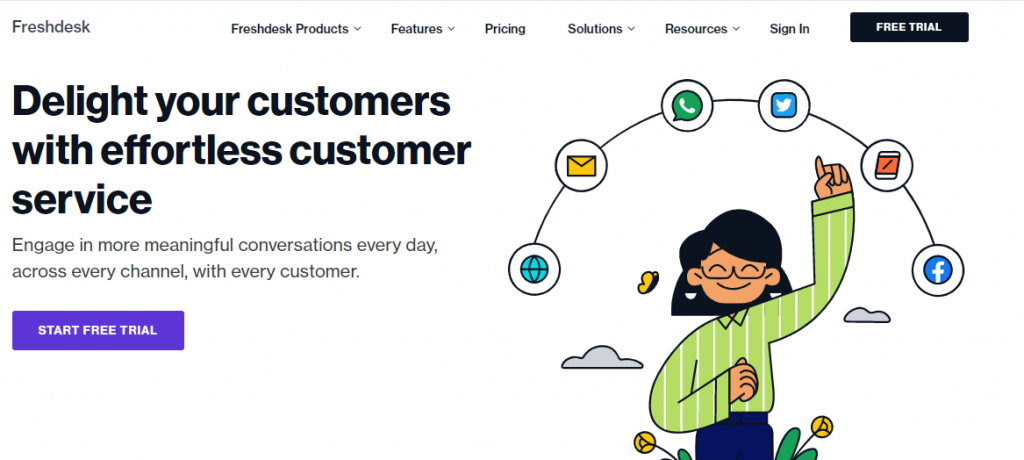 Freshdesk is another popular software like ServiceNow that deserves to be on your list. With multichannel capabilities, you can use this tool to connect with customers via email, live chat, social media, web, etc.
Freshdesk helps team members from across the company to come together to enhance the customer service experience. For instance, you can share the ownership of a ticket with individuals or departments and resolve complex issues faster.
Top Features of Freshdesk:
Embed website forms and allow customers to ask questions
Split tickets into smaller tasks with parent-child ticketing
Link related tickets together for faster resolution
Engage with prospects and visitors via a customizable live chat window
Configure agent business hours and monitor performance
Why We Picked It:
Create a delightful omnichannel experience for customers
Assist customers on WhatsApp
Choose it for: SLA management, social media ticketing, mobile field service
3rd party integrations allowed: Yes
Suited for: Medium businesses, Large enterprises
Case Study:
Zalora is one of the leading online fashion destinations in Southeast Asia. With its headquarters based in Singapore, Zalora provides a range of apparel, lifestyle, beauty, home, and living products.
After choosing Freshdesk, Zalora witnessed a 5% QoQ increase in CSAT ratings. Moreover, around 75% of its existing customers have become repeat buyers, helping the business boost revenue.
Pricing:
Starts at $15/user/month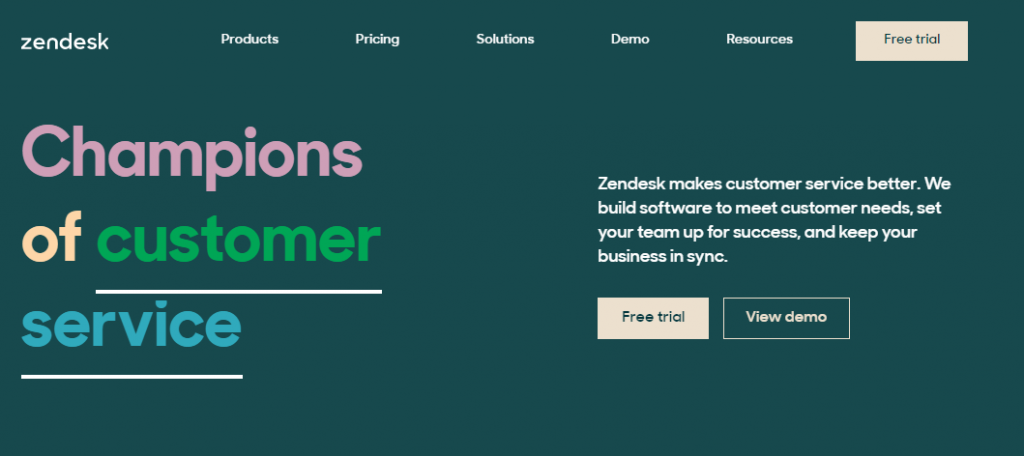 Zendesk is a popular ticketing system that helps you connect with customers over messaging, chat, social media, email, and voice. You can create a vast community forum and allow customers to raise questions, share answers, and connect with one another.
As help desk software like ServiceNow, Zendesk helps you reduce your ticket volume with the help of self-service options. You can build an integrated help center to allow customers to resolve primary issues at their own pace.
Top Features of Zendesk:
Engage and assist customers with AI-powered answer bots
Prioritize urgent customer issues that demand immediate solutions
Leverage intelligent ticket routing to never leave an issue hanging
Monitor and improve your customer satisfaction (CSAT) ratings
Reward the top contributors in your community forum with suitable badges
Why We Picked It:
Allow agents to contribute to knowledge-base articles
Connect with hundreds of business tools
Choose it for: Community forum, help center, AI-powered bots, intelligent routing
3rd party integrations allowed: Yes
Suited for: Large enterprises
Case Study:
Grubhub is an online food ordering and delivery platform that was founded in 2004 in Chicago, Illinois. The American company allows customers to browse restaurants in any selected location and order food.
Grubhub witnessed a 100% increase in its ticket volume during the COVID-19 pandemic. After switching to the Zendesk Service platform, the company was able to achieve an 88-90% CSAT rating and a 53% increase in help center article views.
Pricing:
Starts at $49/agent/month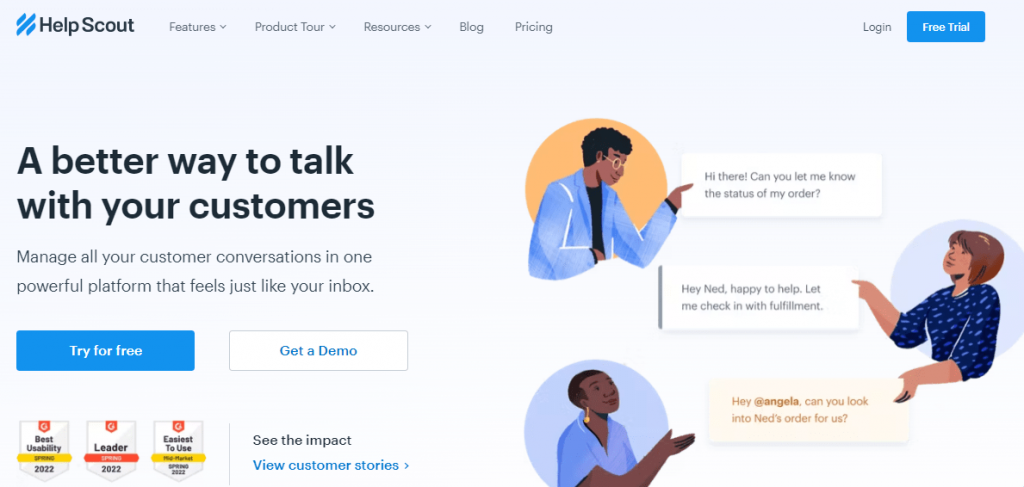 Help Scout is an easy-to-use tool best known for its shared inbox and team collaboration features. With an email-like interface, you easily track and manage all customer conversations in one place.
With Help Scout's live chat widget, you can share help center articles with customers with a single click. Moreover, when customers are unable to find the right solution, they can request to interact with a human agent and take it forward from there.
Top Features of Help Scout:
Sort and prioritize customer conversations using ticket tags
Create a searchable library of saved replies or canned responses
Record additional information about conversations using custom fields
Collaborate with team members using private notes
Monitor your team's performance for different communication channels
Why We Picked It:
Share bulk replies to common issues
Native apps for Android and iOS
Choose it for: Shared inbox, knowledge base, proactive announcements, reports
3rd party integrations allowed: Yes
Suited for: Startups, small to mid-sized businesses
Case Study:
OnePageCRM is a CRM tool designed to meet the customer relationship needs of small businesses. The company enables salespeople to become action-oriented, manage customer contacts and emails, and deliver personalized experiences.
OnePageCRM used Help Scout to reduce their team's workload by up to 50%. The agents can access the complete customer database next to service conversations and offer the best tailor-made solutions.
Pricing:
Starts at $20/user/month
Read More: Best Help Scout Alternatives for 2023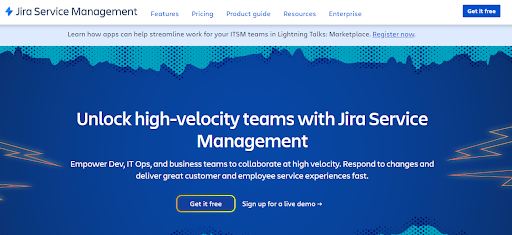 With Jira Service Management, different business departments such as HR, IT, Admin, or Legal can quickly set up a service desk. You can easily track all incidents, requests, changes, and assets under one roof.
The tool allows you to automatically detect major incidents and escalate them to the right teams. Moreover, reports can help you analyze your incident response activities, areas of success, and improvement opportunities.
Top Features of Jira Service Management:
Make it easier for end-users to search for knowledge-base articles
Track IT assets for inventory management and auditing
Share ticket-related updates via email or SMS
Link incidents to problems and uncover the root cause behind them
Save time by taking bulk actions on tickets
Why We Picked It:
Integrate with the leading third-party tools
Easily transfer the ownership of support tickets
Choose it for: Request management, change approvals, self-service, asset tracking
3rd party integrations allowed: Yes
Suited for: Small to mid-size businesses, large enterprises
Case Study:
Canva is an online free design tool that was founded in 2012 in Perth, Australia. The platform allows users to design creative posters, social media graphics, documents, presentations, and other visual content.
Canva adapted the tool Jira Service Management to enhance incident and request tracking along with its reporting function. Irrespective of the rise in customer requests, their team deals with every concern on time.
Pricing:
Starts at $20/agent/month
Comparison of Best Alternatives of ServiceNow
| Software | Price | Ticket Management | Shared Inbox | Multi-channel Communication | Alerts & Escalations | Live Chat | Self-Service Portal | IT Help Desk |
| --- | --- | --- | --- | --- | --- | --- | --- | --- |
| ProProfs Help Desk | $10/month | Y | Y | Y | Y | Y | Y | Y |
| SysAid | Not Mentioned | Y | N | Y | Y | Y | Y | Y |
| Salesforce Service Cloud | $25/month | Y | Y | Y | Y | Y | Y | Y |
| LiveAgent | $15/month | Y | Y | Y | Y | Y | Y | N |
| HaloITSM | $89/month | Y | N | Y | Y | N | Y | Y |
| SolarWinds Service Desk | $19/month | Y | N | Y | Y | Y | Y | Y |
| Freshdesk | $15/month | Y | Y | Y | Y | Y | Y | N |
| Zendesk | $49/month | Y | Y | Y | Y | Y | Y | Y |
| Help Scout | $20/month | Y | Y | Y | Y | Y | Y | N |
| Jira Service Desk | $20/month | Y | N | Y | Y | Y | Y | Y |
| ServiceNow | Not Mentioned | Y | N | Y | Y | Y | Y | Y |
Final Verdict: Which ServiceNow Alternative Should You Go For?
ServiceNow is a leading ITSM software that allows you to:
Track and prioritize incidents
Auto-assign IT tickets
Build an AI-powered self-service portal
Resolve issues on the go with a mobile app
However, despite these powerful features, there are some serious drawbacks that make users search for the best alternatives to ServiceNow. For example, the tool comes with a steep learning curve, provides frequent product releases, and does not offer transparent pricing information.
All the alternatives shared in this ServiceNow comparison blog have been carefully chosen. If you are still unsure, we would suggest you go for ProProfs Help Desk, which comes across as a powerful yet affordable IT help desk system. If price is not a major concern, you can even opt for Zendesk or Salesforce Service Cloud based on your feature needs.
Do you want a free Help Desk?
We have the #1 Online Help Desk Software for delightful customer support