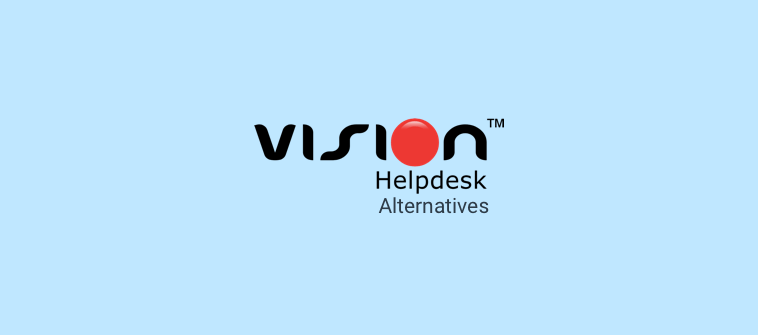 For most businesses that are looking to improve their customer service efforts, Vision Helpdesk has a lot to offer. Features such as internal collaboration, ticket-based billing, time tracking, SLA management, etc. make this tool a great option.
Moreover, to cater to different businesses with different requirements, Vision Helpdesk has made its help desk available in both SaaS and on-premise versions.
But despite the features and popularity, why are so many users looking for Vision Helpdesk alternatives?
Vision Helpdesk might look all promising at first but it lacks "vision". While some users complain about its outdated user interface, others will tell you that the lack of an in-built live chat tool has been a major disappointment.
So if you are also sailing in the same boat and looking to make the switch, now is the time.
In this blog, we will understand more about Vision Helpdesk and explore its various pros and cons. We will also compare the features and prices of the top alternatives to Vision Helpdesk and help you find the one that perfectly fits into your team.
Let's do this!
Vision Helpdesk Alternatives Feature & Price Table
Software
Key Features
Price
ProProfs Help Desk
Self-service knowledge base
Assist customers with chatbots
Parent-child ticketing
Monitor CSAT, NPS
Mobile apps for Android and iOS
Try it free for 15 days
Essentials: $10/agent/month
Premium: $15/agent/month
Enterprise: Available on request
Zendesk
Custom ticket fields
Create knowledge base articles
Assist customers with answer bot
Create help center & community forum
Connect with 500+ applications
Suite Team: $49/agent/month
Suite Growth: $79/agent/month
Suite Professional: $99/agent/month
Freshdesk
Multi-channel support
Create knowledge base articles
Calculate billable hours
Automated email notifications
Customer satisfaction reports
Blossom: $15/user/month
Garden: $35/user/month
Estate: $49/user/month
Forest: $99/user/month
Kayako
Collaborate via private notes
Self-service knowledge base
Social media customer service
Assist customers via live chat
Connect with Salesforce and Slack
Inbox: $15/agent/month
Growth: $30/agent/month
Scale: $60/agent/month
LiveAgent
Automate your workflow
Create internal notes
Merge multiple tickets together
Animate chat buttons
Attach files to tickets
Ticket: $15/agent/month
Ticket + Chat: $29/agent/month
All-Inclusive: $39/agent/month
InvGate Service Desk
Automated ticket assignment
Customize your dashboard
Leverage gamification features
Proactively suggest help articles
Track 150 built-in metrics
Price available on request
Zoho Desk
Create a multi-brand help center
Automatically tag tickets
Automated ticket notifications
Track time spent on tickets
Use ticket status to sort tickets
Standard: $12/agent/month
Professional: $20/agent/month
Enterprise: $35/agent/month
HappyFox
Track social media messages
Create an internal knowledge base
Get notifications on Slack or Microsoft Teams
Create smart workflows
Leverage insightful reports
Price available on request
Salesforce Service Cloud
Automated ticket routing
View past customer interactions
Internal knowledge base
Stay connected with field agents
Leverage actionable reports
Essentials: $25/user/month
Professional: $75/user/month
Enterprise: $150/user/month
Unlimited: $300/user/month
Spiceworks Help Desk
Auto-assign tickets
Leverage custom fields
Discuss tickets internally
Track key support metrics
Spiceworks IP Scanner
Free
Vision Helpdesk
Create multi-level escalation rules
Publish SEO-optimized help articles
Calculate time spent on tickets
Native Android and iOS apps
Allow customers to track their tickets
Starter Help Desk: $12/agent/month
Pro Help Desk: $20/agent/month
Satellite Help Desk: $24/agent/month
Pro Service Desk: $32/agent/month
Enterprise Service Desk: $48/agent/month
What Is Vision Helpdesk?
Vision Helpdesk is a multi-channel ticketing system that helps you convert emails, calls, chats, social media messages, and web requests into tickets. You can set SLA, escalation, workflow, and round-robin rules to automate your customer service process and delight users with quick responses. With Blabby, an internal collaboration tool, your agents can communicate, share knowledge, docs, presentations, and collaborate on complex tickets.
In addition to this, you can gamify your help desk platform, set up agent achievement levels, and keep your team members motivated to perform better.
So much does Vision Helpdesk cost? Well, the tool offers three help desk plans: Starter ($12/agent/month), Pro ($20/agent/month), and Satellite ($24/agent/month).
Why Look for Vision Helpdesk Alternatives?
Although Vision Helpdesk has some key features and functionalities, it fails to hit the mark on certain occasions. Let's discuss some of Vision Helpdesk in detail:
The User Interface Seems Outdated
When it comes to functionality, Vision Helpdesk stands strong. However, their User Interface (UI) can be a big letdown for many. The interface seems quite outdated and demands a facelift if the company really wants to attract modern users. Sometimes when working on the ticket category or subcategory, the tool crashes and takes you back to the inbox.
They Don't Offer Their Own Live Chat Software
Well, this is a major disappointment. Unlike most help desk software available in the market today, Vision Helpdesk does not offer its own live chat tool. This means you will not be able to enjoy live chat features such as chatbots, proactive chat invitations, internal chat, etc. The only option left for you will be to invest in a separate chat tool and integrate it with the Vision Helpdesk.
Integrating With Other Tools Can be a Struggle
Vision Helpdesk lacks powerful integration options and can be integrated with only a handful of tools. In addition to this, a lot of users have complained that integrating Vision Helpdesk with their day-to-day tools has been a very complicated process.
The Features Vision Helpdesk Alternatives Must Have
Every Vision Helpdesk alternative must possess key help desk features. So that instead of worrying, your team can focus on resolving customer issues in a prompt manner.
Here are some top features that every alternative should offer:
Shared inboxes to help your team manage multiple customer-facing email accounts such as support@, sales@, info@, returns@, etc.
Automation capabilities to ensure your team does not have to depend on manual or repetitive tasks. For instance, automated ticket assignment, or automated alerts and notifications.
Ticket organization features to store, sort, and search tickets in an effortless manner. For instance, ticket prioritization to separate high-priority tickets from other tickets.
Reports and analytics to measure team performance and identify improvement opportunities. For instance, you can measure and improve your average first response time.
Our Selection Criteria for Vision Helpdesk Alternatives
With so many options available in the market today, choosing the best alternative might seem like an uphill battle. While one tool might be easy on your pocket, other tools might offer better features.
To help you rise above this dilemma, all the alternatives to Vision Helpdesk mentioned in this blog have been handpicked after careful consideration. We have selected these tools after months of research, scrolling through product websites, user reviews, and more.
Core Help Desk Features: There are certain features that form the backbone of any successful help desk tool and cannot be compromised with. Every alternative should offer ticket management, self-service options, SLA management, and other core features.
Listed on Top Software Review Platforms: The Vision Helpdesk competitors should be listed on the leading software review websites such as Capterra, Getapp, and SoftwareWorld.
Minimum 10 User Reviews: Every tool should have a minimum of 10 reviews on the above-mentioned platforms that are shared by genuine users. Genuine reviews can always offer valuable insights when purchasing software products.
10 Best Vision Desk Alternatives You Should Consider
By now you must have got a fair idea about Vision Helpdesk, its various features, as well as drawbacks. It's time to discover some of the best Vision Helpdesk alternatives in 2021.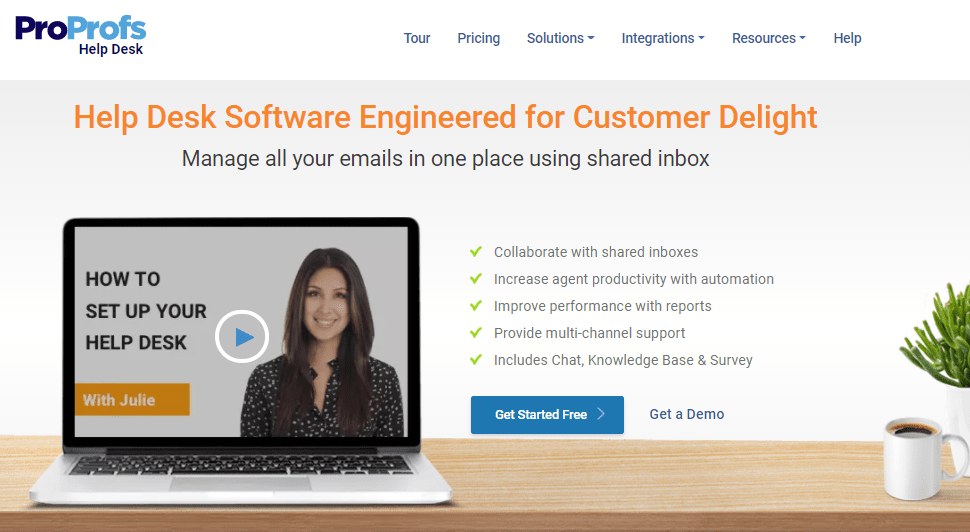 ProProfs Help Desk is undoubtedly one of the best alternatives to Vision Helpdesk tool that turns every ticket into an effortless experience for your team and a personalized interaction for the customer. Your agents can easily collect customer issues and requests from multiple channels such as email, live chat, web forms, help center, and more.
Agents can take complete control of the ticket lifecycle – they can prioritize urgent issues, label tickets, and share surveys with customers to capture their valuable feedback. As a free Vision Helpdesk alternative, ProProfs gives you the best bang for your bucks and comes with awesome 24×7 human support. In case of any confusion, you can contact their team via email, phone, chat, or simply raise a ticket on their website.
You Can Use ProProfs Help Desk To:
Supply relevant information to your employees and customers with a knowledge base
Leverage chatbots to assist customers 24×7 and generate reliable leads
Break complex tickets into multiple child tickets and assign them to different teams
Monitor CSAT, NPS, average ticket response time, and other key metrics
Resolve tickets on the move with native mobile apps for Android and iOS
ProProfs Help Desk Plans Include:
FREE for a single user. Plans start at $19.99/user/month for 2 or more users. No hidden fees. A 15-day money-back guarantee.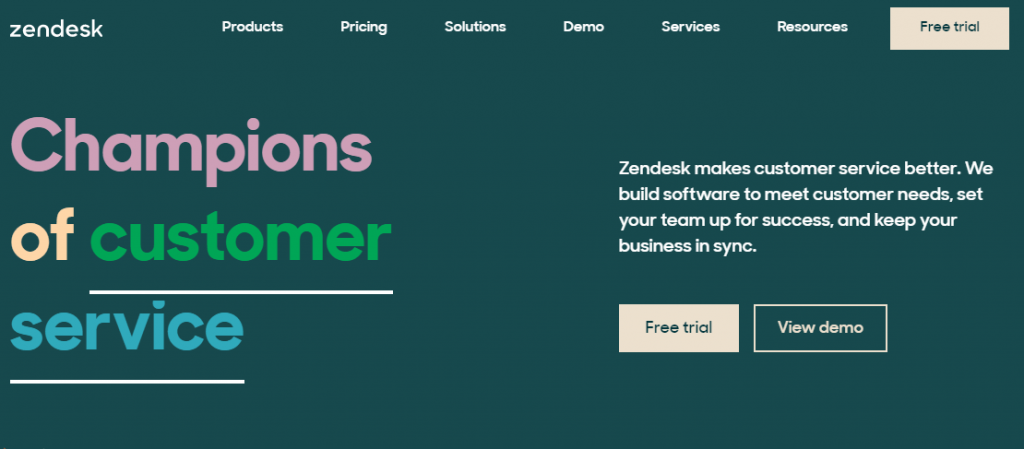 Zendesk is a feature-rich help desk alternative that allows you to stay connected with your audience no matter where they are and no matter how they choose to contact you. The tool makes it easier for your team to create one unified view of the customer. This can then be used to personalize experiences across various touchpoints.
One striking feature about Zendesk is that it lets you reduce your support ticket volume. You can create an integrated help center and community forum to allow customers to find relevant answers and discuss solutions with each other. Moreover, AI-powered bots ensure your agents get the right context and customers don't need to repeat themselves.
You Can Use Zendesk To:
Add more information about tickets using custom ticket fields
Measure the performance of your knowledge base articles
Leverage answer bot to assist customers with their basic questions
Reduce support ticket volume by creating a user-friendly help center and community forum
Connect your help desk with 500+ powerful business applications
Zendesk Plans Include:
Suite Team: $49/agent/month
Suite Growth: $79/agent/month
Suite Professional: $99/agent/month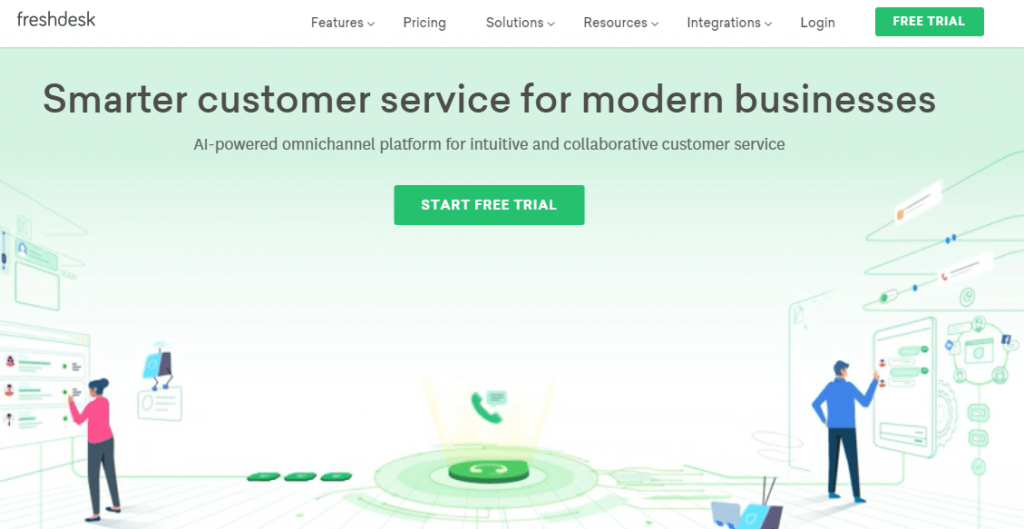 Freshdesk is one of the most popular alternatives to Vision Helpdesk that equips your team with all the tools they need to offer stellar customer service. With its AI-powered chatbot called Freddy, your support team can deliver instant and precise answers to your customer's questions and delight them with faster responses.
Freshdesk can also help you reduce your team's workload by using powerful yet intelligent bots that understand intent and can direct customers to relevant help articles. Moreover, with field service management features, you can enable easy collaboration and problem solving among your help desk agents and field technicians.
You Can Use Freshdesk To:
Manage support-related conversation on multiple channels
Allow agents to convert their ticket responses into knowledge base articles
Track time spent by agents in the field and calculate billable hours
Notify customers and agents about ticket progress with email notifications
Understand customer sentiments using customer satisfaction reports
Freshdesk Plans Include:
Sprout: Forever free with limited features
Blossom: $15/user/month
Garden: $35/user/month
Estate: $49/user/month
Forest: $99/user/month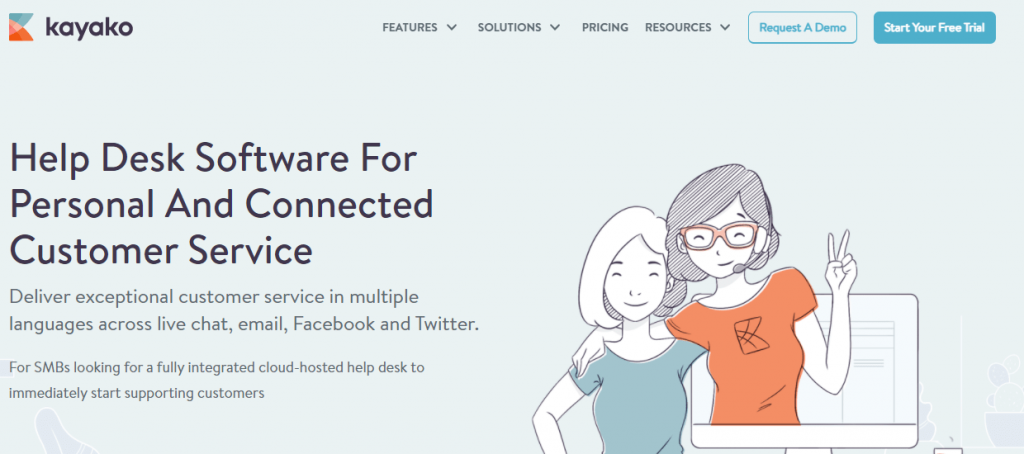 Kayako is another product similar to Vision Helpdesk that helps your team deliver world-class customer service in multiple languages across email, live chat, Facebook, and Twitter. With its robust and easy-to-use live chat tool, your team can look to provide personalized and engaging chat support experiences. It can also be easily integrated into your website, Android, or iOS apps in minutes.
One of the best features of this tool is that your business can gain a holistic view of the complete customer journey. With Kayako SingleView, you can monitor all customer activities such as their website visits, purchases, interaction history, knowledge base searches, self-help article views, and a lot more.
You Can Use Kayako To:
Encourage members from different teams to collaborate via private notes
Offer self-service by creating a collection of self-help articles, videos, and FAQs
Deliver proactive customer service on Facebook and Twitter
Provide live chat on your help center for a real-time support experience
Connect Kayako with other business tools such as Salesforce and Slack
Kayako Plans Include:
Inbox: $15/agent/month
Growth: $30/agent/month
Scale: $60/agent/month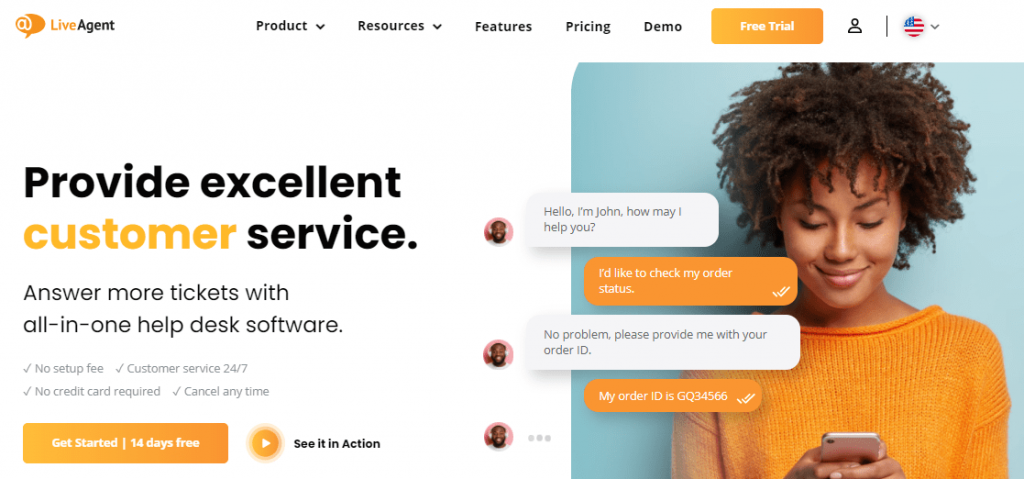 LiveAgent is another popular Vision Helpdesk competitor that allows you to capture incoming requests via emails, chats, calls, social media mentions, etc. in one universal inbox. Your support agents can keep track of all conversations, integrate with other popular tools, collaborate with other teams, and make informed decisions with the help of real-time data insights.
LiveAgent also offers an incredible live chat tool that comes with a stylish widget. Your team can not only increase engagement with prospects but also invite customers to chat depending on the time they've spent on your online store, location, or landing pages. Moreover, with gamification features, managers can give out badges and reward hard-working employees.
You Can Use LiveAgent To:
Automate your workflow with the help of time, action, and SLA rules
Create internal notes inside a ticket to help other agents in case the ticket is reopened
Merge multiple tickets that are similar in nature into one ticket
Animate chat buttons to grab the attention of your website visitors
Attach files, images, docs, and other media to your knowledge base articles
LiveAgent Plans Include:
Free: Forever free plan with limitations
Ticket: $15/agent/month
Ticket + Chat: $29/agent/month
All-Inclusive: $39/agent/month
Read More: Best Live Agent Alternatives for 2023
InvGate Service Desk offers an intuitive IT ticketing system that helps you manage both internal as well as external user requests or issues. With its ticket management features and ITIL-ready functionalities, this tool can help you manage IT incidents, enhance operational efficiency, reduce support costs, and improve the end-user experience.
InvGate allows your agents to organize their tasks based on priority, SLA, and urgency. This ensures your agents can always be at their productive best. Moreover, with the help of gamification features, you can improve team motivation by creating challenges and rewards for your team members.
You Can Use InvGate Service Desk To:
Automatically route tickets to relevant agents based on severity, or ticket type
Customize your dashboard to gain better visibility
Leverage gamification features to keep your team engaged and motivated
Proactively suggest help articles to end-users from your knowledge base
Monitor your service desk performance with the help of over 150 built-in metrics
InvGate Service Desk Plans Include:
For pricing details of InvGate Service Desk, you will have to make a request on their website.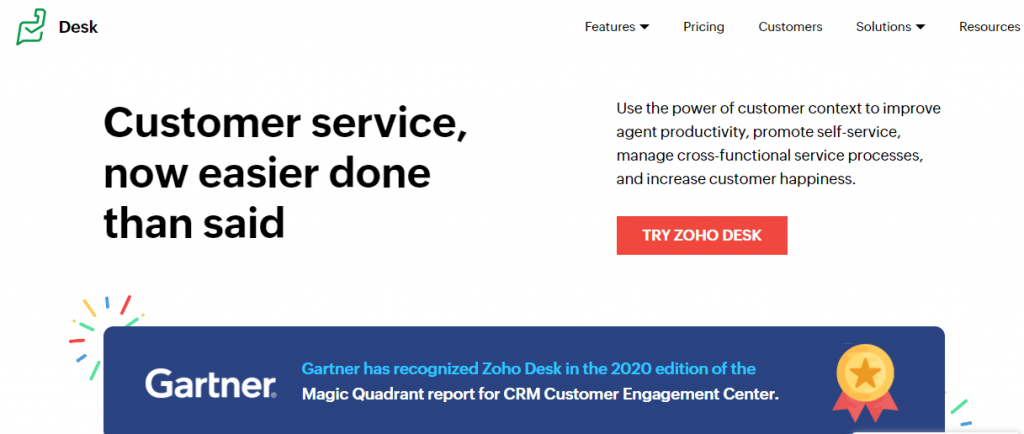 As another free alternative to Vision Helpdesk, Zoho Desk helps you use the power of customer context to enhance customer interactions, promote self-service, and close tickets faster. Your customer service agents can easily embed a help center, user community portal, and other capabilities into your website or mobile and help customers find answers at their own pace.
One unique feature of this tool is that you can build your own help desk-related internal apps through SDKs. Moreover, connecting Zoho Desk with other business tools is also fairly simple. If your team faces any challenges, they can always engage with other users on the Zoho Desk community, discover success stories, and share their feedback.
You Can Use Zoho Desk To:
Create a multi-brand help center for your different brands
Automatically tag tickets with the help of Artificial Intelligence called Zia
Inform customers and agents about ticket progress
Keep track of time spent on every task and support ticket
Use ticket status to determine every step a ticket takes throughout its lifecycle
Zoho Desk Plans Include:
Free: Forever free plan, limited to 3 agents
Standard: $12/agent/month
Professional: $20/agent/month
Enterprise: $35/agent/month
Read More – Zoho Desk Alternatives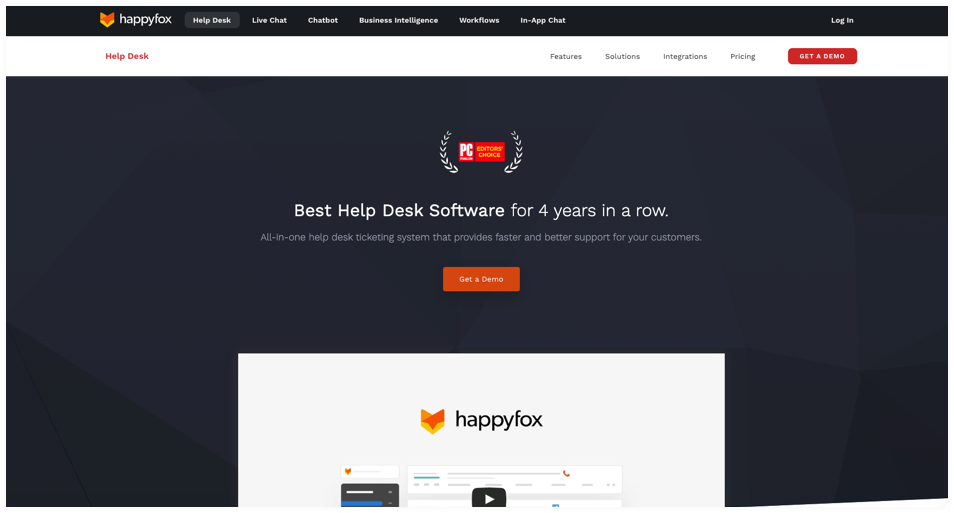 HappyFox is another impressive help desk tool that is known for its robust ticketing system, knowledge base, and community forums. With its powerful multi-channel capabilities, your team can convert all incoming email, chat, phone, and web requests into support tickets and keep them organized in a central place.
One great aspect about HappyFox is that all incoming customer issues or requests are automatically organized into categories such as customer support, sales, marketing, logistics, returns, billing, etc. Your agents can even pin tickets on the left pane of their dashboard to quickly access ongoing tickets without losing track of work.
You Can Use HappyFox To:
Keep an eye on your social media mentions as well as messages
Create an internal knowledge base with FAQs, help articles, etc. for your agents
Allow agents to receive notifications on Slack or Microsoft Teams
Create smart rules to automate your various help desk workflows
Leverage insightful reports to identify your top performers and those that need further training
HappyFox Plans Include:
HappyFox does not offer a forever-free plan. The tool comes with four plans- Mighty, Fantastic, Enterprise, and Enterprise Plus. For accurate pricing information, you will have to make a request on their website.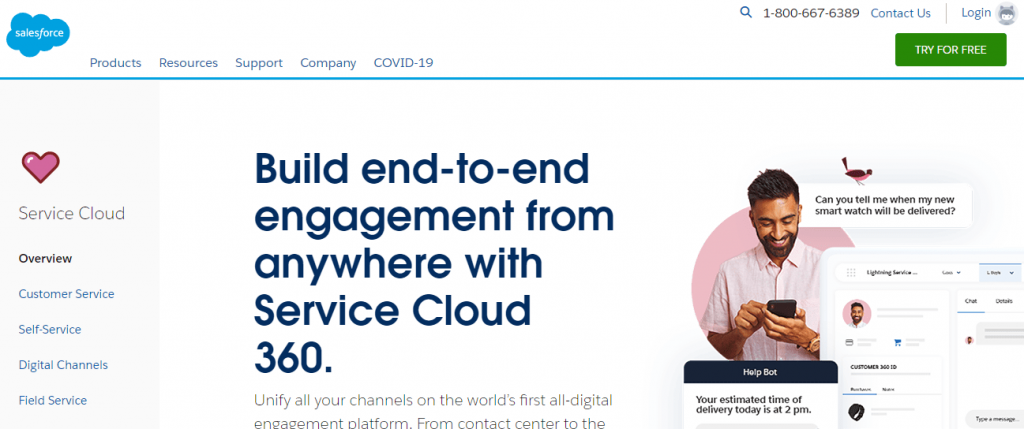 Salesforce Service Cloud is a cloud-based customer support software that allows your team to seamlessly handle support cases from one screen and get a 360-degree view of the customer. Whether agents are working in the contact center or working remotely, customer service managers can easily track their work and monitor their performance.
To maximize agent productivity, Salesforce Service Cloud recommends help articles to agents while they are working on case resolution. Another remarkable feature is that you can offer visual support to your customers from anywhere. Assist customers in real-time over video chat and enhance the customer experience.
You Can Use Salesforce Service Cloud To:
Route tickets to agents based on their skills and expertise
Deliver personalized experiences by viewing the history of every case and customer interaction
Empower agents to work smarter with easy access to shared knowledge
Connect with your field agents instantly with the help of Field Service Lightning
Gain actionable insights about every customer interaction
Salesforce Service Cloud Plans Include:
Essentials: $25/user/month
Professional: $75/user/month
Enterprise: $150/user/month
Unlimited: $300/user/month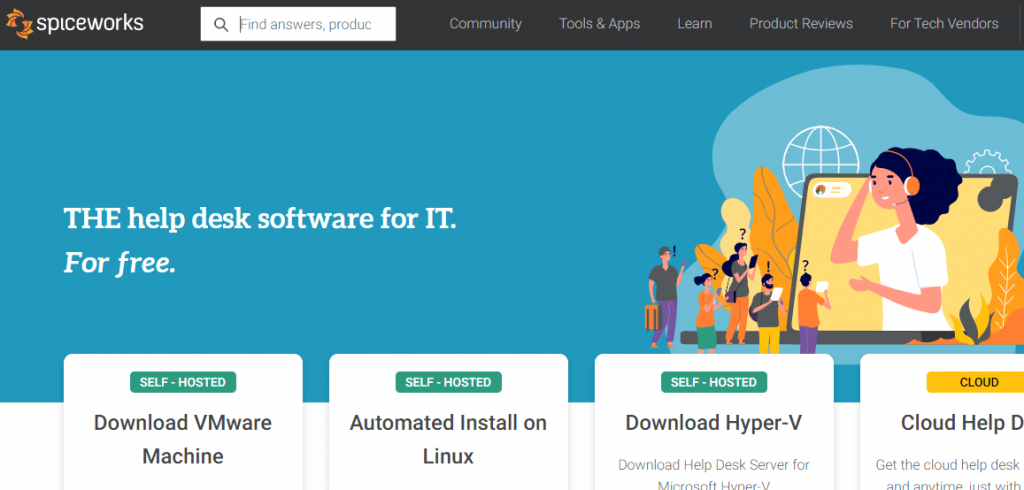 Spiceworks is another tool like Vision Helpdesk that helps you capture support requests and issues from channels such as phone, user portal, email, mobile app, etc. Your team members can keep tight control on IT incidents, discuss tickets with private comments, and close them in a timely manner.
With Spiceworks, you can also create a customizable user portal where customers can submit tickets, track their progress, and get access to relevant information at the right time. Unlike other help desk tools, Spiceworks can also help you deliver multi-site support for your customers based in different locations.
You Can Use Spiceworks Help Desk To:
Easily create ticket rules to auto-assign tickets to your agents
Add additional information about tickets using custom fields
Allow agents to share tickets with peers to work on the ticket together
Calculate key support metrics such as ticket close time, first response time, and more
Discover the devices on your network automatically with the Spiceworks IP Scanner
Spiceworks Plans Include:
Spiceworks IT help desk software is available free of cost for all businesses.
Read More: Best Spiceworks Service Desk Alternatives for 2023
Comparison of Best Alternatives of Vision Helpdesk
| Software | Price | Shared Inbox | Multi-channel Communication | Alerts & Escalations | Live Chat | Self-Service Portal | IT Help Desk |
| --- | --- | --- | --- | --- | --- | --- | --- |
| ProProfs Help Desk | $10/month | Y | Y | Y | Y | Y | Y |
| Zendesk | $49/month | Y | Y | Y | Y | Y | Y |
| Freshdesk | $15/month | Y | Y | Y | Y | Y | N |
| Kayako | $15/month | Y | Y | Y | Y | Y | N |
| LiveAgent | $15/month | Y | Y | Y | Y | Y | N |
| InvGate Service Desk | Not Mentioned | N | Y | Y | N | Y | Y |
| Zoho Desk | $12/month | N | Y | Y | Y | Y | N |
| HappyFox | Not Mentioned | Y | Y | Y | Y | Y | N |
| Salesforce Service Cloud. | $25/month | Y | Y | Y | Y | Y | N |
| Spiceworks Help Desk | $0/month | N | Y | Y | N | Y | Y |
| Vision Helpdesk | $12/month | N | Y | Y | N | Y | Y |
Final Verdict: Which Vision Helpdesk Alternative Should You Go For?
There is no doubt that Vision Helpdesk is an affordable ticketing system that allows you to:
Manage customer conversations on multiple channels
Create your support workflows around SLA rules
Motivate agents with gamification features
Track time spent on tickets and bill customers accordingly
However, demerits such as lack of in-built live chat tool, outdated user interface, etc., leave users with no other option but to go for the right alternatives to Vision Helpdesk. We would again like to bring to your notice that all alternative tools shared in this Vision Helpdesk comparison blog are well trusted and have been the preferred choice for millions of businesses.
If you wish to go for a help desk system that is easy to use, comes at a similar price point, and offers more features, then ProProfs Help Desk can be a perfect choice. However, if you wish to only focus on IT support, both Spiceworks and InvGate Service Desk can be a good bet.
Do you want a free Help Desk?
We have the #1 Online Help Desk Software for delightful customer support