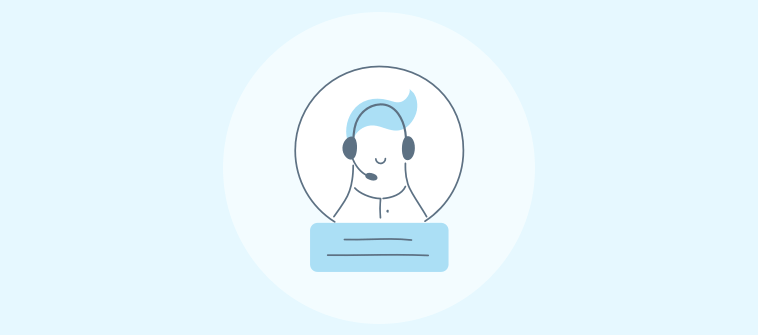 In the last couple of years, the demand for client portal software has skyrocketed. But do you really need one?
Let's call a spade a spade – client demands are endless. They will always have an infinite number of questions, inquiries, and requests. The result? They become overdependent on your support team.
With the best client portal software, you can empower your clients, reduce agent efforts, encourage self-service, and offer a delightful experience.
So if you are looking to build a client portal of your own but have no idea where to start, we are here to help. In this blog, we will start with the definition of a client portal, discuss its various benefits for your business, and then explore 10 client portal tools that are trending in the year 2023.
Let's go!
What is Client Portal Software?
Client portal software, also known as customer portal software, allows your business to create a platform where customers can find relevant product/service information, track their requests, interact with other customers, and more.
A client portal can be easily accessed by customers 24×7 via a web browser or mobile app. To safeguard customers' privacy, you can allow them to create their individual accounts and log in whenever they need any information.
How Does Customer Portal Software Work?
Client portal software allows you to build a dedicated client portal for your business. As soon as you create an account and log in, you can customize your portal to match your brand's design appeal and overall look. You can choose from pre-designed templates or themes, add images, colors, and place your company logo for greater personalization.
Now, once you take your support portal live, you can control who gets to access it. With security features such as password protection and single-sign-on, you can safeguard the sensitive data of your clients.
Now, using your portal, clients can find helpful information in the form of FAQs, articles, videos, etc. They can even track their ongoing or past support tickets, interact with other clients, and share feedback to help you improve your self-help content.
Benefits of Client Portal Software
There are several benefits your business can enjoy after investing in the right client portal system. Let's discuss them right away.
1. Provide Information 24×7
Customer service portal software helps you consolidate all such information that can help your customers use your products or services better. For instance, you can upload help articles, stream video tutorials, add step-by-step guides, and much more.
So what benefits can your business expect when you make knowledge available 24×7? Well, you don't have to force customers to drop an email or make a call for their basic concerns. As customers can find relevant information whenever they need it, your business can reduce costs as well as support tickets.
Customers love self-service, especially when they need quick solutions. Providing customers with everything they need builds trust and confidence. It shows that your business is committed to customers' success and growth and is actively working on making things easier for them. Many businesses also use these tutorial videos with subtitles as an integral part of their social media growth strategy which is favored by more than 80% of viewers.
Read More: How to Reduce Support Ticket Volume in 15 Sure-Fire Ways
2. Reduce Employee Workload
Although client interactions are great for any company, you would not want to overburden your team with endless issues or requests. This will distract them from urgent issues and lead to mental fatigue.
A well-built customer portal helps you avoid human errors and reduce staff efforts. For instance, by uploading user manuals, you can allow customers to get started with your product in no time. So instead of answering customer questions related to product features or usage, staff members can focus on other important tasks.
3. Keep Client Data Secure
Sharing files with your clients across multiple emails is not only time-consuming and cumbersome but also "not secure." So how do you protect your client's sensitive information and privacy?
Well, with the best client portal software, you can safeguard sensitive data and avoid data breaches. A client portal comes with password and privacy control features such as single sign-on to secure your content. Moreover, you can secure information with role/team-based access for internal teams.
4. Enhance the Client Experience
Did you know that around 60% of US customers prefer automated self-service for simple customer service tasks? Yes, modern clients are looking for an experience that involves minimum friction and makes them feel more empowered.
With a client portal app or website, you can allow customers to learn more about your business or product offerings at their own pace. They can learn about new product releases, read announcements, and share their valuable suggestions – all from a single platform.
Read More: Customer Experience Strategy 101: Customer Experience is the New Marketing
List of 10 Best Client Portal Software
Customer portal tools come in multiple forms – while some focus on project collaboration, others focus on help desk ticketing system and self-service. Here are the 10 best online client portal software that you can consider this year:
ProProfs Help Desk allows you to manage all client conversations in one place. Unlike other tools, this free client portal software comes with a powerful combination of help desk ticketing and self-service features.
By creating a 24×7 service portal, you can allow clients to find relevant help at their own pace. You can assign multiple roles to define the permissions of different individuals and groups, and offer them complete clarity about what they are supposed to do. You can even enable single sign-on (SSO) on your portal to make it easier for clients to access information anytime, anywhere.
Top Features of ProProfs Help Desk:
Manage client conversations via email, live chat, service portal, web forms, etc.
Assign roles such as administrator, editor, or contributors to internal team members
Encourage self-service and reduce the dependence of clients on emails and calls
Share CSAT, NPS surveys to monitor the client experience
Upload documentation, FAQs, articles, user manuals, videos, and much more
What we like: ProProfs comes with powerful SEO capabilities that help you enhance search engine visibility.
What could be better: We would love to see more third-party integration options for this tool.
ProProfs Help Desk Plans Include:
Starts at $20/agent/month (billed annually).
Zendesk's client portal system allows customers to track multiple activities in one place. For instance, customers can easily view the status of their issues or requests, check knowledge base articles, rate their effectiveness, and much more.
If customers are facing any problem, they can also create new requests by completing a simple form. As a business, you can customize these web forms and choose particular fields so that your agents get all the relevant information they need to resolve a ticket.
Top Features of Zendesk
Allow customers to view their previous support interactions
Add your company logo and themes so that your portal can match your brand identity
Allow support agents to update content so it is always relevant for customers
Create multiple help centers that cater to different regions or brands
Keep your help center open or restrict it to some users
What we liked: You will notice that Zendesk's customer portal is quite easy to navigate as everything is well organized.
What could be better: The themes are quite basic and can be improved.
Zendesk Plans Include:
Suite Team: $49/agent/month
Suite Growth: $79/agent/month
Suite Professional: $99/agent/month
With Zoho Desk, you can create a client portal that acts as a secure digital gateway for your customers. You can supply a wide range of information to your clients ranging from product updates, new features, upcoming sales, or other announcements.
When it comes to customization, Zoho has done a great job. In addition to branding basics like theme and logo, Zoho Desk's online client portal offers multiple advanced personalization options. For instance, your team can use HTML and CSS editors to make your portal look similar to your company's website.
Top Features of Zoho Desk:
Set multiple help centers for your different brands and cater to a bigger audience
Allow customers to submit tickets directly from the portal
Set permissions to control who can access your portal
Monitor your customers' self-service behavior and engagement levels
Encourage self-service by making clients track their ticket statuses on their own
What we liked: Zoho Desk's client portal supports several languages, so your clients can interact in the language of their choice.
What could be better: The Standard version lacks important features such as live chat, answer bots, custom widgets, and more.
Zoho Desk Plans Include:
Free: Forever free plan, limited to 3 agents
Standard: $12/agent/month
Professional: $20/agent/month
Enterprise: $35/agent/month
Read More – Zoho Desk Alternatives
With HappyFox's client portal software, you can provide customers a single platform to check their ticket status, get inputs on issues, interact with other like-minded customers in community forum discussions, and a lot more.
HappyFox takes customer engagement to the next level with the help of a community forum. For instance, your business can create an online forum where customers can share their views/inputs on issues and see necessary help. On the other hand, support agents can create topics for discussion, gather feedback, or make announcements.
Top Features of HappyFox:
Allow customers to log in using their Twitter or Google accounts
Create a community forum and add topics for discussions
Allow customers to switch between languages and gain a better understanding
Use insightful reports to monitor customer engagement and retention
Give support agents ample time to focus on urgent issues or requests
What we liked: With smart rules, you can automatically mark tickets as closed or re-opened when they meet certain criteria.
What could be better: One major drawback is that the company does not provide transparent pricing on its website.
HappyFox Plans Include:
HappyFox offers four plans- Mighty, Fantastic, Enterprise, and Enterprise Plus. However, if you wish to receive the pricing details, you'll need to contact their sales team.
Monday.com can work perfectly for your business if you are looking for a client portal that's focused on project collaboration. With the help of its user-friendly interface, you can share all relevant information with your clients — sales processes, email marketing campaigns, social media updates, and much more.
Using monday.com's boards, you can organize tasks as project roadmaps and allow clients to get a holistic view. Clients can take their time to evaluate project progress, compare tasks with their deadlines, and communicate with your team in real-time.
Top Features of Monday.com:
Allow clients to view your project progress and get approvals in real-time
Centralize all your client's information in one place for effective communication
Leverage ready-to-use templates to create web forms for your clients
Make your work more visual with views such as Gantt charts
Use smart columns to move clients from one pipeline to another
What we liked: You can easily see which clients viewed your message and at what time.
What could be better: Too many email notifications can leave you frustrated.
Monday.com Plans Include:
Individual: Forever free for up to 2 seats
Basic: $8/seat/month
Standard: $10/seat/month
Pro: $16/seat/month
Enterprise: Custom plan
LiveAgent can help you empower customers with a 24×7 client service portal that includes a combination of knowledge base, FAQs, and community forums. You can reduce customer service costs by allowing customers to check the progress of their support queries on their own without needing agent intervention.
Without any coding skills, you can create self-service articles and adapt them to your company's design philosophy. In addition to this, in just a few simple steps, you can create a community forum where customers can talk about new functionalities, ask others for assistance, provide suggestions for improvement, and more.
Top Features of LiveAgent:
Understand customer grievances better with the help of ticket forms
Create an internal forum for your team to share work thoughts and ideas
Create a public forum that can be accessed by all your customers
Add attachments to your knowledge base articles or other content
Identify, reward, and appreciate your top-performing customer service staff
What we liked: LiveAgent offers a highly customizable feedback button that prompts visitors to offer their valuable feedback/suggestions.
What could be better: A lack of great design options can make your customer portal website appear outdated.
LiveAgent Plans Include:
Free: Forever free plan with limitations
Ticket: $15/agent/month
Ticket + Chat: $29/agent/month
All-Inclusive: $39/agent/month
Read More: Best Live Agent Alternatives for 2023
Nifty is a client project management tool that allows you to manage all client projects as well as communications in one place. In simple words, this tool acts as a collaboration space for your team and clients to share ideas, seek feedback, finalize projects, and turn discussions into actions.
You can centrally store project assets so that clients can retrieve whatever they need on their own without needing help from your team. But what if you don't want to share everything with your clients? Well, there is a solution for that as well. You can easily hide specific internal communications, tasks, or reports from your clients.
Top Features of Nifty:
Generate automated reports and view the progress of tasks or projects
Automatically share project's progress with your clients
Track billable hours and keep track of labor costs
Collaborate with clients on the move using Nifty's mobile app
Leverage their video tutorials and guides for a seamless onboarding experience
What we liked: Unlike other tools, with Nifty, you can assign tasks to your clients to notify them about what's needed and by when. This can help you avoid unnecessary meetings later.
What could be better: You cannot edit past time logs once they have been created.
Nifty Plans Include:
Free: Forever free plan
Starter: $39/month (10 members)
Pro: $79/month (20 members)
Business: $124/month (50 members)
Unlimited: $399/month for unlimited members
Onehub offers a sophisticated customer portal solution that helps your business appear more professional in front of clients. The best part about this tool is that it allows you to easily upload files to your client portal. You can use the simple drag-and-drop feature to upload files quickly.
Onehub helps your team track every activity that happens within your client portal. For instance, you can even track document-sharing activities for every user. Moreover, you can add collaboration features to your client portal that will make communicating with clients more convenient and secure.
Top Features of Onehub:
Upload multiple files at once using the drag-and-drop feature
Keep your content highly organized so clients can find whatever they are looking for
Allow clients to get high-quality previews of more than 30 different file types
Customize your client portal with your logo and brand colors
Determine who can have access to your content and keep your data safe
What we liked: Onehub offers bank-level encryption to protect your clients' data and privacy.
What could be better: If you are using this tool as an Administrator, it might take you some time to get a hold of everything.
Onehub Plans Include:
Standard: $12.5/user/month
Advanced: $20/user/month
Data Room Edition: $300/month for 5 users
Unlimited Edition: $500/month for unlimited users
Kahootz is one of the best client portal software that helps you build better and stronger customer relationships. Customer relationships are essential for the success of a company. Without good management, no business will remain standing long enough to truly grow and thrive.
Use the best possible CRM tools (customer relationship management tools) you can find to ensure your customer service team is able to keep your customers happy. A good CRM tool will complement everything you can do for your customers with ease and as quickly as possible, which is what you want, of course.
This tool allows you to take the guesswork out of your product development and service strategies. For instance, you can share surveys and take instant feedback from your clients.
With this online customer portal, you can bridge the growing gap between your business and clients. You can host blogs, stream videos, create discussion forums, and allow team members to connect with clients to share their ideas.
Top Features of Kahootz:
Prevent your staff from uploading or sharing sensitive client information
Keep a firm track of document views, reviews, and downloads
Keep your clients updated by scheduling emails for meetings
Create your virtual meeting room with Khootz's in-built conference calling facility
Share files and attachments of up to 20 GB with your customers based across the globe
What we like: The best part is that Kahootz's calendar tool makes it easy for clients to see upcoming meetings, project milestones, and events.
What could be better: Their reporting system is complicated and a little difficult to understand.
Kahootz Plans Include:
Starter: £5/user/month
Professional: £10.5/user/month
Enterprise: £10/user/month
Suitedash is an all-in-one tool that encourages interaction between different departments and streamlines interactions with clients. The tool comes with great security features and allows you to set two-factor authentication for secure customer portal access.
As a popular client portal tool, Suitedash comes with great file sharing options. For instance, your staff and clients can use the drag-and-drop feature to share or upload files. Moreover, you can even control file and folder permissions for both internal members as well as clients.
Top Features of Suitedash:
Easily customize the login screen of your client portal
Deliver a consistent experience across all devices including mobile
Admins can track all the complete sequence of actions taken by all users
Share PDFs or other file types with your clients
No real limit to the size of files that can be shared
What we liked: You can create your own custom mobile app and allow clients to install it on their Apple or Android devices.
What could be better: It lacks help desk integration and hence, does not allow you to capture and track client issues/requests.
Suitedash Plans Include:
Start: $19/month
Thrive: $49/month
Pinnacle: $99/month
Empower Your Clients with Client Portal Software
As a business, you need to get one thing straight – customers will have thousands of questions and you cannot always answer them all by yourself.
With the best client portal software, your business can offer ready-made solutions to client problems and allow them to resolve their issues at their own pace. Moreover, in this process, your business can successfully reduce the time and cost of communicating with clients.
If you are still unsure about which solution to go for, we suggest you give ProProfs Help Desk a try. It comes with an in-built knowledge base that can help your business offer knowledge 24×7. So even when your team is offline, clients can log in to the portal and discover all the answers they need.
Do you want a free Help Desk?
We have the #1 Online Help Desk Software for delightful customer support