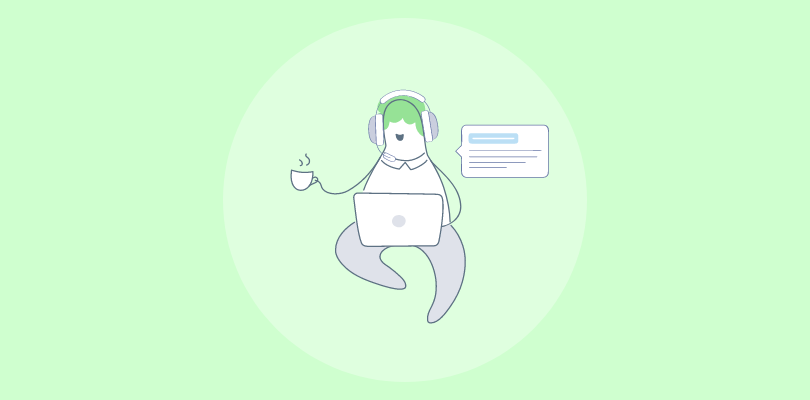 Let me take you on a trip down memory lane — remember the time when customers had no other option but to run to your office or store to get their problems fixed?
Ah, those days!
But we have come a long way since.
Today, millions of support professionals have all the tools in their arsenal to interact with customers and troubleshoot their problems in real time. Thanks to remote help desk software!
I believe that delightful customer support should not be restricted by big walls or geographical boundaries. If your customers need assistance, they should get it no matter where they are. That's why I created this comprehensive list of remote support software to help you get your hands on the best option.
| Remote Help Desk Software | Best For | Pricing |
| --- | --- | --- |
| ProProfs Help Desk | Omnichannel Remote Support | Starts at $20/user/month (Single plan with all premium features. |
| Freshdesk | Team Collaboration | Starts at $15/user/month |
| LiveAgent | Workload Management | Starts at $9/user/month |
| SysAid | Built-in Remote Control | Custom pricing |
| Spiceworks | Cloud Accessibility | Free for all users. |
| Solarwinds Service Desk | In-built Integration | Starts at $39/user/month |
| Front | Team Inbox | Starts at $59/user/month |
| ServiceNow | Self-Service | Custom pricing |
| HappyFox | Online Forms | Starts at $26/user/month |
| Hiver | Remote Email Support | Starts at $15/user/month |
| Zendesk | Reports & Analytics | Starts at $49/user/month |
| Kustomer | CRM Capabilities | Starts at $89/user/month |
12 Best Remote Support Software
Frankly speaking, there are dozens of blogs out there that list some really good tools. So why should you believe me?
I did some rigorous research to ensure only the best platforms are included.
This list is a mix of remote support tools that I have used personally over the last decade. Some have been recommended by peers, and others I discovered on leading software review platforms.
1. ProProfs Help Desk – Best for Omnichannel Remote Support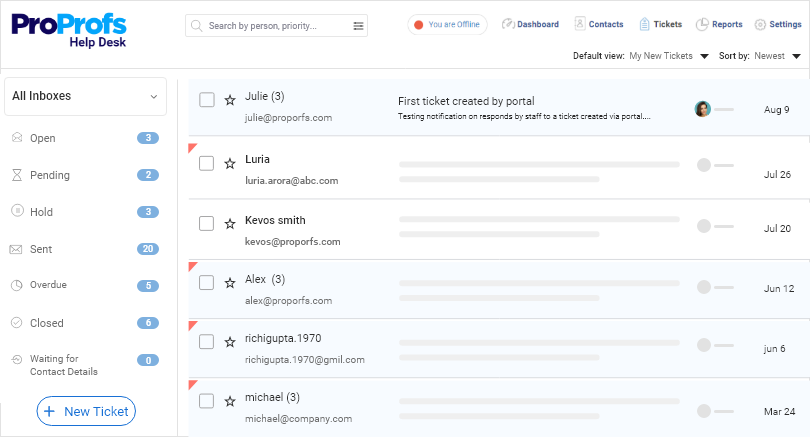 I think if there is one tool that is designed specifically for remote customer service teams, it is ProProfs Help Desk. Whether customers reach out via email, live chat, or web forms, I can deliver a fast and consistent experience.
With the live chat integration, I can easily connect with customers using platforms such as Google Meet and GoTo Meeting. Let me explain how it works.
I can enable screen-sharing and resolve complex issues in no time. In addition, I can even record these sessions and use them in the future for reference, training, or quality monitoring.
ProProfs' recently launched mobile app looks fresh and can help agents stay connected to customers even on the go.
What you'll like:
Enjoy secure, 24×7 access on multiple devices – laptop, PC, mobile, or tablet
Record and store remote support sessions for future reference
Assign tickets to multiple departments with parent-child ticketing
Top-notch security features – IP restrictions, single sign-on, two-factor authentication, etc.
What you won't like:
The tool rolls out new features consistently, so you will need to adapt regularly
More project management and CRM integrations could be useful
Pricing: Starts at $20/user/month (Single plan with all premium features. 15-day free trial available)
2. Freshdesk – Best for team collaboration

I have always said this, and I will say it again – "Delightful customer service is a team effort."
If your customer service agents are working from outside of the traditional office environment and need an internal collaboration platform, I suggest you place your bet on Freshdesk. Your business can offer round-the-clock assistance across multiple time zones without worrying about team collaboration or communication challenges.
Remote service agents can collaborate with each other, use pre-defined response templates for faster issue resolution, and co-author internal knowledge base articles. Moreover, you can even share the ownership of support tickets among multiple agents for faster ticket resolution.
What you'll like:
You can support customers on multiple channels – email, phone, live chat, etc.
Live dashboard and reports provide visibility into agent workload
Integrate with leading file-sharing tools such as DropBox and OneDrive
The parent-child ticketing feature helps you split complex issues into smaller tickets
What you won't like:
The Growth plan misses out on some must-have features, such as automated ticket routing, forms, custom reports, etc.
An extensive number of features can be overwhelming for some users
Pricing: Starts at $15/user/month
3. LiveAgent – Best for workload management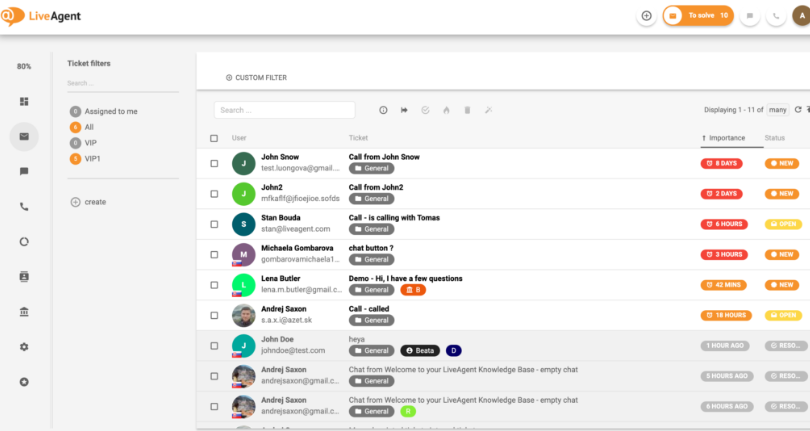 While managing a remote team, I need to be on my toes about work allocation and ticket distribution. LiveAgent offered me greater visibility into workload management and ensured no important ticket could slip through the cracks.
The best part is that the time-tracking tool enables you to calculate the exact time spent resolving each ticket. This can be really helpful if you have to bill your clients.
The tool even allows support managers to keep a firm tab on operations. They can track everything from agent performance and usage statistics to customer satisfaction ratings, all in one place.
What you'll like:
A library of pre-made email response templates
Set up live chat and feedback widgets in multiple languages
Internal chat can be used to boost internal communication and collaboration
Mass or bulk actions on tickets for greater efficiency
What you won't like:
The text translation feature isn't accurate at times
Many users feel that ticket creation from phone calls is tricky
Pricing: Starts at $9/user/month
4. SysAid – Best for built-in remote control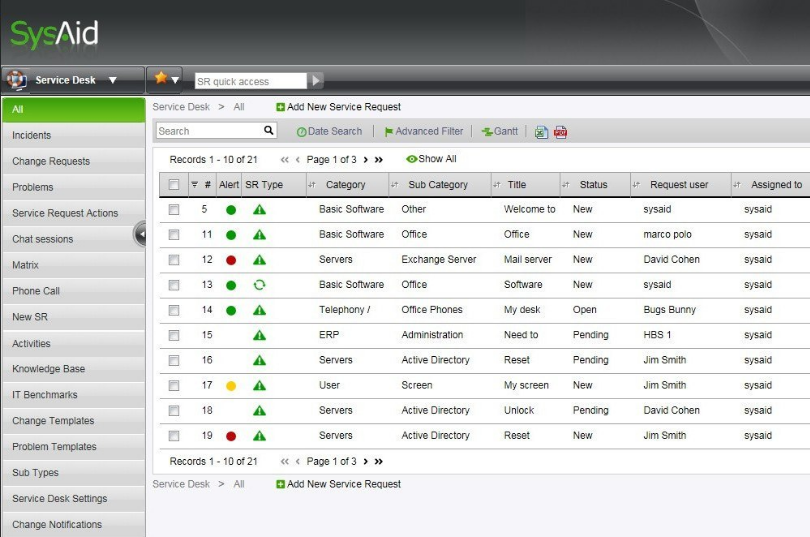 SysAid is a remarkable remote access software that deserves a spot on this list.
I was fascinated by SysAid's built-in remote control feature, which enables IT support reps to connect to end-user computers in just a few seconds. They can gain access to their systems and troubleshoot issues by offering remote assistance.
In addition, SysAid's user portal gives your help desk greater reach. For instance, It allows end-users to perform a variety of IT-related interactions – raising and checking the status of tickets, viewing the latest updates or announcements, and contacting IT via chat.
What you'll like:
Automatically convert end-user emails into tickets
It's quite easy to customize the tool's notifications as per your requirements
Ticket escalation rules can be used to speed up the issue resolution process
Manage all your IT assets directly within your help desk
What you won't like:
SysAid comes with a steep learning curve
The tool is more focused on IT support than general customer service
Pricing: Custom pricing
5. Spiceworks – Best for cloud accessibility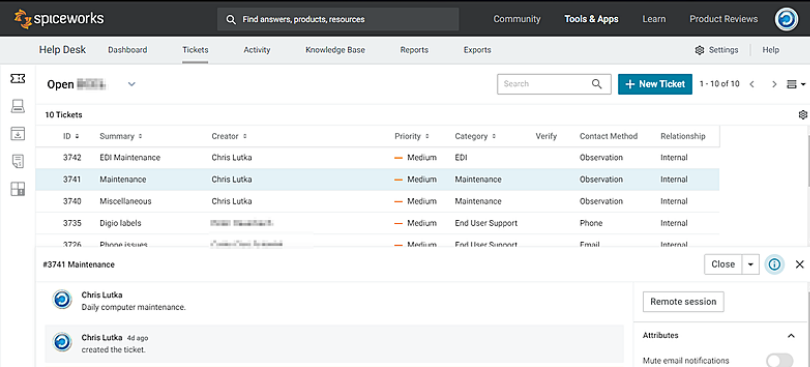 Spiceworks is free remote support software that can help your team get the support system up and running in no time.
Since the tool is set up in the cloud, your team can enjoy anytime, anywhere access. I love the fact that Spiceworks users don't have to worry about server procurement, backups, or maintenance.
You can use this tool to assist customers or staff members by starting a secure remote support session directly from support tickets. Moreover, you can create a customizable user portal where end-users can submit and track the progress of their tickets.
What you'll like:
With a simple dashboard, tracking ongoing IT requests and projects is a breeze
Custom fields can be created to track additional information about tickets
Monitor ticket close time, first response time, and other metrics
A community forum for interacting with customer service experts and enthusiasts
What you won't like:
Due to Spicework's free pricing policy, ads are shown in the help desk portal
Limited number of integrations with third-party tools
Pricing: Free for all users (without customer support)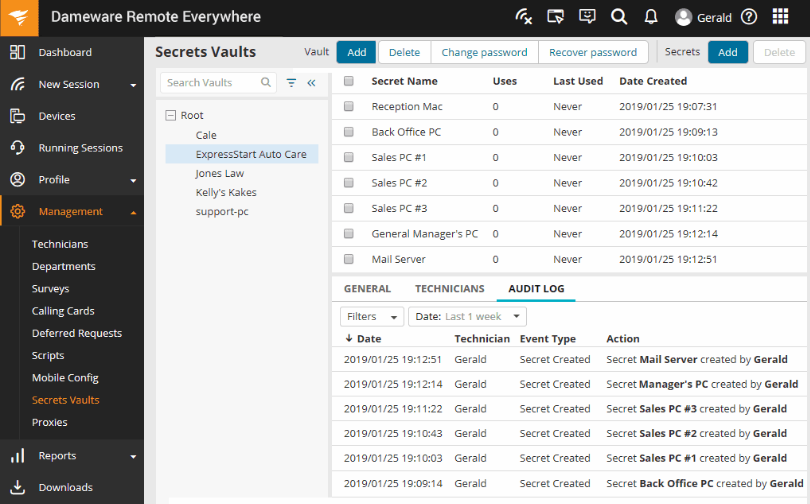 Although SolarWinds Service Desk connects seamlessly with multiple tools, I would like to highlight a dream integration for remote support teams.
You can easily connect Solarwinds Service Desk and Dameware Remote Everywhere (DRE) to allow your IT agents to provide efficient support to end-users, no matter where they are operating from.
Agents can gain access to remote desktops and work behind the scenes without bothering IT end-users. I know you must be thinking, "Is this even safe?" Well, DRE takes care of data security with advanced encryption protocols, two-factor authentication, and multilevel permissions.
What you'll like:
Manage your IT assets and technology inventory in one place
Provide a consolidated database of articles with a knowledge base
Create an IT service catalog for your end-users
The tool makes it easy to track SLA breaches and CSAT scores
What you won't like:
SolarWinds is quite expensive compared to other tools in the market
The initial setup can be complicated for some users
Pricing: Starts at $39/user/month
7. Front – Best for team inbox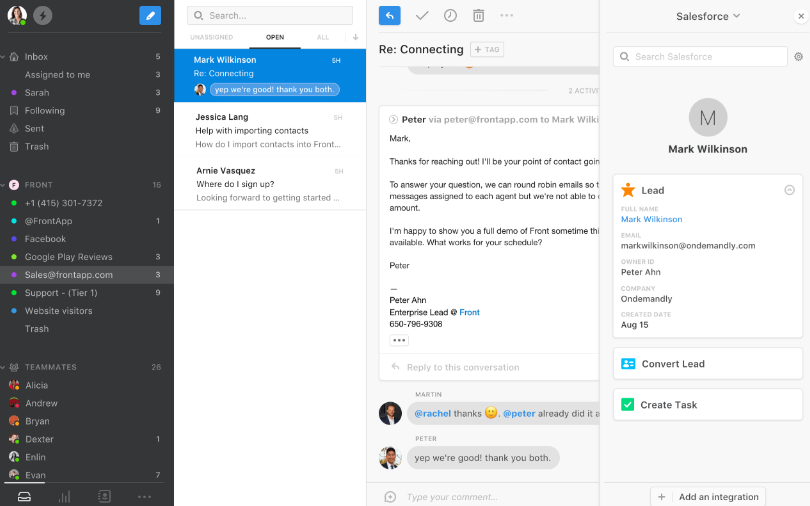 Are your remote customer service members struggling to get control over multiple communication channels? I say it's time to put a full stop to this constant back-and-forth!
Front's team inbox feature is designed to make remote support effortless. All the agents can get 360-degree visibility into customer messages and resolve tickets simultaneously, irrespective of where they are.
In addition, you can create SLAs and escalation workflows to avoid breaches and add tags to tickets to prioritize the right messages.
What you'll like:
Discuss customer messages with private comments only visible to your team
Reports help you track response times, customer experience, and other metrics
Email response drafts can be shared with team members for accurate replies
Stay connected with Front's mobile apps for Android and iOS
What you won't like:
Expensive subscription plans make this tool an unsuitable option for small businesses
Front lacks advanced reporting capabilities
Pricing: Starts at $59/user/month
8. ServiceNow – Best for self-service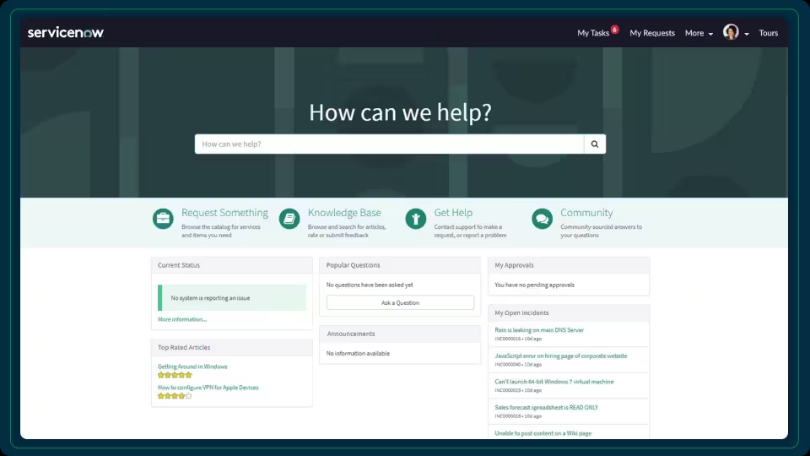 I have always emphasized the role of a self-service portal when it comes to remote support. Customers can easily access FAQs, troubleshooting steps, and video tutorials on their preferred devices, even before a remote agent connects with them. Now, that's true empowerment!
ServiceNow does an excellent job of providing users with all the tools they need to set up an online service portal. You can provide immediate access to resources and deflect a majority of issues.
I also find ServiceNow's chatbot feature quite impressive. AI-powered chatbots or virtual agents can resolve common requests and give human agents more time to focus on what's important.
What you'll like:
Create as many virtual agents as you want and train them to understand simple human language
Conduct root cause analysis to prevent future IT disruptions
ServiceNow integrates seamlessly with Cisco, Jira, Slack, and other tools
Customers can submit requests via the self-service portal, email, or phone
What you won't like:
The user interface can appear complicated for first-time users
You might find it difficult to search for specific support tickets
Pricing: Custom pricing
9. HappyFox – Best for online forms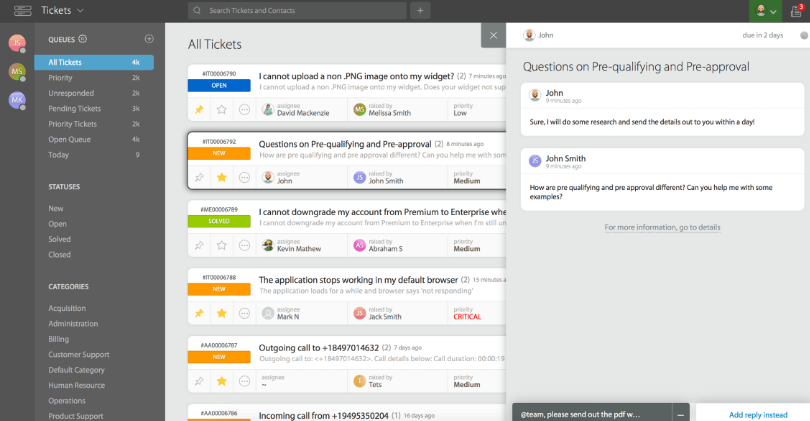 I think an online form is like a white crayon. Its importance is often overlooked by most people.
Remote support agents need ample data about a request or complaint before they wear the "detective" hat and begin their investigation. This is where HappyFox can help them capture crucial case information using in-depth online forms.
For example, while using HappyFox, I customized the form to obtain details such as email ID, issue description, solutions tried, and so on. You are free to include fields that are relevant to your process. Also, remote agents will love how easy it is to sort and categorize tickets using Tags.
What you'll like:
Provide support on the move with a dedicated mobile app
Canned responses can help your team share faster replies to common queries
Build a dedicated knowledge base to encourage self-service
Reports help you track ticket inflow on different communication channels
What you won't like:
HappyFox's pricing structure can seem complicated
Additional performance metrics and reporting charts should be added for improved decision-making
Pricing: Starts at $26/user/month
10. Hiver – Best for remote email support
Is your remote customer service team heavily focused on email? I suggest you try Hiver — a popular Gmail-based help desk solution.
Using Hiver, your team can communicate more efficiently, irrespective of where they are. A simple, email-inspired interface is another feather in the cap.
The tool allows you to turn email messages into actionable tasks and allocate them to the right people. I also like how remote agents can organize tickets based on statuses, such as Open, Pending, or Closed.
What you'll like:
Hiver lets you manage chat and email support right from your Gmail account
Automatically assign incoming email messages to team members
Share notes with team members to offer more context
Customer satisfaction ratings can give insights into the customer experience
What you won't like:
The free trial period is limited to just 10 days
The mobile app is quite slow and lags at times
Pricing: Starts at $15/user/month
11. Zendesk – Best for reports & analytics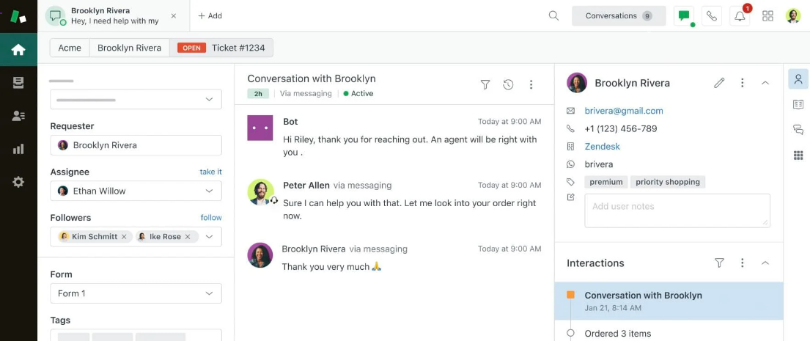 Reports and analytics always remind me of a famous quote by W. Edward Deming, "In God we trust. All others bring data."
Zendesk is a popular help desk software that gives you a 360-degree view of your remote customer service performance.
Customizable reports and visualizations showcase ticket volumes, response times, resolution rates, and customer feedback, aiding in identifying strengths and areas for improvement. I suggest you use the reporting feature to identify your top-performing remote agents and give them the recognition and reward they deserve.
What you'll like:
All crucial customer information can be accessed right from the ticket
Allow agents to contribute to self-service articles and guides
A dedicated help center and community forum can help you promote self-service
Use AI-powered answer bots to support customers 24×7
What you won't like:
Zendesk's pricing is quite expensive compared to its closest competitors
The platform comes with a steep learning curve
Pricing: Starts at $49/user/month
12. Kustomer – Best for CRM capabilities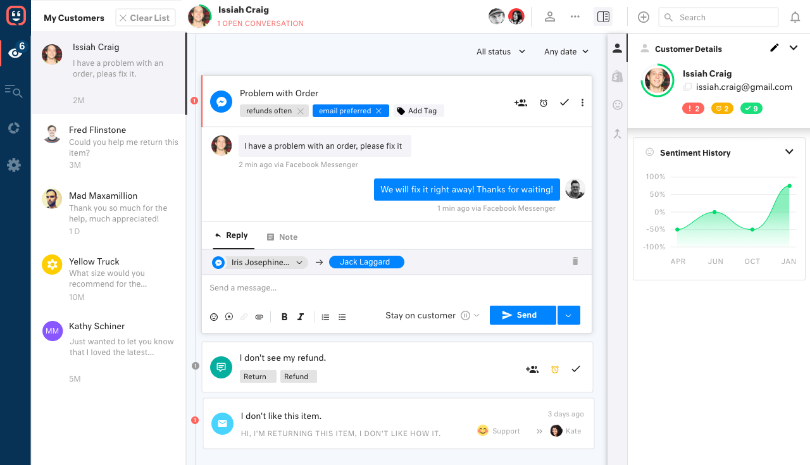 Kustomer calls itself a customer service CRM tool, and I don't see a single reason to doubt their claim.
The tool gives you a unique view of each customer that includes every information right from their contact information to order history. With this data at hand, you can hyper-personalize the support experience and win customers for life.
Kustomer is powered by AI. So, you can automate your process, contextualize conversations, and share simple responses automatically. This allows your team to focus their energies on more pressing issues that demand urgent attention.
What you'll like:
Designed with NLP, chatbots can recognize a customer's native language and automatically respond with translated scripts
Create rules to automatically sort and assign conversations
Kustomer integrates well with social media platforms like Facebook, Twitter, and WhatsApp
Control access to help desk with roles and permissions
What you won't like:
The tool is quite expensive given the features it brings to the table
Customer support isn't always reliable
Pricing: Starts at $89/user/month
Which Is the Best Remote Support Help Desk Software?
I understand that managing a distributed support team and remote customers can be quite a struggle in itself. Add to that the pressure of choosing that "perfect" tool.
If you still haven't moved closer to a decision, let me help you out! Here are my top three picks that you can consider for your team:
Option A: ProProfs Help Desk
ProProfs Help Desk is designed for quick deployment, anytime-anywhere access, and 24×7 remote support. The best part is that remote support agents can enable screen-sharing, record sessions, and use them for future reference or training. A simple and email-like UI is another aspect you will love about this tool.
Option B: Spiceworks
Spiceworks offers free cloud-based remote support software for modern teams. Thanks to its cloud accessibility, users can avoid high maintenance costs and server concerns. Give agents the option to start secure remote support sessions from tickets and build a customizable user portal for streamlined issue resolution.
Option C: Zendesk
If budget is not a constraint, I would suggest you go for Zendesk. With rich reports and analytics, support managers can keep track of resolution rates, response times, customer satisfaction scores, and other impactful metrics. An online help center and community forum will also help you reduce your ticket volume.
Overall, I will recommend ProProfs Help Desk as the best remote support software owing to its omnichannel capabilities, powerful automation features, and scalability. In addition to each tool's pricing, you must consider all the aspects discussed in this article that make them unique. I would suggest you opt for a free trial and take your favorite tool for a test drive.
Learn More About Report Support Software
Q. What is remote help desk software?
Remote support software is a tool that allows agents to support remote customers. With the help of an internet connection, an agent can assist customers no matter where they are located. Remote help desk software is best suited for those businesses that have customers based across different geographical locations, and it isn't possible for them to visit your store or office for small issues.
Q. What are the benefits of remote support software?
By investing in the right remote support platform, you can enjoy the following benefits:
Efficiency: Resolve issues quickly by accessing and troubleshooting remote devices in real time.
Cost Savings: Reduce travel costs associated with on-site support visits.
Time-Saving: Minimize downtime by addressing problems without waiting for technicians to arrive.
Global Reach: Assist customers or employees anywhere, regardless of geographical location.
Scalability: Handle multiple support sessions simultaneously, ideal for growing demands.
Q. What are the features of remote support help desk software?
Here are some key features of remote support help desk software:
Remote Access: Ability to access and control remote devices for troubleshooting.
Screen Sharing: View and share the user's screen to understand and resolve issues.
Live Chat: Real-time communication between technicians and users for quick assistance.
Session Recording: Record support sessions for documentation and quality control.
Integration with Other Tools: Connect with CRM, ticketing, and other software for streamlined workflows.
Mobile Support: Offer remote assistance through mobile devices.
Q. How much does a remote help desk software cost?
The cost of remote help desk software varies based on different factors such as features, number of users, etc. Basic plans start around $10-$30/user/month, mid-range plans range $30-$70/user/month, and enterprise plans can exceed $100/user/month.
Do you want a free Help Desk?
We have the #1 Online Help Desk Software for delightful customer support