There was a time when customers would run to your office or store to get their problems fixed. But not anymore. Thanks to remote support software that has empowered millions of support agents to interact with remote customers and troubleshoot problems in real-time.
But how do you know which one is tailor-made for you?
This is where this blog will come in handy. We have curated a list of the 10 best remote help desk software that will help you take your support operations to the next level. But before we begin, let's understand the definition, features, and benefits of remote support software for those new to it. You may skip over if you are a pro.
What Is Remote Support Software?
Remote support software is a tool that allows agents to offer support to remote customers. With the help of an internet connection, an agent can take control of an end user's system by securely connecting to it.
The screen-sharing feature enables remote support agents to access a customer's or employee's screen and fix what needs to be done. They can even share their screens to offer interactive product demonstrations or walkthroughs.
Remote help desk software is best suited for those businesses that have customers based across different locations, and it isn't possible for them to visit your store or office for small issues. The tool is primarily used by support agents to offer remote support and by managers to monitor team performance.
How to Choose the Best Remote Support Software
1. Ease of Use:
The best and the most popular software systems in the market are easy to use. The tool should not take up all your time when it comes to deployment. With an easy interface and navigation capabilities, your support team can get started quickly without any struggles. In addition, you will end up saving a lot of time and money on employee training.
2. Look for Powerful Remote Support Features
It is important to sit with your team and jot down the features that they can't do without. By creating a list of all essential remote assistance features, such as screen sharing, remote assistance, mobile apps, etc., you can gain clarity on what you need and what you can ignore.
3. Prioritize Security
Every remote support session involves the sharing of data and files. This means that there can be security risks or data breaches that can hamper your company's reputation. It becomes all the more important to choose remote assistance software that does not compromise data security. Some common security features include 2-Factor Authentication, IP restrictions, roles and permissions, etc.
4. Pricing Can Make All the Difference
Whether you wish to buy your favorite pair of jeans or software, price is always a concern. Go for an affordable solution that can be easily scaled to match your growing pace and needs. For instance, you can start your journey with a basic plan that offers all essential features and, later, switch to a premium plan that covers your requirements in all respects.
How to Use Remote Support Software
Different remote troubleshooting software can be used differently based on the features they offer. However, once the initial setup is complete, you can connect your ticketing system with multiple tools for remote support.
With the help of cloud technology, service reps can access the help desk platform no matter where they are. All they need to do is visit the vendor's website, log in using their unique credentials, and view all customer requests and complaints in one place.
As soon as a ticket is raised by a customer, it is automatically assigned to a team member. The agent can then start a remote support session from within the ticket and enable screen sharing. This gives them the opportunity to gain access to the customer's system or share their own screen for real-time troubleshooting.
You can then save the remote support sessions for future reference. For example, they can be used for training new agents or for quality monitoring.
What Are the Common Features of Remote Support Software?
File Attachments: In remote support, there is no in-person interaction. As a result, it becomes difficult for customers to explain their problems. However, you can encourage customers to attach any images or files related to their support tickets so that agents can get complete context.
Session Recordings: Successful businesses record each customer service interaction for quality and training purposes. The session recordings feature will help you record virtual support sessions that can be easily stored and accessed by agents and managers anytime in the future.
Private Notes: If you are looking to offer remote assistance to customers, your customer service team must communicate with one another in real-time. The private note is an essential feature that allows agents to discuss complex issues together or give other agents context about a ticket.
Screen Sharing: The best secure remote support software offer screen-sharing capabilities. But what exactly does this mean? Screen sharing enables agents to access a customer's PC to troubleshoot problems more efficiently. Moreover, they can even present their own screens to offer product demos or walkthroughs.
Mobile Apps: Remote help desk mobile apps can allow team members to view and respond to customer messages even when they are on the move. Most software vendors offer dedicated apps for Android and iOS to offer flexibility to remote service agents.
What Are the Benefits of Remote Help Desk Software?
1. Increased flexibility
Remote help desk software allows employees to access the help desk platform from any location. This is especially beneficial for companies with remote workers or multiple office locations. They can log in to the platform using multiple devices – PC, laptop, tablet, mobile, etc.
2. Improved Efficiency
With the screen-sharing feature, support reps can quickly access customer information, troubleshoot issues, and provide relevant solutions. Automated workflows will help your team achieve faster resolution times and improved customer satisfaction.
3. Cost Savings
We all know that on-site support interactions can cost your business a lot of money. A remote help desk solution can help reduce the need for on-site support staff, resulting in cost savings for the company.
4. Scalability
Remote support tools can match your growing needs easily. The software platform can be easily scaled to meet the changing needs of your business. This helps you focus on rapid growth and not worry about scaling challenges.
5. Better Data Tracking and Analysis
The tool even enables companies to track and analyze customer interactions. You can save remote support sessions and gain valuable insights into improvement areas. With the right data at their fingertips, managers can make key business decisions.
Top 10 Remote Support Software
Now, let's dive deep and explore the best remote support software available in the market. We will go through each individual feature and compare the pricing of these tools.
ProProfs Help Desk is a cloud-based tool designed for remote customer service teams. With the live chat integration, you can easily offer remote service using platforms such as Google Meet and GoTo Meeting.
With the help of this remote support software for small businesses, support agents can enable screen-sharing and resolve complex issues in no time. In addition, you can even record your sessions and use them in the future for reference, training, or quality monitoring.
Top Features of ProProfs Help Desk:
Enjoy secure, 24×7 access on multiple devices – laptop, PC, mobile, tablet
Leverage a dedicated mobile app to offer support on the move
Record remote support sessions for future reference
Assign tickets to multiple departments with parent-child ticketing
Enable high data security with IP restrictions and 2-factor authentication
Pricing:
Starts at $20/agent/month (billed annually).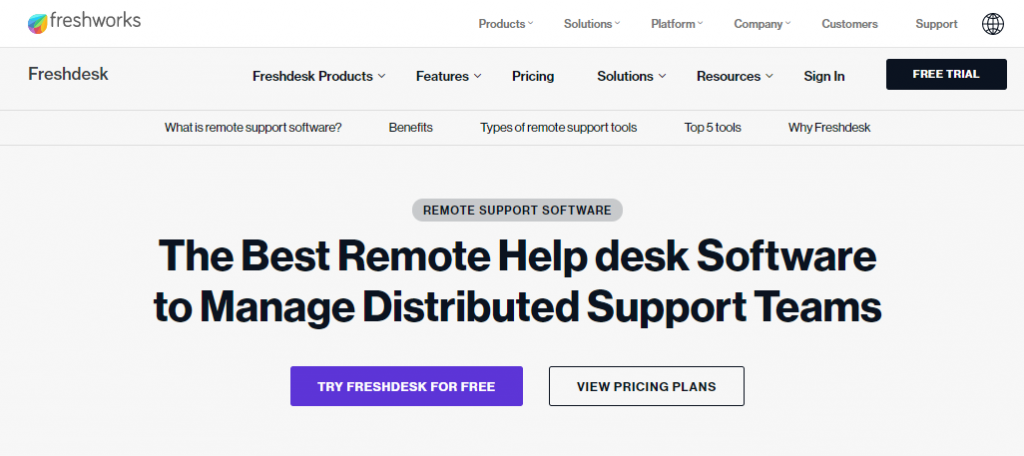 If your customer service agents are working from outside of the traditional office environment, you can place your bet on Freshdesk. Your business can offer round-the-clock assistance across multiple time zones without worrying about team collaboration or communication challenges.
Remote service agents can collaborate with each other, use pre-defined response templates for faster issue resolution, and seek help from internal knowledge base articles. Moreover, you can even share the ownership of support tickets among several agents.
Top Features of Freshdesk:
Offer multichannel support to customers across the globe
Use live dashboards and reports to track agent workload
Integrate with the leading file-sharing tools such as DropBox and OneDrive
Respond to customer complaints on Facebook and Twitter
Merge tickets with similar issues together
Pricing:
Starts at $15/user/month
LiveAgent offers a dedicated remote support solution that allows your customer service agents to work from anywhere in the world. You can figure out your team's workload and distribute work accordingly.
The tool even allows support managers to keep a firm tab on operations. They can track everything from agent performance to usage statistics to customer satisfaction ratings, all in one place.
Top Features of LiveAgent:
Conduct voice and video calls over the internet
Leverage internal chat to communicate with other support reps
Automatically route tickets to agents to avoid manual work
Perform mass or bulk actions on support tickets
Set up live chat and feedback widgets in multiple languages
Pricing:
Starts at $15/user/month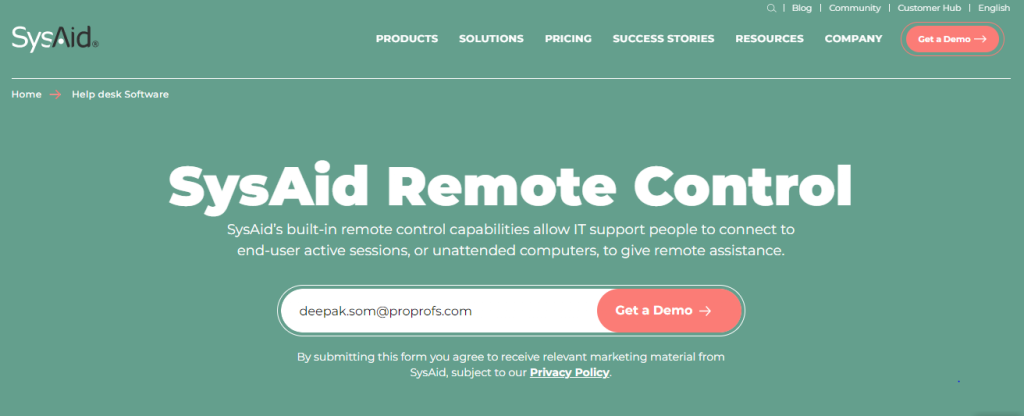 SysAid built-in remote control feature enables IT support reps to connect to end-user's computers. They can gain access to their systems and troubleshoot issues by offering remote assistance.
SysAid's user portal gives your help desk greater reach. For instance, It allows end-users to perform a variety of IT-related interactions – raising and checking the status of tickets, viewing the latest updates or announcements, and contacting IT via chat.
Top Features of SysAid:
Create a central repository of how-to solutions and guides
Automatically convert end-user emails into tickets
Customize the tool's UI and notifications as per your requirements
Create ticket escalation rules to speed up issue resolution
Manage all your IT assets directly within your help desk
Pricing:
Get in touch with the company for a quote.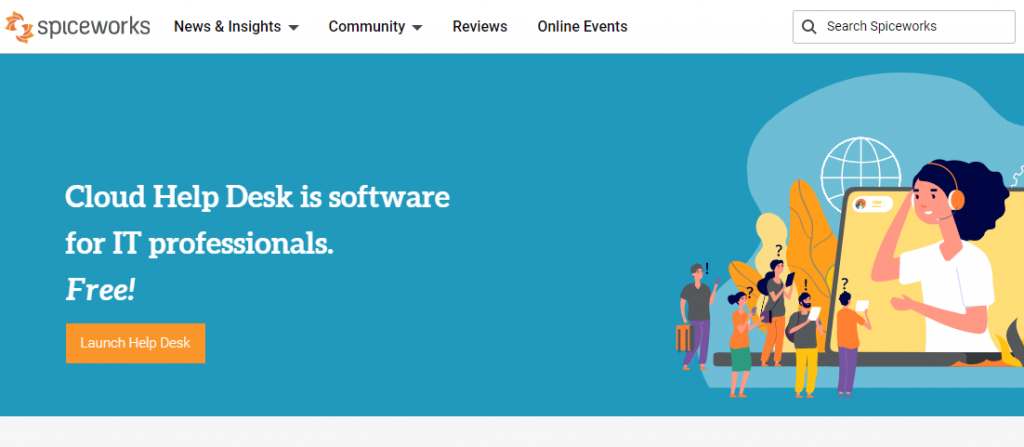 Spiceworks is a free remote support software that can help your team get up and running in no time. Since the tool is set up in the cloud, your team does not have to worry about server procurement or maintenance.
Help remote staff members by starting a secure remote support session directly from support tickets. Moreover, you can create a customizable user portal where end-users can submit and track the progress of their tickets.
Top Features of Spiceworks:
Track all ongoing IT requests and projects in one place
Allow agents to collaborate on complex issues
Create custom fields to track additional information about tickets
Monitor ticket close time, first response time, and other metrics
Interact with like-minded people in the Spiceworks community
Pricing:
Spiceworks is free for all users.
Solwinds Service Desk offers a robust ticketing system for IT support teams. You can easily connect Solarwinds Service Desk and Dameware Remote Everywhere to allow your IT agents to provide efficient support to your employees, no matter where they are operating from.
Agents can open a remote session directly from a support ticket and assist end-users with technical issues. Moreover, this integration gives you the option to remotely access network computers on your mobile.
Top Features of SolarWinds Service Desk:
Manage your IT assets and technology inventory in one place
Create an employee service portal to allow them to track tickets
Provide a consolidated database of articles with a knowledge base
Create an IT service catalog for your end-users
Monitor SLA breaches and CSAT scores
Pricing:
Starts at $19/user/month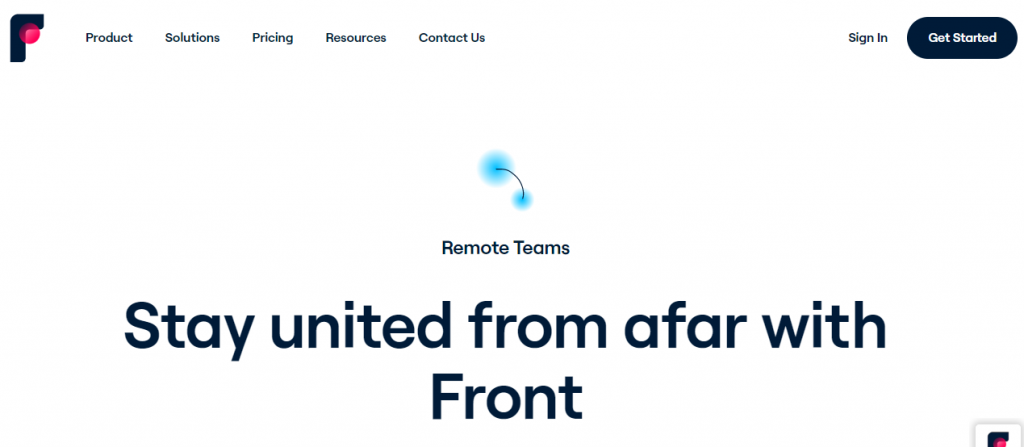 Front is an easy-to-use customer service tool built for remote teams. With the team inbox feature, you can ensure that all team members have 360-degree visibility and access to customer messages.
Give agents all the customer information and context they need to personalize interactions. Create SLAs and escalation workflows to avoid breaches and add tags to tickets to prioritize the right messages.
Top Features of Front:
Discuss customer messages with private comments only visible to your team
Monitor email response times, customer experience, and other metrics
Share email drafts with team members without hitting send
Create rules for ticket routing and workflows
Stay connected with Front's mobile apps for Android and iOS
Pricing:
Starts at $19/user/month
8. ServiceNow
ServiceNow is another impressive IT service management tool designed to meet the needs of remote support teams. You can manage end-user issues faster with intelligent ticket routing and built-in team collaboration tools.
ServiceNow helps you set up an AI-powered self-service portal in a matter of minutes. This will allow your customers and employees to access self-service content from multiple devices.
Top Features of ServiceNow:
Allow agents to resolve issues and requests on the move
Create virtual agents that understand simple, human language
Conduct root cause analysis to prevent future disruptions
Manage vendor and supplier communications from a single dashboard
Integrate with Cisco, Jira, Slack, and other tools
Pricing:
Get in touch with the company for a quote.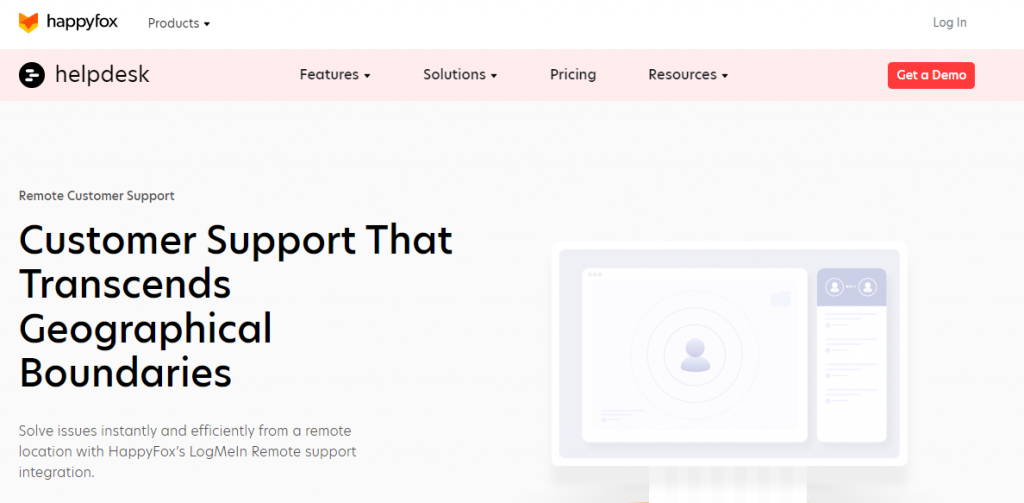 HappyFox is another online remote support software that deserves to be on your list. The tool allows agents to offer effective support to both internal employees and external customers by accessing their files, systems, and apps remotely.
You can capture important customer information with the help of online feedback forms. For example, you can customize the form to obtain details such as email ID, issue description, team the issue belongs to, and so on.
Top Features of HappyFox:
Provide support on the move with a mobile app
Answer repetitive queries faster with canned responses
Get instant notifications about ticket actions
Build a dedicated knowledge base to encourage self-service
Track your ticket inflow on different communication channels
Pricing:
Starts at $29/agent/month
Hiver is another impactful tool designed to meet the needs of remote customer service teams. Using this Gmail-based help desk, your team can communicate more efficiently, irrespective of where they are.
The tool allows you to turn email messages into actionable tasks and allocate them to the right people. Support agents can organize tickets based on statuses, such as Open, Pending, or Closed.
Top Features of Hiver:
Manage chat and email support right from your Gmail account
Automatically assign incoming email messages to team members
Add a live chat window on your website for instant customer support
Share notes with team members to offer more context
Track team performance and customer satisfaction ratings
Pricing:
Starts at $15/user/month
Read More – Hiver alternatives
Ready to Adopt the Best Remote Help Desk Software?
We understand that managing a distributed support team and remote customers can be quite a struggle in itself. We have created this comprehensive remote support software list to ease your pain and help you get your hands on the best option.
In addition to each tool's features and pricing, you must consider all the aspects discussed in this article that make them unique. We have put ProProfs Help Desk at the top position owing to its powerful features, automation capabilities, and affordability. You can start your journey today with a free premium trial and then opt for the plan that best matches your needs.
Do you want a free Help Desk?
We have the #1 Online Help Desk Software for delightful customer support