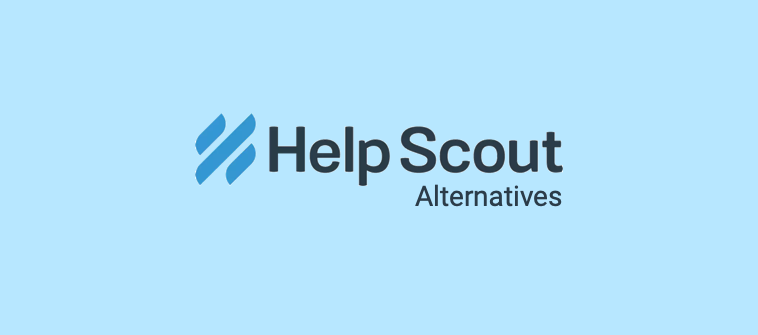 Help Scout has become a popular name in the current help desk industry. The tool comes across as an all-in-one customer service platform that helps you meet rising customer expectations and get productive teams. Features such as in-app messaging, keyboard shortcuts, shared inbox, etc. make it a promising ticketing software but their are some drawbacks because of which businesses look for Help Scout alternatives.
But if you look closely, Help Scout has its share of problems.
While some Help Scout customers might complain about the company's lack of phone or live chat support, others will tell you that internal communication has taken a hit and become more confusing than ever.
Have you outgrown Help Scout?
Well, you have come to the right place. In this blog, we will discuss some major drawbacks of the tool and compare the best Help Scout alternatives in a clear and unbiased manner.
What is Help Scout?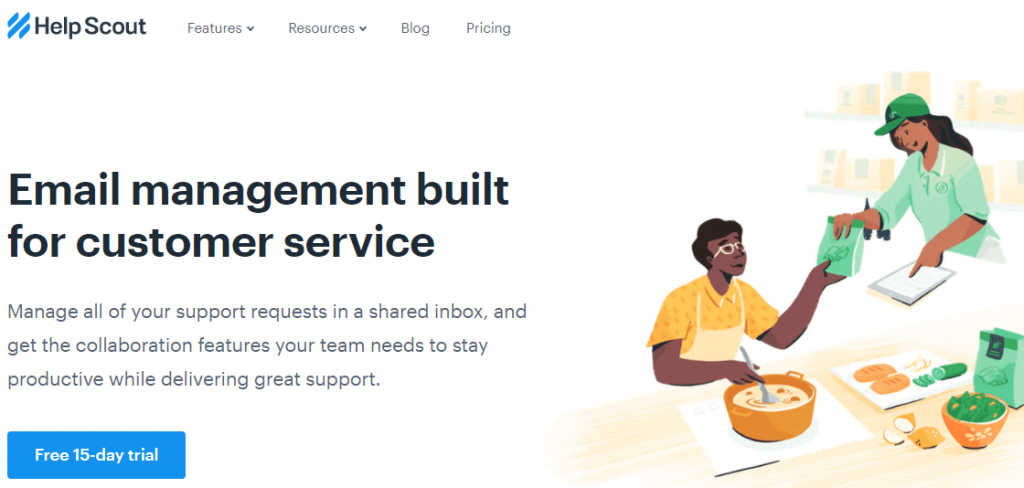 Help Scout is a popular email ticketing software that allows you to manage all your support requests in a shared inbox. You can get the collaboration features your team needs to stay productive while delivering great support. Some popular features include multi-channel support, advanced search, 75+ keyboard shortcuts, in-app messaging, and more. The tool also offers native iOS and Android apps to support customers on the go.
What is your selection criteria to choose best Help Scout alternative & competitors?
There is a lot of work that goes into finding the perfect product alternative. You have to scroll through dozens of websites, explore product features, compare prices, and scan through hundreds of online reviews.
But, don't worry as we have done the heavy lifting for you. All the product alternatives have been carefully chosen to help you make the right decision. In order to make it to our list, the help desk systems should complete the following criteria:
Core Help Desk Features: All the Help Scout competitors should offer core help desk features such as ticket tracking, ticket assignment, multichannel support, customer service reports, etc.
Listed on Top Review Platforms: The alternatives should be listed on the popular software review platforms such as Getapp, SoftwareWorld, and Capterra.
Minimum 10 User Reviews: The Help Scout alternatives should have a minimum of 10 genuine user reviews on the above-mentioned software comparison platforms. Online reviews offer useful pros and cons and make comparison easier.
Software
Key Features
Price
ProProfs Help Desk
Automated ticket routing
Internal collaboration
Create a dedicated knowledge base
Custom signatures
Smart reports & analytics
Try it free for 15 days
Essentials: $10/agent/month
Premium: $15/agent/month
Enterprise: Available on request
Freshdesk
Create knowledge base articles
Parent-child ticketing
Track time & log billable hours
AI-powered chatbot
SLA management
Blossom: $15/user/month
Garden: $35/user/month
Estate: $49/user/month
Forest: $99/user/month
Zendesk
Build a community forum
Ticket escalations
AI-powered bots
Easy-to-understand reports
Dedicated help center
Suite Team: $49/agent/month
Suite Growth: $79/agent/month
Suite Professional: $99/agent/month
Intercom
Team inbox
Outbound messages
Publish help articles
Resolution bot
Product tours
Start: $59/month
Grow: $119/month
Accelerate: $499/month
Scale: $999/month
Zoho Desk
Multichannel support
Multi-brand help center
Notifications for ticket updates
Forms & email templates
Android & iOS apps
Standard: $12/agent/month
Professional: $20/agent/month
Enterprise: $35/agent/month
Kayako
Easy-to-search knowledge base
View customer activities
Kayako Messenger
Create pre-defined responses
Monitor internal performance
Inbox: $15/agent/month
Growth: $30/agent/month
Scale: $60/agent/month
Hiver
Organize multiple email accounts
Assign owners to emails
Email tags
Agent roles & permissions
Connect with Slack & Zapier
Lite: $7/user/month
Grow: $22/user/month
Pro: $37/user/month
Elite: $57/user/month
Helpwise
Tag & label email threads
Saved replies
Internal chat
Manage WhatsApp conversations
Avoid duplicate replies
Standard: $12/user/month
Premium: $20/user/month
Enterprise: (Price on request)
HelpDesk
Group tickets together
Add private notes
Agent roles & permissions
New ticket notification
Monitor first response time
Starter: $4/agent/month
Team: $19/agent/month
Enterprise: (Price on request)
LiveAgent
Internal notes
Customer resolution journeys
Merge multiple tickets together
Automatic spam filtering
Automated workflow
Ticket: $15/agent/month
Ticket + Chat: $29/agent/month
All-Inclusive: $39/agent/month
10 Best Help Scout Alternatives You Should Consider in 2023
Now that we have discussed the pros and cons of using Help Scout, let's get to business and explore the top Help Scout alternatives. Here we go.
1. ProProfs Help Desk– Feature-rich and affordable Help Scout alternative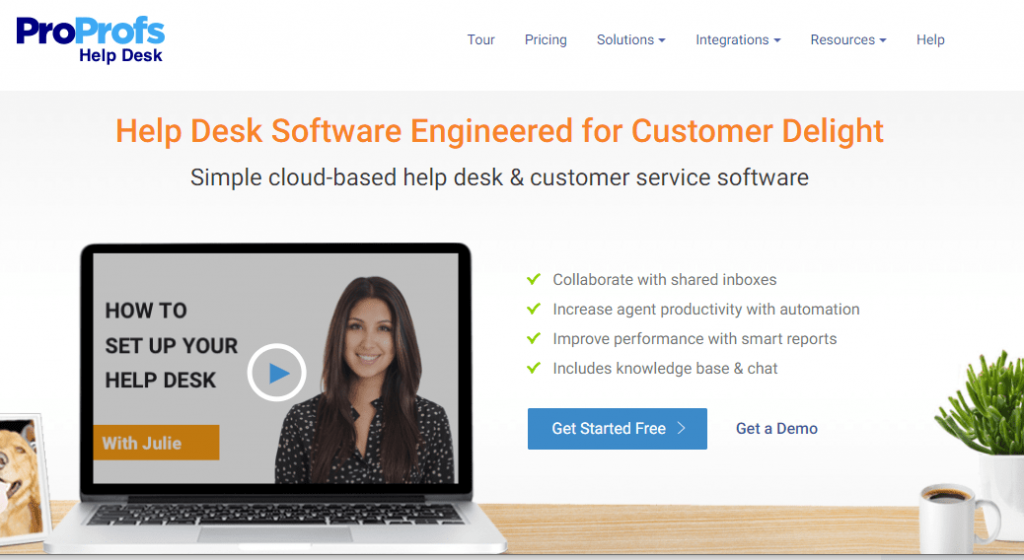 ProProfs Help Desk is undoubtedly the best free Help Scout alternative. The tool comes at a similar price point to Help Scout but offers far more features. Every incoming support request is automatically converted into a ticket and assigned to the most relevant agent.
In addition to robust ticket management, ProProfs offers multiple customer support tools such as Knowledge Base, Live Chat, Survey Maker, etc. that help you offer delightful support 24×7. Customer support teams can achieve more together with collaboration features such as internal notes, custom fields, ticket labels, internal chat, and others.
You Can Use ProProfs Help Desk To:
Automatically route tickets to relevant agents and teams
Collaborate using internal notes, canned responses, and parent-child ticketing
Empower customers to resolve their issues using a knowledge base
Use custom signatures to make your brand look more professional
Improve performance with the help of smart reports & analytics
Pros of ProProfs Help Desk:
Using ProProfs, you can create attractive surveys in minutes. You can even choose to share automated surveys with customers once their ticket has been closed.
You can easily set the priority of every ticket as High, Low, or Normal based on the urgency of an issue. All priority labels are displayed in different colors so that you never miss an important ticket.
Cons of ProProfs Help Desk:
ProProfs Help Desk Plans Include:
FREE for a single user. Plans start at $19.99/user/month for 2 or more users. No hidden fees. A 15-day money-back guarantee.
2. Freshdesk– Help Scout Alternative for an omnichannel experience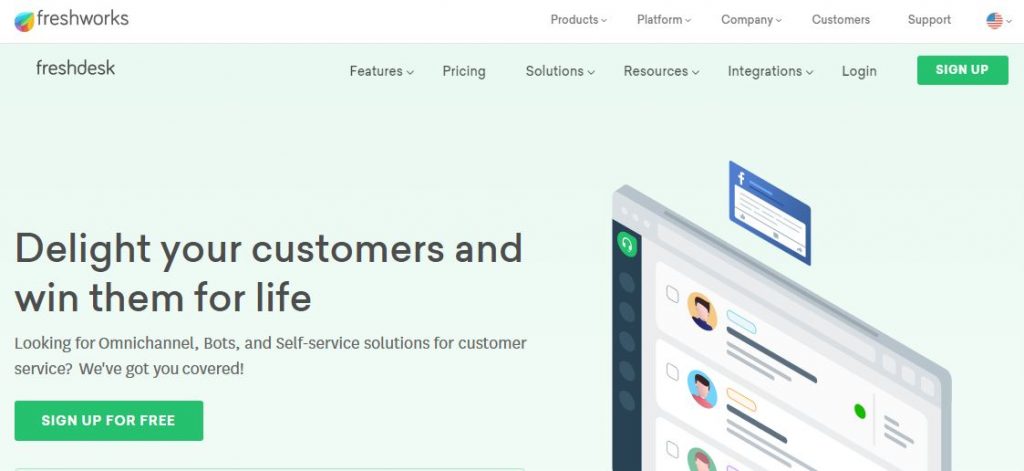 Freshdesk is another best Help Scout alternative that deserves your attention. With the Team Inbox, agents can track and manage incoming support tickets from multiple channels such as email, phone, chat, and social media in a single dashboard.
With Freshdesk's auto-assignment features, tickets can be assigned based on an agent's skill set, their workload, or they can be distributed equally amongst your customer support members. Customizable reports help you understand how different agents and teams are performing based on various help desk metrics.
You Can Use Freshdesk To:
Allow agents to convert their ticket replies into knowledge base articles
Split tickets into multiple child tickets
Automatically track time spent working on support tickets and log your billable hours.
Deliver instant and precise answers to your customer's questions with Chatbot AI- Freddy
Create deadlines for ticket response with SLA management
Pros of Freshdesk:
The 'Thank You Detector' feature prevents the reopening of tickets when customers respond with a thank you.
Freshdesk comes with a modern & intuitive design and makes your team's lives a lot easier.
Cons of Freshdesk:
Unclear distribution of features among subscription plans
Compared to other help desk tools, Freshdesk plans are quite expensive
Freshdesk Plans Include:
Sprout: Free for unlimited agents with email and social ticketing
Blossom: $15/user/month
Garden: $35/user/month
Estate: $49/user/month
Forest: $99/user/month
Recommended Read: Freshdesk alternatives
3. Zendesk– Help desk that can scale to meet your growing needs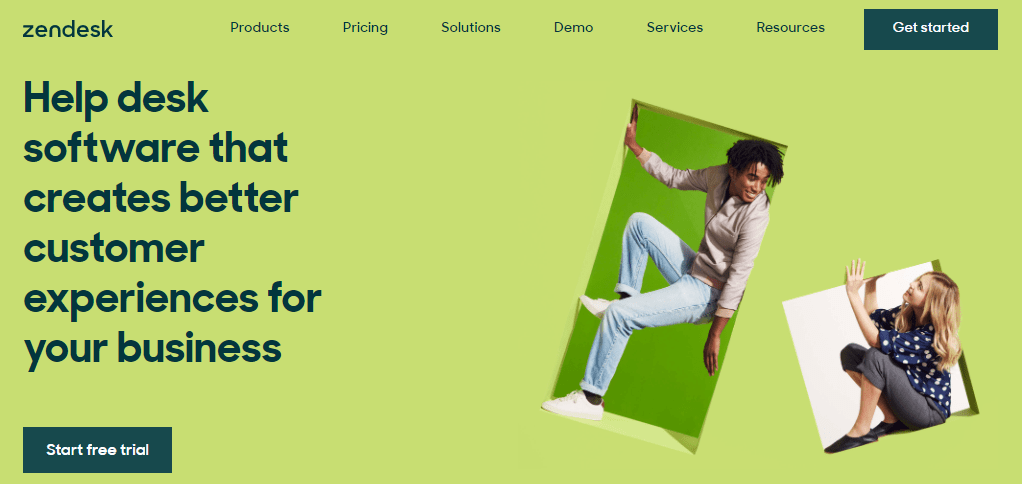 Zendesk is another popular alternative to Help Scout that offers the right platform for tracking, prioritizing, and solving customer support tickets. All ongoing, and past conversations can be found in a single location so that communication between your business and your customers is efficient as well as personal.
With Zendesk you can allow customers to help themselves without any agent intervention. You can build an extensive help center and a community forum to allow customers to resolve issues at their own pace- while reducing your ticket volume.
You Can Use Zendesk To:
Build an integrated help center and community forum
Easily escalate an issue to the most appropriate agent
Leverage automation and AI-powered bots to get customer context
Analyze trends and measure performance with easy-to-understand reports
Immediately set up customer phone numbers, voicemail, and text messages
Pros of Zendesk:
Zendesk offers over a 100 plus integrations with 3rd party business apps
The tool is known for its robust IT ticket management features
Cons of Zendesk:
Chats, emails, and other channels are managed separately
For sharing automated emails, the email automation functionality is missing
Zendesk Plans Include:
Suite Team: $49/agent/month
Suite Growth: $79/agent/month
Suite Professional: $99/agent/month
Recommended Read: Best Zendesk Alternative
4. Intercom– Expensive yet powerful Help Scout alternative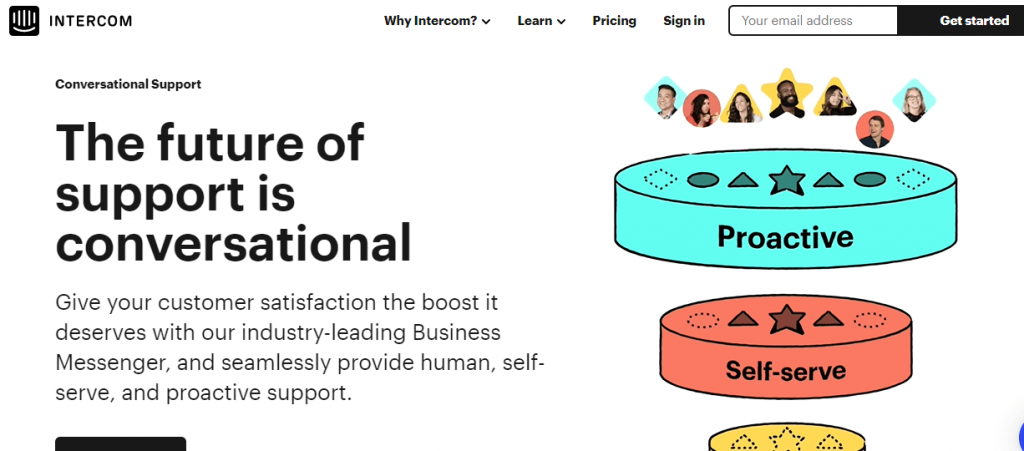 Intercom is another important alternative to Help Scout that offers the power and flexibility your business needs to provide personalized, human support to more customers. With the Team Inbox, agents can manage and reply to conversations, wherever they're happening — Twitter, Facebook, Live chat, email, and more.
Besides this, Intercom gives you the right platform to offer proactive support. You can use targeted messages to suggest quick tips to customers or simply to update them about scheduled outages.
You Can Use Intercom To:
Manage all customer communications using the Team Inbox
Use outbound messages to onboard, and proactively support your customers
Publish help-articles to your knowledge base to provide your customers with self-serve support
Use Resolution Bot to answer and resolve simple customer queries
Enlighten new customers with interesting product tours
Pros of Intercom:
Intercom comes with many innovative features such as bots and product tours
You can use Custom Bots to prioritize issues and connect customers to the right people in your team
Cons of Intercom:
Intercom can get very expensive once you need advanced features or detailed reports
Social media integrations such as Twitter and Facebook are only included in the expensive plans
Intercom plans Include:
Start: $59/month (1 seat)
Grow: $119/month (5 seats)
Accelerate: $499/month (10 seats)
Scale: $999/month (10 seats)
5. Zoho Desk– The context-aware help desk Help Scout Alternative

Zoho Desk is another free Help Scout alternative that deserves to be on your list. Your support agents can use the power of customer context to better understand customer problems, improve productivity, promote self-service, and increase customer happiness.
When it comes to incorporating AI to speed up the issue-resolution process, Zoho does not lag behind. You can proactively reduce support tickets, analyze customer sentiments, and spot bottlenecks using Zia, the AI-powered assistant.
You Can Use Zoho Desk To:
Be available for customers on their preferred channels
Create a multi-brand help center for your different customer groups
Share notifications to update agents as well as customers
Create multiple templates for forms and emails
Support customers on the go with the Zoho app for Android and iOS
Pros of Zoho Desk:
Customers can speak or chat with AI Zia from your website or mobile apps, Zia can process their questions and answer them based on knowledge base articles
The company's help desk platform can be easily integrated with Zoho CRM and other important third-party apps
Cons of Zoho Desk:
Zoho Desk does not offer an on-premise version
Important features, such as email branding, can take a lot of time to configure
Zoho Desk Plans Include:
Free: Forever free plan, limited to 3 agents
Standard: $12/agent/month
Professional: $20/agent/month
Enterprise: $35/agent/month
Read More – Zoho Desk Alternatives
6. Kayako– Support your customers in multiple languages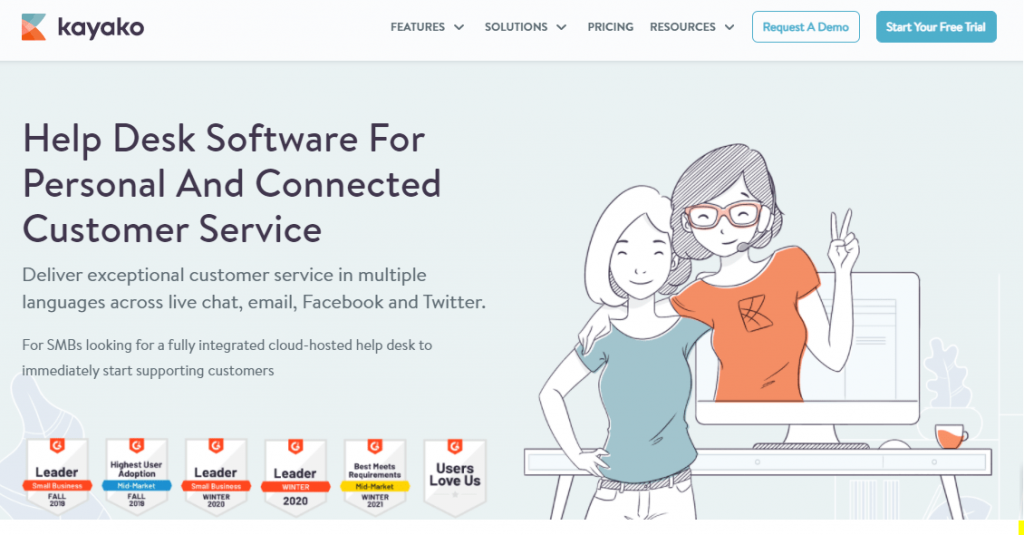 Kayako empowers customer service agents to deliver exceptional customer service in multiple languages across live chat, email, Facebook, and Twitter. Kayako gives you a complete picture of your customer's journey so you can see their past support interactions and offer help accordingly.
Support teams can enjoy collaboration features such as private notes, agent collision prevention, assignment rules, and canned responses. You can mark the status of a ticket as open, pending, and completed, or you can even choose to mark them with custom tags.
You Can Use Kayako To:
Create an easy-to-search repository of self-help articles, videos and FAQs
Bring customer activities into Kayako for immediate context
Support customers in real-time with Kayako Messenger
Save time with pre-defined and saved responses
Stay on target with SLAs and measure internal performance
Pros of Kayako:
With this tool, you can take your customer service to a global scale and support customers in 40+ languages
Kayako's SingleView dashboard displays the conversation along with the customer's information, interactions, and activities
Cons of Kayako:
The tool offers basic live chat widget customizations
Many customers have complained that there are situations where attaching and receiving files can be quite difficult.
Kayako Plans Include:
Inbox: $15/agent/month
Growth: $30/agent/month
Scale: $60/agent/month
Recommended: Look on best kayako alternative
7. Hiver– Deliver support right from Gmail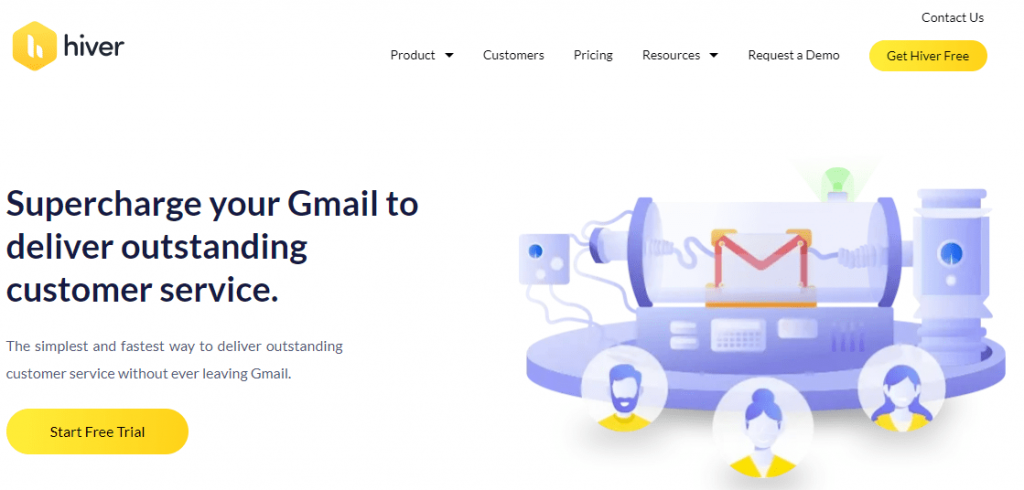 Hiver is quite different from other Help Scout alternatives that we are discussing in this blog. It helps businesses offer exceptional customer service right from their Gmail inbox. Rather than a full-fledged help desk, you can consider it as an extension of Gmail.
Customer service managers can easily assign emails as tasks to their team members with a single click. The support agents can mark the status of an email as 'Open', 'Pending', or 'Closed' for improved organization.
You Can Use Hiver To:
Organize multiple email accounts and never miss an email
Assign delegated owners to support emails
Categorize and prioritize customer issues with Email Tags
Assign roles and permissions to your team members
Connect Hiver with other tools such as Slack and Zapier
Pros of Hiver:
Hiver offers a 14 day free trial for its new customers
The tool allows you to support customers right from your Android or iOS mobile devices
Cons of Hiver:
The tool is limited to Gmail users only and is not meant for other email clients
You cannot use Hiver to offer multi-channel support
Hiver Plans Include:
Growth: $22/user/month
Pro: $37/user/month
Elite: $57/user/month
Read More – Hiver alternatives
8. Helpwise– Help Scout alternative for email management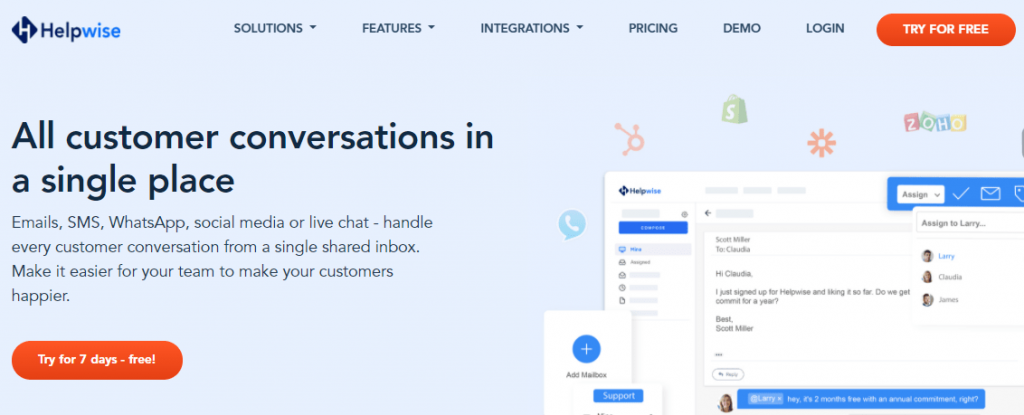 Helpwise offers robust shared inboxes for email, SMS, WhatsApp, website chat widget, and social media accounts that lead to easy collaboration among your team members. You can easily share the ticket workload among your team members and reach Inbox Zero faster.
With Helpwise, you can get detailed analytics on your email frequency, response rates & individual performance. This makes measuring and improving your team's performance much easier.
You Can Use Helpwise To:
Tag & Label email threads for better grouping, tracking, and search
Answer common queries quickly with saved replies
Easily chat with team members within email threads
Assign WhatsApp conversations to the right team members
See in real-time if someone is replying to an email
Pros of Helpwise:
Access your team emails from the web and mobile apps
With Helpwise, it is easier to avoid duplicate and conflicting responses
Cons of Helpwise:
Cons of Helpwise:
Standard: $12/user/month
Premium: $20/user/month
Enterprise: You need to make a request on their website (minimum 100 users)
9. HelpDesk– Manage tickets from an easy-to-use dashboard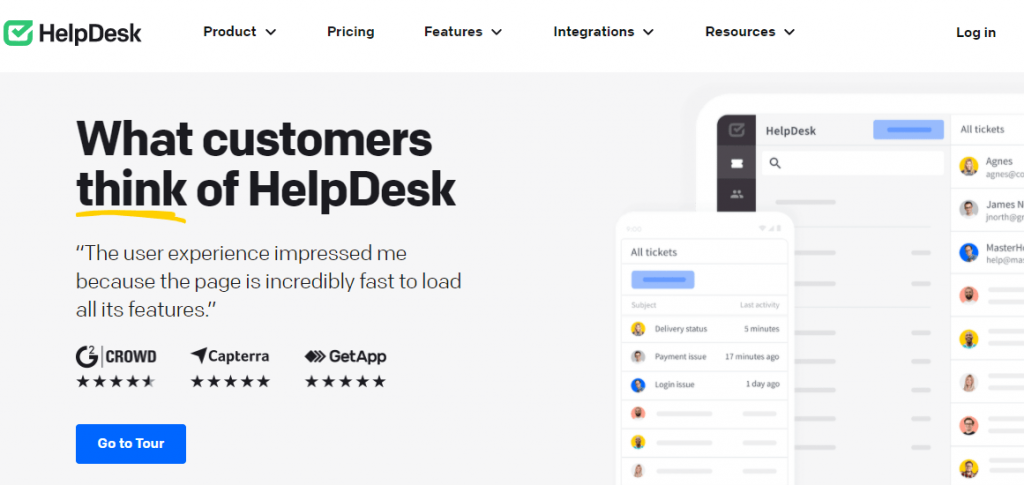 HelpDesk makes it easier for support teams to manage incoming customer emails, requests from web forms, and any other sources. All your support representatives can collaborate effortlessly using private notes, multiple mailboxes, and automated assignment rules.
Moreover, HelpDesk is designed to make ticket assignment and ticket management as seamless as possible. You can easily integrate HelpDesk with LiveChat and give more options to your customers to contact your business for support.
You Can Use HelpDesk To:
Group tickets together based on specific filters and create custom ticket lists
Add private notes in ticket threads that are visible only to your team
Assign agent roles to recreate company structure
Get notified when a new ticket arrives
Measure and improve your first response time
Pros of HelpDesk:
The 'New tickets heatmap' feature can help you spot peak times when your team receives more incoming requests than other times
With the help of Delivery Status, agents can confirm if a customer received and opened their message
Cons of HelpDesk:
As a relatively young product, HelpDesk offers limited functionalities and integration options
The spam filter can sometimes block important incoming support emails
HelpDesk Plans Include:
Starter: $4/agent/month with basic email management features
Team: $19/agent/month
Enterprise: You need to make a request on their website to get the pricing details for this plan
10. LiveAgent– Improve your workflow with advanced automation rules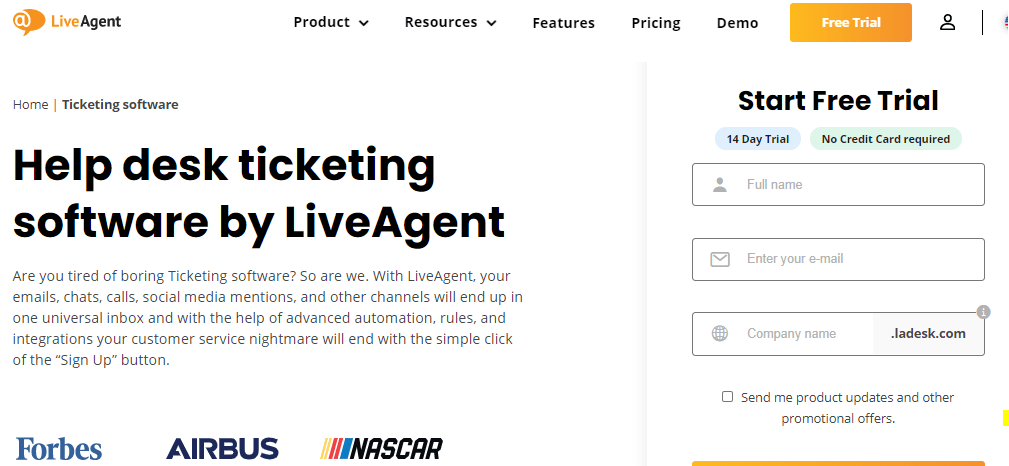 As one of the top Help Scout competitors, LiveAgent offers an advanced Universal Inbox to manage all support conversations from- emails, chats, calls, Facebook & Twitter tickets, forum posts, suggestions, etc. The hybrid ticket stream allows you to track a customer's complete problem resolution journey.
With LiveAgent, your team members can easily collaborate, attach images or documents to tickets, export tickets into PDF or HTML format, automate the ticket assignment process, and offer uninterrupted support.
You Can Use LiveAgent To:
Create internal notes inside tickets to help other team members
Follow customer resolution journeys across different channels
Merge multiple tickets into a single ticket
Avoid spam emails or messages with automatic spam filtering
Create an automated workflow through time, action, and SLA rules
Pros of LiveAgent:
You can easily manage social media conversations, posts, and mentions from a single dashboard
LiveAgent gives you the option to create SLA compliance reports to monitor your support process
Cons of LiveAgent:
The interface looks outdated and needs a lot of improvement
Lacks an important social media integration- LinkedIn
LiveAgent Plans Include:
Free: Forever free plan with limitations.
Ticket: Email ticketing tool at $15/agent/month
Ticket + Chat: Multi-channel live chat plus ticketing solution at $29/agent/month
All-Inclusive: Omni-channel help desk at $39/agent/month
Read More: Best Live Agent Alternatives for 2023
Comparison of Best Alternatives of Help Scout
| | | | | | | | | |
| --- | --- | --- | --- | --- | --- | --- | --- | --- |
| Software | Price | Forever Free Plan | Shared Inbox | Multi-channel Communication | Alerts & Escalations | Live Chat | Self-Service Portal | IT Help Desk |
| ProProfs Help Desk | $10/month | ✔ | ✔ | ✔ | ✔ | ✔ | ✔ | ✔ |
| Freshdesk | $15/month | ✔ | ✔ | ✔ | ✔ | ✔ | ✔ | ✖ |
| Zendesk | $49/month | ✖ | ✔ | ✔ | ✔ | ✔ | ✔ | ✔ |
| Intercom | $59/month | ✖ | ✔ | ✔ | ✔ | ✔ | ✔ | ✖ |
| Zoho Desk | $12/month | ✔ | ✖ | ✔ | ✔ | ✔ | ✔ | ✖ |
| Kayako | $15/month | ✖ | ✔ | ✔ | ✔ | ✔ | ✔ | ✖ |
| Hiver | $22/month | ✖ | ✔ | ✖ | ✔ | ✖ | ✖ | ✖ |
| Helpwise | $12/month | ✖ | ✔ | ✔ | ✔ | ✔ | ✔ | ✖ |
| HelpDesk | $4/month | ✖ | ✔ | ✔ | ✔ | ✔ | ✖ | ✔ |
| Live Agent | $15/month | ✔ | ✔ | ✔ | ✔ | ✔ | ✔ | ✖ |
| Help Scout | $20/month | ✖ | ✔ | ✔ | ✔ | ✔ | ✔ | ✖ |
Final Verdict: Which Help Scout Alternative Should You Go For?
Help Scout is a reputed help desk tool that allows you to:
Manage all requests in a shared inbox
Route tickets to relevant agents
Attach files to tickets
Categorize tickets using Tags
Despite the features, the demerits such as lack of phone and chat support, no forever free plan, etc. make people search for the right alternatives. All Help Scout alternatives shared in this blog are well trusted, useful, and have been a popular choice among businesses of all sizes.
If you wish to go for all-in-one help desk software that has a similar price point to Help Scout and better features, you must go for ProProfs Help Desk. If you are looking to manage customer support tickets right from Gmail, then Hiver can be a good option. Similarly, if your focus is on improving IT services, Zendesk can give an edge to your IT support team.
FAQs
Why do you need a HelpScout alternative & competitors?
There are some serious drawbacks that first-time users need to know. Let's discuss them right away.
In Help Scout, there is no separate 'Reply' button for internal notes. For instance, let's say a team member leaves a note in a ticket and assigns it to someone else. Now, if the other team member clicks the 'Reply' button, the message will be shared with the customer. An internal chat leaking to the customer can be embarrassing for your business.
As shared by many users in their online reviews, there is no real-time notification when a new ticket comes in. Therefore, agents are forced to constantly hit the refresh button to check for new tickets.
Help Scout, even after being a popular name in the help desk industry, does not offer phone or live chat support for its clients. You will have to either tirelessly scroll through their help docs or submit an issue on their website.
What are the top features that Help Scout alternatives should have?
In your quest to find the best alternative to Help Scout, different tools with their different features can leave you more confused than sorted. Here are top features you should consider:
Shared inbox to merge all support email accounts together
Easy to use help desk interface that requires minimum training and can be easily set up in minutes
Internal collaboration features to help agents resolve customer issues together. For instance, parent-child ticketing to break a ticket into smaller sub-tickets for easy resolution
Insightful reporting and analytics to monitor team performance, customer satisfaction, and track the overall progress
Help desk automation capabilities to rise above manual and repetitive processes, for instance, automated alerts and notifications
Do you want a free Help Desk?
We have the #1 Online Help Desk Software for delightful customer support