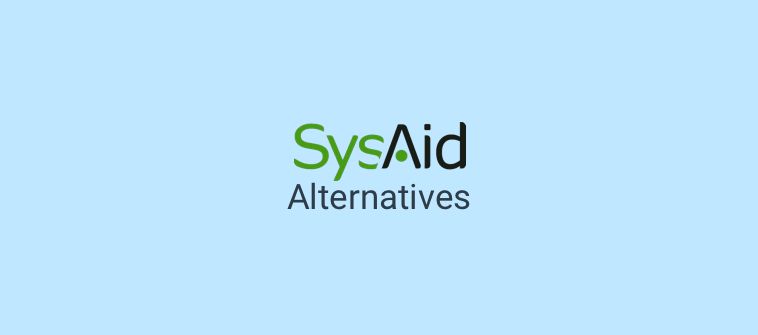 SysAid is one of the most popular service desk platforms available on the market today.
But if you have landed on this blog, chances are that you are already on the hunt for the best SysAid alternative. Don't worry, you are not the first person to do so, and definitely not the last.
While SysAid does look like a promising tool at first glance, it has its share of drawbacks. While some users have complained about its lack of transparent pricing, many have struggled to offer support on the move due to the non-availability of mobile apps.
But the pain does not end here. With hundreds of tools available in the market, how do you choose the best alternative to SysAid?
Well, we have made your search just a tiny bit easier. In this blog, we have hand-picked some of the best IT help desk software that are trending in the market due to their powerful features and efficient pricing.
But before we jump to the main section, let's take a look at the price and feature comparison of the top 10 alternatives.
SysAid Alternatives Feature & Price Table
Software
Key Features
Price
ProProfs Help Desk
Incident & request management
Parent-child ticketing
Internal knowledge base
Develop chatbots
Monitor powerful metrics
Essentials: $10/agent/month
Premium: $15/agent/month
Enterprise: Available on request
Solarwinds
Asset management
Self-service portal
Implement changes quickly
Integrate with other applications
Reports & dashboards
Not Available
ServiceNow
Dedicated mobile apps
Reduce risks
Create a self-service portal
Leverage chatbots
Receive automated suggestions
Not Available
TOPdesk
Problem management
Create SLAs
Generate barcode for assets
Share customer surveys
Use customizable forms
Not Available
Freshservice
Powerful integrations
Set SLA policies
Manage IT assets
Maintain vendor contracts
Share performance reports
Starter: $19/agent/month
Growth: $49/agent/month
Pro: $99/agent/month
Enterprise: $109/agent/month
Spiceworks
Ticket management
Automated ticket assignment
Create user self-service portal
Monitor first response time
Private comments
Free
InvGate Service Desk
Automated ticket assignment
Monitor service desk performance
Create knowledge articles
Monitor SLA targets
Leverage gamification features
Not Available
Jira Service Management
Track asset lifecycle
Connect with other tools
Create routing rules
Escalate major incidents
Easy search functionality
Free: Forever free
Standard: $20/user/month
Premium: $45/user/month
ManageEngine ServiceDesk
Enjoy codeless customizations
On-premise & cloud versions
Employ AI virtual assistant
Schedule performance reports
Automatically close resolved tickets
Standard: $10/agent/month
Professional: $21/agent/month
Enterprise: $50/agent/month
FootPrints
Plan company-wide changes
Publish service catalogs
Design support workflows
Create customized reports
Dedicated mobile apps
Not Available
What is SysAid?
SysAid is a popular IT service management solution that comes with powerful service desk automation, self-service portal, asset management capabilities, and much more. You can automatically sort, route, and send support tickets to the right team members or departments. Moreover, SysAid's built-in asset management solution allows agents to view, secure, and manage all assets directly from within the service desk.
SysAid comes in three options: Help Desk (for growing teams), ITSM (for mid-size and mature IT departments), and ITSM Plus (for enterprises looking for advanced automation).
Why Look for SysAid Alternatives?
Now that we have looked into the strengths of SysAid, it will be only fair to bring the spotlight to its major drawbacks.
Despite SysAid's high popularity, there are possibilities that it might not suit your business needs in terms of pricing, user interface, or other functionalities. Here are some of the top drawbacks of this tool that deserve your attention:
Outdated Interface: As soon as you log in to your SysAid system, you get to see an outdated interface. Their UI does not seem user-friendly, and there is massive scope for improvement. Moreover, creating the right workflow for your team can seem confusing during the initial days.
Lacks Transparent Pricing: SaaS businesses are known for their flexible pay-per-user plans and upfront pricing. However, SysAid does not offer transparent pricing on its website. You will have to go through the hassle of contacting their sales team and then understanding how much you will end up paying each month or year.
No Mobile Apps: To offer support on the go, you need dedicated mobile apps for your service team. With SysAid, this can prove to be a distant dream as the company does not have dedicated mobile apps for Android or iOS.
Below-Average Support: A lot of customers have complained about their poor support. While some users say that it is difficult to connect with their support team, others claim that the support staff is not well-versed in English, and explaining your issues can be a real challenge.
The Features SysAid Alternatives Should Have
We understand that every support team is unique and has its own set of challenges. While one team might be on the lookout for robust reporting, another team might wish for an easy-to-use interface.
This is why we have shortlisted some common features that every SysAid competitor should have. Let's check them out.
Incident & Request Management: All the alternatives to SysAid should help you register, track, sort, and resolve both – incident as well as request tickets.
Knowledge Management: The tools should allow your business to create a central repository of knowledge articles, videos, guides, etc., to allow end-users to resolve their queries on their own.
Automation: Automation capabilities will help your team automate repetitive tasks, create better workflows, and respond to user complaints/requests quickly.
Reports & Analytics: Every alternative should offer advanced reporting capabilities so that support managers can track performance, monitor service desk metrics, and identify improvement areas.
Our Selection Criteria for SysAid Alternatives
To make sure we pick only the best of the lot, every tool needs to meet certain criteria. This will help us shortlist tools that are not just popular but well-trusted.
Ticket Management Features: All SysAid alternatives must be built around core ticketing features such as ticket organization, automated ticket routing, ticket prioritization, filters, tracking, etc.
Listed on Leading Software Comparison Websites: The software alternatives must be listed on the top online software review websites such as Getapp, SoftwareWorld, and Capterra.
Minimum 10 User Reviews: All SysAid alternatives must have at least ten reviews from genuine users on these above-mentioned websites. Reviews shared by genuine users can shed light on what works well and where the tool needs to improve.
What Are the Best SysAid Alternatives?
Well, it's finally time for the main event. Here are the top 10 alternatives to SysAid that will surely get the job done for you.
ProProfs Help Desk is undoubtedly the best alternative to SysAid tool. But what grants it the top position? Well, it comes with an easy-to-use interface and reduces the effort that goes into ticket management. Whether your employees need to reset their account passwords or customers wish to raise a complaint, they can all contact your team via email, live chat, web form, help center, and other channels.
ProProfs Help Desk also allows you to take your knowledge management game to a whole new level. You can create a self-service portal for IT end-users, customize it with themes, and take feedback about each article or FAQ page to understand what's working and what's not. Moreover, you can even share CSAT, NPS surveys with employees or customers after their interaction with a support agent.
Top Features of ProProfs Help Desk:
Track the complete lifecycle of incidents and requests
Break complex tickets into child tickets and assign them to different departments
Create an internal knowledge base for staff members and an external one for your customers
Leverage chatbots and assist your customers 24×7
Monitor first response time, ticket resolution time, CSAT, and other powerful metrics
Why We Picked It:
Unlike its counterparts, ProProfs Help Desk is known for its clear and transparent pricing. Your team can resolve issues and complaints on the go with dedicated mobile apps for Android and iOS.
Case Study:
Acer is one of the leading multinational ICT companies that is based in more than 160 countries. With over 7,000 employees operating from different parts of the world, Acer aims to break barriers between people and technology.
Acer's team was not able to generate a comprehensive weekly and monthly report on the cost of repairs, spares, etc. Therefore, they were looking for a simple solution that would help them manage support activities.
Acer chose ProProfs Help Desk due to its powerful features and multiple customization options. ProProfs allowed Acer's staff members to set up custom fields that helped them input the cost when they closed a case. This allowed for the quick calculation of the overall support costs.
ProProfs Help Desk Plans Include:
Starts at $20/agent/month (billed annually).
Solarwinds offers a modern IT service management (ITSM) system that can help you eliminate barriers to IT support. As a product similar to SysAid, Solarwinds helps you create an employee service portal so that employees can track the progress of their tickets in real-time and understand SLAs attached to their service requests.
With Solarwinds Service Desk, agents can easily track tasks such as ticket assignment, routing, and escalation. Moreover, you can easily link incident tickets to a specific problem, associate problem tickets with IT assets, and track your company-wide IT assets in one place.
Top Features of Solarwinds:
Track IT hardware, software, POs, and more in one place
Create a service portal for users to submit tickets as well as requests
Leverage change management to plan, review and implement changes quickly
Enhance service desk performance by integrating with over 200 cloud applications
Create reports and dashboards to gain insights into service desk performance
Why We Picked It:
You can allow employees to instantly connect with service desk staff via live chat.
With asset management capabilities, you can identify devices with illegal software and the ones in which antivirus needs to be updated.
Case Study: Not Available
Solarwinds Plans Include:
Team: $19/agent/month
Business: $39/agent/month
Professional: $69/agent/month
Enterprise: $89/agent/month
Read More: Best Solarwinds Service Desk Alternatives for 2023
ServiceNow is another popular ITSM solution and SysAid alternative that deserves to be on your list. This cloud-based tool can help you boost agent productivity and speed up issue resolution with AI-assisted recommendations.
To automate your process and reduce the burden on your IT staff, you can automatically assign incidents to the correct resolution team.ServiceNow even allows you to create virtual agents that understand simple, human language and can assist end-users with their common issues.
Top Features of ServiceNow:
Make it easier for agents to resolve issues on the go with mobile app
Reduce risk by bringing IT operations and development teams together
Create a personalized self-service portal for employees and customers
Leverage chatbots to make work more efficient and easier
Offer agents automated suggestions that are powered by machine learning
Why We Picked It:
It is quite easy to create in-depth and searchable articles for your knowledge base.
For your end-users, ServiceNow allows them to submit their tickets in simple steps.
Case Study:
The Copenhagen Airport is Denmark's busiest international airport that served 20 million customers in 2019. It has also been awarded the title of Europe's most efficient airport not once, twice, but fourteen times.
For serving millions of customers with a limited number of employees, the Copenhagen Airport wanted to make a shift from a reactive, paper-based mindset to a self-service, digital-first approach.
ServiceNow proved to be the right solution that made this possible. They created a self-service portal that hosts more than 300 request forms and 1400 articles. The portal can be securely accessed via a web page by anyone who has a Copenhagen Airport ID.
ServiceNow Plans Include:
You need to request a quote on their website to get pricing details.
Read More: Best Servicenow Alternatives for 2023
TOPdesk offers a service management system that is easy to use and well-suited for enterprises. With the help of its integrations capabilities and open API, you can easily connect this tool with the tools your business already uses.
TOPdesk allows you to register and process all requests, incidents, complaints, etc., in your IT help desk and assign tickets to relevant support agents. You can make it easier for your employees to store and share knowledge with each other and the customers. This will help you reduce call volume and offer new employees the necessary knowledge they need to get started quickly.
Top Features of TOPdesk:
Understand the underlying causes of problems with problem management
Create service level agreements (SLAs) to safeguard the quality of service delivery
Generate barcode labels from your registered assets without any effort.
Improve the customer experience by sharing surveys with your customers
Use customizable forms to capture requests from your self-service portal
Why We Picked It:
With the Kanban board feature, you can easily share, track, and assign tickets within your IT team the agile way.
You can easily scan your assets and make sure your CMDB is always up to date.
Case Study:
Reinier de Graaf is a general hospital located in Delft, Netherlands. The healthcare institution offers specialized and complex care for elders, oncology, mother, and child.
The hospital had a small team of ten people who were responsible for the purchase, maintenance, and repair of 11,000 medical instruments. How did such a small team achieve such a big feat?
After switching to TOPdesk, the maintenance team is able to track all assets in one place. All relevant information about each medical device is also accessible via asset maps. Moreover, a dedicated self-service portal makes it easier for users to understand medical equipment and troubleshoot problems in case of malfunctions. Their approval process has also become completely digital.
TOPdesk Plans Include:
TOPdesk offers 3 plans: Essential, Engaged, and Excellent. For pricing details, you will have to contact their sales team.
Freshservice is another strong SysAid competitor that aims to modernize how businesses perform their ITSM. The best part about this tool is that you can enjoy expert onboarding, migration services, and 24×7 assistance to get started quickly.
Freshservice helps you prevent critical issues and minimize downtime by allowing agents to identify the right alerts at the right time. Moreover, you can deploy powerful automation and no-code workflows to eliminate repetitive tasks and manual processes.
Top Features of Freshservice:
Enhance the support experience with MS Teams and Slack integrations
Set SLA policies for different business hours or incident categories
Keep a record of all IT hardware, purchase orders, and other assets
Maintain a single record of all contracts with third-party suppliers or vendors
Customize your own reporting dashboards and share reports with key stakeholders
Why We Picked It:
Freshservice is great at regularly updating its features, UI, and overall product.
Powerful automation can help you handle multiple IT users.
Case Study:
Donvale Christian College is a co-educational school based in Melbourne, Australia.
To complement their rapid growth, DCC needed an ITIL-aligned tool to cater to the needs of multiple end-users – employees, students, and parents. For DCC's IT and maintenance team, their main aim is to help users as quickly as possible and guide them on how they can do things better.
After implementing Freshservice, the educational institution saw a 99% SLA and first call resolution rating. In addition to this, their team even witnessed a significant improvement in service quality, productivity, and technical support.
Freshservice Plans Include:
Starter: $19/agent/month
Growth: $49/agent/month
Pro: $99/agent/month
Enterprise: $109/agent/month
Spiceworks is a free SysAid alternative that is hosted on the cloud so that you don't have to worry about server procurement, setup, or maintenance. You can capture incidents and requests via email, user portal, mobile device, and other channels.
Spiceworks allows you to generate help desk reports around key information such as updates on tickets, agent work hours, and more. In addition to this, you can offer assistance to remote employees by starting a remote support session directly from support tickets.
Top Features of Spiceworks:
Track all your IT tickets and projects in one place
Create ticket rules to automatically assign tickets to the right members of your team
Allow users to submit tickets and track their progress via the user self-service portal
Monitor first response time, ticket close time, and other relevant metrics
Allow agents to communicate with each other using private comments
Why We Picked It:
The cloud version is easy to deploy compared to the on-premise one
It has a wide user base, so you can take help from similar users if you run into any configuration issues
Case Study: Not Available
Spiceworks Plans Include:
All Spiceworks plans are free of cost.
Read More: Best Spiceworks Service Desk Alternatives for 2023
InvGate Service Desk is another popular SysAid alternative that helps IT support agents keep their work organized and structured. For instance, agents can organize work based on priority, SLA, urgency and receive highlighted recommendations to solve issues with just one click.
With InvGate, you can create a brandable and customizable self-service portal and take pressure off your IT support staff. Moreover, you can offer proactive customer support by automatically suggesting solutions based on existing knowledge base articles.
Top Features of InvGate Service Desk:
Automatically assign tickets based on factors such as ticket type, severity, etc.
Monitor over 150+ metrics and improve service desk performance
Empower agents to create knowledge articles from their support tickets
Monitor SLA targets on issues and service requests
Improve team productivity and motivation with in-built gamification features
Why We Picked It:
You can easily maintain the quality of your knowledge articles by receiving feedback from end-users
You can gamify your agents' workspace, recognize their efforts, and align their daily tasks with long-term goals.
Case Study:
Peoples Bank is one of the most popular locally-owned and operated community banks in Washington state. It operates to meet the financial needs of businesses as well as families with the help of its wide network of 23 branches.
Peoples Bank team was relying on an inefficient process of direct emailing, which often meant that the support team did not always get clear data regarding requests and performance.
After switching to InvGate, Peoples Bank was able to align 24 different teams that used the tool on a daily basis. Moreover, using the self-service portal, their staff members across different branches can locate documentation and find relevant answers in minutes.
InvGate Service Desk Plans Include:
You need to request a quote on their website for pricing details.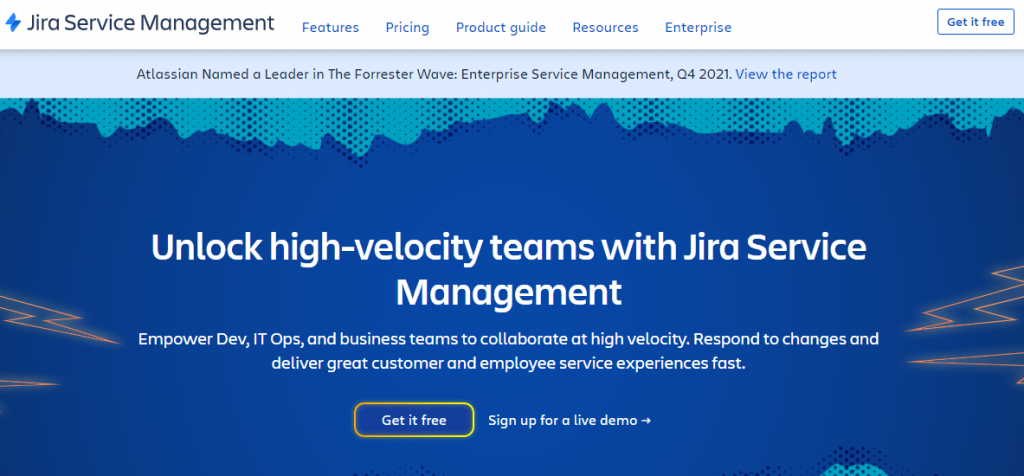 Jira Service Management is another software like SysAid that helps you deliver great customer and employee experiences at scale. Team members from different departments such as HR, IT, legal, etc., can access the service desk, track requests, and get their work done faster.
Jira helps you bring your development and IT operations teams under a single roof so that they can rapidly resolve issues and learn from incidents. Moreover, your agents can access asset details such as asset type, age, expiry, etc., directly from support tickets and resolve issues faster.
Top Features of Jira Service Management
Track the complete ownership and life cycle of assets
Connect with your favorite business tools, including Salesforce, Amazon Web Services, and more
Customize routing rules and escalation procedures based on your needs
Escalate major incidents to the right teams to immediately begin the resolution process
Make it easier for end-users to search for relevant knowledge-base articles
Why We Picked It:
You can allow employees to rate the effectiveness of help articles and other content.
Moreover, you can even run reports to see which articles deflect the most tickets compared to others.
Case Study:
Twitter, one of the biggest social media platforms, aims to empower every person to voice their opinions and share information.
Twitter witnessed an increase in support tickets as its internal team grew from 900 to 3,600 employees. Their IT support team used primarily email for internal service requests.
After adopting Jira Service Management, Twitter employees use this platform to raise tickets. In fact, the IT team noticed that the tickets contained all the right information, went to the right queues, and were routed to the right people. Twitter saw an 80% reduction in support email volume.
Jira Service Management Plans Include:
Free: Forever free for up to three agents
Standard: $20/user/month
Premium: $45/user/month
ManageEngine ServiceDesk offers greater visibility into IT services so that your business encounters minimum downtime. You can create and publish a service catalog that enlists various service level agreements along with multi-stage approvals.
With ManageEngine Service Desk, managers can create custom reports to monitor the health of IT help desk performance and gain rich insights into agent performance. Moreover, with asset management capabilities, you can discover IT hardware and software, optimize asset utilization, and ensure license compliance.
Top Features of ManageEngine ServiceDesk Plus:
Make your service desk your own with codeless customizations
Choose between on-premise or cloud version depending on your needs
Employ AI virtual assistant called Zia and offer instant support
Schedule reports to be emailed to users daily, weekly, or monthly
Automatically close resolved tickets and save your agents' valuable time
Why We Picked It:
With the Zoho Cliq integration, your team members can share files, make audio or video calls, and much more.
You can reduce password tickets by allowing users to perform the action themselves on the user portal.
Case Study: Not Available
ManageEngine ServiceDesk Plus Plans Include:
Standard: $10/agent/month
Professional: $21/agent/month
Enterprise: $50/agent/month
FootPrints is an ITIL-compliant alternative to SysAid that is designed keeping in mind the needs of IT and technology teams. Agents can easily prioritize issues that they feel are important and manage their tasks better. With the help of ready-to-use templates, flexible licensing options, and minimal hardware requirements, FootPrints will make your team's life a lot easier.
Whether it's emails, ticket routing, or workflows, you can automate a majority of routine tasks and make room for better performance. You can allow users to browse a knowledge base and empower them to submit requests, track progress, and offer valuable feedback.
Top Features of FootPrints:
Plan changes to reduce downtime and service outages
Publish service catalogs for your different audiences
Design your support workflows using the drag and drop feature
Create and distribute customized reports based on your business needs
Resolve support tickets on the go with a dedicated mobile app
Why We Picked It:
This tool provides an intuitive mobile interface from which agents can view assignments, manage cases, and update records.
The powerful automation capabilities can prove to be quite helpful if you have a small support team.
Case Study: Not Available
FootPrints Plans Include:
For pricing details, you need to request a quote on their website.
Comparison of Best Alternatives of SysAid
| Software | Price | Ticket Management | Shared Inbox | Multi-channel Communication | Alerts & Escalations | Live Chat | Self-Service Portal | IT Help Desk |
| --- | --- | --- | --- | --- | --- | --- | --- | --- |
| ProProfs Help Desk | $10/month | Y | Y | Y | Y | Y | Y | Y |
| SolarWinds Service Desk | $19/month | Y | N | Y | Y | Y | Y | Y |
| ServiceNow | Not Mentioned | Y | N | Y | Y | Y | Y | Y |
| TOPdesk | Not Mentioned | Y | N | Y | Y | Y | Y | Y |
| Freshservice | $19/month | Y | Y | Y | Y | Y | Y | Y |
| Spiceworks | Free | Y | N | Y | Y | Y | Y | Y |
| InvGate Service Desk | Not Mentioned | Y | N | Y | Y | N | Y | Y |
| Jira Service Management | $20/month | Y | N | Y | Y | Y | Y | Y |
| ManageEngine ServiceDesk | $10/month | Y | N | Y | Y | Y | Y | Y |
| FootPrints | Not Mentioned | Y | N | Y | Y | N | Y | Y |
| SysAid | Not Mentioned | Y | N | Y | Y | Y | Y | Y |
Final Verdict: Which SysAid Alternative Should You Go For?
SysAid is a leading IT support solution that allows you to:
Automate ticket routing and escalations
Reduce ticket volume with a self-service portal
Manage hardware, software, and other assets in one place
Identify support trends and measure performance
However, despite these merits, certain drawbacks force existing users to look for other help desk software like SysAid. After going through this in-depth SysAid comparison blog, you must have already made a decision.
If not, here are our final thoughts: If you are looking for an IT help desk tool that is easy-to-use and comes with powerful automation then ProProfs Help Desk can be a great option. If you are looking for a free alternative to SysAid, you can opt for Spiceworks. On the other hand, if you are looking for an omnichannel service desk, then Freshservice will not disappoint.
Do you want a free Help Desk?
We have the #1 Online Help Desk Software for delightful customer support