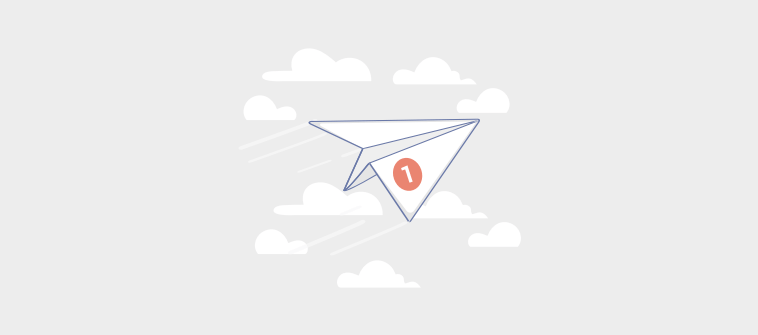 "Customer service should not be a department. It should be the entire company." — Tony Hsieh, CEO of Zappos
Assisting customers is a straightforward practice in essence. In fact, it is inherent to any business activity and is a natural process whenever customer interaction occurs.
For instance, you run an offline store, you talk to a visitor, provide assistance and maintain ethics of conversation whether or not that customer makes a purchase in the end. What this means is that customer support does not translate to after-sales service only; instead, it is there at all stages of customer interaction.
This never-ending exercise might appear clear and simple enough, but keeping customers happy is hugely challenging nonetheless.
Customer Support is a Bigger Challenge for Online Businesses
Customer service is of even greater importance when it comes to running an online business. Since direct communication is limited, it is imperative to find alternate ways to efficiently handle customer questions and grievances. Remember that timely responses go a long way in inculcating a sense of being important in a customer's mind. The communication should be as prompt as possible depending on the severity of a question being raised.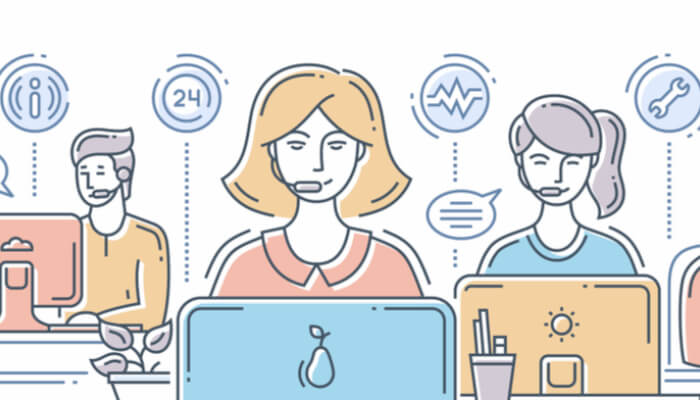 Relying purely on standard means of communication like email or directly handling a query on a phone call can be effective as long as the overall intensity of communication is not high enough. When this changes, it becomes a challenge to handle customer issues through traditional means.
Such situations are becoming common now because various businesses are prominently making their presence on the internet. And many of them operate only online. Rising expectations from customers also increase the number of questions asked and the information acquired.
This is invariably creating a drastic need for a process through which customer questions can be handled systematically. This can be taken care of by employing a Ticket Management System.
What is Ticketing Management System?
With the rising number of customer questions regarding products & services, it has become essential to have a dedicated database that can help manage customer requests and complaints as efficiently as possible. These queries and complaints are called 'tickets'.
The idea is to have all kinds of tickets visible on one page, and a database designed to manage these tickets is referred to as the Ticket Management System. It is also known as a Help Desk Ticketing System or simply Help Desk.
There are a number of ways a ticket management system can help in creating a positive customer experience.

How Does a Ticket Management System Make Your Business Better?
A competitive ticket management system brings order to customer support and makes it methodical in managing customer requests.
It can offer the following features to streamline the overall customer support:
A shared inbox where all tickets are visible

A knowledge base that can drastically reduce the number of tickets by creating a self-service help center for customers

Integration with a live chat tool for quick assistance to customers

Real-time surveys that customers can take to rate an agent's performance
There are a number of good ticket management systems out there in the market; for example, ProProfs Help Desk is one such tool that has all the key features listed above. Let's go through these features in detail.
---
Related Read: Why Your Business Website Needs a Help Desk Software?
---
A Shared Inbox for Tickets
Customers can have a variety of queries that can be put into various departments like sales, support, help, billing, etc. All tickets, while categorized, are listed in one location just like the inbox of an email. Access to them can be granted to all the concerned individuals and teams for easy tracking of tickets and prevention of duplication of efforts.
Additionally, tickets can be assigned a priority based on their severity so that more important tickets are addressed first.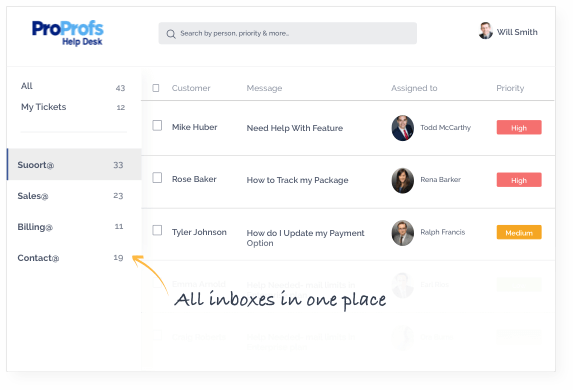 An ideal ticketing inbox of a Help Desk is also user-friendly for easy and quick familiarization. This can further reduce the overall time taken to solve tickets, thereby increasing the efficiency of the whole process.
Further, many questions are quite common in nature. Answering such questions repeatedly creates redundancy. To avoid that, a good Help Desk ticketing system provides an option of creating canned responses (predefined/automated responses) so that such questions are addressed faster.
A Knowledge Base that makes Customers Self-Reliant
According to a L>study by Microsoft, 90% of its respondents said that they expect online businesses to offer self-service portals.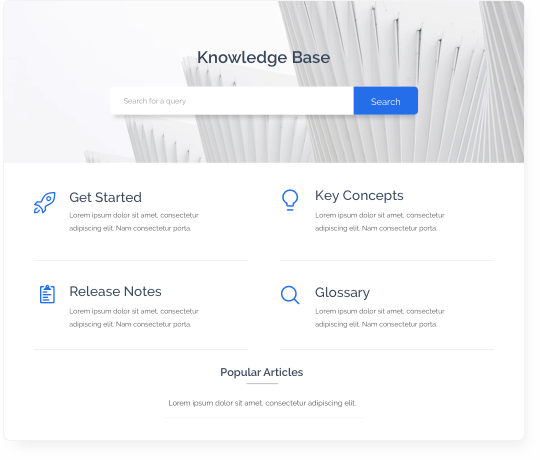 A knowledge base is a fantastic addition to any Help Desk. Having user-guides, product manuals and FAQs enable customers to increase their product knowledge, making them less dependent on your customer support agents. This reduces the number of new tickets by up to 80 percent, thus, cutting down on your support costs. In the long-term, this actually helps in keeping the costs of customer support in control.
Integration With Live Chat
You now have a Help Desk software that has systematized your ticket management as well as communication. But your customers could still request instant updates about their tickets or they could simply want some quick information.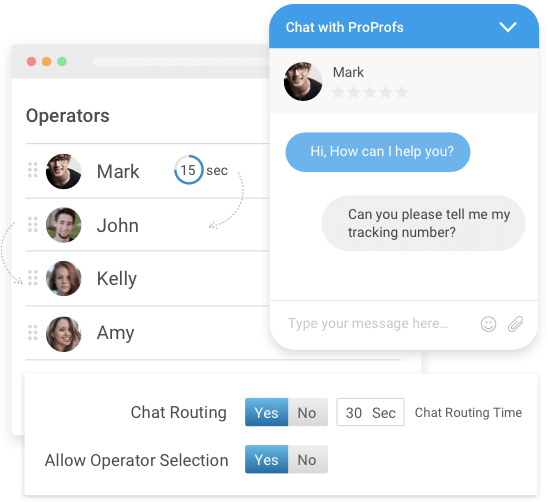 A Help Desk system like ProProfs Help Desk, which allows integration with Live Chat, helps in dealing with such situations.
A prominent advantage of this combination is when the chat is offline, customer questions are automatically saved as tickets. Furthermore, the chat history of each customer is maintained for analysis and can be used later to provide customized assistance.
Real-time Customer Surveys
A good Help Desk Ticketing System goes beyond than just providing tools for handling customer requests. It gives business owners the ability to monitor their agents' performance consistently over a period of time. Customers are also given an option to take real-time surveys through which they can rate an agent's performance immediately. All this is helpful in making the required improvements in an agent's performance.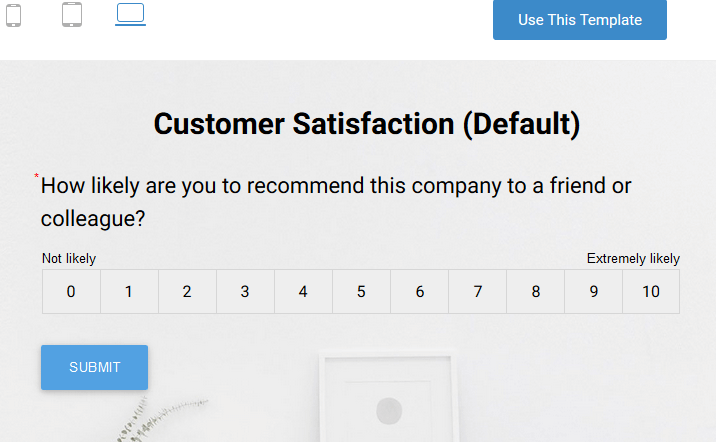 Additionally, it also helps in analyzing if the overall customer support process requires any changes.
A Help Desk Ticket Management System is Vital for Online Business
Businesses can achieve their desired results by employing a systematic Help Desk ticketing system. The ever growing competition is eroding the advantage of one particular company or a brand, and customers don't shy away from trying out various options either.
Innovative and smarter customer support software tools are allowing companies to create fresh advantages over their competition. Anything that helps in creating happy customers is bound to start a chain of positive outcomes - happy customers lead to returning customers, that establishes customer loyalty, which in turn creates positive word-of-mouth and goodwill.
"You'll never have a product or price advantage again. They can be easily duplicated, but a strong customer service culture can't be copied." — Jerry Fritz, Author of Breakthrough Customer Service
---
Recommended Read:
Do you want a free Help Desk?
We have the #1 Help Desk for delightful customer support starting at $0