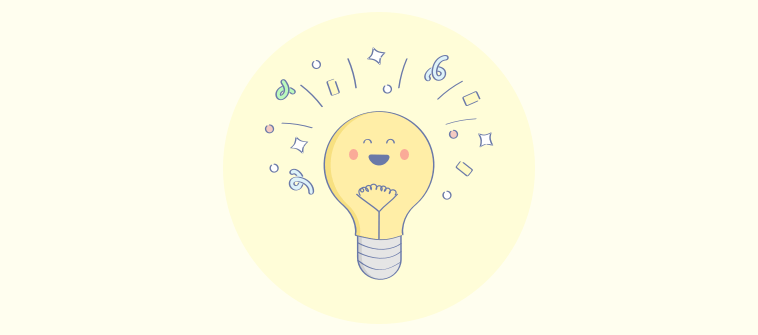 While rapid innovation in Information Technology (IT) has made life easier for customers and employees, IT support teams are somewhere caught in an uphill battle.
For most businesses, their IT service desk is under tremendous pressure. Support teams are feeling the heat of not only managing higher volumes of IT issues and requests but also the need to deliver a "better, faster, and cheaper" service.
There is no doubt that organizations are looking to improve IT service desk performance. After all, using the service desk to its full potential can result in better efficiencies, clear service priorities, reduced impact of service interruption, and a delightful user experience.
Now, building the perfect IT service desk is not as difficult as balancing a house of cards. If you are unsure where to start, this blog might be all the help you need. From here on, we will understand the importance of the IT service desk, discuss the role of IT help desk software, and explore 10 service desk improvement ideas.
What Is IT Service Desk?
The IT Service Desk acts as a single point of contact (SPOC) between the IT service provider and users that demand IT services. An IT service desk is capable to manage incidents as well as service requests from internal employees, external customers, business partners, investors, and other key stakeholders.
Considering that every department is dependent on IT, service desk teams play a pivotal role in matching technology, automation, artificial intelligence, etc. with existing business processes. Whether a user needs to reset his account password or demands technical troubleshooting for a hardware issue – the service desk is a single place to go for all their IT needs.
Now, that we have explored the definition of IT service desk, let's look at its role in business growth.
Why IT Service Desk Is Important for Your Business?
In 2021, the global spending on IT services is expected to reach over 1.1 trillion US dollars. No wonder most businesses are looking to improve IT service desk to enhance employee productivity and provide fast support that keeps things moving forward.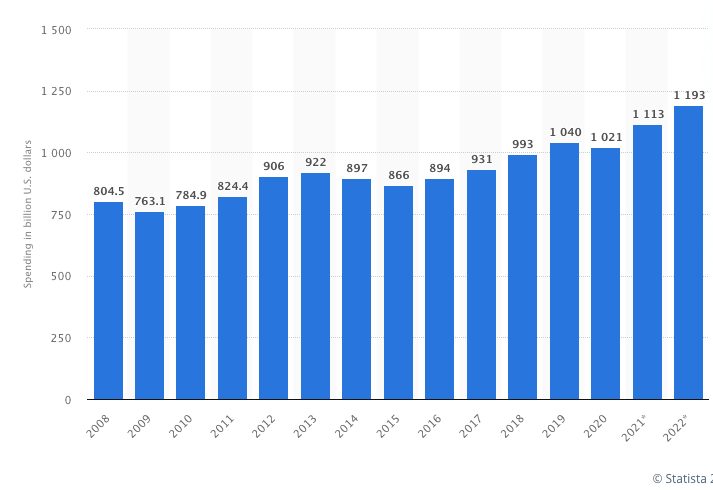 The implementation of a capable and easy-to-contact service desk can truly change the game for your business – and it doesn't have to break the bank either. Let's look at some incredible benefits of IT service desk:
Create a Vast Library of Information: A service desk stores a vast library of information that can benefit not only internal employees but also customers who use your IT services. Information about issue-resolution steps can be stored in the knowledge database and accessed by the right people. Moreover, with proper knowledge management, training new employees become effortless.
Anticipate Potential Problems: In addition to resolving current IT issues and requests, the service desk gives you a glimpse of the future. Due to the high volume of issues and requests that the service desk handles, you can easily see trends and anticipate future problems that might impact the business. Based on the trends, you can allocate resources accordingly and minimize impact.
Measure & Improve the User Experience: Employees and customers want a seamless support experience when they contact the service desk. With the help of the right service desk solution, you can monitor interactions and gain valuable insights into user satisfaction, their challenges, and unmet needs that could potentially be addressed by the IT support team in the future.
Top 10 IT Service Desk Improvement Ideas
Support experience has become increasingly important to the modern service desk. Fortunately, there are a lot of strategies to make sure that your service delivery always meets your user's demands and expectations.
Here are 10 IT service desk improvement ideas that you can start implementing today:
1. Understand What Users Expect From the Service Desk
When your organization is working on how to improve IT service desk, there is no need to follow the herd. You need to understand what your users specifically want from your service desk. Do they expect faster resolution times? Do they want more self-service options? Do they want you to adopt more innovative IT tools?
Exploring such questions will help you a great deal in establishing relevant and user-focused service level agreements (SLAs). For instance, if your employees or customers demand response over email within 2 hours, you can develop an SLA around the same expectation.
The more you gain clarity, the better you can set relevant goals and objectives for your IT service desk team. Right from sharing a password reset link to offering technical assistance – your team members will know exactly what they need to do to meet user expectations.
2. Streamline Knowledge Management
Every organization has a goldmine of collective knowledge at its disposal. But why do most employees and even customers have to hunt for the right information?
According to a McKinsey & Company study, the average employee spends an estimated 20% of the workweek finding internal information or looking for colleagues who can help with specific tasks.
In today's digital world, knowledge should not be hard to find. In fact, streamlining knowledge management can have a dramatic impact on the productivity, and efficiency of your organization. Here is how you can do it:
Create IT-related support content and involve subject matter experts
Encourage dialogue and collaboration among employees
Create a solid review process for each knowledge article
Make it easier for users to share knowledge with others
The tips will help you create the right knowledge-sharing culture in your organization and improve IT service desk performance.
3. Improve IT Service Desk Using the Right Tools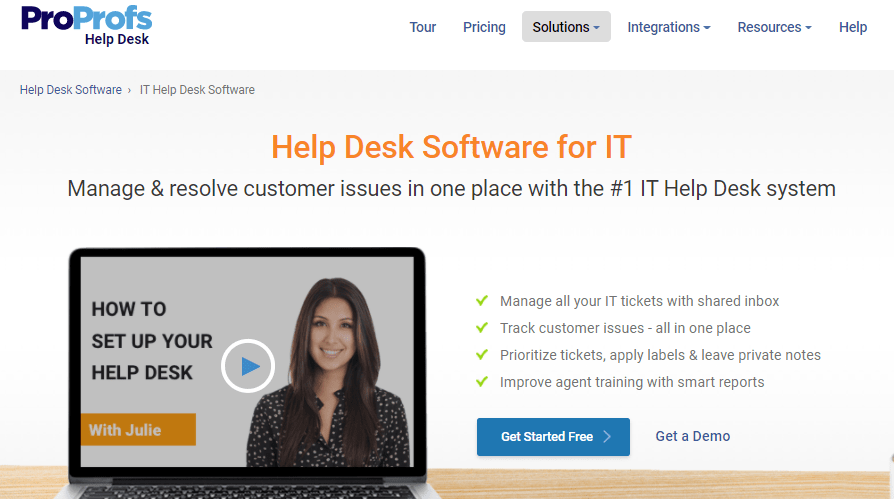 Adopting the right IT support tools may sound like a huge year-long project but it does not have to be. You can always start small depending on your team size and objectives.
For advanced IT Service Management features, you can opt for an IT service desk solution. In addition to basic ticketing, the tool can help you with Asset Management, Service Level Management, Knowledge Management, Change Management, and other ITSM processes.
If you require basic ticket management features and an easy-to-use interface, you can go for an AI-powered IT help desk software. The tool will help you track all IT incidents and requests in a single place and agents can interact with users on multiple channels such as the phone, email, live chat, social media, help portal, etc. With the help of insightful reports and analytics, you can see how well your IT support department is performing.
Read More: Your Guide to the IT Infrastructure Library (ITIL)
4. Build an Internal Knowledge Base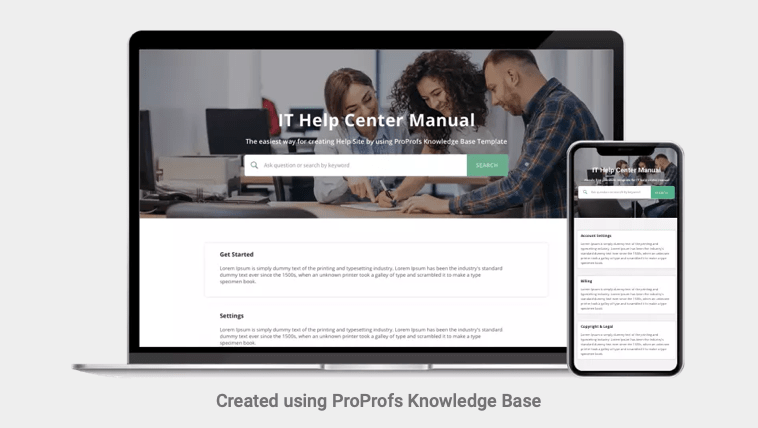 Are your IT support agents wasting their valuable time answering repetitive employee questions? Well, if it's true, you need to empower your employees by creating an IT-focused internal knowledge base.
While talking about the IT service desk best ideas, you cannot ignore the role of an internal knowledge base. It acts as a central repository where users can find help articles, how-tos, and other content structured to help them solve problems. This means service desk agents get more time to focus on pressing issues and employees can solve their own IT problems without relying on someone else. Sounds like a win-win situation!
However, just building a knowledge base is not good enough. You need to ask relevant questions: Is our self-help portal intuitive enough for new employees? How can we make our technical support articles easier to understand? How do we structure our content or make it more SEO-friendly?
The answers to these questions will help you consistently improve the self-service experience.
5. Prioritize Issues/Requests Based on their Severity
IT support issues and requests can be differentiated based on their severity, or in other words, their possible impact on the business.
While some issues are more urgent in nature, others can be handled with more time. For example, if your company-wide servers are down, you need to restore them at the earliest for smooth operations. On the other hand, an employee requesting an additional USB mouse is not a high-priority case.
Specifically, support software allows service desk employees to set up triggers that automatically prioritize urgent IT tickets. Your agents can also choose to manually set the priority of a ticket as High, Low, or Normal. This ensures that urgent tickets cannot slip through the cracks and are taken care of on an immediate basis.
Read More: 15 Help Desk Best Practices And Principles
6. Create, Share, & Update Your IT Service Catalog
For IT-focused organizations, service delivery is crucial. It does not matter whether IT services delivery is for internal employees or customers; they all demand frictionless and timely delivery.
Creating, sharing, and updating your service catalog is one of the top service desk priorities. The IT service catalog allows your end-users to know the types of IT services available within the organization, how they will be delivered, what the cost is, and the expected service level.
Benefits of creating an IT service catalog:
Consistency & clarity in service delivery: A service catalog ensures that all major stakeholders – the management, the IT department, and the user – are on the same page.
Ticket deflection: Given that a lot of user queries are about service delivery, an IT service catalog can help you with ticket deflection. Your agents will have more time to focus on other important tasks.
Cost minimization: The service catalog helps you automate multiple processes so that you can manage faster service request handling even with a small team – leading to reduced costs.
7. Ensure Escalation and Handoff Processes Are Well Understood
Your company's IT support department likely has different tiers and levels. Now, there are times when the first person who speaks with a user is not able to resolve the concern. This is totally normal as lower-tier agents do not have the authority, knowledge, skills, etc. to resolve issues that are more technical in nature.
A smooth escalation process ensures that more serious issues always reach the right members of your team. Even if some of your employees are on leave, they should have a clear understanding of the handoff process they need to follow. This will help your organization ensure that the service desk functions without any interruptions.
It is also important to keep the end-user updated throughout the escalation process. After all, we all appreciate being kept in the loop. Assure them that the problem is in better hands and is being addressed as quickly as possible. If you are not sure how long it will take, refrain from making any unrealistic promises.
8. Don't Just Measure Everything. Keep KPIs User-Focused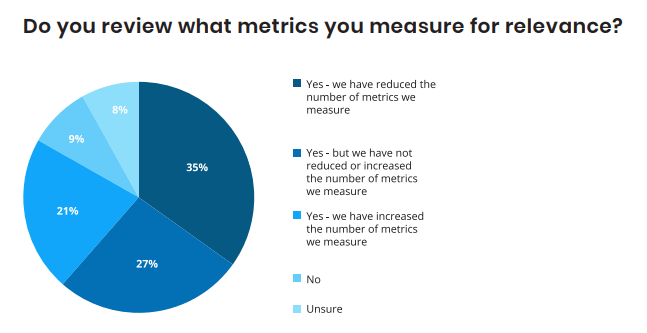 Are you generating a huge list of reports and feel lost in a sea of incomprehensible data? Well, you need to stop measuring everything and start tracking metrics that really matter.
As per a report by SDI, 35% of service desk-enabled organizations have reduced the number of metrics they measure.
Instead of focusing on metrics for business growth, you should shift your focus on the user. This will help you understand the challenges they face and how well you can improve the user experience.
You can start by picking these KPIs and built a roadmap to improvement:
User satisfaction: User satisfaction is one key service desk metric your team should be constantly monitoring. Right after a support interaction, you can share surveys with users to capture their feedback.
Ticket volume via channel: "Ticket volume by channel" can help you see from which channels requests are coming in (phone, email, social media, or chat). By understanding the popularity of your channels, you can distribute the workload of your team accordingly.
Average response time: The time between receiving an IT request/issue and responding to that should be as short as possible. Longer response times can make hamper the experience of your employees or customers and further frustrate them.
Read More: 15 Help Desk Metrics to Improve Customer Support
9. Invest in Employee Training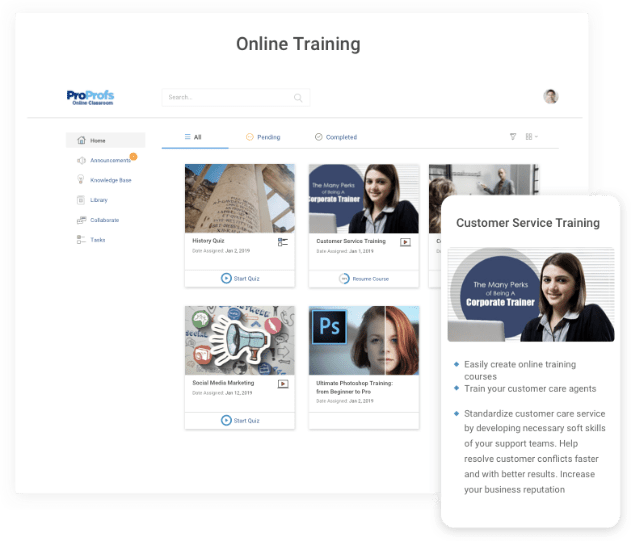 Regular training is one of the top help desk tips for IT professionals. You can use IT training software to create online courses for your agents and allow them to hone their skills. Well-trained IT technicians can solve more issues without having to escalate problems as frequently.
In addition to training on communication skills, you can provide employees with ITIL certification training. The ITIL framework ensures organizations deliver high-quality and consistent levels of service based on industry best practices.
Now while you train your employees, it is also important to let them know what they can expect on meeting their goals. Create a rewards and recognition program to encourage your employees to perform well. Even those who need to improve will realize the level of performance that is expected from them.
Read More: 31 Important Customer Service Skills
10. Align IT with Business Goals
Although IT is a separate department altogether, IT goals should overlap with the business goals to some extent. The service desk team should be well aware of times that are critical for the business such as the launch of a new product line or the annual sales week.
Many people think that IT is all about technology, particularly about how automation is used to speed up workflows and deliver better outcomes. However, the reality is that IT is powered by people.
When members of different departments work together towards common goals, you will start experiencing better results. Encourage dialogue between different departments and ask them to share how they would like IT to help achieve their goals. For example, the sales team can request better security of sensitive customer information such as their bank account details.
Improve IT Service Desk For Productive Employees & Happy Customers
The IT service desk is seen as an important indicator of the overall health of an organization's technology adoption and service delivery. In fact, a single brief moment of downtime can result in lost customers and added frustration.
To improve the IT service desk, you must streamline knowledge management, prioritize urgent issues, offer self-service options to users, and measure the metrics that help you see the bigger picture.
Remember, a service desk is not successful without good collaboration. Encourage various departments to share what they expect from the service desk and what they feel needs to be improved. It's finally time to delight users with uninterrupted IT service!
Do you want a free Help Desk?
We have the #1 Online Help Desk Software for delightful customer support