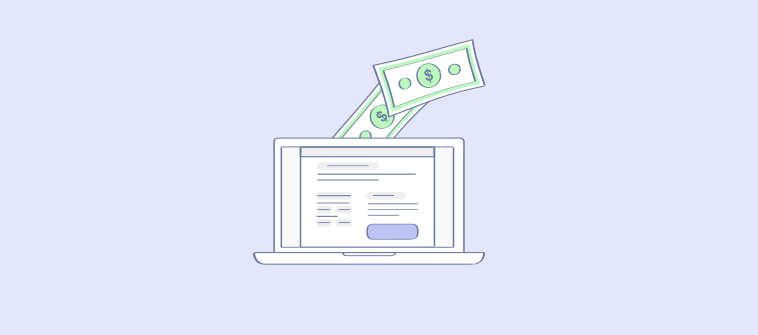 No matter, if your business has ten or a million customers- assisting customers round-the-clock, can be a daunting experience.
Irrespective of geographical boundaries, customers are similar in what they expect from a brand. They all demand perfection and proactive responses to their requests.
So, what can be the ideal tool to live up to customer expectations?
We are glad you asked! A best-in-breed help desk software can empower your business to take control of all customer communications while reducing the workload of your support agents.
In this blog, we will explore the most important question- 'what is a help desk software?' and discuss its various features in detail. Let's get started!
What Is a Help Desk Software?
A help desk software, also known as a services desk software, acts as a one-stop point of contact to tackle all your internal as well as external issues. Your support agents can easily track the progress of every issue, prioritize urgent tickets, and interact with customers on channels they prefer.
The role of a help desk management software broadly is to help you resolve customer questions instantly. It equips your support team with all the features they need to provide delightful customer support.
This is what a help desk dashboard looks like-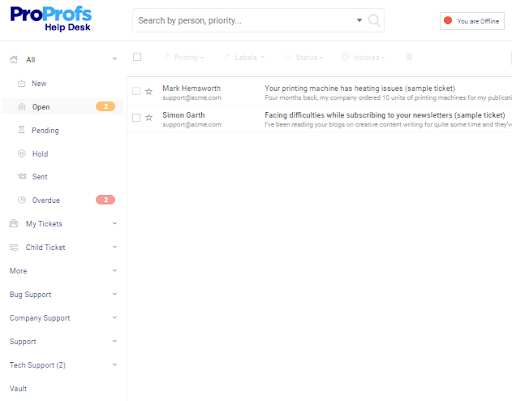 What Is Help Desk Software Used For?
Help desk software has evolved over the years to become a versatile tool. Modern businesses are heavily reliant on it and leverage it to encourage team collaboration, improve their business processes, and streamline their workflows.
Let's see how a help desk software can benefit you in the long run.
1. Ensures Customer Delight
Your customers always seek faster resolution for their problems, and they hate running after your support team to resolve them. With a help desk, you can keep your customers informed about the status of their support ticket from the very start.
Customers know they can contact you via any customer service channel and will get a consistent experience throughout. When your agents have access to the right technology, ensuring customer satisfaction will be a breeze.
2. Improved Business Operations
A help desk software allows you to streamline your business operations. You can meet the SLAs (Service Level Agreements) and prioritize certain actions as and when required.
Help desk managers and system administrators can effectively monitor the contact center's functioning by viewing and analyzing data points and intuitive graphs.
They can access these on the "reports" dashboard of the software. On the basis of these data points, they can gain valuable insights into the service experience of their customers and make informed decisions.
3. Empower Customers With Self-Service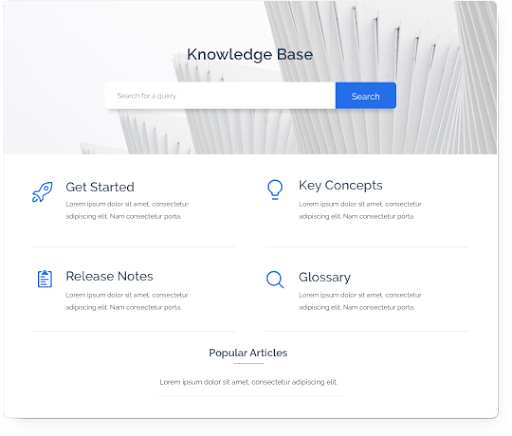 Customers prefer self-help more than seeking help from your customer support operators. When you employ the best help desk system integrated with a knowledge base, your operators and customers can access the complete repository of information to resolve queries on their own.
A knowledge base ensures 24/7 help, and operators can save on their time answering the same question. Your customer support team can thus spend more time with the customers who need urgent help.
To further improve agent productivity, you can create a holistic internal knowledge base. It acts as a centralized source of information, where your agents can find all support-related content in seconds.
Recommended Read: How to Deliver 24/7 Support Without 24/7 Staff
4. Efficient Ticket Management
With the round-robin ticket assignment, tickets can be automatically assigned to available and relevant agents. This ensures that tickets are strategically managed and never get piled up with a single agent. Depending on the nature of the issue, a ticket can also be assigned to relevant business departments such as Sales or Product.

In addition to ticket assignment, ticket prioritization and ticket management come handy with help desk support software. Help desk agents can effortlessly assign, sort, prioritize, and resolve tickets from a single platform.
5. Offer Customer Service on Multiple Channels
Modern customers have different tastes and preferences when it comes to approaching a business for assistance.
According to a report by Statista, 36% of the respondents in the U.S. stated that they prefer email for resolving customer service problems, compared to live chat (12%).
SaaS help desk software enables operators to address and resolve customer problems raised on different platforms. It supports multiple channels such as email, live chat, help center, etc. and helps to generate tickets for all possible customer interactions.
6. No Missed or Lost Tickets
When you manually keep a track of your support issues, things can soon go out of control. You have no idea about how many times customers contacted you and whether they were completely satisfied with the resolution.
Help desk software tools act as simple issue trackers without the operator missing on any tickets. Creating tickets for customer interactions ensures that operators never miss out on customer problems and requests. There is no unattended interaction, and customers get timely responses to their problems.
7. Ensure Skill-Based Routing
Manually assigning tickets to agents can create serious problems for your support team. A single agent might end up with more tickets than others, or technical issues might get assigned to agents who have no technical knowledge.
A smart ticketing system ensures tickets are assigned to agents based on their skill sets, experience, and technical knowledge. Only then can the experienced, existing operators deal with more skilled work and extend personal help to customers. Skill-based routing ensures the right ticket lands up with the right agents, always.
8. Improved Scalability
Help desk software needs to be scalable. This implies that it should be able to handle a large number of tickets, as and when the need arises.
Currently, you may have a small business with a workforce of 10-15 people, but you will surely expand in the near future. That is when you need a help desk customer support tool that can be used by multiple help desk agents, system administrators, and managers at the same time.
Employing future-proof and scalable software enables different teams to collaborate efficiently and the customer support department to better manage interactions, ensuring they never miss out on any customer problems.
9. Easy Ticket Prioritization
Operators can close tickets faster using help desk ticketing software, as it allows them to assign tickets according to priorities.

They can even mark and label tickets in need of immediate attention. A large number of people can see the ticket when it is assigned to a team or department.
You can even create notes and drop internal comments to speed up the ticket resolution process. Ticket prioritization ensures that urgent tickets are resolved first and there is minimum impact on the customer experience.
Watch: What Are the Benefits of Help Desk Software:
Help Desk Software Key Features
Here are some help desk software key features: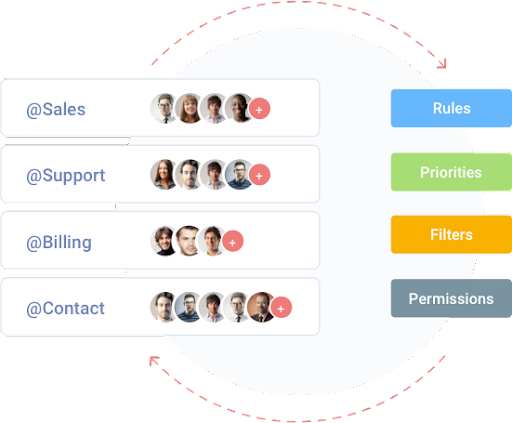 As your business employs help desk management software, different departments within the organization can see who is working on what. Sometimes the resolution of a query needs inputs from various individuals, teams, and departments within the organization.
For instance, a customer who inquires about the status of his refund. Now, this situation would require your customer service team to collaborate with the finance or billing department for sharing the appropriate solution.
Takeaway:
Help desk management software enables you to track who is working on what, use labels, prioritize tickets, send canned responses, and, most importantly, collaborate for faster resolution.
Ticket Tracking and Monitoring
Resolving a customer query is extremely important to not only maintain the brand image but also to enhance brand loyalty.
If you approach a company and they can't update you about the status of your issue, would you go back to them?
Customers expect instant answers and resolutions. This way, they are reassured that if they come up with any query, your support agents will make sure it gets resolved in time.
With a help desk, your agents can monitor the progress of support tickets in real-time and ensure that customers are regularly updated about the same.
Takeaway:
Employ online help desk software such as ProProfs Help Desk, and monitor tickets from the point a customer asks a query till the time it is completely resolved.

Understanding how your agents are performing and how satisfied your customers really are with your service is crucial.
A help desk management system has a report & analytics feature that helps you to:
Keep track of new, rated, and total open tickets
Learn about the average support rating
Check if the support rating is improving over time
Measure the first response time
Learn if the customer support team is getting busier with more tickets
Takeaway:
With a robust help desk, you can keep track of all your support agents, what they are working on, and the time they take to accurately resolve customer concerns and pain points.
A help desk ticketing system with an in-built survey enables managers to capture feedback through customer satisfaction and Net Promoter Score (NPS) surveys.
Customer service ratings give valuable insights into how agents are performing as individuals and in teams. Customers can rate tickets, chats, and help articles in your knowledge base.
These insights help you track down where agent performance is lacking, and you can work towards improving customer support.
Takeaway:
For a well-functioning support process, capturing customer feedback is a must. You must send surveys on a monthly or quarterly basis to know where you can improve your customer support services.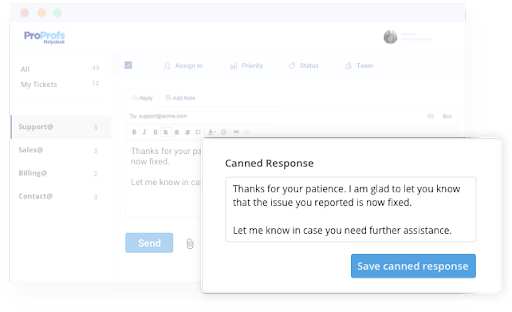 When it comes to customer support, one thing everybody expects is instant resolution. This can become difficult sometimes when you have a single agent handling multiple customers.
But, if you use web-based help desk software, you can empower your agents to share lightning-fast responses to common customer queries. They can simply use canned responses, which are predefined messages, to respond to similar customer requests.
Takeaway:
Choose a help desk that offers canned responses. This feature makes it really easy for your support agents to respond to customer questions instantly.
Learn More About How to Choose Help Desk Software in the Below Video:
Which Is the Best Help Desk Software?
The best help desk software plays a critical and an all-around role in offering delightful customer experiences. But with so many options in the market, how do you know which one is the best?
To take the guesswork out of this important question, we have created a list of the 20 best help desk software.
You can explore all the features these tools have to offer and find the one that perfectly matches all your requirements.
What Is Customer Service Help Desk Software?
A customer service help desk software is a tool that allows customer service teams to manage all incoming support requests. This tool helps your customer service agents effectively communicate with key stakeholders, whether they are external customers or internal staff members.
But why do you need help desk software for your customer service team?
In the history of mankind, customer expectations have never been any higher. According to a report by Microsoft, 54% of customers now claim that their customer service expectations are even higher than they were last year.
For any contemporary business, its customer service operation is heavily dependent on help desk support software. You can provide a platform for agents where they can collaborate with other departments, track issues, and share lightning-fast responses.
Win Customers for Life With a Help Desk Software
Good customer support and delightful customer experiences go a long way in strengthening your brand equity.
That's precisely why it's extremely important to have help desk customer support software that offers all the needed features, right from keeping a firm track of support tickets to analyzing how your agents are performing.
Remember, in addition to fast responses, personalized service is what leads to a memorable experience and keeps your customers loyal to your business.
Do you want a free Help Desk?
We have the #1 Online Help Desk Software for delightful customer support