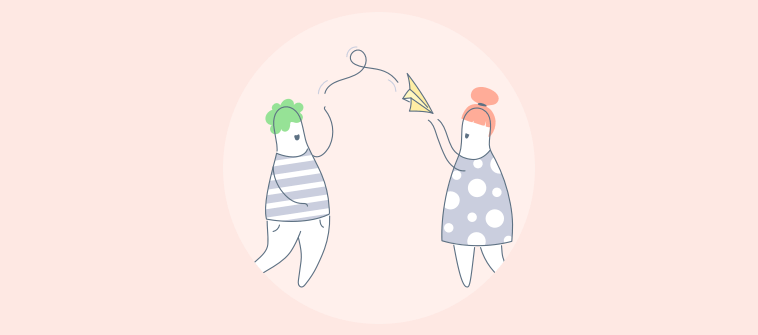 A shared inbox is a great way to have more eyes on your emails and ensure not a single email can slip through the cracks.
Successful entrepreneurs and leaders know one secret — traditional email platforms are not designed for teamwork.
They completely ignore team goals and preferences, do not facilitate internal collaboration, and make tracking emails far from easy, thus resulting in an inefficient process. This hurts your customers and your team's morale.
However, the addition of a shared inbox has turned the tables upside down.
With a shared inbox tool, team members can see at a glance what emails are in the inbox and may need a reply, they can discuss internally while drafting a response, prioritize urgent conversations, and respond to customers faster using canned responses.
In this blog, we will explore the different roles, features, and best practices of using a shared mailbox; and compare the 18 best tools to help you choose the best for your team.
What is a Shared Inbox?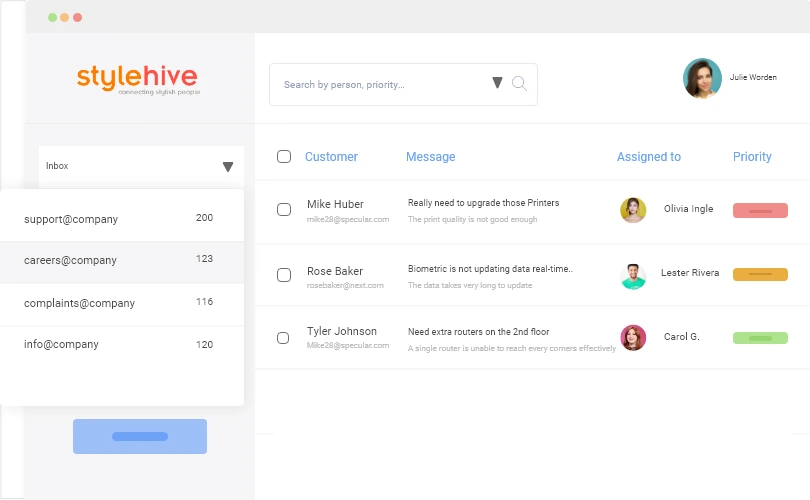 A shared inbox refers to a team inbox that multiple team members can use to receive, assign, and send emails – all from a shared workspace. For example, with a shared inbox, all customer service members can access the account support@company and respond to their designated emails simultaneously.
What is a Shared Inbox Software?
Shared inbox software is a tool that helps you create a collaborative platform where multiple users or teams can access and manage a shared email inbox. The tool is designed to enable efficient communication, coordination, and collaboration within an organization by centralizing email communication and providing a unified view of incoming and outgoing messages.
In addition to emails, modern shared inbox software acts as a universal inbox that incorporates chats, text messages, social media messages, and more. Team members can get relevant context through customer contact history, hold discussions with internal notes or comments, and share a common calendar.
Why Do You Need a Shared Inbox Tool?
Most businesses start their journey with a single email account. But as the business grows and different departments pop into existence, the need to manage multiple email accounts becomes all the more important.
Let's say you have a shared email account- 'support@business.com'. Now with traditional email clients, there is a single login credential and only a single team member can access the account at any given time. Now, as your support emails grow, individual efforts for managing this email account might not be sufficient.
However, with a shared inbox software, it's a whole different ball game!
You can have multiple team members manage an email account at the same time. That's not all. They all can manage not just support@business.com but many other email accounts such as info@, contact@, help@, and many others from a shared dashboard.
Read More: 7 Reasons Why Your Business Should Start Using a Shared Inbox
What are the Features of Shared Inbox?
Right from automated email assignments to powerful integration options, there are 5 must-have features (or benefits) of shared inbox that you should know about. These includes:
1. Automated Email Assignments
If team members have to manually pick emails for themselves, it can lead to confusion and time wastage. However, with the automated email assignments feature, you can ensure that every incoming email is delegated to the appropriate person. This is a great way to enhance work transparency and accountability.
2. Internal Notes
This is another popular shared inbox feature that deserves your undivided attention. Team members can use internal notes to discuss complex issues, offer contextual information to teammates, or offer valuable feedback. The best part is that these notes are only visible to internal team members and not to customers.
3. Collision Detection
A collision happens when two people on your team reply to the same customer twice, without knowing that someone else already replied. Shared mailbox software automatically detects when such collisions occur and helps you avoid sharing multiple replies to the same email.
4. Reports & Analytics
The best shared inbox software offers reports and analytics to help you gauge daily, weekly, or monthly performance. You can track key metrics such as email response times, number of responses shared by a team member, number of unresponded emails, and more.
5. Integrations
Shared inbox tools can often integrate with other tools, such as CRM systems, project management software, and chat tools. The right set of integrations can lead to improved communication, productivity, and team collaboration.
How does a Shared Inbox Work?
Now that we know what a shared inbox is and its various features, it's time to explore how it works. Here are some simple steps that explain the functioning of a shared inbox.
1. Setting Up Shared Inbox
A manager, team leader, or administrator creates a shared inbox and sets up access permissions for each team member. Then email forwarding is enabled to receive emails directly in your shared inbox.
2. Receiving Emails
The shared inbox receives emails sent to a designated email address, such as support@, info@, sales@, careers@, etc. All team members with access to the shared inbox can see all the incoming emails in real time.
3. Assigning Tasks and Responsibilities
Each team member can be assigned tasks or responsibilities for managing emails within the shared inbox. This helps ensure that all emails are responded to in a timely manner and that no messages are overlooked.
4. Team Collaboration
Team members can collaborate within the shared inbox to discuss emails, assign tasks, share information, or provide feedback. This helps improve communication and collaboration within the team.
5. Tracking Progress
Team members can track the status of emails within the shared inbox, such as who has responded to an email, what tasks have been completed, or what deadlines are approaching. This helps improve accountability and ensures that all emails are managed efficiently. Moreover, managers can access reports to monitor response times, pending emails, and other metrics.
How to Manage Shared Inbox: 5 Best Practices
Do you wish to reach inbox zero but don't know where to start? Here are 5 shared inbox best practices to make the most of this technology:
1. Establish Clear Guidelines & Ownership
Your shared inbox tool may have multiple team inboxes such as support@, sales@, accounts@, etc. Assign the ownership of each inbox to specific teams and team members. For instance, make sure only customer service members have access to the inbox – support@company.
In addition to this, it's important to establish clear guidelines for how to handle different types of emails, such as customer inquiries, sales leads, or internal communication. This helps ensure consistency and reduces the risk of errors or miscommunication.
2. Avoid Duplicating Efforts
If team members have no idea who is working on a conversation, they can end up sharing duplicate responses with customers. This can turn out to be quite embarrassing for your business and may hamper your brand reputation.
As a result, it's important to ensure that multiple team members are not responding to the same email. Enable the popular shared inbox feature called collision detection that can help prevent such scenarios, Each team member can see who is working on what and avoid duplicate work.
3. Use Automation Tools
Shared inbox tools offer multiple automation features and capabilities to streamline processes, reduce manual effort, and improve response time. Consider using tools like canned responses, also known as response templates, to share faster replies.
In addition to this, you can make the most of other automation features, such as auto-assignment, to ensure every incoming email is automatically routed to an appropriate team member.
Read More: 10 Service Desk Automation Ideas that Boost Performance and Quality
4. Encourage Internal Collaboration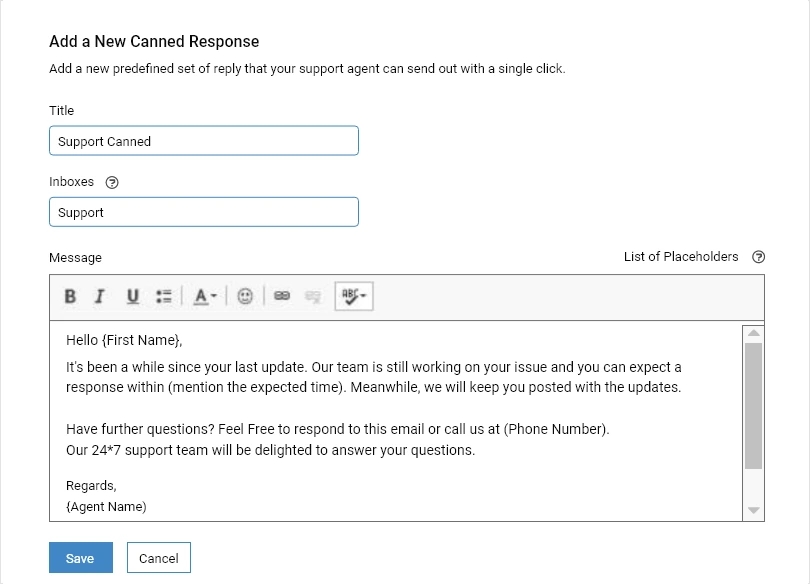 Most successful businesses understand that in order to craft the best email responses, they need a team effort. This is where the role of internal collaboration and communication becomes all the more important.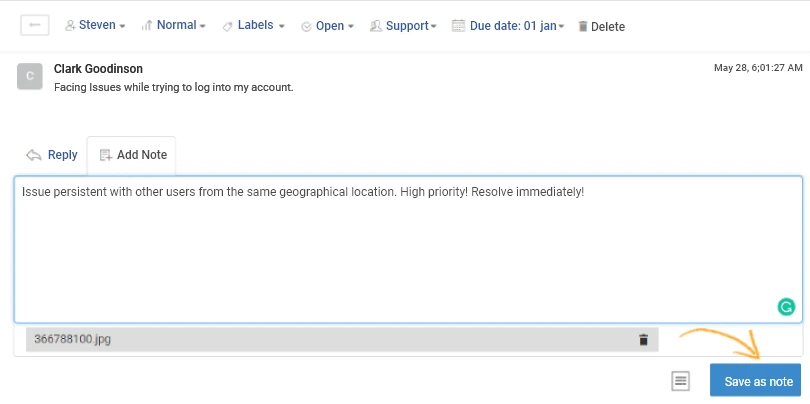 Encourage team members to discuss complex email conversations using private notes. They can hold internal discussions to share the best response with the customer. Internal notes can also be used to share insights, ask questions, or provide feedback, creating a more collaborative and knowledge-sharing environment.
5. Monitor Response Times
How quickly does your team respond to customers? Are customers happy with your team's average response times? Powerful reports and analytics can shed light on these questions.
An important shared inbox best practice is to regularly monitor your team's response times and other important metrics. This will help you identify your top performers (those who share faster responses) and the team members who need further training. You can also share CSAT surveys with customers to encourage them to rate their overall experience of contacting your business.
Read More: 10 Best Practices to Improve Shared Mail Inbox Management
18 Best Shared Inbox Software to Manage Team Email in 2023
Let's explore the top shared inbox software that are currently ruling the market. Here we go!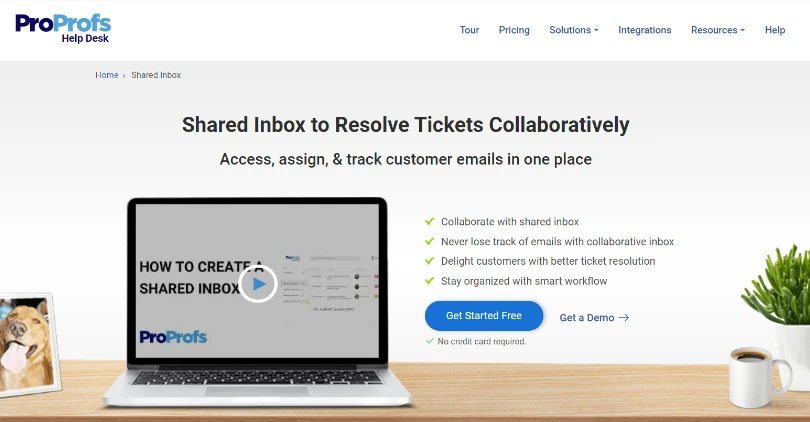 With the best-shared inbox, ProProfs Help Desk takes email management to a whole different level. Agents can easily collaborate to solve complex issues together, leave internal notes, prioritize urgent issues, and track every single email conversation – all from a common dashboard.
The product comes with dedicated cloud hosting on IBM servers, allowing you to manage shared emails while working from the office, at home, or on the road. Moreover, with a Gmail-like user interface, managing thousands of customer emails will not only feel familiar but far better.
Notable Features:
Create and use canned responses for common customer emails
Agent Collision Detection helps you avoid sharing multiple replies to a single email
Encourage self-service with a knowledge base
What you may like: ProProfs Help Desk is not just a shared inbox tool; it's a lot more. In addition to email ticketing, you can reduce support ticket volume with a knowledge base and interact with customers in real-time through live chat.
What you may not like: Although the tool can be integrated with Salesforce, it still misses out on some popular integrations.
Price: Starts at $20/user/month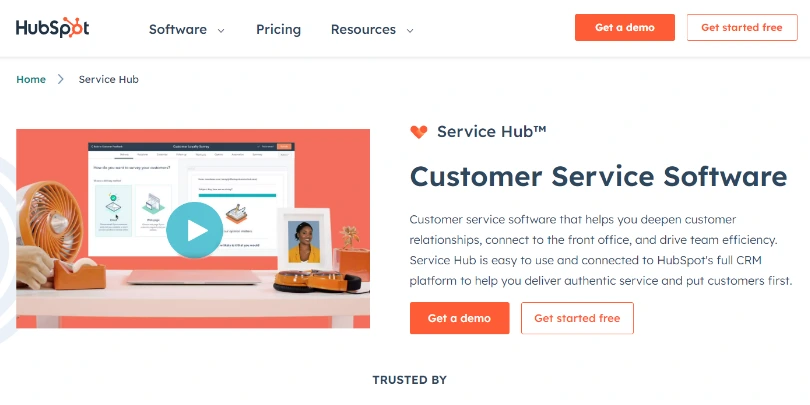 HubSpot offers a remarkable universal inbox that connects multiple email addresses and gives different teams – marketing, sales, and customer service, a single place to view and manage all conversations. Users can have complete transparency and will never have to guess whether someone has followed up on an important email or not.
Users can easily set up routing rules to assign emails to specific individuals or distribute them evenly across all team members. With the application of filters, it becomes easier to sort through conversations and find the ones you are looking for.
Notable Features:
Set up routing rules to automatically send emails to relevant agents or teams
Leverage pre-designed templates and canned responses for faster replies
Get all the context you need for personalized and meaningful conversations
What you may like: HubSpot's team email is integrated with its free CRM. This way, your team can deliver more personalized email responses based on information that they have already captured about a contact.
What you may not like: The tool is quite heavily priced, making it an unsuitable option for startups or small businesses.
Price: Starts at $450/month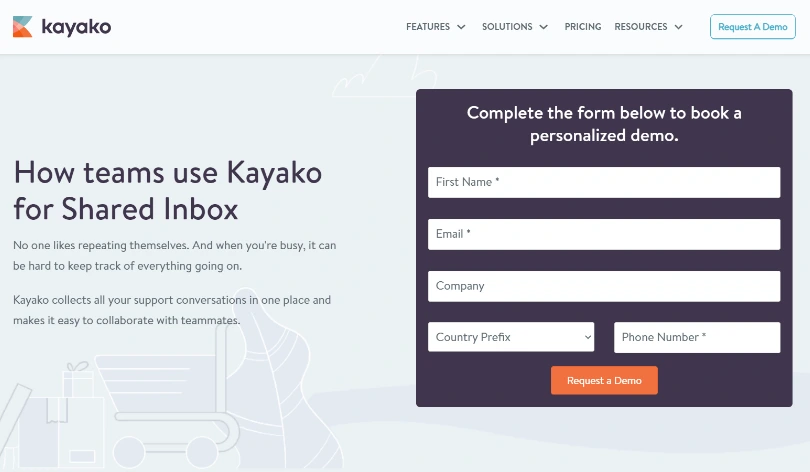 Kayako is one of the popular shared inbox for teams of all sizes. Users can use 'Tags' to easily categorize emails and organize all external as well as internal conversations in a single place.
Kayako's 'SingleView' offers a complete visualization of the entire customer journey that includes stages such as – purchase history, recent activities, and interactions with other agents. This gives relevant context to your agents so that you don't have to ask additional or repetitive questions.
Notable Features:
Agents can apply 'Tags' to email conversations for better organization
Use shared notes for internal discussions and improved collaboration
Get a complete visualization of the customer journey with 'SingleView'
What you may like: With the help of the collision detection feature, your agents can see when another agent is viewing or replying to a conversation.
What you may not like: This tool might not be useful for other teams in your organization.
Price: Get in touch with the company for a quote.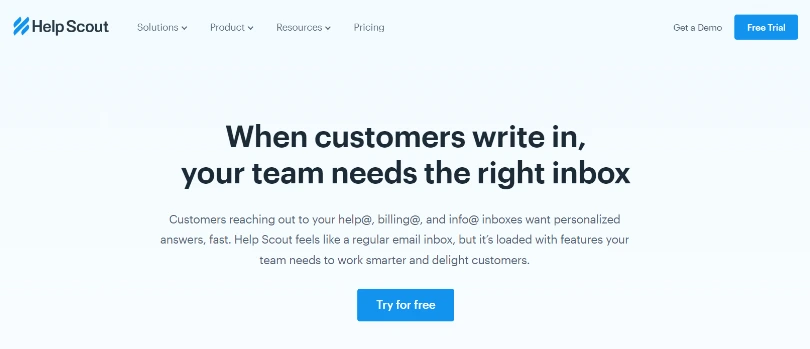 Whether you have a team of 3 or 300, Help Scout keeps all your customer service agents on the same page. Before replying to customers, your agents can send private notes with @mentions to other team members. This ensures you always share the most appropriate response to customers.
With Help Scout, you can even create a vast library of answers to frequently asked questions. Within just a few clicks, agents can easily insert these answers into their responses and offer instant help to customers.
Notable Features:
Set up powerful automation and reduce repetitive tasks
Find exactly what you need with advanced filters, bulk actions, and quick views
Send private notes to team members before replying to a customer
What you may like: Help Scout's dashboard is super convenient as users can toggle between email and chat conversations in seconds and check new customer requests added to the queue in real-time.
What you may not like: With its Standard Plan, users get only 2 mailboxes.
Price: Starts at $20/user/month
Read More: Best Help Scout Alternatives for 2023

Freshdesk is another popular shared inbox software that does a commendable job of converting incoming requests to your support email into helpdesk tickets. These tickets can then be easily prioritized and assigned to the right customer service agents.
Freshdesk equips your agents with all the tools they need to deliver outstanding customer service. Users can integrate their favorite business applications, such as CRM, payment solutions, bug-tracking software, etc., with Freshdesk for a holistic support experience.
Notable Features:
You can create multiple custom views to quickly access support tickets
Prevent sharing multiple replies to the same customer using agent collision detection
Create canned responses to quickly respond to common customer emails
What you may like: Over the years, Freshdesk has built a vast collection of help content in the form of FAQs, blogs, etc. to support its users from across the globe.
What you may not like: Freshdesk offers heavy features, and it mainly caters to large enterprises. If you are a small business, Freshdesk might not be the perfect option for you.
Price: Starts at $15/user/month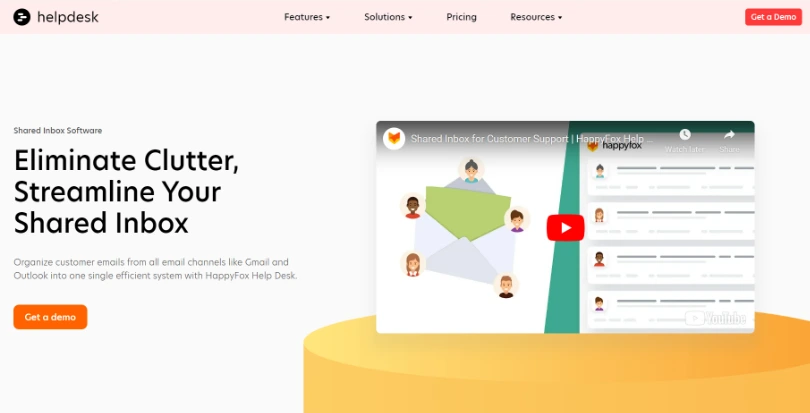 HappyFox is a world-class team email management tool that comes with 35+ languages to help you offer multilingual support. With its user-friendly dashboard, you can queue up your email conversations and threads to resolve them in an orderly manner.
Help desk agents can use private notes to discuss tickets internally before drafting a response and hitting the send button. Moreover, managers can add tasks and due dates to maximize productivity and streamline support operations.
Notable Features:
Offer multilingual support in over 35+ languages
Speak directly with customers using voice integration
Automatically convert social media messages into unique tickets
What you may like: In addition to emails, HappyFox's shared inbox gives you a holistic view of all your social media customer messages. The tool seamlessly integrates with Facebook and Twitter.
What you may not like: Compared to other shared email software in the market, this tool is on the expensive side.
Price: Starts at $26/user/month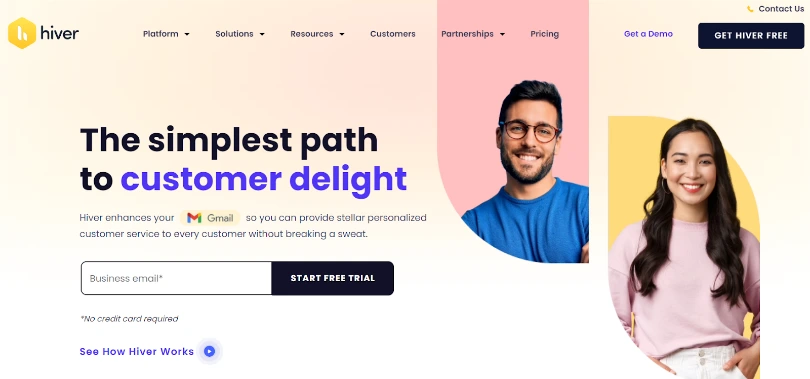 Hiver is another emerging shared inbox tool that is built right on top of Gmail. This tool presents Notes alongside emails so that agents can always get the right context. These notes are private and are not visible to customers.
With Hiver, agents can assign, track, and respond to customer emails, all from the Gmail interface, without the need for any additional software or dashboard. Therefore, there is no need to train your agents on learning any new software.
Notable Features:
Make the most of your Gmail interface without switching software
Collaborate in real-time with team members while drafting responses
Set multiple SLAs and get notified in case of SLA violations
What you may like: Hiver does a great job of enhancing Gmail for teams like customer support, finance, accounts, and operations.
What you may not like: This tool only works for Gmail users and does not support other leading email clients such as Outlook or others.
Price: Starts at $12/user/month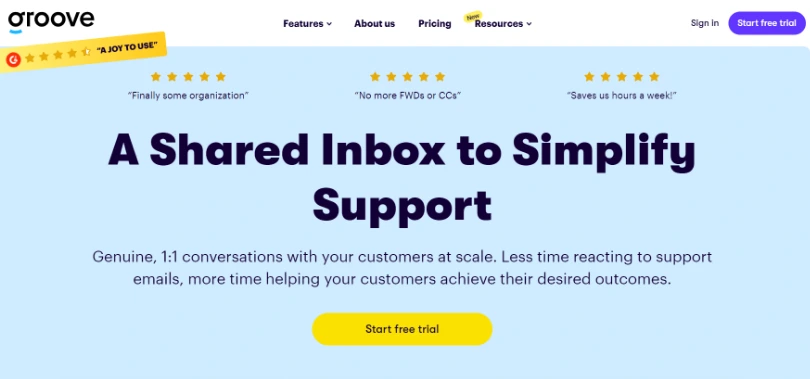 GrooveHQ offers a robust shared email inbox that is designed for improved productivity and teamwork. No matter how you interact with customers (email, chat, social media, phone, etc.). you can easily track all conversations in a single dashboard.
GrooveHQ helps you manage your team better with the help of insightful reports and important metrics. Help desk managers can generate multiple reports in real-time- including performance, conversation, happiness, and company reports.
Notable Features:
See a customer's full support history at a glance
Update the status of every conversation by marking it as Open, Snoozed, or Closed
Generate multiple in-depth reports in real-time
What you may like: GrooveHQ displays great integration capabilities and is quite simple to use.
What you may not like: The starter plan comes with only a single mailbox which might not be sufficient for even small to medium-sized businesses.
Price: Starts at $20/user/month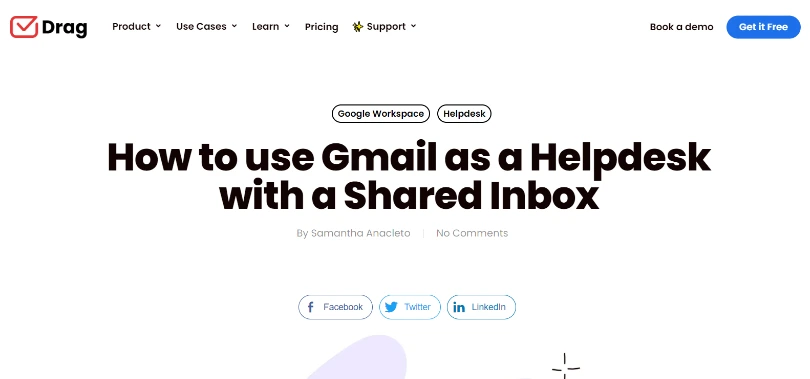 Drag is another tool that provides G Suite users with powerful shared inbox management features. With Drag, users can turn their Gmail dashboard into a team workspace to support customers, manage tasks, and respond to all sorts of emails.
With Drag, different teams can achieve different goals. Customer service reps can respond to customer requests, the sales team can close deals, the operations department can manage day-to-day internal conversations, and so on.
Notable Features:
Easy-to-use internal team chat for better collaboration
Managers can delegate and assign emails directly from the shared inbox
Get help or approvals for drafts before sending emails
What you may like: Any team that uses Gmail can leverage this tool and streamline their email communications.
What you may not like: For those who have just started, it can make your Gmail interface appear more complicated.
Price: Starts at $5/user/month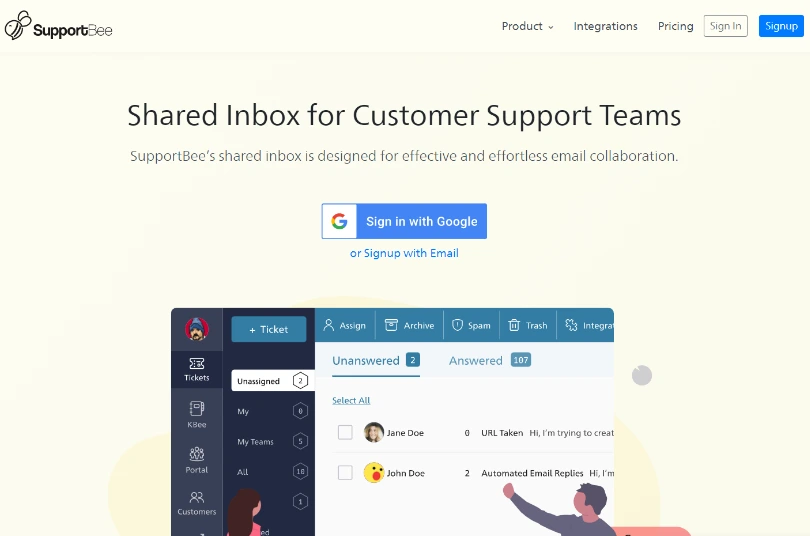 In addition to offering the familiarity of an email interface, SupportBee provides many powerful email collaboration features to your team. You can categorize tickets as Answered, Unanswered, or Archived. This helps you keep your inbox organized and clearly communicates which tickets in your shared inbox need your immediate attention.
Moreover, users can assign tickets to the most relevant agents or teams, add internal comments on tickets to discuss them, and share draft responses for review before sending them off to the customer.
Notable Features:
Save draft responses and tag team members to get them reviewed
Add private comments for team collaboration on tickets
Support multiple brands using email signatures
What you may like: With SupportBee, new tickets are displayed within minutes of customers emailing you. Your inbox is auto-updated, so there is no need to consistently hit the refresh button.
What you may not like: Where SaaS companies offer multiple pricing plans to cater to the needs of different business sizes, SupportBee offers just two plans.
Price: Starts at $13/user/month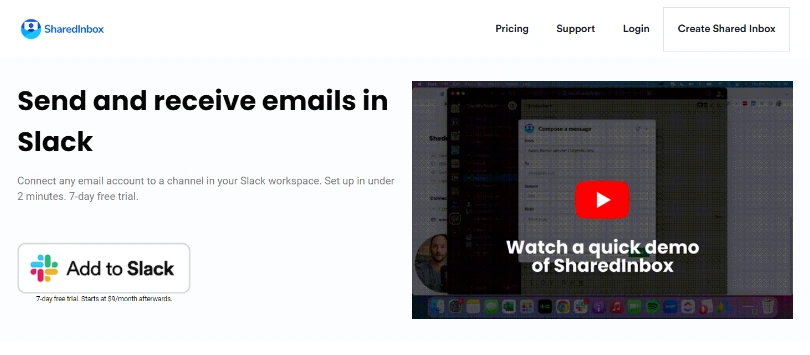 SharedInbox works with any email provider, such as Gmail, Outlook, Yahoo Mail, and many more. Moreover, the best part about this tool is that it allows you to send and receive emails directly from your Slack account.
Every incoming or outgoing email message automatically creates a new Slack Message Thread. Your team members can use this thread to tag other teammates and hold meaningful discussions.
Notable Features:
Add multiple emails like sales@ and support@ to your workspace
Track when an outbound email is delivered and opened
Enable autoreply to automatically send a specific message once you get an email
What you may like: With SharedInbox, there is no installation required. You can directly use the features inside Slack.
What you may not like: The tool is only limited to Slack users, which is a major drawback.
Price: Starts at $9/month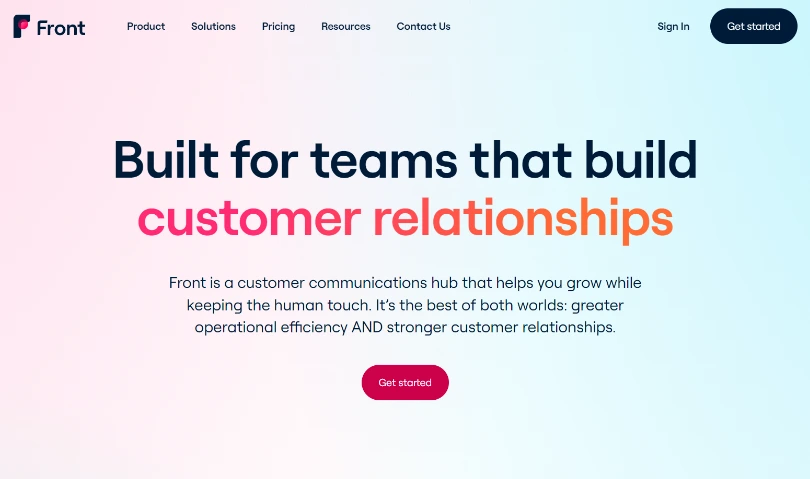 Front offers a robust 'Universal Inbox' for all your emails, SMS texts, chats, tweets, and more. You can keep all incoming customer communications well organized and actionable in just one platform.
With Front, you can always stay on top of every conversation. You can apply workflow rules to automate repetitive tasks and assign requests based on keywords, sender, time of day, and more.
Notable Features:
Discuss emails internally, directly on the email thread
Assign the most relevant owner to a request or task
Offers a familiar interface like Gmail and Outlook
What you may like: Front offers holistic insights across all channels to help you streamline your workflow and improve performance.
What you may not like: Unlike many modern help desk tools, Front does not allow its users to create a self-service knowledge base.
Price: Starts at $49/user/month
Read More: Best Front Alternatives for 2023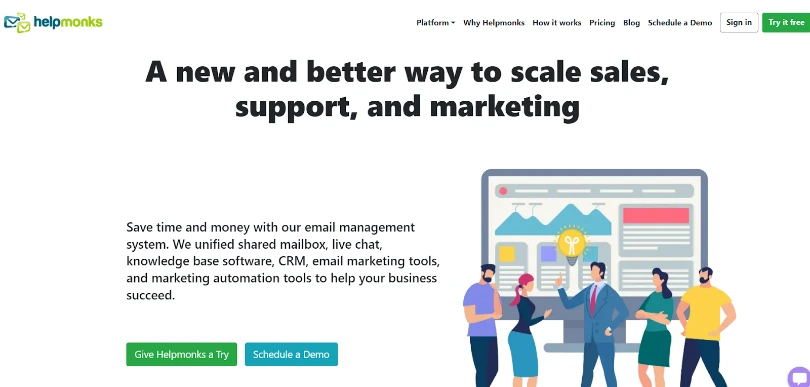 Helpmonks allows users to keep a firm track of customers, companies, and SLAs with built-in customer management tools. With just a single glance and users can see how many emails are awaiting a reply, prioritize the ones that need immediate attention, and archive important conversations.
Unlike other shared inbox tools, Helpmonks can be deployed in three different configurations. This gives you the flexibility to choose the right setup based on your current business needs.
Notable Features:
Use reminders to bring urgent email conversations back to the attention
Built-in CRM tools for sales and support to work in sync
Keep all your emails archived and searchable
What you may like: Helpmonks offers multiple deployment options- hosted, dedicated cloud server, or self-hosted.
What you may not like: Helpmonks' interface appears quite dated and is not user-friendly.
Price: Starts at $29/month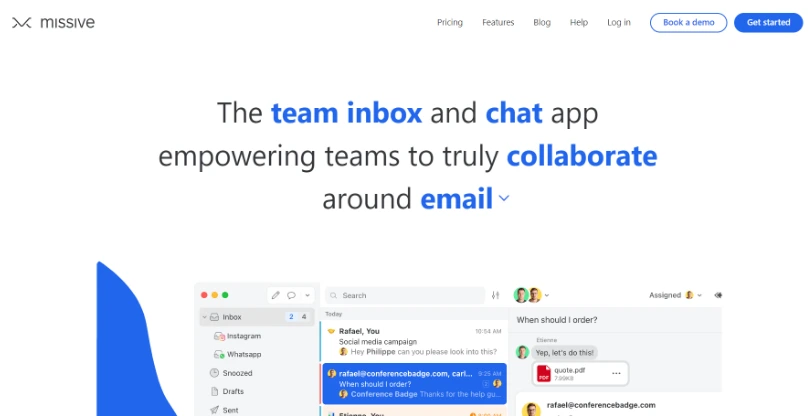 With Missive, users can easily set up all their email accounts, including private accounts and shared inboxes. It acts as a centralized communication tool and helps you manage emails, chats, and social media accounts like Facebook and Twitter.
Missive offers a wide range of integration capabilities and can be integrated with popular business tools and platforms such as Asana, Shopify, Trello, Todoist, Dropbox, and more.
Notable Features:
Customize user interface with beautiful themes
Create and manage team signatures from a single place
Organize conversations better with Shared Labels
What you may like: This tool comes with plenty of important integrations and can help you merge the functions of your favorite business apps.
What you may not like: Since there are so many places where a conversation can happen- one-on-one chat, group chat, and email communication, internal conversations can get lost.
Price: Starts at $14/user/month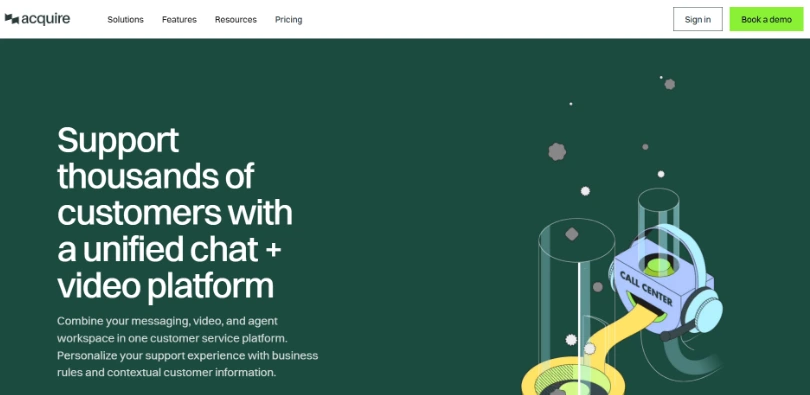 Acquire's shared inbox helps your business keep up with all customer service communications. In addition to emails, your agents can respond to chats, social media messages, video chats, SMS, and more.
With every important message in one place, communications don't get lost or forgotten – and every team member can see who owns each conversation. You can use chatbots and a knowledge base along with a shared inbox to offer superior support to customers.
Notable Features:
You can easily tag team members into any conversation
Set minimum email response times for priority clients
Available on iOS and Android
What you may like: With Acquire, you can easily analyze conversation trends to understand how your team is performing and what can be improved
What you may not like: Unlike most email management software, Acquire does not display transparent pricing details on its website.
Price: Get in touch with the company for a quote.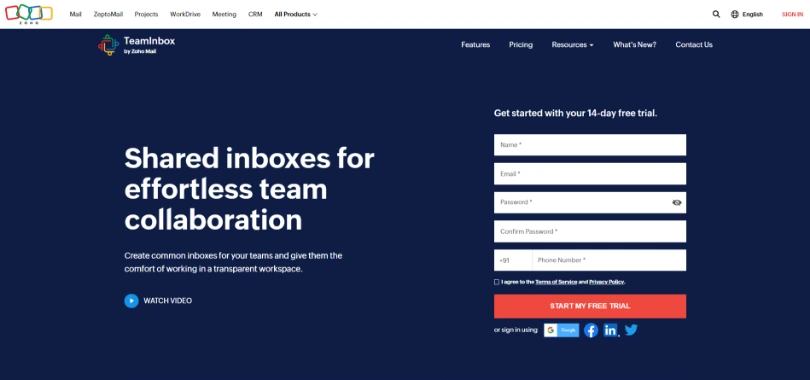 Zoho TeamInbox offers a shared space for your team members so they can work in a transparent workspace. You can hold discussions with your team members on complex emails to ensure you send an appropriate reply.
The tool helps you keep your inbox well-organized. For example, you can easily sort conversations based on different teams or departments and add tags to conversations for improved categorization.
Notable Features:
Access your personal and team email accounts in one place
Avoid duplicate work by checking who is working on what
Automate work distribution by setting up different rules
What you may like: Zoho TeamInbox offers great security features, such as data encryption. It is suitable for small business.
What you may not like: The tool is limited to just email. You cannot access customer conversations from other channels like live chat or phone.
Price: Starts at $5/user/month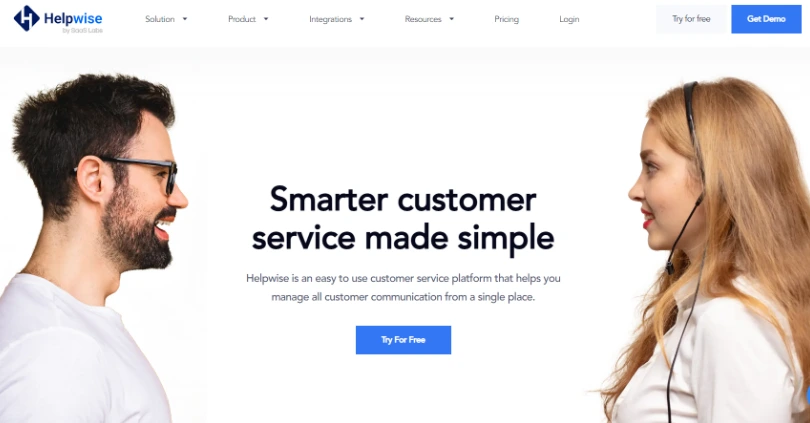 Helpwise allows your team to access company email accounts, such as info@ or contact@, without having to share passwords with each other. Instead, you can create multiple logins for your team members and give them the right space to collaborate.
The best part about using this tool is that you can automatically assign conversations to your team based on different conditions. For example, emails can be delegated based on workload, recipient address, working hours, or specific keywords.
Notable Features:
Use Mentions and Notes for faster internal communications
Send out bulk emails to share product releases or updates
Integrate with Slack, Google Calendar, Shopify, and other business tools
What you may like: The tool allows you to manage email, SMS, WhatsApp, and Instagram messages in one place.
What you may not like: Helpwise's Standard plan does not offer reporting features or CSAT surveys.
Price: Starts at $15/user/month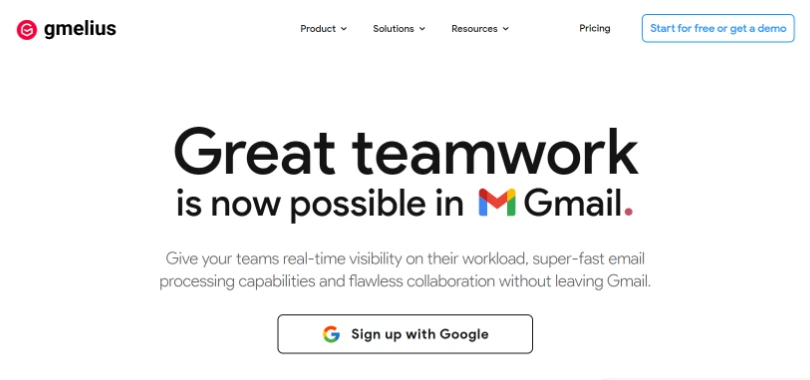 Gmelius helps you set your shared email inbox right inside Gmail. The tool is used by thousands of businesses to automate workflows and turn Gmail into a collaborative workspace.
With Gmelius, you can communicate with other team members using quick notes without ever leaving your inbox. These notes are only visible to your internal team members and stay hidden from customers.
Notable Features:
Use pre-built email response templates to share faster replies
Enable automated responses for common inquiries or messages
Assign incoming emails and tasks with @mentions
What you may like: There is no need to train your team for new software, as Gmelius can work right inside your Gmail inbox.
What you may not like: If you are not a Gmail user, this tool has nothing to offer.
Price: Starts at $12/user/month
A Quick Comparison Table of the Best Shared Inbox Tools
| Software | Price | Ticket Management | Alerts & Escalations | Canned Responses | Live Chat | Self-Service Portal | IT Help Desk |
| --- | --- | --- | --- | --- | --- | --- | --- |
| ProProfs Help Desk | $20/month | Y | Y | Y | Y | Y | Y |
| HubSpot | $450/month | Y | Y | Y | Y | Y | N |
| Kayako | (Not Mentioned) | Y | Y | Y | Y | Y | Y |
| Help Scout | $20/month | Y | Y | Y | Y | Y | N |
| Freshdesk | $15/month | Y | Y | Y | Y | Y | N |
| HappyFox | $26/month | Y | Y | Y | Y | Y | Y |
| Hiver | $12/month | Y | Y | Y | N | N | N |
| GrooveHQ | $20/month | Y | Y | Y | Y | Y | N |
| DragApp | $5/month | N | Y | Y | N | N | N |
| SupportBee | $13/month | Y | Y | Y | N | Y | N |
| SharedInbox | $9/month | N | Y | Y | N | N | N |
| Front | $49/month | Y | Y | Y | Y | N | N |
| Helpmonks | $29/month | Y | Y | Y | Y | N | N |
| Missive | $14/month | N | Y | Y | Y | N | N |
| Acquire | (Not Mentioned) | Y | Y | Y | Y | Y | N |
| Zoho TeamInbox | $5/month | N | Y | Y | N | N | N |
| Helpwise | $15/month | Y | Y | Y | Y | Y | N |
| Gmelius | $12/month | N | Y | Y | N | N | N |
Grab the Best Shared Inbox Tools for Your Team
Disorganized and cluttered have been a constant source of worry for modern teams. You are often lost in a sea of unread emails leading to lost productivity and unhappy customers.
With a shared inbox, you can finally bring a sense of calm to this chaos. Team members can avoid stepping on each others' shoes by quickly viewing who is working on what. Moreover, with team collaboration features, your team can join hands to share the best email responses.
However, with so many shared inbox tools at your disposal, choosing the right one can be quite a challenge. We have put ProProfs Help Desk at the top for its ease of use, features, and affordability. Before settling for any tool, we advise you to go through the features in detail and try a free trial of shared inbox software. Happy emailing!
Shared Inbox Software FAQs [Frequently Asked Questions]
How to access a shared inbox?
To access a shared inbox, you need to create an account with a shared inbox software vendor. Once, you have signed up, you can enable inboxes email forwarding to receive the emails directly in your share inbox workspace. You can then allow different team members to create their unique log in credentials and give them access to specific team inboxes such as support@ or sales@, depending on their designation.
How to organize shared inbox?
To help you keep your shared inbox well-organized, the tool offers multiple features and capabilities. For example, you can use email statuses (such as, open, hold, pending, etc.) to sort every incoming email. Moreover, you can even use Labels and Priorities to keep your inbox sorted.
What are some popular tips to manage a shared inbox tool?
To effectively manage a shared inbox, you can take the following steps:
Assign clear roles and permissions to team members
Avoid duplicate efforts with collision detection
Encourage internal collaboration to share faster responses
Automate repetitive and time-consuming tasks
Track email response times and other important metrics
How to pick the right shared inbox for your business?
Things to keep in mind while picking the right one:
Start by understanding your team's specific email management needs.
Determine how much you're willing to invest in a shared inbox software.
Ensure that the software can integrate with your existing tools and software stack.
Look for software that has an intuitive and user-friendly interface.
Evaluate the collaboration features. Can multiple team members work on emails simultaneously?
Consider the automation and workflow capabilities of the software.
Ensure that the software complies with relevant data protection regulations.
Check if the software provides reporting and analytics tools.
If you are a SMB, consider your future needs or scalability.
Research the level of customer support offered by the software provider.
Read user reviews and seek recommendations from other businesses or teams that have used the software.
Check if free trial is available.
Do you want a free Help Desk?
We have the #1 Online Help Desk Software for delightful customer support