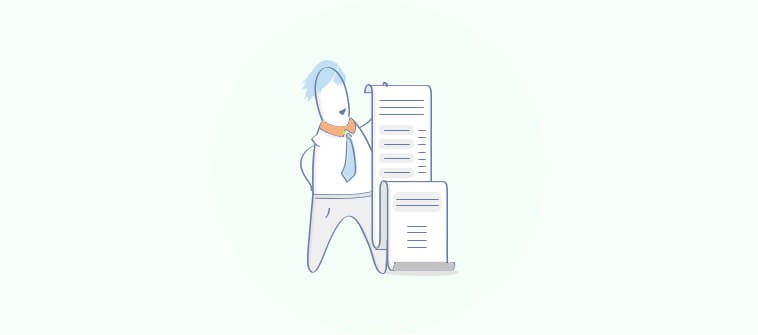 Anyone new to the customer service landscape knows that getting a firm grip on hundreds of terms and abbreviations can be quite challenging.
Do help desk terms seem like an alien language?
To save you from the trouble of going to Google for every new term and help you better run your help desk software, we have curated a comprehensive list of help desk terminology.
Whether you are a help desk manager looking to brush up your skills or an agent trying to understand the tool better, this help desk glossary is for you.
Read this blog and explore the definitions of 60+ help desk terms that you need to know.
Help Desk Glossary of Terms
To help you get started, we've prepared a help desk glossary below.
 A     B     C     D     E     F     H     I    K     L     M     N     O     P   Q   R     S     T     U     W
24×7 Support
In the context of customer support, 24/7 support refers to a support service that is offered 24 hours a day and seven days a week.
A
Active Listening
Active listening is the process used by customer service agents to understand a customer's problem better. It requires the listener to pay complete attention to what the customer is saying and then responding accordingly.
Asset
Assets refer to people or things that are needed for the delivery of IT service to users. Some popular examples include- servers, hardware infrastructure, software, information, financial capital, human capital, etc.
Agent
Customer service agents or representatives are responsible for interacting with customers and assisting them with their queries and concerns. Agents can use various channels to communicate with customers- by phone, email, live chat, text message, or others. Help desk agents spend the most time using the tool to resolve customer issues as and when they come.
Agent Status
Agent status determines the current status of an agent. An agent can be 'Available' (to handle customer issues) or 'Busy' (just logged in but not ready to interact with customers). Some other popular agent status include- Unavailable, In a Meeting, On-a-Call, etc.
Agent Roles
Agent roles are used to offer special privileges to help desk members. Roles and permissions specify what a help desk user can see and determine their level of access to the tool. Some popular agent roles include- Super Admin, Admin, Manager, and Agents.
Average Response Time
The 'Average Response Time' displays the average time taken by agents to respond to a ticket over a given period of time.
Average Response Time = Total time taken to respond to customers divided by the number of responses shared in the selected time period.
Automated Notification
Notifications are automated messages, alerts, or responses that are received by agents, help desk managers, and customers. For instance, wherever there is a new ticket, agents will get an automated 'New Ticket Notification' via email or text message.
B
Best Practice
A proven method of finishing an undertaking to create a close to ideal outcome.
Brainstorming
A strategy performed by a group of people and intended to produce an huge number of thoughts for taking care of an issue.
C
Canned Response
Canned responses are predefined messages that are used to answer common questions. With the best help desk software, agents can leverage ready-to-use canned responses or create new ones depending on their requirements.
Child ticket
Child tickets are smaller sub-tickets that together make the parent ticket. They are used to break a complex issue into smaller tickets that can be worked on by different agents/teams. Parent-child ticketing ensures that different aspects of a customer issue can be worked on at the same time.
Customer Service
Customer service refers to the assistance provided to customers before, during, and after they purchase a company's products or services. Modern businesses see a direct correlation between exceptional customer service and delighted customers.
Customer Satisfaction
Customer satisfaction is an important customer service metric that measures how happy customers are with a company's products or services. Most help desk agents use a CSAT survey to measure customer satisfaction in real-time.
Customer Loyalty
Customer loyalty is a measure of a customer's likeliness to repeatedly buy from a brand, even in the presence of close competitors in the market. When customers are loyal to a brand, they are not easily influenced by other identical products or pricing. Most help desk agents use an NPS (Net Promoter Score) survey to measure customer loyalty.
Customer Data
Customer data includes valuable information about a customer that is used by agents to better understand customers and their possible reason for contact. Customer data often includes basic information such as- customer's name, contact information, address, customer number, etc. Customer data can also include communication or ticket history that offers the right context to agents.
Customer Portal
A customer portal is a software system that offers customers much-needed visibility into their interactions with a business. They can log in and track their support requests, view communication history, or any other information. A customer portal strengthens the customer relationship and offers a transparent and open platform for accessing information.
Custom Fields
Custom fields are used to provide metadata about a ticket. Custom fields enable agents to add more details about a ticket to speed up the ticket resolution process. Agents can create various types of custom fields based on your needs. For instance, you can create a custom field about 'software bugs,' and your team can use the custom fields to specify the type of bug even before the ticket is assigned to an agent.
Collaboration
Collaboration is a work practice used by individuals to work together to achieve a common goal. In a help desk, different agents and teams can collaborate to resolve issues together. Team collaboration makes resolving complex support issues a breeze.
Contact Center
A contact center is a business division that has the responsibility to manage customer interactions. Unlike traditional call centers that handle customer requests only over the telephone, the contact center caters to both inbound and outbound customer interactions over multiple channels such as email, chat, phone, social media, and others.
Cloud-based Help Desk Software
A cloud-based help desk software is a SaaS (software as a service) application that is hosted on the vendor's servers. There is no need to install any heavy software on your system. The software and its various features can be accessed from any part of the world simply through an internet connection.
Read More: Types of Help Desk Software & Which One Should You Choose?
D
Dashboard
Dashboard refers to a software interface that offers an at-a-glance view of relevant information related to day-to-day work. In a help desk, a dashboard is the first thing an agent sees when he logs in to his account. Agents can view all incoming support requests, access multiple customer-facing email accounts, and navigate to other help desk functions.
E
Escalation
Escalation refers to the process of transferring an issue to a higher representative or manager for offering the required solution. Tickets can be escalated for further research, help, or approval, depending on an organization's escalation hierarchy. Since ticket escalations can be a time-taking process, it is important to keep the customers updated about their ticket progress.
F
First Contact Resolution (FCR)
First Contact Resolution (FCR) is an important help desk metric that refers to the percentage of customer issues that are resolved on the first interaction with the customer. For phone and chat support, this means that the issue is resolved before the customer hangs up the phone or terminates the chat session without the need for any follow-ups.
H
Help Center
A help center refers to an online website that is designed to help customers find the right solutions to their problems. Customers can search for their problems and discover solutions to fix any issue.
Help Desk Inbox
A help desk inbox as a central platform for all your customer-facing email inboxes. All support-related emails are automatically forwarded to the help desk inbox that can be accessed by multiple agents.
Help Desk Software
A help desk software is a customer service tool that organizes all support communications to help businesses share faster responses. Using an internal help desk system, agents can easily assign, track, prioritize, and resolve tickets together.
I
Incident Management
Incident Management is a process of IT Service Management (ITSM). The goal of this reactive process is to manage incidents as they occur and ensure they have a limited impact on the core business.
Inquiry
An inquiry simply refers to a customer request for information. For instance, customers might inquire about- "When will the product be back in stock?" or "What additional features are offered in the new software upgrade?"
Integration
In the context of a help desk, integration refers to the process of linking different business applications with your help desk. For instance, most help desks can be integrated with CRM software. Integrations make your help desk even more powerful and ensure your agents can perform their tasks from a single platform.
Internal Customer
An internal customer refers to an employee or department that uses goods or services provided by their own company. For instance, employees of an organization who are dependent on IT services are internal customers.
ITSM
ITSM (IT Service Management) refers to a set of systems and processes that are used by organizations to improve the way Information Technology (IT) is used. Some popular ITSM processes include- change management, asset management, problem management, incident management, etc.
ITIL
Information Technology Infrastructure Library (ITIL) refers to a set of best practices for delivering IT service to customers as well as employees. Although the principles of ITIL were initially limited to IT, it is being adopted outside of IT by departments such as HR or Facilities.
K
Knowledge Base
A knowledge base contains valuable help content in the form of information-rich FAQs, articles, videos, and how-to guides. Its purpose is to make it easy for people to find solutions to their problems without any human intervention. Self-service portals such as a knowledge base can help you reduce your support volume.
Key Performance Indicator (KPI)
A Key Performance Indicator (KPI) demonstrates how effectively a business is achieving key business objectives. Help desk managers can track top customer service KPIs to evaluate their success at reaching targets.
L
Live Chat
Live chat or live chat support is a popular communication channel that is used by customers to interact with customer service reps in real-time. A live chat window can be embedded on selected pages of a website for customers to share their requests or concerns. Besides assisting customers, agents can even explore upselling opportunities.
M
Metrics
Metrics provide crucial data on your team's performance in terms of efficiency and speed. Customer service metrics focus purely on numbers, such as the number of new support tickets you receive every day or the number of issues are resolved in the first contact.
Multi-Channel Support
Multi-channel support refers to the presence of two or more customer support channels that a business utilizes to communicate with customers. When it comes to seeking assistance, customers love doing business with a brand that can be reached over multiple channels.
N
New ticket
A new ticket refers to a newly created support ticket. Whenever a fresh issue is registered in your help desk, a new ticket is created which can be assigned to relevant agents.
Net Promoter Score (NPS)
Net Promoter Score measures the likelihood of customers in promoting your business to their friends or family. In an NPS survey, a rating scale of 0-10 is offered and respondents are categorized as promoters, detractors, or passives.
O
Open ticket
Every support ticket that lands into the helpdesk is 'open' by default. It is the first stage of the ticket lifecycle and highlights that customer's issue hasn't been solved yet. Agents can track the progress of all open tickets right from their dashboard.
P
Parent Ticket
A parent ticket refers to the original support ticket out of which multiple child tickets can be created.
Productivity
Productivity refers to the measure of an employee's efficiency at the workplace. In a help desk, you can measure the productivity of your agents by tracking the number of tickets they are resolving in a given time period.
Post-Sales Support
Post-sales support refers to the process of assisting customers who have purchased a company's product or services. Companies usually have SLAs for assisting the concerns of their paying customers.
Pre-Sales Support
Pre-sales support refers to the process of assisting people who have not purchased a company's product or services yet. The main objective is to clear their queries and help them make the right purchase decision.
Proactive Customer Service
Proactive customer service is when a business takes the necessary steps to help its customers resolve issues before they occur. For example, communicating about the delay in delivery of a product before customers ask themselves.
Q
Queue
Queue or ticket queue refers to a list of support tickets, help desk calls, chat messages, or e-mails waiting to be processed.
R
Re-Opened Ticket
Tickets can be re-opened when the customer encounters the same issue again or has a follow-up question or request. A high number of ticket reopens indicates that support agents aren't making sure that the customer's issue is fully solved before closing the ticket.
Response Time
Response time refers to the amount of time a customer had to wait to get a reply from a business. The goal of every customer service team should be to reduce response time and enhance customer satisfaction.
S
Self-Service
Self-service is a process through which customers can resolve their issues on their own. Through self-service customers are empowered to look for the right answers in how-to tutorials, help pages, and other self-service content.
Service Level Agreement (SLA)
A service-level agreement (SLA) defines the quality of service that customers can expect from a business. SLAs mention key metrics by which service is measured and also the outcomes or penalties that should apply if service levels are not achieved.
Service Desk
A service desk acts as a single point of contact (SPOC) between the service provider and its users. A service desk manages IT-related incidents and service requests and ensures IT services are delivered to end-users.
Shared Inbox
As the name suggests, a shared inbox acts as a shared platform for all customer-facing email inboxes. Unlike an email inbox, a shared inbox can be accessed by multiple agents at the same time who can collaborate to resolve tickets faster.
Soft Skills
Soft skills also called interpersonal skills, allow customer service agents to better interact with customers, understand their pain points, and foster a strong relationship. Some common soft skills are communication, leadership, and problem-solving skills.
Survey
A survey is a list of questions that is shared with an individual or a target group to capture the desired information. Some help desk ticketing systems allow users to create and share surveys with customers to capture valuable feedback.
Skill-based Routing
Skill-based routing is the process of assigning tickets to agents based on their skills. For instance, technical issues will be routed to agents who have the technical expertise and knowledge to handle them.
T
Technical Support
Technical support refers to the process of providing technical assistance to customers or employees. Such support is offered by agents who have the required technical knowledge about the product or service.
Ticket
A ticket is an issue that is raised by a user and needs to be resolved. In a help desk, tickets are assigned to agents based on their availability and skills. Some organizations also use the term 'cases' or 'support cases' instead of tickets.
Ticket Assignment
Ticket assignment refers to the process of assigning support tickets to help desk agents. Support representatives can manually assign tickets to themselves, other agents, teams, or create rules for automated ticket assignment.
Ticket Rating
Ticket rating refers to the process through which customers can rate their support tickets. When a ticket is resolved, an automated survey is shared with customers to rate their support experience. Ticket rating helps businesses understand how well their customer service agents are performing.
Ticket Priority
The priority of a ticket can be set as High, Low, or Medium depending on the nature of the issue. Tickets are prioritized in order to highlight urgent tickets that demand immediate attention.
Time Idle
Idle time is the amount of time an agent was idle during a given period of time. Agents are idle when they are available but not working on any support issue due to various reasons.
U
Urgency
Urgency is the measure of how long it will be until a support issue or request has a significant impact on the business or its processes. To avoid or reduce the impact of a problem, urgent issues should be resolved first.
W
Workflow
A workflow clearly defines the sequence of steps that must be followed to complete a task or a process. A typical help desk workflow begins when a ticket is registered and ends when the relevant solution is shared with the customer and the ticket is marked as closed.
Expand Your Knowledge With Help Desk Software Glossary
At some point or the other, we all have heard terms like average response time, SLA, or ticket routing. A lack of clarity on such help desk jargon can lead to poor customer service.
With our list of help desk terminology, master your help desk like never before and delight your customers. Remember, knowledge is like an ocean- there is always more to explore. Keep exploring your help desk tool and make every support interaction count.
Do you want a free Help Desk?
We have the #1 Online Help Desk Software for delightful customer support