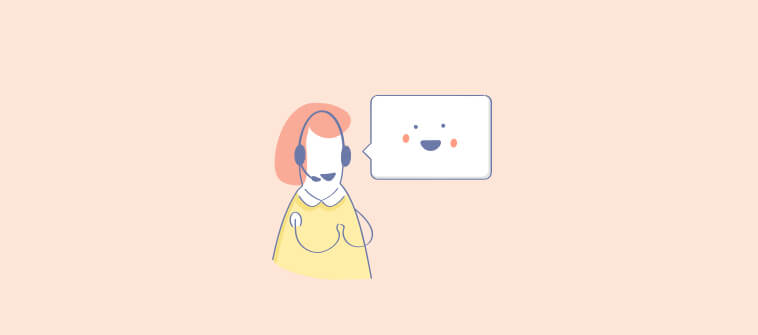 Every company deploys the best customer support team, but what really matters is how they deal with customer issues.
You, too, must have a hardworking customer support team, isn't it?
But, as a small business, is that enough?
Customers' expectations from companies are on the rise, and one slip down can lead to brand abandonment.
So what happens if your customer support team can't handle the number of customer calls or they don't know how to deal with the questions?
You'll look for a solution, right?
Well, you could always hire more agents to deal with abundant customer calls.
But, did you know that 45% of agents agree that companies fail to offer adequate training, and that's why they tend to leave? How will you get more agents in if they keep leaving you for other opportunities?
The best way out is to choose from the top 20 help desk software of 2022 for small businesses. This can get tricky if you don't know the way forward.
That's the whole context of this blog – how to choose the best small business help desk! Let's start with the basics first.
What Is a Help Desk Software for Small Business?
A help desk for small business can be defined as:
A tool that enables small businesses to bridge the gap between their customers and agents. It's the point of contact that a customer can reach out to get help with a problem related to that company's product or service.
With this, we define help desk software for small business as:
An all-inclusive software that equips companies to assign, organize, manage, track, and close customer tickets instantly and accurately.
So, how does this work? How does a tool make it easy for companies to do all that?
A robust help desk software for small business comes with all the needed features that help you streamline and manage all customer-facing emails on one platform.
Basically, you get an instant email as a ticket on your help desk software dashboard the moment a customer connects with you.
You can prioritize, label, comment, and assign tickets as per your needs to ensure all tickets are answered in time.
This not only helps in minimizing the first response time but also provides accurate answers to all your customers.
Why Do I Need a Help Desk Software for Small Business?
Every company needs to define a specific process in which support agents must answer customer tickets. But, without any software in place, it becomes messy and chaotic.
So, help desk software enables companies to streamline the entire customer support process with ease. Let's check out a few reasons why companies need help desk software.
1. Defined Customer Support Process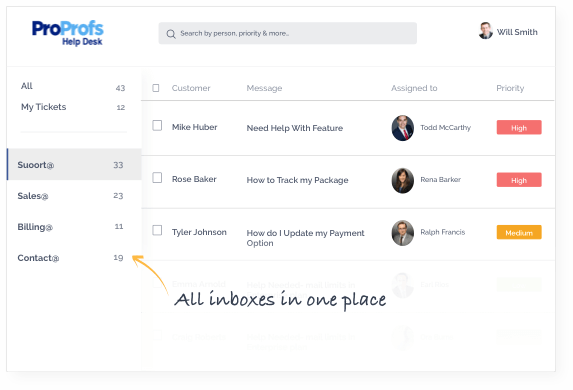 Every process a company follows must have a defined structure. A robust help desk software helps you do just that. With advanced features and capabilities, such tools make sure you have a set process in place to resolve customer tickets easily.
2. Improved Customer Ticket Tracking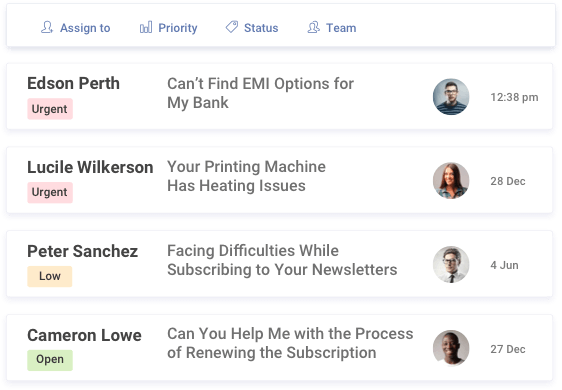 Tracking customer questions and time invested in resolving their issues is very time-consuming if you don't have software in place. A robust help desk software enables you to track tickets from start to finish.
Not only that, but it also equips you to store ticket history to have a clear understanding of how the ticket was resolved.
3. Enhanced Team Transparency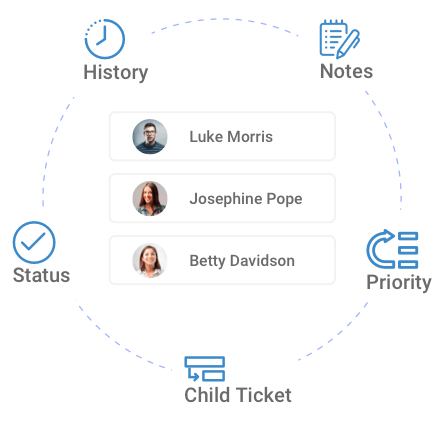 The one thing that most support agents fail to do is collaborate on tickets efficiently. But, with robust help desk software, this is no longer a problem. Such a tool equips companies with collaboration features, such as labels, comments, and priorities, that ensure efficient team collaboration and transparency.
4. Focused Customer Ticket Resolutions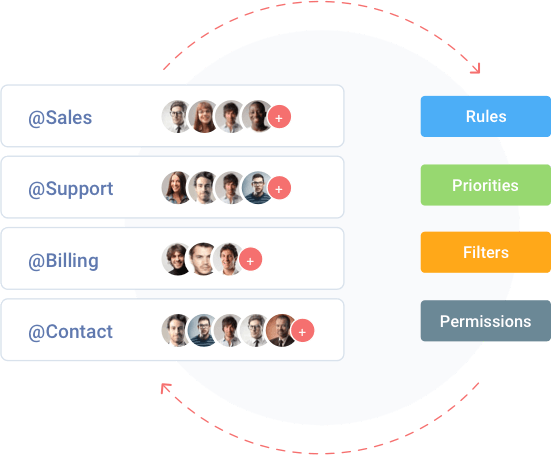 Support agents aren't only supposed to resolve customer tickets at the earliest, but they need to provide an accurate solution to the problem at hand. That's another problem a help desk software deals with efficiently.
You can split tickets into child tickets and assign them to agents who have expertise in answering specific issues. This way, customers get instant and accurate resolutions to the questions they ask your support agents.
5. Increased Agent Productivity
There is no way you can measure how hard or fast your support agents work to resolve customer tickets if you don't have a help desk software. This tool comes with a reporting feature that equips you to not only monitor agent performance but their impact on your customers too.
Overall, you get a basic idea of how an agent is performing when dealing with customer questions regularly.
6. Assured 24/7 Availability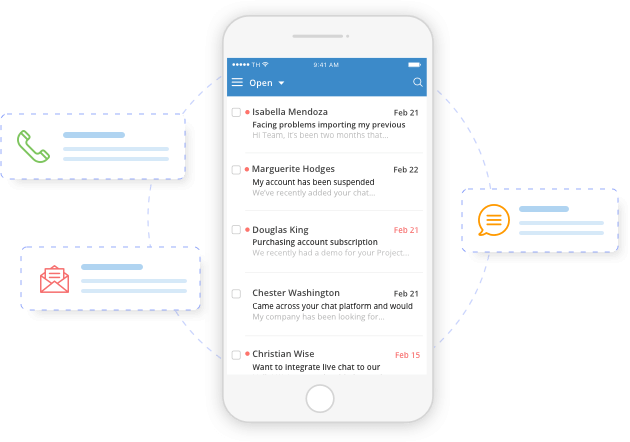 Time doesn't matter to the customer – that is, if it refers to when they pose a question to you. Customers want immediate answers at any time of day (or night!), no matter what medium they use.
This is why a help desk software is essential to keep track of all customer support channels of your company, be it phone calls, emails, or chats; you can manage it all on one platform.
Choosing the Right Help Desk Software for Small-Medium Businesses: 5 Steps to Follow
When it comes to choosing software for your customer support process, you must have a plan and criteria in place. Here's a quick video that'll guide you to choosing the best software for small businesses:

All in all, there are 5 steps to choosing the right help desk software for small businesses. They are:
1. Ask Yourself: What Do I Need for My Small-Medium Business?
The first step to choosing the best software for small businesses is to know what you need.
Ask yourself:
What do my agents need help with?

Is our customer support process flawed?

What features help resolve the issues you face in customer support?
Once you have your answers, jot them down. Refer to those notes and create a list of things that are problematic in your customer support process. Make sure you separate major and minor issues. This process will help you discover the issues precisely.
2. Search for Tools Based on Your Requirements
After you make a detailed list of things that trouble you and your agents when offering customer support, you need to research and find out:
What tools can sort these issues for you?

What tools are leading the board?

What are the must-have features in help desk tools?
Once you see this, take note of at least ten best tools and jot down all their specifications.
3. Compare Features & Integrations With Your Needs
Among the ten shortlisted tools, let's sift and bring the number down to three.
Compare the specifications of each tool with your requirements. The two most important aspects you must compare are:
Does the ticketing software for small businesses offer features that'll solve the issues your team faces right at the time of providing customer support?
Does it also come with powerful integrations to improve your customer support process?
If not, cross them out of the list.
4. Check the Pricing Plans
Say you still have five from the list of ten tools. Now, we still need to bring the number down to three.
So, the next crossing out criteria is pricing plans.
Scan the pricing plans with the company budget in mind. Compare the features offered by different tools and their price. Choose three help desk tools that are within your budget to avoid financial issues in the long run.
5. Take a Free Trial of All Three Options & Make an Informed Decision
Now that you have the three shortlisted tools after your research take their free trial. You can skip those who don't offer a free trial.
Taking a free trial will make it easier to judge whether you and your team will be able to adapt to the tool easily.
---
Recommended Read: 20 Best Issue Tracking Software for 2022
---
Uplift Your Customer Support Team With the Best Customer Support Software for Small Businesses!
Of all the help desk software available in the market, ProProfs Help Desk stands out as it offers everything you need to streamline the entire customer support process.
Not only does it offer all the features, benefits, and integrations mentioned in this article, but it also comes at a really affordable price!
In case you failed while looking for a robust help desk tool or need a starting point, ProProfs Help Desk is a great choice. It comes with a 15-day free trial, and the starting plan is forever free. Get started today.
Do you want a free Help Desk?
We have the #1 Online Help Desk Software for delightful customer support