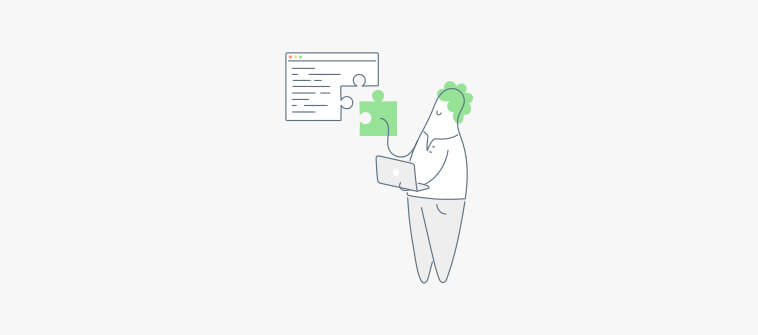 Do you know what is common between a primitive tribal man living in the jungles of Africa and a modern entrepreneur sitting in his New York office?
They both need the right tools to survive.
From wooden spears to sophisticated business software, tools have rapidly evolved to reduce human efforts and improve efficiency.
One such business tool that has revolutionized the customer service industry is help desk software. While a majority of leaders recognize the value of a help desk, most still have no idea from where to start.
We totally understand. Getting your hands over a good help desk can be a challenge. But again, nothing great comes easy. Right?
This blog lists the 4 different types of help desk software that can help you bring the smile back on your customers' faces. Ready to find the help desk built for you?
Help Desk Software: Do You Really Need One?
Does an increasing number of customer issues make your service operations go for a toss?
Are you unable to see any progression in team productivity despite countless efforts?
Well, in that case, a help desk can actually HELP.
The right help desk software can be the key to streamlined service operations, increased team productivity, and above all- super happy customers.
Modern help desks are designed to make everyone's life easier, be it the customer, your service reps, or you. Let's quickly take a look at some more benefits-
Easily convert customer issues/requests into unique tickets
Manage all customer communications coming from different channels, under one roof
Eliminate manual work and improve team productivity
Track team performance and measure customer satisfaction
Now, let's compare the different types of help desks available today and see which one fits your business like a glove.
4 Different Types of Help Desk Software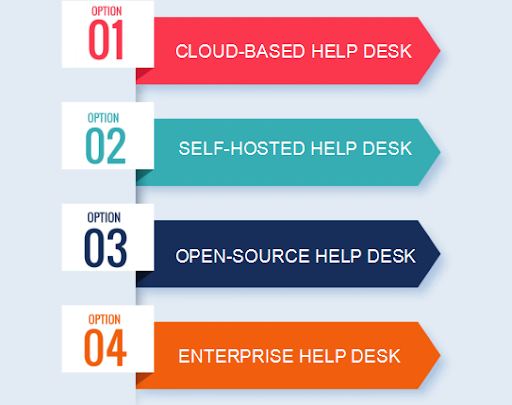 1. Cloud-Based Help Desk
A cloud-based help desk is a SaaS (software as a service) application that is hosted on the vendor's server. Your team can access all the wonderful features of a help desk simply by logging into the vendor's website or locally installed desktop or mobile app. The users of this help desk are required to pay on a monthly or annual basis that includes technical support, maintenance, and data security.
Benefits:
Easy to set up and maintain, you don't have to be a technical expert to get started
High scalability – grows as your business grows
Offers anytime, anywhere accessibility, you just need an internet connection
Drawbacks:
During technical glitches, you will have to wait for the vendor to resolve the issue
Internet connection is always required
No access to source code and limited customization options in advance cases
Recommended Read: Difference between Help Desk and Desktop Support
Example of Cloud Help Desk- ProProfs Help Desk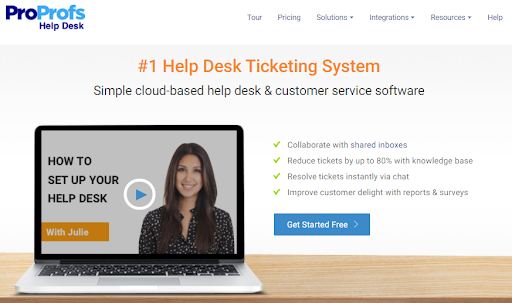 ProProfs Help Desk is hosted on the world's most reliable cloud platform- IBM. Meaning, you do not need to make any hefty investment on servers or traditional licensing to provide awesome customer support. Your agents will be able to cater to customer requests from any part of the world and offer delightful support experiences.
Here is a quick glimpse of some incredible things that you can achieve with this cloud-based tool.
2. Self-Hosted Help Desk
A self-hosted help desk, also commonly referred to as an on-premise help desk, is a licensed proprietary software purchased by a business. In simpler terms, after purchasing the software license, companies own and host this help desk on their own servers. A self-hosted help desk usually requires a one-time setup fee, however, updates may require a business to spend more.
Benefits:
Complete control of data and security (can be perfect for companies that operate with highly sensitive data such as healthcare or insurance companies).
Self-hosted help desks are better customized to the needs of a business compared to other help desks.
Drawbacks:
Requires a huge upfront investment for purchasing the software license and the servers.
You need an in-house IT team to constantly maintain your servers and recover data in case of any mishaps like hardware failures or power outages
Additional cost of data backups, updates & fixes
3. Open-Source Help Desk
An open-source help desk is another popular software that allows developers to access its source code. This means that your developers can easily modify or enhance the software based on the help desk needs of your business. Developers can add features, improve integration capabilities, fix bugs, and release periodic updates. The vendors of open-source software leverage community collaboration to improve their final product.
Benefits:
Open-source help desks are mostly free and many come with minimum limitations
Besides customization capabilities, users can enjoy community updates and suggestions. So when it comes to building an ideal help desk- the sky's the limit
Drawbacks:
You need a team of IT professionals to build and customize the software for you
Can take months to configure and data security is always under question
In case you encounter an issue, there is always a lack of reliable support and you will have to be dependent on your own technical team
4. Enterprise Help Desk
Large companies use enterprise help desks as they include advanced features that lower-priced help desks do not offer. They offer features such as IT asset management, enterprise reporting, multi-brand support, and more. Besides being customer-focused, enterprise help desks are designed to be employee-focused as well. Therefore, you can easily track and resolve the internal day-to-day issues arising in your company by internal ticketing system.
Benefits:
Acts as a one-stop-shop for offering round-the-clock support to your customers, as well as employees
Can be customized to meet the needs of large enterprises
Drawbacks:
Enterprise help desks are expensive and can be heavy on your pocket
More features can eventually lead to more complexities and operators need to be technically sound or well-trained
Now, let's take a look at some common help desk features that can make all the difference for your business.
Common Features To Look for In a Help Desk
Automated Ticketing System & Ticket Routing
At the heart of any help desk software, is a ticketing system that allocates a unique ticket ID to every customer issue. Your support team can effortlessly sort, search, or assign tickets among themselves.
Automated ticket routing ensures that tickets can be automatically routed to the most relevant agents or departments. So, rather than manually picking tickets, your agents will be assigned tickets that they are best suited for.
Shared Inbox is another must-have feature that allows your team to collaborate and ensure not a single customer email can slip through the cracks. As the name suggests, a shared inbox is shared between your agents and can be easily accessed by any member.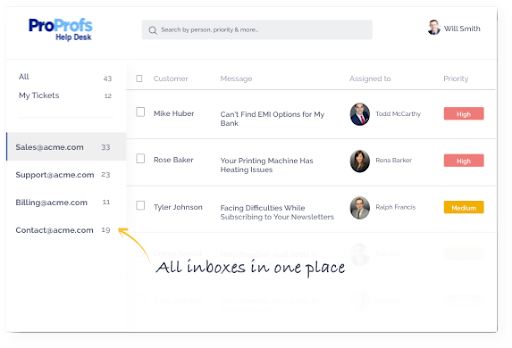 Besides this, a shared mailbox can host multiple email accounts such as support@, care@, hello@, etc. in a single platform. This helps your support team to easily see who is working on what and avoid stepping on each other's toes.
Self-Service Portal or Knowledge Base
In most cases, when customers encounter a problem, agent intervention is not required. A report highlighted that 73% of customers want to solve product or service issues on their own.
A best help desk software will allow you to build an in-depth and user-friendly knowledge base full of self-help articles, how-to videos, FAQs, and more. So, even if your agents are not available round-the-clock, you can still offer 24×7 self-help and delight customers.
The right help desk will allow you to collect data on key metrics such as the number of resolved tickets, ticket volume, team performance, customer satisfaction, etc. Most help desks offer visual representations in the form of graphs or bars that simplifies analysis.
With the right numbers at your fingertips, you will have a better understanding of areas that demand improvement, your top performers, and customer expectations.
Your Dream Help Desk is Right Here!
A well-positioned Help Desk can be the difference between a streamlined service process and a complete disaster. Rise above and beyond your help desk dilemmas and choose the one that perfectly meets your growing needs. If you are looking for a cloud-based help desk, then we might have the perfect solution for you. ProProfs help desk is crafted with love and helps you get happier employees and delightful customers. Thousands of businesses like you trust ProProfs for its best-in-class features and awesome human support. You can check our affordable pricing plans here.
Do you want a free Help Desk?
We have the #1 Online Help Desk Software for delightful customer support