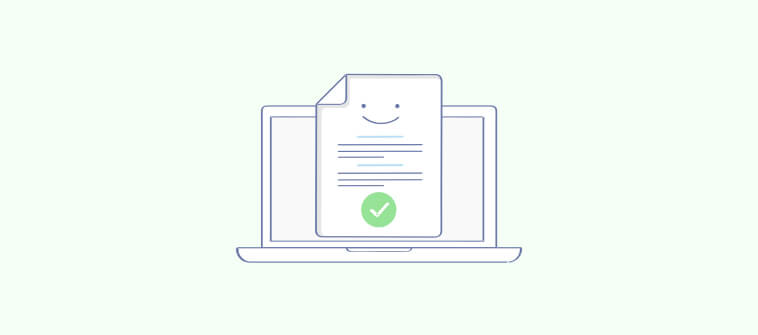 Your help desk software is the heart of your customer service operations.
It is the platform for engaging with end-users and is the face of your customer service team. But despite all this, why is it that you are not able to operate at peak efficiency?
A broken help desk workflow can be the reason.
Help desk agents have a variety of tasks on their plates- handle innumerable customer requests, communicate with team members, track issue status, build reports, and decide when a ticket needs to be escalated.
When all these actions are interconnected, a small error can make things go haywire pretty quickly. However, with the best help desk software, you can create a well-streamlined workflow and rise above customer service challenges.
This blog guides you on creating solid help desk workflows and improving them on the go.
What is a Help Desk Workflow?
A help desk workflow includes all the steps that must be undertaken by your agents to successfully achieve a task. A smooth help desk workflow will result in increased productivity, improved team collaboration, and delightful customer service.
But, why do you need to optimize your helpdesk workflow?
Most businesses manually manage their help desk and get caught up in a time-consuming and cumbersome process. The result? Your customer service team struggles to manage increasing ticket volumes, and customers are left with no choice but to settle with slow responses and problem resolution difficulties.
Therefore, to make your customer service squad work like a well-oiled machine, you need to optimize your help desk workflow. From minute actions to long-complex procedures, every stage should be well-defined and understood by all your team members.
What Are Some Examples of Help Desk Workflow?
With the intuitive user interface of a help desk, you can create your own workflows and make your support process more efficient. Here are some simple help desk workflow examples that you can put to practice using ProProfs Help Desk.
Example 1: Organize Help Desk Tickets Test
Organizing tickets in a help desk can help agents differentiate between various kinds of tickets and easily search the ones they are looking for.
Set Ticket Priority: Agents can prioritize selected tickets as 'High,' 'Low,' or 'Normal' based on their urgency. The default priority for any customer support ticket is set to 'Normal.' To separate high priority tickets from other tickets, a red marker is automatically placed.

Add Labels: Agents can add labels to separate important tickets or group similar tickets using the same label. For instance, if several customers have encountered a similar software issue, such tickets can be labeled as 'Software bug issue'.

Set Ticket Status: Ticket status tells you about the stage of a ticket in its lifecycle. If your tickets have not been assigned yet they can be marked as 'Open'. On the other hand, if they have already been resolved, they can be marked as "Closed'.

Example 2: Parent-Child Ticket Creation
Step 1: To add a child ticket to any ticket (considered as a parent ticket), open the parent ticket, and click the icon for more options from the header menu.

Step 2: Click the Create Child Ticket option.

Step 3: The child ticket dashboard will slide open. Enter details, assign to the relevant department, add a description explaining the issue, and then click Create.
Example 3: Add Attachment & Notes
With a help desk, you can add attachments while responding to a ticket. You can attach files such as Word documents, excel sheets, images, etc. to support tickets. Moreover, you can also add Internal notes that are visible only to your agents. They can be used to give reminders to other agents or advise them on how to deal with a certain ticket.
To attach a file: Open the desired ticket and click Add Attachment at the bottom of the screen, then select a file from your hard drive.
Step 1: Open a ticket and click Add Note.
Step 2: Enter the text in the field provided and click Save as Note to add it to the ticket.
Help Desk Workflow Template
Knowing helpdesk workflow is just the starting point. To design and document your help desk processes, you can create templates that define each and every stage.
With the help of this helpdesk workflow diagram, you can take a quick glance at the complete ticket resolution lifecycle from start to finish.

How Do You Improve the Help Desk Workflow Process
Establish Service Level Agreements (SLAs)
Service Level Agreements (SLAs) refer to a documented agreement between a business and a customer that mentions both the number of services to be provided and the quality of those services. In simpler terms, SLAs refer to a collection of promises that a business makes to the customer.
It is imperative for your business to set realistic and achievable SLAs which can be followed by your customer service reps while handling customer requests. For instance, promising your customers that their issue will be resolved in an hour might set wrong expectations.
SLAs can prove to be useful in the following ways-
Establishes the turnaround time to resolve customer issues
Describes the role of different help desk members
Explains how tickets are captured and distributed among agents
States communication protocols for severe incidents
Just creating strong yet realistic SLAs is not good enough. You must encourage your team members to fulfill them for a smooth service desk workflow.
Automate the Help Desk Workflow
Are your agents manually picking support tickets for themselves? Do they have to manually type emails asking customers for their feedback?
Well, manual processes are known for their inconsistencies and can take the edge off your productivity. On the contrary, an automated help desk workflow can help your team achieve more in a time-crunched environment.
Here are some automation capabilities of your help desk-
Automate the ticket assignment process
Share automated emails for ticket rating
Set automated emails & notifications
Prepare a Ticket Escalation Structure
Customer service is a team effort. When some agents are unable to resolve an issue or aren't available, you need other agents to jump in and back them up.
This is precisely the reason why you need to have a strong ticket escalation structure in place for a well-balanced help desk process flow.
There are two types of ticket escalations- functional (where tickets need to be escalated due to lack of knowledge or skills) and hierarchical (where tickets demand managerial attention or need their approval). While in some cases, these escalations may be necessary, the end goal should be to carry them as swiftly as possible.
How to improve your ticket escalation process
Avoid unnecessary ticket escalations and resolve the ones that have already been escalated
Train your team to improve skills and fill knowledge gaps
Regularly evaluate your escalated tickets and figure out if such escalations could be avoided in the future
In the case of hierarchical ticket escalation, encourage consistent communication among the different tiers of your customer service team
Create & Update Your Internal Knowledge Base
Do your support agents feel stuck when they come across a new customer issue? Do they have trouble looking for the right answers at the right time?
The truth is it is that every business has an ample number of processes. Training an agent on the nitty-gritty of every single process is not possible. For a refined help desk workflow process, you need to create an internal knowledge base, such that self-help is always closer to your team members.
Here are some best practices for creating and using an internal knowledge base:
Make it simple for your agents to access and search relevant articles, guides, etc.
Sometimes content becomes irrelevant or needs to be updated, therefore, regularly audit your knowledge base content
Conduct a short training session on using the knowledge base
Take regular feedback from your agents on what should be included in the knowledge base and what must be avoided
Make sure agents can share files with other agents using relevant links
With proper knowledge management, you can speed up your help desk workflow and ensure agents are well-equipped to offer memorable customer experiences.
Customize Your Workflow
For a streamlined help desk ticketing system workflow, you must explore customization possibilities. From email templates to labels, your help desk can be personalized to meet your unique business needs.
Now, customization should not always require involvement from your development team, you can explore help desk features to make it work for you.
How to customize your helpdesk workflow
Customize email templates: Email templates are used for capturing feedback or sharing notifications with customers as well as agents. You can always choose from a list of pre-built templates or create your own.
Create teams & assign roles: With a help desk, you can add agents and group them into different teams or departments. You can also assign them different roles and dictate their level of accessibility to the tool.
Add a branding touch: Most help desks allow you to rebrand different elements of your internal ticketing system. For instance, you can add your company logo to your help desk dashboard, knowledge base, or live chat window.
Read more: 10 Ways to Customize Your Help Desk Software
Achieve More With a Solid Help Desk Workflow
To ensure that your help desk processes, tools, and employees are operating at peak efficiency, you need to create and follow full-proof help desk workflows.
To improve your help desk workflow, remember to set realistic service level agreements, and automate manual processes. Create an internal knowledge base and encourage knowledge sharing among your agents.
Do you want a free Help Desk?
We have the #1 Online Help Desk Software for delightful customer support