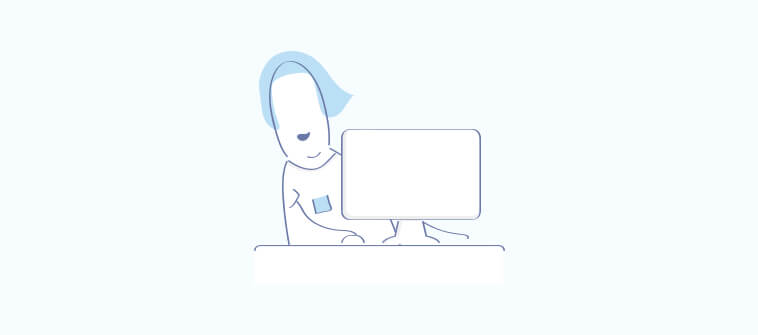 Meeting user expectations and resolving their concerns in real-time should be the top goal of every business.
A service desk software can act as a bridge between your support agents and your numerous employees, customers, or other stakeholders who demand round-the-clock assistance.
A good service desk improves customer satisfaction by allowing you to deliver services according to their expectations. Your business can make informed strategies to deploy the right resources, better manage IT assets, effectively communicate with end-users, and reduce the overall support costs.
Read this blog to understand what is a service desk, its various types, how it is different from a help desk, and explore the popular service desk features.
But first, let's start with the basics.
What Is a Service Desk?
Service Desk can be defined as a Single Point of Contact (SPOC) between an organization and its employees, customers, as well as business partners. They handle a wide range of service requests- right from technical issues faced by individuals to system outages that impact the entire organization.
In addition to ensuring that IT services are being delivered in a timely manner, a service desk manages the various IT-assets of an organization. Now, different businesses adopt different service desks based on their requirements and budget.
From the service desk definition it is clear what this tool can do, now, let's quickly go through the various types of service desks.
Types of Service Desk
There are a number of ways to implement a service desk. Different types of services desks come with their own set of possibilities, as well as limitations. Let's check them out.
1. Centralized Service Desk
A centralized service desk is basically a center point of interaction for query resolution.
This type of IT service desk keeps everything centralized and ensures all query resolution is done through one single point of contact.
A centralized service desk helps you with the following:
Efficient ticket resolution
Easy ticket management, irrespective of the volume
Centralized control by merging of local service desks
2. Local Service Desk
As the name suggests, a local service desk is one that is located in or near a company's premises. It mainly caters to the customer support requirements of small to medium enterprises.
This type of service desk is ideal for:
Handling a limited number of support tickets
Addressing issues within the company location
Effortless ticket resolution, only for few or limited tickets
3. Virtual Service Desk
The virtual service desk is the most popular type of service desk used by companies these days.
Basically, a virtual service desk works on internet connectivity. No matter where your service desk is deployed or located, you can leverage it for your business efficiently and from any device.
A virtual service desk ensures:
Effortless ticket resolution, irrespective of where you are located
Easy ticket organization & categorization on the basis of geographical location
Efficient agent performance tracking
The Growing Importance of Service Desk for Any Business
Businesses that use service desk and knowledge management tools have better average first-contact and first-level resolution rates than those that don't.
A service desk is not only a tool that enables companies to give answers to customer, client, employee, or stakeholder questions, but also improve the organizational workflow and processes.
Businesses can identify the root cause of incidents, track their progress, and save the business and internal processes from any major impact. So, deploying a service desk is essential when it comes to addressing company-wide issues.
A service desk enables organizations to:
Offer a seamless issue resolution experience
Boost productivity of service desk agents
Manage and organize all service requests
Track and resolve incidents in real-time
Manage IT assets through asset management
Read More: Tips on How to Improve Your IT Service Desk
Service Desk VS Help Desk: What Is the Difference?
Although the terms help desk and service desk are used interchangeably, there are some differences between the two.
The major focus area of a help desk is on break-fix, that is when something breaks (an issue occurs), users reach out to the support team for assistance. On the other hand, service desk systems can manage not only break-fix but all requests for new services or information.
To gain further clarity, you can refer to the table below, which shows the comparison of a help desk with a customer service desk.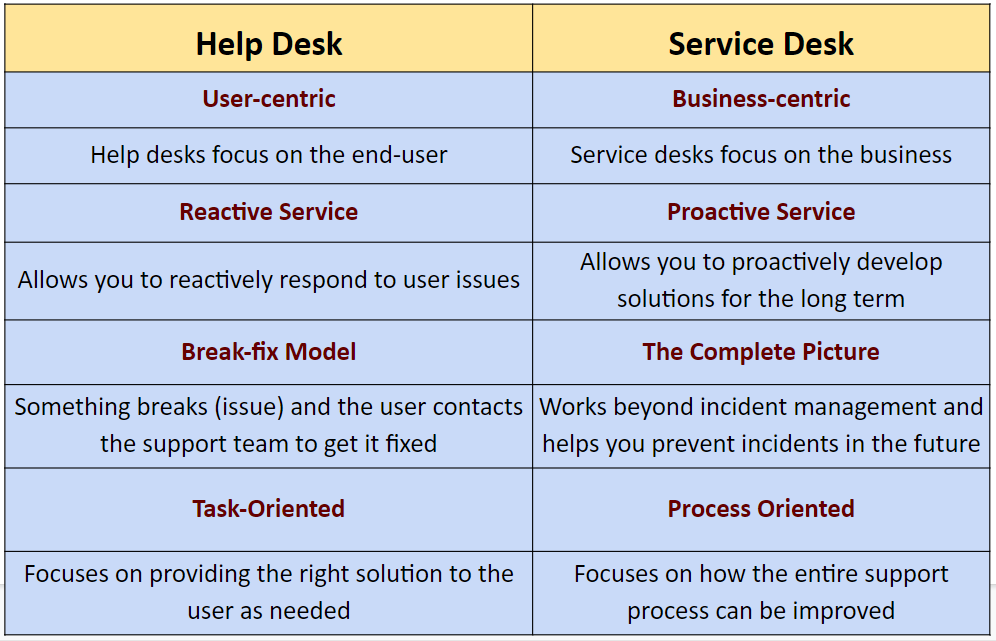 Read More: What Is the Difference Between Help Desk & Service Desk?
What Are the Key Benefits of Service Desk?
A Service desk is an essential tool to streamline your customer support process and, in the long run, ensure happy, delighted customers. Let's look at the main benefits of a service desk.
Collaborate With Agents Easily
Agent collaboration is crucial to not only ensure all customer tickets are resolved, but also to make sure all problems are resolved accurately.
Whether a customer, client, or stakeholder comes to a support agent with a problem, the agent must be trained to answer the question properly. If not, the question must be redirected to another agent.
Now, this issue is addressed by deploying a service desk that comes with features like priorities, labels, child tickets, and private comments.
Monitor Individual Performance
Tracking what each agent is upto and gaining insight into how satisfied customers are with their service is impossible. Well, it seems impossible.
With a robust service desk, like the one offered by ProProfs, you can track ticket resolution from start to finish.
You can get a blueprint of how agents acted once they received a ticket and how long it took them to close it.
With all agent performance specific data, you can analyze it and create training modules to improve customer service and agent productivity as a whole.
Enhance the Overall Operational Efficiency
User expectations are ever-changing and always thought of being unachievable. But, with a service desk, you can enhance the efficiency of your customer service operations and resolve the issues encountered by your customers, clients, stakeholders, and anyone related to your company.
By training your agents, you ensure that they learn new techniques, expand their knowledge, explore new trends that make customer service efficient.
Top Service Desk Features You Must Know
While choosing a service desk, how would you know which features you can overlook and which features you can't?
Well, here are six must-have service desk features that you can't afford to miss.
1. Shared Inbox
The one thing that most agents fail to do is manage multiple tickets efficiently. They get lost in tickets, making it extremely difficult to resolve customer issues instantly.
That's why having one platform for all your customer tickets is crucial for efficient ticket management.
So, always look for a service desk software that offers a shared inbox.
A shared inbox is a single point of contact between your agents and the issues they receive.
Every agent can filter view the tickets assigned to them, prioritize urgent tickets, communicate with other agents, and resolve them as and when required. It's that easy!
Read More: 10 Shared Inbox Best Practices for Lightning Fast Email Support
2. Child Tickets
There are times wherein agents get issues that cover a lot of questions. Some questions they aren't well-versed with on how to answer them.
So, a number of service desk tools come with features like child tickets. This feature helps you to split complex tickets into multiple sub-tickets and assign them to relevant agents or teams.
This ensures that no matter how complex a ticket is, it can be easily resolved with the best inputs from multiple representatives.
3. Priorities, Labels, & Private Notes

Managing all tickets on one platform is one thing, but collaborating on tickets is a whole different story.
Look for agent collaboration features when choosing the best service desk software for your company. Among the many collaboration features, a few you need to consider are:
Priorities: Organize tickets to know which tickets need immediate attention
Labels: Categorize tickets and divide them for different departments
Internal Notes: Drop internal comments or notes and ensure all agents are on the same page
Read More: 12 Help Desk Best Practices & Principles
4. Knowledge Base Integration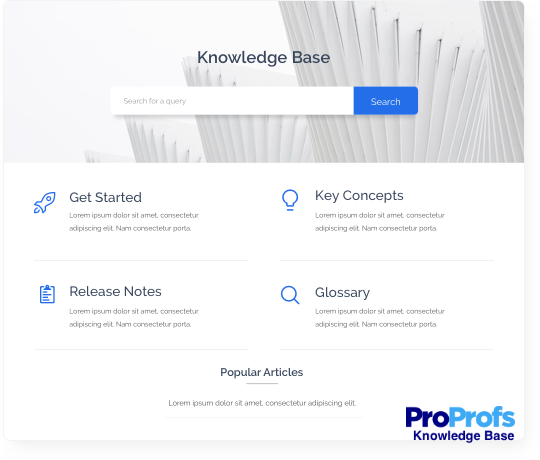 Most customers prefer using a knowledge base over any other self-service channel.
When it comes to getting answers to their quick questions, customers would rather choose to look up the help-articles or FAQs of a Knowledge base than any other tool.
So, when shortlisting a service desk software, make sure it comes with a knowledge base integration. For example, ProProfs Help Desk Software comes with an internal knowledge base, making it easy for customers to get instant answers to their questions themselves.
Get Started With a Robust Service Desk Today!
For the smooth functioning of any modern organization, how quickly support is delivered, is of extreme importance.
By deploying a robust service desk software, you can automate ticket management to handle service requests, incidents, and offer quick resolutions. Besides this, you can implement strong and effective workflows for your agents to reduce their workload.
Do you want a free Help Desk?
We have the #1 Online Help Desk Software for delightful customer support