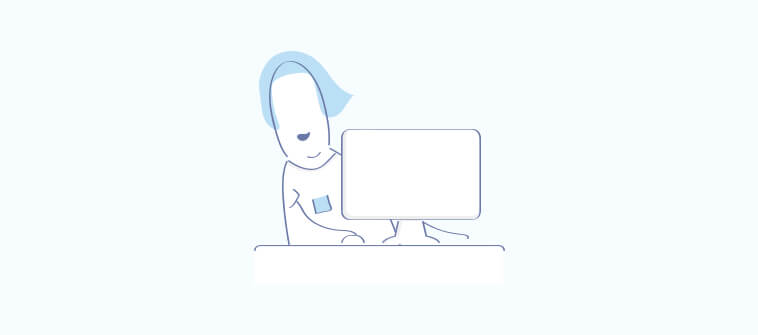 Every company has a customer support process in place, but what about its employees, clients, and stakeholders?
Wondering what I'm talking about?
Imagine this:
While working, one of your employees faces some technical issues with their system.
Who would they call? The HR department? Maybe.
The HR department will also call up a tech guy to fix your system. That could take ages, and you're on the clock to deliver your work on time.
Is there a better way to go about this?
Well, yeah - a service desk.
Let's see what a service desk is and how it equips companies to offer delightful support to each individual person involved with a company.
What is a Service Desk?
Service Desk can be defined as:
A single point of contact between its employees, customers, and business partners.
Basically, the purpose of a service desk is broader than that of a help desk.
A help desk aims to offer delightful support to a company's customers; a service desk aims to answer support questions of customers and other individuals involved with the company.
Service desks are designed to handle both service and incident requests.
For example, a service desk can help a customer understand how to go about returning a product and walk through the process of changing the employee password on the company portal. This isn't possible if you choose a help desk software as it caters to only customer requests.
---
Read More: Help Desk VS Service Desk: Understanding the Key Differences Between the Two
---
The Need of a Service Desk Explained
Did you know that 44% of employees who leave a company before their retention period agreed that they took the decision due to a change in office culture?
Now, among many other reasons, the top reason for this is not knowing what to do in problematic times. That's exactly what a service desk solves.
A service desk is not only a tool that enables companies to give answers to customer, client, employee, or stakeholder questions, but also improve the organizational workflow and processes.
So, deploying a service desk is essential when it comes to addressing company-wide issues. That being said, multiple types of service desks are available on the market.
Let's discuss them, in brief, to get an idea as to which one best fits your business requirements.
Service Desk Types: All You Need to Know
All in all, there are three types of service desks:
1. Centralized Service Desk
A centralized service desk is basically a center point of interaction for query resolution.
This type of service desk keeps everything centralized and ensures all query resolution is done through one single point of contact. This ensures:
Efficient ticket resolution

Easy ticket management, irrespective of the volume

Centralized control by merging of local service desks
2. Local Service Desk
As the name suggests, a local service desk is one that is located in or near a company's premises. It mainly caters to the customer support requirements of small to medium enterprises
This type of service desk is ideal for:
Handling limited tickets

Address issues location-wise

inside

a company

Effortless ticket resolution, only for few or limited tickets
3. Virtual Service Desk
Virtual service desk is the most popular type of service desk used by companies nowadays.
Basically, a virtual service desk works on internet connectivity. No matter where your service desk is deployed or located, you can leverage it for your business efficiently.
This ensures:
Effortless ticket resolution, irrespective of

where

you are located

Easy ticket organization & categorization on the basis of geographical location

Efficient agent performance tracking
How Do I Choose the Best Service Desk For My Company?
Choosing the best service desk for your company is a tiring task.
How will you know the service desk chosen fits best with your requirements? Will it solve all your problems?
Well, this section will answer all your questions.
When looking for the best service desk for your company, there are five aspects you need to research on. These five aspects are:
(i) Your Requirements
The first thing you need to clarify is your requirements.
Ask yourself:
What makes customer support difficult in your company?
How easy is it for your agents to work on customer issues collaboratively?
Are your agents working optimally?
If not, what features do service desk tools offer that address all these problems?
Do your research and jot down the problems your company faces and what features you'll need to eliminate those issues.
(ii) Features Offered
Next, you need to do your research on features offered by the best service desk software.
>> 20 Best Help Desk Software of 2020
Search the web for the best service desk tools and check what features they offer.
Shortlist about ten tools from the list that meet your requirements in terms of features.
Note:
Always check additional features and integrations offered by service desk software too. This helps you in ensuring you deploy the best tool in your company.
(iii) Pricing Plans
After shortlisting ten tools, it's time to shorten the list.
Check out the pricing plans offered by the ten tools you've shortlisted. Are they:
Offering free trials?

Within your company's budget?

Doing justice to the features offered with the price they are asking for?
If yes, keep them on your list. Choose five of the ten tools you shortlisted.
(iv) Customer Reviews
This is where your list comes down to three.
Check out the customer reviews and always check the negative comments first.
Ask yourself:
What did customers not like about the product?
Is it a major issue you can't deal with?
Are you alright with the issues that come with the product?
If yes, keep them. After this analysis, choose to keep three tools on your list.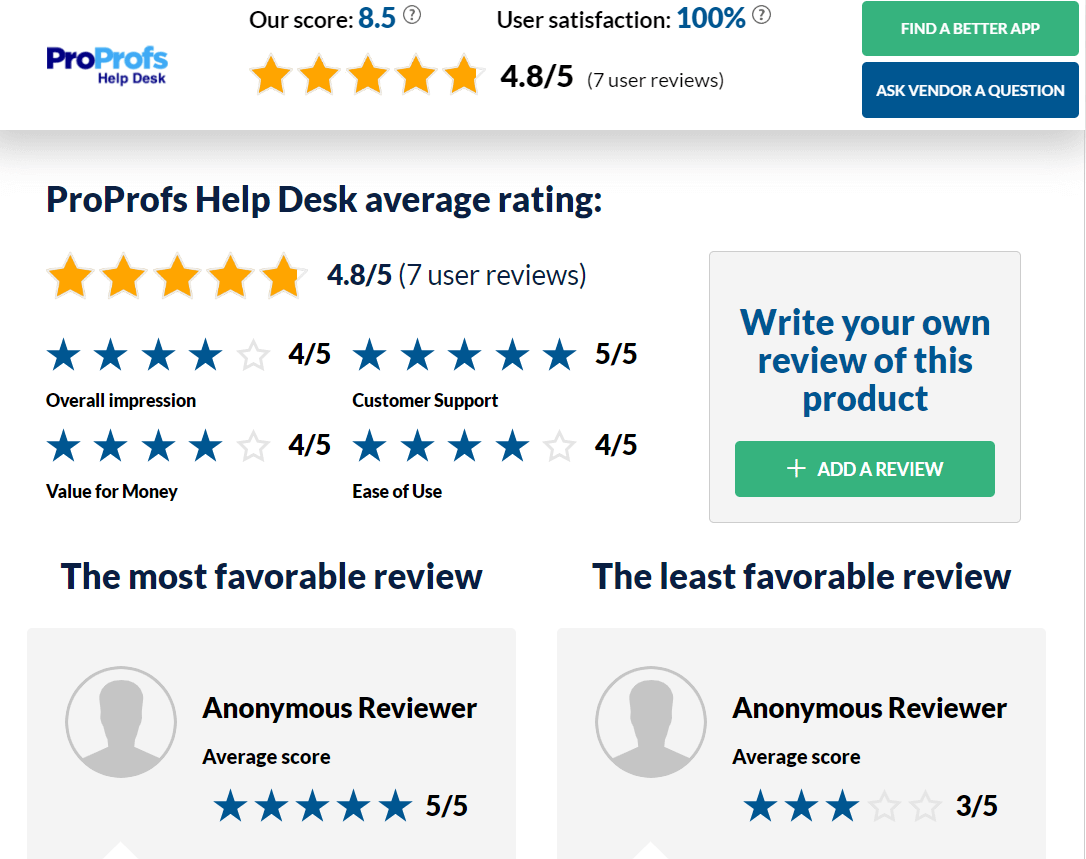 (v) Team Adaptability
With the three shortlisted tools, take free trials of each and see how easily your team adapts to it.
This is essential to ensure your team can leverage the service desk software you choose from the list and ensure efficient customer support.
After the free trial, ask your agents about the tool and take detailed feedback from them. You'll have all the needed information to choose the right tool from your list.
What Features Should I Look For in a Service Desk?
We know how to choose the best service desk, but what if you miss out on a few critical features?
How would you know which features you can overlook while which features you can't?
Well, here are six features that every service desk must have:
(a) Shared Inbox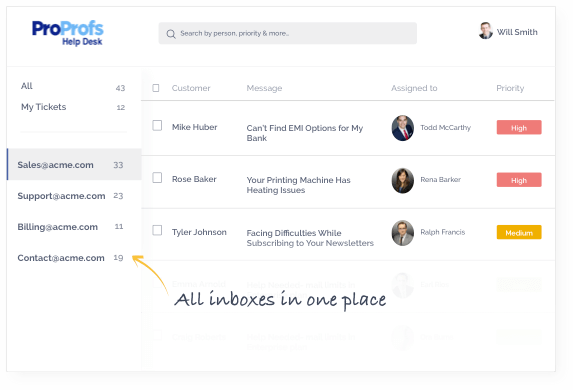 The one thing that most agents fail to do is manage multiple tickets efficiently. They get lost in tickets, making it extremely difficult to resolve customer issues instantly.
That's why having one platform for all your customer tickets is crucial for efficient ticket management.
So, always look for a service desk software that offers a shared inbox.
A shared inbox is a single point of contact between your agents and the issues they receive.
Every agent can filter out their tickets that they receive in the form of emails and resolve them as and when required. It's that easy!
(b) Child Tickets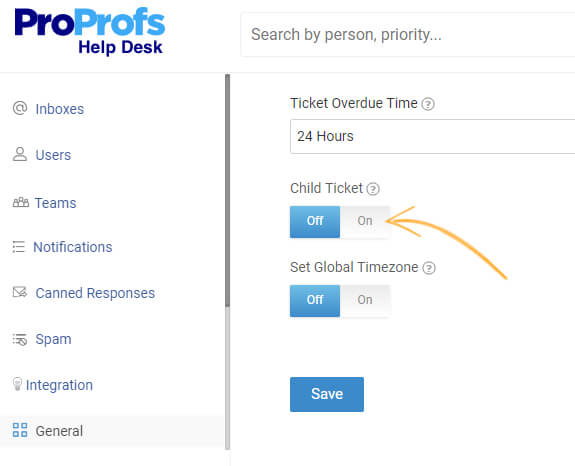 There are times wherein agents get issues that cover a lot of questions. Some questions they aren't well-versed with on how to answer them.
So, a number of service desk tools come with features like child tickets. This feature helps you to split complex tickets into sub tickets and assign them to relevant agents.
The agents it gets assigned to are trained to answer specific questions, therefore giving accurate solutions.
(c) Priorities, Labels, & Private Notes
Managing all tickets on one platform is one thing, but collaborating on tickets is a whole different story.
Look for agent collaboration features when choosing the best service desk software for your company. Among the many collaboration features, a few you need to consider are:
Priorities: organize tickets to know which need immediate attention

Labels: categorize tickets and divide them with respect to departments

Private Notes: drop notes and ensure all agents are on the same page
Once you've checked the features, choose one that is easy to use, and has a user-friendly UI.
(d) Knowledge Base Integration
Most customers prefer using a knowledge base over any other self-service channel.
When it comes to answering their own questions, customers would rather choose to look up a knowledge base than any other tool.
So, when shortlisting a service desk software, make sure it comes with a knowledge base integration. For example, ProProfs Help Desk Software comes with an internal knowledge base, making it easy for customers to get instant answers to their questions themselves.
(e) Live Chat Integration
Another important integration to look for in a service desk is live chat.
Waiting time is one of the biggest turn off among people seeking answers from a support agent. This problem is eliminated with an online live chat software with a service desk integration.
So, with a live chat integration with a service desk, you can:
Offer instant online support

Monitor online visitor behavior

Analyze online agent performance
Choosing a live chat integrated service desk boosts customer service and delight.
(f) Report & Analytics
Lastly, one of the most important features to look for in a service desk software is reporting.
With insightful reporting, it becomes easy to:
Monitor agent performance

Get agent ratings

Understand customer satisfaction rates

Gain insight into average ticket resolution and response time.
This way, you can easily understand what needs to improve in your customer support process and your agent's performance.

What Are the Benefits of Service Desk?
A Service desk is an essential tool to streamline your customer support process and, in the long run, ensure happy, delighted customers. Let's look at the main benefits of a service desk.
Collaborate With Agents Easily
Agent collaboration is crucial to not only ensure all customer tickets are resolved, but also to make sure all problems are resolved accurately.
Whether a customer, client or stakeholder comes to a support agent with a problem, the agent must be trained to answer the question properly. If not, the question must be redirected to another agent.
Now, this issue is addressed by deploying a service desk that comes with features like priorities, labels, child tickets, and private comments.
Monitor Individual Agent Performance Easily
Tracking what each agent is upto and gaining insight into how satisfied customers are with their service is impossible. Well, it seems impossible.
With a robust service desk, like the one offered by ProProfs, you can track ticket resolution from start to finish.
You can get a blueprint of how agents acted once they received a ticket and how long it took them to close it.
With all agent performance specific data, you can analyze it and create training modules to improve customer service and agent productivity as a whole.
Enhance Overall Operational Efficiency
With training your agents, you ensure that they learn new techniques and trends that make customer service efficient.
Customer expectations are ever-changing and always thought of being unachievable. But, with a service desk, you can reach the top level of delivering delightful support to your customers, clients, stakeholders, and anyone related to your company easily.
Know the Basics & Get Started With a Robust Service Desk, Today!
And there you have it!
Deploying a service desk is essential in not only satisfying customers, but also eliminating issues your teams, clients, or stakeholders face in your company.
With all the points mentioned in this blog, make sure you choose the best and the right service desk for your company.
---
Q1. What is a service desk ticket?
A service desk ticket is simply a normal ticket in the form of an email that contains all the details of the problem that a support agent needs to address.
Q2. What is the purpose of a service desk?
The purpose of a service desk is to eliminate communication barriers between the company and whoever is directly or indirectly linked with the company. This includes customers, clients, stakeholders, and employees.
Q3. How do you implement a successful service desk?
It's simple, really. All you have to do is sync your current support email details into the service desk you choose, and you're good to go!
Q4. Is there any difference between the help desk and service desk?
Yes. A help desk solely caters to customers of a company, whereas a service desk aims to address questions of anyone related to a company, from employees to clients to customers.
Do you want a free Help Desk?
We have the #1 Help Desk for delightful customer support starting at $0