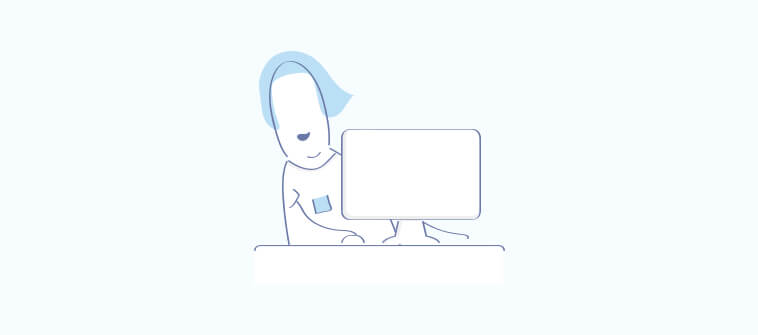 Meeting user expectations and resolving their concerns in real-time should be the top goal of every business.
A service desk software can act as a bridge between your support agents and your numerous employees, customers, or other stakeholders who demand round-the-clock assistance.
A good service desk improves customer satisfaction by allowing you to deliver services according to their expectations. Your business can make informed strategies to deploy the right resources, better manage IT assets, effectively communicate with end-users, and reduce the overall support costs.
Read this blog to understand what is a service desk, its various types, how it is different from a help desk, and explore the popular service desk features.
But first, let's start with the basics.
What Is a Service Desk?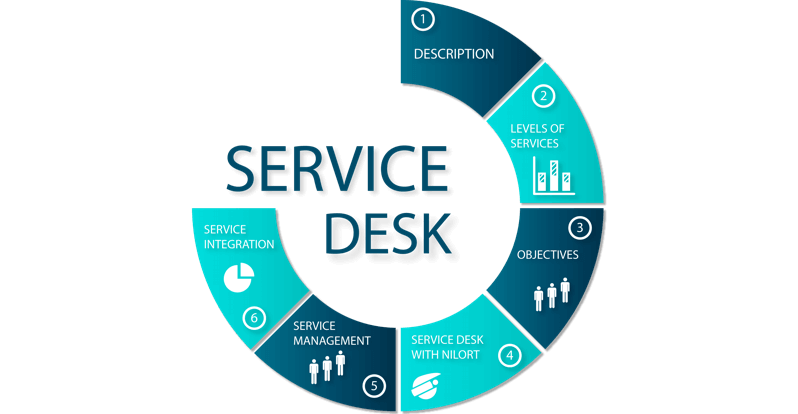 Service Desk can be defined as a Single Point of Contact (SPOC) between an organization and its employees, customers, as well as business partners. They handle a wide range of service requests- right from technical issues faced by individuals to system outages that impact the entire organization.
In addition to ensuring that IT services are being delivered in a timely manner, a service desk manages the various IT assets of an organization. Now, different businesses adopt different service desks based on their requirements and budget.
From the service desk definition, it is clear what this tool can do. Now, let's quickly go through the various types of service desks.
What Are the Types of Service Desks?
There are a number of ways to implement a service desk. Different types of service desks come with their own set of possibilities as well as limitations. Let's check them out.
1. Centralized Service Desk
A centralized service desk is basically a center point of interaction for query resolution. This type of IT service desk keeps everything centralized and ensures all query resolution is done through one single point of contact.
A centralized service desk helps you with the following:
Efficient ticket resolution
Easy ticket management, irrespective of the volume
Centralized control by merging of local service desks
2. Local Service Desk
As the name suggests, a local service desk is one that is located in or near a company's premises. It mainly caters to the customer support requirements of small to medium enterprises.
This type of service desk is ideal for:
Handling a limited number of support tickets
Addressing issues within the company location
Effortless ticket resolution, only for a few or limited tickets
3. Virtual Service Desk
The virtual service desk is the most popular type of service desk used by companies these days. Basically, a virtual service desk works on internet connectivity. No matter where your service desk is deployed or located, you can leverage it for your business efficiently and from any device.
A virtual service desk ensures:
Effortless ticket resolution, irrespective of where you are located
Easy ticket organization & categorization on the basis of geographical location
Efficient agent performance tracking
What Are the Key Benefits of Service Desk?
A Service desk is an essential tool to streamline your customer support process and, in the long run, ensure happy, delighted customers. Let's look at the main benefits of a service desk.
1. Collaborate With Agents Easily
Agent collaboration is essential to ensure even the most complex issues are resolved accurately and in a timely manner.
When a customer comes to a support agent with a problem, the agent must be trained to answer the question properly. If not, the question must be redirected to another agent or a manager.
Now, such complex issues can be addressed by deploying a service desk that comes with features like ticket priorities, labels, child tickets, and private comments.
2. Monitor Individual Performance
Tracking what each agent is upto and gaining insight into how satisfied customers are with their service is of utmost importance.
With a robust service desk, you can track key metrics for all your tickets and customer interactions. You can get a blueprint of how agents acted once they received a ticket and how long it took them to close it.
With all agent performance specific data, you can analyze it and create training modules to improve customer service and agent productivity.
3. Enhance the Overall Operational Efficiency
User expectations are ever-changing and always thought of being unachievable. But, with a service desk, you can enhance the efficiency of your customer service operations and resolve the issues encountered by your customers, clients, stakeholders, and anyone related to your company.
By training your agents, you ensure that they learn new techniques, expand their knowledge, explore new trends that make customer service efficient.
List of Top Service Desk Software
Here is a list of the 10 best service desk software tools that you can consider for your team. We will explore each tool's features, pricing, pros, cons, and other details.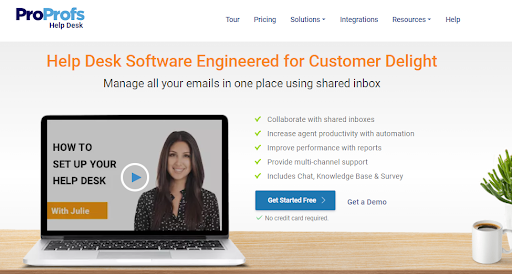 ProProfs Help Desk is the best service desk software that can help your agents stay on top of all tickets. You can capture customer queries and requests via popular channels such as email, live chat, help center, web forms, and more.
With powerful automation features, you can rise above repetitive tasks and avoid human errors. For example, you can automatically assign tickets to agents and build powerful chatbots to assist customers 24×7.
Top Features of ProProfs Help Desk:
Offer quick support on the move with a powerful mobile app
Allow customers to submit tickets and track progress
Share surveys to monitor customer satisfaction, loyalty, and engagement
Keep agents and customers informed with automated email notifications
Track ticket response time, ticket resolution time, and other metrics
Pros:
Easy-to-use interface
Develop chatbots in minutes with pre-designed templates
Cons:
Limited integration options
Reporting can be more advanced
Pricing:
Starts at $20/agent/month (billed annually).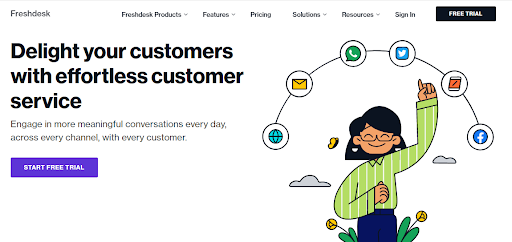 Freshdesk is a powerful tool that is designed to help you boost agent productivity and share speedy responses with customers. The tool helps you capture customer inquiries or complaints from different channels and convert them into tickets.
Freshdesk allows you to assign tickets to specific agents, prioritize issues based on certain keywords, and keep your inbox well-organized. With team collaboration features, you can share the ownership of tickets or loop in other teammates for a quick discussion.
Top Features of Freshdesk:
Create a library of saved replies to enhance productivity
Merge similar help desk tickets into a single ticket
Avoid duplicate responses by seeing who else is replying to a ticket
Let AI recommend help articles to agents for faster resolution
Escalate issues to managers when issues are breached
Pros:
Manage your field service agents
Leverage mobile apps for Android and iOS
Cons:
Limited options to customize the portal
The mobile app needs improvements
Pricing:
Starts at $15/agent/month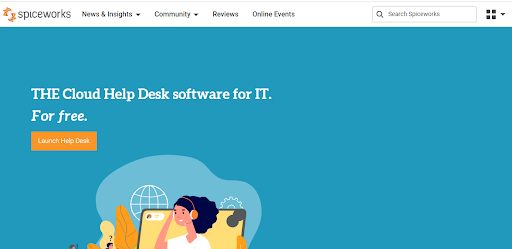 Spiceworks is a free service desk software that is built for IT support professionals. Since the tool is hosted on the cloud, you don't have to worry about server procurement or maintenance.
You can allow end-users to submit requests via the user portal, email, or mobile devices. In addition to robust ticket tracking, Spiceworks allows your team to manage multiple IT projects from a centralized system.
Top Features of Spiceworks:
Track all new, open, and unassigned tickets in one place
Collaborate on tickets using private comments
Allow customers to submit tickets and track progress
Share tickets with team members for faster collaboration
Monitor help desk metrics such as first response time, ticket close time, etc.
Pros:
Simple and easy-to-use interface
Use the Spiceworks mobile app
Cons:
Limited integration options
Advertisements can hamper productivity
Pricing:
Spiceworks is free for all users.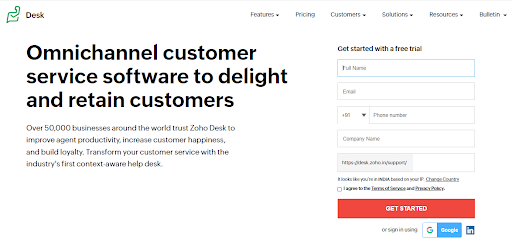 Zoho Desk is an omnichannel help desk software that helps you communicate with customers almost everywhere. You can manage your customer interactions across different channels such as live chat, email, phone, social media, etc.
With AI and automation features, Zoho Desk helps you automate ticket routing, notifications, and ticket workflows. In addition, you can build a multi-brand help center to cater to different consumer segments.
Top Features of Zoho Desk:
Automatically tag tickets based on key attributes
Customize your self-service help center to match your website
Leverage templates for email responses and notifications
Restrict your help center by keeping it public or private
Create an online community of prospects and customers
Pros:
Track your agents' productive time
Monitor social media requests
Cons:
The live chat feature is only available with the Enterprise plan
Searching for old tickets can be confusing
Pricing:
Starts at $12/agent/month
Read More – Zoho Desk Alternatives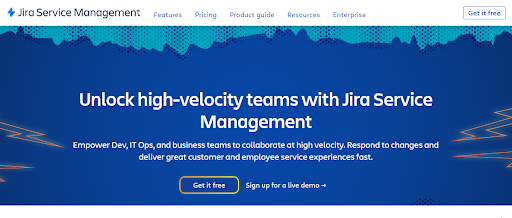 Jira Service Management is a powerful ITSM tool designed to support internal employees and external customers. You can enjoy features built around ITSM processes such as incident management, asset management, changes management, and knowledge management.
You can easily capture end-user requests and issues from email, chat tools, your service desk, and other channels. You can create a dedicated self-service portal and allow users to find answers to routine questions.
Top Features of Jira Service Management:
Create forms using 300+ pre-designed form templates
Automatically escalate incidents to the right team members
Create multiple SLAs to track ticket deadlines
Surface relevant help articles to ensure speedy resolution
Increase agent efficiency with the single sign-on feature
Pros:
Integrate with Slack and Microsoft Teams
Identify content gap with knowledge management
Cons:
The tool comes with a steep learning curve
The Standard plan offers limited features
Pricing:
Starts at $20/agent/month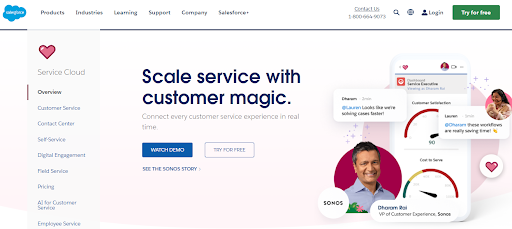 Now, many of you might know Salesforce because of its popular CRM tool. However, the same brand offers an intuitive customer service solution to offer highly personalized service to customers.
You can create a branded self-service help center and free your agents from the torture of answering repetitive questions. Moreover, you can enable AI to share the most relevant help articles with customers.
Top Features of Salesforce Service Cloud:
Build mobile-responsive help centers and community forums
Deflect a majority of support tickets with the help of intelligent chatbots
Automatically route tickets based on skillset or availability
Survey your customers and create follow-up actions
Monitor asset performance and predict failure
Pros:
Easily manage your field service agents
Manage Facebook and WhatsApp conversations
Cons:
Pricing can be made more affordable
The tool comes with a steep learning curve
Pricing:
Starts at $25/user/month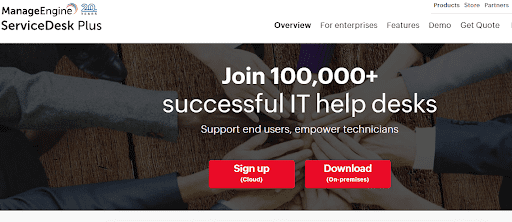 ServiceDesk Plus can help your IT team deliver awesome customer service. With the help of this powerful tool, you can manage all IT issues and requests to ensure your business suffers no downtime.
Allow end-users to submit tickets using email, phone call, and the self-service portal. In addition to this, you can share surveys at regular intervals to capture end-user feedback and monitor satisfaction levels.
Top Features of ServiceDesk Plus:
Allow end-users to track the progress and status of their requests
Track and manage all hardware and software assets in one place
Enable multi-level escalations to avoid SLA violations
Create a knowledge base that includes all technical solutions
Monitor average cost per ticket and other relevant metrics
Pros:
Share instant notifications with agents and end-users
Leverage 250 feedback survey templates
Cons:
Limited integration options
Reports can be complicated for new users
Pricing:
Get in touch with the company for a quote.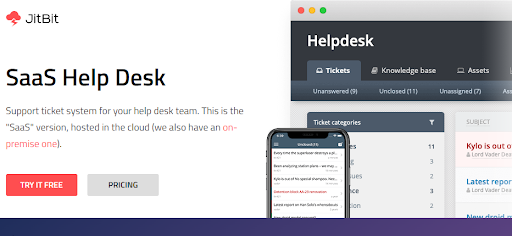 JitBit offers its help desk platform in two versions, SaaS and on-premise. With a simple ticket grid view, agents can get instant access to all ongoing customer issues and view any files or attachments related to them.
Powerful features such as ticket organization, knowledge base, file attachments, ticket tracking, live chat, ticket tagging, etc., make JitBit a good option for many companies.
Top Features of JitBit:
Automatically update your inbox to view the latest tickets
Create canned responses to re-use your answers
Integrate with Jira, GitHub, Dropbox, and multiple other tools
Add multiple tags to a single support ticket
Create rules to set conditions and actions for incoming tickets
Pros:
The tool is hosted at AWS data centers
Leverage free mobile apps for Android and iOS
Cons:
Expensive pricing plans
The automation features need improvement
Pricing:
Starts at $29/month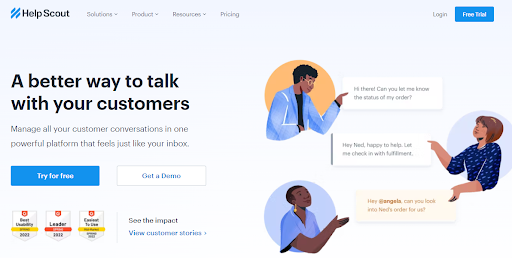 Help Scout is another powerful tool that deserves to be on your list. The tool offers a wide range of features that can help your team with team collaboration, ticket automation, and organization.
With Help Scout, you can launch your own self-service knowledge base and reduce your ticket volume by up to 20%. In addition, team members can easily edit help articles by adding text, images, hyperlinks, tables, or videos.
Top Features of Help Scout:
Send team members private notes to collaborate on complex tickets
Easily switch between email and chat conversations
Deploy automation to rise above repetitive tasks
Track all emails in one place using the shared inbox
Collect customer satisfaction ratings and feedback to improve support
Pros:
Native Android and iOS apps
All plans include 2-factor authentication
Cons:
Limited customization options
Reports need to offer more advanced metrics
Pricing:
Starts at $20/agent/month
Read More: Best Help Scout Alternatives for 2023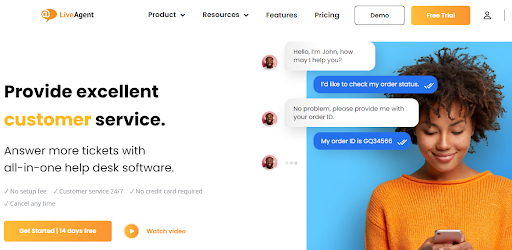 LiveAgent helps you engage customers and support them on various channels. With an intuitive live chat widget, you can proactively invite customers to chat and
LiveAgent helps you take complete control of your social media channels. For example, you can integrate your help desk with Facebook, Instagram, Viber, and Twitter, to manage all social media messages in one place.
Top Features of LiveAgent:
Use drag-and-drop functionality to attach files to tickets
Configure business hours to keep track of SLAs and metrics
Design your own contact forms to capture key information
Send the complete ticket history to someone via email
Choose from multiple customizable chat invitations
Pros:
Perform mass actions on tickets
Avoid spam messages with a spam filter
Cons:
Agent time tracking isn't always accurate
The Basic plan lacks feedback monitoring and social media channels
Pricing:
Starts at $15/agent/month
Get Started With a Robust Service Desk Today!
For the smooth functioning of any modern organization, how quickly support is delivered, is of extreme importance.
By deploying a robust service desk software, you can automate ticket management to handle service requests, incidents, and offer quick resolutions. Besides this, you can implement strong and effective workflows for your agents to reduce their workload.
Do you want a free Help Desk?
We have the #1 Online Help Desk Software for delightful customer support