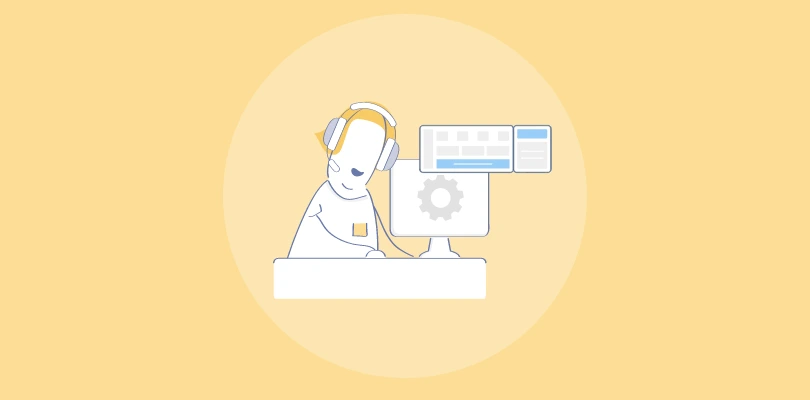 The best help desk ticketing system can help you blend empathetic human support with powerful automation technology. With the right ticketing system, you can convert customer requests into unique tickets, track their complete lifecycle, automate repetitive tasks, and encourage self-service to enhance the support experience.
Let's say your customer service heroes are great at personalizing conversations, exhibit the perfect body language, and understand your products inside out. But there is still something missing.
They need the right tools to make magic happen!
Whether you are a customer service agent looking to speed up your response time or a support manager wishing to get a bird's eye view of your process, there is a tool out there for you.
In this blog, we will understand the definition of help desk ticketing software and explore 16 tools that will help you enhance productivity and make every service interaction count.
What is a Help Desk Ticketing System?
Help desk ticketing system is a software tool used by organizations to manage and track customer service requests, complaints, and queries. Support agents can use a shared dashboard to view all tickets in one place, prioritize urgent issues, publish knowledge-base articles, and share faster responses with customers.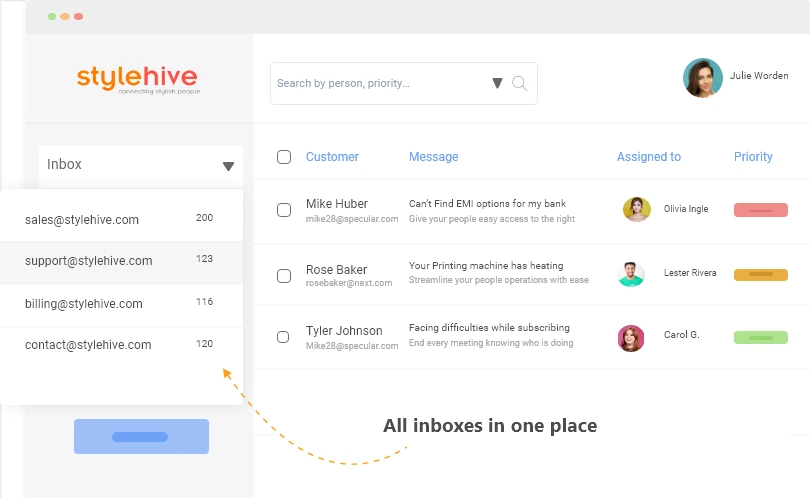 The primary purpose of a help desk ticketing system is to streamline the customer service process by automating repetitive tasks and providing greater visibility into ongoing issues. Support managers can gain relevant insights into team performance with help desk metrics such as ticket response time, resolution time, customer satisfaction ratings, ticket backlogs, and more.
A Quick Comparison Table of the Best Help Desk Ticketing Tools in Market
Software
Top Features
Price
ProProfs Help Desk
Set up an online knowledge base
Access shared inboxes in one place
Create powerful chatbots
Monitor help desk metrics
Dedicated mobile app
Starts at $20
Zendesk
Offer personalized support
Create a help center
Intelligent ticket routing
Access customer service data
Multiple integration options
Starts at $49
Help Scout
Use tags to categorize tickets
Leverage saved replies
Create custom ticket fields
Recommend help articles
Android & iOS mobile apps
Starts at $20
Freshdesk
Deploy AI-powered chatbots
Create SLAs to set deadlines
Track time spent on support tickets
Monitor social media messages
Convert ticket responses into KB articles
Starts at $15
HubSpot Service Hub
Access all messages in one place
Interact using the live chat widget
Share CSAT, NPS & CES surveys
Create rich reports & analytics
Connect with HubSpot CRM
Starts at $450
Salesforce Service Cloud
Support prospects & customers
Integrate Salesforce with Slack
Create AI-powered workflows
Customize your community forum
Explore upsell & cross-sell opportunities
Starts at $25
LiveAgent
Monitor agent performance
Record customer service calls
Set up customer feedback widgets
Track time spent on each ticket
Create SLA reports
Starts at $9
ServiceNow
Offer multi-channel support
Enhance field service
Leverage intelligent analytics
Create a service catalog
Resolve issues with intelligent chatbots
Not Mentioned
Zoho Desk
Create multiple help centers
Create templates for email responses
Generate insightful reports
Share automated notifications
Automate ticket assignments
Starts at $12
HappyFox
Offer self-serve & live support
Track powerful customer service metrics
Save time with canned responses
Send automated feedback surveys
Monitor social media messages
Starts at $26
Front
Automatically assign emails
Manage all conversations in one place
Use email templates
Create reports for CSAT & SLAs
Integrate with CRM
Starts at $59
Jira Service Desk
Track IT assets
Use 300+ pre-designed form templates
Organize incidents & requests
Use Jira's mobile app
Multiple integration options
Starts at $21
BMC Helix
Get a complete view of each customer
Provide multi-channel support
Share relevant knowledge base articles
Create pre-built ticket flows
Offer proactive service
Not Mentioned
AzureDesk
Create multiple ticket fields
Customize your self-service portal
Multiple integration options
Create reports on customer interactions
Provide support in 53 languages
Starts at $33
Vision Helpdesk
Create multi-level escalation rules
Calculate time spent on tickets
Create an SEO-optimized knowledge base
Leverage Android & iOS apps
Create a customer portal
Starts at $12
JitBit
View complete chat history
Create canned responses
Add multiple tags to tickets
Use reports to understand service demand
Leverage Android and iOS apps
Starts at $29
16 Best Help Desk Ticketing Systems in 2023 [Updated]
We understand that searching for that ideal tool can be a painstaking process. You will need to scroll through multiple software review platforms, visit dozens of product websites, and read hundreds of reviews.
But here is some good news! We have done the hard work already.
Here are the 16 best help desk ticketing system software list that will meet all your unique needs. Let's quickly explore their features and pricing details.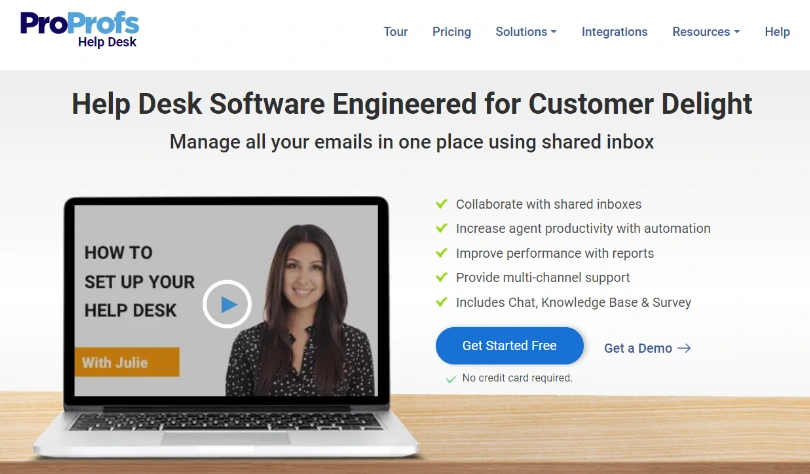 ProProfs Help Desk is undoubtedly the best help desk ticketing system for customer support as it combines email ticketing with other communication channels, such as live chat, chatbots, knowledge base, help center, web forms, and more. This allows your team to connect with customers on their favorite channels while promoting self-service.
ProProfs Help Desk also makes it easier for your team to collaborate using internal notes, sort tickets using filters, and share automated surveys to capture valuable customer feedback. In addition, you can even deploy powerful chatbots on your website to automate your customer service process.
Top Features of ProProfs Help Desk:
Set up your online knowledge base with ready-to-use templates
Access support@, info@, etc., in one place with the shared inbox feature
Create chatbots for customer service, lead generation, appointment booking, etc.
Monitor average first response time, ticket resolution time, CSAT, and other metrics
Resolve tickets on the move with a dedicated mobile app
Pricing: Starts at $20/user/month (Single plan with all premium features)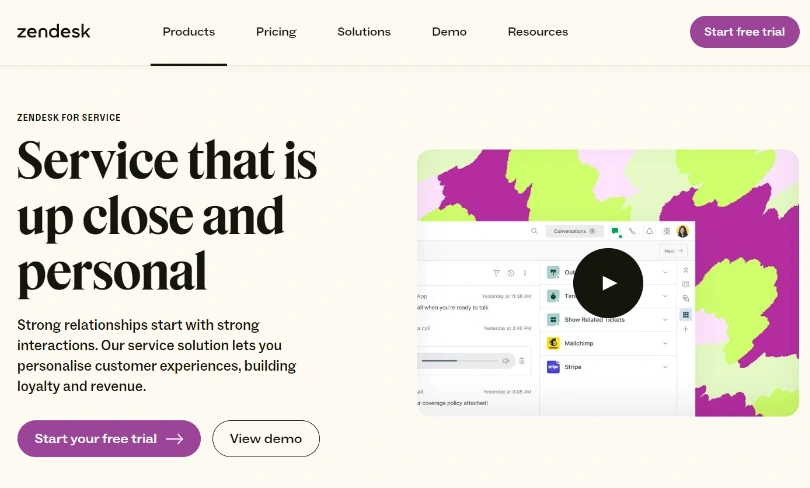 Zendesk is a popular help desk ticketing system that is used by many Fortune 500 companies from across the globe. The tool allows you to create a vast community forum so that prospects and customers can interact can raise questions, discuss common problems together, and share solutions.
With Zendesk's agent workspace feature, you can view all ongoing and past customer conversations in one place. This gives your agents better visibility and more control over what's happening.
Top Features of Zendesk:
Personalize customer service conversations across multiple channels
Create a help center to allow customers to find answers on their own
Send tickets to the best agents with intelligent ticket routing
Turn raw customer service data into useful insights
Integrate with Trello, Mailchimp, and multiple other tools
Pricing: Starts at $29/user/month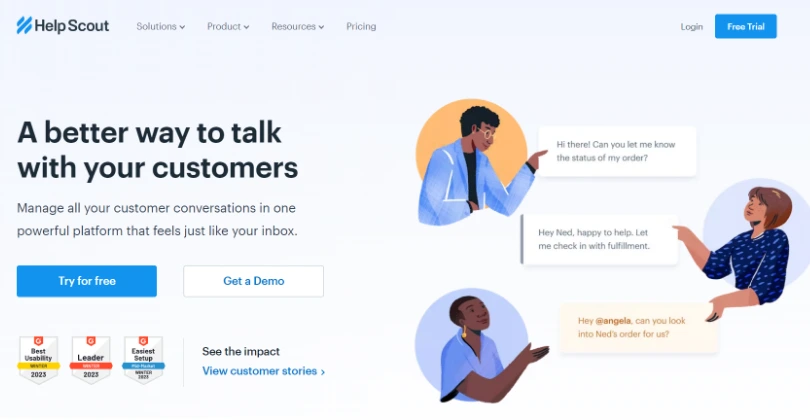 Help Scout is an easy-to-use customer service ticketing system that can help your team get started in no time. Your support team can get their hands on collaboration, automation, and organization features to offer delightful assistance to customers.
With the shared inbox feature, your agents can access multiple team inboxes, such as support@, help@, etc., in one place. Moreover, team members can collaborate using private notes and collision detection.
Top Features of Help Scout:
Use tags to categorize tickets or trigger automation
Reduce response times with the help of saved replies
Add custom data for tickets using custom fields
Recommend help articles through the live chat widget
Work on the move with Help Scout's Android and iOS mobile apps
Pricing: Starts at $20/user/month
Read More: Best Help Scout Alternatives for 2023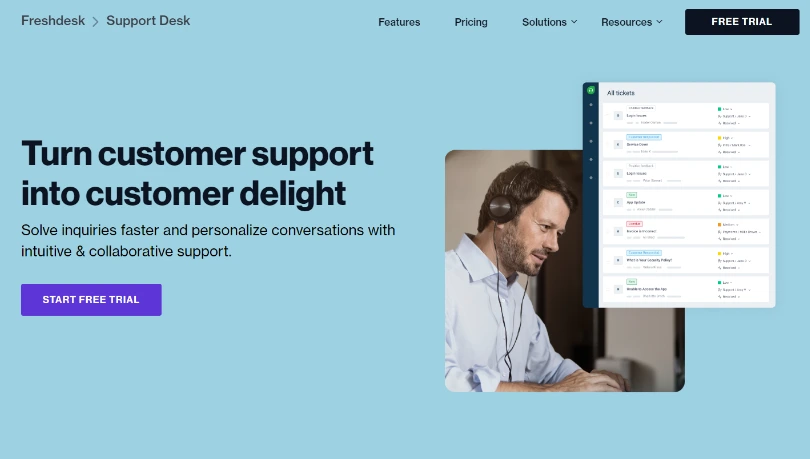 When talking about customer support ticketing system, Freshdesk has been an industry leader for many years. This easy-to-use tool comes with a Team Inbox where agents can view, organize, and manage all incoming support tickets from multiple channels.
Freshdesk also provides powerful automation features to speed up support operations and increase agent productivity. For example, you can choose to automatically distribute help desk tickets based on your agents' availability, skill sets, or workload.
Top Features of Freshdesk:
Leverage AI-powered chatbots to assist multiple customers simultaneously
Create SLAs to set deadlines for ticket response and resolution times
Track time spent on support tickets to log billable hours
Monitor your customer's Facebook and Twitter messages
Convert email and chat ticket responses into knowledge-base articles
Pricing: Starts at $15/user/month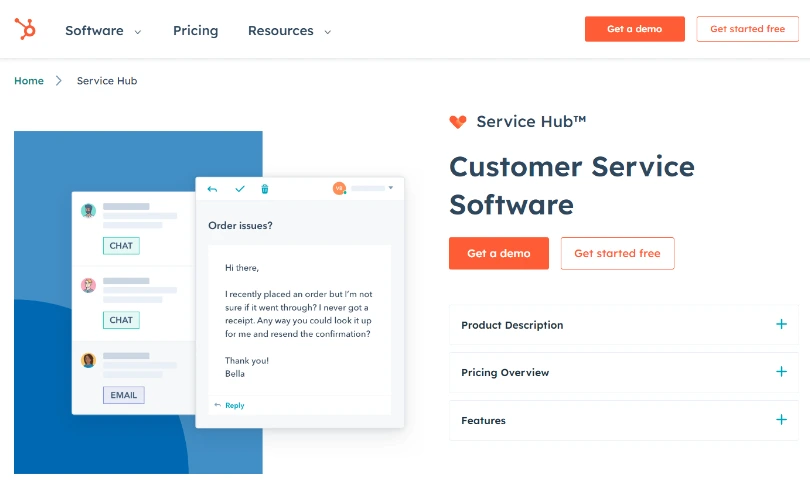 HubSpot Service Hub is another support ticket system software that helps you improve team collaboration, offer proactive assistance, and scale your customer service process. By integrating this tool with HubSpot CRM, agents can get the context they need to drive customer interactions.
HubSpot Service Hub makes it easier for your team to measure customer happiness from time to time. For instance, you can deploy NPS, CSAT, and CES surveys to build a better customer experience.
Top Features of HubSpot Service Hub:
View and reply to all customer messages from the conversations inbox
Use the live chat widget to assist customers in real-time
Monitor the customer experience with CSAT, NPS, and CES surveys
Assess agent performance with rich reports and analytics
Connect with HubSpot CRM to view all customer information in one place
Pricing: Starts at $450/month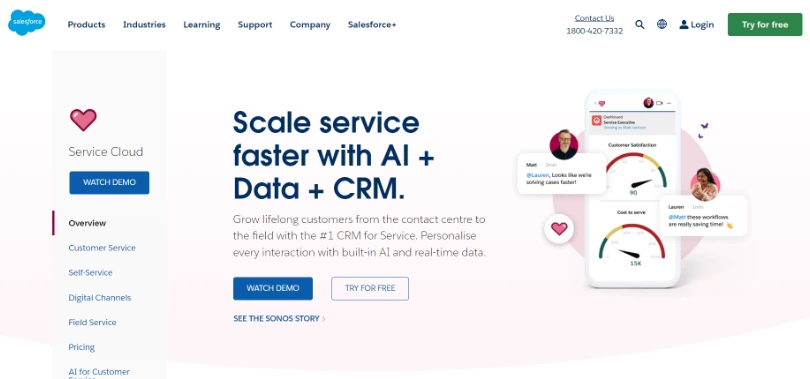 Salesforce Service Cloud is a CRM-powered ticketing system that helps you build and sustain long-lasting customer relationships. With multiple customer data points available at your disposal, you can offer highly personalized service experiences.
The Salesforce ticketing system also helps you monitor the work of your field agents. Field agents can instantly track their assigned tickets, view knowledge base articles, and track SLA complaints even when they are not in the office.
Top Features of Salesforce Service Cloud:
Offer a seamless self-service experience to prospects and customers
Integrate Salesforce with Slack for enhanced team communication
Enhance work productivity with AI-powered workflows
Customize your community forum to match your website's visual appeal
Track opportunities to increase upsell and cross-sell opportunities
Pricing: Starts at $25/user/month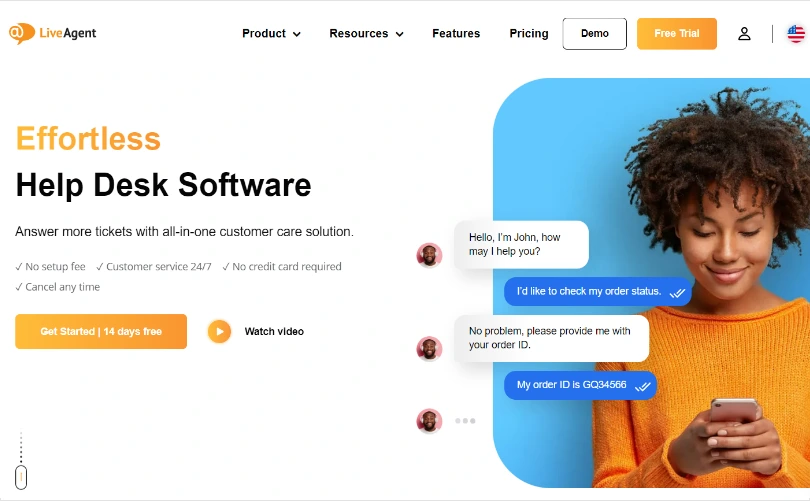 Whether it is about managing dozens of customer service emails or monitoring social media mentions of your company on Facebook, LiveAgent's ticketing system integrates with multiple communication channels. To grab the attention of website visitors, you can even share proactive chat invitations.
LiveAgent also offers gamification features to make your agents' work more fun. For example, you can set multiple levels for your agents to achieve. Moreover, you can even allot suitable badges and rewards to your top-performing agents.
Top Features of LiveAgent:
Monitor agent performance with reports and analytics
Assign, record, and store all customer service calls in a central place
Set up chat and customer feedback widgets in multiple languages
Monitor the time spent on resolving each ticket
Create SLA reports to avoid future SLA violations
Pricing: Starts at $9/user/month
Read More: Best Live Agent Alternatives for 2023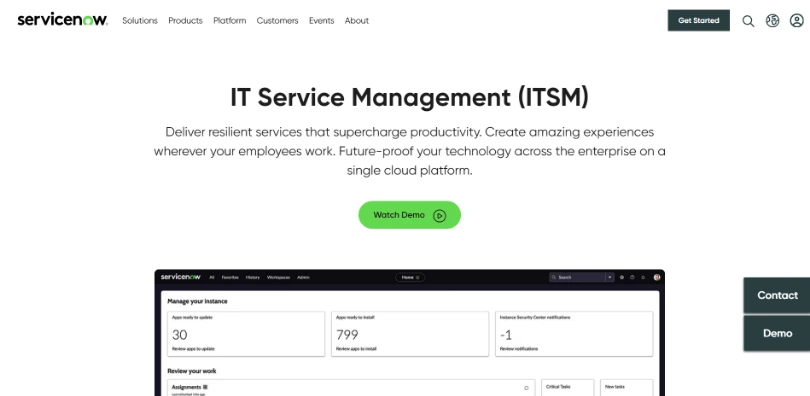 ServiceNow is a leading ITSM tool that can help your business improve the quality of IT services. The tool helps you leverage AI and predictive analytics to solve customer issues proactively and reduce ticket volume.
ServiceNow also brings robust knowledge management capabilities to the table. You can offer multiple self-service options to customers to enhance their support experience.
Top Features of ServiceNow:
Support customers across the web, email, phone, and messaging
Enhance field service by giving agents all the tools and data they need for the job
Empower support agents with intelligent guidance and analytics
Create a service catalog to bring greater visibility into your service offerings
Resolve issues faster with intelligent chatbots
Pricing: Get in touch with the company for a quote.
Read More: Best Servicenow Alternatives for 2023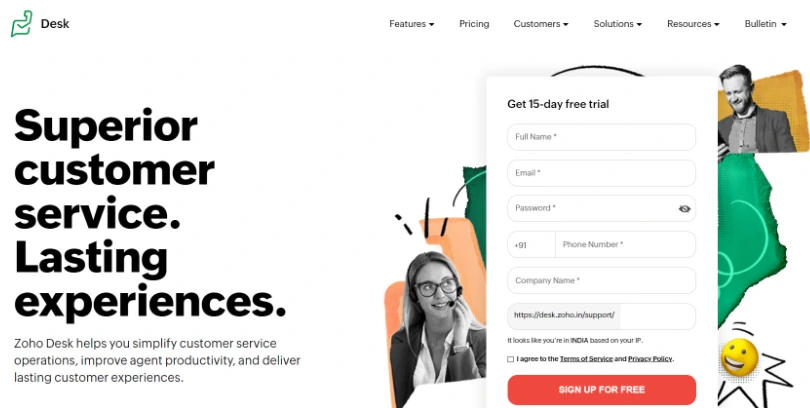 Zoho Desk is context-aware software that helps your support representatives access customer context to better understand their issues, enhance productivity, encourage service, and increase customer happiness.
As a open source helpdesk ticketing system software, Zoho Desk helps you leverage AI to speed up the issue resolution process. For example, your agents can use an AI-powered assistant to reduce tickets proactively, understand customer sentiments, and speed up response times.
Top Features of Zoho Desk:
Create different help centers for your different brands
Leverage ready-to-use templates for email responses and ticket notifications
Generate visually-appealing reports to monitor team performance
Share automated notifications with agents and customers
Assign tickets automatically to the most appropriate agents
Pricing: Starts at $12/user/month
Read More – Top 10 Zoho Desk Alternatives for 2023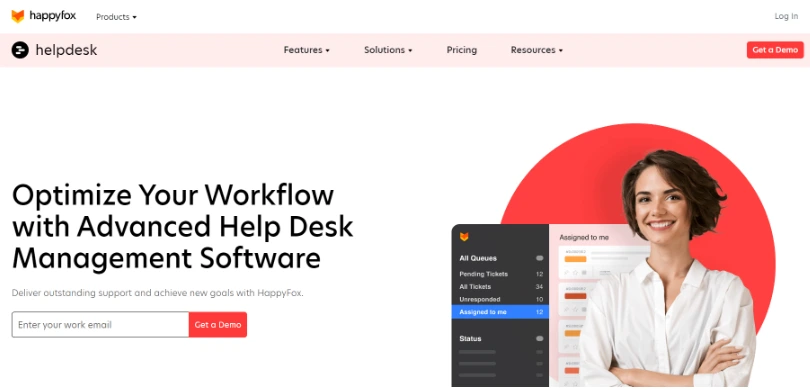 HappyFox brings multiple process automation and team collaboration features to the table to help you connect with prospects and existing customers. With smart rules, you can trigger actions immediately when certain conditions are met.
HappyFox helps you put customers in the driving seat with an online knowledge base. The tool helps lower your agents' workload by allowing them to share knowledge base articles and FAQs with customers.
Top Features of HappyFox:
Allow your customers to choose between self-serve or live support
Track powerful customer service metrics to improve service delivery
Search for specific canned responses while drafting email responses
Send customers automated surveys to capture valuable feedback
Assist and interact with customers on Instagram and WhatsApp
Pricing: Starts at $26/user/month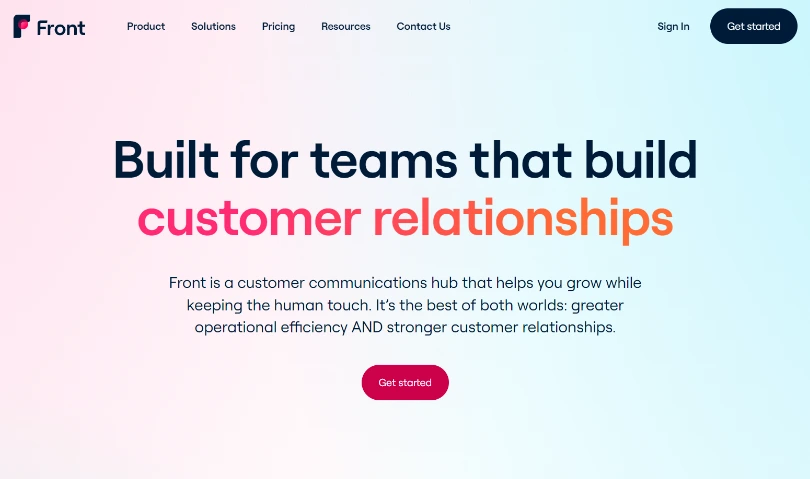 Front is an easy-to-use customer service software that comes with a simple, email-like interface. Instead of forwarding emails to each other, your customer support reps can work in sync using powerful team collaboration features.
Front allows you to customize your live chat widget for web and mobile and interact with customers in real time. However, one serious drawback of this tool is that it is expensive compared to other ticketing systems in the market.
Top Features of Front:
Automatically assign customer service emails to keep your inbox organized
Manage email, SMS, chat, and social media conversations in one place
Leverage ready-to-use email templates to send consistent replies
Create specific reports for Tags, CSAT, and SLAs
Manage all customer contacts with CRM integration
Pricing: Starts at $59/user/month
Read More: Best Front Alternatives for 2023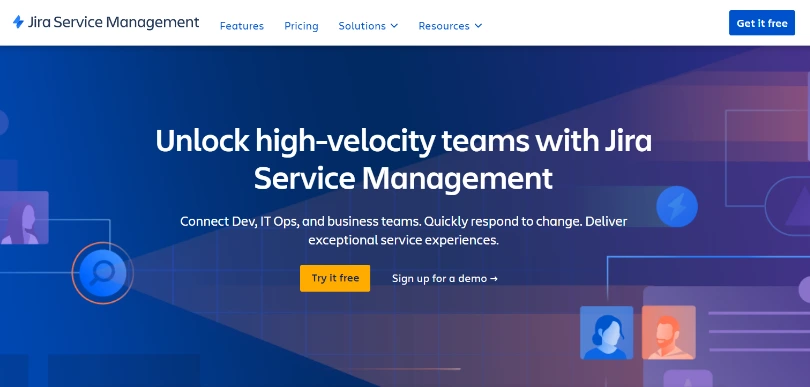 Jira Service Management is a powerful service desk ticketing system for IT support that can be used by multiple departments to manage internal complaints and requests. Whether it is IT, Dev, or HR, different departments can set up their virtual help desks and enhance the service experience.
Employees and customers can use find answers to their common queries using a reliable self-service portal. Moreover, support reps can share relevant help center articles to help end-users
Top Features of Jira Service Desk:
Track the complete lifecycle of company-wide IT assets
Leverage 300+ pre-designed form templates to collect relevant information
Organize incidents and requests based on their priorities
Resolve tickets on the move with Jira's mobile app for Android and iOS
Integrate with multiple tools to enhance internal collaboration
Pricing: Starts at $21/user/month

BMC Helix is a powerful tool that helps you improve the quality of customer service interactions. The tool helps you gather actionable data from multiple touchpoints to offer proactive and personalized service.
Another great aspect of BMC Helix is that it provides the right platform for multiple teams to collaborate with each other. For example, you can bring together marketing and sales teams to collaborate with your customer support team.
Top Features of BMC Remedy:
Get a 360-degree view of each customer
Interact with customers via chat, email, phone, and social media
Share relevant knowledge base articles with customers and agents
Guide support agents with pre-built ticket flows
Allow agents to be proactive during customer interactions
Pricing: Get in touch with the company for a quote.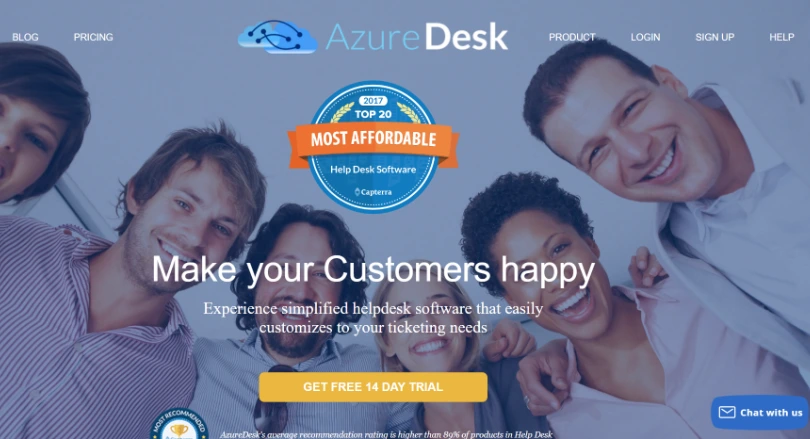 AzureDesk is another support ticket software that deserves to be on your list this year. All your customer service emails are automatically converted into tickets and can be accessed by your team in one place.
Agents can easily mention other team members in private notes and notify them to share their inputs. However, one major drawback is that the tool offers just a single plan that can be quite expensive for small businesses.
Top Features of AzureDesk:
Add more information about tickets using ticket fields
Customize your self-service portal to deliver a consistent experience
Integrate AzureDesk with multiple tools, including Slack, JIRA, and more
Create reports on customer interactions and agent performance
Support your global audience in over 53 languages
Pricing: Starts at $33/user/month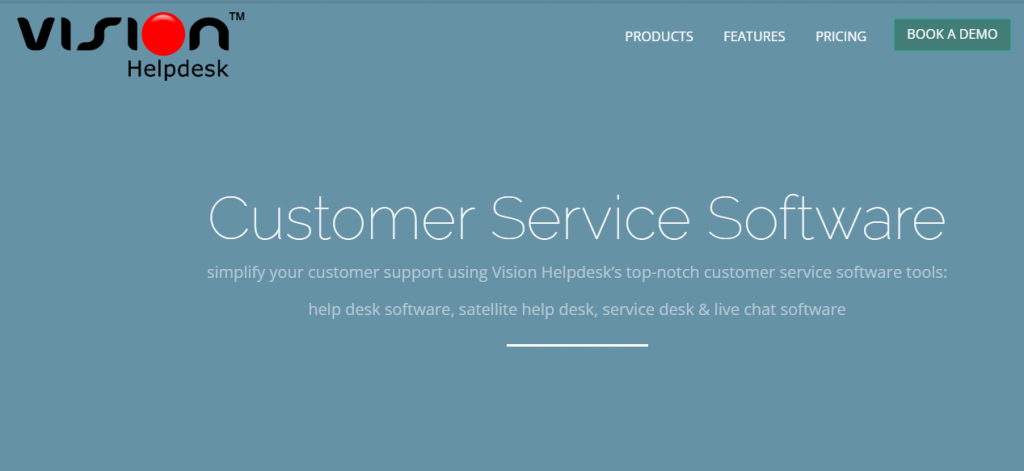 Vision Helpdesk can help your team convert your customer service calls, emails, chats, and social media inquiries into tickets and store them in a centralized platform. Moreover, you can use this tool to gamify your help desk dashboard by creating agent achievement levels and quests.
Vision Helpdesk's ticketing system allows managers to keep a firm track of the time spent by support agents and bill customers accordingly. You can collect payment from your customers via Stripe and PayPal payment gateways.
Top Features of Vision Helpdesk:
Create multi-level escalation rules for efficient ticket management
Calculate time spent by agents resolving each support ticket
Add SEO-optimized knowledge base articles to reduce ticket volume
Manage tickets on the move with simple Android and iOS apps
Give customers a portal to track their existing tickets
Pricing: Starts at $12/user/month
Read More: Best Vision Helpdesk Alternatives for 2023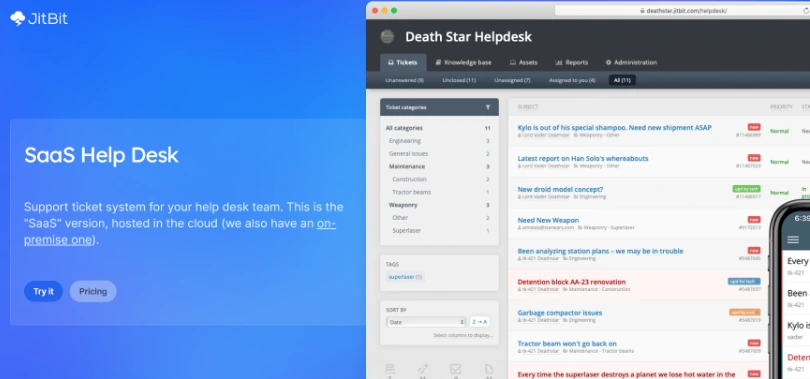 JitBit is a versatile tool that is available in on-premise and SaaS versions. The cloud version is hosted at AWS data centers and offers benefits such as 24×7 monitoring and regular backups.
You can use this customer service ticketing software to give agents a grid view of tickets. This allows them to instant scan through all ongoing requests and access any docs or files attached to help desk tickets.
Top Features of JitBit:
View all emails and chat history in chronological order
Re-use your popular answers with canned responses
Add multiple tags to a ticket to make searching effortless
Create reports to understand customer service demand and future performance
Use free apps for Android and iOS to receive instant notifications
Pricing: Starts at $29/user/month
Help Desk Ticketing System FAQs
What are help desk ticketing software examples?
Help desk ticketing systems are available in two versions – on-premise and SaaS. Some best examples of SaaS ticketing systems include ProProfs Help Desk, Freshdesk, Zoho Desk, etc. Some great examples of on-premise solutions include JitBit, DeskPro, etc.
What are the key features of help desk ticketing system?
Some of the most in-demand help desk features include:
Canned responses
Shared inbox
Ticket prioritization
Parent-child ticketing
Chatbots
Automated ticket routing
What are the main benefits of using help desk ticketing system?
Some of the most important benefits of a help desk ticketing system are:
Capture customer requests from multiple channels (email, phone, live chat, web forms, etc.)
Automate repetitive tasks and enhance team productivity
Create an online knowledge base to encourage self-service
Offer proactive and real-time assistance with live chat
Generate reports to monitor customer service performance
Read More: 10 Benefits of Help Desk Software & Ticketing System
How to choose the best help desk ticketing software?
Here are some steps you can follow for choosing the best help desk ticketing system:
Understand your unique requirements
Prioritize a clean and simple user interface
Prioritize automation capabilities and data security
Go for a free trial to explore all features and functionalities
Pick the right plan and make sure there are no hidden charges
How much does the help desk ticketing system cost?
Different help desk tools have different prices. Most tools offer monthly subscription plans starting anywhere from $20/user/month and going up to as high as $150/user/month.
What are few help desk ticketing system best practices?
One must learn the software they are using.
Explore time saving features.
Embrace the concept of self service.
Know about your customer needs.
Decisions should be data driven.
Try Help Desk Ticketing Tools for Free!
When you have to deal with endless customer complaints and requests, the idea of delightful customer service can seem to go out the window. But that's no reason to be gloomy.
This help desk ticketing system software list includes all the in-demand and feature-rich tools that will help you craft the best service experience. As a best practice, make sure you jot down all the features your team needs, and then go for the tool that ticks all the boxes.
The best part is that you don't need to invest thousands of dollars to get your hands on the best help desk ticketing system. ProProfs Help Desk comes with a 15-day free trial where you can take the tool for a spin and explore all premium features for yourself.
Do you want a free Help Desk?
We have the #1 Online Help Desk Software for delightful customer support