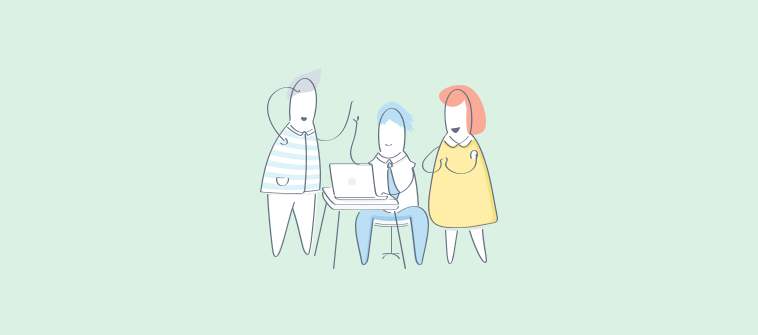 Startups and small businesses are like the endangered species of the business world. You never know when a business might run out of customers or reach bankruptcy.
With so many challenges and tasks to cater to, "delightful customer service" lies somewhere secluded, at the bottom of the priority list for most small companies. No wonder customer complaints or requests are neglected, leading to poor experiences.
With the best helpdesk software for small businesses, there is some ray of hope. As a small team, you can track complaints from multiple channels, collaborate with other departments, encourage self-service, and delight customers.
With increasing business failure rates, there is no option but to retain customers with awesome service. If you are looking for such a tool, you have come to the right place.
In this blog, we will explore the top features and benefits of small business ticketing system software. Later, we will look at 18 tools that will perfectly meet your support needs and expectations.
Let's go!
What is a Small Business Help Desk Ticketing Software?
Help desk software for small businesses is designed to meet the customer service needs of small to mid-sized companies. With this tool, support agents can track all customer complaints, queries, and requests in one place and monitor their progress until resolution.
You can bring customer interactions from multiple channels, such as email, live chat, web forms, help center, etc., into a single platform and share faster responses. Powerful automation features such as automated ticket assignment, surveys, canned responses, etc., can help you speed up the issue resolution process. Moreover, such tools come with flexible pay-per-agent plans to help your small business reduce service costs.
Benefits of Help Desk Software for Small Business
Right from omnichannel capabilities to powerful reports, help desk ticketing systems bring multiple benefits to the table. Let's discuss some of them right away.
1. Maintain Data Security & Compliance
Since your help desk stores important customer communications and other sensitive information, data security is of paramount importance.
You must control who has access to this data and who does not. Most help desks allow you to take control with "Agent Roles and Permissions." You can assign different roles, such as Admin, Manager, or Staff, to your team members and control their level of access to the help desk system. You can even choose to make your knowledge base Public for customers or Private for staff members.
2. Automate Your Customer Service Process
For small customer service teams, even the slightest rise in ticket volume can lead to havoc. So what can be the way out?
You must leverage the automation features of a help desk ticketing system to rise above manual and time-consuming tasks. For instance, with the intelligent ticket routing feature, you can automatically distribute tickets among available reps and balance your workload efficiently. Similarly, you can even share automated alerts and notifications to keep customers informed about the ticket progress.
Read More: 10 Service Desk Automation Ideas that Boost Performance and Quality
3. Bring Multiple Communication Channels Under One Roof
Customers want to avoid engaging with businesses that offer a single channel to contact them. When it comes to raising complaints or seeking assistance, customers have different preferences.
According to a recent Statista study, 37% of respondents chose phone, 19% chose live chat, and 15% picked email as their preferred customer service channel.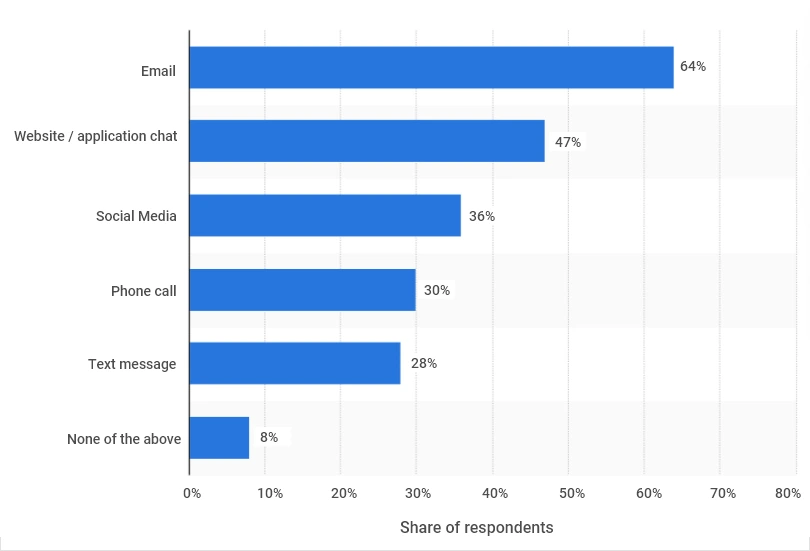 The best help desk software for small businesses can make this a reality. You can bring all communications taking place on different channels onto a single platform and avoid wasting time switching between different tools.
4. Collaborate With Team Members
Real-time internal collaboration is another benefit that will allow your support team to operate like a well-oiled machine.
You can communicate with team members, share ideas, discuss issues, and join hands to delight customers. For instance, agents can communicate by adding private notes to tickets that are only visible to internal team members. Moreover, you can even see who is working on which ticket to avoid duplication of work.
5. Monitor Customer Service Performance
Anyone who has tried tracking the success of a help desk team knows the value of metrics and reports. You need the right numbers at your fingertips to know if your team is moving in the right direction.
The right ticketing tool will help you track metrics to determine aspects like the number of open tickets, average first response time, ticket resolution time, agent ratings, the total number of knowledge base articles read, and more.
Read More: 15 Help Desk Metrics to Improve Customer Support
What are the important Features of Helpdesk Software for Small Business?
During your search for any tool, you must be well aware of the most useful and in-demand features. Here are some must-have features of a help desk system:
Shared Inbox: This is a must-have help desk feature that can help you provide awesome email support. You can bring all your customer-facing inboxes, such as support@, info@, returns@, etc., into one place. Only agents who have permission can access these inboxes, reply to customers, and see who is working on what to avoid work duplication.
Read More: 10 Shared Inbox Best Practices For Email Success
Intuitive Interface: Before finalizing any help desk tool, it is important to ensure it will be easy for your team to use. A simple and intuitive interface will demand minimum adjustment and help your agents get started quickly. Moreover, you can access key details and help desk functionalities quite easily from one place.
Private Notes: Private notes are internal comments that can be used by agents to communicate about issues, resolve problems together, and keep each other in the loop. For example, an agent can drop an internal note such as "Please initiate the refund," and assign the ticket to a senior rep or manager.
Canned Responses: Canned responses or saved replies enable your team members to respond quickly to common customer queries. You can create pre-written responses for different scenarios, such as order confirmation, refund requests, new ticket creation, ticket escalations, and much more. It is always a great idea to add a dose of personalization to these templates before sharing them with the customer.
Integrations: When you choose help desk software for small businesses, look for one that supports powerful integrations with popular business tools. For example, by integrating a help desk with a CRM tool, you can allow agents to access complete customer data such as their preferred mode of contact, recent purchases, contact information, and more.
18 Best Help Desk Ticketing Software for Small Business in 2023
Sometimes it's good to have options in life. Keeping that in mind, we present 18 customer service software for small businesses that will live up to your expectations.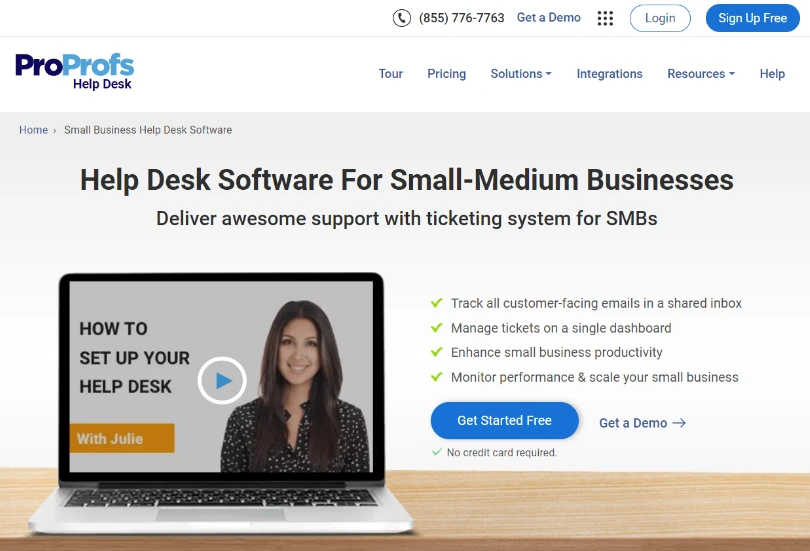 For small business owners, budget and functionality are the two biggest concerns. ProProfs Help Desk is placed on top of our list as it perfectly blends affordability with powerful help desk features.
With this free help desk software for small businesses, agents can monitor customer communications on channels such as email, live chat, web forms, help center, and more. You can prioritize urgent issues and automate your customer service with chatbots.
Top Features of ProProfs Desk:
Share proactive live chat greetings with website visitors
Control help desk access with agent roles and permissions
Avoid sharing duplicate replies with agent collision alerts
Monitor the customer experience with CSAT and NPS surveys
Track ticket response time, resolution time, agent ratings, and more
Pros:
Use the mobile app to support customers on the go
ProProfs Help Desk comes with an easy learning curve
Cons:
More reporting metrics should be added
Limited integration options are available
Case Study:
Military Cruise Deals is a US-based company that sells cruise packages to military personnel and their families. MCD operates with all cruise lines, such as European, domestic, and luxury, with sailings going all over the world.
Most of their customers need assistance finding a cruise to go on. With a versatile tool like ProProfs Help Desk on board, the MCD team can easily communicate with international clients who cannot call them.
ProProfs Help Desk Pricing: Starts at $10/user/month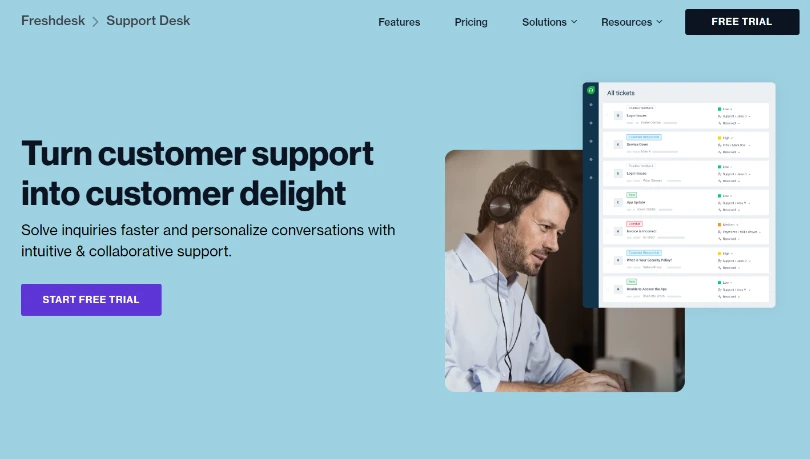 Freshdesk is an omnichannel tool designed to meet the needs of small to mid-sized businesses. You can communicate with customers on a variety of channels, such as email, live chat, social media, and more.
You can secure your help desk by assigning different roles and permissions to your agents. If you have field agents, Freshdesk has a lot to offer. You can automatically track agents' time spent working in the field using a dedicated mobile app and log billable hours.
Top Features of Freshdesk:
Share quick responses with customers using canned responses
Resolve complex, multi-stage tickets with parent-child ticketing
Set deadlines for ticket response and resolution with SLA management
Allow customers to raise tickets from your website
Notify agents automatically about ticket updates
Pros:
Manage Twitter and Facebook conversations from within the help desk
Customize reports to match your unique requirements
Cons:
Reporting customization can be time-consuming
The tool lags when a ticket includes multiple communications
Case Study:
Felix mobile is an Australian Telecom company that serves millions of customers. The company's vision is to provide excellent digital services to customers and adopt an environmental-friendly approach while doing the same.
Felix used Freshdesk to integrate the live chat feature on its mobile app. Customers can use the chat window to interact with service agents in real time and get their issues resolved.
Freshdesk Pricing: Starts at $15/user/month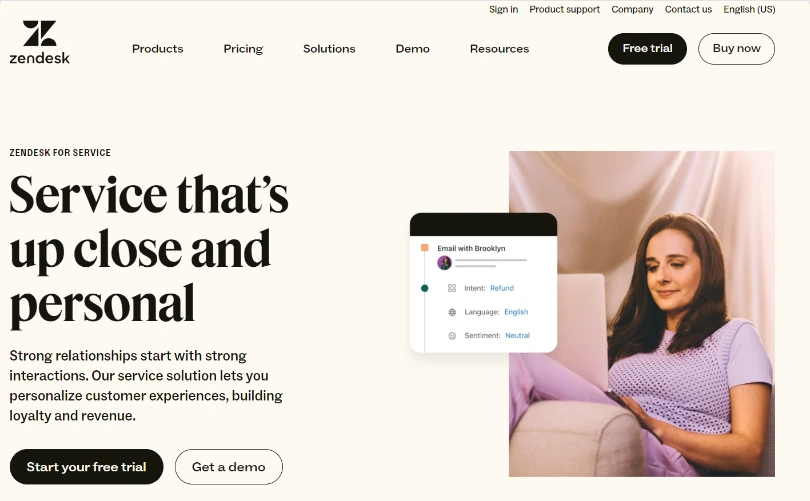 Zendesk is another impactful tool that is offered as a complete customer service solution. With powerful omnichannel capabilities, your support agents can interact with customers over messaging, live chat, phone, email, and social media.
Due to its high pricing, Zendesk may not be the best option for small businesses. However, if budget is not a constraint for your team, you can choose this tool for its powerful automation capabilities.
Top Features of Zendesk:
Automatically assign incoming tickets to relevant team members
Allow agents to contribute to help articles for better knowledge management
Create a help center and reduce your ticket volume
Generate insightful reports for different communication channels
Integrate with over 100+ business tools
Pros:
Personalize the customer service experience
Build an integrated community forum
Cons:
Zendesk's pricing is quite expensive
The tool comes with a steep learning curve
Case Study:
Udacity is a popular American for-profit educational institution founded by David Stevens, Sebastian Thrun, and Mike Sokolsky. The company offers educational courses to over 1.6 million learners across the globe.
In 2020, Udacity witnessed a huge surge in traffic, and thousands of customer queries came rolling in. With the help of Zendesk's Enterprise Suite, the company achieved a 75% drop in first response time and an industry-leading 88% CSAT score.
Zendesk Pricing: Starts at $49/user/month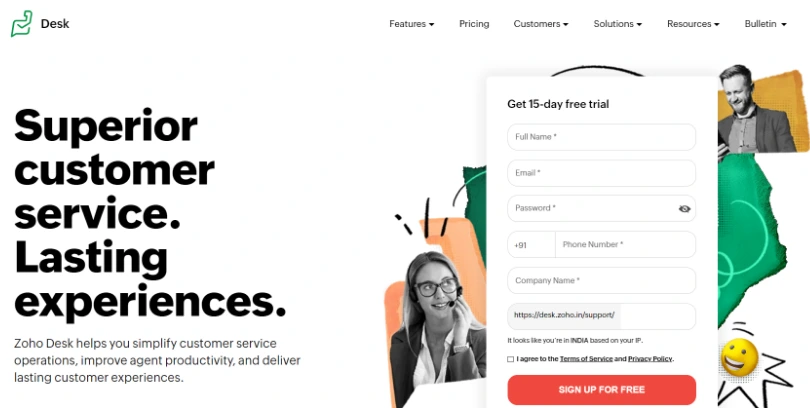 Zoho Desk is another key ticketing system that helps you automate manual tasks and track accountability at all times. If you own different brands, you can create distinctive self-service portals for multiple customer groups.
Zoho Desk comes with a powerful AI assistant called Zia that can make your agent's life much easier. For instance, Zia can show support reps relevant solutions from the self-service knowledge base to use in ticket responses.
Top Features of Zoho Desk:
Create a knowledge base to address commonly asked questions
Monitor service levels and automatically escalate SLA violations
Track the time spent by agents on tickets and tasks
Customize reports and visualizations to monitor your team's performance
Control who can access and modify your help desk data
Pros:
Connect with Zoho CRM and access relevant customer data in one place
Use templates for ticket forms and email notifications
Cons:
The tool is often slow to load
Customization features can leave you confused
Case Study:
Education Partnership North East or EPNE is one of the largest college groups in the UK. The institution boasts an impressive number of students that have secured places at top universities such as Oxford and Cambridge.
With the omnichannel capabilities of Zoho Desk, EPNE's IT team was able to create a single point of interaction for all students and staff members. Every issue or request that comes into the system is now effectively taken care of.
Zoho Desk Pricing: Starts at $12/user/month
Read More – Zoho Desk Alternatives

Spiceworks' cloud ticketing system for small business can be easily set up in minutes. With the power of cloud hosting, you can enjoy software procurement, storage, and even maintenance from the vendor company.
Spiceworks allows your support team to handle end-user requests via user portal, email, and mobile device. In addition to this, if you are a customer service manager looking to take a deep dive into reporting and analytics, this help desk tool has a lot to offer. For instance, you can monitor metrics such as total tickets, ticket close time, first response time, etc.
Top Features of Spiceworks:
View ticket history and personalize each conversation
Monitor new and unassigned tickets for enhanced ticket management
Manage and track all your IT projects from a single interface
Collaborate with team members for faster issue resolution
Create a customizable user portal and encourage self-service
Pros:
You can get started with Spiceworks quite easily
Create custom fields to add additional data about tickets
Cons:
IntegrationIntegrating Spiceworks with other tools can be quite challenging
Since Spiceworks is free, users are made to view irrelevant advertisements
Case Study: Not Available
Spiceworks Pricing: Spiceworks is free for all users.
Read More: Best Spiceworks Service Desk Alternatives for 2023
6. HappyFox Ticketing Software for Small Business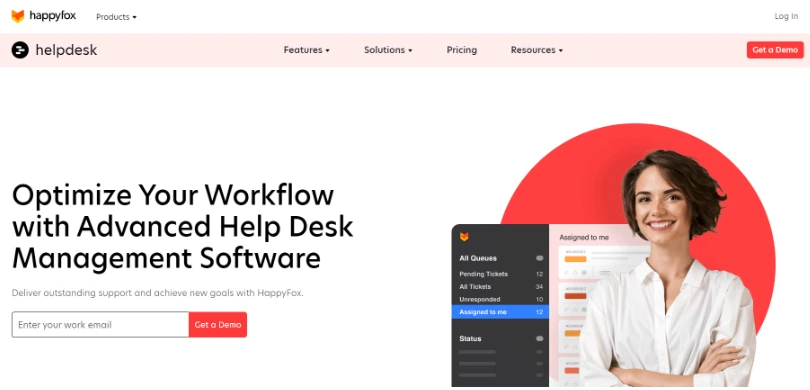 HappyFox combines the power of a robust ticketing system, knowledge base, and community forums to bring order to your support process. You can easily convert email, phone, chat, and web requests into tickets and keep them organized in a centralized place.
If your small business is looking for a highly customizable tool, HappyFox will not disappoint. You can start by creating your own custom fields to add additional information about tickets, customize your workflows, and personalize the support experience.
Top Features of HappyFox:
Simplify ticket creation for repetitive issues with ticket templates
Break down complex tickets into manageable tasks
Create a public knowledge base and enable customers to help themselves
Leverage chatbots to automate your support process
Integrate with popular apps such as Slack, Salesforce, Shopify, and more
Pros:
Create a vast internal knowledge base for agents
Publish your knowledge base in multiple languages
Cons:
The interface can be overwhelming for some users
HappyFox lacks performance metrics
Case Study:
Accelerate Education offers online courses to increase education opportunities for students and teachers. In addition to curriculum support, it also offers instruction, hosting, and training for educational schools.
With a customizable and user-friendly tool like HappyFox, Accelerate Education's team could easily access essential information. The customers are impressed with the improved turnaround times, and there has also been a significant improvement in customer satisfaction ratings.
HappyFox Pricing: Starts at $26/user/month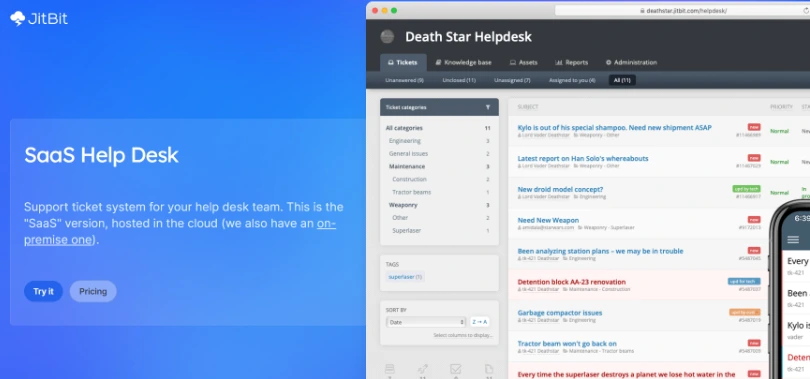 Jira Service Management is a popular ITSM tool that helps your team offer great customer and employee service experiences. You can empower multiple internal departments such as HR, IT, or Legal to set up a service desk and start resolving issues quickly.
Jira Service Management offers multiple features related to incident management, request management, asset management, and even change management.
Top Features of Jira Service Management:
Track the ownership and lifecycle of IT assets
Deflect more service requests and incidents with self-service
Connect with your favorite tools such as Amazon Web Services, Salesforce, etc.
Create smart forms for your self-service portal
Use customer satisfaction reports to monitor the CX
Pros:
Field service agents can use an intuitive mobile app
Allow agents to communicate using Slack or Microsoft Teams
Cons:
It is difficult to retrieve deleted tickets
The maximum size for file attachments is quite low
Case Study:
Infobip is a billion-dollar company that offers cloud communication services to customers across six continents. The company achieved impressive reach by adapting to customer preferences, changing technologies, and compliance requirements.
With the Jira Service Management platform, Infobip was able to bring different processes and departments together. The technology company even achieved 24x faster incident response time.
Jira Service Management Pricing: Starts at $20/user/month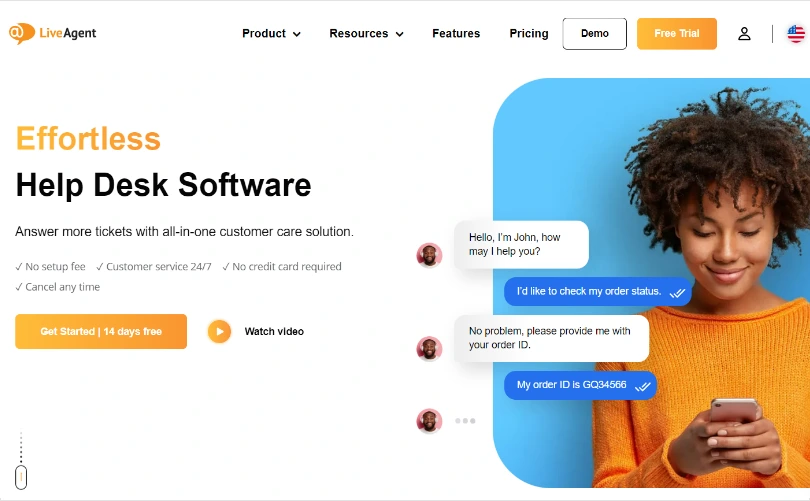 LiveAgent help desk software allows you to reach your audience on the channels they love the most, such as email, live chat, voice calls, and social media. Your team can even manage all popular social media platforms — Twitter, Viber, Whatsapp, and Instagram from one place.
LiveAgent allows your support agents to resolve customer issues faster using powerful productivity features and build loyalty through personalized customer communications. Automated ticket assignment, workflow automation, and canned responses are some of the key features of this intuitive ticketing system.
Top Features of LiveAgent:
Automatically assign and route tickets to relevant team members
Use Ticket Tags to distinguish between different tickets
Avoid spam messages and emails with automated spam filtering
Create canned responses for faster issue resolution
Attach private notes to help desk tickets to give context to other agents
Pros:
Create and upload web forms to capture important ticket details
See what customers are typing before they share their chat message
Cons:
LiveAgent needs to offer more help desk metrics
Social media integrations need improvement
Case Study:
FrëschKëscht, which was started in 2019 as a school project, has now become a full-fledged company. The company supplies customers with exclusively local and seasonal food products that are sent in a box.
FrëschKëscht used email to support customers and was receiving over a hundred emails every day. With LiveAgent on board, their internal organization was improved significantly. Now, the customer service team can simply assign emails, drop internal comments, and get a clear overview of who is working on what.
LiveAgent Pricing: Starts at $15/user/month
Read More: Best Live Agent Alternatives for 2023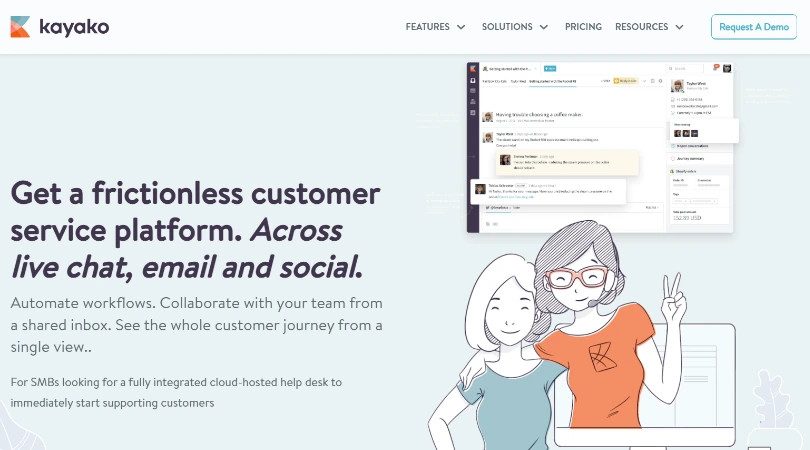 Kayako is a help desk platform for small businesses to automate their customer service workflows. The integrated tool brings your support conversations from multiple channels to a single place, making them easier to address.
With Kayako, you can provide real-time support to customers via live chat. The tool also enables self-service, empowering your customers to solve queries at their convenience.
Top Features of Kayako:
Offer support with proactive messaging
Build multiple help centers with unique content and design
Create a repository of self-help articles, videos, and FAQs
Set SLAs to never miss ticket deadlines
Integrate with other tools such as Zapier, Salesforce, and Slack
Pros:
Kayako suggests help articles to agents automatically
Monitor your CSAT and other relevant metrics
Cons:
Using templates can be quite tedious
For non-technical users, the learning curve can be a bit steep
Case Study:
CoinStop is one of the leading cryptocurrency wallet providers based in Australia. After witnessing rapid growth during the COVID-19 pandemic, the company was not able to respond to all potential customers.
Kayako's help desk software made it easy for CoinStop to provide omnichannel support. Support agents can easily track and respond to multiple conversations and customers can get fast answers to their questions. With Kayako, the company has significantly reduced its average response times.
Kayako Pricing: Get in touch with the company for a quote.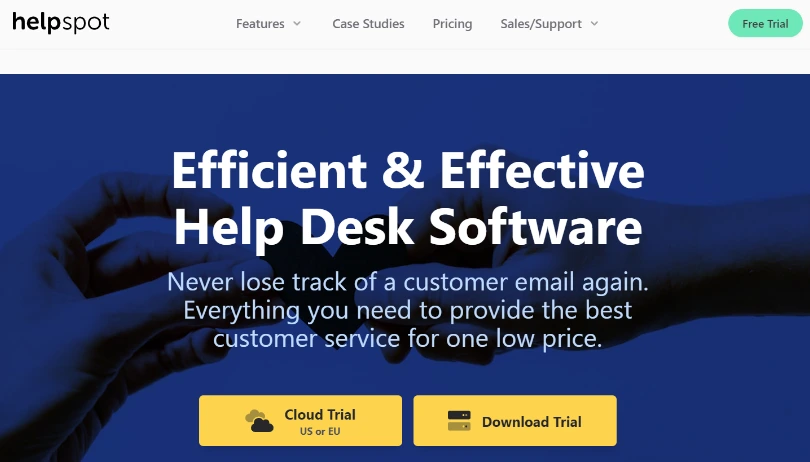 HelpSpot is another top help desk software for small businesses that offers multiple features to enhance team productivity. With a powerful shared inbox feature, you can read, reply, and respond to multiple email inboxes from one place.
HelpSpot comes with powerful automation features that help you save time and reduce efforts. For instance, you can use the power of automation to assign incoming issues to agents, categorize your tickets, and share notifications with key stakeholders.
Top Features of HelpSpot:
Set up multiple knowledge bases for different brands
Create powerful and customizable customer contact forms
Track what customers are searching for in your knowledge base
Allow customers to check the progress of their tickets
Create saved replies for common issues and share them across your team
Pros:
Schedule reports and receive them directly in your email inbox
You can create reports on custom fields
Cons:
The on-premise version of this tool needs improvements
Only one plan optionHelpSpot offers only a single plan
Case Study:
The Union School District operates two middle schools and six elementary schools in California, USA. During the COVID-19 pandemic, USD was dealing with a sudden increase in help desk tickets and wanted an affordable help desk system.
With HelpSpot, the education institution created workflow rules and used auto-responses to speed up issue resolution. Moreover, with self-service help on common issues, USD was able to successfully reduce its ticket volume.
HelpSpot Pricing: Get in touch with the company for a quote.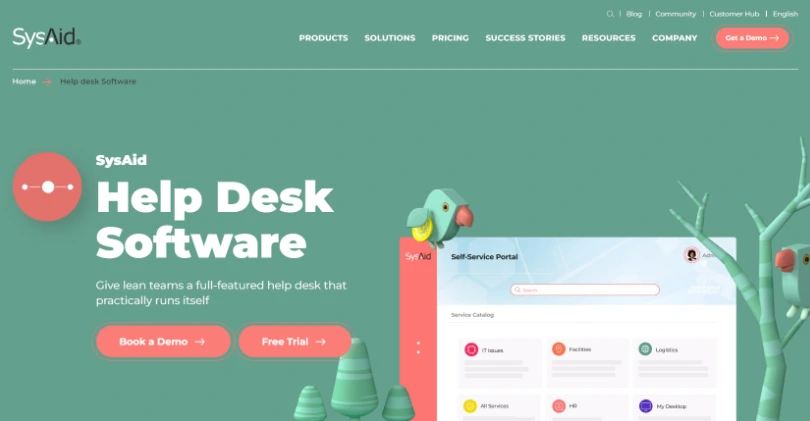 SysAid is a powerful small business help desk software that helps you empower IT end-users to resolve IT issues on their own. With an internal knowledge base, users can submit incidents or requests, access FAQ pages, track the progress of existing tickets, view IT announcements, and much more.
SysAid allows you to customize and upload web forms so that agents can get all the details they need about an issue. You can even interact with IT end-users in real-time via live chat and address their issues in a matter of minutes.
Top Features of SysAid:
Create escalation rules to maintain service level agreements
Customize workflows with a simple, drag-and-drop feature
Allow IT end-users to reset their account passwords
Monitor your IT assets such as desktops, networks, etc.
Build an online knowledge base for IT agents and end-users
Pros:
The tool is great for asset discovery and tracking
You can easily customize your end-user portal to match it to your brand
Cons:
Reports can be difficult to customize or edit
Pricing details on the website are not transparent. The tool does not provide transparent pricing details on its website
Case Study: Not available
SysAid Pricing: Get in touch with the company for a quote.
Read More: Best Sysaid Alternatives for 2023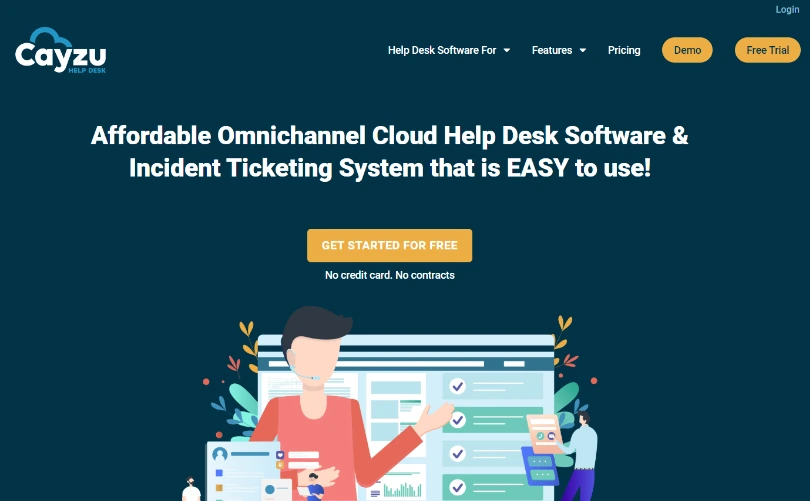 Cayzu is a cloud-based help desk ticketing platform that helps small businesses streamline their customer support processes. The tool lets you collect and manage all customer feedback in one place, making it easier for you to respond to it effectively.
Create custom rules for ticket management and prioritization using this help desk portal. You can also leverage its in-built reporting functionality to analyze your performance.
Top Features of Cayzu:
Avoid two or more agents from answering the same ticket
Organize your help desk tickets with the help of tags
Collaborate with internal team members using private notes
Create roles and assign permissions to agents
Monitor the customer experience (CX) with the help of surveys
Pros:
Provide support on the go with Cayzu's mobile app
Allow file attachments up to 50 MB per ticket
Cons:
The Basic plan lacks automation features and time tracking
The tool does not offer live chat functionality
Case Study: Not available
Cayzu Pricing: Starts at $4/user/month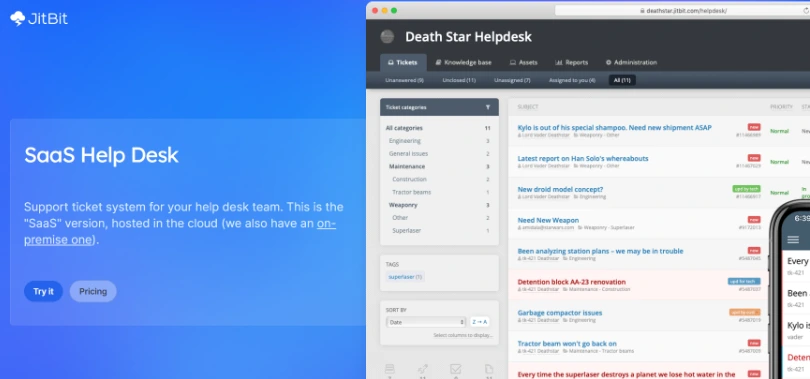 JitBit SaaS help desk is designed for painless ticket management. Your connection to the help desk application is protected by Single Sign-on (SSO), which saves your agents valuable time. Moreover, cloud storage makes the tool immune to hardware failures.
With the ticket grid view, JitBit gives you quick access to all ongoing help desk tickets and the files related to them. You can even use filters to narrow down the tickets you wish to see and hide issues that aren't relevant to your task.
Top Features of JitBit Help Desk:
Allow agents to record their screens and upload them to tickets
Track time spent on tickets and calculate billable hours
Assign a ticket to multiple agents for faster resolution
Set up your help desk tool in multiple languages
Integrate with Trello, Asana, Google Drive, and multiple other tools
Pros:
Use free mobile apps for Android and iOS
Set different roles and security permissions for your team members
Cons:
The tool does not offer integrations to social media platforms
Phone support is not offered for the basic plans
Case Study: Not available
JitBit Help Desk Pricing: Starts at $29/user/month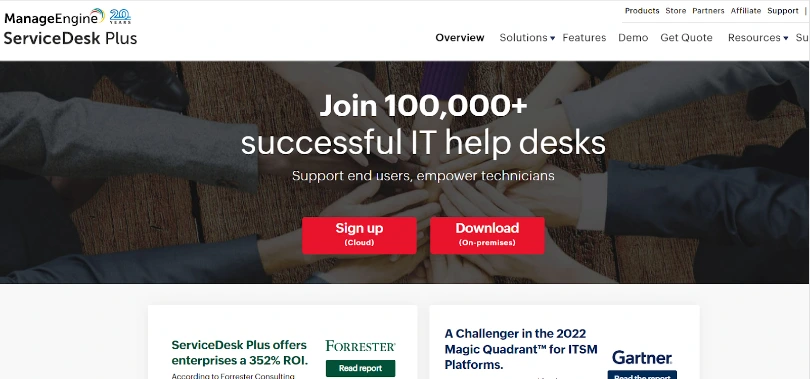 ServiceDesk Plus is a powerful help desk system that offers great visibility in managing IT issues. By tracking all incidents and requests in a centralized place, you can ensure your business suffers no downtime.
The tool allows you to track all your IT assets such as hardware, software, and other networking equipment in one place. You can access complete asset information such as hardware specification, software installed, asset ownership history, scan history, and asset states.
Top Features of ServiceDesk Plus:
Track all purchase orders and their approvals
Automatically assign tickets to agents based on the round-robin method
Create escalation rules to avoid SLA violations
Allow end-users to track ticket progress using the self-service portal
Create a separate inventory to manage non-IT assets
Pros:
You can share surveys with users at predefined intervals
Publish knowledge articles to reduce incident volume
Cons:
The standard plan lacks features such as asset discovery
Reports can be quite confusing for new users
Case Study: Not available
ServiceDesk Plus Pricing: Get in touch with the company for a quote.

As a small business owner, you can use Vision Helpdesk ticketing software for small business to convert email, phone, chat, social media, and web requests into tickets and organize them in one place. You can automatically route incoming tickets using the round-robin assignment method.
The tool allows you to customize workflows to meet your company's unique needs and expectations. For instance, you can determine what actions the tool will take if an SLA is not met. Moreover, you can even auto-close tickets if no response is received from the customer after a certain time.
Top Features of Vision Helpdesk:
Create custom email templates to share faster responses
Send automated notifications to agents when certain conditions are met
Gamify your ticketing system by creating agent achievement levels
Set an hourly billing rate and charge clients accordingly
Share billing reports with clients and other stakeholders
Pros:
Automatically suggest help center articles to customers
Allow customers to log in to the portal using their social media accounts
Cons:
Integrating this help desk with other tools can be challenging
The live chat functionality needs improvements
Case Study:
Infocus Technologies Pvt. Ltd. is a business consulting company that primarily focuses on SAP consulting, implementation, and support services. The company aims to deliver outstanding services to Small & Medium Enterprises (SMEs) and the Government Sector.
Infocus was using email to deal with customer issues and faced challenges such as multi-channel ticket creation, lack of web portal, etc. However, after choosing Vision Helpdesk, their agents could automate repetitive tasks, create a self-service portal, and address customer issues on multiple channels.
Vision Helpdesk Plans Include: Starts at $12/user/month
Read More: Best Vision Helpdesk Alternatives for 2023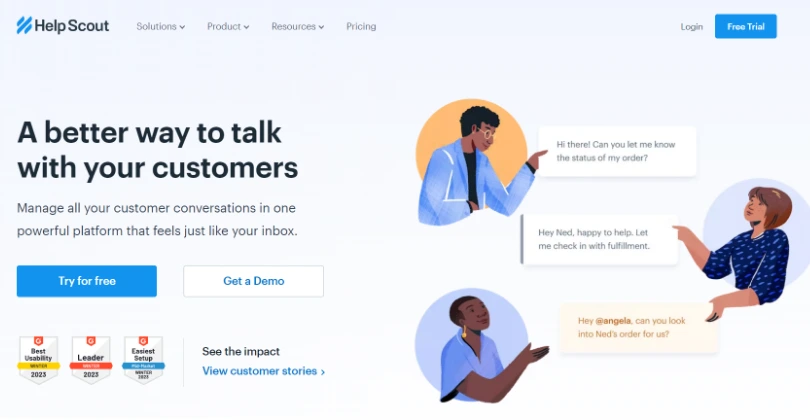 Help Scout offers a powerful shared inbox tool for small businesses to manage their customer service emails in one place. You can offer personalized support to customers reaching out to you on help@, info@, or billing@ inboxes.
The best about Help Scout is that agents can view all important customer data within the ticket. For example, they can view the customer conversation history and access the profile data to deliver a meaningful service experience.
Top Features of Help Scout:
Prevent duplicate replies with the agent collision detection feature
Take bulk actions on tickets, such as sending bulk replies
Track outreach volume, response times, customer satisfaction, and other metrics
Easily add videos, tables, and images to help articles
Sort incoming emails based on their respective priorities
Pros:
Help Scout gives you the option to share relevant help articles using the help widget.
The tool comes with a simple UI, helping you get started quickly.
Cons:
The Standard plan is limited to only 2 mailboxes.
The tool does not offer chatbot capabilities.
Case Study:
Spikeball was launched by Chris Ruder in 2008 as a completely new sport. The company sells spikeball kits and equipment to passionate sports people and organizes over 150+ tournaments in multiple countries across the globe.
Help Scout offered the Spikeball team a support solution that is easy to use and comes with all the must-have help desk features. The tool has helped them organize all requests in one place, respond to emails faster, and encourage cross-departmental collaboration.
Help Scout Pricing: Starts at $20/user/month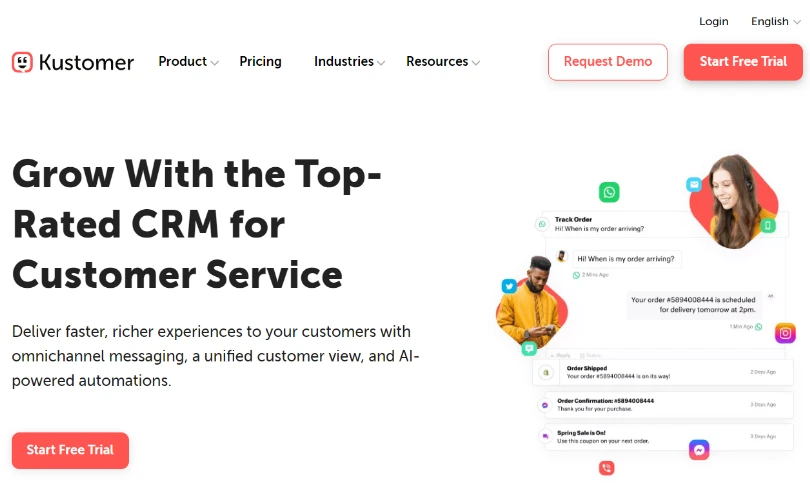 Kustomer is another impressive tool that gives your support team a comprehensive view of every customer. Support agents can easily view customer service interactions taking place on chat, email, and social media channels.
However, one major drawback is that the tool does not come with a mobile application. This means that your team will not be able to view or respond to customer queries from their smartphones.
Top Features of Kustomer:
Deploy powerful chatbots to automate routine interactions
Create multi-brand help centers for different audiences
Offer proactive support with push notifications
Access real-time dashboards to monitor performance
Integrate with BigCommerce, Magento, Aircall, and other tools
Pros:
CRM capabilities make this tool unique in this segment.
You can easily integrate Kustomer with 60+ popular business tools.
Cons:
Expensive pricing can make most users think twice before choosing this tool.
Kustomer does not provide a mobile app for its users.
Case Study:
Hopper is a popular travel marketplace that uses big data and predictive analytics to provide near-accurate travel prices and recommendations. Over the years, the app has assisted over 70 million people to get the best deals on flights, hotels, and car rentals.
During the COVID-19 pandemic, their team witnessed a huge spike in customer queries and requests about travel plans. This made Hopper quickly switch to Kustomer to automate its support process. Within a short time, the company witnessed a 10% rise in CSAT and a 50% decrease in first response times.
Kustomer Pricing: Starts at $29/user/month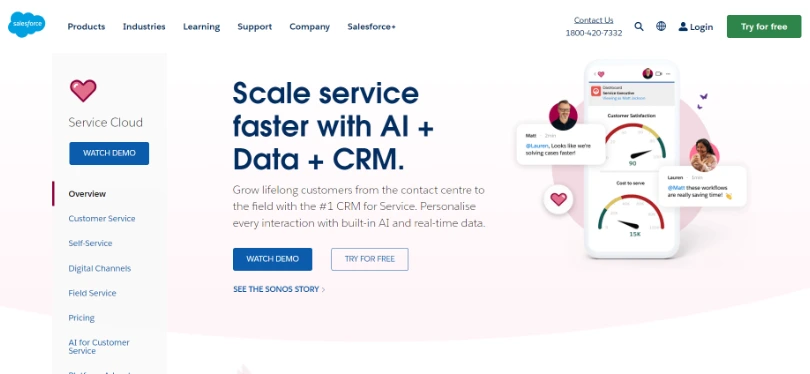 As a popular small business ticketing system, Salesforce Service Cloud helps you deliver an omnichannel support experience to customers. Agents can be automatically assigned work and notified about ticket updates so they know where attention is needed.
Another remarkable part about Salesforce Service Cloud is that you can connect it to your favorite Google apps. For instance, you can sync Google Calendar, Gmail, Sheets, and Docs to streamline the way your customer service team works.
Top Features of Salesforce Service Cloud:
Collaborate anywhere using the Salesforce mobile app
Share automated email responses with your customers
Allow customers to find answers to their questions using the help center
Create email templates for consistent replies
Monitor popular customer issues and churn risks with predictive insights
Pros:
You can continue using the Salesforce mobile app even without internet connectivity. All changes will be updated once you are back online.
Integration with Salesforce CRM makes this all the more special.
Cons:
Merging new tickets can get complicated sometimes.
Salesforce Service Cloud's navigation shows room for improvement.
Case Study: Not available
Pricing: Starts at $25/user/month
Comparison of Best Help Desk Ticketing Software for Small Businesses
Small Business Help Desk Software_Table
Go 'BIG' With Help Desk Software for Small Businesses & Enhance your Producivity
If your small business wishes to cater to a bigger audience and grow revenue, customer service will always be a crucial factor. With fewer resources and smaller teams, your business must be more creative and tech-oriented in its customer service approach.
With the best ticketing system for small businesses, you can automate your support process, reduce ticket volume with a knowledge base, monitor agent performance, and capture customer feedback in real-time.
All the 18 tools discussed in this blog have been carefully picked and will surely help you achieve your support goals. We recommend you go for a free trial before buying any plan.
Do you want a free Help Desk?
We have the #1 Online Help Desk Software for delightful customer support