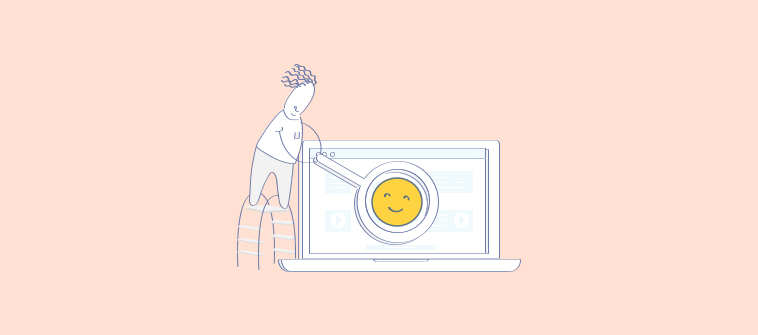 Traditionally, the customer service industry revolved around the idea of waiting for a customer to encounter a problem and then offering the required solution. It's the same as closing the barn door after the horse has bolted.
Now, here is the modern approach to customer service called proactive customer service that says- why wait for a customer to get unhappy in the first place?
Proactive customer service does not rely on a reactionary response to a customer problem. Instead, it lets you solve problems even before your customers know they have them.
If you are an entrepreneur looking to build a proactive service culture or a manager looking to brush up on key proactive service techniques, this blog is for you.
Excellent customer service starts with a proactive mindset. Are you ready to embrace change?
Proactive vs. Reactive Customer Service
Here we cover the difference between proactive and reactive customer service
What is reactive customer service?
Businesses that adopt reactive customer service, respond to customer issues only after they have occurred. In other words, a reactive approach requires the customer to reach out to the business first. For example, when a customer communicates his problem via phone support and is told by the agent that his problem has been registered and would be resolved in 2 business days, this is reactive customer service.
What is proactive customer service?
Now, businesses that offer proactive customer service, attempt to anticipate possible challenges even before they occur. Through this approach companies build proactive strategies to avoid customer issues. For example, a software company sharing the beta version of its newly designed mobile app with users to understand what can possibly go wrong and how it can further improve the design.
Jumping back to the main question- which one should you choose?
Clearly, proactive customer service has the upper hand as it helps your business plan ahead to avoid service blunders and offer a delightful experience. Proactive customer service is like going to the war, just better prepared and well-equipped.
Let's see how a billion-dollar business like Netflix has been able to make the cut in proactive customer service.
Video streaming issues like outages or server downtimes can hamper viewing experience. When any issue happens that prevents Netflix users from streaming, the company has been proactive in releasing a statement to customers before they start complaining.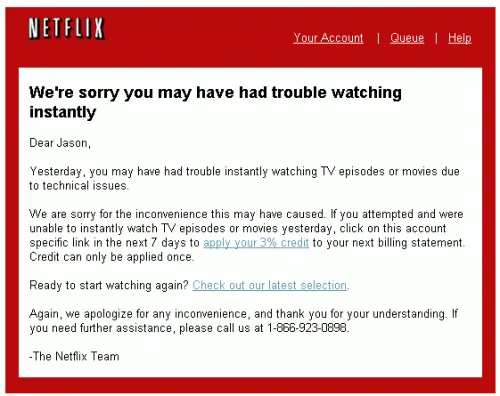 In addition to apologizing for the issue, sometimes Netflix gives users a credit on their accounts to make up for the lost time.
3 Benefits of Proactive Customer Service
1. Avoid Turning Minor Problems Into Major Pain Points
When you take a proactive approach to customer service, you can catch minor problems before they turn into big unavoidable pain-points for your customers.
For instance, natural calamities like heavy rainfall can lead to a delay in product deliveries. In such a scenario, you can call your customers in advance and inform them about the same. Your customers will get the time to adjust their expectations and will be saved from having a bad experience.
2. Save the Valuable Time of Your Agents & Customers
When you anticipate customer problems and communicate them on time, you end up saving the valuable time and energy of your customers as well as service reps.
For instance, sharing the link to a self-help article can save your customers from registering an issue and subsequent time-consuming follow ups. Your customers will be able to find the right help quickly and your customer service reps will have time to focus on other important tasks.
Read Also: How to Create a Knowledge Base
3. Build a Loyal Customer Base
Proactive customer service is a great way to win the trust of your customers, retain them for a long, and turn them into loyal brand advocates.
When customers see that your business is eager to solve problems before they occur, they feel respected and valued. Anticipating and meeting customer needs will allow you to build loyalty through delightful customer experiences.
5 Strategies to Make the Shift From Reactive to Proactive Customer Service
Here are the five advance strategies to make the shift from reactive to proactive customer service. Have a look:
Strategy 1: Bring Self-Help Closer to Your Customers
According to a recent survey, 88% of customers stated that they expect brands to have a self-service portal. This is one of the major reasons why more and more leaders are investing in self-service and you should too.
Now, the idea that self-help is the best help has gained popularity, however, customers are still facing challenges. They often complain that navigating through a Knowledge Base is painstaking and the right information is not easily discoverable.
So, how do you improve the self-service experience?
Here are a few steps that will help your customers find the right solutions to their problems.
Optimize your self-service portal for both web and mobile
Develop a community forum where customers can interact, share their ideas as well as experiences
Improve the discoverability of support articles by tagging the right keywords
Strategy 2: Close the Customer Feedback Loop
Many companies take customer feedback once in a blue moon and consider the job done.
Capturing customer feedback should be an ongoing process and what you do with the feedback is what matters the most.
Now, to create a customer feedback loop, you need to respond to customers meaningfully when they leave feedback. For instance, if a customer shares about late product delivery, you must respond with empathy and explain the steps your business is taking to avoid such mishaps in the future.
On occasions where customers rate your service positively, instead of sharing a generic 'thank you for your feedback' message, you must encourage your happy customers to buy more. For this, you can share a discount coupon that customers can apply to their favorite products.
To further strengthen the customer feedback process, you can leverage a tool like ProProfs Survey Maker. After every customer interaction, a survey can be shared to rate the service rep or the overall service. With its insightful reports, you can analyze customer feedback, view the latest customer service trends, and work on improvement areas.
Read More: Effective Ways to Improve Survey Response Rate
Strategy 3: Be Open to Accepting Mistakes
As a growing business, you are expected to take risks, introduce new products/services, and expand to new markets. And yes, without going wrong even once.
The truth is that no business is immune to making mistakes.
For instance, who could forget the launch event of Tesla's Cybertruck? The truck promised 'unbreakable windows' and Elon was left embarrassed when the windows of the Cybertruck shattered during a demonstration. He soon accepted the mistake and jokingly said, 'well atleast the metal ball didn't go through." Months after the launch, Tesla had 146K orders for the truck.
Modern consumers are not looking for perfection, they crave for authentic connections and want your brand to be honest.
So, even if you commit a mistake, you can take the following actions to turn a situation around.
Inform customers about an issue before they get in touch with you
Regularly update customers on the steps your business is taking to fix the issue
Don't hesitate to offer a refund or discount if the solution takes too long to fix
Strategy 4: Pay Attention To What Customers Are Saying Online
Customers are constantly talking about their favorite or least favorite brands on social media. And if you are not paying attention to what people think about your brand, you might be losing out on key opportunities.
Whenever someone mentions your business on any social media platform, you must respond to them proactively and show your brand cares and values their opinion.
Customers might tag your business online to share a great experience, a bad one, or simply to engage with your brand. For instance, Warby Parker, an eyeglasses retailer, has been effective with its #HomeTryOn hashtag campaign. Customers can try on different pairs of glasses and tweet to their customer service team for expert advice.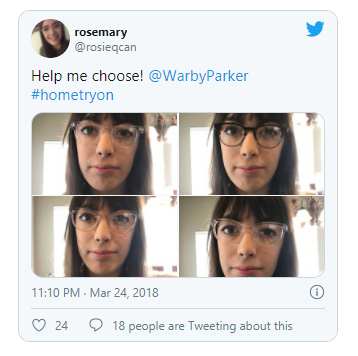 Staying active on social media can be a great way to engage existing customers, attract your target audience, and communicate proactively.
Strategy 5: Think Ahead!
One great aspect of proactive customer service is that you don't stop after resolving one pain point. You go on a never-ending hunt to spot and kill potential customer problems.
In this age, where people have higher expectations, making your customer's lives easier has become paramount. IKEA, the furniture mega-giant, has set the right example of proactive customer service by thinking ahead of its customers.
We all know how furniture shopping can be more of a guessing game. To tackle this challenge, IKEA's augmented reality app offers a glimpse of how a piece of furniture will look in an enclosed space. So, customers will know exactly how a three-seater sofa would look in their newly designed living room, before they spend any money.
A simple and yet innovative idea like this can save your customers from making bad purchase decisions and bombarding your support with issues or complaints.
Proactive Customer Service = Happy Customers
Making the first move is always hard. However, when your business takes the first step in anticipating customer issues and communicating them in advance, you get rewarded with a happy and loyal customer base.
Will proactive customer service lead your business to success? Yes, it will. Does this mean you'll be able to build a proactive customer service culture today? Absolutely not.
In addition to adopting the 5 aforementioned strategies, you can consider a customer service tool like the ProProfs Help Desk. With its insightful reports and analytics, you will be able to identify common customer pain points and develop strategies to avoid them in the future.
Do you want a free Help Desk?
We have the #1 Online Help Desk Software for delightful customer support