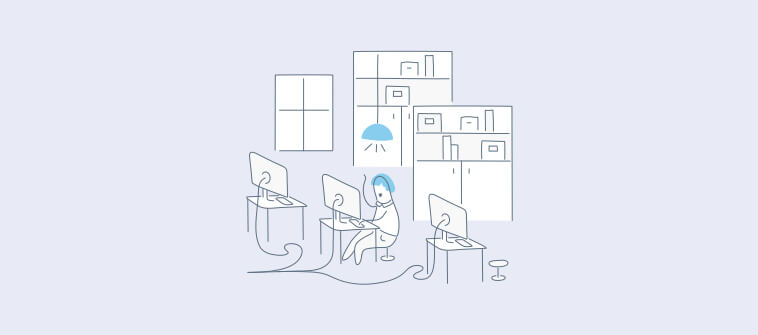 Are you struggling to improve your IT operations? Are customers unhappy with the quality of your IT services?
Well, in that case, ITIL can prove to be a business saver.
Historically, IT has always been undervalued. The IT department is simply considered responsible for managing information technology systems without having any impact on a company's goals.
However, this perception is changing.
With the increasing popularity and implementation of IT best practices, modern businesses have realized that they must be flexible while delivering IT-related services or risk getting left behind.
Read this blog to learn about ITIL, the different ITIL processes, and the top benefits that the ITIL service desk can bring to your business.
What is ITIL?
The Information Technology Infrastructure Library (ITIL) refers to an integrated set of best practices that can assist businesses in delivering IT services to customers.
ITIL is a widely adopted framework that was designed by the Central Computer and Telecommunications Agency (CCTA), a government agency in Great Britain.
It's important to remember that ITIL is the global standard in IT best practice that is used by millions of small as well as big organizations. Let's take a look.
Which popular companies are using ITIL in 2020?
ITIL is owned by a company called Axelos. So, if you visit their website and go through their case studies, you will find many global brands on their list.
ITIL has become a popular standard that is highly regarded and utilized by top global companies such as Spotify (music streaming), Walt Disney Company (media and entertainment), and Equinor (energy), to name a few.
Are businesses adopting ITIL?
Yes, businesses are excited about ITIL and for all the right reasons.
A recent survey showed that 20% of organizations are already using ITIL or adopting it, while 32.5% of organizations are planning to implement ITIL best practices in the near future.
What Are the Top ITIL Processes?
1. Incident Management Process
The process of incident management aims to manage the entire lifecycle of all internal as well as external incidents (unanticipated interruptions in the delivery of IT services). The primary goal of this ITIL process is to return technical services to end-users in the shortest possible time.
Incident management can help your business significantly reduce the impact of incidents by enabling you to quickly identify, track, and resolve issues. With an ITIL ticketing system, your IT support agents can easily register incidents using 'custom incident templates' and supply all the necessary information. They can also easily categorize and assign tickets to each other.
Recommended Read: ITIL Problem Management Process – Your Lifecycle Guide
2. Service Catalog Management Process
A service catalog can be referred to as an archive of all IT-related services that are offered to users, ranging from simple software update requests to complex cloud infrastructure upgrades.
The primary objective of service catalog management is to ensure that an in-depth service catalog is created and maintained for smooth operations. This ITIL process makes sure that the service catalog contains accurate information pertaining to service details, service status, and service accountabilities.
IT service catalog management can offer great visibility into your IT services and lead to improved communication and increased trust between users and your business.
3. Change Management Process
In change management, change refers to any addition or modification in the business process that may have an effect on IT services. It encompasses changes in processes, strategies, tools, documentation, or guidelines. The objective of the change management process is to minimize the impact of changes on the quality of IT services delivered by an organization.
With proper change management, your business can carry out changes methodically by staying prepared and mitigating risks. ITIL service desk software ensures that your employees and customers are informed about planned downtime with the help of automated notifications. To further minimize adverse impacts, you can track metrics such as the ratio of change-related incidents to the total number of incidents.
4. Asset Management Process
The process of asset management helps in managing the complete lifecycle and inventory of a company's IT assets. Be it sales software or your office printer, all IT assets can be easily located, tracked and managed from a centralized location.
For instance, you can track all your office desktops and their warranty information and plan for their repair, replacement, as well as maintenance. By putting all your software licenses in a central database, your business can keep a firm track of when your licenses expire.
How ITIL Service Desk Can Improve Your Company's Performance
Stronger Alignment Between Business & IT
The ITIL framework equips your IT department to offer seamless services to all other departments like Accounts, Facilities, HR team, etc. Therefore, ITIL is not only compatible with project management and delivery, it is also compatible with your business goals.
ITIL service desk can help your business successfully conduct processes like incident management and problem management. This means your business can eliminate risks, prevent incidents from recurring, and resolve issues; all of these factors contribute to offering reliable IT services.
Reduced Costs Through Increased Monitoring
ITIL service desk allows your team the right platform to monitor all IT-related costs. Whether it is about purchasing a new keyboard or installing new servers, ITIL helps your business with budgeting and ensures every penny spent on IT service is well accounted for. Your business can make cost-cutting decisions with the right data at hand.
Improved Service Quality & Customer Satisfaction
Business relationship management and service level management are some other important ITIL processes. These can help your IT professionals understand customer expectations, foster strong relationships, and deliver delightful experiences. By mitigating risks and with the help of increased control, you can ensure top-notch IT services are always available to customers.
Take Your IT Services to the Next Level
No matter if you are a month-old startup or a decade old enterprise, you need to follow IT best practices to offer seamless IT services to your customers or team members.
ITIL can help you focus on solving key business problems rather than just improving IT capabilities. With a dedicated ITIL service desk, you can manage the complete incident lifecycle, monitor your IT assets, control costs, and offer 24×7 uninterrupted IT services.
Are you looking for a dedicated IT help desk? We might have the right solution for you. With ProProfs Help Desk, you can track, assign, prioritize, and resolve IT issues from a single dashboard. With features like shared inbox, automated ticket assignment, and knowledge base, your IT support professionals can collaborate to offer delightful support experiences.
Want to Learn More? Here is Our FAQ Section
Q.1 Why should you implement an ITIL service desk?
IT service desk can help your organization continuously improve the way IT support services are delivered to employees as well as customers.
Is Service Desk a process function or both of ITIL service management?
Q2. Is ITIL and ITSM the same?
Both the terms ITIL and ITSM are often used interchangeably, however, they are different. ITSM is the actual practice of managing IT services, whereas, ITIL offers a set of IT best practices that act as guidance for ITSM.
Q.3 What Are the Primary ITIL Service Desk Responsibilities?
Here are some primary ITIL service desk responsibilities:
ITIL service desk acts as a single point of contact (SPOC)
ITIL service desk takes care of the incident management process
It helps in evaluating the quality of IT services and reducing costs
Do you want a free Help Desk?
We have the #1 Online Help Desk Software for delightful customer support