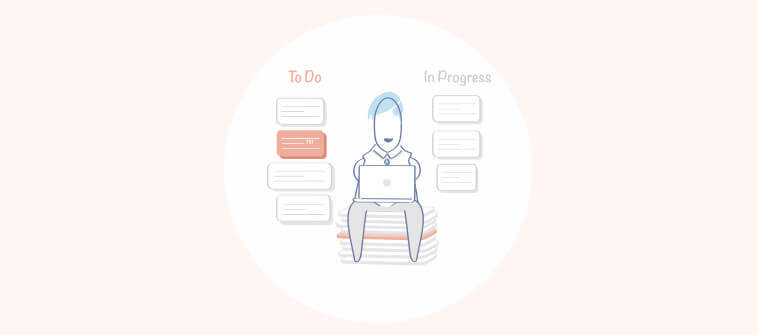 When customers buy a product or a service, there is always a chance that they would experience challenges while using them. The one obvious thing they will do when faced with such a situation is – reach out to your support staff and report the problems they are experiencing.
Managing and tracking customer issues on a daily basis can be a nightmare, especially if their volume is high. This is where issue tracking software comes in handy.
For businesses, tracking customer issues isn't just about solving them. It's also about understanding the issues arising during the product's entire life cycle, right from the moment it is developed and designed to the time it is implemented.
What Is an Issue?
In simple terms, an issue is any problem, question, query, or complaint raised by customers using your product. Any challenge that customers experience while working with your product or service is called an issue in the customer service function.
In layman's terms, an issue is any problem that a customer experiences when using a product or service. It's not necessary that issues are only reported by customers. An issue could be a problem emanating during the development of a product.
If you work in the product development department, you may be aware of the fact that there are many product issues that have to be addressed during the development process, but this isn't plausible because most of the problems do not get manifested during this time. It's only after the product is put to use that more issues arise.
Now that you know the clear definition of an issue let's uncover what exactly is an Issue tracking system.
What Is an Issue Tracking System?
It is a tool that enables agents to manage issues and track the progress made while resolving them. The process of monitoring issues has a definite starting and ending point. It begins when customers report the problems they are experiencing and ends once the customers give feedback about the help they received from your service team.
A web-based issue tracking system registers all issues in a centralized system as and when they are reported by customers. A powerful issue tracking system enables you to:
Route the issues to the correct teams or agents automatically

Prioritize customer issues

Add internal notes and bookmark tickets

Create filters to make searching tickets easier

Track resolution of all reported issues

Manage customers issues using dashboards

Capture customer feedback on the help they receive from agents
Recommended Read: How to Choose the Best Issue Tracking Software
Why Track Issues?
53% of customers rate fast issue resolution as very important. This rising expectation for instant gratification means keeping track of issues is no longer a choice for companies. In fact, it has become a prerequisite for the simple reason that it maintains transparency regarding the kind of issues generated, and the time taken by agents to address them.
Issue tracking is an important process that helps you –
1. Establish a clear procedure for capturing issues
Issue tracking defines the process of receiving customer issues, categorizing them, routing them to the service team, and tracking their resolution.
2. Record customer issues
An issue tracker records all issues received from customers via different communication channels. So every time an agent deals with a customer, he or she can first go through the user history to understand the extent of previous queries and interactions. This helps agents provide customers with better responses.
3. Conduct follow-ups
A good issue tracking tool captures details such as due dates for resolving issues, actions to be completed, and the persons responsible for it. This makes it easy to track the progress of individual tickets.
4. Prioritize issues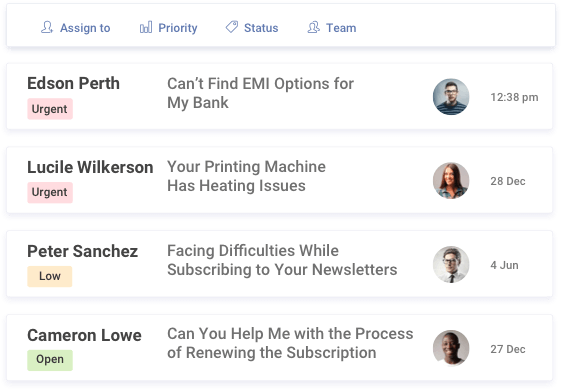 Issue ticketing software enables agents to prioritize tickets as high, low, and normal. By default, the priority is set to normal. Tickets with top priority are marked red so that they are always in the eyes of agents.
5. Check progress
Tracking software makes it possible to view the progress made in resolving issues and highlights any outstanding issues.
Difference Between Issue Tracking Software and Bug Tracking Software
Most people confuse issue tracking software with bug tracking software. What is the difference? The below-given facts will clear the confusion: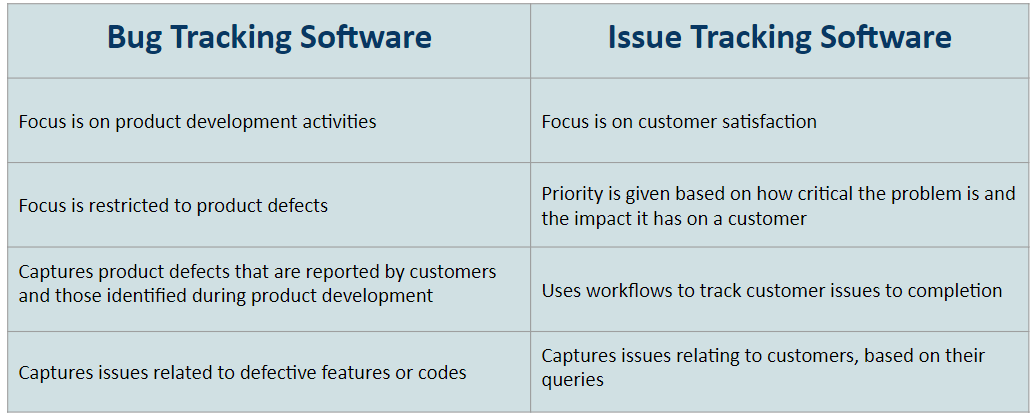 Factors to Consider when Buying an Issue Tracking Software
Powerful issue tracker software helps you keep tabs on the issue resolution process in a smooth and error-free manner. If you are looking to purchase or subscribe to an issue tracker software, here are the major factors to be considered:
1. Centralized Dashboard
Ideal issue management software should enable agents to access and manage customer requests on a single dashboard. Statistics show 71% of customers want to have a consistent experience irrespective of the communication channel they use.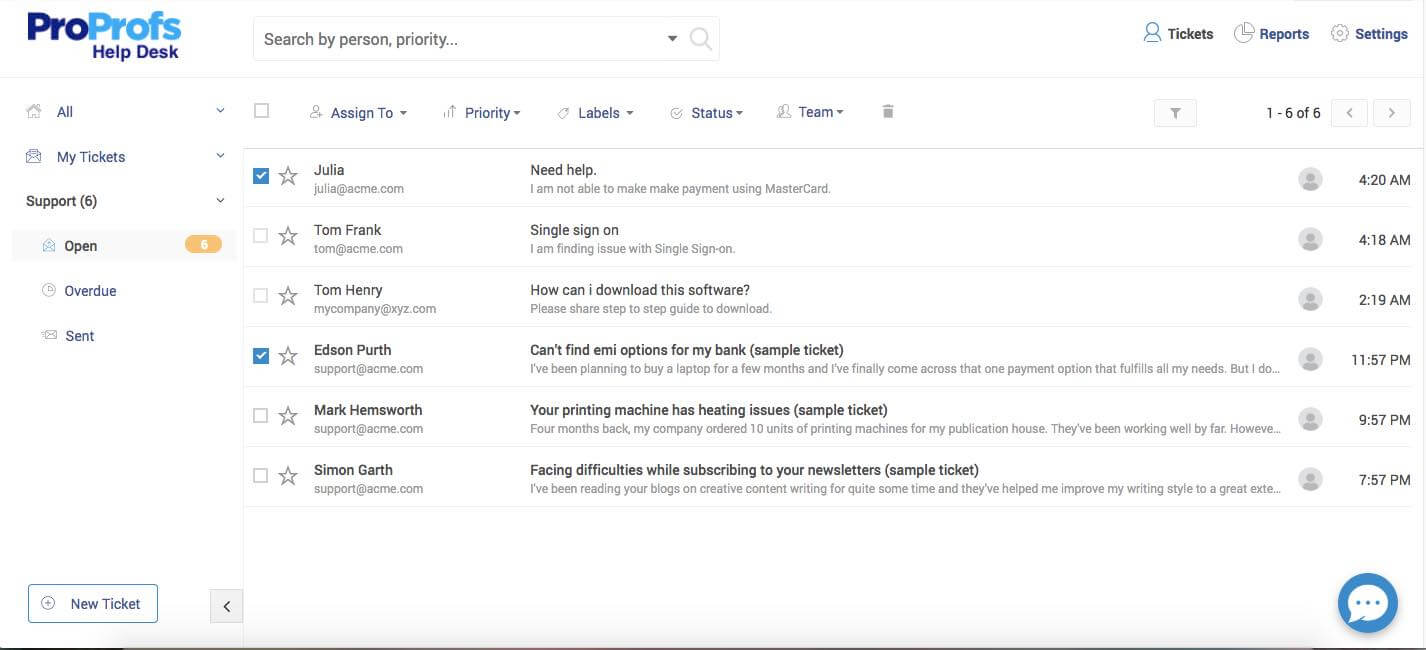 As such, an excellent issue tracking tool should bring all tickets submitted through different communication channels such as social media, live chat, or phone calls, to a central platform where they can be easily routed to individuals and teams.
In short, it brings together all customer-facing inboxes belonging to different functions such as sales, support, billing, etc., in one single place. The email-like interface of issue management software allows agents to keep track of all customer conversations and status updates on tickets.
A centralized shared inbox also helps with workflow management. Agents can access everything regarding who is working on which ticket, assign tickets to experts, view customer history, and never miss out on an issue.
Here's a short video to give you a better understanding of shared inboxes and how you can create them.

2. Categorization and Prioritization
With the high number of issue tickets flowing in every day, your agents should be able to categorize and prioritize them quickly. If your issue tracking software doesn't have this feature, agents won't be able to route issues to experts who have the right skills to address them. Serious issues that require immediate action might be missed out, thus bringing down your customer satisfaction rate.
A good issue tracking tool should allow your agents to label tickets. Ticket labeling is an effective way of maintaining clarity with respect to what the issues are about, and in which division they fall. It also allows them to set priorities for a ticket as High, Medium, or Low, based on how important or urgent they are.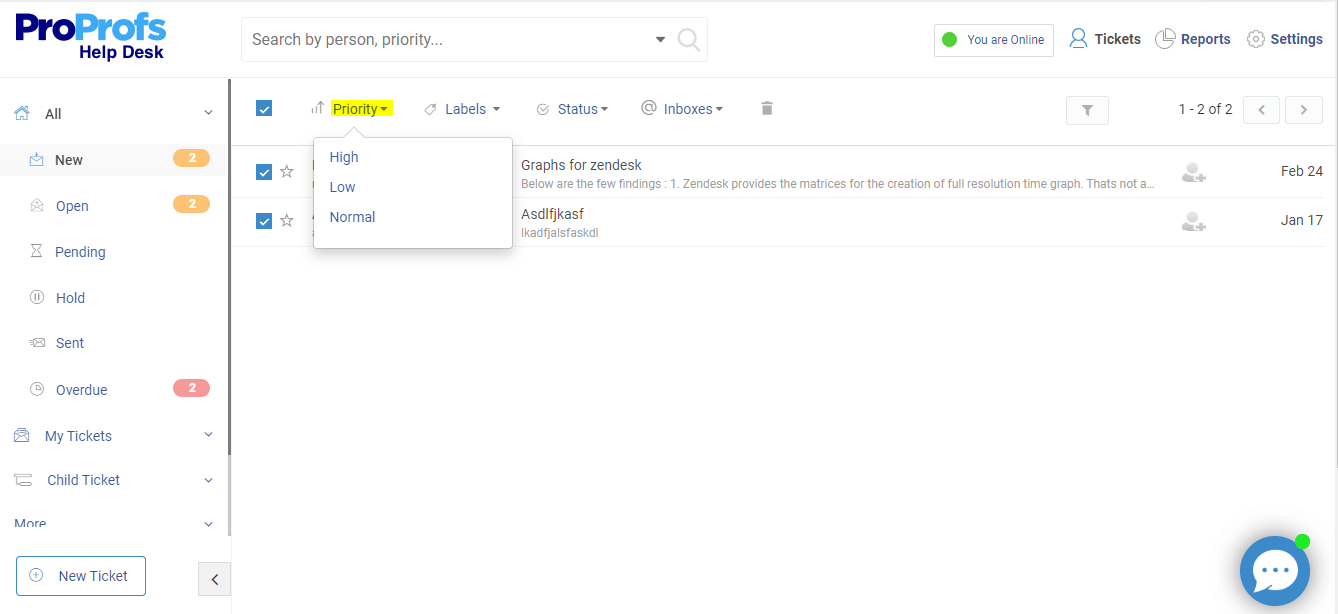 All of this combined helps in organizing, categorizing, and prioritizing tickets before they can be assigned to service agents. This turns the otherwise cumbersome process of ticket management and resolution, quite seamless, and easy to handle.
3. Third-Party Integrations
Powerful integration with market-leading third-party tools is a must-have in an issue tracking software. This is important because integrations provide agents with added benefits, enhancing their ability to provide better experiences to your customers.
For instance, an issue tracking tool that makes it possible for service agents to share self-help knowledge base articles with customers while resolving tickets makes it a great tool to have.
Besides ensuring that issues are resolved at the earliest, the combination of ticket management tool and knowledge base also helps you empower your customers with self-help so that repeated queries can be avoided in the future.
When buying an issue tracker software, opt for the one that works well with popular tools like Salesforce CRM, API, Chat, Knowledge Base, Live Chat and more.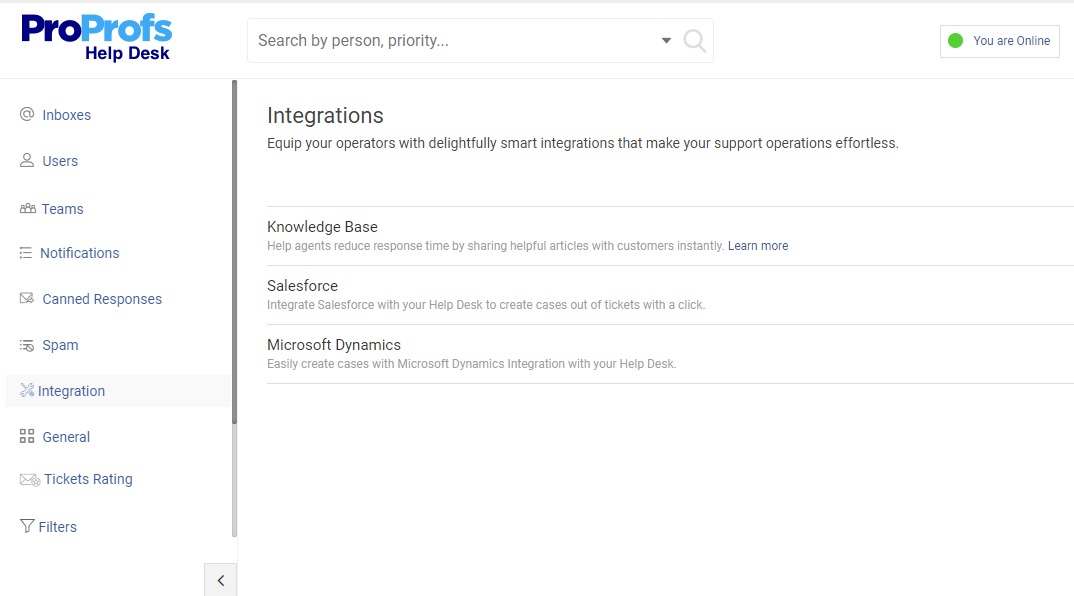 4. Detailed Reporting
Reporting is an essential aspect of issue tracking software, as it gives you a bird's eye view of how your agents are performing, and how satisfied customers are with the experiences.
So, the issue tracking software you choose to work with should have a robust reporting mechanism. This will help you identify loopholes and fix them at the earliest.
Important metrics that such a tool should capture in the reports include:
New tickets generated

Tickets resolved

Tickets pending to be resolved

Ticket frequency

Customer rating

Average rating of agents, and much more.
Also, your issue tracking tool should allow you to access daily, weekly, and even monthly reports, as this will give you the flexibility to evaluate the performance of your customer support function for a timeframe of your choice.
Rating reports can be generated for individual agents or teams, and are majorly used to identify customer support gaps and monitor improvements.
5. Collaboration Capabilities
There are numerous things you can do with a versatile issue tracking software. Besides issue tracking and management, it ensures that agents work in collaboration with one another, in order to expedite the issue resolution process.
One way that a Robust ticketing tool can facilitate collaboration is through the use of the child ticket feature. Leverage this feature to split a complex ticket into several child tickets that can be assigned to individuals with appropriate skill sets.
Child tickets are great at reducing ticket response time and increasing efficiency in addressing large customer issues. Another useful issue tracking feature that drives collaboration is internal notes.
These are useful in guiding agents on how to handle certain tickets or remind them about issues that require immediate attention.
6. Capture Customer Feedback
An issue tracking software should have a mechanism for capturing customer feedback. It should enable service teams to use survey tools like ProProfs Survey Maker to gauge customer satisfaction levels after customer issues have been resolved. The request for feedback should be automated and help you capture what customers think your business should improve on.

7. Running Trials
There can be nothing better than an issue tracking tool that can be tried, at least for a few days, without paying a fee. This is essential as it gives you an idea of what you can expect from the tool and whether it has the features you are seeking.
This also means that if the software fails to meet your expectations, you can leave it and try something else without incurring any costs.
So, ensure that the issue tracking tool you choose offers a free trial of a minimum of 15 to 20 days.
---
Recommended Read: 20 Best Issue Tracking Software for 2023
---
Final Word
It's a well-known fact that businesses are bombarded with tickets every single day. Despite this, customers expect their issues to be resolved at the earliest. To meet the rising expectations of customers for instant answers, issue tracking software is indispensable.
Manually handling a large volume of tickets and while keeping sanity alive, is implausible for agents. That is why every business needs to have a powerful issue tracking system.
With such a system in place, it becomes easy to place all requests in a central place and track every issue from the time it is initiated until it is finally resolved. This means no customer issue goes unaddressed, and the process of resolving them is fast-tracked through seamless team collaboration and workflow automation. Besides, customer service managers are also able to track the performance of individual agents and identify problems that delay the issue resolution process.
---
Q1. What is the most popular issue tracking software?
There is no single software that can be called the most popular. But, yes, there are tools that offer better experiences than others. ProProfs Help Desk is one such tool that provides a seamless ticket management experience to agents. You can also go through this list of best issue tracking software to learn about other popular tools, their features, and pricing.
Q2. What is the difference between bug tracking and issue tracking?
There are many differences, but here are the key ones. The focus of bug tracking software is identifying defects in a product. It captures issues related to inefficient product features and identifies how critical the problem is and the impact it has on customers.
Issue tracking software, on the other hand, focuses on customer satisfaction. It captures issues relating to customers based on their reports or tickets raised in the past and focuses on product development activities.
Q3. What is the best tool/service you know of, that combines issue tracking (soft dev) and team management (non-dev related)?
It has to be Proprofs Help Desk Software. This tool comes with issue tracking features such as workflow automation, detailed reporting, and multichannel communication. Proprofs also integrates seamlessly with different third party tools and facilitates customer feedback through satisfaction surveys.
As far as the team management is concerned, this tool facilitates collaboration through cross-department communication and generates individual performance reports for service teams.
Do you want a free Help Desk?
We have the #1 Online Help Desk Software for delightful customer support