Are you looking for a free help desk ticketing system?
Well, you are not alone.
Whether you own a small shop at a street corner or a Fortune-500 company, every entrepreneur wants to reduce their support costs. While there is no substitute for innovation, investing in the right help desk ticketing system should not cost your business a fortune.
The best free help desk software helps you automate your workflow and empowers agents to provide delightful customer service experiences. When that happens, everyone wins!
But does "free" mean really free? Well, there is always a catch. Most forever free plans come with serious limitations. On the other hand, free trials, obviously, have a restricted time period. However, the best part is that such flexibility allows your team to explore a tool inside-out and make the right software investment.
In this blog, we will explore the top 15 free help desk tools that will help you get started quickly.
Let's go!
What is Free Help Desk Software?
Free help desk software refers to a could-based tool that can help your business convert customer issues and requests into tickets. Support agents can track these tickets from their help desk inbox, prioritize urgent requests and collaborate with other team members for speedy resolution. Moreover, such a tool offers presentation-ready reports to evaluate support performance and monitor customer satisfaction.
Why Does Your Business Need a Free Ticketing System or a Free Trial?
SaaS companies around the globe are faced with a common dilemma – whether to offer a free trial for their software or not. However, if you are a business looking to invest in a ticketing system, going for the one that offers a free trial is extremely important.
Here are the benefits of a ticketing system that offers a free trial to users:
You can view and explore the various features of the help desk product
Understand if the tool can support your team size and customer base
Track all benefits your team can leverage during the trial period
You can always choose to opt-out and switch to a different tool
Save money as the trial is completely free
Benefits of Free Help Desk Software
Let's see how a free ticketing system can help your business delight customers without burning a hole in your wallet.
1. Reduce Customer Support Costs
As the name suggests, free help desk ticketing system allows your business to try the product without paying a single dollar. So what does that exactly mean?
Well, many help desk vendors either offer a forever free plan (with limited features) or a free trial (anywhere from 7 to 30 days). So this means that your team can gain hands-on experience of using the product, try out different features, explore the UI, etc., before giving any commitments.
Therefore, you can easily pick the tool that meets your unique requirements, and save money by not making any bad investments for your team.
Read More: How to Reduce Customer Support Costs for Your Business
2. Enhance Productivity with Automation
A major benefit of a help desk system is that it helps you automate your repetitive and manual tasks. For instance, instead of manually picking up tasks and support tickets, you can choose to automatically route incoming tickets to the agents who are best suited for the job.
But that's just the tip of the iceberg. There are multiple automation rules that you can create to automate your support workflow. You can choose to share automated email notifications to keep both customers and agents informed about a ticket's progress.
3. Encourage Self-Service
Did you know that around 81% of customers like to take matters into their own hands before reaching out to a support agent?
Yes, customers simply love self-service, and a free helpdesk ticketing system can make that possible. You can create a dedicated knowledge base, customize it with themes and logos, and upload relevant content that adds value to the customer experience.
So instead of bombarding your team with requests and complaints, customers can simply visit your help center, scroll through FAQ pages or videos, and resolve their concerns at their own pace. Eventually, this will free up your agents and allow them to focus on other important tasks.
4. Capture Customer Feedback
Most customers are always eager to share their feedback. The only question is, are you ready to listen to them?
Help desk systems such as ProProfs Help Desk come with in-built survey tools. You can make the most of ready-to-use survey templates to easily create, design, and share your surveys. Through their valuable feedback, customers can help you identify problem areas and improve your process.
For instance, customers can give feedback on the knowledge/behavior of an agent or share how satisfied they are with the overall service quality.
Must-Have Features of Free Help Desk Software
If your search for a help desk tool, you must know about what features to look for. Let's take a look at some powerful help desk features that will make your life easier.
Shared Inbox: The shared inbox feature helps you manage multiple shared email accounts such as support@, info@, complaints@, etc., in one place. Instead of waiting for someone to log out from their account, multiple agents can reply to emails simultaneously, avoid collisions, and collaborate with each other in real-time.
Ticket Prioritization: Free support ticketing software helps you prioritize customer issues so your support reps can tackle the most critical issues first. You can mark tickets as High, Low, or Normal priority and also color-code them. So the moment agents log in to their help desk, they will know which tickets deserve urgent attention.
Chatbots: This is another remarkable feature that is offered only by the best help desk tools. Chatbots are basically computer applications or systems that can simulate human-like conversations. You can build powerful chatbots for your website, customize the script, and assist customers round the clock.
Reports & Analytics: Support managers need the right data at their fingertips to check performance and make informed decisions. With the reporting dashboard, you can monitor key the average first response time, ticket resolution time, pending tickets, agent ratings, and other help desk metrics that are relevant to your business.
Seamless Integrations: Help desk systems can also be integrated with other third-party tools. So instead of switching between multiple tools, your agents can achieve the same tasks from a single interface. For example, you can integrate your free help desk ticketing system with a CRM tool and allow agents to get a 360-degree view of the customer data.
15 Best Free Help Desk Software and Ticketing Systems to Delight Customers (Free Trials Included)
Your search for the best free help desk software ends right here! After endless research and comparison, we have curated this list of tools that either come with a forever free plan or offer a free trial.
ProProfs Help Desk offers a free 15-day premium trial so that your team can explore different features and make the right purchase decision. When a customer shares an email, contacts via live chat, or fills out a form, ProProfs Help Desk can automatically create a ticket and route it to the right person on your team for help. You can create a dedicated knowledge base and choose to keep it private for your team, customers, or public for everyone.
As one of the best free help desk ticketing systems, ProProfs allows you to maintain top-notch help desk security. You can control access to your data by assigning different roles and permissions to your team members. You can even enable IP restrictions to restrict your platform to a few IPs.
Top Features of ProProfs Help Desk:
Develop powerful chatbots and assist customers even when you are offline
Manage support queries on the move with a dedicated mobile app
Create web forms and allow customers to submit their issues with relevant information
Monitor ticket response time, resolution time, agent ratings, and other powerful metrics
Share automated surveys with customers to monitor their support experience
ProProfs Help Desk Plans Include:
Free Trial: 15 days
Essential: $10/agent/month
Premium: $15/agent/month
Enterprise: Custom plan
What we liked: ProProfs Help Desk is offered as a complete customer service suite with a ticketing system, knowledge base, live chat, survey, and other tools.
What could be better: The tool lacks social media integration.
Zendesk is a popular free online help desk ticketing system that can you automate your support process. You can integrate the Zendesk Service with Zendesk CRM to ensure all customer information is in one place.
With Zendesk, there are multiple ways your business can encourage customer self-service. For instance, you can build an integrated help center to allow customers to resolve issues at their own pace. In addition to this, you can even create a community around your product/service so that customers and prospects can interact with each other.
Top Features of Zendesk:
Manage customer conversations over email, live chat, and messaging
Handle low-priority tickets with the help of AI-powered answer bots
Allow agents to contribute to help articles and keep your self-help data updated
Automatically escalate issues when SLAs are breached
Integrate with other popular apps – including code and no-code functionality
Zendesk Plans Include:
Free Trial: 14 days
Suite Team: $49/agent/month
Suite Growth: $79/agent/month
Suite Professional: $99/agent/month
What we liked: Zendesk offers powerful reporting features that will help you gain 360-degree visibility into your support process.
What could be better: Compared to other help desk tools, Zendesk is quite expensive and may not be the best option for small businesses.
Read More: Top 10 Zendesk Alternatives for 2022
SysAid offers a free IT ticketing system that helps you automatically prioritize, sort, and route tickets. You can create a self-service portal and allow both employees as well as customers to resolve their common IT problems on their own.
As a support team, you can manage all your Information Technology (IT) assets directly within your help desk. Your support reps can even view all the asset data and records inside each ticket and resolve issues at a much faster pace.
Top Features of SysAid:
Automatically route tickets to agents and meet your SLAs
View all relevant help desk KPIs and metrics in one place
Customize your help desk UI to match the look and feel of your brand
Create web forms and allow end-users to submit specific information about issues
Customize access for different users and determine their level of control
SysAid Plans Include:
Free Trial: 30 days
Pricing: Not mentioned
What we liked: With the Hotkey function, your end users can record their screen with just a click, and upload it to their ongoing support ticket.
What could be better: SysAid should offer clear and transparent pricing information on its website.
Spiceworks offers a free support ticket system that can help your support team get up and running in no time. You can create a customizable user self-service portal using which end-users can submit tickets, track progress, and access other information.
Moreover, with Spiceworks, you can track important help desk metrics from a single reporting dashboard. For instance, you can monitor the number of new tickets, unassigned tickets, average first response time, average ticket close time, and other relevant performance indicators.
Top Features of Spiceworks:
Automatically assign tickets to support agents who are best-suited for the job
Easily track the progress of your projects in one place
Track new tickets and monitor your team's average first response time
Add private comments to tickets that are only visible to your teams
Set multiple staff roles to determine who gets to see what information
Spiceworks Plans Include:
Spiceworks is available free of cost for all users.
What we liked: The best part about this tool is that it allows users to share answers or post questions on the Spiceworks community.
What could be better: Although Spiceworks is completely free, you will have to view forceful ads and receive promotional emails.
Freshdesk is an omnichannel help desk system that has gained a lot of popularity in the past couple of years. The tool equips your support team with more context and automation capabilities to proactively understand customer needs and meet their expectations.
Freshdesk helps you meet and greet your customers on the channels they love the most. For example, you can manage support conversations across a variety of channels such as live chat, email, phone, social media, and more.
Top Features of Freshdesk:
Prevent re-opening of support tickets when end-users respond with a thank you
Create canned responses for different situations and maintain consistency across emails
Assign the ownership of tickets to multiple agents or teams
Record customer support calls and convert them into unique tickets
Allow customers to raise tickets from your website or help center
Freshdesk Plans Include:
Free Trial: 21 days
Sprout: Forever free plan with limited features
Blossom: $15/user/month
Garden: $35/user/month
Estate: $49/user/month
What we liked: Freshdesk allows you to manage your social media accounts such as the Facebook page or Twitter handle from within the help desk.
What could be better: Although Freshdesk offers multiple customization options to users, customizing your help desk reports can prove to be time-consuming.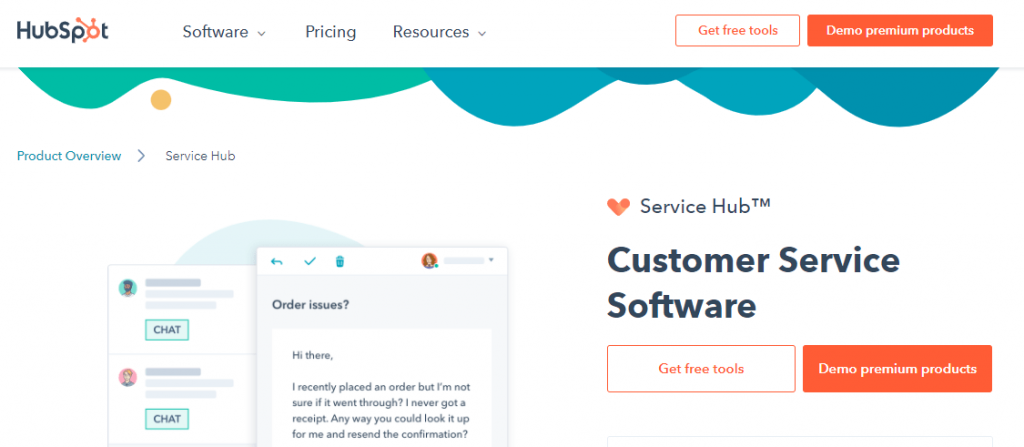 HubSpot is another free help desk ticketing software that helps you effortlessly onboard, support, and retain your customer base. You can monitor the impact of your customer service efforts with robust reporting tools that help you track knowledge base usage, response times, ticket volumes, customer feedback, and much more.
HubSpot Service Hub helps you create a vast knowledge base and reduce support ticket volume. Your team can convert common customer requests or questions into a searchable library of guides, help articles, videos, tutorials, and documentation.
Top Features of HubSpot Service Hub:
Automatically convert support emails into trackable tickets
Prioritize issues so that agents can tackle the most critical issues first
View the ticket history to understand a customer's past product or service-related issues
Share feedback surveys to monitor customer satisfaction in real-time
Engage and assist your website visitors via live chat
HubSpot Service Hub Plans Include:
Free: Forever free plan
Starter: $45/month (2 users)
Professional: $360/month (5 users)
Enterprise: $1200/month (10 users)
What we liked: HubSpot allows you to create a customer portal that can be used by customers to track their tickets.
What could be better: Users are required to pay additional fees for technical support.
Zoho Desk is an impactful help desk software that offers free ticketing capabilities. The tool allows you to manage your customer service conversations across a variety of communication channels such as chat, email, phone, social media, and website.
If your business operates different brands, this tool has some good news for you. You can create multiple help centers to cater to the customers of your different brands. In addition to a knowledge base, Zoho Desk allows you to create a community of customers, website visitors, as well as prospects.
Top Features of Zoho Desk:
Use saved templates to share fast and consistent replies
Close tickets on the go with Zoho Desk's mobile app
Integrate with Zoho CRM and get access to complete customer information
Share automated notifications to keep agents and customers informed
Track the time spent on every support ticket and other tasks
Zoho Desk Plans Include:
Free: Forever free plan
Standard: $12/agent/month
Professional: $20/agent/month
Enterprise: $35/agent/month
What we liked: Zoho Desk makes it easier for your team to maintain SLAs and automatically escalate issues when SLAs are breached.
What could be better: The Standard plan lacks important features such as a multilingual knowledge base, round-robin ticket assignment, and more.
HelpCrunch is an affordable customer communication tool that helps your team interact with customers on multiple channels. You can easily create and edit help articles with a powerful visual editor – start with a draft, insert images, videos, tables, and publish your knowledge base articles in minutes.
In addition to a knowledge base, HelpCrunch offers an intuitive live chat feature that can help you offer real-time assistance to your customers. You can share automated greetings with website visitors, offer proactive support, and convert more prospects into buying customers.
Top Features of HelpCrunch:
Use automated email follow-ups to connect with prospects and customers
Easily customize the size, color of your chat widget and match it to your website
Analyze customer happiness and agent performance
Share chat rating with visitors after a conversation is closed
Respond faster with pre-made answers to common questions
HelpCrunch Plans Include:
Basic: $12/user/month
Pro: $20/user/month
Enterprise: Custom plan
What we liked: You can localize your chat widget and messages to cater to visitors from different countries.
What could be better: The Basic plan comes with the HelpCrunch branding and you will have to go for an expensive plan to avoid it.
LiveAgent helps your business manage all customer conversations in one tool. You can integrate your favorite tools, prioritize urgent tasks, automate your workflows, and enhance your support quality with the help of powerful reports and data analysis.
As a free online helpdesk ticketing system, LiveAgent helps you enhance engagement with a customizable live chat widget. You can proactively invite your customers to chat based on the time they have spent on any particular page. You can also answer their basic questions and help them make the best purchase decisions.
Top Features of LiveAgent:
Create multiple SLA rules and delight customers with faster service
Automatically distribute tickets among agents based on their skills or experience
Use tags to easily sort and search for support tickets
Create multiple ticket fields to store additional information about issues
Allow customers to rate your service reps and monitor their performance
LiveAgent Plans Include:
Free: Forever free plan with limitations
Ticket: $15/agent/month
Ticket + Chat: $29/agent/month
All-Inclusive: $39/agent/month
What we liked: You can use a simple, drag-and-drop feature to attach multiple files to a support ticket.
What could be better: The Ticket plan does not offer any live chat features.
Jira offers cloud-based free ticketing software that is built for modern IT support teams. Using this tool, you can empower different internal departments such as HR, IT, Admin, etc., and offer them a single platform to cater to all internal requests as well as issues.
Jira Service Management allows users to create a self-service portal and deflect a majority of support tickets. With machine learning capabilities, customers and employees can easily search for knowledge articles and resolve issues at their own pace.
Top Features of Jira Service Management:
Allow end-users to rate the quality of a knowledge base article and update accordingly
Track all company-wide IT assets in one place
Set multiple SLA policies to meet your deadlines regularly
Ensure better collaboration by integrating with Slack and Microsoft Teams
Create forms to capture all the information you need about a request or issue
Jira Service Management Plans Include:
Free: Forever free plan for up to 3 agents
Standard: $20/agent/month
Premium: $45/agent/month
Enterprise: Custom plan
What we liked: You can easily run reports to see which knowledge base articles can help you deflect the maximum support tickets.
What could be better: The tool comes with a steep learning curve and will require some intensive training sessions.
Kayako's free help desk system comes with powerful out-of-the-box functionality that helps your team manage customer service interactions on multiple channels. With robust collaboration features such as private notes, members of different teams can work together to resolve complex issues or requests.
You can easily integrate Kayako's live chat widget on your website, help center, or mobile apps. With the chat tool, you can engage your audience and provide personalized support 24×7. Moreover, if customers do not reply to your chats, you can share automated follow-up emails and continue the conversation.
Top Features of Kayako:
See who is working on what and avoid sharing duplicate replies with customers
Keep all your email conversations organized with a shared inbox
Add tags to tickets for quick handling and reference
Build a vast help center and deflect common customer queries
Create automated workflows to avoid manual work and save time
Kayako Plans Include:
Free Trial: 14 days
Growth: $30/agent/month
Scale: $60/agent/month
What we liked: Kayako's SingleView™ gives you rich insights into the entire customer journey such as purchase history, activities, and past support interactions.
What could be better: If you compare it with other help desk tools, Kayako is quite expensive.
Gorgias is another remarkable help desk tool that is designed for e-commerce businesses. The tool allows you to respond to people asking about your products on your social media posts or ads. This is a great way to build brand credibility and enhance your sales figures.
The best part about this tool is that you can view all important information when you are talking to your customers. This makes it easier for your agents to edit online orders, initiate refunds, modify subscriptions, and more without leaving the help desk platform.
Top Features of Gorgias:
Allow agents to view and work on high-priority tasks first
Easily view a customer's message history across all communication channels
Connect your help desk with Shopify, BigCommerce, or Magento stores
Create personalized email templates for faster email replies
Automatically tag support tickets and route them to specific agents
Gorgias Plans Include:
Free Trial: 7 days
Basic: $90/month
Pro: $450/month
Advanced: $1130/month
Enterprise: Custom plan
What we liked: Gorgias integrates with the leading social media platforms such as Facebook, Instagram, and Twitter so your team can quickly address customer questions and concerns.
What could be better: This tool is tightly focused on e-commerce companies. So if you do not have an online presence, this tool might not be the best option for you.
HappyFox offers a simple customer support solution to help you reduce chaos and bring order to your support process. You can easily convert your customer emails, chats, phone calls, and web requests into tickets and keep them organized.
When we talk about help desk customization, HappyFox does an incredible job. For instance, your agents can create custom fields, modify existing workflows, and personalize every customer interaction. Moreover, all incoming support tickets are automatically sorted into categories such as sales, customer support, marketing, or refunds.
Top Features of HappyFox:
Filter and organize your support tickets based on their priorities
View all file attachments related to an issue or request in one place
Carry on a quick discussion with other team members using private notes
Integrate with Salesforce, Shopify, and other popular platforms
Merge similar tickets together and forward tickets to other teams
HappyFox Plans Include:
Free Trial: 30 days
Pricing: HappyFox offers four subscription plans – Mighty, Fantastic, Enterprise, and Enterprise Plus. For exact pricing, you need to contact their sales team.
What we liked: HappyFox allows you to automatically track time spent on each ticket and monitor time usage trends.
What could be better: The tool does not offer transparent pricing details on its website.
Dragapp is a Gmail-based free help desk ticketing system that helps you assist customers right from your Gmail inbox. In addition to a shared inbox, the tool offers a wide range of collaboration, workflow, and productivity tools.
With the shared inbox feature, you can manage all email interactions wherever they are happening. Agents can monitor emails across multiple inboxes such as sales@, info@, etc., and resolve support queries from inside Google Workspace.
Top Features of Dragapp:
Easily delegate tasks and assign emails to relevant team members
Know when someone else is already working on a reply with collision detection
Use @mention to tag a team member and start an internal conversation instantly
Write an email reply and get it checked by a colleague before sending
Share automated email follow-ups with your customers
Dragapp Plans Include:
Free: Forever free plan
Plus: $8/user/month
Pro: $12/user/month
What we liked: Dragapp offers an internal chat feature that allows team members to share ideas, discuss tickets, and more.
What could be better: A major drawback of this tool is that it is only designed for Gmail users. If you use any other email client, this tool has nothing to offer you.
SupportBee is another popular shared inbox tool that permits effortless email collaboration. The tool comes with an email-like interface that your team will be able to navigate through easily. Your inbox automatically updates itself so that you never miss out on an urgent customer service email.
SupportBee offers simple yet insightful reports to monitor your support performance. For example, you can monitor important metrics such as the average first response time, the total number of tickets, total replies, archived messages, and more.
Top Features of SupportBee:
Send draft responses for review before sharing them with customers
Share private comments that are not visible to customers
Set up professional email signatures for different agents and teams
Integrate with Slack, Trello, Bigcommerce, and several other tools
Upload PDFs, ebooks, or other files to your self-service knowledge base
SupportBee Plans Include:
Free Trial: 14 days
Startup: $13/user/month
Enterprise: $17/user/month
What we liked: The easy setup of this tool allows your team to get up and running in less than 10 minutes.
What could be better: SupportBee lacks core help desk features such as live chat, chatbots, multichannel ticketing, surveys, and more.
Comparison of Top Free Help Desk Tools
Get Up & Running with a Free Ticketing System
Free help desk software comes in different shapes and sizes. While one might be all you need for your small customer service team, another might help you explore the different features without spending any heavy amount.
So what exactly should you look for in your tool? Well, you must go for a tool that is easy to use, comes with powerful automation capabilities, and does not compromise on core help desk features such as automated ticket routing, ticket prioritization, internal collaboration, and reports.
ProProfs Help Desk comes with a free premium trial and offers great flexibility for fast-growing support teams. You can track tickets from multiple channels, share surveys with customers, build a knowledge base, and make delightful support your number one priority.
FAQs on Free Ticketing Software
Which is the best free ticketing system in 2022?
There are multiple free ticketing systems that are available in the market such as ProProfs Help Desk, Freshdesk, Zoho Desk, etc. You can opt for these tools based on your unique needs, budget, and feature requirements.
What is the use of free ticketing software?
A free ticketing system can automatically convert every incoming support issue or request into support tickets. Agents can collaborate with each other in real-time and track the progress of these tickets for faster resolution.
Is help desk ticketing software easy to use and helpful?
While some help desk systems offer a simple and easy-to-use interface, others can prove to be a little complicated. However, the right tool can be helpful in centralizing all customer support interactions and automating your support process.
How to set up free helpdesk software
Here are some steps you can take to set up your free helpdesk software:
Choose a free trial/paid plan and create your help desk account
Pick your communication channels to support customers
Configure agent roles and permissions
Create and publish a knowledge base
Start resolving osupport tickets
Do you want a free Help Desk?
We have the #1 Online Help Desk Software for delightful customer support