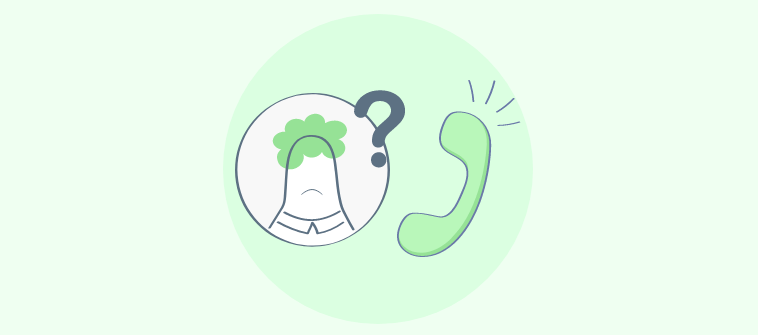 We all are familiar with that comforting voice greeting us and telling us- "I'm here to help you. I will surely find a way to resolve your issue."
Customers simply love phone support. A good reason why the phone remains the most preferred channel for customers is that it shows great potential for empathy. After all, nothing compares to being able to interact with an invested and attentive human voice.
But hold on, there is a dark side to this story.
Help desk managers are struggling to manage an unprecedented increase in the number of support calls. With limited resources, high call rates, and the constant pressure of peak hours, one question looms large on their minds- "How to reduce help desk calls while keeping customers happy"
Right from strengthening other customer service channels to incorporating an IT help desk software, there are plenty of solutions shared in this blog that every business should explore.
Reduce Help Desk Calls in 10 Easy Ways
The mere sight of phones ringing non-stop in your support department can be daunting.
Here are 10 ways to reduce calls to your IT help desk – such that your agents can plan their day better and become more efficient.
#1. Understand Why Customers Contact You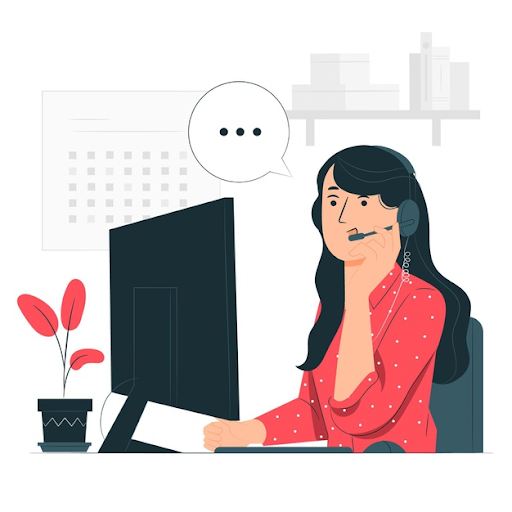 In order to reduce help desk calls, your team should gather the top reasons why customers are calling in. Only then can you decide which calls do you want and which calls you can afford to avoid or divert.
Go back to the drawing board, and jot down all the reasons why customers end up calling your business for support. It's time to play Sherlock!
While you try to figure out the reasons, take inputs from everyone- right from a customer service intern who has just joined your team to the CS manager. For the start, you can try to find answers to questions such as:
What are the top 3 reasons why customers contact us?
Where do customers find out about our contact information?
How many customers call us every single day?
What is the average number of calls a customer makes to get an issue resolved?
Framing more questions and finding their answers will set the right foundation for reducing the number of calls and help you look for alternative solutions.
#2. Find a Permanent Solution to Customer Issues
Anyone who has worked for a help desk call center team knows well that the majority of customer calls can be avoided.
For instance, If your team receives a high volume of password-reset phone calls, you must consider creating a self-service article or FAQ to eliminate the problem. Repeat or avoidable calls can eat up the valuable time of your agents and impact their productivity.
Even if a repeat call takes less than 2 minutes, that does not mean it shouldn't be avoided. If your team gets 100 such calls every day that makes it 200 minutes or 3+ hours of calls that could have been avoided.
5 steps to fixing customer issues:
Listen to their concerns and empathize with them
Assess the situation at hand
Come up with a permanent solution and other close alternatives
Deliver the solution and see how it works
Regularly follow up with your customers
The idea here is not to discourage your customers from calling you, but to reduce their efforts. You will be surprised to know that finding a permanent fix for common customer problems can lead to a drastic decline in support call volume.
#3. Keep Customers Notified With Proactive Communication
Whenever a problem occurs, let's say your e-commerce website is down, do you notify your customers in advance or do you wait for them to contact you?
If your business still waits for customers to reach out to you first, you are just adding more problems for yourself. Don't play the waiting game.
No matter how big or small an issue is, make the first move and notify your customers. For instance, British Airways has been proactive right from the initial days of the COVID-19 pandemic. Remember, it's always a better idea to over-communicate rather than under-communicate, especially when your business encounters a crisis.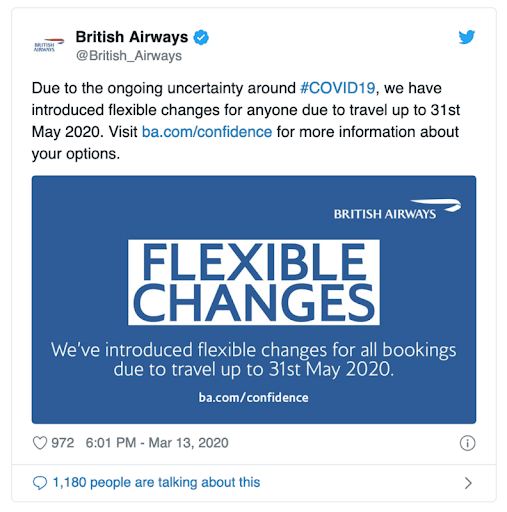 How to reduce help desk calls with proactive communication:
Ensure Smooth Onboarding – You must look to proactively communicate tips and ideas to new users on using your products or services better. This will help in reducing call volume as new users have the most queries.
Provide Request Updates: If a customer has already registered an issue or complaint with your business, he might contact you, again and again, to enquire about the status. This becomes your responsibility to notify the customer in advance and update them about the progress of their issue.
Report Unusual Activity: Unusual activity in an account must be reported to the customer on time. For instance, if you see that the account has been logged in from multiple locations in a single day, inform the customer and protect their account from getting compromised.
Read More: Proactive VS Reactive Customer Service: Which One Should You Choose?
#4. Create & Promote Your Self-Service Portal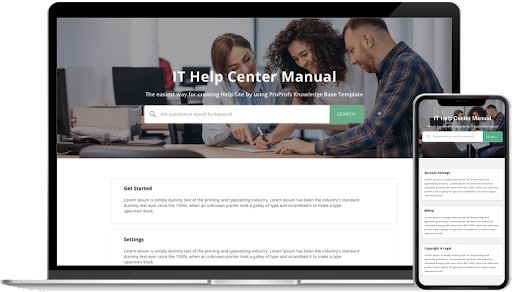 Customers are often forced to seek human assistance when they are unable to help themselves. Providing customers with self-service options is a great way to reduce service desk tickets and support call volume.
According to Businesswire, 60% of American customers say they prefer digital self-service tools for customer support such as an online knowledge base or app.
Self-serving options such as a knowledge base are not difficult to set up and can have long-lasting benefits for an organization. In addition to empowering customers to help themselves, you can offer 24×7 support and eventually reduce your support costs.
Here are some knowledge base best practices to offer delightful self-service
Ask your agents to regularly update your knowledge base content such as FAQs, help articles, guides, and more.
Remember to optimize your self-help content for search engines, so that when customers search for their problems online, they can discover relevant links.
Make it easier for customers to find relevant content no matter if they visit your portal through their phone, PC, or tablet.
#5. Enable a Live Chat Window on Your Website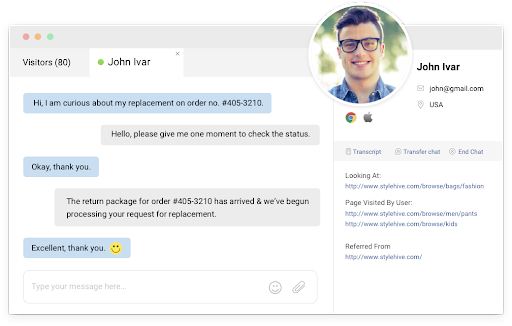 Live chat is quickly becoming a popular option for customers across the globe, especially for younger ones. But one big question on many help desk managers' minds is whether incorporating a live chat window can reduce phone calls.
38% of top CX experts are currently using live chat to deliver instant support, while 26% are planning to adopt one soon.
This massive shift towards live chat is a clear indicator that brands have geared up to offer real-time assistance to customers. No wonder that global brands such as Amazon, Shopify, Toys 'R' Us, WayFair, etc. all offer chat support right from their website.
How live chat helps in reducing support call volume:
Support Customers With Their Basic Issues: Imagine a customer is browsing through your website and is unable to locate the delivery information of a product. Rather than dialing your number, the customer can initiate a small chat session and get the right answer in seconds.
Assist Customers Even When You Are Not There: Yes! You heard that right. Chatbots can be used to address the primary concerns of people. So, basically, your support operations can be active round the clock even when you are not available.
Your Agents Can Handle Multiple Chats at Once: Unlike help desk calls, a support agent can handle multiple chats simultaneously. Chat is a simple, cost-effective way to reduce costs and increase productivity manifolds.
#6. Prioritize Other Customer Service Channels
Customers keep calling you because, probably, your phone support is awesome. Now you might ask- "Hey! but isn't that a great thing? Should we not be proud?"
It's totally alright to be a brand that excels at phone support. However, it should not come at the cost of other channels. Simply put, you cannot offer mediocre service to customers on other channels they love.
Eventually, your customers will realize what is the best way to get their issues resolved. So, if your help center is the best way, they will use it, if it's phone support, they will use that.
To reduce telephone calls to your help desk, prioritize all communication channels equally and do not emphasize any particular one over the other. Here are some tips you can keep in mind:
Instead of responding to customer emails on the next day, challenge yourself to answer them within 4 hours. Keep improving your average response times and try to keep it close to 2 hours.
Regularly check for mentions of your business on the leading social media platforms such as Facebook, Instagram, Twitter, LinkedIn, and others.
Do not neglect in-person meetings. Encourage your customer service reps to completely resolve customer queries when they visit your store or office. This will surely lower the number of return calls from your visitors.
Each channel, such as email, social media, chat, etc., comes with its own set of benefits, and customers might switch between channels depending on factors such as the nature of the issue, time at hand, and others.
Read More: Choose the Best Customer Support Channels for Your Growing Business
#7. Make a Strong Commitment to First Call Resolution (FCR)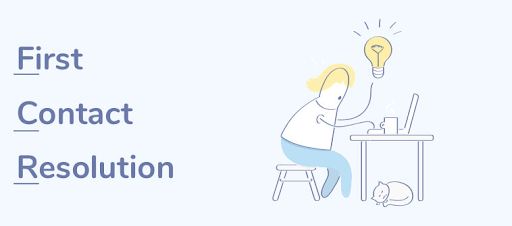 First Call Resolution (FCR) is a popular support metric that refers to the number of customer support calls that are successfully resolved during the first time without the need for follow-up contacts.
Here are some best practices to improve your first call resolution:
Gain Clarity Around the Issue: Don't make the mistake of guessing what problems your customers might be facing. Be attentive to their concerns and practice active listening.
Answer All Their Questions: Customers that have not got the answers to all of their questions might end up dialing your number again. While answering help desk calls, if you don't know the answer right away, request for some time.
Train Your Agents: Train your support representatives on key customer service skills and give them the product knowledge needed in order to provide exceptional support.
Focus on Proper Call-Closing: Before you disconnect the phone, summarize the solution that was shared to the customer. In addition to this, ask customers if they have any further doubts or issues.
Read More: 15 Help Desk Metrics to Improve Customer Support
#8. Leverage Interactive Voice Response (IVR) Systems

Interactive Voice Response (IVR) is a technology that uses voice as well as DTMF tones input via a keypad to route callers to the most appropriate agents or departments in your business.
In addition to ensuring that the right caller reaches the right person, an IVR can also present customers the option to receive a call back rather than waiting in a long queue.
How to reduce help desk calls with IVR
Make an Announcement: When your business runs into any major incident, a flood of calls to your help desk team is natural. You can apply an IVR message that announces the incident to the callers and tells them that your team is working hard to resolve it.
Direct Customers to Other Departments: It is common for people to end up calling your support team when they want to contact some other department. With IVR, you can direct every caller to the right department and avoid unnecessary calls.
Direct Customers to Other Channels: During peak hours, you might not have the employee strength to handle high call volumes. In such a situation, IVR can be used to direct customers to other channels such as help center, chat, etc.
#9. Convey Important Information on Your Website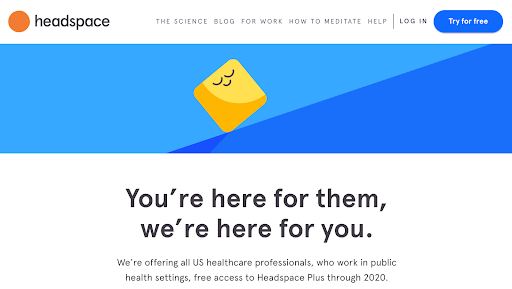 Customers always turn to your online website whether they have to buy products, check new offers, or simply to see what's going on.
A business website is no longer a virtual place where customers can find your contact information. Today, your website is the new face of your business.
Many situations might require you to convey an important message through your website. For example, let's say your marketing team runs an email campaign and notifies customers about a sale beginning on Friday. When Friday finally comes, customers visit your website, but cannot find any relevant information about the sale. The result? They all end up calling your business. Such situations require multiple departments such as marketing, customer service, and design to work in sync.
How to keep your customers updated through your website
Share Important Information on the Homepage: Whether it is updating customers about a casual Friday sale, or sharing life-saving information about COVID-19 and its impact on your business, your website's homepage should be the ideal platform.
Add Read More Links: Now, it is obvious that you cannot devote your entire homepage to update customers about something, let's say a Sale. Therefore, you must supply a 'read more' link to offer in-depth information to interested customers.
Use Videos: Videos are a great way to engage with contemporary customers and create an emotional connection with them. For instance, you can use a small video to show how your employees are working in challenging situations like COVID to keep customers happy.
#10. Learn With Customer Feedback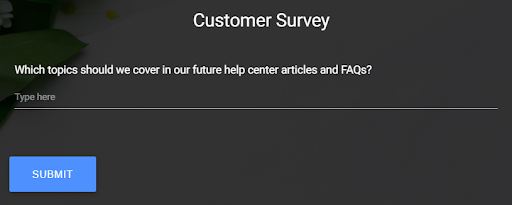 Another interesting way of reducing future customer calls is to find out what your customers are thinking and then act on that information.
Keep a learning mindset and consider incorporating valuable suggestions from your customers. Don't just restrict customer surveys to understand the support agent's efficiency or your customer's overall support experience.
You can share surveys with your customers that have questions like:
Which topics should we cover next in our help center articles?
Which is your favorite customer service channel?
How can we improve our email or live chat support?
Would you prefer interacting with like-minded individuals in a community or discussion forum?
Analyze the survey results and figure out how you can offer outstanding customer service and reduce the burden on your support staff at the same time.
3 Tools that Can Help You Reduce Calls to Your Help Desk Support
Businesses across the globe are using a plethora of tools to manage and organize their support requests as well as calls in a balanced manner. Here are 3 must-have tools that can get the job done.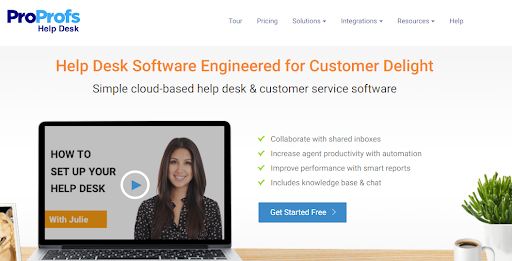 ProProfs Help Desk is a leading cloud-based customer support software that can help you reduce help desk calls. Let's see how that works:
Send automated notifications and alerts to keep customers informed about the status of their issue.
Encourage team collaboration so that complex issues can be resolved quickly.
Prioritize urgent support tickets and escalate if needed.
Give context to your agents, so that a customer doesn't have to explain his issues multiple times.
Use shared inbox and canned responses for faster email support.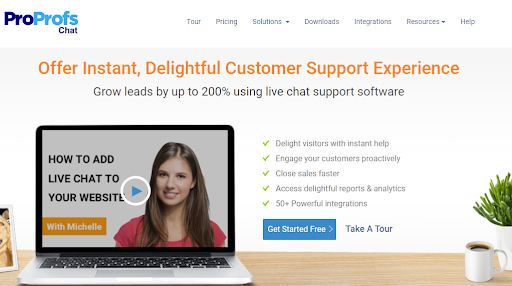 As discussed above, Live chat software such as ProProfs Live Chat can dramatically enhance the productivity as well as the efficiency of your customer support agents. Let's see how chat can help you keep your help desk call volume under control:
Have real-time conversations with your customers while they are on your website and reduce support calls.
When it comes to basic queries, chat support is preferred more than phone support.
Unlike phone support, agents can handle multiple chats simultaneously.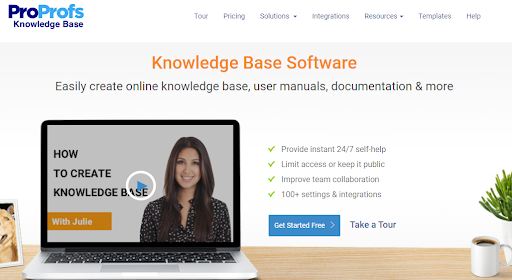 ProProfs Knowledge Base is a popular self-service tool that can help you put a tab on your help desk calls.
A dedicated knowledge base can not only help in reducing customer calls but also the overall support tickets.
Reduce the number of internal support calls by creating an internal knowledge base.
No matter how customers approach you, they can be always directed to self-help articles or FAQs for their basic issues.
It's Time to Keep Your Help Desk Calls Under Control
A high call volume can make response times skyrocket, customers even more frustrated, and eventually lead to a negative brand perception among your target audience.
On the other hand, reducing help desk calls can be a great way to lower the constant pressure on your agents and improve customer satisfaction. It can also help in lifting your customer's spirits by empowering them to fix their issues on their own.
Try to understand why customers call your team, keep them notified through proactive communication, give equal importance to different channels, and target metrics like FCR. These tips will certainly lead to a significant reduction in support call volume.
let's have a look on some frequently asked questions:
Q1. How do you answer help desk calls?
Here are some Dos of answering help desk or customer service calls:
Maintain a professional tone
Use basic terminology and clear language
Apologize for any mistakes or any inconvenience
Summarize the solution offered
End the call on a positive note
Q2. How to deal with non-stop callers in the service desk
Most customers contact your support non-stop when they are really frustrated or angry with an issue. Here are some ways to manage such callers:
Listen to what they have to say, let them vent out their frustrations
Remain calm and patient
Empathize with them
If there is nothing you can do, give them offers such as free delivery, discount coupons, etc.
Q3. How can you reduce customer support calls?
As discussed above, you can follow these top strategies to reduce help desk calls:
Understand why customers contact you
Encourage self-service
Reduce support calls using live chat
Prioritize first call resolution (FCR)
Leverage interactive voice response (IVR)
Q4. How to improve your help desk performance so that it can handle support issues?
Here are 5 ways to boost the performance of your help desk today
Establish clear customer service goals and expectations
Shared automated notifications and alerts
Use canned responses for faster replies
Create a dedicated self-service portal
Measure and analyze the right metrics
Do you want a free Help Desk?
We have the #1 Online Help Desk Software for delightful customer support