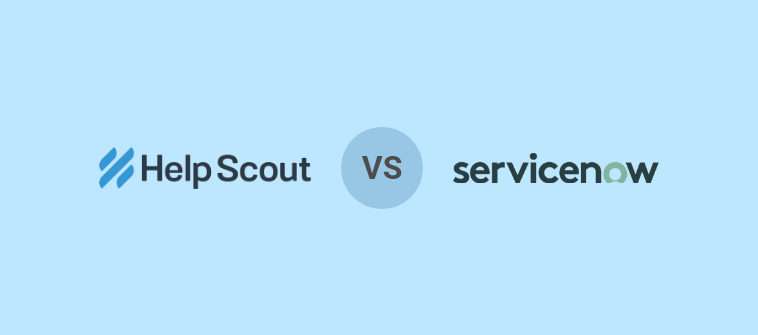 As more and more businesses are looking to digitize their support process, the role of help desk tools has become quite quintessential.
In your search for the best help desk software, you might come across a situation where you have to pick one between Help Scout vs ServiceNow. Yes! We know it is not an easy decision.
It would be only fair to say that both these tools are industry leaders and help thousands of businesses deliver better support interactions. But does Help Scout have the edge over ServiceNow, or is it the other way around?
In this blog, we will reveal all the answers. After weeks of using these tools, we have compared them against each other over multiple aspects. But before we jump into the nitty-gritty details of Help Scout and ServiceNow, let's explore the price and feature comparison table below.
| Features | Help Scout | ServiceNow | ProProfs Help Desk |
| --- | --- | --- | --- |
| Free Trial | 15 days | Not Available | 15 days |
| Price | Starts at $20 | Not Mentioned | Starts at $20 |
| Ideal Users | Small-to-medium businesses | Large enterprises | Small-to-medium businesses |
| Shared Inbox | Available | Not Available | Available |
| Live Chat | Available | Available | Available |
| Customer Surveys | Available | Available | Available |
| Knowledge Base | Available | Available | Available |
| IT Help Desk | Not Available | Available | Available |
| Chatbot | Not Available | Available | Available |
| Real-Time Analytics | Available | Available | Available |
Let's Start with a Brief Introduction
Before we start with the Help Scout vs ServiceNow comparison, let us take a step back and explore the history and vision of these two software companies.
Help Scout was launched in the year 2011, almost a decade ago, and proudly serves customers based across 140+ countries.
As a popular software company, Help Scout works with the mission to develop powerful tools that empower businesses to support customers in the most human and helpful way. Even before remote work was popular, Help Scout had embraced a remote-first culture to allow work flexibility to its employees.
This flexible model has offered tremendous benefits to the organization as they are able to source the best talent from across the globe and provide the ideal work-life balance to every employee.
ServiceNow was started in 2004 by founder Fred Luddy with the aim to build a cloud-based platform that would enable people to distribute work effectively across the enterprise.
As a software company based in California, America, ServiceNow has a team of more than 15,000 employees based across the globe. The core values of the company are to wow customers, win together as a team, and stay hungry.
Criteria of Comparison
Comparing two software products is never easy. Different individuals who have used the product will offer you different viewpoints and that may leave you more confused than before. So what can be the way out?
Well, for a successful ServiceNow vs Help Scout comparison, we must identify some commonalities between the two tools. This could be anything from their pricing or the common features they offer. To make your life easier, we have compiled five such important criteria that will help you realize which tool is meant for your business and which one is not.
Type of Users
Interface
Features
Customer Support
Pricing
Help Scout vs. ServiceNow: Types of Users
Help Scout is a typical shared inbox software that offers some basic help desk functionalities. If you are a small or medium-scale business with email and live chat as your primary channels, you can consider Help Scout.
For a small customer service team, Help Scout can be sufficient. However, if you are an enterprise looking for robust and powerful automation capabilities, this tool will disappoint you. The tool lacks features such as asset management, IT incident management, etc., and therefore, will not be a good option for large companies or enterprises.
ServiceNow is a cloud-based ITSM tool that helps you automate your IT support operations. The tool is designed based on ITIL guidelines to help your business improve service orientation for tasks, activities, as well as processes.
So is ServiceNow for your business? Well, if you are an enterprise with large IT operations, you can consider this tool to manage all your IT-related incidents, requests, and changes.
However, if you are looking more a simple help desk tool for your small or medium-sized business, this tool might not be the best option for you.
Help Scout vs. ServiceNow: Interface
Help Scout
So between ServiceNow vs Help Scout, which one has a better interface? Well, when it comes to easy-to-use UI, Help Scout definitely stays ahead.
Help Scout is known for its simple, email-like interface that your team will already be familiar with. Agents can view all current support tickets along with their respective ticket IDs and pending time.
From the top of the screen, agents can view important docs, open multiple shared inboxes, and explore various reporting options. Help Scout even allows your team to search, filter, or edit customer profiles, and access their past customer service interactions with your brand.
ServiceNow
ServiceNow offers an interface that looks quite outdated at the first glance. Don't be surprised if it takes a lot of time for you to get going with the basics of this tool.
You can access main functions from the left side panel such as Self Service, Dashboards, Service Catalog, Visual Task Boards, and more. From the main interface, you can even access functions such as filters or settings.
Moreover, IT support agents can even create new incidents or request tickets as soon as they log in to their accounts.
Help Scout vs. ServiceNow: Features
1. Ticket Management
Help Scout offers a basic ticketing system that misses out on multiple automation capabilities.
You can use their shared inbox feature to manage multiple shared email accounts in one place. Every email can be converted into a support ticket and assigned to a suitable agent.
Moreover, when it comes to internal collaboration, Help Scout does a great job. For instance, you can create a library of saved replies that can be used to quickly handle common queries or complaints. Moreover, agents can be alerted when someone else is working on a ticket and they can also use private notes to discuss serious issues.
ServiceNow comparison with Help Scout reveals that the former offers a much more powerful ticketing system. Packed with incident and request management capabilities, ServiceNow helps you enhance your IT ticket management process. You can resolve tickets faster by automatically assigning tickets to agents. Internal collaboration tools also ensure that agents can communicate with each other and brainstorm together on complex issues reported to them.
With the native mobile apps, agents can track tickets on the move, get real-time notifications, and take quick actions. You can even build a service catalog to allow end-users to make relevant service requests and understand their respective SLAs.
2. Live Chat
Help Scout's comparison with ServiceNow shows that it does not offer the chatbot feature, which is a major disappointment. However, you can use their live chat feature to recommend articles to customers based on the page they are viewing.
In case the customers are unable to find what they are looking for, they can initiate a conversation with any available live chat agent.
However, there is another drawback. Help Scout does not show the live chat window unless any agent is available to take chats. This can make it difficult for your team to record customer queries or details when your team is offline.
ServiceNow offers an AI-powered conversational bot that makes it easier for employees and customers to get their issues resolved whenever they want.
Without the need for a live agent, customers can get the desired resolution in seconds. To make your job much easier, ServiceNow offers a guided setup and pre-built conversations that you can use right away.
You can use the drag-and-drop feature to build and test conversations. In addition to this, every chatbot interaction and history can be transferred to agents so that they have all the context they need.
3. Knowledge Management
In the knowledge base battle of Help Scout vs. ServiceNow, the former offers an easy-to-use knowledge base that you can get started within no time. Your customer service agents can easily add text, images, hyperlinks, videos, and tables to articles to enhance the self-service experience.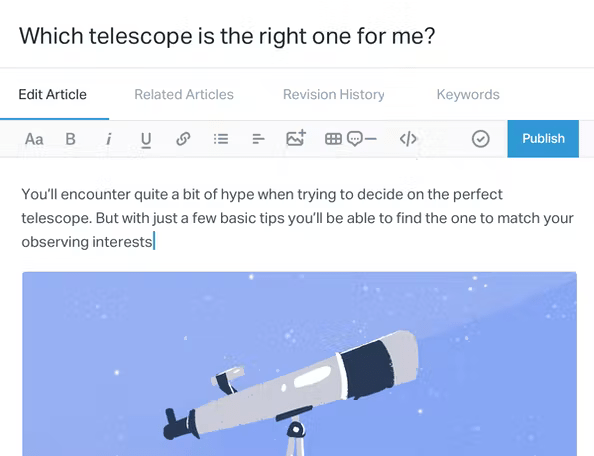 Another great aspect is that you can embed your knowledge base articles easily on any web page. For instance, you can use it as a popup, sidebar notification, or share with customers via the live chat window.
You can even optimize your support content for multiple devices such as mobile, tablet, or desktop. Creating SEO-optimized content is also relatively easier with this tool.
With the Microsoft Word integration, agents can enjoy a familiar experience while creating or editing knowledge base articles. You can even use machine learning to identify and understand the gaps in your knowledge management process.
You can capture relevant metrics to monitor content usage as well as quality trends. You can even allow employees and customers to share feedback and use that information to further improve the quality of your help content.
4. Reporting & Analytics
Unlike ServiceNow, Help Scout allows you to view your team's support performance on multiple channels. On a single dashboard, you can view relevant stats for communication channels such as email, live chat, and phone.
You can even make the most of filters and advanced customization options to view the data that is relevant to your research goals.
As a leading ticketing system, Help Scout allows your team to monitor the Saved Replies (also known as canned responses) usage. For example, you can view the number of times agents use a particular Saved Reply and identify the ones that need to be updated.
ServiceNow helps you track all your open and past incidents in one place. Using pre-defined reports and dashboards, you can easily visualize data and take all the necessary steps to improve your performance.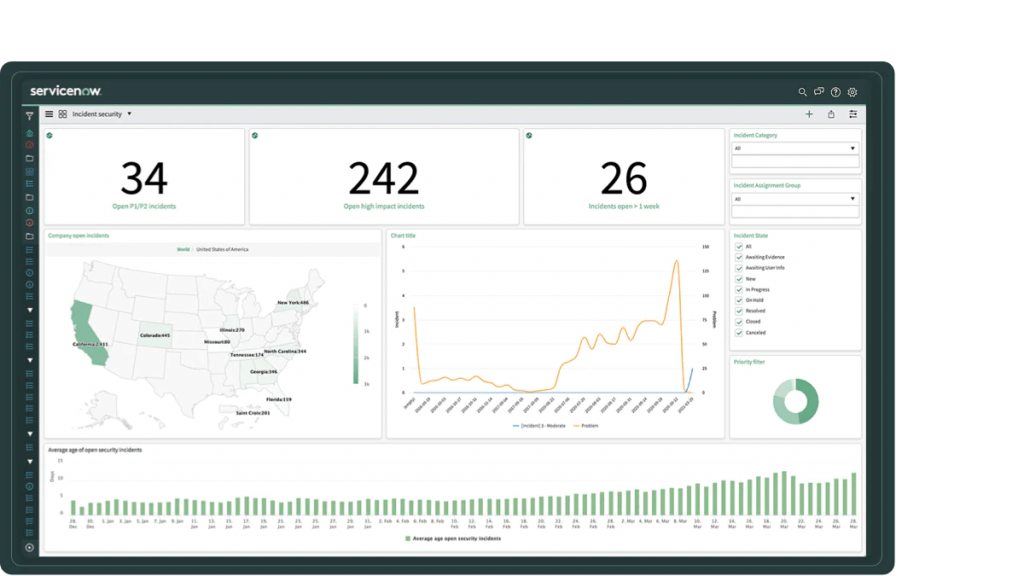 ServiceNow also offers high data security so that your reporting information is protected at all times. You can give administrators the permission to oversee, manage, and share reports with relevant stakeholders.
In order to reduce manual effort and save time, you can even run automated reports and monitor agent as well as service desk performance.
5. Automation Capabilities
Help Scout allows your support team to automate manual tasks to speed up your workflow.
You can create automated workflows based on specific conditions – If an event takes place, this action should happen next. For example, you can automatically add tags to tickets such as "Product" if the subject line contains the word "Feature Request" This will save your team a lot of time that they would otherwise have spent on manual work.
Help Scout also helps you automate processes such as ticket prioritization and escalation. Overall, the automation features are quite basic and can be enhanced further.
ServiceNow helps you automate your workflows with the help of Artificial Intelligence (AI) and Machine Learning (ML).
For example, you can use its smart suggestions feature which is powered by natural language processing to better assist your end-users.
AI-powered tools also help you automatically detect the major incidents and identify their underlying causes. In addition to this, you can automatically route and assign work so that issues and requests get to the right team, at the right time.
Help Scout vs. ServiceNow: Customer Support
Help Scout
Help Scout does not offer their support email or phone contact details on their website. However, they do offer a knowledge base that can help you resolve your queries at your own pace.
You can find articles around categories such as getting started, account management, productivity, mobile apps, integrations, live chat, and much more. This easy categorization will help your agents scan through hundreds of support articles and make the most of this tool.
ServiceNow
ServiceNow offers a community of over 300k members. Here you can interact with other similar users based across the globe and tap into the full potential of this tool.
You can even check and attend upcoming events to gain more product knowledge, acquire new skills, and get insights from their experts.
In addition to a community forum, ServiceNow also offers a YouTube channel full of support videos and tutorials. You can even access their knowledge base to get answers to your queries round-the-clock.
Help Scout vs ServiceNow: Pricing
Help Scout
Standard: $20/agent/month
Plus: $35/agent/month
Company: $60/agent/month
In the battle of Help Scout vs. ServiceNow, the former offers clear and transparent pricing. Help Scout starts at $20/month and comes with a 15-day free trial to help you explore key features before making a purchase decision.
The standard plan has multiple limitations. For instance, the plan is limited to 25 users, and you will get only two mailboxes to work with. Plus, you will miss out on crucial features such as custom fields, advanced permissions, API access, and more.
On the other hand, if you have a big customer service team, you can choose the Company plan ($60/user/month). Your team will get unlimited mailboxes, HIPPAA compliance, enterprise-level security, and other impactful features.
ServiceNow
ITSM
ITSM Professional
ITSM Enterprise
ServiceNow offers three plans: ITSM, ITSM Professional, and ITSM Enterprise. All the plans come with the basic incident, problem, and change management features.
The enterprise plan is well-suited for businesses that have wide IT operations and technology support needs. Your business can get additional features such as predictive intelligence, performance analytics, vendor manager workspace, workforce optimization, and process optimization.
ServiceNow does not offer transparent pricing details on its website. You will have to talk to their sales representative to get a custom quote for your team.
Final Verdict: Which One's the Best?
Well, honestly, there is no clear winner. Both these tools have been designed for different audiences and business types.
When to Choose Help Scout?
If you have a small customer base that contacts your business mainly via email or live chat, Help Scout can be a good option for you. You can also use this as a shared inbox tool to manage all your shared mailboxes such as info@company, suppor@company, contact@company, etc.
However, there are many other help desk tools that offer similar features and are less expensive than Help Scout. On the other hand, if you need out-of-the-box automation and customization capabilities, this tool maybe not be the best bet.
When to Choose ServiceNow?
Let's get this straight – ServiceNow is not a typical help desk software. It is an ITSM tool that is built on ITIL best practices and guidelines.
This means that it is an ideal tool for large corporations or enterprises that need to deliver 24×7 IT support to end-users, who can be either customers or employees. The tool is quite expensive and can appear to be complicated if you have never used an ITSM tool before.
ProProfs Help Desk as an Alternative to Help Scout and ServiceNow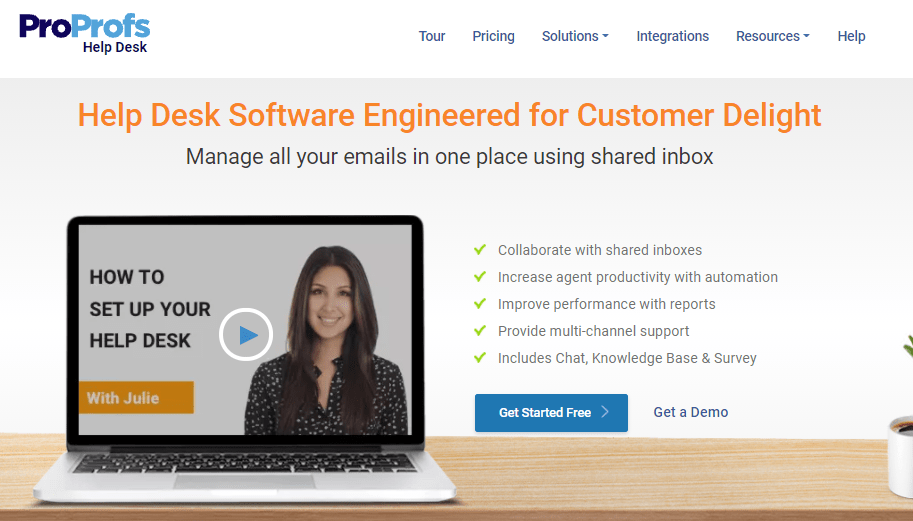 Do you wish ServiceNow was less complicated and Help Scout had more powerful features to offer? Well, a lot of businesses like you have opted for ProProfs Help Desk for its transparent and affordable pricing, powerful automation capabilities, and simplified user interface.
Here are some features that make ProProfs the ideal alternative:
Clear & Transparent Pricing: Unlike ServiceNow, ProProfs Help Desk offers clear and transparent pricing details on its website. You can explore the different plans, compare the features, and know exactly what you will be paying. So there are no surprises at the end of the month.
Simple & Clean Interface: ProProfs Help Desk offers a Gmail-like interface that your team will already be familiar with. This means that your team can instantly start resolving support tickets and assisting customers with their issues. Moreover, your business will also save the time and money spent on agent training.
Knowledge Base: A knowledge base is another impactful feature that can help your business encourage self-service among your audience. By uploading relevant help articles, guides, documentation, video tutorials, etc., you can reduce your support costs, deflect common tickets, and allow agents to focus on more pressing issues.
Live Chat & Chatbots: Interact with your customers or prospects in real-time via live chat. Invite them to chat based on the time spend on your website and generate more leads. ProProfs Help Desk allows you to develop powerful chatbots that can interact with customers and offer necessary assistance.
Reports & Surveys: Customer support managers can gain 360-degree visibility into metrics that are relevant to their business. For instance, you can monitor ticket resolution times, response times, open tickets, and much more. You can even share surveys with customers to capture valuable insights into your agent's performance and the overall support quality.
We are sure with the help of this Help Scout vs ServiceNow comparison blog; you will be able to find the tool that comes the closest to your unique needs and expectations.
However, if you are searching for an affordable yet feature-rich alternative, you can go for ProProfs Help Desk. Sit with your support team, jot down and discuss the features you need, compare these help desk tools, and go for the one that comes out as a clear winner.
Do you want a free Help Desk?
We have the #1 Online Help Desk Software for delightful customer support