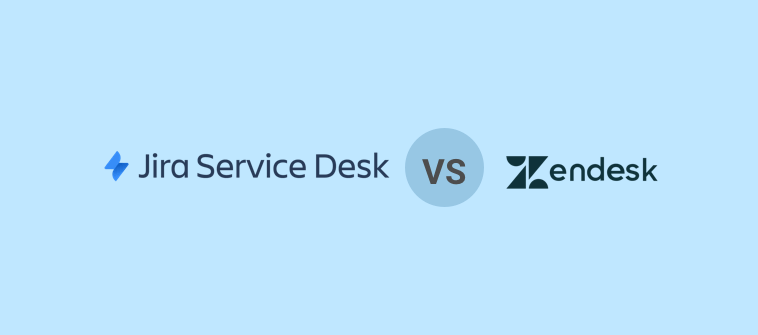 What happens when you put two popular help desk tools against one another? In this never-ending battle of Zendesk vs Jira Service Desk, how do you pick the best one?
Both Zendesk and Jira Service Desk are loaded with similar functionalities which makes it hard to differentiate. But just like any great help desk software, they have their own strengths and weaknesses that can be clear to see when you dig deeper.
If you have landed here, the good news is that you have already narrowed your decision down between these two choices. So should you go for the popularity of Zendesk or the ITSM capabilities of Jira?
We understand the stark similarities between these two software giants can leave you utterly confused. In this blog, we have done a thoughtful analysis of both Zendesk and Jira and compared their features, and prices against one another.
But first things first. Let's understand what these two tools are all about.
Zendesk vs Jira vs ProProfs
| Features | Zendesk | Jira Service Desk | ProProfs Help Desk |
| --- | --- | --- | --- |
| Free Trial | 14 days | 7 days | 15 days |
| Price | Starts at $49 | Starts at $20 | Starts at $20 |
| Ideal Users | Large enterprises | Medium-to-large businesses | Small-to-medium businesses |
| Live Chat | Available | Not Available | Available |
| Customer Surveys | Available | Available | Available |
| Knowledge Base | Available | Available | Available |
| IT Help Desk | Available | Available | Available |
| Chatbot | Available | Not Available | Available |
| Real-Time Analytics | Available | Available | Available |
Introduction to Zendesk and Jira Service Desk
Even before you choose Zendesk vs Jira Service Desk, it's important to get a good backdrop and gain clarity around these two software companies.
When it comes to popular customer support solutions, Zendesk ranks well on top. The software company boasts about 160,000 plus paid customer accounts and an employee strength of 4000 plus. Zendesk is a popular service-first CRM company that offers exemplary tools to communicate with customers, strengthen relationships, and enhance the customer experience.
Jira Service Desk, also known as Jira Service Management, belongs to the list of robust tools offered by the parent company Atlassian. The company is powering innovation at 200,000+ companies worldwide including popular names such as Airbnb, CISCO, Toyota, eBay, and more. Atlassian was started in 2002 by two friends and today has grown to a team of 3000 plus employees with offices across the globe.
Criteria of Comparison
Different support tools bring different qualities to the table. For instance, while one tool may offer advanced features, the other might offer a simple and easy-to-use interface.
For a successful Jira Service Management vs. Zendesk comparison, we need to take a deep dive into the various features and capabilities of these tools. After careful research and consideration, we have compiled a list of 5 criteria on which we will be comparing both Zendesk and Jira. Let's take a look at them:
Type of Users
Interface
Features
Customer Support
Pricing
Zendesk vs. Jira Service Desk: Types of Users
Zendesk is home to big brands and corporations that use this tool for its robust AI-powered features and advanced capabilities.
Enterprises that have a wide, global customer base and are looking for a highly scalable solution can opt for Zendesk. Although the pricing is quite high, you won't be disappointed with what you are getting.
Due to its expensive plans and complex functionality, Zendesk is not the ideal customer service tool for small to mid-size businesses. Even if you are a big business, but on a tight budget, you might want to skip Zendesk.
Jira Service Desk is designed for IT support professionals who demand more than just a mundane ticketing system. You can empower your development and other teams by ensuring they are always connected to the right support professionals.
Jira is an ideal solution for businesses that wish to improve their IT support operations. You can enjoy ITSM features such as asset management, change management, incident management, request management, etc.
If your business needs to resolve basic customer or employee issues and track customer experience, Jira might be more than what you need. It can prove to be a complex option for small to mid-size businesses that want simple help desk software.
Zendesk vs Jira Service Desk: Interface
At first glance itself, Zendesk's interface appears quite dull, outdated, and lacks that modern appeal. Despite its high popularity, users will admit that it takes a lot of time and effort to understand Zendesk completely.
Although Zendesk provides an awesome onboarding process and offers helpful suggestions and tips on every step of the journey, it still has not done enough to make its tool easy to use. For instance, while using Zendesk's main dashboard, you will see that you need to open their tools in separate browser tabs. That can prove to be time-consuming and definitely not the best solution for smaller customer service teams.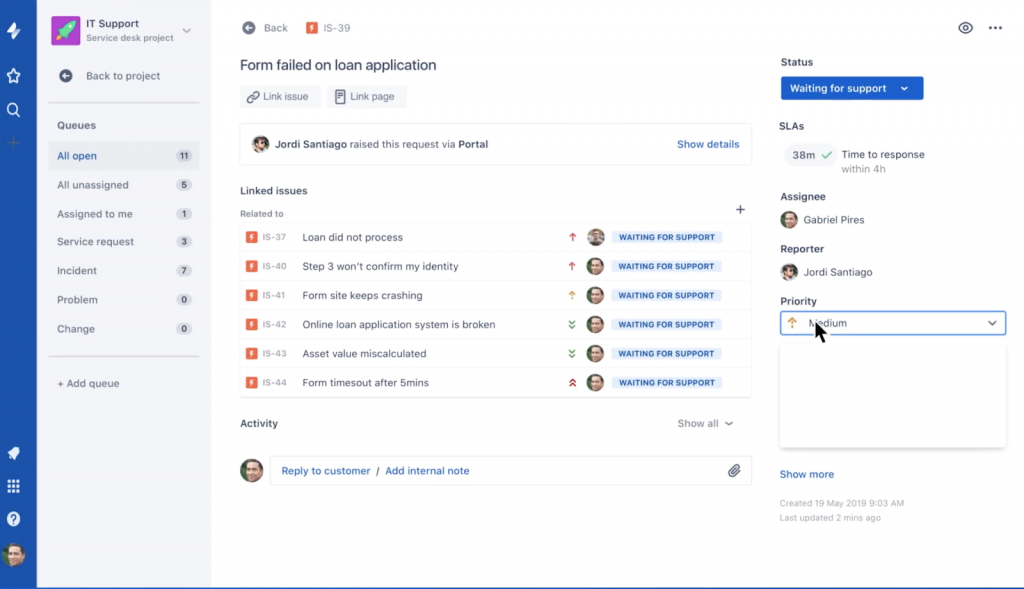 For businesses that have used other products of Atlassian before, they would definitely feel at home with Jira Service Management. Although the user interface (UI) is not the most crisp, new users can easily locate the main features and functionalities.
The moment you compare it with Zendesk's interface, you will realize that Jira's learning curve is not as steeper and agents need to spend less time to get the hang of advanced features. If you are using the tool for the first time, you will have to organize small training sessions to make sure your IT support professionals can get started quickly.
Zendesk vs Jira Service Desk: Features
1. Ticket Management
Zendesk:
Zendesk offers a solid ticketing system and allows you to automatically convert your email, live chat, social media, and voice messages into support tickets. Customers also get an automated notification that your business has received the request or complaint.
With Zendesk's Agent Workspace, support reps can manage conversations from multiple channels in one place. They can easily track the previous tickets raised by a customer, refer to contextual information, and improve the quality of conversations. Moreover, features such as routing, time tracking, service level agreements, and more, make Zendesk a good ticketing partner.
Jira Service Desk:
In this ticketing battle between Jira Service Desk vs Zendesk, Jira does not stay much behind. You can showcase your services online using which employees and customers can quickly contact you. You can even tailor request forms to meet different teams' or customers' unique requirements.
Just like Zendesk, you can capture requests from email, chat tools, your service desk, and other channels. Moreover, support agents can use bulk ticket actions and machine learning to group tickets together that have similar characteristics. This will save your team a lot of time.
2. Live Chat
Zendesk:
Zendesk does not offer the most visually appealing live chat window. However, you can add live chat to your mobile app or website and allow agents to assist potential as well as existing customers.
Moreover, you can even develop AI-powered answer bots with Zendesk that can help you assist customers with their basic queries or requests. Bots can interact with customers even when your human team is offline.
You can use Zendesk's Flow Builder to design the flow of conversations between the customer and the answer bots.
Jira Service Desk:
Jira does not come with a built-in live chat feature like Zendesk. Instead, you will have to visit their marketplace and download a separate chat tool.
Once installed, you can easily chat with your customers in real-time over your website or help center. You can even assist website visitors proactively based on the amount of time they have spent on your web pages. In order to monitor the customer experience, you can even share CSAT surveys via the live chat window.
3. Knowledge Base
Zendesk:
The Zendesk Jira Service Desk comparison is incomplete without discussing how they allow businesses to create their own help centers or knowledge bases.
Zendesk calls its help center feature a "Do it yourself service". With Zendesk, you can create a smart knowledge base and allow customers the freedom to help themselves on their own terms. Gradually, you can even reduce your ticket volume, support costs, and offer 24×7 assistance.
Moreover, with the Team Publishing feature, you can collect expertise and make them accessible to customers in the form of FAQs, policies, and more. Agents can always edit and update content to keep the knowledge fresh and helpful.
Jira Service Desk:
When it comes to the knowledge base, Jira is a step ahead as it helps you create an AI-powered self-service portal for both customers as well as employees. With the help of machine learning, you can make searching for relevant knowledge base articles, FAQs, etc., an effortless and stress-free process.
For a well-updated knowledge base, agents can rate whether articles are helpful or not. You can even run insightful reports to see which articles deflect the most queries, requests and solve the most problems. You can even leverage multiple templates to enhance the user self-service experience.
4. Reports & Analytics
Zendesk:
When it comes to reporting and analytics, Zendesk does not disappoint. You can easily monitor your team's performance and identify areas for improvement.
You can generate reporting data for every communication channel and monitor how customers interact with your team. However, if you are a small business, you might find Zendesk's reporting data overwhelming and confusing.
In addition to this, Zendesk allows your business to schedule reports and share them with teammates and stakeholders. This is a great way to keep them in the loop about key insights and trends.
Jira Service Desk:
On comparing the reporting features of Jira Service Desk vs Zendesk, Jira falls short on a couple of occasions. For instance, you cannot generate separate reports for every customer service channel.
However, you can set as many SLA policies as needed and track SLA breaches. Even customer satisfaction reports will help you better understand what your customers want and improve the customer experience.
Moreover, you can use templates to create and share reports with Development, Operations, and other business departments to track follow-on actions, and avoid similar incidents in the future.
5. Integrations
Zendesk:
Zendesk offers a huge marketplace where you can find suitable applications to strengthen your ticketing system and customer service process.
For instance, you can connect Zendesk tickets with Slack channels and allow agents to post comments or collaborate on tickets directly with Slack. You can also enjoy integration options with other powerful tools such as SurveyPal, Assembled, Viibe, Nicereply, Help Desk Migration, and more.
Jira Service Desk:
Atlassian's (Jira's parent company) marketplace is quite vast and gives neck to neck competition to Zendesk's marketplace. As soon as you visit the virtual app market, you can browse through new apps that have been added recently and learn more about them.
Atlassian has done an incredible job of organizing tools into useful categories such as staff picks, cloud fortified apps, top-selling apps, newest apps, trending apps, and more.
Some popular integration options include ScriptRunner, SumUp, Slack, Time to SLA, etc. Overall, you will love the user interface of this marketplace and its easy search functionality.
Zendesk vs Jira Service Management: Customer Support
Zendesk gives a variety of options to its users and helps them get relevant assistance in real-time. Users can visit Zendesk's website, interact with an agent over live chat, and expect an instant response.
In addition to this, Zendesk offers a vast collection of Frequently Asked Questions (FAQs)that users can access from its help center. You can explore topics around accounts, pricing, data privacy, plans, account changes, and more.
To offer self-service to customers and expand its network, Zendesk has a large online community. The community is used by people to ask expert users for their advice, interact with similar users, and receive product news or announcements.
Unlike most help desk tools, Zendesk does not clearly provide its contact number or email address for users.
As soon as you visit Jira's contact us page, you will notice that they have done a great job in organizing support categories. Whether you need assistance with technical support or wish to know more about the pricing, billing, or licensing details, there are separate categories for all.
Just like Zendesk, Jira Service Management offers a decent help center and even a community forum. However, considering the popularity of Zendesk, its community has more users who come from all walks of life.
Besides this, Jira has clearly mentioned the addresses and contact information of its offices based in the Asia Pacific, North America, and Europe. This is an excellent example of building trust with customers.
Zendesk vs Jira Service Desk: Pricing
Suite Team ($49/agent/month)
Suite Growth ($79/agent/month)
Suite Professional ($99/agent/month)
Suite Enterprise ($150/agent/month)
There is no doubt that Zendesk is an expensive customer service tool as its basic plan called "Suite Team" starts at $49/agent/month. However, first-time users can get a 14-day free trial.
All Zendesk Suite plans include a multi-channel ticketing system (voice, email, live chat, SMS), easy to set up automation and workflows, unified agent workplace, reporting, storage, and integration with third-party business apps.
Zendesk's Suite Enterprise plan can be a good option for large corporations that have a wide customer base. The plan offers features such as custom team roles and permissions, advanced knowledge management, advanced reporting capabilities, APIs, and a lot more.
Free: (Always free for 3 agents)
Standard: ($20/agent/month)
Premium ($40/agent/month)
Enterprise (Available on request)
When you compare Zendesk plans with Jira, you will realize that Jira is comparatively a lot more affordable. In fact, it offers a forever-free plan which is limited to 3 agents.
Jira Service Desk's simple pricing is quite impressive. With the free plan, you get basic help desk features such as reporting, incident and request management, etc.
However, to make the most of ITSM capabilities, you can opt for the enterprise plan. You can enjoy a user limit of up to 5000 agents, get Jira's dedicated support team, unlimited storage, and an uptime guarantee of 99.95 percent. Jira has not been transparent to share pricing details of this plan and you will have to contact their sales team for necessary information.
Final Verdict: Which One's the Best?
So in this fierce battle between Zendesk and Jira Service Desk, which tool stands tall and which one does not deserve your attention?
Well, after comparing so many features and pricing plans, it will be unfair to call out a single winner. Both the tools have impressive aspects that make them unique in their own way. In short, they can be an ideal fit for different businesses based on their special needs.
Let's dig a little deeper and see which tool can be the right match for your support team.
When should you choose Zendesk?
If price or budget is not a big factor for your team, then you can go for Zendesk without a second thought. Enterprises can enjoy an advanced feature list and ensure their global customers receive 24×7, uninterrupted support.
With Zendesk, you can enjoy impressive features such as multichannel reports, branding, reports, analytics, customizable dashboards, etc. Your business can also opt for Zendesk if your team needs more integration options. For example, you can easily integrate Zendesk with third-party tools such as Zoom, Slack, Nicereply, Haptik, etc.
When should you choose the Jira Service Desk?
If you have employees or customers who need to be supported with their IT needs, Jira Service Desk can be a good option.
Although Jira is not as advanced as Zendesk, the tool is comparatively cheaper and can be a good option for mid-size businesses.
If your business is looking for core ITSM features such as change management, asset management, incident management, knowledge management, etc., then Jira can be a safe bet. However, you will miss out on advanced reporting features and important integration options.
ProProfs Help Desk as an Alternative to Jira & Zendesk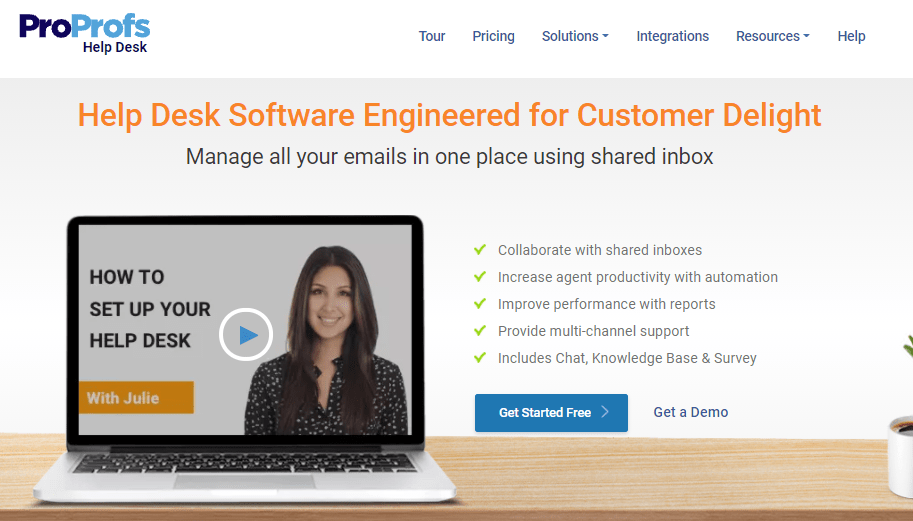 If you don't have the budget for Zendesk and feel Jira Service Desk is a little too complicated, we might have the perfect alternative for you. Proprofs Help Desk is not only affordable and easy to use but also comes loaded with AI-powered capabilities.
Let's quickly see how ProProfs can prove to be a game-changer for your business:
User-Friendly Interface: ProProfs Help Desk does not bombard you with irrelevant features or data. You get a clean, simple, Gmail-like interface that is easy on the eyes. Unlike other tools where agents have to spend weeks on software training, ProProfs can help you get started in minutes.
Agent Roles & Permissions: There are multiple agent roles such as Admin, Manager, Staff, and Watcher. You can assign these roles to key stakeholders and determine their level of access to the tool. For instance, you can assign the "Watcher" role to clients or business partners and allow them to view important help desk tickets.
Chatbots: ProProfs Help Desk lets you build chatbots that are well-suited to your industry and target audience. You can decide the flow of conversations and generate reliable leads for your business. Moreover, you can allow customers to book appointments or find necessary information by interacting with the chatbots in real-time.
Automation & Reports: You can automate a majority of your customer service tasks with ProProfs. For instance, you can automatically route tickets to relevant agents, share automated notifications, and surveys with customers. Moreover, you can gauge your agents' daily, weekly, monthly performance and also monitor the customer experience with the help of CSAT, NPS, and other metrics.
24X7 Human Assistance: Both paying customers or first-time visitors can easily contact our support team via phone, email, chat, or by simply raise a request on our website. In addition to this, we have a vast help center that covers all your basic questions and needs.
We hope with the help of this Zendesk vs. Jira Service Desk comparison blog; you will be able to choose the right tool that perfectly meets your team's unique requirements.
If you are looking for an alternative that promises affordability without compromising with important features, ProProfs Help Desk can prove to be your best support partner. Regroup with your team, discuss your budget, jot down the must-have features you need, and go for the one that ticks all boxes.
Do you want a free Help Desk?
We have the #1 Online Help Desk Software for delightful customer support