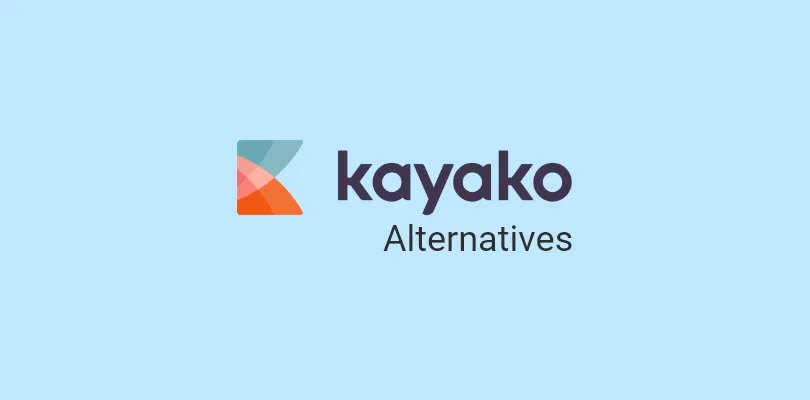 Are you seeking a customer support platform that goes beyond the limitations of Kayako? Are you looking for the best Kayako alternatives?
Guess what? You've landed at the right place!
Kayako has been a trusted name in the industry, providing help desk solutions to businesses worldwide. With this tool, you can enjoy powerful features like ticket management, live chat support, and customer service analytics.
However, Kayako falls flat on its face in certain critical areas. Its shortcomings, such as high pricing, outdated interface, and lack of essential features, have left many searching for more robust alternatives to Kayako.
If you are sailing in the same boat, we are here to help.
In this blog, we'll explore the 10 best Kayako alternatives, their features, and pricing. So whether you're a current Kayako user looking for a seamless transition or a passionate entrepreneur seeking the ultimate help desk solution, this blog is for you!
Let's get started!
What Is Kayako?
Kayako is a popular help desk solution that empowers businesses to provide exceptional customer support. With its intuitive interface and robust features, Kayako streamlines customer interactions and helps teams manage support inquiries efficiently.
From ticketing and live chat to self-service knowledge bases, Kayako offers a comprehensive suite of features to enhance customer satisfaction. Notably, its powerful automation capabilities help you automate repetitive tasks, saving valuable time for support agents.
As a leading player in the help desk software market, Kayako has earned a reputation for its intuitive interface and team collaboration capabilities.
So how much does Kayako cost? The vendor has not shared pricing details on its website. You can get in touch with their sales team for a quote.
Why Look for Kayako Alternatives?
While Kayako offers several benefits, there are also some potential drawbacks to consider.
Here are a few drawbacks of using Kayako.
Expensive Pricing: One of the main drawbacks of Kayako is its pricing. The software can be relatively expensive, especially for small businesses or startups that are on a tight budget. The pricing structure is based on the number of users and can increase as your team grows, making it less cost-effective for larger organizations.
Limited Customization Options: While Kayako provides some customization options, it may not offer the same level of flexibility as other help desk solutions. Tailoring the platform to meet your specific needs can be a struggle, especially if your organization has unique requirements or workflows.
Lack of Extensive Integrations: Although Kayako integrates with popular platforms like Salesforce, JIRA, and Zapier, it may not have as extensive an integration ecosystem compared to other help desk software options. This limitation can be a problem if you are looking to connect your help desk with a wide range of other tools.
Restricted Reporting & Analytics: Some users have reported that the reporting and analytics capabilities in Kayako are not as robust or comprehensive as they would like. If in-depth analytics and reporting are critical to your business, you might find these features lacking or not meeting your specific requirements.
So these are the common reasons why most businesses are looking for Kayako alternatives.
What Were Our Selection Criteria for Kayako Alternative?
When curating a list of the best alternatives, it's crucial to have a clear set of criteria.
Our selection process for finding suitable alternatives to Kayako involved careful consideration of various factors.
Take a look!
Feature Set
We meticulously analyzed the features of different help desk systems. We sought alternatives that offered a comprehensive range of functionalities, including ticket management, live chat, knowledge bases, automation, and reporting capabilities. A rich feature set allows businesses to efficiently manage customer interactions and streamline support processes.
Integration Capabilities
Integration is vital for seamless workflows. We evaluated the integration capabilities of each alternative, ensuring compatibility with popular platforms. Robust integrations allow businesses to connect their help desk software with their existing CRM systems, project management tools, and other solutions.
Scalability & Customization
As businesses grow, their customer support needs evolve. So we focused on alternatives that offered scalability, ensuring they are able to accommodate expanding teams and increased customer demands. Additionally, we considered customization options, seeking solutions that allow businesses to customize the software to their specific requirements and branding.
User Experience
A user-friendly interface is paramount for faster adoption and effective usage. We paid close attention to the UI/UX of each alternative, looking for intuitive designs that facilitate ease of use and quick onboarding. A well-designed interface enhances productivity and reduces the learning curve for support teams.
Value for Money
Cost considerations are essential when evaluating alternatives. We examined the pricing structures of various options, considering factors such as subscription plans, tiers, and additional fees. Our aim was to identify alternatives that provide a competitive pricing structure without compromising on the value and features offered.
By meticulously assessing each alternative against our selection criteria, we have curated a list of options that present compelling alternatives to Kayako.
We will delve into each alternative, highlighting their unique strengths and suitability for different business needs.
Keep reading to find the perfect Kayako alternative that aligns with your customer support requirements.
A Quick Comparison Table
Take a quick glance at this table, comparing the key features and pricing of our top 10 Kayako software alternatives.
Software
Key Features
Staring Price
ProProfs Help Desk
Live chat + self-service knowledge base

Pre-designed templates

Reports & analytics

CSAT & NPS surveys

$20/user/month
Help Scout
Custom attributes

Beacon help widget

Automated ticket routing

Alerts & notifications

$20/user/month
Zoho Desk
Advanced web forms

Tickets cloning

Ticket tags

Auto time tracking

$9.76/user/month
LiveAgent
Chat invitations

Email templates

Canned messages

Tickets tags

$9/agent/month
OneDesk
Pre-built reports

Customizable ticket types

Ticket statuses

Automated FAQ replies

$11.99/user/month
Freshdesk
Ticket prioritization

Automated follow-ups & escalations

Custom dashboards

Canned forms

$12.18/user/month
Zendesk
Pre-built reporting dashboards

Standardized replies

Skills-based routing

Side conversations

$19/agent/month
Salesforce Service Cloud
Task automation

Mobile application

Omnichannel routing

Swarming capabilities

$25/user/month
HappyFox
Bulk actions

CSAT surveys

Kanban board view

Ticket templates

$29/agent/month
Intercom
Tickets IDs & titles

Automatic workload management

Saved replies

In-app messaging

$74/month
We will now dig deeper into these tools in the next section.
Let's get started!
10 Best Kayako Alternatives & Competitors in 2023
Here are the 10 best Kayako alternatives that you can choose from.
ProProfs Help Desk is a simple yet powerful customer support software that facilitates seamless collaboration among agents for swift resolution of support tickets.
Renowned for its rich help desk features and affordability, ProProfs Help Desk caters to businesses of all sizes. Its user-friendly interface ensures a quick start, eliminating the need for extensive training.
Designed with the diverse needs of small and large businesses in mind, the tool shines in offering personalized interactions to visitors. Moreover, you can even share automated CSAT surveys with customers to gauge their valuable feedback and improve support operations.
Key Features of ProProfs Help Desk:
Why We Picked It:
Simple and intuitive interface
Automate support with hassle-free chatbot development
Pricing:
Starts at $20/user/month. (Single plan that includes all premium features)
Help Scout is a versatile Kayako competitor designed to streamline customer support processes. It offers a user-friendly interface that allows team members to efficiently manage customer inquiries, prioritize complaints, and collaborate seamlessly.
With features like a shared inbox, automation, and a robust knowledge base, Help Scout empowers businesses to deliver exceptional customer experiences. Also, the tool integrates with various communication channels, ensuring efficient communication across email, live chat, and phone.
Key Features of Help Scout:
Use custom attributes to enrich customer profiles
Use the Beacon help widget to provide seamless assistance right within your website
Ensure each request reaches the right agent or team with automated routing
Stay informed about critical customer service activities with alerts and notifications
Why We Picked It:
Its customizable reporting offers valuable insights for performance tracking and improvement
In-app messaging
Pricing:
Starts at $20/user/month.
Read More: Top 10 Help Scout Alternatives for 2023
Zoho Desk is a customer support software that helps businesses efficiently manage their support operations. With multi-channel support and internal collaboration tools, Zoho Desk ensures a seamless support experience.
Zoho Desk's customization options and integrations make it suitable for businesses of all sizes, aiming to enhance customer satisfaction and agent productivity. You can even leverage its mobile application to get a bird's eye view of your support operations.
Key Features of Zoho Desk:
Capture customer information with advanced web forms
Merge, split, and clone tickets within seconds
Organize and categorize support tickets effectively using ticket tags
Track support agents' work hours with auto time tracking
Why We Picked It:
Close tickets on the go with Zoho Desk's mobile apps for Android and iOS
Use round-robin ticket assignment for improved workload management
Pricing:
Starts at $14/user/month.
Read More: Top 10 Zoho Desk Alternatives for 2023
LiveAgent is a comprehensive help desk platform that helps your team consolidate customer communication channels into a single interface. You can extract team performance data to gain actionable insights into your customer service, identify training needs, and enhance customer satisfaction for your business.
Besides, its robust automation capabilities and customizable ticketing system help drive customer support and engagement, making it an ideal Kayako substitute.
Key Features of LiveAgent:
Use chat invitations to engage customers proactively
Create email templates/canned messages to automate tasks
Prioritize customer emails by utilizing SLAs
Categorize customer issues and requests using ticket tags
Why We Picked It:
Create a self-service portal in simple steps
Abundant customization options
Pricing:
Starts at $9/user/month.
Read More: 11 Best Canned Response Templates for Customer Support Emails
OneDesk integrates project management and help desk functionalities into a single solution. With features such as ticketing, task management, customer feedback, and team collaboration, it enables organizations to streamline their workflows and enhance customer satisfaction.
The centralized system empowers teams to efficiently handle customer support, manage projects, and seamlessly collaborate, providing a holistic approach to managing both customer service and project lifecycles.
Key Features of OneDesk:
Gain valuable insights into your customer support performance with pre-built reports
Customize ticket types to for improved organization
Set ticket statuses to track their progress
Set automated replies for FAQs
Why We Picked It:
Create unique workflows for assigning and routing tickets
Leverage webforms to capture relevant ticket details
Pricing:
Starts at $11.99/user/month.
Read More: 10 Ways to Customize Your Help Desk Software
Another great Kayako competitor, Freshdesk is an all-in-one help desk platform designed to help businesses provide top-notch customer support. It's like having a virtual support team at your fingertips!
With features such as ticketing, a knowledge base, live chat, and community forums, Freshdesk makes it easy to engage with users on their favorite channels. In addition, its user-friendly interface and automation capabilities ensure smooth ticket management, collaboration, and happy customers all around.
Key Features of Freshdesk:
Prioritize tickets based on their urgency
Automate ticket follow-ups and escalations
Gain rich insights via custom dashboards
Reply faster to common customer inquiries with canned responses
Why We Picked It:
Ticket dispatch capabilities to categorize and route tickets to the right team
Ticket trend reports for ticket analysis
Pricing:
Starts at $12/user/month.
Read More: Top 15 Freshdesk Alternatives & Competitors for 2023
Zendesk, among the modern Kayako alternatives, is a transformative help desk platform that empowers businesses with a flexible solution to resolve customer issues faster.
Its self-service portal enables customers to find answers effortlessly, while its omnichannel support ensures seamless communication across multiple channels. Zendesk is the go-to solution for delivering personalized, efficient support experiences that drive customer satisfaction and loyalty.
Key Features of Zendesk:
Track real-time performance and identify areas for improvement with pre-built reporting dashboards
Boost agent productivity and response time with standardized replies
Accelerate ticket resolution with skills-based routing
Collaborate with teammates to resolve issues within the ticket itself
Why We Picked It:
Agent workspace
Personalize conversations across different channels
Pricing:
Starts at $19/agent/month.
Read More: 17 Best Zendesk Alternatives and Competitors for 2023
Salesforce Service Cloud is a game-changer when it comes to integrating your help desk platform with a CRM solution. With this integration, your support agents can access a 360-degree view of customers and provide personalized experiences.
It's like having a dynamic duo of customer data and support capabilities! Also, its robust knowledge base ensures customers have access to self-service options, while AI-powered chatbots provide instant support.
Key Features of Salesforce Service Cloud:
Automate mundane and repetitive tasks
Access customer information and respond to cases with a mobile application
Handle customer interactions via omnichannel routing
Expedite complex customer cases via case-swarming capabilities
Why We Picked It:
Lightning-fast case management
Easy integration with other Salesforce products
Pricing:
Starts at $25/user/month.
HappyFox is a customer support platform that brings smiles to both agents and customers alike! Your team can finally say goodbye to everyday chaos and hello to organized support workflows with custom ticket queues.
Boost agent productivity with agent scripting, ensuring consistent and effective customer interactions. Furthermore, with HappyFox, you can easily categorize and track tickets with ticket tagging and keep your support process streamlined right from the start.
Key Features of HappyFox:
Perform bulk actions on tickets like mass delete and reply
Gauge and enhance the quality of customer support interactions using CSAT scores
Track and manage tickets in a visually intuitive Kanban board view
Ensure consistency in your customer support responses with ticket templates
Why We Picked It:
Smart rule-based automation capabilities
Automated ticket assignments
Pricing:
Starts at $29/agent/month.
Intercom, another help desk software like Kayako, offers a comprehensive support solution for several compelling reasons. Leave the guesswork behind and make informed decisions with custom and real-time reporting.
With team-level workflows, you can unleash the power of collaboration and conquer customer queries with ease. And that's not all! Intercom's messenger solution takes customer interactions to new heights, delivering seamless and personalized experiences that will leave your customers in awe.
Key Features of Intercom:
Organize tickets with IDs and titles
Automatically adjust team workloads with workload management
Save time and respond swiftly to customer queries using saved replies
Provide real-time and personalized support with in-app messaging
Why We Picked It:
The shared inbox for team collaboration
Engage with customers 24×7 via chatbot
Pricing:
Starts at $74/month
Final Verdict: Which Kayako Alternative Should You Go For?
Choosing the right help desk software from the myriad of Kayako alternatives can be a daunting task. To make an informed decision, it's crucial to evaluate your unique needs and preferences.
Take the time to carefully analyze your requirements, compare different options, and make use of a free trial or product demo to assess compatibility with your organization's needs.
For those seeking recommendations, here are our top picks that have garnered praise from users.
ProProfs Help Desk is a robust solution offering comprehensive ticket management, omnichannel communication, and automation features. It allows you to manage communications via email, live chat, chatbots, web forms, help center, and more. LiveAgent is another versatile platform with advanced ticketing capabilities and customization options. Also, Freshdesk is an excellent customer-centric solution known for its intuitive interface, flexible pricing structure, and multi-channel support.
Do you want a free Help Desk?
We have the #1 Online Help Desk Software for delightful customer support