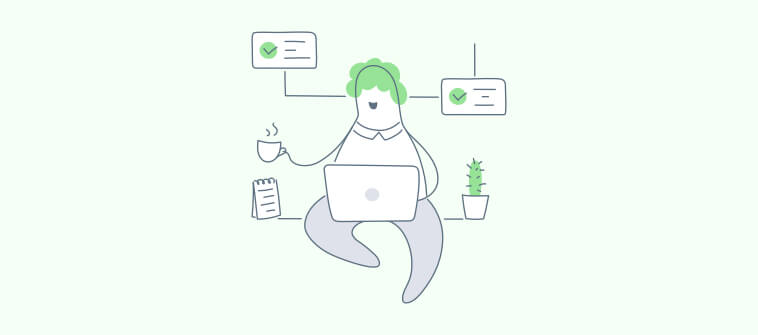 No matter if you are a small team that is part of a month-old startup or a big team working for a corporate giant, resolving customer concerns as and when they appear is critical for everyone's success.
But when the list of customer problems runs in hundreds or thousands; how do you organize and prioritize customer issues?
Well, out of all strategies, best practices, and tools that make any customer service team more efficient, a support ticketing system happens to be the most prominent one.
You can offer a unique identity to every customer issue by creating a support ticket. But what is a support ticket? Support tickets are customer issues or requests that can be easily organized, assigned, tracked, and resolved from a single platform.
In this blog, we take a look at the definition of a support ticket, its various types, and explore the various ways you can resolve tickets faster.
What is a Support Ticket?
A support ticket documents all support communications between a customer and a customer service team. Tickets can contain valuable information such as the nature of the issue, its source, date, time, and other relevant customer information.
Support tickets are known to make everyone's life easier. Let's quickly see how support tickets can be beneficial for the following stakeholders-
For Customers: A support ticket offers an individual identity to a customer's problem. They can use the ticket ID as a reference to connect with support agents. This helps them save time as there is no need to repeat their concern to every single agent.
For Agents: Agents can use a ticket ID to track the progress of every single ticket from start to finish. They can break a complex ticket into multiple child tickets, escalate the ticket to a higher rep, update the status of a ticket, and a lot more.
For Businesses: Companies can learn a lot from support tickets- how well their products are performing in the market, what common problems customers are facing, etc. By studying support tickets over time, they can make necessary improvements to future product releases.
What is a Support Ticket System?
A support ticket system acts as a single platform for managing all customer issues as well as requests. The ticketing software works by automatically converting every incoming support communication into a unique ticket that documents support interactions over the course of time.
Ticketing systems empower your customer service agents to better track requests, prioritize urgent tickets, and share faster responses for a delightful customer experience.
Modern customers prefer to contact a business on their preferred communication channels. To make this possible, a multi-channel ticket management system can capture customer messages on a plethora of channels such as live chat, email, phone, social media, web forms, etc. Therefore, your team does not need to use different tools to manage conversations on different channels. An omnichannel support ticket system is all you need.
Now, in order to reduce the number of tickets, the tool gives you the option to create a vast knowledge base or help center. This way you can deflect a majority of support tickets that include common customer queries about product availability, payment options, returns, shipping, etc. A user-friendly knowledge base will empower customers and allow you to reduce your support costs in the long run.
What Are the Types of Support Tickets?
Right from the moment a ticket is received to the time it is marked as closed, a support ticket goes through different stages and takes many forms. Here are the different types of support tickets that you should know:
1. Open Ticket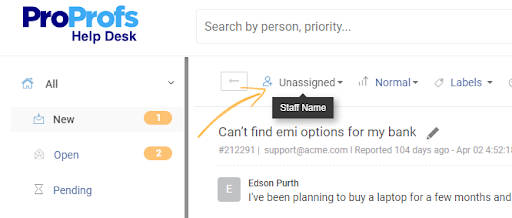 When a customer support ticket is open, that means a customer's question has not been answered or his problem has not been resolved yet. Every new ticket that lands in the help desk inbox is 'open' by default. Open tickets must be assigned to relevant agents at the right time for faster ticket resolution.
2. Escalated Ticket
Sometimes it is not possible for your ground-level or Tier-1 agents to resolve all support tickets on their own. A ticket is escalated as they might not have the necessary skills, knowledge, or authority to resolve tickets and might need further help from senior reps. Now, compared to other tickets, escalated tickets consume more time for resolution.
3. High Priority Ticket

Customer service teams have to deal with hundreds of support requests every day and it becomes almost impossible to decide which ones need to be resolved first. With the help of a support ticket system, you can easily set the priority of a ticket as 'High', 'Normal', or 'Low'. High-priority tickets create a sense of urgency among your agents as they must be resolved first.
4. Rated Ticket

As the name suggests, a rated ticket refers to a support ticket that has been rated by a customer. Once a ticket is resolved, customers are usually asked questions such as, "How would you rate your experience of interacting with our support agent today?" Customers can rate their experience on a scale of 1-5 and customer service managers can see all rated tickets in the reporting section.
5. Closed or Resolved Ticket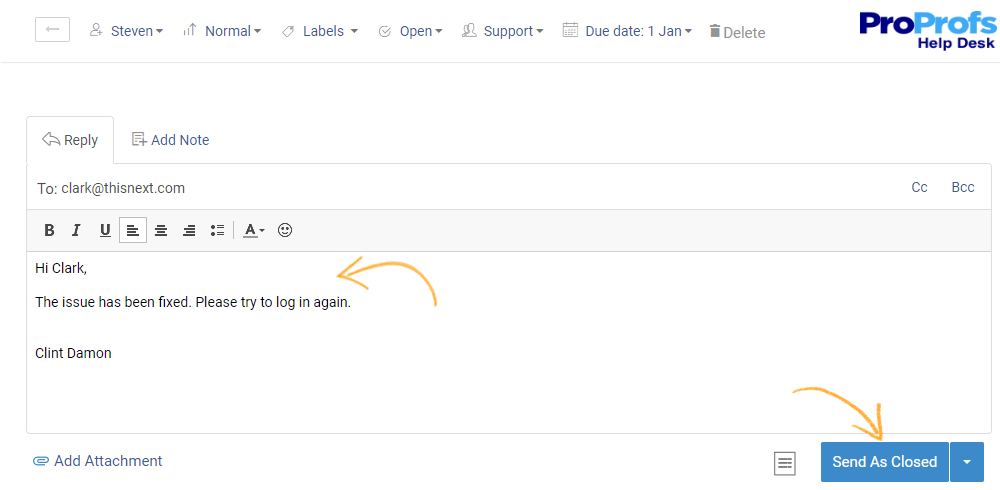 When the most appropriate solution is shared with the customer and the problem is solved, the support ticket is marked as resolved. It is the final stage of the ticket lifecycle and reflects the success of your team in assisting customers. Now, it is important to note that many businesses use the terms 'resolved' and 'closed' interchangeably.
6. Re-opened Ticket
A support ticket is reopened when a customer has encountered a similar problem soon after the ticket was closed or has a follow-up question/request. Tickets can be re-opened by your customers from their portal or by your agents from their help desk dashboard. Regular reopens might signal that agents are marking tickets as closed without making sure the customer's problem is completely resolved.
Tips to Resolve Support Tickets Faster
A long support ticket queue is not a healthy sign for either the agents or the customers. For agents, it simply means more work and for customers, it means delayed responses.
Therefore, to avoid such a situation, you should know about some robust tips to quickly resolve your support tickets. Let's discuss them right away:
1. Reduce Support Tickets With a Knowledge Base
Monitoring your support tickets over time can open doors to an improved process.
You must identify common problems that your customers are encountering on a regular basis and proactively resolve them using a knowledge base. As you build and update your knowledge base, make sure your customers know how and where they can find the right answers to their basic problems.
According to Social Media Today, 91% of customers said they would use an online knowledge base if it were made available and customized to their search needs.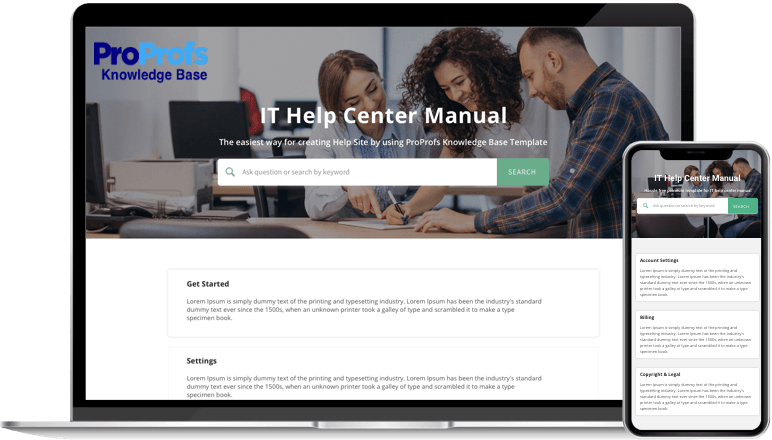 Encourage your agents to update the help articles and guides regularly. For instance, if a customer reports a new problem, your agent can resolve it and update the relevant problem-resolution steps in the knowledge base. Going forward, this will help your team understand the root cause of problems but also prevent them from taking place altogether.
2. Prioritize Urgent Support Tickets
When your agents start their daily routine, they need to make quick decisions. With hundreds of support requests to take care of, they need to carefully prioritize tickets and plan their day accordingly.
For ticket prioritization, they need to consider factors such as, how many people are getting affected by this issue? How much time will it take to resolve? What can be the consequences if left unresolved for long?
With the right help desk ticketing system, you can easily mark the priority of support tickets as high or low depending on the urgency of the issue.
For instance, if a customer's account is compromised, the ticket can be marked as a high priority and the account should be restored by your team at the earliest.
3. Practice Effective Support Ticket Distribution
As a business, you cannot expect a single employee to handle a large share of your ticket volume. This will lead to an ineffective workflow and an unfair ticket distribution system.
So what can be the way out?
For faster ticket resolution, you can use the Round-robin ticket assignment feature that ensures that tickets are evenly distributed among your available agents. Here are some more tips for a streamlined workflow-
If you offer multi-channel support, ensure all incoming support requests are channelized through your help desk dashboard. This will allow your agents to get all support requests under the same roof.
Create an escalation workflow and let your agents know whom they should reach out to in case of an escalation.
Train your agents to fill any evident skill gaps. A well-trained team will be able to collaborate better, share faster responses, and delight customers.
Read More: 5 Easy Steps to Choosing the Perfect Help Desk Software
4. Communicate With Your Customers
Most businesses make the mistake of assuming that their customers already know that resolution will take time. The truth is that customers might not know what to expect when they reach out to your business for support.
You need to communicate with your users effectively and provide them with timely updates. For instance, if a ticket has been escalated to a higher rep, let your customers know about the same and what new timelines they can expect.
With an automated ticketing system, you can share automated notifications and alerts with your customers. This will help them set clear expectations and allow them to track the complete progress of their ticket.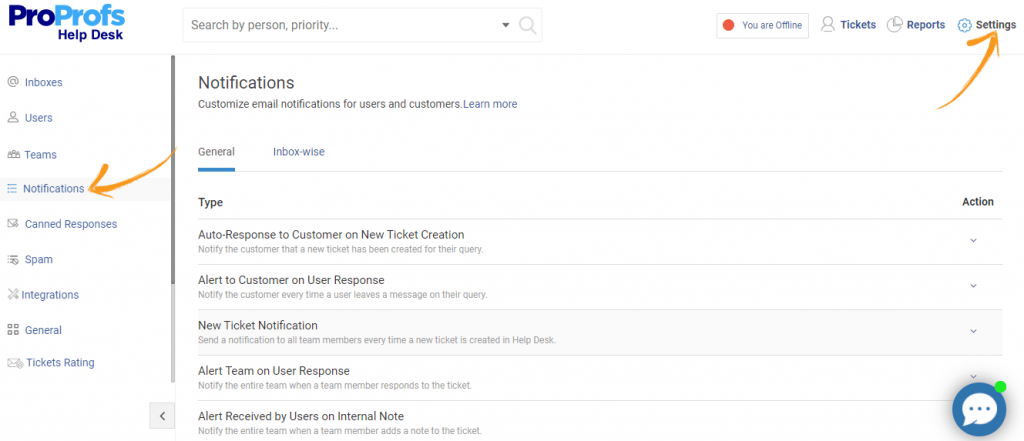 Read More: 10 Sure-shot Ways to Communicate With Customers Effectively
5. Monitor Key Support Ticket Metrics
All successful businesses have one thing in common, they are driven by data and not guesswork.
Customer service teams need to know their numbers inside-out for an effective process. For instance, evaluating the trend of new support tickets will help you plan your manpower accordingly. If support requests are received maximum during the weekends, you might wish to hire temporary employees for faster ticket resolution.
Closely monitor key help desk metrics such as new tickets, open tickets, average resolution time, first contact resolution, etc. for informed decision-making.

Remember, although managers need to access the reports, there is no harm in sharing the right numbers with your team to facilitate a transparent process.
Read More: 15 Help Desk Metrics to Improve Customer Support
Resolve Problems- One Support Ticket at a Time
Support tickets are the lifeblood of any customer-focused business. They can help your team manage customer demands and record every minute detail of customer issues or requests.
A robust support ticket system can help you allot a unique identity to innumerable customer concerns, and make your team collaborate to share memorable customer experiences.
For effective customer service operations, you must identify common customer problems, prioritize your urgent tickets, communicate proactively with customers, and monitor key help desk metrics. It's time to delight your customers by resolving their concerns- one support ticket at a time.
Do you want a free Help Desk?
We have the #1 Online Help Desk Software for delightful customer support