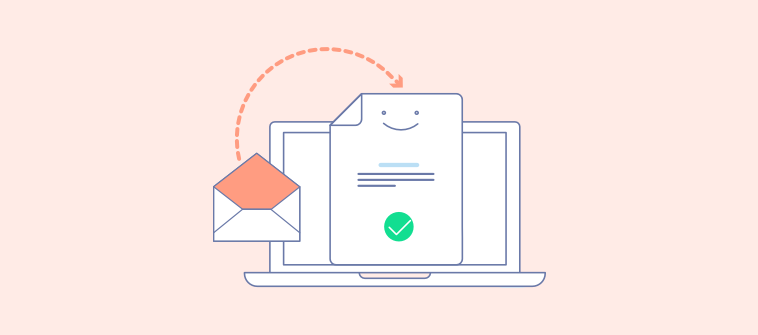 As a support agent, you need to be on your top game when dealing with customer issues.
You can't lose your temper.
You can't be agitated if your customers don't understand the solution you propose.
You need to be totally honest, calm, and polite when dealing with customers.
But, what if you don't have a clue as to whether the customer contacted with a similar issue before?
You're in the dark. You don't know who exactly you are talking to, what their problem is, and whether they are a new customer.
So, how do you streamline the process of customer interactions?
You bring everything on one dashboard with a shared inbox.
Before I start explaining it in detail, let's cover the basics first.
What is a Shared Inbox?
A shared inbox is exactly what it sounds like - an inbox that can be shared with multiple people. It is basically like an email that can be accessed and managed by multiple people. The best example of this is office emails.
Say you work in a company called "ABC." Each employee is assigned an official email ID like [email protected]. Such emails are managed using a shared inbox.
Officially, a shared inbox can be defined as:
An email inbox that can be managed and accessed by multiple employees.
In a way, a shared inbox is a central inbox. So, what's the difference between a shared inbox and an email? Let's find out!
Shared Inbox VS Email: What's the Difference?
The basic difference between an email and a shared inbox is collaboration.
Traditionally, an email is restricted to one user.
For example, if you create a normal Gmail account like [email protected], only you will have access to that account.
Unless you share your username and password with other users. But, in the case of Google, your account can be blocked if it detects more than one user using your Gmail account.
That's where shared inbox comes into the picture. There is no problem in accessing another person's inbox, as everything is centralized. The table below compares the key differences between email and a shared inbox.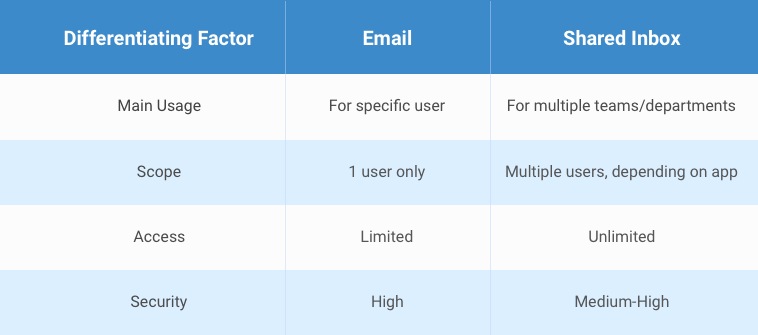 How to Create Shared Inbox?
Creating a shared inbox is really easy.
Here is a video that will help you understand the key steps to create a shared inbox.
Let's understand the process in detail.
>> Step 1. Navigate to 'Settings' Option in Your Help Desk Software
Open your help desk software and navigate to settings. It will be on the top right or the bottom of your help desk software home screen.
From there, click on 'inboxes'.
>> Step 2. Click on 'Add New Inbox' & Add Email Information
Click on 'Add New Inbox' & Add Email Information
Once you click on 'inboxes,' go to 'add new inbox.' There are a few things you will need to add to set up your shared inbox properly.
Existing Support Email





Enter the support email on which you currently receive customer questions.

Support Agent Name





The name that you wish to see as an email signature. You can send responses as a company, an individual person, or a team.
As soon as you give this information, an email ID is automatically generated.
>> Step 3. Connect Your Current Email With Your Shared Inbox
Copy and paste the automated email ID into your current email service and enable email forwarding.
In case of a Gmail account, click on the gear icon on the extreme right and select settings. Go to the Forwarding tab, and click on ``Add a Forwarding Address". Add the automatically generated email and click on proceed.
>> Step 4. Verify the Email Forwarding
You will receive an email to verify the email forwarding.
>> Step 5. You're All Set!
Once you click on the link in your email and verify the email forwarding, you're good to go! You will see all your support emails on a shared inbox easily.
How to Use Shared Email Inbox?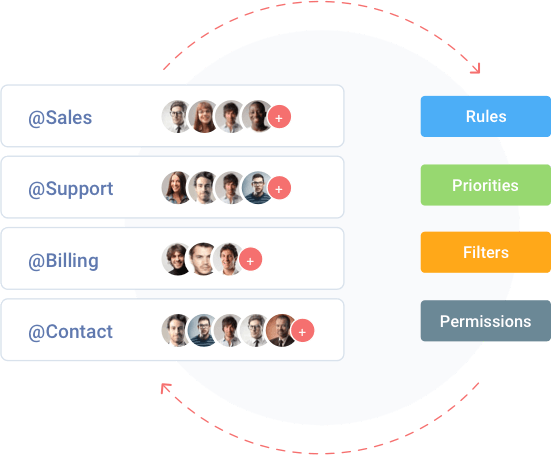 Using a shared inbox is a piece of cake. Right from customer's contacting your support agent team to them answering their questions, everything is done smoothly with a help desk software.
How? With the help of a few amazing features. The most important of them include:
Priorities-

Add ticket priorities to every ticket and know which needs to be answered immediately. You can set priorities as High, Medium, and Low.
Labels-

Another important feature is to label your tickets. You can label your tickets according to a team or department - depending on how you want to organize your tickets.
Internal Notes-

A very helpful feature, internal notes help you and your other support agents know the ticket history and what needs to be done to answer the customer query completely.
Along with this, you can monitor everything on a single dashboard and manage all your support emails on a shared inbox easily.
Benefits of Shared Inbox
There are multiple benefits of shared inbox that, ultimately, streamline the entire customer support process. The main benefits of shared inbox include:
Clutter-Free Email Management
Manage all your customer support emails on a single dashboard. With a shared inbox, you can access all emails and organize them according to your requirements. You can set priorities, add labels, leave internal notes, and split tickets into child tickets to simplify the process of email and ticket management.
Anytime, Anywhere Access For Everyone
It doesn't matter what device you're using; a robust help desk software is optimized for every device. So, whether you're on the go or in a meeting, away from your office laptop - you can log into your account on your phone. This way, you get notifications instantly, anytime, anywhere!
Easy Customer Engagement
A shared inbox makes it easier for your customers to reach out to you. How?
Well, a help desk software gives customers a channel to directly send you an email, a message, or chat with you in real-time anytime, and from anywhere. So, the gap between customers and companies reduces, and it is easy for customers to engage with companies efficiently.
Efficient Team Collaboration
Collaborating with your team is essential, especially when you are offering customer support. It is essential for all agents to know the chat history and not repeat a solution given by any previous agent.
For this, a shared inbox is an amazing feature that helps minimize this redundancy and enables agents to offer delightful customer service.
Save Customer Interactions & History Easily
Saving chat history and customer interactions is another important aspect that comes with a shared inbox. Like normal chats, all customer interactions are saved on your dashboard. This way, the next time a customer comes to you, you'll be able to identify them and build a relationship too. The most important thing for companies is to build strong relationships with their customers, and with a shared inbox, it is possible.
Utilize Shared Email Inbox & Ensure Efficient Team Email Management!
Shared inbox for teams is one of the most powerful features offered by a help desk software, and it has a lot of benefits too. Along with the information given in this blog, it is important to understand that deploying a help desk software with this feature is essential to run your customer support channels on one platform smoothly. .
So, always choose a help desk software with in-depth research and see what features you need before finalizing on one software.
Do you want a free Help Desk?
We have the #1 Help Desk for delightful customer support starting at $0