Ask any professional about the biggest aspect that is stopping them from being a productive hero and there is a good chance you will hear them say-
"Email is slow, our inbox is all cluttered, countless emails are eating into our time and making us unproductive"
Is Email Dead?
Email isn't dead. There are more than 4 billion active email users worldwide, and that number is increasing every minute. Email is alive and kicking. However, the sad part is that email isn't designed for teamwork. Weap! Weap! (some sad jazz music playing in the background).
However, here is the good part of the story.
A shared inbox can help you rise above your 'email limitations'. It is designed for happier, super-efficient, and most importantly- productive teams.
Read this blog and unravel everything you need to know about a shared inbox, its benefits, and how you can start using one today. Happy emailing!
What Is a Shared Inbox?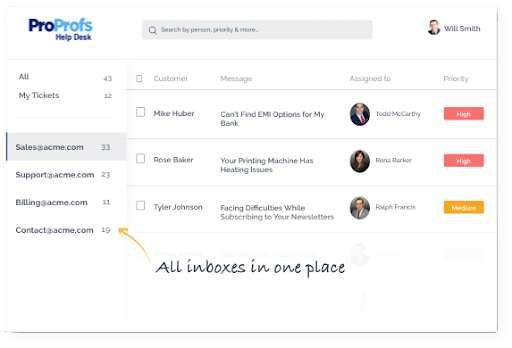 A shared inbox is exactly what it sounds like – an inbox that can be shared with multiple people. It is basically like an email that can be accessed and managed by multiple people.
"A shared inbox allows multiple people to receive, organize, manage, and respond to multiple emails from the same email account.
Let us understand it with an example.
Let's assume there is a company called "ABC." Each team/department is given specific email accounts like sales@abc.com or humanresources@abc. Now, to access or respond to an email, every member needs a common password and should be sure that nobody else is working on that email. Sounds messy right?
This is where a shared inbox comes in. Such email accounts can be easily managed using a shared inbox. Every team member can track who is working on which email and collaborate to share faster responses.
So, what's the difference between a shared inbox and an email? Let's find out!
Email VS Shared Inbox: Who Wins the Battle?
The basic difference between an email and a shared inbox is collaboration.
Traditionally, an email is restricted to one user.
For example, if you create a normal Gmail account like abc@gmail.com, only you will have access to that account. Unless you decide to share your password (not a good idea!).
But, in the case of Google and many other email service providers, your account can be blocked if it detects more than one user using your Gmail account.
However, with a shared inbox, there is no problem in accessing an email account, as everything is centralized. Therefore, when it comes to team collaboration and increased productivity, Shared Inbox is the clear winner.
The table below compares the key differences between email and a shared inbox.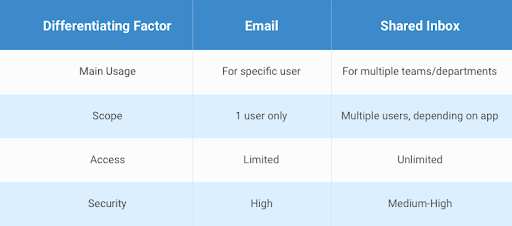 How to Create a Shared Inbox in 5 Easy Steps
Creating your first shared inbox with ProProfs Help Desk is easier than you might think! Here is a small video that can help you get started.
Step 1. Navigate to the 'Settings' Option in Your Help Desk Software
Open your help desk software and navigate to settings. It will be on the top right or the bottom of your help desk software home screen.
From there, click on 'inboxes'.
Step 2. Click on 'Add New Inbox' & Add Email Information
Click on 'Add New Inbox' & Add Email Information
Once you click on 'inboxes,' go to 'add new inbox.' There are a few things you will need to add to set up your shared inbox properly.
Enter the support email on which you currently receive customer questions.
The name that you wish to see as an email signature. You can send responses as a company, an individual person, or a team.
As soon as you give this information, an email ID is automatically generated.
Step 3. Connect Your Current Email With Your Shared Inbox
Copy and paste the automated email ID into your current email service and enable email forwarding.
In case of a Gmail account, click on the gear icon on the extreme right and select settings. Go to the Forwarding tab, and click on "Add a Forwarding Address". Add the automatically generated email and click on proceed.
Step 4. Verify the Email Forwarding
You will receive an email to verify the email forwarding.
Step 5. You're All Set!
Once you click on the link in your email and verify the email forwarding, you're good to go! You will see all your support emails on a shared inbox easily.
How to Use Shared Email Inbox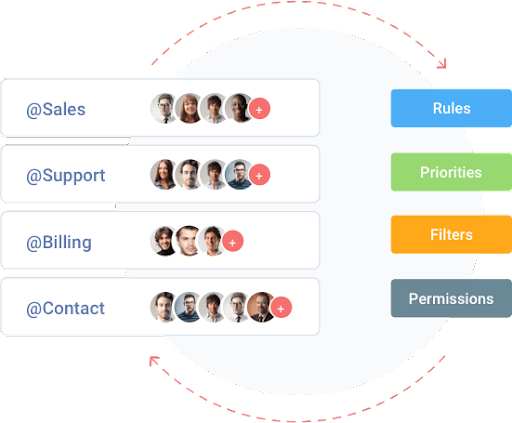 Using a shared inbox is a piece of cake. Right from customer's contacting your support team to your agents answering their questions, everything can be achieved smoothly with a help desk software.
Here are some amazing features you need to keep in mind.
Priorities– Set the right priority of every ticket and know which tickets need your urgent attention. You can set priorities as High, Low or Normal.

Labels– Another important feature is to add labels to your tickets. You can label your tickets according to a team or department – depending on how you want to organize your tickets.

Internal Notes– A very helpful feature, internal notes help you and other support agents to discuss tickets internally. You can take a quick look at the ticket chat history and understand what needs to be done to answer the customer query completely.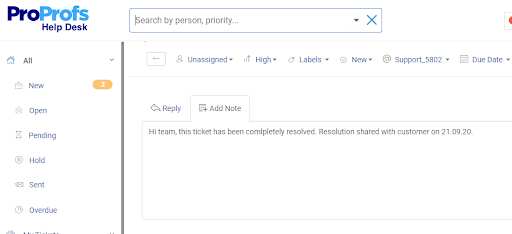 In addition to this, you can monitor every action from a shared dashboard and manage all your support emails
Top 5 Benefits of Shared Inbox
There are multiple benefits of a shared inbox that, ultimately, streamline the entire customer support process. Let's go through all the 5 benefits one by one.
1. Clutter-Free Email Management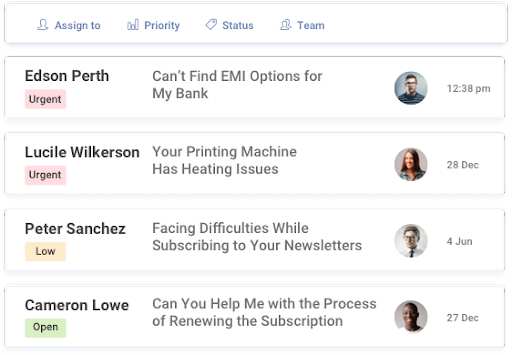 Manage all your customer support emails such as support@, contact@, info@, etc. from a single dashboard. With a shared inbox, you can easily access all emails and organize them according to your requirements. You can set priorities, add labels, leave internal notes, and split tickets into child tickets to simplify the process of email and ticket management.
Read Also: What Is an Email Management Software & Why You Need One?
2. Anytime, Anywhere Access For Everyone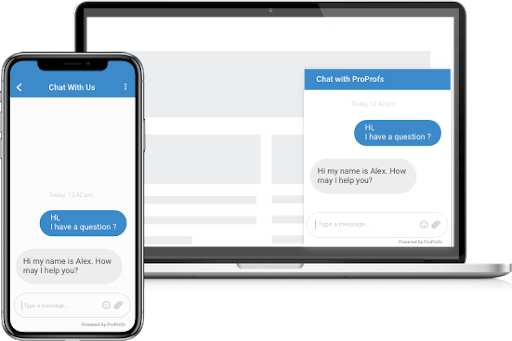 It doesn't matter what device you're using, a cloud-based help desk software is optimized for every device. So, whether you're on the go or in a meeting, away from your office laptop – you can log into your account at any time. This way, you get notifications instantly, anytime, anywhere!
3. Easy Customer Engagement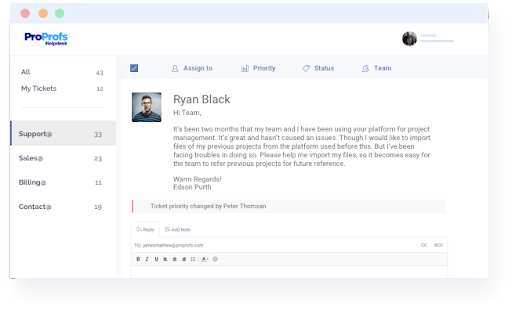 A shared inbox makes it easier for your customers to reach out to you. How?
Well, a help desk software gives customers a channel to directly contact you via email or through chat. When customers can reach out to your business in real-time and share their concerns, it drastically reduces the gap between them and your business and leads to a strong connection.
4. Enhanced Team Collaboration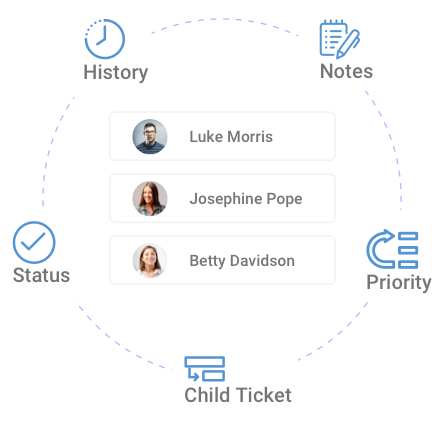 Collaborating with your team is essential, especially when you are offering customer support. It is essential for all agents to be well aware of the ticket chat history and avoid sharing multiple responses to the same email.
A shared inbox helps your team rise above a sluggish support process and enables them to collaborate to resolve complex customer issues.
Read Also: 5 Effective Strategies to Improve Team Collaboration
5. Track Customer Interactions & History Easily
Auto-saved chat history and customer interactions are other important aspects that come with a shared inbox. Like normal chats, all customer interactions get automatically saved on your dashboard. This way, the next time a customer comes to you, you'll be able to identify them and be better equipped to resolve their issues.
Simply Achieve More With a Shared Inbox
A shared inbox can help you rise above email limitations and achieve more, together as one big team. You can manage multiple email accounts, prioritize urgent emails, and ensure not a single email can slip through your inbox.
If you are ready to make the switch from an email to a shared inbox, then we might have the perfect solution for you. ProProfs Help Desk turns your email into your team's workspace- a single platform to track issues, support customers, and deliver delightful experiences.
Do you want a free Help Desk?
We have the #1 Online Help Desk Software for delightful customer support