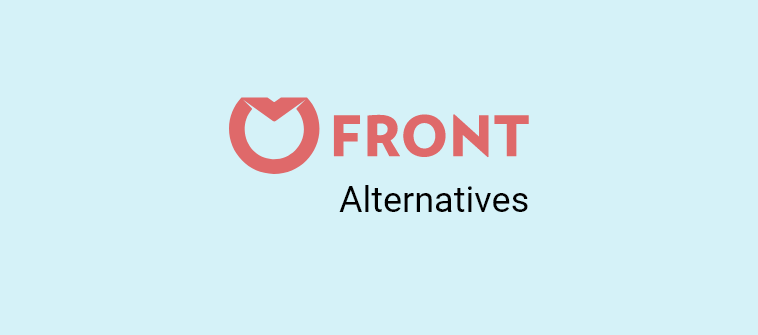 Front is a popular customer communication solution that was founded in 2013. After almost a decade, today, the tool is used by thousands of businesses across the globe.
But despite its promising features and simplistic design, why are people searching for the best Front alternatives?
Front might be a great shared inbox tool, but it doesn't qualify to be a full-fledged help desk solution. The software is quite expensive, and on top of that, it misses out on some must-have features, such as chatbots and a knowledge base.
Have you outgrown Front like most people? Don't worry, there are plenty of fish in the sea.
If you are looking for a long-term solution for your team, we have great options in store for you. In this blog, we will discuss some of the major cons of this tool and explore 10 alternatives to Front that will help you breathe a sigh of relief.
Here we go!
Software
Key Features
Price
ProProfs Help Desk
Categorize tickets with Labels
Create canned responses
Track performance metrics
CSAT and NPS surveys
Parent-child ticketing
Essentials: $10/user/month
Premium: $15/user/month
Enterprise: Available on request
Zendesk
Assist customers in real-time
Provide support on WhatsApp
Reward community members
Create knowledge base articles
Deliver personalized interactions
Suite Team: $49/agent/month
Suite Growth: $79/agent/month
Suite Professional: $99/agent/month
Freshdesk
Track SLA violations
Capture tickets from your website
Share ticket ownership
Engage prospects over WhatsApp
Track time spent by agents
Sprout: Forever free plan
Blossom: $15/user/month
Garden: $35/user/month
Estate: $49/user/month
Forest: $99/user/month
Intercom
Multichannel support
Automated ticket assignment
Share relevant help articles
Leverage custom bots
Targeted messages
Not Available
HubSpot Service Hub
Create a library of help articles
Automated ticket assignment
HubSpot mobile app
Share NPS surveys
Analyze performance with custom reports
Starter: $45/month (2 users)
Professional: $450/month (5 users)
Enterprise: $1200/month (10 users)
Hiver
Turn Gmail into help desk
Automate email routing
Collaborate via notes
Live chat for website
Track CSAT ratings
Lite: $15/user/month
Pro: $39/user/month
Elite: $59/user/month
Drag
Create email templates
Customizable reports
Integrate with Calendar
Send automated email follow-ups
View customer actions
Free: Forever free plan
Starter: $5/user/month
Plus: $10user/month
Pro: $115/user/month
Missive
Collision detection
Multiple integration options
Track WhatsApp conversations
Assign tasks to members
Compose emails together
Free: Forever free plan
Starter: $14/user/month
Productive: $18/user/month
Enterprise: $26/user/month
Gorgias
Monitor social media inquiries
Track chat conversions
Multiple integration options
Fast-loading chat widget
Create canned responses
Basic: $50/month
Pro: $300/month
Advanced: $750/month
Enterprise: Available on request
Help Scout
Create custom fields
Receive desktop notifications
Create mobile-friendly help articles
See key metrics for specific agents
View chat support history
Standard: $20/user/month
Plus: $35/user/month
Company: Available on request
What Is Front?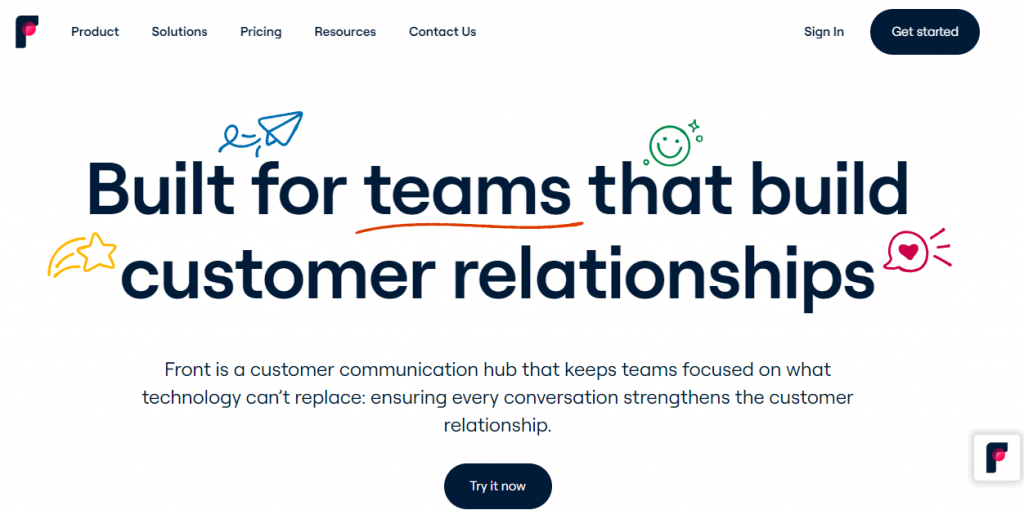 Front is a customer communication platform that helps you interact with customers on a variety of channels such as email, SMS, social media, live chat, etc. Your customer service agents can collaborate in real-time on complex customer issues to provide the best response possible.
With a simple Gmail-like interface, you can easily onboard new agents and let them take control in minutes. Moreover, agents can view important customer details and their past conversations in one place, making it easier for them to share personalized responses.
How much does Front cost? The tool offers 3 plans: Starter ($19/user/month), Growth ($49/user/month), and Scale ($99/user/month).
Why Look For Front Alternatives?
Let's be honest, Front isn't a perfect tool. There are some major drawbacks of this tool that you should be aware of.
Expensive Plans: Front is quite an expensive tool for the features it offers. While most sophisticated help desk systems start anywhere at $12-$15/user/month, Front starts at $19 and goes up to $99/user/month. So if you are a small or upcoming business, you might want to consider more affordable options.
The Starter Plan Lacks Basic Features: Front's starter plan misses out on basic help desk features. For instance, users will not get features such as CRM integration, analytics, smart rules, advanced workflows, agent permissions, and more.
Chatbot Feature Isn't Available: A chatbot is a must-have feature that can help you automate routine customer interactions, generate leads, and grow your sales. While most customer service tools offer this feature, there is no provision to create chatbots using Front.
Conversations Are Not Always Synced Properly: Many users have complained online that their conversations are not well synced between Gmail and Front. Emails sent, archived, and deleted natively in Gmail do not always sync with the Front inbox.
The Features Front Alternatives Must Have
If you are searching for the best alternative to Front, you need to know which features are in great demand, especially those that your team can't do without.
To make your search easier, we have jotted down some must-have features that every Front competitor should have. Let's take a look at them right away.
Simple interface that agents can navigate through easily and find all conversations in one place
Shared inbox to get control over multiple team inboxes such as support@, contact@, info@, etc.
Ticket tracking and prioritization to ensure not a single customer message can slip through the cracks
Automation features to avoid repetitive tasks and enhance team productivity
Reports & analytics to monitor performance and make data-driven decisions
Read More: Top Help Desk Software Features
Our Selection Criteria For Front Alternatives
There are hundreds of customer service solutions in the market, that offer more or less similar features. How do you decide which tool deserves your attention?
We wanted to ensure only the best tools make it to our list. Here are some criteria that every alternative should meet.
Email Ticketing Features: All Front tool alternatives should offer powerful email ticketing features such as shared inbox, statuses, filters, tags (or Labels), email signatures, templates, etc.
Listed on Top Software Review Platforms: The alternative tools must be listed on leading software review websites such as Getapp, Capterra, and Trustradius.
Genuine User Reviews: For a proper comparison of alternatives, reviews submitted by genuine users can be quite helpful. For this reason, every tool should have a minimum of 10 user reviews on the leading software comparison platforms.
10 Best Front Alternatives You Should Consider
Now that we have explored Front's various advantages and disadvantages, let's explore the top alternatives you can consider for your team this year.
1. ProProfs Help Desk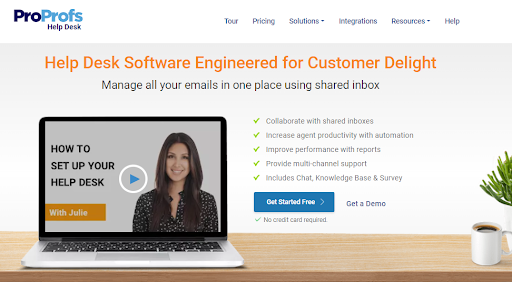 ProProfs Help Desk is the best alternative to Front tool due to several reasons. Your support heroes can interact with visitors and customers existing on multiple channels such as live chat, email, web forms, chatbots, help center, and more.
Unlike Front, this tool allows you to develop powerful chatbots to automate your customer service process. Even when your team isn't available to take chats, bots can engage with customers with human-like conversations.
Top Features of ProProfs Help Desk:
Leverage a shared inbox to manage all team email accounts
Bookmark important tickets to never lose track of them
Collaborate with team members using private notes
View past conversations with the ticket history
Allow customers to raise tickets via web forms or customer portal
Why We Picked It:
Export ticket conversations in PDF
Monitor the CX with automated surveys
Pricing:
Starts at $20/agent/month (billed annually).
2. Zendesk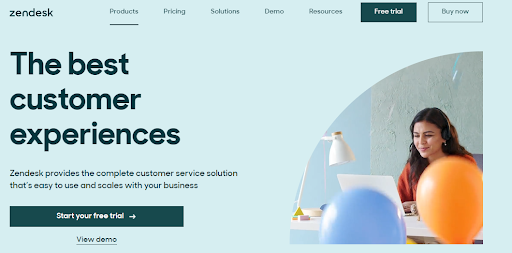 Zendesk is a leading Front competitor that is used by some of the biggest brands in the world. The tool can help your team automate mundane tasks, empower customers to find solutions at their own pace, and add a personal touch to every service interaction.
Zendesk can help you publish a vast community forum for prospects and customers to interact with each other, raise questions, and share solutions. You can even improve collaboration b integrating Zendesk with hundreds of third-party tools.
Top Features of Zendesk:
Encourage self-help with an integrated help center
Reduce agent's workload with AI-powered bots
Monitor customer conversations across messaging and live chat
Leverage intelligent routing to ensure better distribution of work
Access in-depth customer information with CRM integration
Why We Picked It:
Collaborate to publish the best help articles
Multiple integration options
Pricing:
Starts at $49/user/month
3. Freshdesk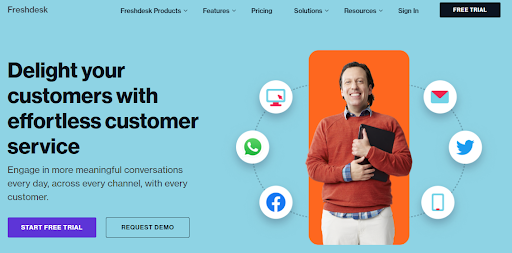 Freshdesk is a free Front alternative that deserves to be on your list. You can provide intuitive customer service across all channels, such as email, live chat, phone, social media, and more.
The tool helps you automatically assign help desk tickets to available agents based on their availability, skillset, and proximity. You can easily share the ownership of tickets with other teams so that different departments can work on the issue in parallel.
Top Features of Freshdesk:
Develop AI-powered chatbots to guide customers with suitable answers
Save time by linking related issues together
Create custom ticket statuses for better organization
Share consistent replies with customers using canned responses
Track the time spent on tickets to calculate billable hours
Why We Picked It:
Offer omnichannel customer service
Assist customers on Facebook and Twitter
Pricing:
Starts at $15/user/month
4. Intercom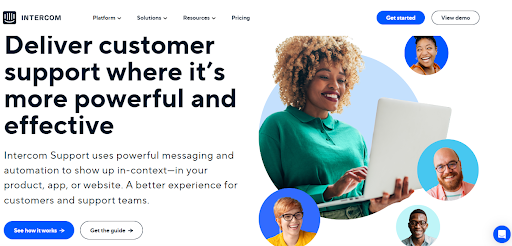 Intercom offers multiple automation and messaging features to help you connect with website visitors and existing customers.
Intercom helps you lower your team's workload by allowing you to share help center articles and FAQs in the messenger. In addition to this, you can even deploy a chatbot to handle up to 33% of routine customer questions.
Top Features of Intercom:
Give customers the choice of self-serve or live support
Track multiple metrics to improve customer service performance
Support your customers on Instagram and WhatsApp
Introduce customers to your products with product tours
Send customers in-context surveys to capture valuable feedback
Why We Picked It:
Offer social media support
Save time with keyboard shortcuts
Pricing:
Get in touch with the company for a quote.
5. HubSpot Service Hub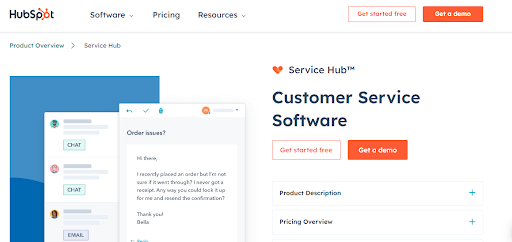 HubSpot Service Hub is another popular alternative to Front that can help you offer delightful customer service experiences. With the team inbox feature, support reps can easily switch between different channels and respond to customers faster.
The tool allows you to encourage self-service by creating a customer portal and a knowledge base. Customers can access the portal to track the progress of their tickets or register new ones.
Top Features of HubSpot Service Hub:
Manage all conversations in a shared inbox
Deploy CSAT, NPS, and CES surveys to capture customer feedback
Integrate with the HubSpot CRM to give agents more context
Set agent roles and permissions to control their access to the help desk platform
Convert frequently asked questions into a collection of help articles
Why We Picked It:
Manage customer service SLAs
Offer support on the move with dedicated mobile apps
Pricing:
Starts at $45/month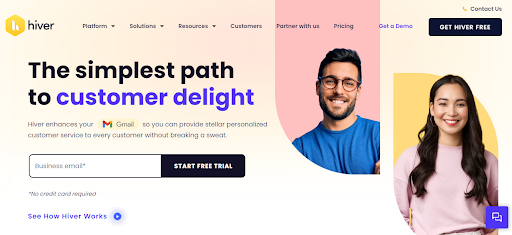 Hiver is another software like Front that offers a Gmail-based help desk platform. What this means is that you can simply convert your Gmail account into a full-fledged help desk system.
You can manage all your shared email accounts, such as support@ and info@, in one place. At a single glance, agents can see which emails are open, closed, or pending, and categorize incoming emails using Tags.
Top Features of Hiver:
Manage email and chat support right inside Gmail
Automatically assign emails to team members based on specific conditions
Add context by sharing notes with team members
Add a live chat widget on your website for instant customer support
Track customer satisfaction ratings and overall team performance
Why We Picked It:
User-friendly interface
Zero learning curve for Gmail users
Pricing:
Starts at $15/user/month
7. Drag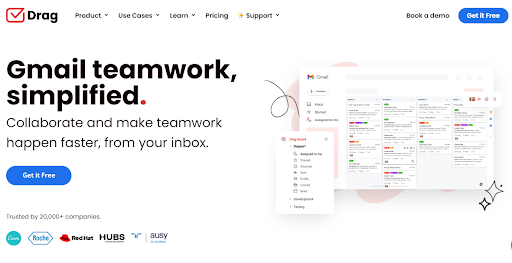 The Drag app offers a robust set of productivity, collaboration, and workflow features. The tool helps your agents manage customer service operations right inside Gmail.
Drag allows you to create Kanban boards in Gmail. These boards are made up of cards that represent different elements of your work – email, tasks, subtasks, links, notes, or files. The use of boards can offer greater visibility into daily tasks and increase team productivity.
Top Features of Drag:
Add internal notes on top of email conversations
Automate email followups with customers and save time
Assign emails and tasks to relevant team members
Receive alerts when someone else is working on a ticket
Turn common responses into email templates
Why We Picked It:
Simple interface
Offers a forever free plan
Pricing:
Starts at $5/user/month
8. Missive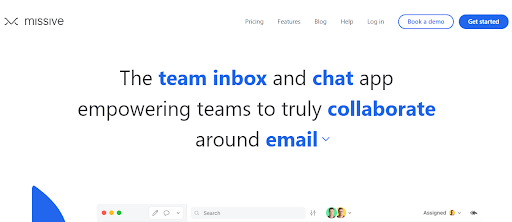 Missive offers shared inbox capabilities for your team to collaborate around email. For instance, your business can manage all your team inboxes, such as sales@ and support@, from a single dashboard.
You can control access to your inbox by organizing your teammates into active members or observers. Instead of forwarding long email threads, you can use Missive's internal chat feature to discuss ideas.
Top Features of Missive:
Easily view who is working on what
Integrate with Google Drive, Aircall, Grammarly, and other tools
Track WhatsApp and Instagram conversations
Assign tasks to specific people or whole teams
Collaborate with team members while composing emails
Why We Picked It:
Customize your interface with light and dark themes
Multiple integration options
Pricing:
Starts at $14/user/month
9. Gorgias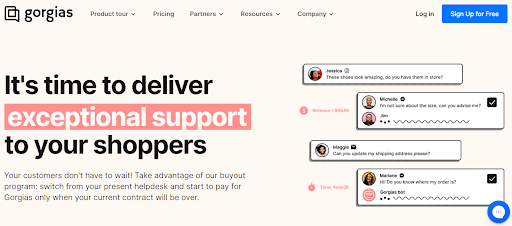 Gorgias is another help desk software like Front that is designed for e-commerce businesses. Your team can easily manage common requests related to cancellations, returns, or defective items through self-service.
Your customer service agents can access all crucial customer information while they are talking to them. For example, they can view past conversations, edit orders, initiate refunds, upgrade subscriptions, and much more.
Top Features of Gorgias:
Monitor inquiries on social media advertisements and posts
Track sales generated via live chat and text messages
Integrate with Aircall, Pipedream, Omnisend, and other tools
Add a fast-loading chat widget to your online website
Create pre-made responses that include your brand's unique tone
Why We Picked It:
150+ active integrations
Assist customers via SMS
Pricing:
Starts at $50/month
10. Help Scout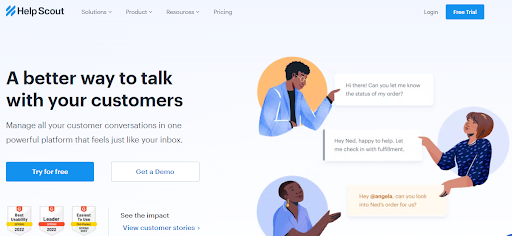 Help Scout helps your get on top of all customer communications. No matter whether customers contact you via email, live chat, or knowledge base, you can interact with them 24×7.
The tool allows you to create a knowledge base in simple steps. Without any coding skills, agents can easily add text, images, videos, tables, and hyperlinks to help center articles. You can even organize your content across different categories and improve SEO performance.
Top Features of Help Scout:
Easily switch between chat and email conversations
Categorize requests and issues with the help of ticket tags
Support customers from anywhere using Android and iOS apps
Identify which help center articles need improvement
Track total conversations, happiness score, and other help desk metrics
Why We Picked It:
Speed up work with 75+ easy-to-use keyboard shortcuts
Create a library of saved replies
Pricing:
Starts at $20/user/month
Comparison of Best Alternatives of Front
| Software | Price | Ticket Management | Shared Inbox | Multi-channel Communication | Alerts & Escalations | Live Chat | Knowledge Base | IT Help Desk |
| --- | --- | --- | --- | --- | --- | --- | --- | --- |
| ProProfs Help Desk | $10/month | Y | Y | Y | Y | Y | Y | Y |
| Zendesk | $49/month | Y | Y | Y | Y | Y | Y | Y |
| Freshdesk | $15/month | Y | Y | Y | Y | Y | Y | N |
| Intercom | Not available | Y | N | Y | Y | Y | Y | N |
| Hubspot Service Hub | $45/month | Y | Y | Y | Y | Y | Y | N |
| Hiver | $12/month | Y | Y | Y | Y | N | N | N |
| Drag | $5/month | Y | Y | Y | Y | N | N | N |
| Missive | $14/month | Y | Y | Y | Y | Y | N | N |
| Gorgias | $10/month | Y | N | Y | Y | Y | Y | N |
| Help Scout | $20/month | Y | Y | Y | Y | Y | Y | N |
Final Verdict: Which Alternative to Front Should You Go For?
Front is a popular shared inbox tool that can help your team:
Manage multiple team inboxes in place
Interact with customers on popular channels
Get a 360-degree view of all customer information
Monitor response times and other metrics
However, despite these promising features, there are some serious disadvantages such as expensive pricing, lack of chatbot and knowledge base features, etc. All the tools listed in this Front comparison blog are trusted by thousands of businesses across the globe and have been a popular choice among customer service teams.
If you want an affordable shared inbox tool that isn't limited to just email, you can go for ProProfs Help Desk. The tool allows you to manage communications via email, live chat, chatbots, web forms, help center, and more. Intercom can be a good option if you want marketing features such as proactive messaging. On the other hand, if you want a Gmail-based help desk, you can opt for Hiver or Drag.
Do you want a free Help Desk?
We have the #1 Online Help Desk Software for delightful customer support