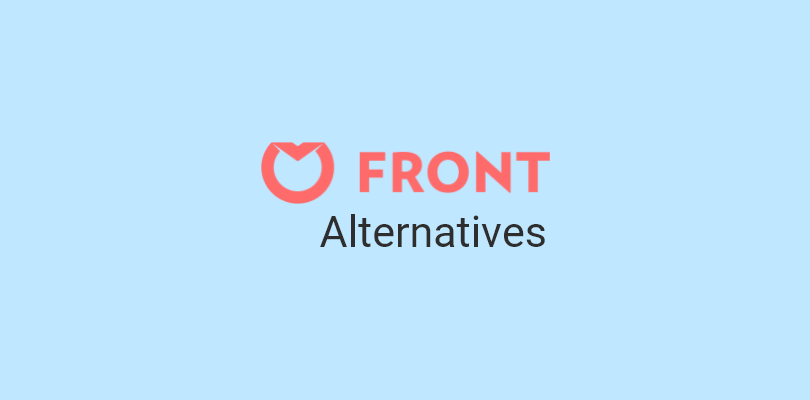 Front might be a great shared inbox tool, but it just doesn't qualify as a full-fledged help desk solution.
I found the software to be quite expensive, and on top of that, it misses out on some must-have features, such as chatbots and a knowledge base.
If you share the same ordeal, don't worry. Thankfully, Front is not the only option in the market!
Whether you're seeking affordability, specific features, or a change of pace, I've got 10 promising Front alternatives for you.
List of Top 10 Front Alternatives for 2023
As a customer service professional, I got the opportunity to work with different help desk software over the last 7-8 years.
Even though Front comes across as a feature-rich and powerful tool, not everything that shines is gold. As soon as I got to know that many entrepreneurs and support reps are actively searching for Front alternatives, I decided to put my experience to good use.
Allow me to share some remarkable alternatives that I have tried and tested over the years. Some platforms have been recommended by my peers, and others I discovered on software review websites.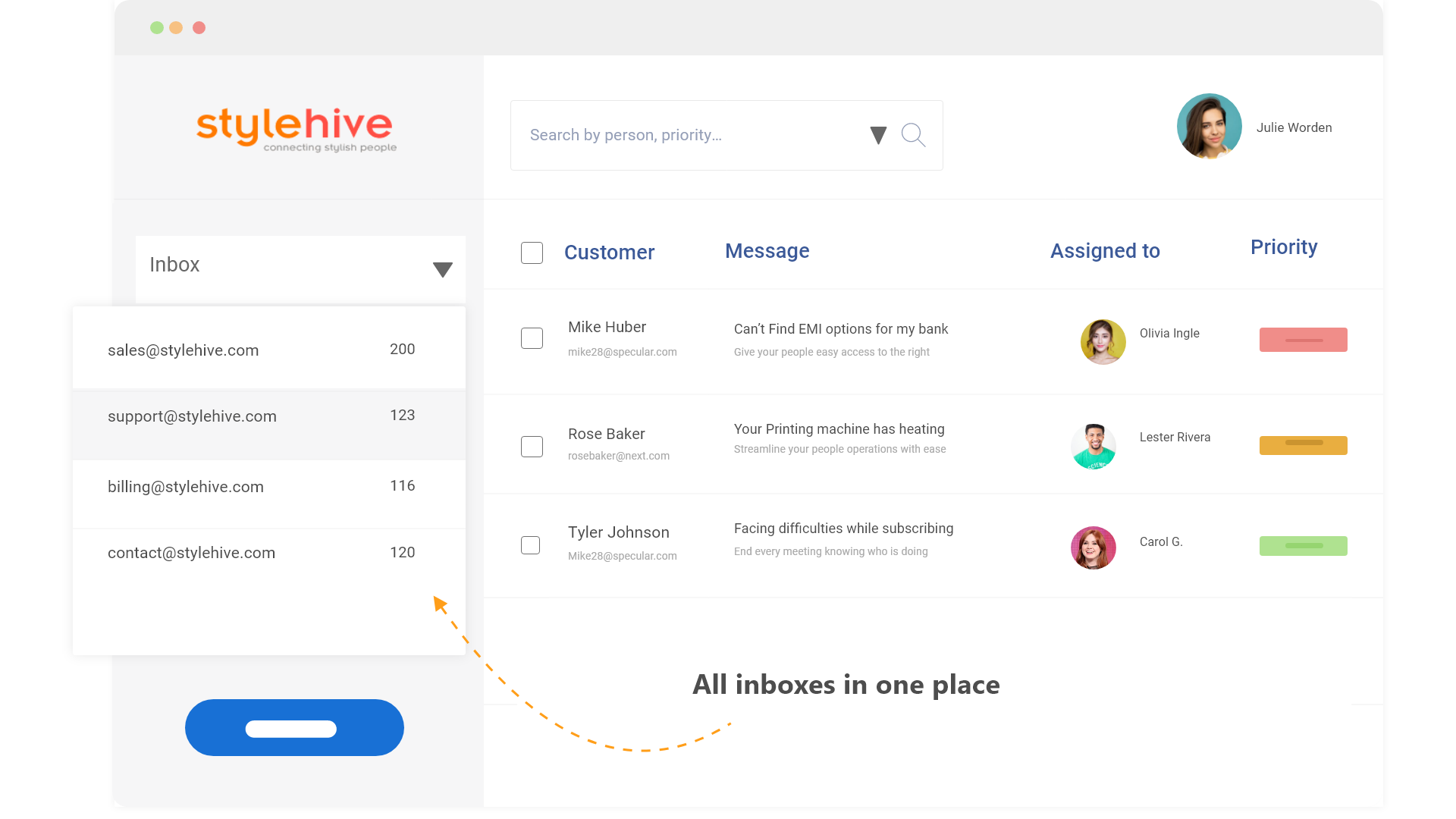 As a support professional, I am responsible for managing multiple inboxes, such as support@, returns@, info@, etc. ProProfs Help Desk has been a game changer for my team as it helped us manage all these shared inboxes in one place. So, no more switching between multiple accounts.
Another impressive aspect is that our support heroes can interact with visitors and existing customers on multiple channels, such as live chat, email, web form, chatbots, help center, and more.
Unlike Front, ProProfs Help Desk enables me to develop powerful chatbots to automate our customer service process. Even when my team isn't available to chat, bots can engage with customers and hold human-like conversations.
What you'll like:
Private notes for real-time internal collaboration and discussions
Customer portal to allow customers to track the tickets' progress
IP restrictions and Single Sign-On for advanced security
Managers can track help desk metrics like first response time, ticket resolution time, and CSAT
What you may not like:
Requires more integration options for project management tools and social media platforms
Frequent product updates and feature releases can be confusing for some users
Pricing: Starts at $20/user/month (Single plan with all premium features).
2. Zendesk – Best for self-service
Whenever I encounter an issue with a product, I search for a solution on the brand's help center. I won't be surprised if your customers do the same.
I have put Zendesk in the second position as it does a great job of helping businesses promote self-service through help centers and online community forums.
Zendesk can help you publish a vast community forum to allow customers to interact with each other, raise questions, and share solutions. I recommend you use this tool to automate mundane tasks, empower customers, and add a personal touch to every service interaction.
What you'll like:
AI-powered bots to automate your customer service process
Agents can monitor customer conversations across messaging and live chat
Intelligent ticket routing for faster and fair distribution of work
CRM integration to access in-depth customer information and provide personalized solutions
What you may not like:
Zendesk is a high-priced tool, which makes it an unsuitable option for small businesses
The tool comes with a steep learning curve
Pricing: Starts at $49/user/month.
3. Freshdesk – Best for omnichannel customer service
Freshdesk is a free Front alternative designed for omnichannel ticketing, help desk automation, and team collaboration.
I like how the tool enables users to provide intuitive customer service across all channels, such as email, live chat, phone, social media, and more. With the Team Inbox feature, agents can adopt an omnichannel approach and track all conversations in one inbox.
When it comes to team collaboration, Freshdesk doesn't disappoint. You can easily collaborate with team members or experts from within the organization using private notes.
What you'll like:
Related tickets can be linked together for faster issue resolution
Custom ticket statuses for enhanced ticket organization
Canned responses to share consistent replies with customers
Time tracking to monitor agent efficiency and calculate billable hours
What you may not like:
Freshdesk's mobile app is slow at times
Too many features can be overwhelming for some users
Pricing: Starts at $15/user/month.
4. Intercom – Best for AI-powered chatbots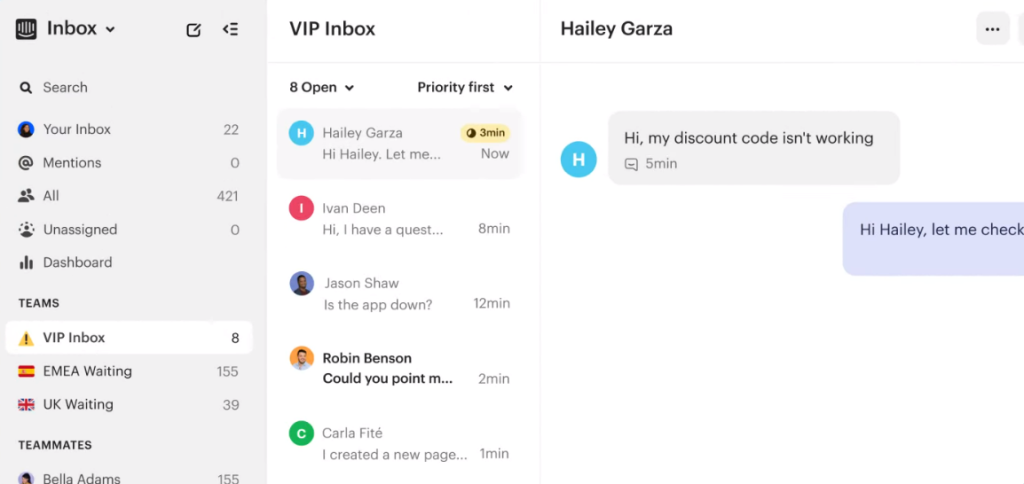 I was looking for a solid solution that combined the best of both worlds — automated customer service and lead generation. Just then, I was introduced to Intercom by one of my colleagues.
As soon as I open Intercom, I'm impressed by its chatbot development capabilities. The AI bot, called Fin, is powered by OpenAI. This means that you can trust your bot to deliver safe and accurate answers while reducing your team's ticket volume instantly.
The platform also enables you to share proactive messages with customers. This will help you avoid unnecessary contacts during service outages or website downtimes.
What you'll like:
Customers can choose between self-serve or live human assistance
Intercom seamlessly connects with Instagram and WhatsApp for enhanced social media support
Insightful product tours to help customers make the most of your products
In-context surveys to capture valuable customer feedback
What you may not like:
The Starter plan does not offer automated ticket routing and advanced reporting features
The SMS feature is offered as an add-on, meaning users will have to pay extra for it
Pricing: Starts at $74/month.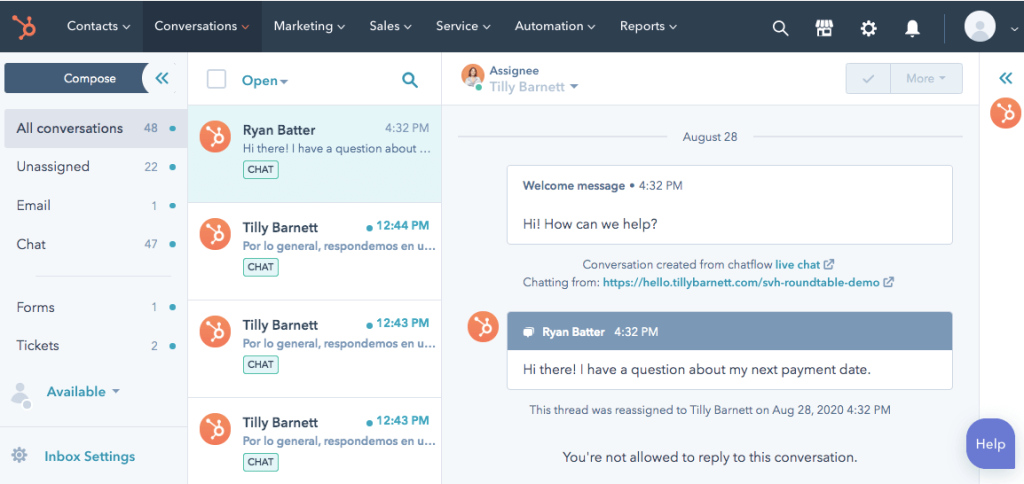 I think every business needs to offer a customer portal for increased engagement and transparency.
HubSpot Service Hub is built around the same idea as it helps users quickly set up an online knowledge base and customer portal. Customers can access the portal to track the progress of their tickets or register new ones.
I'm quite sure you will love HubSpot's shared inbox feature as well. Instead of switching between multiple channels, your agents can bring email, chat, and Facebook Messenger to one universal inbox.
What you'll like:
Customers can access the knowledge base from within the customer portal
HubSpot Service Hub seamlessly integrates with HubSpot CRM, giving your team all the context they need
Agent roles and permissions to control their access to the help desk platform
Frequently asked questions can be converted into help articles
What you may not like:
SLA configuration and management can be complicated for new users
Lacks automated ticket-generation feature for live chat messages
Pricing: Starts at $18/month.
6. Hiver – Best for email ticketing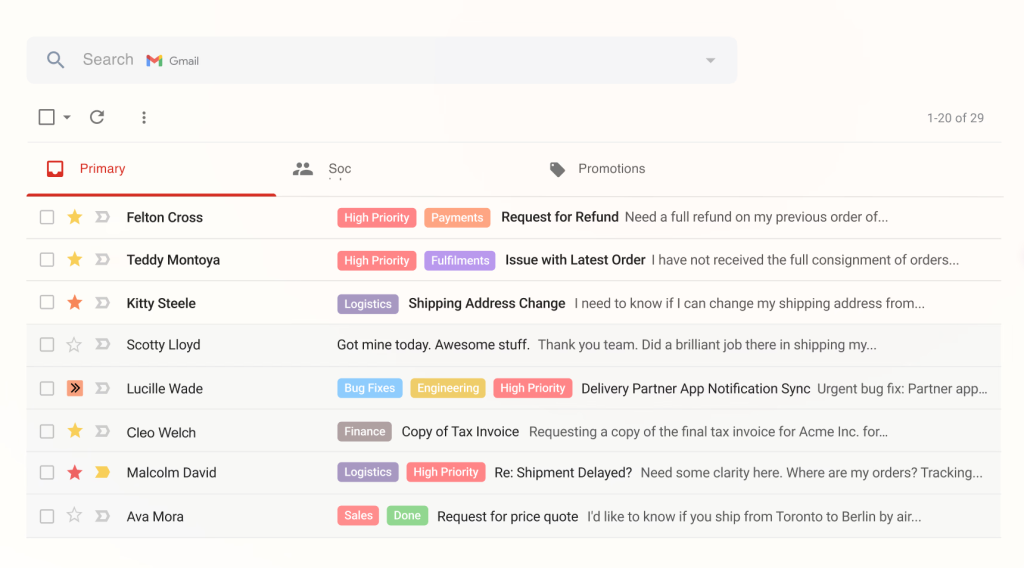 Are endless customer service emails flooding your inbox? Don't worry! I suggest you use Hiver to turn this chaos into calm.
As a Gmail-based help desk, Hiver lets you operate from right inside your Gmail inbox. At a single glance, agents can see which emails are open, closed, or pending and categorize incoming emails using Tags.
I think the best part about this platform is that your team will get to work with an interface they are already familiar with. So, no more wasting time training team members for days or weeks.
What you'll like:
Agents can access email and chat conversations right inside Gmail
Automated email assignments for greater work accountability
Live chat widget for instant customer support
Insightful reports to track customer satisfaction ratings and overall team performance
What you may not like:
The platform is designed solely for Gmail users
The pricing is expensive considering Hiver's limited features
Pricing: Starts at $15/user/month.
7. Drag – Best for team collaboration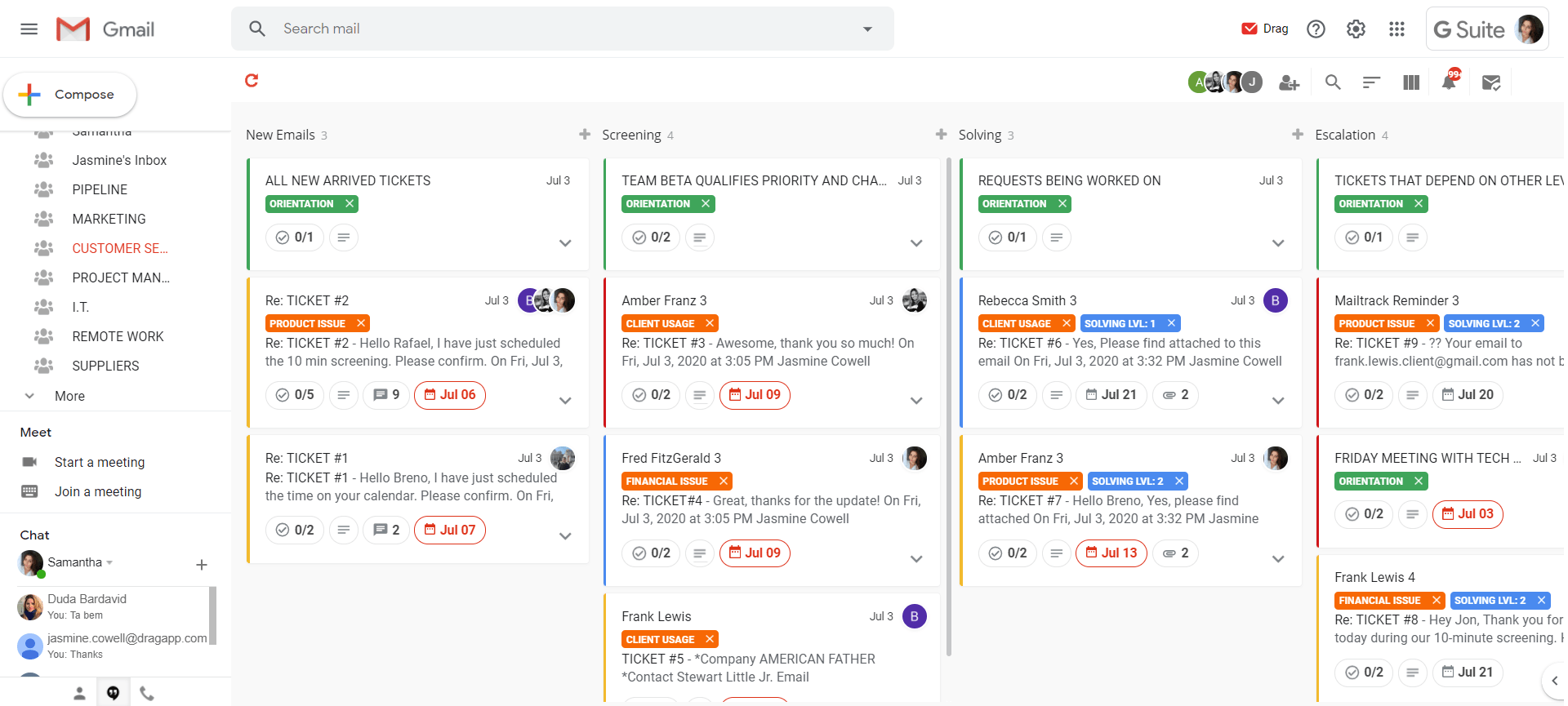 Drag is a popular Front competitor that helps your team work like a well-oiled machine. Let me explain how.
After using Drag for around 6 months, I was impressed by its internal collaboration features, such as chat and @mentions. I could easily work with my team members behind the scenes — sharing files related to an issue and discussing solutions with the help of internal notes.
Overall, this platform offers a robust set of productivity, collaboration, and workflow features to help your team manage customer service operations right inside Gmail.
What you'll like:
Automated email followups to confirm whether an issue is entirely fixed or not
Collision alerts to avoid sharing duplicate responses with customers
Email templates to quickly answer common questions
Agents can share email drafts to compose the most appropriate reply
What you may not like:
Chat and email assistance is only available in the top-tier plans
Drag does not offer any feature to develop custom chatbots
Pricing: Starts at $8/user/month.
8. Missive – Best for live chat support
While email is great, I think every business needs to offer live chat assistance to tackle problems as and when they appear. In fact, customers love it too — around 41% of customers say they prefer customer service via live chat.
Missive has been quick to adapt to the changing trend, and it's evident in its live chat feature. I like how the chat widget is fully customizable. You can easily modify the widget to match the look and feel of your business website.
You can allow website visitors to either chat anonymously or require identification. Also, I suggest you set up automated reminders on conversations to keep your inbox clutter-free.
What you'll like:
Chat auto-responses to update customers of your team's availability
Missive seamlessly integrates with Google Drive, Aircall, Grammarly, and other tools
Agents can track WhatsApp and Instagram conversations in one place
Single Sign-On (SSO) to save your team member's valuable time
What you may not like:
Missive misses out on some important integrations like Calendly
Security features, such as IP restrictions and SSO are only available in the top-tier plan
Pricing: Starts at $14/user/month.
9. Gorgias – Best for e-commerce businesses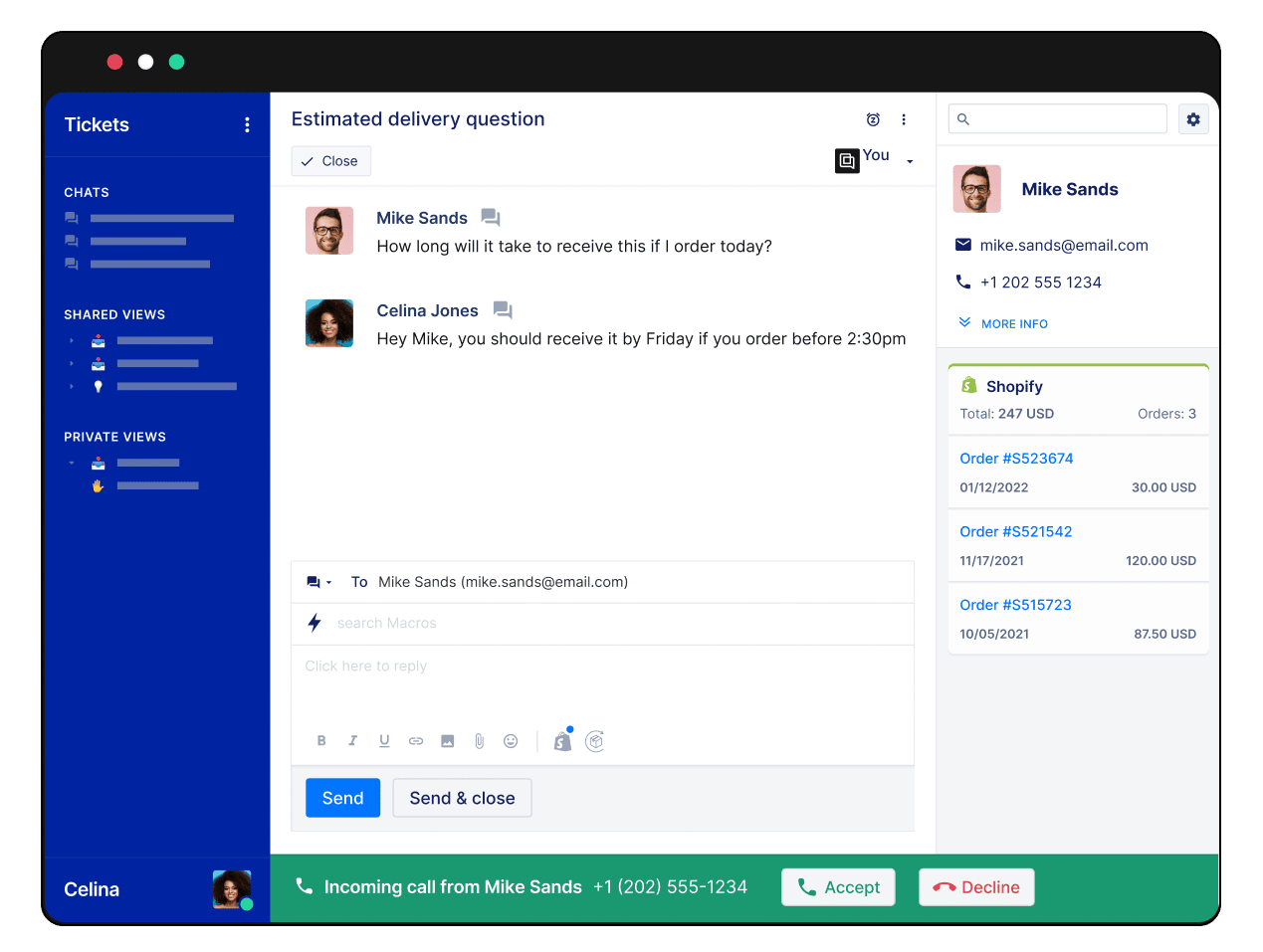 Gogrias claims itself to be the new "e-commerce help desk" in town.
If you have an online store, I'm positive Gorgias will help you support customers while boosting revenue. Your team can easily manage common requests related to cancellations, returns, or defective items through a vast self-service portal.
Another thing I like about Gorgias is that it allows agents to access all crucial customer information while they are talking to them. For example, they can view past conversations, edit orders, initiate refunds, upgrade subscriptions, and much more.
What you'll like:
You can monitor customer inquiries on social media advertisements and posts
Gorgias seamlessly integrates with Aircall, Pipedream, Omnisend, and other tools
Fast-loading chat widget to enhance service quality and lead generation
Pre-made responses to share consistent replies with customers
What you may not like:
All the features are heavily designed around e-commerce businesses. So, if you run an offline business, Gorgias does not have much to offer
The Basic plan is limited to just 300 tickets per month
Pricing: Starts at $50/month.
10. Help Scout – Best for 24×7 service
Help Scout helped me get on top of all my customer communications. Whether customers contacted my team via email, live chat, or knowledge base, we could interact with them 24×7.
In my opinion, Help Scout is designed for 24×7 service. Anyone can use the tool to create a knowledge base in simple steps. Without any coding skills, agents can easily add text, images, videos, tables, and hyperlinks to help center articles.
I'm sure you will also love the shared inbox feature that does a great job of combining multiple group inboxes (help@, billing@, info@, etc.) into one platform.
What you'll like:
Android and iOS apps to assist customers even when on the move
Ticket tags to organize customers requests and issues
Support managers can track total conversations, happiness score, and other help desk metrics
Private notes to collaborate on solutions with teammates
What you may not like:
The Standard Plan is limited to just two shared inboxes
Does not offer the ability to build your own chatbots
Pricing: Starts at $20/user/month.
How to Choose the Best Alternative to Front?
Let me share some factors and points you can keep in mind to find your ideal tool.
Define Your Requirements
Start by identifying your organization's specific needs and goals for customer service software. Consider factors like the volume of customer inquiries, communication channels (email, chat, social media), automation requirements, reporting, and scalability.
User-Friendliness
Evaluate the ease of use and user interface of the alternative. A user-friendly platform can help your support team quickly adopt the new software and improve their efficiency.
Budget Considerations
Determine your budget for a customer service solution. Be clear about your financial constraints, as this will help you shortlist options that fit within your budget.
Scalability and Flexibility
Consider your organization's growth prospects. Choose a solution that can scale with your business and adapt to changing needs. Flexibility in terms of customization and workflow automation is also essential.
Customer Support and Training
Research the customer support and training options provided by the vendor. Ensure they offer adequate training resources, documentation, and responsive customer support to help your team get started and resolve issues promptly.
Which Is the Best Front Alternative?
So this brings us to the question of the hour – "Which is the best alternative to Front?"
Well, I don't think there is any one tool that can be the best for every business. Each team is unique, and so are their needs. But don't worry; I won't leave you without a direction.
Here are my top 3 picks that you can consider for your team this year:
Option A: ProProfs Help Desk
Without a doubt, I think the ProProfs Help Desk is the best Front alternative available in the market. With a simple interface, your team can get started with this tool in no time and manage multiple shared inboxes like info@ or support@ in one place. Unlike Front, ProProfs Help Desk lets you manage customer conversations via email, live chat, chatbots, web forms, help center, and other channels.
Option B: Intercom
For those looking to build custom chatbots, I think Intercom is the best pick. Its AI bot, powered by OpenAI, will help you deliver accurate and smart answers to inquiries shared by customers and website visitors. While bots handle common queries, human agents get more time to deal with high-priority issues.
Option C: Gorgias
If you run an online business, I think Gorgias can be a great addition to your customer service team. Agents can easily manage complaints and requests related to product returns, cancellations, or defective items through a dedicated self-service portal.
In the end, I would recommend ProProfs Help Desk as the top alternative that deserves your undivided attention. The tool comes loaded with features, such as shared inboxes, automated ticket assignments, multichannel communication, smart reports, and a lot more. No matter which tool you choose, I would suggest you take a free trial and explore the nitty-gritty of the software on your own.
Do you want a free Help Desk?
We have the #1 Online Help Desk Software for delightful customer support