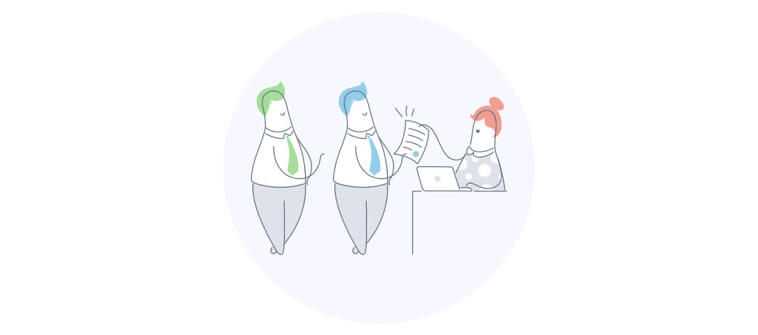 "Let's go shopping!"
Just a decade ago, when someone said these three magical words, they usually had plans to go out. They wandered in and out of every retail store, tried and tested new products, and returned home with tired eyes and a dozen shopping bags.
Today, you can do the same thing while you rest in your PJs and sip your coffee. All hail the e-commerce revolution!
For customers, online shopping has become "Me-commerce". They simply enjoy aspects such as 24×7 shopping, easy returns and refunds, unlimited choice of products, and more.
To make your customers keep coming back to your online store and avoid competition, you need to offer them reliable ecommerce customer service at every touchpoint.
Whether it is about offering personal attention via live chat or tracking customer issues via issue tracking software, our 10 ecommerce customer service best practices have got you covered.
It's time to roll up your sleeves and exceed customer expectations.
What is eCommerce Customer Service?
Ecommerce customer service refers to the process of providing assistance to online customers- from making better purchase decisions to resolving issues— all while creating a seamless customer experience across multiple touchpoints.
If your online customers have questions while completing a purchase or need post-sales assistance, your customer service agents must be able to offer quick assistance. E-commerce customer service can help you look after the following areas:
Customer service issues such as problems while completing the checkout process, unable to add products to the cart, invalid coupons, etc.
Common questions pertaining to product returns, refunds, or delivery
The need to offer a consistent experience across multiple communication channels
10 E-commerce Customer Service Best Practices for Extraordinary Success
Want to improve the online shopping experience for your customers but don't know where to start? Here are the top ten e-commerce customer service best practices you should consider:
1. Meet Customers on Channels They Prefer
An ever-growing and expanding eCommerce business should leave no stone unturned in offering multiple support channels to customers.
If you are limiting your communication channels to just phone or email, you might be eventually making your customers run to your competitors.
According to a Statista report, 65% of customers feel it is easy to contact a business via phone. However, a significant proportion (39%) find it more convenient to approach a business over social media.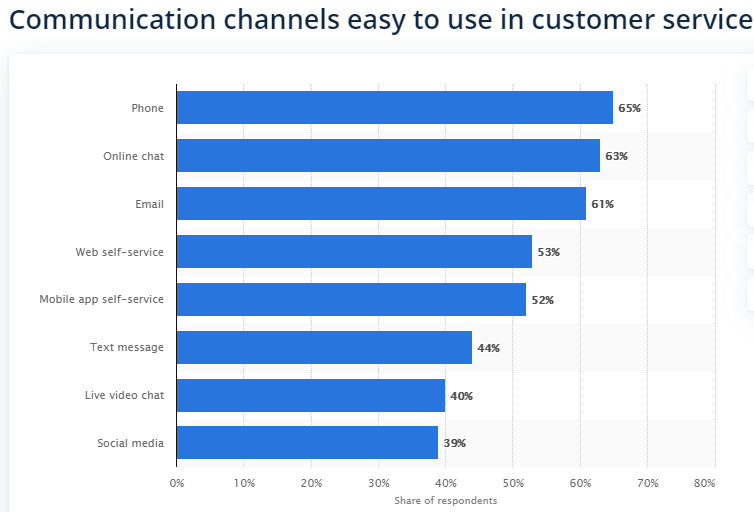 Now, it is true that every customer is different. But is it possible to offer them a ton of different channels?
Keeping up with a variety of communication options can be a huge challenge for any business. This might affect your team's response time. In fact, training different agents for different platforms might not be a doable task for many online stores.
Therefore, the best way out would be to directly ask your customers. You can share a survey with them and ask "Which customer service channels do you prefer the most?". The responses will take you a step closer to understanding your customers and their preferences.
2. Make Proactive Customer Service Your First Line of Defense
A majority of online retailers focus on providing reactive support- taking action only after a customer encounters an issue. For instance, businesses confirm a delay in shipment only when the customers ask for an update.
For delightful ecommerce customer service, you must anticipate customer problems in advance and solve them before they escalate.
This approach is called proactive customer support; which should be your first line of defense against customer issues or requests.
How to offer proactive ecommerce customer support?
Announce problems before customers notice themselves: It is important to be transparent with your customers. Announce problems as soon as they occur and don't wait for customers to run to you with support issues.
Follow up with customers: Regularly follow up with your customers even when their issue has been resolved. Set up an automated email asking to confirm if customers are facing the same issues again.
Apologize for your mistakes: Let's be honest, we know that businesses are not run by superheroes, and mistakes are bound to happen. However, by accepting your mistake you can turn the situation around.
Read More: Proactive VS Reactive Customer Service: Which One Should You Choose?
3. Optimize Your Online Store for Live Chat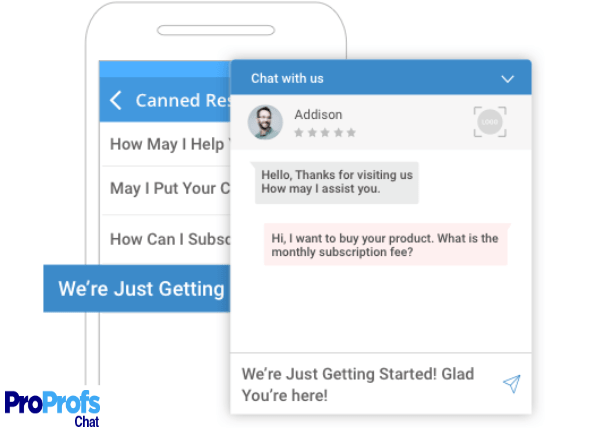 Remember the time you were scrolling through an online website and had some questions on your mind- Are there any discounts available? Or when will this product be back in stock?
When prospects are scrolling through your e-commerce website, they might not know how to get assistance with their queries. Offering instant help via a live chat window can get the job done.
Live chat has one of the best customer satisfaction rates. According to a study, 92% of customers feel satisfied when they use live chat compared to any other communication option.
Enabling a live chat window on your online store is considered a great e-commerce customer best practice. But why?
Your live chat agents can assist customers in real-time
In fact, they can handle multiple chat sessions simultaneously, which is not possible in other channels such as phone support
Generate upselling and cross-selling opportunities
Keep customers engaged for a connected and personalized experience
4. Design Honest Product Catalogs
In brick-and-mortar stores, a salesperson gives you a walkthrough of product features and prices. However, for an e-commerce business, all the information is supplied by product catalogs.
Many customers will reach out to your business for support when they feel that product descriptions are missing out on key information. Some might not find product images good enough, while others might abandon their cart because of a discount coupon code that simply doesn't work.
Around 87% of online shoppers take at least a minute to go through product descriptions before buying from an e-commerce store.
You can avoid a huge chunk of customer service requests by simply improving the quality and design of your product catalogs. Here are some tips you can follow:
Offer honest product descriptions and pricing information
Carefully place multiple "Call to Action" buttons (Share, Contact us, Add to cart, Add to wishlist, Remind me when product is back in stock, etc.)
Add relevant HD product images, taken from multiple angles
Share genuine product reviews to help customers make informed purchase decisions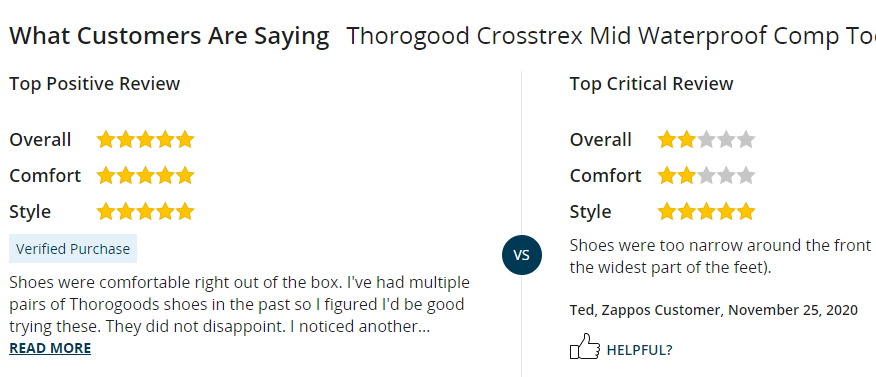 5. Be Available for Customers on Social Media
Customers are more active on social media than ever before. They are not only sharing their vacation or dinner-party pictures but also experiences with their favorite brands.
According to a Microsoft study, 50% of customers aged 18-34 have contacted a business via social media.

Any customer support strategy in eCommerce is incomplete without social media. Leading social platforms such as Facebook, Instagram, Twitter, etc. have become powerful tools to assist existing customers and attract prospects.
Encourage your team to keep an eye on what customers are saying about your brand online. Resolving their concerns on a public platform will help your business create a strong brand image.
Moreover, wishing customers on their birthdays or anniversaries and tagging them can go a long way in building customer loyalty. As a part of your social media strategy, you can also run contests, and reward customers with special gifts, high-end promotional products or discount coupons.
6. Empower Online Shoppers With a Knowledge Base
In the hustle and bustle of the 21st century, customers do not always have the time or zeal to ask a human to resolve their issues. Why wait for an agent to pick your call or text you back, when you can do the job yourself and much more quickly?.
After all, the ability to resolve an issue on your own is indeed an empowering feeling.
You can create a dedicated knowledge base or online help center that offers information on areas such as return policies, shipping, refund procedure, estimated delivery dates, and much more.
Now, your online business might have many online sellers registered on your website. For smooth e-commerce operations, your online knowledge base must include a dedicated page for sellers. For instance, Etsy.com, an online store for crafts and handmade products, has created different sections for sellers and customers.
For a delightful self-service experience, you can include self-help blogs, FAQs, or news about your upcoming products. In addition to this, you can also include instructional videos that can guide customers on using your products better.
7. Automate Your Customer Service Process
E-commerce customer service isn't always a breeze as agents have to deal with innumerable support issues, consistent pressure, deadlines, and difficult customers.
This is exactly where an automated customer service process comes into play and helps you rise above mundane, time-consuming manual tasks. An automated workflow makes life easier for everyone- customer service managers, agents, and customers.
But how should you bring automation into your workflow?
Well, the good news is that you don't have to invest thousands of dollars in artificial intelligence, or big data analytics. A simple help desk software can help you automate your process and delight customers.
How to automate your e-commerce customer service process with a help desk
With the right help desk tool, you can automate your ticket creation and ticket assignment process. This ensures that all incoming support issues are automatically converted into unique tickets and assigned to relevant agents.
Moreover, you can even set up automated emails that are shared with customers once a ticket has been resolved. Such emails give your customers the option to rate your service and help you capture customer feedback almost instantly.
8. Make Every Support Interaction Count With Personalization
All pleasant e-commerce customer experiences have one thing in common – personalization. Personal attention, whether it is in the form of product recommendations, or something as simple as pampering your customers on their special days, can be the key to an applaudable support experience.
According to a study by Accenture, 33% of customers abandoned a business relationship last year due to a lack of personalization.
But is it possible to provide personal support at scale?
Yes, you can train your agents to make every support interaction count by engaging with customers at a personal level. Here are some steps that can get you started:
Regularly share product recommendations with customers via newsletters or simply when they are browsing on your website
Ask your agents to use customer names during live chat sessions or phone interactions
Create a loyalty program to recognize and reward your repeat customers
Share handwritten thank you cards along with the packed product
9. Target First Contact Resolution
A large number of e-commerce entrepreneurs must have heard about First Contact Resolution (FCR), however, only a handful of them get the gravity of the term.
FCR refers to the number of customer issues that are resolved by your team on the first interaction with the customer. In the case of phone support or live chat, this means that the customer's request is fulfilled before they hand up the phone or terminate the chat session.
Why should you aim for First Contact Resolution?
Saves Everyone's Time: When more issues are resolved in the first interaction, your agents will have to deal with fewer escalations and repeat contacts. This saves everyone's valuable time.
Increased Efficiency: FCR has a direct impact on the efficiency of your customer service team. You can handle more customer issues with limited team members.
Improved Customer Satisfaction: FCR is considered a key driver of customer satisfaction. Resolving their concerns in the first contact is a home run for your growing online business.
Read More: 15 Help Desk Metrics to Improve Customer Support
10. Listen, Improve, & Conquer!
In the business world, nothing great was ever achieved without listening to customers.
Actively listening to what your customers have to say can help you gather business-specific information, avoid bad situations from getting worse, and improve your customer service operations.
How do you capture customer feedback?
To capture customer feedback, you can share regular surveys with them right after a support interaction. You can use a Customer Satisfaction Survey (CSAT) to understand how happy customers are with your service.
You can also share a Net Promoter Score Survey (NPS) to measure the loyalty of customers towards your online brand.
Read More: What is a Good Net Promoter Score?
Take Your E-commerce Customer Service to the Next Level
Online shopping always has that 'risk' element attached to it. You don't know if the product you receive will match with the image displayed on the website, or if it will be delivered on time.
However, by providing reliable eCommerce customer service you can offer unparalleled experiences and win back the valuable trust of your customers. Whether it is about offering proactive customer service or automating your process, choose the e-commerce best practices to stay a step ahead of the competition.
Now that we've understood the different types of e-commerce customer service-related queries, let's take a look at some of the frequently asked questions below.
Q1. Why is E-commerce support important?
To grow your e-commerce business and encourage repeat purchases, you need to support each and every customer. When customers receive timely support, they are likely to recommend your business to their friends and family.
Q2. How is customer service provided in e-commerce?
Online businesses need to provide assistance to customers to help them make better online purchase decisions and resolve their problems quickly. For this, you can make your customer service agents offer support on channels that your customers prefer.
Q3. How can I improve online e-commerce customer service?
You can improve your e-commerce customer service with the help of the following strategies:
Offer proactive customer service
Enable a live chat window on your online store
Be available to customers 24×7 with a knowledge base
Automate your customer service operations
Q4. What is Multi-Channel Ecommerce Customer Service?
Multi-channel e-commerce customer service means offering a wide range of communication channels (email, phone, live chat, social media, etc.) to customers. The goal is to provide a seamless and consistent experience to customers regardless of the channel they choose.
Q5. Which tools are required for e-commerce website customer support?
You can use e-commerce help desk software to easily organize, track, assign, prioritize, and resolve customer issues. You can also merge incoming customer requests from multiple channels and share faster responses.
Do you want a free Help Desk?
We have the #1 Online Help Desk Software for delightful customer support