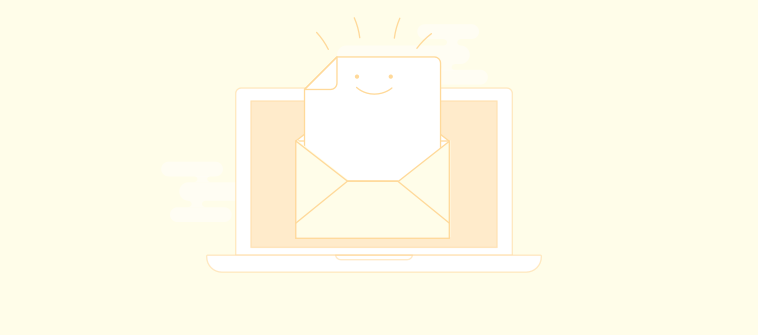 How many times have you lost your temper when contacting a customer support agent?
Lost count, haven't you?
Well, according to recent studies, 75% of customers agree that it takes ages to connect with a live agent. The study also reported that a majority of Americans didn't go through with an online purchase due to poor customer service experience.
Customers always want to have a peaceful and delightful experience, especially when talking to a support agent. And, that's why many companies have adopted a help desk software that comes with a shared inbox.
Most agents find it difficult to manage customer questions, and this is where this tool comes handy as it helps them resolve all problems easily.
Before I dig into why a shared inbox is a great choice for your business, let's cover the basics.
What is a Shared Inbox?
A shared inbox is an email management software that equips companies to manage all their customer-facing emails on one platform. You can checkout best email management tools in this article.
Basically, you don't have to manage multiple views for different customers. One view displays all customer emails, no matter to which department they belong.
A single mailbox helps agents to resolve tickets faster, as they can:
See who is working on what

Assign tickets to the appropriate agent

Reduce ticket resolution time by ticket prioritization and labeling
In the absence of a single mailbox, sending timely responses to customers becomes difficult. When customers receive timely responses for their queries and requests, they feel delighted and remain loyal to your brand.
As a business, you realize the significance of retaining customers. Losing customers adds to your business cost, and this affects your profits.
According to a report published by Bain and Company, a 5% increase in customer retention rate leads to more than a 25% increase in profits.
Now that we know what a shared inbox is and why companies need it let's talk about the key benefits of a customer-facing mailbox.
7 Reasons Business Must Use a Shared Inbox
Every business must focus on delivering quick and accurate answers to customer questions. But, this seems impossible without this incredible tool. In this section, we talk about the various benefits of shared inboxes. Let's take a look!
1. One View For All Customer Emails
Shared email inbox provides a single dashboard overview to businesses for all customer tickets and their status updates.
With a single inbox in place, your agents can:
Easily access and efficiently manage all customer-facing inboxes, such as support@, sales@, billing@, contact@, and help@

See who is working on which ticket

Organize and assign tickets to concerned individuals and teams.
Also, tracking emails from a simple, single email-like interface leaves customer support teams with no cc emails. Shared inbox makes collaborative teamwork and ticket prioritization possible.
Takeaway: Shared email inbox saves a lot of time in managing customer tickets. The ideal way to go about it is to choose a help desk software that offers this feature. This way, you can streamline the entire customer support process effortlessly.
2. Reduce Response Time With Automated Messages
Did you know that customers expect agents to respond to their emails within an hour?
Isn't that a really short timespan to ensure your customers get the answer they are looking for, irrespective of how many customer questions you are dealing with?
That's one problem a shared inbox reduces.
With a shared inbox, you can send out automated messages instantly. For example, in the case of ProProfs Help Desk, you can create and save canned responses on your dashboard. This makes it easier for agents to respond to customers easily.
Takeaway: Analyze the responses you send to customers regularly. With that data, create canned responses of only those messages that are common, and you usually pass on to customers during every conversation.
3. Encourages Team Transparency
In the words of Jason Cohen, Founder of Lokad, "With collective email ownership, there is no blame to be put on anyone. The team is here to diagnose what went wrong and how to do better when the same situation happens again".
One of the biggest issues when it comes to working in a team is transparency.
It is essential that everyone stays on the same page and ensures all doubts are cleared efficiently. But, without the right tool, it becomes difficult for support teams to keep things transparent through the entire customer support process.
With the sharing of emails, you make all the information available to everyone across teams, avoiding their frustration due to lack of visibility. Besides, agents can learn how to deal with different cases and customers.
Collaborative emailing allows teams to enhance their teamwork, feeling collective ownership over all the emails.
Takeaway: Ensure all your support agents have clarity on what needs to be done and by whom with a shared inbox. This also helps the agents in understanding the customer support process and improve their performance in the long run.
4. Split Complex Tickets Into Child Tickets
According to a recent survey, 68% of customers agreed that the key to their positive service experiences was a pleasant support agent. Also, 62% of customers agreed that a representative's knowledge or resourcefulness was key and 37% of respondents describe a customer service experience as good when their issues are resolved on time
But, without a shared inbox, it gets impossible to collaborate on tickets and give accurate answers to customers. You can also split tickets into smaller, child tickets and assign them to the relevant agent.
This way, it becomes effortless for your agents to divide customer questions based on expertise and resolve their issues with accurate answers.
Takeaway: In case you get a feeling your colleagues would be able to answer the customer question you received more skillfully, assign the ticket to them. Create a child ticket and let the colleague know what needs to be done.
5. Organize all Customer-Facing Emails Easily
A single inbox makes it easy for managers and system administrators to manage emails easily. As all emails can be viewed and accessed on the same screen. You can add labels to every customer email and organize them based on the query-type, department, or urgency.
"Admin" has the right to sort emails based on their categories and departments. They can create separate customer-facing inboxes, such as product, billing, sales, contact, support, and help.
Not only can they sort emails according to the departments but also create various categories under a customer-facing inbox.
Takeaway: The only way to get things done is when you have a set plan in place. So, organizing your customer emails and knowing what needs to be done when gives you clarity as to how you'll go about answering customer questions. This ensures all customer questions are answered in-time.
6. Set Permissions To Restrict Access
A single mailbox lends the option to the system administrator to set up different roles and permissions. They can create users and organize them into teams.
Doing so helps to manage roles, task assignments, and permissions easily. The ownership lies with the admin to permit an individual or team to access and work on a ticket.
They may or may not grant permission to act on a ticket, considering the role and department of an employee in the organization.
Takeaway: Not every ticket needs to be visible to every agent. Simplify work for your agents & ensure they see only those customer issues that fall on their plate. This also minimizes confusion among agents in the long run.
7. Improved Agent Productivity
Manually, there is no way you can know what your agent is working on at a particular time of the day.
But, with a shared email account, teams can review each other's emails and make the best out of everyone's work. Remember, every individual builds value for the organization. So, they should have access to all customer conversations.
Not only that, if you choose a help desk software, such as ProProfs Help Desk, that offers a shared inbox, it also comes with robust reporting features. With reporting & analytics, you can easily:
Monitor what your agents are upto

How satisfied customers are with your agent's performance

How quickly do agents resolve customer tickets
…and so on.
Takeaway: Keeping an eye on your agents and their performance is crucial to understand what you can improve in your customer support process. So, adopt a help desk software that comes with a shared email inbox & reporting feature to make it easy to manage and resolve customer tickets.
How to Create a Shared Inbox: 3 Easy Steps to Get You Started!
Creating or setting up your shared email inbox is easy, provided you choose the right tool.
Here's a quick video that'll guide you on how to create a shared inbox instantly:
Let's go through the process of creating a shared inbox step-by-step:
Step 1: Navigate to Settings of your help desk software and click on Inboxes. After that, click on Add Inbox or + New Inbox.
Step 2: In most robust help desk software, you can import tickets to your new shared inbox in two ways, you can either:
Connect an External Email
If you already have a dedicated email for all your customer-facing emails, this is the ideal option for you.
Connecting your external email to the new shared inbox streamlines all the processes and ensures that no ticket is lost during the transition.
Create a new Official Email
This method is ideal for agents who need to create a new email ID as they don't have a dedicated email for their customer-facing emails. Make sure you check the availability of the address and create a unique but easy to remember email ID when creating a new official email.
Shared Inbox: The Key to Happy Customers…
Having understood the relevance of sharing your inbox today, opting for a help desk ticketing system helps you deliver the ultimate customer experience.
As your business grows, your customer support needs grow too, which is why considering help desk software with a shared inbox feature is a prudent decision.
ProProfs Help Desk can be one of the considerations in this regard. This ticketing software offers customer support ticket management, a knowledge base for self-support, and live chat instant support. To know more about ProProfs Help Desk, you can read the reviews online.
Gear up for smarter, organized workflow with the most intelligent software!
---
Q1. How to create a shared inbox?
It's really easy to set up a shared inbox in your help desk software. For example, with ProProfs Help Desk, all you have to do is log in to your help desk software, go to settings, and add a new inbox. Give your details, verify your account, and you're good to go! Here's How to Create a Shared Inbox in Seconds.
Q2. What is the purpose of a shared inbox?
A shared inbox is an email management platform that equips companies to manage, track, and close customer emails easily. A shared inbox is a collaborative dashboard wherein all your customer emails are displayed to your support agents. This way, agents can track and reassign tickets to other agents, as per their needs. Here's a quick overview of What Is The Purpose of a Shared Inbox?
Q3. How to manage a shared inbox?
Managing a shared inbox is a piece of cake. All it takes is prioritizing customer emails based on urgency and getting back to customer emails instantly. You can also add labels to organize customer emails on the basis of expertise. Here's a quick guide for you to learn How to Manage a Shared Inbox?
Q4. How do I use a shared inbox?
It's easy! All you have to do is integrate your existing customer support email or create a new one, and you are good to go. You can check all your customer emails on one platform, categorize them as per your requirement, set priorities, and resolve them in time.
Q5. How does a shared inbox work?
When a customer connects with a support agent, their request is created in the shared inbox as a ticket. This ticket is assigned to an available support agent automatically. Now, all customer emails will keep piling up in your shared inbox. So, to streamline the process and ensure all tickets are resolved in time, you can add labels, comments, and prioritizations to organize tickets.
Do you want a free Help Desk?
We have the #1 Online Help Desk Software for delightful customer support