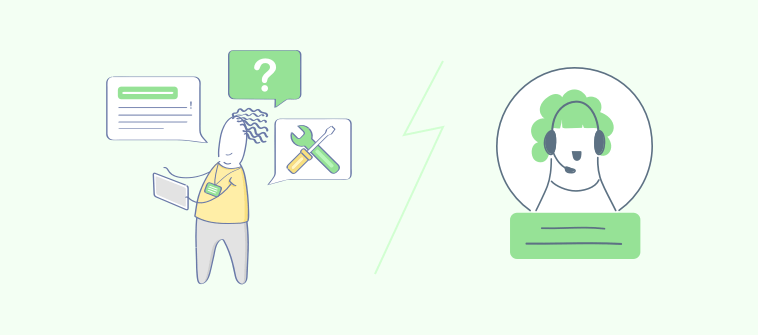 Remember the time when you ran into a faulty product and wanted to contact the business for support? While one of your friends suggested reaching their call center team, others advised contacting their help desk.
And you thought to yourself – "After all, what is the difference between call center and help desk? Aren't they one and the same?"
The difference between call center and help desk is not a vast one and that is precisely the reason why you will hear many people use these terms interchangeably.
If you are a business contemplating any of these services, it's important to realize the different aspects that set them apart and select the one that'll best suit your needs.
In this blog, we will explore the different features of call center and help desk, understand the role of help desk software, and finally help you decide which one to choose.
What Is a Call Center?
A call center is a customer service department that handles customer complaints, orders, or inquiries via telephone. In an inbound call center, agents receive incoming calls from customers and resolve their issues or questions. An outbound call center, on the other hand, makes outgoing calls to existing customers and cold calls to prospects.
Now, you might wonder where do the call center desks or departments exist? Many companies run call centers internally in their own offices. However, there are many companies that outsource inbound and outbound call centers to third-party companies to save costs on hiring, training, infrastructure, and other factors.
Inbound & Outbound Call Center Features
There are more dimensions to a call center than you might think. Right from offering technical assistance to customers to conducting in-depth market research, a call center has multiple offerings.
Basic or Technical Assistance
Inbound call center agents offer assistance to customers with their basic day-to-day queries as well as technical issues. Right from updating basic account information to sharing troubleshooting steps to fix an electric gadget, technical support call centers are known for round-the-clock phone assistance.
Order Processing
Today many people visit e-commerce websites to shop online. However, a good proportion of customers still use the phone as a channel to place orders. Call center support professionals can help customers complete their purchases over calls and suggest any additional items to increase the average order value. Sometimes, they can even help online shoppers with billing or payment issues.
Telemarketing & Telesales
We all know telemarketing might have a bad reputation, however, it has shown wonderful results for businesses. Telemarketing agents can engage with potential customers to generate brand awareness, and reliable leads, or simply to schedule appointments. Telesales agents, on the other hand, have the responsibility to pursue leads and close more sales over the phone.
Market Research
Companies use outbound call centers to research their target audience and better understand the needs and interests of their customers. For example, as a part of your market research campaign, you can conduct phone surveys to understand your target audience's pain points, what product features they want, or how likely they are to try your new products. The research data can be used by marketing to improve their messaging or by product teams to design better products.
What Is a Help Desk?
A help desk can mean a lot of different things for different people. However, in the most general sense, it refers to an organizational department that provides the customer, employees, and end-user with information and support related to a company's products and services.
For example, you must have visited the help desk section of a store to return a product or inquire about any available discounts or offers. Similarly, you might recall visiting the IT help desk department in your office when you were not able to connect your laptop with the office printer.
Now, it is no news that help desk or customer service teams around the world are adopting help desk software to improve internal collaboration, automate support processes, and delight customers with speedy resolutions.
Read More: Why Help Desk Software is Important for Your Business?
Popular Help Desk Features/Traits
Help desks have evolved over the decades, especially, in the last couple of years. Although it started with just a handful of channels, contemporary help desk professionals can use better, faster channels such as live chat or even social media. Here are some key attributes of modern help desks:
1. Acts as a Single Point of Contact (SPOC)
A help desk acts as a SPOC for both internal employees as well as external customers. This simply means that irrespective of the type of product or service-related assistance they need, they can easily contact the help desk team without going anywhere else. Moreover, support can be accessed via phone, email, chat, instant messaging, using social media, or undertaking self-service processes.
2. Ticket Management
A help desk team converts every incoming customer issue or request into a unique ticket. This process is automated by a dedicated help desk ticketing system that allows you to track the progress of every ticket in real-time. In addition to recording customer conversations, help desk teams strive to keep all support tickets well-organized. So whenever a customer refers to a previous conversation, you have all the information right on your dashboard.
3. Ticket Escalations
When help desk agents are not able to resolve issues on their own, they are escalated to higher reps or managers. Senior agents have the required skills and knowledge to resolve serious and top-priority issues. It must also be noted that sometimes, agents just don't have the authority to carry on with certain tasks. For example, they might need approval for granting refunds for products that are above $100 in value.
Read more: Ticket Escalation Process: 10 Tips to Manage Them Better
4. Internal Help Desk
Internal help desks cater to the internal employees of an organization. They ensure that different departments can operate efficiently and company-wide issues such as system outages, etc. have minimum impact on the business. Employees can register their issues by physically visiting the IT help desk department or leverage self-service options to resolve concerns at their own pace and convenience.
Read More: 20 Best Help Desk Software of 2021
What Is the Difference Between Call Center and Help Desk?
The difference between a call center and a help desk is not really as big as the difference between land and sky. However, it is also not so minute that you can simply ignore it. The differences can be divided into 3 categories- the nature or types of issues they handle, the skills professionals need to have, and the channels they manage.
Types of Issues: A call center is designed to handle day-to-day customer concerns or issues that are of basic nature. On the other hand, in addition to simple issues, help desks can cater to more complicated or technical support issues.
Skills: Call center agents use scripts to troubleshoot basic customer problems or offer any requested information. On the other hand, the IT help desk agents should have relevant expertise and knowledge to resolve technical support issues faced by employees, customers, or other key stakeholders.
Channels: As discussed above, call centers are limited to the phone. On the other hand, help desks capture requests and issues from multiple channels such as the phone, email, live chat, social media, online help portal or knowledge base, SMS, etc.
Call Center VS Help Desk: Which One Do You Need?
The battle of help desk vs call center can leave you confused. But, don't worry as we have done the heavy lifting for you.
If you wish to keep your support process limited to a single channel (phone), you can set up an internal call center or outsource call center services to another firm. With a dedicated call center, you can not only assist customers but also reach out to prospects, generate leads, and close more sales.
On the other hand, a help desk can set the right platform for you to deliver omnichannel customer and employee experiences. You can not only meet users on their preferred communication channels but also resolve technical support issues to reduce their impact on the business. Remember, you can always use a dedicated help desk software to automate your manual processes and delight your customers.
Do you want a free Help Desk?
We have the #1 Online Help Desk Software for delightful customer support