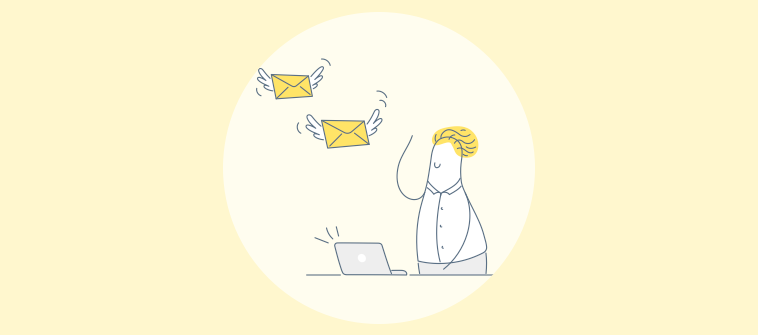 Are innumerable support emails choking your inbox? Is it hard to manage and prioritize customer conversations? Does team collaboration lead to more chaos than order? If you answered yes, it might be the right time to invest in the best email ticketing systems.
An email ticketing software can help you manage your email support traffic, distribute incoming customer requests to agents, prioritize urgent cases, and reduce the mounting stress on your team.
If your company is on an escapade to find the best email ticket system or if you simply wish to upgrade your existing software, then this blog is tailor-made for you. After intense market research and analysis, we have curated a comprehensive list of 11 tools that have the potential to be on your watchlist.
Before we bring the spotlight to the product features, let's quickly grasp the definition of an email ticketing system.
What Is an Email Ticketing System?
An email ticketing system is a business application that allows you to convert multiple customer emails into tickets. These tickets are then organized in a single place so that customer issues and requests can be easily tracked and managed from a single place.
The best email ticketing systems are not confined to just email. In addition to email, you can track customer conversations arising from various communication channels such as chat, phone, social media, knowledge base, community forums, and more.
What Are the Features of Email Ticketing Systems?
Email ticketing systems were introduced to encourage team collaboration and improve customer experience. But how do you recognize a strong ticket solution when you see one? These are some must-have features you should look for in your ticket management system:
1. Ticket Conversion
Email ticketing systems can automatically convert support conversations into unique tickets. So no matter if a customer drops an email or contacts your support team via chat, all incoming conversations can be tracked in one place. You can set up email forwarding rules to route all support emails from multiple email accounts into a single, shared inbox.
2. Automated Ticket Assignment
With an email help desk software, tickets can be automatically assigned to relevant agents or teams- based on rules. You can choose the Round-robin ticket assignment feature to route tickets to available agents or use skill-based routing to assign tickets to individuals who are most capable to handle them. For instance, all technical issues can be assigned to an agent who has the relevant technical expertise.
3. Self-Service Knowledge Base
The best email ticket system gives businesses the option to offer proactive customer service by creating a customer-centric knowledge base or help center. Customers can find all relevant information in the form of help articles, videos, FAQs, etc. to resolve their primary issues. You can even create an internal knowledge base for your employees. Whenever they encounter a new customer issue, they can contribute to existing help articles or create new ones.
4. Real-Time Reporting
The reporting features of a ticketing system can help you gauge agent performance, identify improvement areas, keep a tab on key performance indicators (KPIs), and track key customer service metrics. You can share CSAT or NPS surveys with customers to allow them to rate your service or the overall experience of interacting with an agent.
11 Best Email Ticketing Systems for 2023
Now that we have covered some important features, here are the top email ticketing systems that you must consider. Let's check their features and pricing details.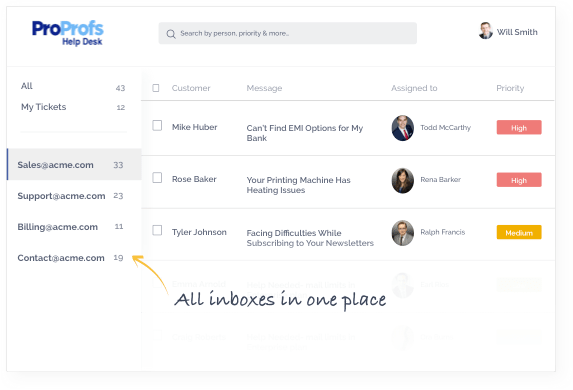 ProProfs offers the best email-based ticketing system that is designed to be user-friendly and is as easy as using Gmail. Agents can easily set the priority of a support ticket as 'High', 'Low', or 'Normal' and ensure urgent tickets can never slip through the cracks and are resolved first.
The best part of using ProProfs is that you can get access to multiple customer support tools- live chat, knowledge base, survey maker, etc. that help you offer delightful support 24×7. Customer service teams can achieve more together with collaboration features such as internal comments, custom fields, ticket labels, internal chat, and others.
Notable Features of ProProfs Help Desk:
User-friendly interface- almost as simple as using Gmail
See who is working on what in real-time with agent collision detection
Simplify help desk workflow with agent roles and permissions
Create and share CSAT, NPS, or customer feedback surveys
Reduce support ticket volume by up to 80% with a knowledge base
Best For: Best for businesses looking for core helpdesk features at an affordable price
ProProfs Help Desk Plans Include:
Try it free for 15 days
Starts at $20/agent/month (billed annually).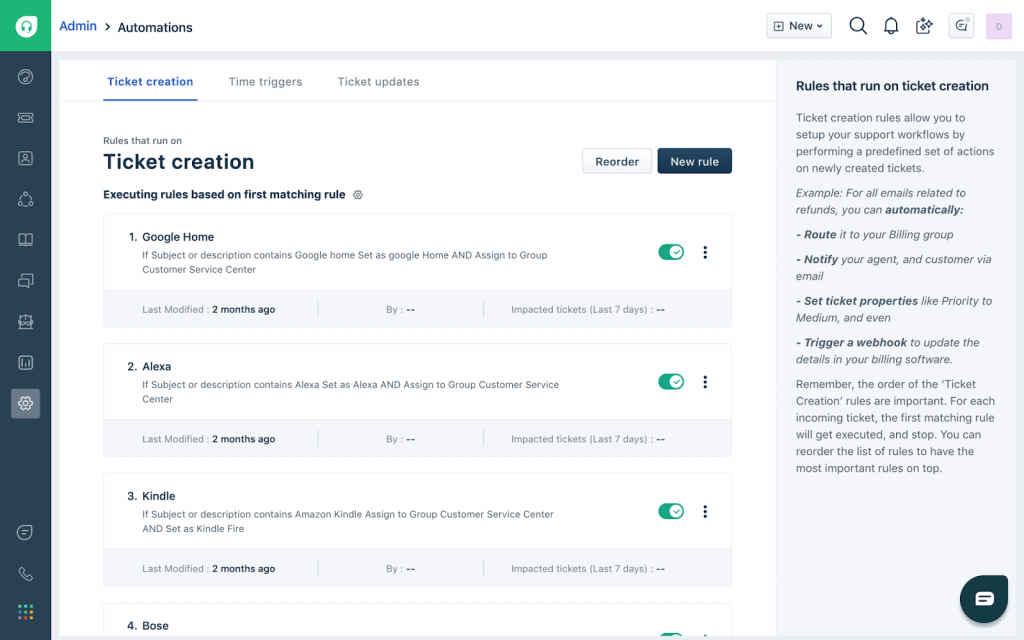 With Freshdesk's customer email management software, you can rise above mediocre customer service by streamlining issues into one universal inbox. Your agents can easily manage customer conversations, gather customer feedback, analyze trends, and do much more.
With Freshdesk, support agents always have easy access to a customer's details such as ticket history or past conversations, a customer's unique ID, their feedback, and other necessary details that help them offer contextual assistance.
Notable Features of Freshdesk:
Manage customer conversations on Twitter and Facebook right from Freshdesk
Mobile applications to offer support on the go
Connect with over 500+ apps from the Freshdesk marketplace
Easily create a self-service portal, and add a website widget or chatbot
Share ownership of a conversation with other agents or teams
Best For: Best for small to midsize businesses
Freshdesk Plans Include:
Sprout: Free for unlimited agents with email and social ticketing
Blossom: $15/user/month
Garden: $35/user/month
Estate: $49/user/month
Forest: $99/user/month
Read More: Freshdesk Alternatives for 2023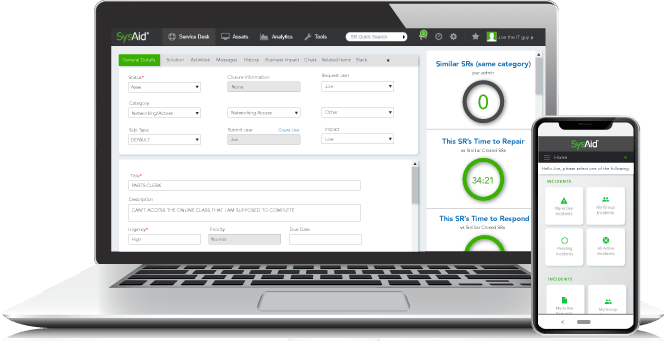 SysAid's email help desk software is built for IT support teams and offers all important features in one place- a powerful ticket management tool, IT asset management, live chat, self-service, password reset functions, and a lot more.
Support managers can access detailed reports right on their dashboard. Moreover, your team can target the right Key Performance Indicators (KPIs) to understand your IT support performance and make better business decisions in minutes.
Notable Features of SysAid:
Allow end-users to securely reset their domain passwords without admin intervention
Create a knowledge base for internal employees as well as customers
Embed chat icons throughout your website or internal portal
Allow agents to offer personalized support with ticket history
Create an automated workflow with ticket routing and escalation rules
Best For: Best IT email ticketing management system
SysAid Plans Include:
SysAid offers two pricing plans- Basic (for easy and efficient IT support) and Fuel (For ITIL-aligned mature organizations). Users need to make a request on their website to get the complete pricing details.
Read More: Best Sysaid Alternatives for 2023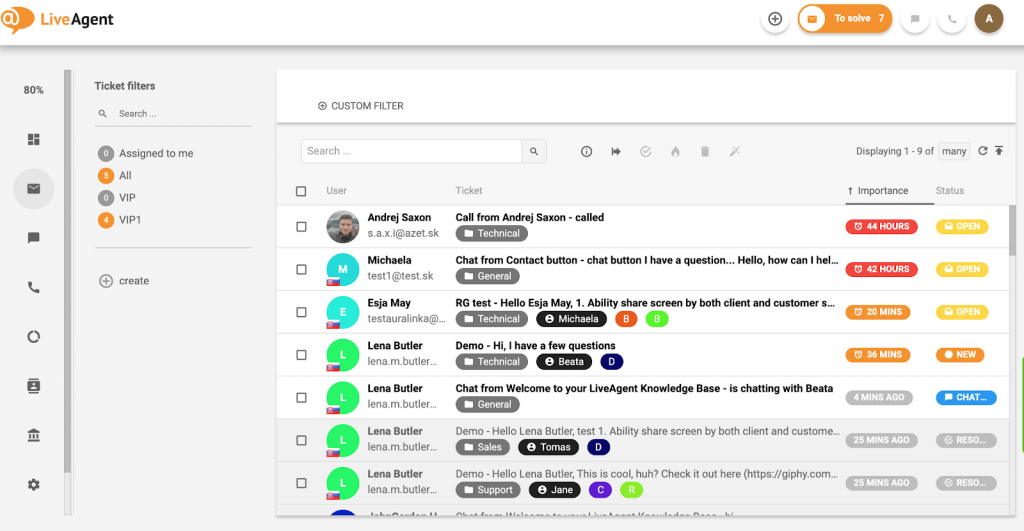 LiveAgent offers an advanced email management software that makes use of a universal inbox and a hybrid ticket stream. With the universal inbox, agents can easily organize, transfer, and resolve customer queries from a shared dashboard. On the other hand, the hybrid ticket stream allows you to track a customer's problem resolution journey.
With LiveAgent, you can automate repetitive and mundane tasks. Agents can use canned responses for common customer issues, automate the ticket routing process, and create time or SLA rules for a streamlined support process.
Notable Features of LiveAgent:
Automate your workflow through time, action, and SLA rules
Use ticket tags to differentiate between different ticket types
Create internal notes inside tickets for other team members
Create unlimited ticket fields and store additional information
Avoid spam emails or messages with automatic spam filtering
Best For: Best email management system for team collaboration
LiveAgent Plans Include:
Free: Forever free plan with limitations.
Ticket: Email ticketing software at $15/agent/month
Ticket + Chat: Multi-channel live chat plus ticketing solution at $29/agent/month
All-Inclusive: Omni-channel help desk at $39/agent/month
Read More: Best Live Agent Alternatives for 2023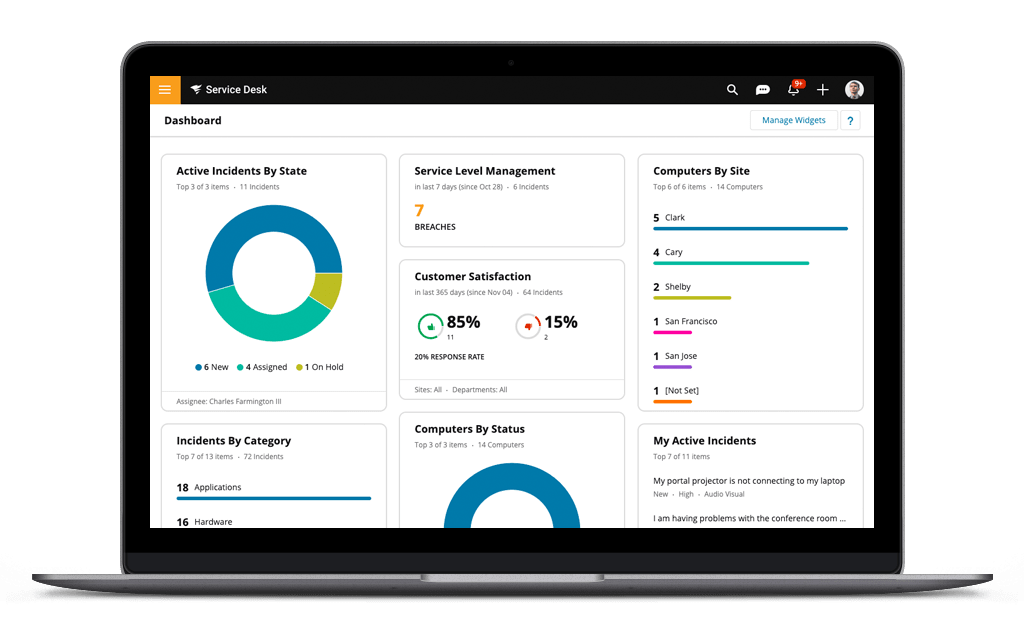 The SolarWinds service desk is designed to centralize multiple user requests coming from various mediums, including emails, phone calls, walk-ups, and self-service portals. You can customize the dashboard to highlight critical metrics that are most important to your team and operations.
Agents can gain helpful visibility when requests are submitted through the SolarWinds service desk. They can easily track the progress of all the tickets that have been assigned to them and check the SLAs attached to various requests.
Notable Features of SolarWinds Service Desk:
Prioritize and manage tickets better with efficient ticket management practices
Create a Service Catalog to standardize service request and fulfillment processes
The service portal offers users a single place to submit tickets and requests
View reports on SLA breaches, CSAT scores, ITIL processes, ticket resolution times, etc.
Offer 24/7 access to service through an employee service portal
Best For: Best for service level management
SolarWinds Service Desk Plans Include:
Team: $15/agent/month
Business: $29/agent/month
Professional: $49/agent/month
Enterprise: $69/agent/month
Read More: Best Solarwinds Service Desk Alternatives for 2023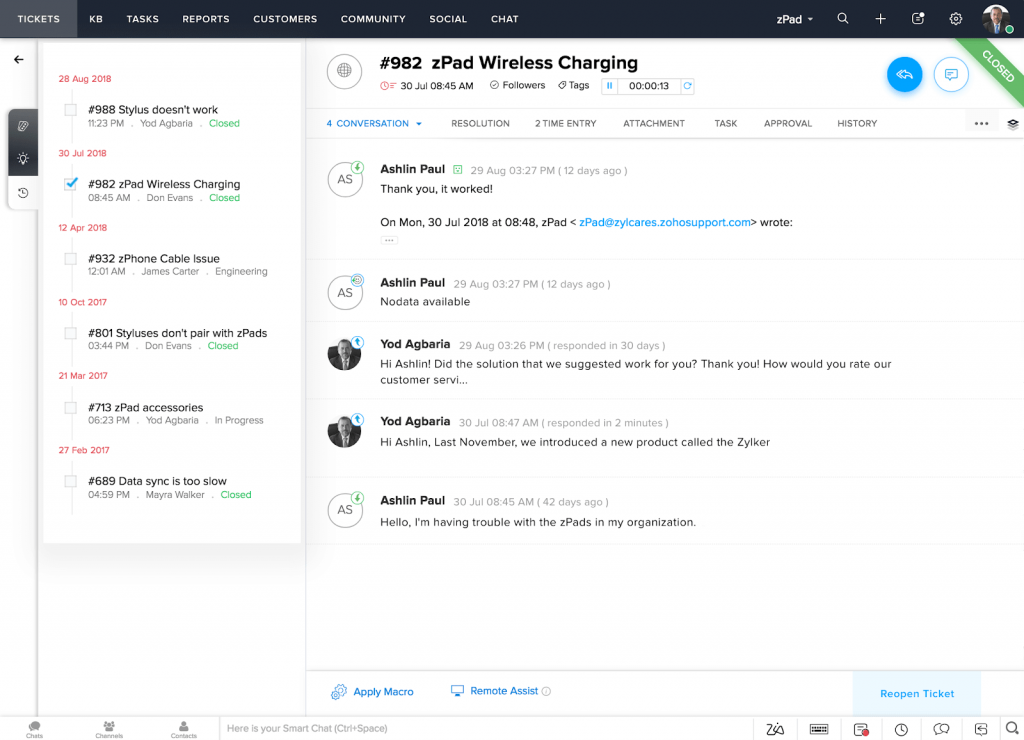 Zoho Desk offers an intuitive and context-aware email management software with multi-channel capabilities. Moreover, the tool offers smart multi-lingual support, and automated answer suggestions to help your agents always stay prepared while replying to a ticket.
This email ticketing system comes with many collaborative features that allow your agents to communicate the issues with other teams through private comments and tags. This significantly reduces miscommunication as all interactions take place in one shared place.
Notable Features of Zoho Desk:
Agents have access to relevant customer context in the form of past interactions
Use templates and keyboard shortcuts to reduce the time spent typing out repetitive content
Easily view and respond to tickets from the Zoho Desk mobile app
Agents can attach a feedback widget to their responses to enable customers to rate their service
Gain a comprehensive view of critical customer service metrics
Best For: Best multilingual help desk ticketing software
Zoho Desk Plans Include:
Free: Forever free for up to 3 agents with limited features
Standard: $12/agent/month
Professional: $20/agent/month
Enterprise: $35/agent/month
Read More: Zoho Desk Alternatives for 2023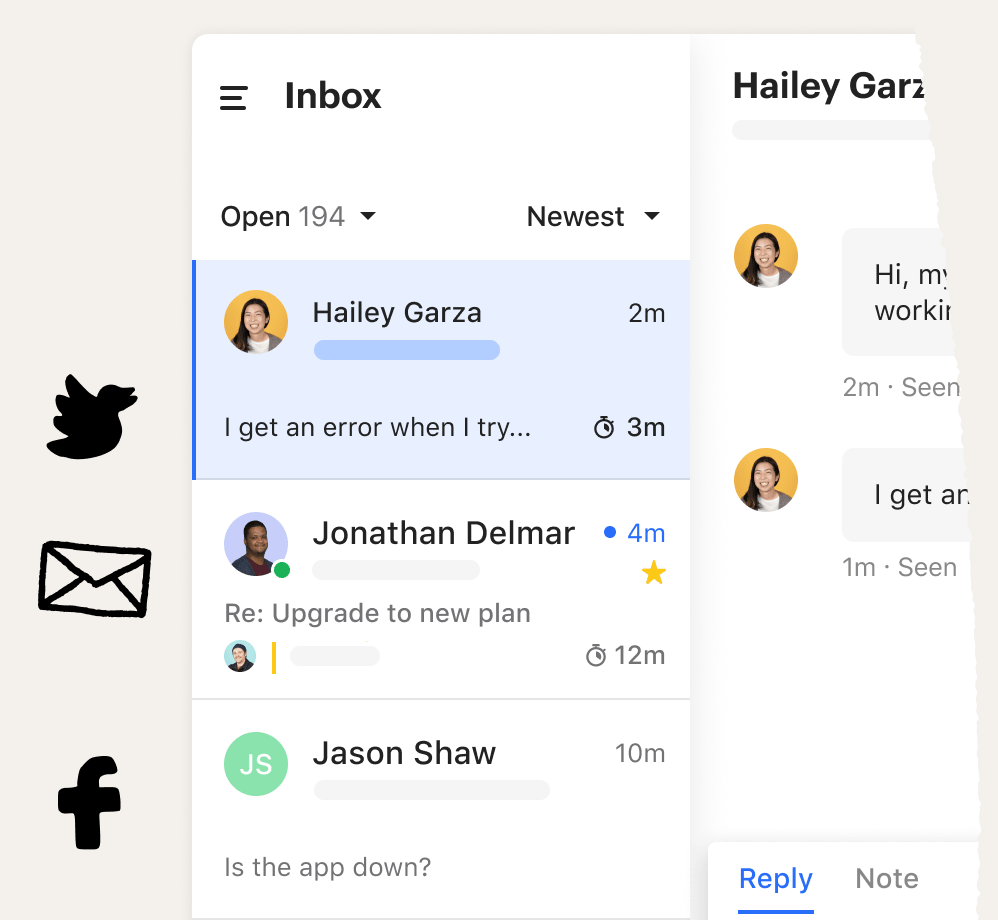 Intercom's Inbox lets you easily organize and respond to email and social media conversations on your website, and mobile apps. Even while they are away from their desks, agents can respond to customers with native apps for iOS and Android.
With this customer service email software, you can create separate inboxes for support and sales. Moreover, your agents can set permissions, use notes, and add mentions to seamlessly collaborate on challenging customer issues or questions.
Notable Features of Intercom:
Save time with canned responses and share relevant help article in a single click
Automate 4x more tasks to reduce manual work
Seamlessly connect Intercom to 250+ tools
AI-powered bots can collect upfront info, helping you prioritize and route conversations efficiently
Easily share reports with key stakeholders using Share Reports
Best For: Best for social media ticket management
Intercom Plans Include:
Start: $39/month (includes 1 seat)
Grow: $99/month (includes 5 seats)
Accelerate: $499/month (includes 10 seats)
Scale: $999/month (includes 10 seats)
Read More: Intercom Alternatives for 2023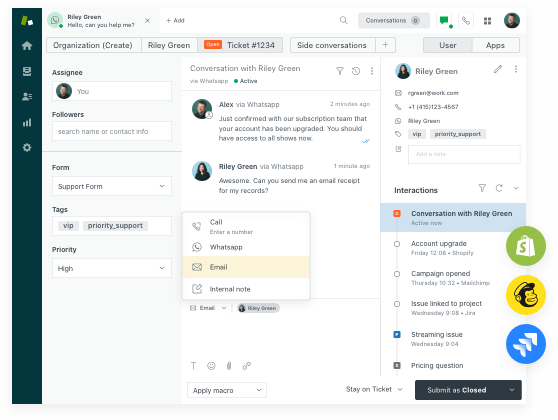 Zendesk is another popular email-based ticketing system that is ideal for tracking, prioritizing, and solving customer support tickets. All conversations can be found in a single location so that communication between you and your customers is efficient as well as personal.
With Zendesk, you can empower customers to help themselves. Build a dedicated help center and a community forum to encourage customers to resolve issues at their own pace- while reducing your support ticket volume.
Notable Features of Zendesk:
Analyze and monitor trends with easy-to-analyze reports
Integrate all relevant customer data with the help of multiple integration options
Easily escalate issues to the agents best suited to help
Foster a knowledge-sharing culture by allowing agents to contribute to help articles
Leverage automation and AI-powered bots to get customer context
Best For: Best all-in-one customer service CRM
Zendesk Plans Include:
Suite Team: $49/agent/month
Suite Growth: $79/agent/month
Suite Professional: $99/agent/month
Read More: Zendesk Alternatives for 2023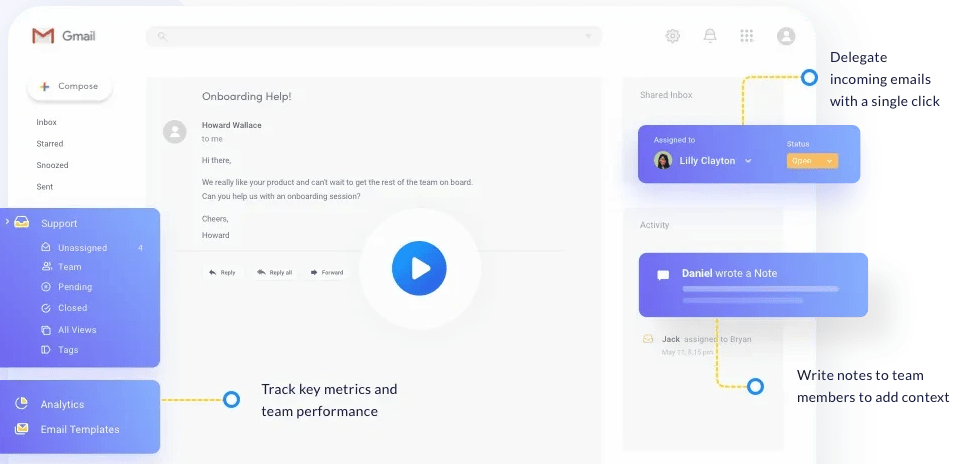 Hiver is quite different from other email ticketing systems out there. It helps you deliver fast and empathetic customer service right from your Gmail inbox. With reports, you can get actionable insights into workload distribution, SLA violations, and the overall team performance.
Help desk managers can easily assign emails as tasks to their team members with a single click. The agents can mark the status of an email as 'Open', 'Pending', or 'Closed' to better organize and track customer conversations.
Notable Features of Hiver:
Categorize and prioritize customer issues with Email Tags
Get alerts when someone is responding to an email with the Collision Alert feature
Using the Activity Timeline, view all actions taken on an email
View and optimize workload distribution with a single click
Connect Hiver with other tools such as Slack and Zapier
Best For: Best ticketing system for Gmail
Hiver Plans Include:
Lite: $7/user/month
Grow: $22/user/month
Pro: $37/user/month
Elite: $57/user/month
Read More: Hiver Alternatives for 2023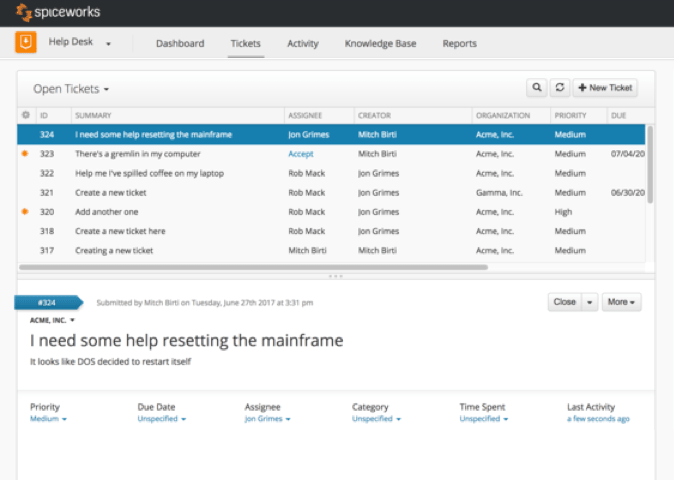 With Spiceworks Help Desk, you can add the User Portal to allow your users to submit new tickets and see the progress of their existing tickets without having to constantly contact you. You can even use the Knowledge Base to store answers to commonly asked user questions and save everyone's valuable time.
You don't need to worry even if your customer service agents are not at their desks. Spiceworks Help Desk mobile app offers the latest ticket updates and push notifications right on your phone or tablet.
Notable Features of Spiceworks Help Desk:
Use custom fields for improved ticket organization
Allow multiple staff members to work on a ticket together
Help users help themselves with a customizable user portal
Use ticket management rules to auto-assign tickets to your experts
Help remote employees by starting a secure remote support session
Best For: Best for IT service management
Spiceworks Help Desk Plans Include:
Spiceworks offers a free version for everyone from personal users to enterprise operations.
Read More: Best Spiceworks Service Desk Alternatives for 2023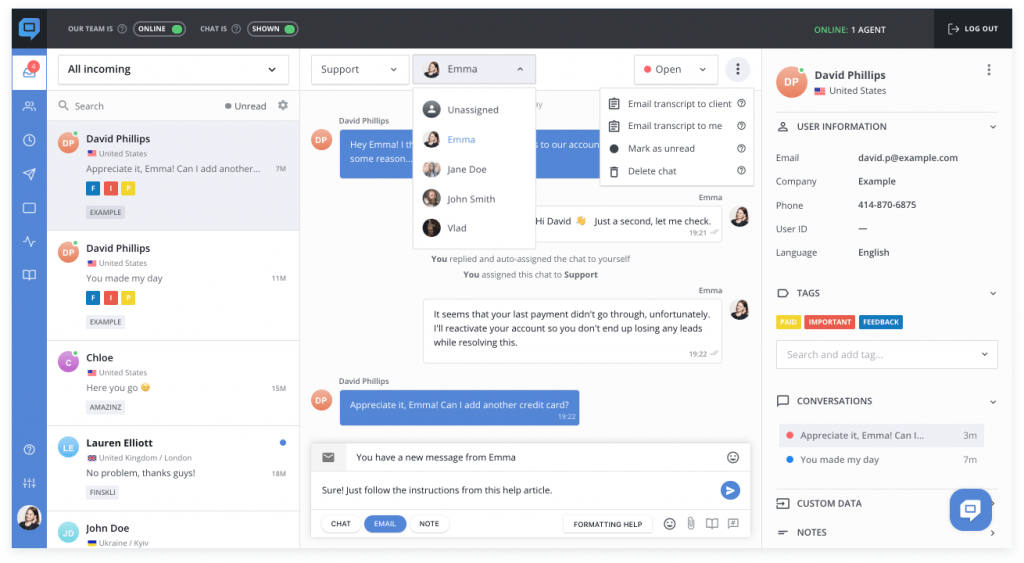 HelpCrunch allows you to access all support emails and chats from customers in your shared HelpCrunch inbox. You can also choose to share automated email follow-ups every time your chat messages stay unseen by customers for a given period of time.
You can increase your help desk team's productivity by tagging, assigning, and merging support conversations. With the help of HelpCrunch's powerful features, a single support agent can simultaneously handle up to 5 conversations with customers.
Notable Features of HelpCrunch:
Respond quickly with pre-made answers to common questions
Enable sound, browser, email, Slack alerts, and notifications
Use HelpCrunch chat on your website, cloud, and mobile apps
Send requests to customers to rate their support experience
Check when teammates are available with an Online status indication
Best For: User-friendly interface and easy ticket management
HelpCrunch Plans Include:
Standard: $23/user/month
Premium: $39/user/month
Enterprise: You can customize your plan by contacting their sales team.
12. Desk365
Desk365 is an intuitive and powerful cloud-based email ticketing system that is easy to deploy and use. It boasts a comprehensive range of features, including ticket management, automation, SLA capabilities, team collaboration tools, and more. Desk365's intuitive and user-friendly interface makes it easy for your support team to navigate and manage tickets efficiently.
Furthermore, Desk365 offers a responsive mobile version, enabling support teams to stay constantly connected and promptly respond to customer queries from any location, at any given time. Overall, Desk365 is the perfect solution for businesses looking to streamline their customer support operations and ensure prompt attention and resolution for each ticket.
Notable Features of Desk365:
Have a centralized inbox where all your customer support requests are present.
Automate your workflow during ticket creation and ticket updates.
Create canned responses, to respond quickly to routine requests.
Easily allow multiple departments to use the helpdesk, using custom roles to restrict visibility if needed.
Distribute customer surveys to measure customer satisfaction.
Desk365 Plans Include:
Free: Forever free plan up to 3 agents.
All-Inclusive Pro Plan: Starts at $10/agent/month (billed annually).
Quick Comparison of Top Email Ticketing Software
| Software | Price | Shared Inbox | Alerts & Escalations | Multi-Channel Support | Canned Responses | Knowledge Base | IT Help Desk |
| --- | --- | --- | --- | --- | --- | --- | --- |
| ProProfs Help Desk | $10/month | Y | Y | Y | Y | Y | Y |
| Freshdesk | $15/month | Y | Y | Y | Y | Y | N |
| SysAid | (Not mentioned) | N | Y | Y | Y | Y | Y |
| LiveAgent | $15/month | Y | Y | Y | Y | Y | N |
| SolarWinds | $15/month | N | Y | Y | Y | Y | Y |
| Zoho Desk | $12/month | N | Y | Y | Y | Y | N |
| Intercom | $39/month | Y | Y | Y | Y | Y | N |
| Zendesk | $49/month | Y | Y | Y | Y | Y | Y |
| Hiver | $7/month | Y | Y | N | Y | Y | N |
| SpiceWorks | $0/month | N | Y | Y | Y | Y | Y |
| HelpCrunch | $23/month | Y | Y | Y | Y | Y | N |
Support Customers With the Best Email Ticketing System
There is no denying that email support is one of the most popular and fundamental channels of customer service. While on one hand, customers find it more professional and convenient. On the other hand, businesses consider email as an incredibly cost-effective channel. A win-win situation for all!
But, the real problem starts when businesses slowly lose control over their email inboxes- leading to hundreds of unresponded emails. However, with the best email ticket system, you can streamline multiple communication channels- email, chat, phone, help center, and offer proactive support to your customers.
Remember, investing in a tool is not a lifelong commitment. Feel free to experiment with a few tools at the start, opt for trial versions, see what works and what doesn't, and then go for the one that completes your support team.
Do you want a free Help Desk?
We have the #1 Online Help Desk Software for delightful customer support