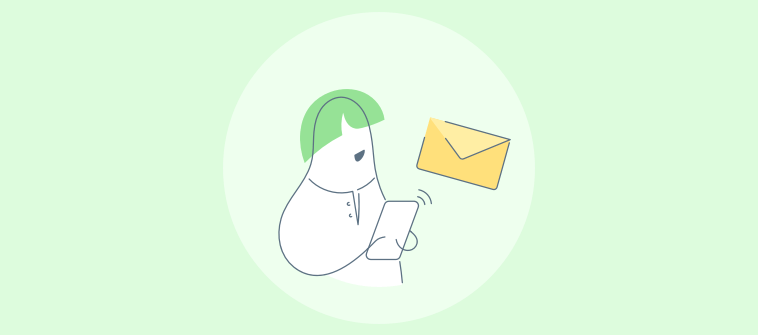 As modern businesses add more and more technology to their day-to-day operations, the need to offer reliable IT support has become paramount.
Originally introduced to replace spreadsheets and assist support professionals in addressing user concerns, IT ticketing systems are now the backbone of many support operations around the world. With features such as Artificial Intelligence, instant collaboration, and real-time reports, it's now much more than just a ticketing system! It has evolved to become a must-have tool in your line of defense.
So if your business believes that managing an influx of support tickets can get complex, cumbersome, and time-consuming, the best IT ticket system can help you overcome all challenges.
So, are you looking for the perfect IT ticketing solution but don't know where to start?
Well, we have got you covered in this blog. We will compare the prices and features of the 11 IT ticketing tools and help you make a foolproof decision.
What Is an IT Ticketing System?
An IT ticketing system refers to a business software that equips organizations with all the features they need to resolve both internal as well as external IT support requests and incidents. User issues are converted into tickets that provide the context of what the user is facing and other relevant details.
The best IT ticketing system operates on ITSM best practices and helps organizations prevent major incidents from exploiting their brand reputation.
Best IT Help Desk Ticketing System Features: What You Should Look For?
Now that we have explored the definition of an IT ticketing system, it's time to shift our focus to some key features that you should consider.
Efficient Ticket Management
With support ticket software, there is no need for help desk agents to switch between multiple inboxes, forward emails to teams, and browse through a never-ending list of support tickets. The tool automatically converts every incoming request or incident into a ticket. This allows your agents to stay on top of every support ticket from start to finish.
Team Collaboration
IT help desk software is known for its team collaboration features such as internal comments, ticket tags or labels, ticket escalations, and more. Ticket Tags or Labels can be used to differentiate tickets from one another and lead to better organization. With internal notes or comments, agents can discuss tickets internally or advise others on resolving a particular issue.
Self Service
The best IT ticketing systems have one feature in common- they come with a vast knowledge base built into the product. Customers and employees can resolve simple, recurring IT issues with the help of help articles, FAQs, guides, and more. Self-service options play a key role in deflecting a significant volume of Tier 1 support tickets and reduce the workload of your help desk agents, saving their time.
SLAs & Reporting
SLA or Service Level Agreements help you set the right expectations for your employees as well as customers for smooth service delivery. With a ticketing software, you can set up SLA policies and share notifications to agents in case of SLA violations. With insightful reports, managers can track the day-to-day activities of all help desk agents. Moreover, reports offer actionable insights and help you make better support decisions.
11 Best IT Help Desk Ticketing Systems
Different IT ticketing systems offer different functionalities and cater to a different audience. While one tool might be great for small businesses, another might be designed to meet the scaling needs of a global enterprise. Let's take a look at our picks for the best IT help desk options available in the market.
1. ProProfs Help Desk
ProProfs Help Desk offers the best free IT ticketing system to stay on top of all IT-related incidents as well as requests. With the Shared inbox feature, managers, system administrators, and agents can easily see who is working on what. IT support professionals can easily sort, categorize, prioritize, label, mark, and assign tickets to the concerned stakeholders.
Businesses can create extensive internal, as well as, an external knowledge base to support end-users round-the-clock. Your IT help desk agents can contribute to the self-help articles to ensure knowledge is updated consistently. In case, certain issues require the involvement of 2 or more teams, a ticket can be divided into sub-tickets with the parent-child ticketing feature.
Notable Features of ProProfs Desk:
Manage all support conversations in one place with a Shared Inbox
Use canned responses for faster replies
Avoid sharing the same response multiple times with Agent Collision Detection
Capture employee and customer feedback with automated surveys
Measure your IT support performance with real-time reports and analytics
Best For: Best for businesses looking for core help desk features at an affordable price
ProProfs Help Desk Plans Include:
Free: Forever free plan with limited features
Essentials: $10/user/month
Premium: $15/user/month
Read More: 15 Free Help Desk Software for 2022 (Free Trials Included)
2. Freshdesk
Freshdesk's IT ticketing software is known for channelizing the power of collaborative ticketing and AI to deliver the best customer experience. Freshdesk's AI, called Freddy, is intelligent enough to recommend the most fitting solution articles to your agents for faster resolution. It also prevents the reopening of tickets when customers respond with a simple- Thank You!
With this tool, your help desk managers can set up SLAs stating when a ticket needs to be replied to and solved. You can even set up automatic reminders for agents and escalations to managers whenever SLAs are violated.
Notable Features of Freshdesk:
Create service tasks for customer tickets that require field visits by your IT support professionals
With collision detection, see who else is viewing or replying to a support ticket
Set Custom Ticket Views to choose which tickets you want to see first
Receive automated notifications within the tool about ticket updates
Set automated reminders for agents and managers whenever SLAs are not met
Best For: Best for small to midsize businesses
Freshdesk Plans Include:
Sprout: Free for unlimited agents with email and social ticketing
Blossom: $15/user/month
Garden: $35/user/month
Estate: $49/user/month
Forest: $99/user/month
Recommended Read: Best Freshdesk Competitor List
3. Zendesk
Zendesk support is also considered one of the best IT ticketing system that offers a shared inbox for customer's questions and concerns. So, no matter what channel a customer uses to contact your business- email, chat, social media, etc., all support conversations can be managed seamlessly.
All customer or employee data in the ticketing system is searchable including tickets, self-service articles, forum posts, and more. Users can track every conversation from origin to resolution, even if the conversation involves multiple channels or multiple agents.
Notable Features of Zendesk:
Offer support on multiple channels- email, messaging, social, help center, voice, bots, and community forums
Provide agents with complete customer context to offer personalized responses
Set automation to improve workflow and expand agent bandwidth
Integrate with other business tools without the need for any code
Configure your help center to support multiple languages
Best For: Best all-in-one customer service CRM
Zendesk Plans Include:
Suite Team: $49/agent/month
Suite Growth: $79/agent/month
Suite Professional: $99/agent/month
Recommended Read: Top 10 Zendesk Alternatives for 2021
4. Zoho Desk
With Zoho Desk's IT ticketing system, you can use the power of customer context to improve agent productivity, promote self-service, manage cross-functional service processes, and improve customer satisfaction.
In a matter of minutes, you can create a self-service portal and empower both customers and employees to find solutions on their own. With Zoho Desk's mobile app, you can close IT support tickets on the go. Your agents can easily monitor ticket traffic and key support metrics no matter where they are.
Notable Features of Zoho Desk:
Create distinct self-service portals for customers of different brands
Streamline all social media conversations
Artificial intelligence- Zia, can auto-tag tickets and help you understand customers better with sentiment analysis
Build and create a community of customers
Easy integration with Zoho CRM and other tools
Best For: Best multilingual help desk ticketing software
Zoho Desk Plans Include:
Free: Forever free plan, limited to 3 agents
Standard: $12/agent/month
Professional: $20/agent/month
Enterprise: $35/agent/month
5. HubSpot
With HubSpot's help desk ticketing system, you can record, organize, and track all your customers' issues in a single dashboard that can be easily accessed by your entire team. Simply assign owners and stages to individual tickets, and this tool will organize them into a personalized pipeline of work for each support agent.
Moreover, with HubSpot, users can keep a firm track of key support metrics- agent response time, ticket volume, and more. Easily manage increasing customer demand, train your support team, and ultimately offer a better customer experience.
Notable Features of HubSpot:
Universal inbox that aggregates customer emails, chat, and more
Automate ticketing routing, escalation, and task creation processes
Get a pulse on customer happiness through surveys
Use chatbots to improve live chat efficiencies
Set, track, and meet customer service level agreements (SLAs)
Best For: Best multi-channel IT ticketing software
HubSpot Plans Include:
Starter: $45/month (2 users)
Professional: $360/month (5 users)
Enterprise: $1200/month (10 users)
6. HappyFox
With HappyFox, all your incoming support tickets are automatically sorted into categories such as customer support, sales, marketing, and billing. By using advanced filters of this best IT help desk ticketing system, your support agents can find any conversation they want in no time.
Agents can use the Pinned tickets feature to prioritize urgent tickets and plan their day better. When only an acknowledgment is needed to resolve a ticket, agents can choose to send a Quick reply without ever having to open the ticket in the first place.
Notable Features of HappyFox:
Use private notes to discuss tickets confidentially
Create knowledge base articles and FAQs in multiple languages
Set agent roles that determine their access level/permissions within the tool
Create ticket categories for better ticket organization
Define work timings of agents with work schedules
Best For: IT help desk with the best user interface
HappyFox Plans Include:
HappyFox offers 4 pay-per-agent plans- Mighty, Fantastic, Enterprise, and Enterprise Plus. However, in order to receive the pricing details, you need to make a request on their website.
7. Jira Service Management
Jira Service Management, formerly known as Jira Service Desk, is an IT ticket management software that empowers teams to deliver great support experiences. Through Jira's collaborative platform, your business can support both customers as well as employees without the complexity of traditional ITSM.
This ticketing tool brings development, IT support, and other teams together to address user concerns. When employees or customers report incidents or make requests, you can easily escalate and route them to your development, support, or operations teams.
Notable Features of Jira Service Management:
Capture requests from email, chat tools, service desk, and other channels
Leverage Confluence as a knowledge base and deflect support requests
Set SLA policies and keep track of deadlines
Use customer satisfaction reports to improve service quality
Capture internal requests from Slack & Microsoft Teams
Best For: Best ITSM solution with incident and asset management features
Jira Service Management Plans Include:
Free: Forever free for 3 agents (with limited features)
Standard: $20/agent/month
Premium: $40/agent/month
Enterprise: You need to contact their sales team to receive the pricing details.
8. Freshservice
Freshservice offers an intuitive, intelligent, and no-code solution that helps businesses of all sizes achieve an efficient support process. Freshservice takes automation to a whole different level with powerful workflow automation, virtual agents, and AI-powered chatbots
Freshservice gives your team the right platform to scale operations. The Freshworks platform provides a rich API for custom integration with hundreds of popular business apps such as Trello, Slack, Microsoft Teams, etc.
Notable Features of Freshservice:
Create a user-friendly service catalog to offer multiple services
Easily tag team members in a ticket and hold internal discussions
Create solutions for your incidents and automatically convert them into knowledge base articles
Generate predefined reports for incidents, changes, and assets
Whitelist specific IP addresses to ensure only employees can sign in to your service desk
Best For: Best for enterprises with large IT infrastructure and big IT teams
Freshservice Plans Include:
Starter: $19/agent/month
Growth: $49/agent/month
Pro: $89/agent/month
Enterprise: $109/agent/month
9. Vision Helpdesk
Vision helpdesk converts your business email, phone, chat, social media, and web requests into tickets and allows you to manage them at a central help desk dashboard. With ticket and time-based billing, you can charge customers for every individual ticket or for every hour your agent spends resolving a ticket.
With Vision Helpdesk's mobile apps for help desk software, your agents can easily access or solve tickets even while they are on the move. The mobile apps are available for leading mobile app stores- Android Playstore and Apple AppStore.
Notable Features of Vision Helpdesk
Use rule-based criteria to automate your ticket workflow
Create SLAs, set up business hours, and multi-level escalation rules
Make agents receive notifications on their personal email account
Gamify help desk dashboard by setting up agent achievement levels and quests
Track time spent on tickets by helpdesk staff and bill your customers
Best For: Best on-premise IT help desk that comes with a one-time or recurring license.
Vision Helpdesk Plans Include:
Starter Help Desk: $12/agent/month
Pro Help Desk: $20/agent/month
Satellite Help Desk: $24/agent/month
10. ServiceDesk Plus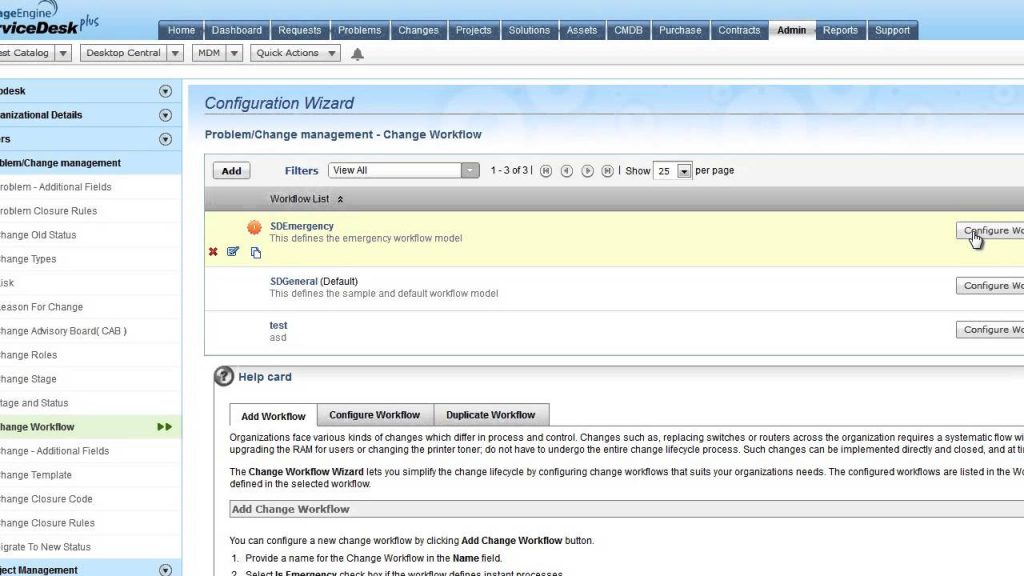 ServiceDesk Plus offers visibility and central control in dealing with all IT issues to ensure that your organization suffers no downtime. For more than 10 years, ServiceDesk has been making life easier for IT support professionals, end-users, and other stakeholders.
Businesses can easily create and publish their service catalog with custom SLAs and multi-stage approvals. In addition to ticket management, you can create IT projects, manage resources, monitor IT hardware and software assets, and offer stellar support to users.
Notable Features of ServiceDesk Plus:
Allow real-time interactions between technicians and end-users via live chat
Offer support anytime, anywhere right from mobile devices
Automatically assign tickets based on technician availability
Allow agents to manage their daily tasks, time off, and reminders from a central service desk calendar.
Monitor multiple aspects of hardware and software deployment
Best For: Powerful integrations with IT management apps
ServiceDesk Plus Plans Include:
Standard: $10/technician/month
Professional: $21/technician/month
Enterprise: $50/technician/month
11. JitBit
JitBit's IT ticketing system comes in two versions- SaaS, which is hosted on the cloud, and On-premise help desk. With its easy-to-use ticket grid dashboard, agents can get instant access to all ongoing customer requests and any files or documents related to them.
Agents can view all messages, attachments, live chat history, and other actions in a chronological order in the ticket activity feed. Help desk managers can assign team members to specific categories so that customers always get the best know-how.
Notable Features of JitBit
Attach documents, screenshots, or PDF files to tickets and Knowledge base articles
For faster resolution, divide a ticket into smaller sub-tickets
Use Advanced search to quickly find important tickets
Customize email templates and add your logo for a better experience
With user/company history, quickly view past support interactions
Best For: Best mobile apps for Android and iOS
JitBit Plans Include:
Freelancer: $29/month for a single agent
Startup: $69/month for upto 4 agents
Company: $129/month for upto 7 agents
Enterprise: $249/month for upto 9 agents ($29/extra agent)
Rrcommended Read: 11 Best Email Ticketing Systems
Quick Comparison of Top IT Ticketing Systems
| Email Ticketing Software Features | Price | Forever Free Plan | Shared Inbox | Alerts & Escalations | Multi-Channel Support | Canned Responses | Knowledge Base | IT Ticket Management |
| --- | --- | --- | --- | --- | --- | --- | --- | --- |
| ProProfs Help Desk | $10/month | Y | Y | Y | Y | Y | Y | Y |
| Freshdesk | $15/month | Y | Y | Y | Y | Y | Y | N |
| Zendesk | $49/month | N | Y | Y | Y | Y | Y | Y |
| Zoho Desk | $12/month | Y | N | Y | Y | Y | Y | N |
| HubSpot | $45/month | Y | Y | Y | Y | Y | Y | N |
| HappyFox | $24/month | N | Y | Y | Y | Y | Y | Y |
| Jira | $20/month | Y | N | Y | Y | Y | Y | Y |
| Freshservice | $19/month | N | Y | Y | Y | Y | Y | Y |
| Vision Helpdesk | $12/month | N | Y | Y | Y | Y | Y | Y |
| ServiceDesk Plus | $10/month | N | N | Y | Y | Y | Y | Y |
| JitBit | $29/month | N | N | Y | Y | Y | Y | Y |
Best IT Ticketing System for Your Support Heroes
As your business and customer base expand, having the best IT help desk ticketing system becomes increasingly necessary for your support operation to function smoothly.
From automation rules to team collaboration capabilities, there are several must-have help desk features that you should look for. In a short span of time, the right tool can help you in the systematic management of incidents leading to quicker resolution times and increased return on investment.
So choose the top ticketing system from this comprehensive list and turn your agents into real-life support heroes.
Do you want a free Help Desk?
We have the #1 Online Help Desk Software for delightful customer support