When emails are coming in from multiple directions, managing shared inboxes can become quite a struggle. Factors such as email overload, lack of ownership, duplicate replies, and inefficient tracking can all add up to your email management woes.
So, is reaching 'inbox zero' leading to 'productivity zero'?
By following the right shared inbox best practices, you can take complete control of your shared email accounts such as support@, info@, returns@, etc. While on one hand, agents can collaborate with each other and respond faster, on the other hand, managers can gain better visibility and track performance in real-time
In this blog, we will discuss how a shared mailbox can be the key to higher productivity and improved team efficiency. Guess it's finally time to put all your worries in the JUNK folder and get your em@il act together!
What is a Shared Inbox?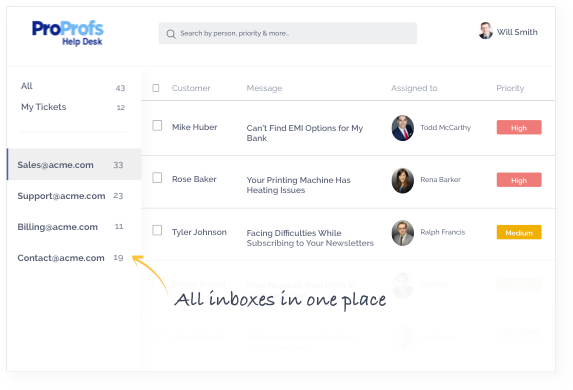 A shared inbox is an email inbox that multiple users can access simultaneously to send and receive emails from a group email address such as sales@company.com or info@company.com.
With shared inbox software, you can access multiple customer-facing shared inboxes such as contact@, support@, billings@, info@, etc., from a single dashboard. You can set agent roles and permissions to grant agents access to some inboxes and limit their access to others.
Why Should Teams Use a Shared Mail Inbox?
Whether you use a shared inbox for customer support, sales, marketing, or any other departments, there are awesome benefits you can expect. Let's look at some of the top benefits of using a team-shared inbox:
Have More Eyes on Your Emails: In a shared inbox, every team member is notified of every incoming email. You can automatically assign emails to team members who have the relevant skills or experience to handle them. Assigning ownership ensures that everyone is on the same page and knows what they need to do. This way, important emails will never slip through the cracks.
Collaborate in Real-Time: With a shared inbox, your team members can collaborate with each other in just a few clicks. For instance, they can discuss emails using private notes before sharing a response with the customer. Moreover, they can also see who is working on an email in real-time and avoid sharing duplicate responses.
No Need to Switch Between Multiple Tools: When you use a shared inbox, there is no need to wait for one person to log out of the system so that another can log in. Moreover, some shared inbox tools can work as help desk systems and allow you to use live chat, surveys, or create a knowledge base. With so many features under one roof, you will be saved from the back and forth of using multiple tools.
Deliver Better Customer Experiences: When team members know what they need to do and have clarity on who is answering what, you can drastically reduce your email response time. Moreover, you can see past conversations and get all the context you need to personalize the customer experience. When you share faster and personalized responses, customers will love to engage with your brand.
10 Shared Mail Inbox Best Practices for Lightning-Fast Support
While every business is different and your team might have different priorities, there are a few strategies you can keep in mind to reach inbox zero. Here are 10 shared inbox best practices for email success:
1. Prioritize Tickets With Labels
Emails come in all shapes and sizes.
Now, an email inquiring about the events that your business plans to conduct in the future, might not deserve your immediate attention. On the contrary, an email where a customer shares his/her issue would require you to prioritize and address it.
A shared inbox allows your agents to prioritize tickets that demand an urgent resolution. This helps them narrow down their tasks and focus on crucial tickets, which can cost your business big time if left unattended.

For effective shared inbox management, agents can prioritize certain tickets as 'High,' 'Low,' or 'Normal' based on their importance or urgency. When your agents are well aware of the priority status of a ticket, they would know exactly where to start.
2. Drop Internal Comments & Notes
Your business must have received complex customer issues that require the help of multiple departments.
For instance, let's assume a customer is encountering a regular downtime on his newly purchased software. Now, this situation would require the IT department and the customer support department to work in sync and resolve the issue.
This is exactly where internal notes come into the picture and help your teams/departments to discuss internally before sharing a response. Using internal notes is one of the top shared mailbox best practices that ensure nothing slips through the cracks.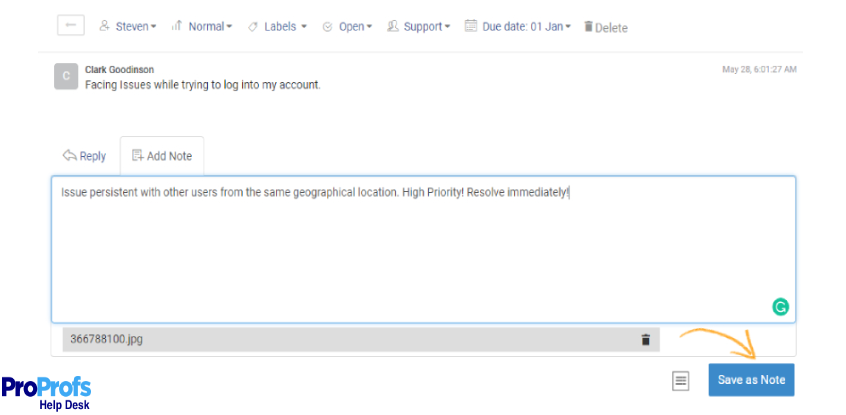 Your agents can even leave a note or comment on a ticket so that if that ticket gets reopened, the new agent wouldn't have to start from scratch.
Read More: 30 Customer Service Tips for Delightful Customer Experiences
3. Use Canned Responses for Faster Replies
Does your inbox get bombarded with similar product-feature requests or other customer issues that seem familiar?
In that case, you would not want to overwork your agents and make them spend a ton of time typing the same replies to people over and over again.
Well, managing a shared email inbox using canned responses can help you save time and share lightning-fast responses. But what exactly are they?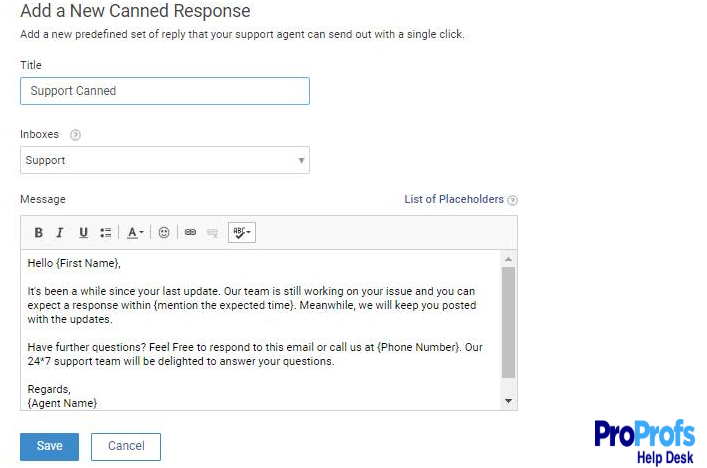 Canned responses are saved replies or templates that can be used in particular situations. For instance, you can use a canned response to tell customers that their issue has been registered and your team is working to resolve it at the earliest.
Read More: 11 Best Canned Response Templates for Customer Support Emails
4. Route Tickets to Relevant Departments
Sometimes support tickets can end up in the wrong department, and stay unresolved for weeks or even months. This can raise serious questions about your support team and make you appear unprofessional.
Assigning tickets to relevant teams/departments is not rocket science and should not take more than a few seconds.
Here is an important shared inbox tip – you must encourage agents to assign a ticket to different departments such as Support, Sales, Billing, Product, Development, etc. For instance, a customer email asking about product features or pricing can be effortlessly assigned to the sales team.
By allocating the right tickets to the right departments, you can stop your agents from stepping on each other's toes and make them focus on the tickets meant for them.
Read More: 11 Best IT Ticketing Systems to Manage IT Support Requests Like a Pro
5. Avoid Sharing Multiple Responses
Ask any entrepreneur about an email sin that they have committed, and they will most likely tell you how they regret sending a response to an important email, only to find that another colleague had also responded.
Sharing multiple responses to a single email can make your support process appear unprofessional and redundant. Rather than solving a problem for your customer, you might end up creating more confusion.
So, what's the way out?
The answer lies in a shared inbox feature called Agent Collision Detection. For effective shared email inbox management, you can use this feature as it averts your agents from responding to the same ticket. This feature shows the active agent on a ticket and thereby, helps you avoid serious email blunders.
ProProfs Help Desk is a feature-packed tool that offers the Agent Collision Detection feature and thereby, prevents multiple agents from making updates to the same ticket at the same time.
Read More: 10 Most Common Help Desk Problems & How to Solve Them
6. Organize Tickets for Greater Efficiency
With so many emails on your plate, keeping a solid track of every ticket might seem like a demanding task.
However, there is still some good news.
Modern shared inbox systems are designed to reduce agent effort. In addition to this, they help you keep your dashboard well-organized and tidy. Here are 3 ways you can better organize your tickets and achieve greater efficiency:
Ticket Status: A ticket status simply tells you if a support ticket is open (unresolved) or closed (resolved). This can help agents see how many pending emails they have for the day.
Parent-Child Ticketing: Parent-child ticketing is one of the best ways to manage a shared inbox. By using this feature, you can convert complex tickets into smaller child tickets for faster resolution.
Labels: With labels, your agents can easily sort, categorize, and filter support tickets. You can select labels from a list of existing ones or create new ones.
7. Give Each Email Account Equal Attention
Most traditional organizations had a single email account to manage both internal business and customer-related communications.
However, today things have changed. Businesses have to manage multiple customer-facing email accounts such as support@, info@, billing@, help@, etc.
Now, it is obvious that you might end up devoting more time to one shared email account, while the other accounts keep growing in size and remain cluttered.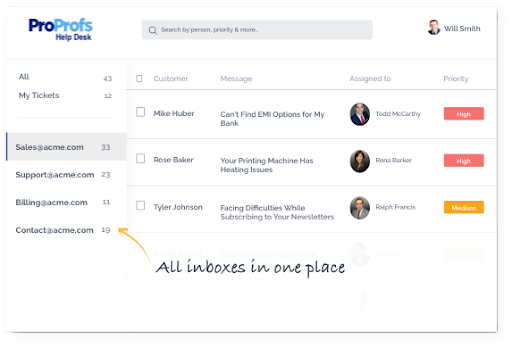 However, with a group mailbox, you can club all your important email accounts in a single dashboard. The best part? You don't have to log out from one account to log in to the other. The moment you log in to your dashboard, all inboxes will be there right before your eyes. This makes handling your business and customer emails so much easier.
8. Monitor Agent & Team Efficiency
It is important for any business to target Key Performance Indicators (KPIs) to track individual, as well as team performance. After all, you can't improve what you don't measure.
At the end of the day, it is natural for you to be left with questions such as:
What is our average email response time?
How many pending emails do we have?
Which agents are resolving the maximum number of tickets?
The reports and analytics section of a help desk tool will allow you to unlock the right answers to such key questions and fill any improvement gaps. For instance, you can monitor email resolution time, average first response time, ticket backlog, agent ratings, and more. You can capture such key insights and make data-driven decisions for your business.
Read More: 15 Help Desk Metrics to Improve Customer Support
9. Leverage Auto-Assign Feature
If your agents still manually pick and choose incoming emails for themselves, you need to pause and ask yourself- 'Is that really an efficient practice'?
Manual assignment of emails or tickets can lead to a situation where every agent would like to work on cases that require less time and effort. The result? You are left with tons of urgent emails that should have been addressed. So how do you instill a fair process?
Modern shared inbox tools use the Round-robin ticket assignment feature to ensure that tickets are always evenly distributed among your agents. This makes managing shared inboxes much easier.
This feature assigns tickets to online and active agents such that the workload can be equally balanced. There is no point in assigning more emails to an agent who already has a bucket full of them.
10. Train Agents for Empathetic Responses
When you focus too much on the quantity (for instance, the number of customer emails answered), you tend to lose grip over the quality of responses.
Both, quality and quantity should be given equal importance. If a customer highlights that she is worried about the refund for a product she has just returned, sharing a generic email would not be of much help.
It's time to put empathy back into email.
Now, here is an example of empathetic email response.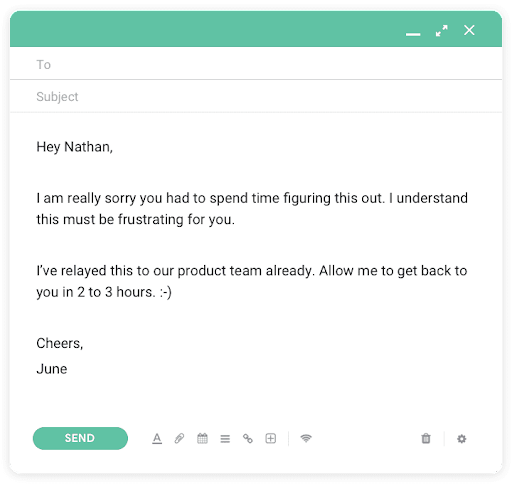 An empathetic and personal tone should be the driving force behind every email that goes out of your inbox. Now, there are obviously certain situations where your business can't help a customer. For instance, when a customer asks for unrealistic discounts or when a customer had to wait for days due to a natural calamity.
Thankfully, you can offer empathetic training to your agents and ensure they share responses that strengthen the emotional bond between the customer and your business.
Read More: 20 Customer Service Email Templates for Super-Fast Responses
How to Create a Shared Inbox
With a tool like ProProfs Help Desk, creating a shared inbox is super easy. This will help you keep customer requests, feedback, and queries in one place. Moreover, you can track operator data to determine their proficiency at handling customer service emails.
You have two ways to import emails while creating a new inbox. You can either 'Connect External Email' or 'Create New ProProfs Email'. Check this short video to understand the required steps you need to take:
Ready to Unleash the Power of Your Shared Mail Inbox?
A poorly managed inbox can be the root cause of long work hours, stressed-out team members, and above all disorganization.
However, learning how to manage a shared inbox and keeping your emails organized and clutter-free isn't an impossible goal. By following shared inbox best practices such as ticket prioritization, internal notes, canned responses, intelligent reports, etc. you can make your agents join forces to offer delightful experiences.
So, if you're running a business and wondering if having a shared inbox will make your life easier, the answer is a Big Yes! But you still don't have to take our word for it. You can try ProProfs Help Desk absolutely free for the first 15 days and witness the true power of a shared inbox.
Do you want a free Help Desk?
We have the #1 Online Help Desk Software for delightful customer support