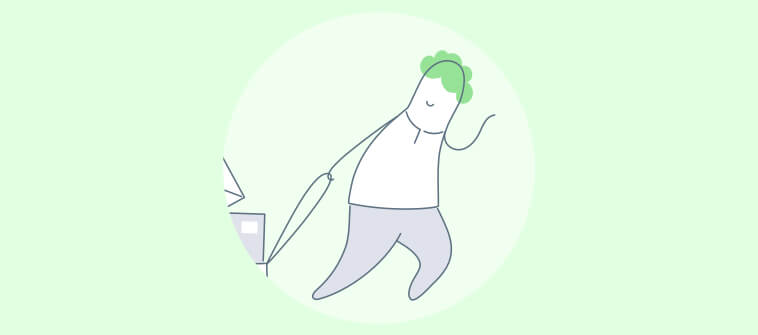 At some point in time, we all have contacted a business for help.
While your parents or grandparents might have relied solely on phone or email support, Generation Z loves to explore different types of customer service channels such as social media, live chat, video support, and more.
The modern customer service landscape is not limited to a single channel. In fact, companies with powerful omnichannel customer engagement witness a 9.5% year-over-year increase in annual revenue.
But here comes a challenge!
How do you know which type of customer service to prioritize?
If you are going through a similar dilemma, we are here to help you. In this blog, we will explore the 10 popular customer service types. We will also discuss their pros and cons in detail so that you can reach your customers on the channels they love the most.
10 Types of Customer Service Your Business Can Adopt Today
Here is the outline for the most common types of customer services. Let's explore each one of them and see how they can help your business in improving the customer experience:
1. Email Customer Service
Right from the first electronic mail sent in 1971 to the billions of emails that are sent and received every day, we have come a long way.
Among the different types of customer service available, customers consider email as a more trustworthy and professional channel. No wonder 12% of customers still choose email to register their requests.
The best part about email customer service is that it doesn't cost a fortune. Your agents get more time to respond, and they can use canned responses or email templates for faster replies.
One major challenge with email customer service is that after a point in time it becomes difficult to keep track of every single email. In such a case, you can adopt customer email management software to convert emails into tickets and ensure they can never slip through the cracks.
Pros of Email Customer Service:
Record and document customer conversations over a period of time
Add a professional touch to your customer service using email signatures
Automated email notifications can be used to update customers about the status of their issue or support ticket
Easily attach relevant images, videos, docs, or other files
Cons of Email Customer Service:
Delayed email responses can make customers feel frustrated
Keeping track of emails can get challenging when you receive hundreds of them every day
Typing long replies can be time-consuming
Lack of real-time human-to-human interaction
Read More: 11 Best Canned Response Templates for Customer Support Emails
2. Live Chat Customer Service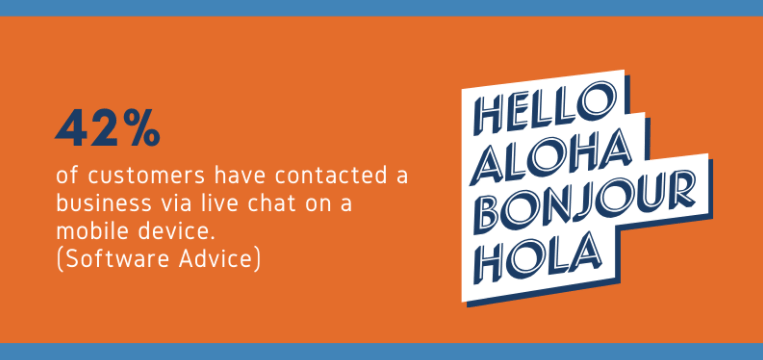 If there is one channel that is gaining exponential popularity among business owners and customers, it is live chat.
According to research conducted by Forrester, customer service provided by live chat is 17-30% cheaper than a phone call. The reason is simple – the phone does not allow you to manage multiple customers simultaneously.
When you compare the various customer service options, live chat offers the fastest response times to customers. In fact, customers can chat with an agent and carry on with their day-to-day tasks at the same time.
In addition to this, you can also offer proactive customer service. Whenever a customer has items added to the shopping cart but has not made a purchase yet, you can share proactive chat messages to politely ask if they need any assistance.
Pros of Live Chat Customer Service:
Assist customers in real-time when they are shopping and increase sales
Agents can handle multiple customer chats at the same time
Easily embed a chat window on your website and explore customization options
Easily integrate upselling and cross-selling opportunities
Cons of Live Chat Customer Service:
Chat replies can often feel scripted and robotic to customers
You are required to offer a solution to the customer almost immediately
It becomes difficult for agents to read customer emotions
The use of emoticons or slangs by customers can prevent a meaningful conversation
Read More: 30 Customer Service Tips for Delightful Customer Experiences
3. Chatbot Customer Service
While shopping online or ordering food, it is common for people to interact with chatbots to get assistance with their basic queries. For example, when a customer types the question "where is my food?" the bot shares the live update and helps the customer instantly.
The adoption of Chatbots is a great way to automate your customer service and delight customers. Around 67% of global customers have interacted with a chatbot to get customer support over the past 12 months.
Now, it is important to note that if a chatbot is unable to resolve a customer issue, that does not mean the end of the world. In fact, if the customer needs further assistance, bots can be used to route customer chats to relevant agents or teams.
However, despite the popularity and cost-saving benefits, conversations with chatbots lack a human touch.
Pros of Chatbot Customer Service:
Be available to customers even when your team is offline
Schedule meetings with customer service or sales teams
Automatically share links to relevant self-help articles, videos, etc.
Improve your chatbot function over time by adding more questions and answers
Cons of Chatbot Customer Service:
Chatbots can offer only limited responses to customers
Robotic responses can frustrate customers and force them to speak with an agent
AI-powered chatbots can be expensive for your business
Chatbot conversations often lack empathy and personalization
Read More: 10 Service Desk Automation Ideas that Boost Performance and Quality
4. Phone Customer Service
At some point or the other, we all have interacted with a customer service agent over the phone. After all, who can forget the experience of getting relevant help without the need to visit a physical store or office?
Phone support has been a dominant customer service channel for decades, and you will be surprised to know that it is still is. Around 61% of US customers prefer phone as their go-to channel to resolve customer service issues.
But what makes phone customer service so popular?
While many customer conversations begin on digital channels such as live chat or social media, most of them have to be escalated to a phone call for relevant support. In addition to this, an attentive human voice can make all the difference when it comes to fostering a good rapport with a customer.
Pros of Phone Customer Service:
Deliver a personalized experience to each customer
Customers can interact with an agent and get the right solution in real-time
Improve your chances of First Contact Resolution (FCR)
Offer automated call back feature to interact with customers at their convenience
Cons of Phone Customer Service:
Long hold times can hamper the customer experience and lead to customer churn
Customer service agents cannot handle multiple calls at the same time
Phone support requires intensive agent training
International or long-duration calls can prove to be expensive for your customers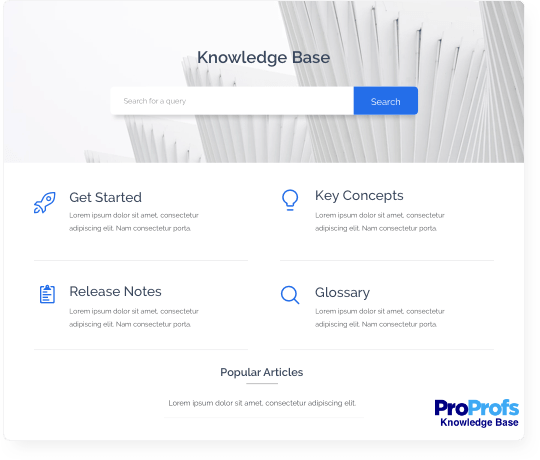 Modern customers want to feel empowered and get the opportunity to resolve their basic queries on their own. After all, who would want to wait on hold for 5 minutes or receive an email response days after an incident?
Self-service has emerged as a ray of hope for customers who wish to get relevant help with minimum efforts. Over 60% of US customers prefer an automated self-service portal, such as a website or mobile app, for simple queries.
Now, the idea of self-service is indeed a fascinating one. However, to make it work for your business, you will need to focus on the UX and SEO of your help pages. If customers have to struggle to find relevant information, their experience gets hampered.
Pros of Self-Service Knowledge Base:
Be available to both existing customers as well as prospects 24×7
Reduce your support ticket volume significantly
Allow agents to focus on more important customer issues
Create a multilingual knowledge base to cater to customers from different parts of the world
Cons of Self-Service Knowledge Base:
Sometimes it might be difficult for customers to locate relevant information
You will have to update your existing help content or add new pages constantly
Impossible to cover solutions for all customer problems or requests
The different writing styles and knowledge of contributors can lead to inconsistent documents
6. Social Media Customer Service
Social media is no longer a platform that is limited to social interactions between friends and families. Today, every business needs to have a strong social media strategy as a single tweet is powerful enough to destroy a brand's reputation.
Customer expectations in regards to social media customer service are skyrocketing. Around 20% of US customers demand an immediate response to their social media questions or complaints.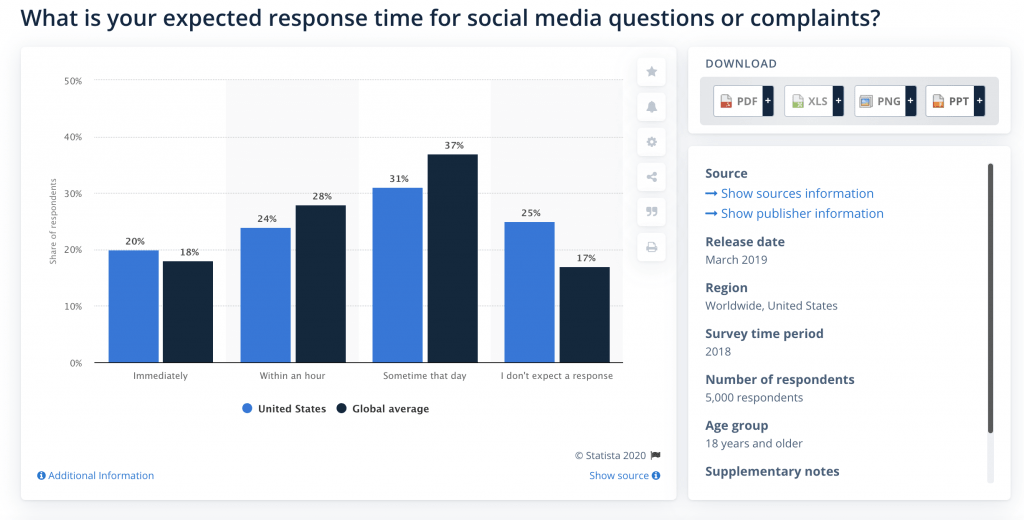 This makes it all the more challenging for your business to meet such high expectations. However, by keeping a keen eye on messages, posts, comments, and group discussions, you can reach customers before it's too late.
By providing timely help, you can show your potential customers how caring you are for your customers.
Pros of Social Media Customer Service:
Customers can reach you right from their most-used social media apps
Share proactive messages to update customers about downtime
Allow customers to help each other by creating help or community pages
Share customer service success stories and enhance brand reputation
Cons of Social Media Customer Service:
Negative customer reviews or comments can impact brand reputation
For large businesses, it becomes difficult to track every single social media mention
In most cases, the solution has to be shared on another channel
Customers can share tweets or posts at any time of the day, even when your team is not available
Read More: How to Use Social Media for Delightful Customer Service
7. Walk-in Customer Service
Remember how you had to visit the customer service section of a brand to return a product that you had recently purchased?
Although online shopping has been in trend since the last decade, most businesses still have a separate customer service/help section within their brick-and-mortar stores.
One-on-one customer service interactions can prove to be magical when it comes to building a rapport with your customers. Your representatives can get the opportunity to have a meaningful conversation, know a customer better, and get feedback (verbal as well as non-verbal) in real-time.
However, on the contrary, in-person interactions can sometimes put you on the spot. You are required to offer a solution to an angry customer right away, or the situation could get worse. In fact, a single customer case can take up the majority of your time – leading to a slight delay in the work you were scheduled to do.
Pros of Walk-In Customer Service:
Have face-to-face interactions with customers and understand their problems better
Win the trust of your customers as well as prospects
Get the opportunity to recommend other similar products and increase sales
Get non-verbal cues from customers (eye contact, gestures, facial expressions, etc.)
Cons of Walk-In Customer Service:
Maintaining a separate in-house customer service section can be time-consuming and expensive
That space can be instead utilized for selling more products
Having an "only physical help section" makes your business appear outdated
8. Video Customer Service
Video is soon becoming one of the most powerful types of customer service. Live video sessions can help you offer technical support, product demonstrations, or simply understand the challenges faced by a customer.
With the ongoing COVID-19 pandemic where social distancing is the new normal, live video customer service has helped businesses stay connected with their customers.
But videos don't always have to be live. You can record tailored walkthroughs and demonstrations and share them via social media, help center, or other channels. This will allow customers to access the support videos anytime and replay segments to apply the troubleshooting steps better.
To become a brand that is known for personalized customer service, you can even record thank you videos for customers and appreciate them for being loyal to your business.
Pros of Video Customer Service:
Schedule online video meetings in seconds
Uploading support videos online can help you reduce your ticket volume
Have personalized, one-on-one interactions
Easily share recorded videos on social media, help center, or other channels that are convenient for the customer
Cons of Video Customer Service:
Not suitable for an audience that isn't tech-savvy
Low internet speed or poor connection can hamper the support experience
Creating interactive videos for every common issue can prove to be expensive
Live video sessions are prone to distractions such as a pet walking in the background
9. On-Site Customer Service
This type of customer service is offered right at the home or the workplace of a customer. On-site customer service can involve tasks such as installing a product at the site, annual maintenance, or product repairs.
On-site customer service is usually very expensive. You will have to worry about aspects such as hiring remote professionals, their training, travel expenses, and more. Therefore, most businesses can afford to offer these services only to premium customers and not to standard customers.
However, certain products require the physical presence of an assistant when something goes wrong. For instance, if there is a server or networking issue, an IT technician needs to be present at the location to get things fixed.
Pros of On-Site Customer Service:
On-site customer service acts as a more convenient option for customers
Real-time service can lead to better problem resolution
Serves as the last resort when all other channels have failed
Customers can check the authenticity of parts being replaced
Cons of On-Site Customer Service:
Visiting the customer's location can prove to be time-consuming
On-site service is quite expensive and cannot be offered to all customers
Agents have to be trained in multiple customer service areas such as technical support, etc.
Agents can get frustrated due to unpredictable working hours and location
10. Interactive Voice Response (IVR) Customer Service

Interactive Voice Response (IVR) refers to the technology that allows customers to interact using their voice or mobile keypad. Based on the inputs provided by the customer, IVR systems can understand their problem and offer the correct information.
IVR can handle basic customer requests with ease. For example, when a customer calls to confirm an appointment, the IVR might ask for the customer ID and offer the requested information.
A thoughtfully created IVR can improve the customer journey. However, improper implementation can spoil the whole purpose and lead to frustrated and unhappy customers.
You need to be extra careful – a long and complicated IVR menu can confuse callers, and a short menu may not include important options.
Pros of IVR Customer Service:
IVR is available 24/7/365 to assist customers with their queries
It can make your business appear more professional
Can improve the call traffic flow by routing customers to relevant agents or teams
Your agents get the time to focus on more pressing issues
Cons of IVR Customer Service:
Limited IVR options can be frustrating for the customers
IVR requires a heavy upfront investment
Complex customer issues cannot be solved using IVR, and only very basic customer queries can be covered
Frequent changes in the IVR menu can confuse customers
Read More: Reduce Your Help Desk Calls in 10 Easy Ways
So Which Types of Customer Service Should You Choose?
The types of customer service you choose can make or break your brand. Your decision will depend upon factors such as the demographics of your target audience, their interests, your company's budget, team size, and more.
Popular Channels: Identify the channels that are preferred by your target audience. You can share relevant surveys for the same asking customers to arrange communication channels in order of their preferences.
Team Size: If you have a small team and more customers to take care of, you can invest in self-service options such as knowledge base, IVR, chatbots, etc. Similarly, if manpower is not a concern, you can easily go for channels such as phone or video support.
Trends: The customer service landscape is always changing. Therefore, It is important to keep an eye on the different types of customer service that are emerging in your industry. This will help you meet customer expectations.
Say Yes to Top-Notch Customer Service!
Modern customers demand more than a single channel to engage with their favorite brands. While some customers are tech-savvy and want digital channels such as live chat, social media, etc., others prefer traditional channels such as the phone or email.
To choose the best types of customer service for your growing business, you can always directly ask your customers. In addition to this, you must keep a tab on emerging trends to offer delightful customer service experiences to your audience.
Remember, the right blend of customer service channels will help you offer 24×7 support, reduce costs, create sales opportunities, and most importantly – keep your customers happy.
Do you want a free Help Desk?
We have the #1 Online Help Desk Software for delightful customer support