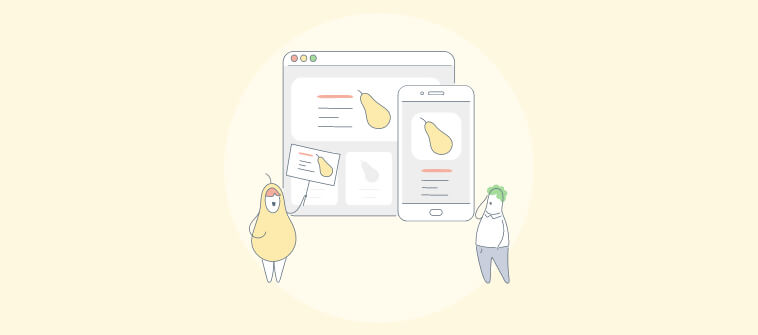 Over the last few years, there has been a lot of buzz around the term "omnichannel". So much so that you will hear almost every business make big claims that they offer "omnichannel services".
But as fancy as it might sound, what does omnichannel really mean? And how is it any different from multichannel?
Omnichannel experience has turned the tables for customers. They don't want to limit their shopping experience to online-only or store-only options and rather demand the best of both worlds.
In this blog, we are going to explain the difference between omnichannel and multichannel experience, learn how to build an omnichannel strategy, and see how you can race ahead of your rivals with the right customer support software and other important tools.
Here we go.
Defining Omnichannel Customer Experience
An omnichannel customer experience comprises multiple customer touchpoints taking place on several channels that seamlessly connect with one another. In simpler terms, an omnichannel approach enables customers to begin their experience with your brand on one channel and continue it on other channels without any challenges.
Let's understand this better with an example:
Let's assume a potential customer who is following your Instagram page gets to know about a new line of denim jackets. The customer clicks on the link mentioned in the description of the product image and is directed to your online store. Right before placing the order, the customer uses the live chat window on your e-commerce store to confirm the expected delivery date. Your customer service rep joins the chat and offers the required information.
Now as we can see, the customer had three different touchpoints with the business- the Instagram post, online website, and live chat. Each touchpoint seamlessly connected with the other to convert a prospect into a buying customer and led to a wholesome omnichannel experience.
What Is the Difference Between Omni-Channel & Multi-Channel Experience?
Before exploring the difference between omnichannel and multi-channel customer experience, we first need to understand the similarity between them.
In both, the customers can interact with your business across different online and offline channels. However, in a multichannel experience, different channels are not connected to each other. This difference in the level of connectivity is the major difference between the two. Here is an example:
Suppose a customer visits your online store and browses through products that he wants to buy. Now, the customer visits your brick-and-mortar store to check the look and feel of the same product. However, unfortunately, the product is unavailable in the store. The customer leaves without making a purchase.
From the above example, it is clear that a multichannel business may offer a website, social media account, brick-and-mortar store, etc. for customers to buy its products or services. However, these different channels are isolated and are not well-connected to each other resulting in poor customer experiences.
Omnichannel Customer Experience VS Omnichannel Marketing
Omnichannel marketing is aimed to provide customers with an integrated shopping experience. Marketing professionals use a mix of digital and traditional marketing channels such as SMS, email, flyers, etc. to market their products or services to customers.
A great example would be a customer getting an email or SMS about a promotion while he is shopping in-store.
On the other hand, an omnichannel customer experience involves multiple touchpoints or interactions across different business departments such as sales, customer support, and marketing.
In simpler terms, omnichannel marketing is a small aspect of a bigger omnichannel experience.
Top Reasons Why Omnichannel Customer Experience Is Important?
Businesses that streamline CX across the different channels in sales, support, and marketing stand to benefit more than those who do not.
A study of 46,000 shoppers by Harvard Business Review revealed that only 7% were online-only shoppers and 20% were store-only shoppers. The remaining majority (73%), preferred multiple channels during their shopping journey.
Let's explore some more benefits of omnichannel customer engagement.
Become a more customer-centric brand: The future of customer experience is all about giving more control and options to your customers. When you empower your customers to interact with your business seamlessly across multiple channels, you come across as a real customer-centric business.

Recommended Read: How to create a customer centric culture
Understand the customer journey better: In an omnichannel setting, it becomes easier for your business to understand the nitty-gritty details of the customer journey. For instance, you can understand which channels your customers prefer to interact with the sales team or how many channels they have to use to get their issues resolved.
Boost sales and revenue: The omnichannel approach is a great way to boost sales and increase business revenue. A recent study by Adobe found that companies with the strongest omnichannel strategies enjoy a 10% Y-O-Y growth and a 25% increase in close rates.
Read More: 30 Customer Service Tips for Delightful Customer Experiences
3 Examples of Brands That Offer Great Omni-Channel Experiences
There are brands that have taken the omnichannel experience from theory to practice. Let's see how these popular brands have been so successful with their omnichannel strategies.
1. Disney
Disney has become one of those "feel good" brands that are loved by children and grown-ups alike. Over the years, it has made it easier for customers to have a memorable experience and cherish it for the rest of their lives.
Disney takes care of all the minute details of your experience. Every aspect of their website is mobile-responsive and optimized to fit the screen of multiple devices. Visitors to the Disney World resort can plan their entire trip using the My Disney Experience tool. They can use the app to locate various attractions and see estimated wait times. No wonder customers consider Disney as the ultimate holiday destination.
2. IKEA
When we talk about the furniture industry, IKEA has always been at the forefront of innovative thinking. And no, we are not just talking about innovative designs or extremely affordable prices, it's all about the experience the brand delivers to furniture shoppers from across the globe.
'IKEAPlace' a catalog application allows users to see a preview of how different home decor or furniture items would look like in their homes using augmented reality. Customers can browse through different products and save their favorite items as a shopping list to be used on the Web site or in-store. This perfect blend between the online and offline channels has made IKEA a top omnichannel business in the world.
3. Starbucks
Experts rightly believe that Starbucks does not sell just coffee, it sells experiences. Over the last decade, the coffee-chain has almost doubled in size and there were more than 31 thousand Starbucks stores worldwide in 2019. So, what are they doing right?
Whenever a Starbucks user pays with a Starbucks card, credit card, or mobile, the individual earns rewards points called 'Stars'. These reward points can be collected to get a special treat on your birthday or a free beverage, depending on the number of Stars collected. Moreover, the Starbucks app also allows its customers to find stores near them, send gifts, or order drinks before time for a hassle-free experience.
The new Spotify integration has been another impressive omnichannel strategy. Customers can find out which songs are playing in a specific store and add them to their playlists.
Top Tips to Deliver a Brilliant Omnichannel Experience
Every growing business must develop its own unique omnichannel strategy that involves customer-facing departments such as sales, marketing, and customer service.
Lets quickly explore some tips for adopting an omnichannel approach to CX.
1. Combine Online & Offline Worlds
No matter if a customer makes a purchase through your mobile app or visits your store on his way back from the office, the experience should be frictionless as well as consistent.
Combining the best of both online as well as offline channels will help you deliver memorable customer experiences and make it far easier for customers to buy from your brand.
Now, combining online and offline channels should not be just for your customers but for your employees as well. For instance, while speaking to an in-store employee, the customer can browse through discounts, payment options, rewards, etc. Similarly, the employee can use his tablet to search for the product the customer wants to buy.
Read More: Choose the Best Customer Support Channels for Your Growing Business
2. Personalize Customer Interactions
Whether it's a face-to-face sales conversation that takes place inside your brick-and-mortar store or a customer service call from miles apart, a personalized interaction can make all the difference.
According to Accenture, 91% of consumers are more likely to shop with brands that provide relevant offers and recommendations.
In order to meet high customer expectations, offering personalized experiences at every touchpoint has become paramount. Use a customer's purchase history with your business to recommend relevant products or services.
You can even share personalized content in the form of help articles, guides, videos, etc. to help customers make the most of what you sell.
3. Improve Your Process With Regular Customer Feedback
Any omnichannel strategy is incomplete if you do not directly ask your customers about the aspects of their experience they like the most and the ones they feel need improvement.
Capturing customer feedback will help you answer important questions such as:
Which marketing channels help us generate more leads?
Which channels do our customers prefer the most to contact us for support?
What can we do to make our sales touch points more convenient for the buyer?
Share surveys at key touchpoints to capture valuable feedback. Once, you have all the required data at hand, analyze the feedback to improve the omnichannel customer journey.
Read More: 5 Ways to Collect Customer Feedback
4. Omnichannel Isn't a Department but the Entire Company
For building a brilliant omnichannel user experience, there has to be the right interplay between all your business departments.
But businesses are struggling to maintain or even create this balance.
While one department manages to meet customer expectations, the other simply causes a poor experience. You cannot offer delightful customer service on one hand and bombard the same customer with irrelevant marketing messages.
Encourage your sales, customer service, and marketing teams to understand the loopholes in the channels they use to interact with customers and find relevant solutions. Remember, delivering brilliant omnichannel experience is a team effort.
3 Tools to Build Engaging Omnichannel Customer Experience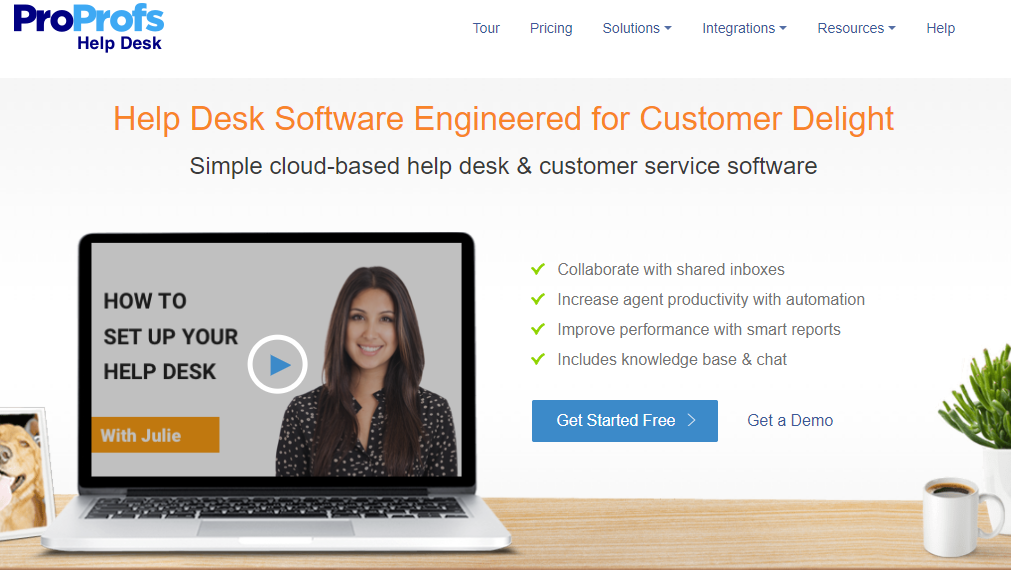 ProProfs Help Desk is a leading cloud-based customer support software that can equip your support team with all the tools they need for omnichannel customer engagement. Whether a customer shares his request via email or uses live chat to raise an issue, all conversations can be managed on a single dashboard.
Using such a versatile tool ensures that you can offer consistent support across all channels and give customers the best omnichannel experience.
Let's take a look at some profound features of this tool:
Easily view past customer communications for context
Promote self-service by creating an extensive knowledge base
See how your team is performing with the help of daily, weekly, and monthly reports
Leverage automation features such as auto-ticket assignment for faster service
Read More: Why Help Desk Software is Important for Your Business?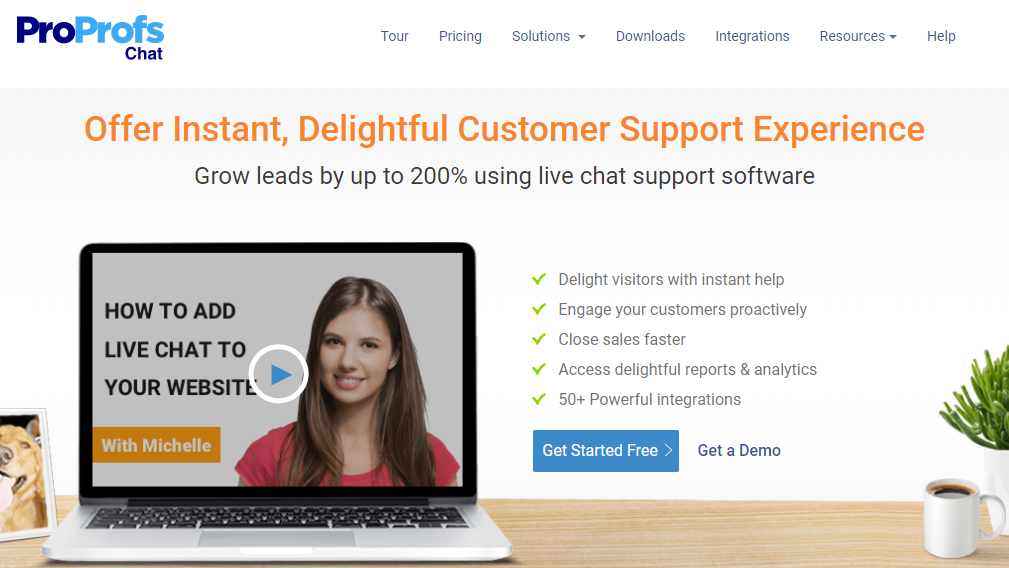 ProProfs Live Chat is another tool you should consider to engage with customers in real-time. Your sales reps can get the chance to increase the average purchase volume through upselling or/and cross-selling techniques. They can interact with your website visitors and help them make the right purchase decisions. Some top features include:
Respond to customers or prospects faster with canned responses
Set individual operator greetings
Capture visitor details with pre-chat form
Get access to 50+ powerful integrations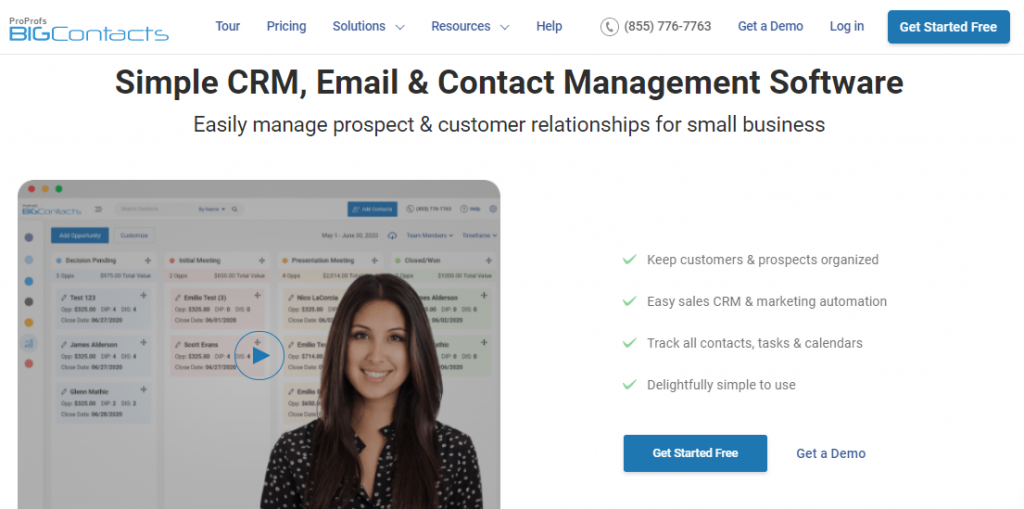 BIGContacts is an easy-to-use CRM tool that helps small to midsize businesses manage prospects as well as customer relationships. You can keep all customer contacts well organized and view contacts by pending or upcoming activity, opportunity, our last communication. Some other noteworthy features of this CRM tool are:
Easily track customer meetings, tasks, web forms & birthdays
Easy-to-use dashboard, specially built for smaller teams
Automate marketing and sales email drips
Create powerful sales reports
Go From Multichannel to Omnichannel Today!
Customers who interact with your business through multiple touchpoints such as your business website, social media, email, or physical store, etc. are more likely to stay with your brand and become loyal brand advocates.
An omnichannel approach acts as a layer that simply threads together multiple touchpoints to ensure a seamless and consistent customer experience.
For the best omnichannel experience, combine the various elements of your offline and online channels, personalize customer interactions, and take regular customer feedback. Remember, omnichannel is not about a single department but the entire company!
Do you want a free Help Desk?
We have the #1 Online Help Desk Software for delightful customer support