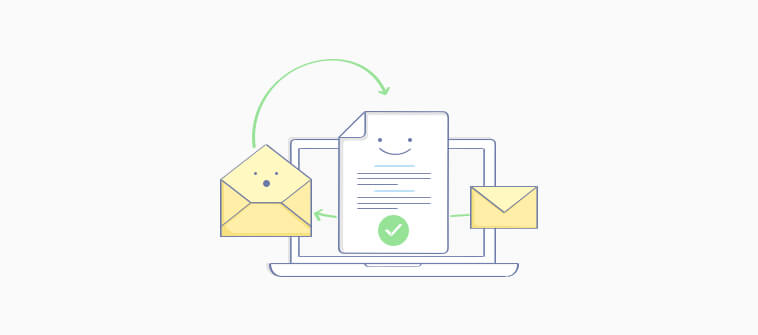 What's the most important thing to you when it comes to customer support?
An available support agent?

Instant resolutions?

No waiting time?

Complete resolutions?

All of the above & more?
Well, there are a lot of expectations when it comes to customer support and it's impossible for support agents to deliver delightful customer support to each customer.
It's impossible without a shared inbox.
There are a number of help desk software options available on the market that come with a shared inbox that equips companies to streamline their entire customer support process.
But, before we dig into the details of a collaborative inbox, let's cover the basics.
What is a Shared Inbox?
Shared inbox is a collaborative inbox that enables teams to manage, track, and respond to multiple emails on a single platform.
Basically when a customer connects with a support agent,
A ticket in the form of an email is generated in a shared inbox.

The ticket is automatically assigned to an available agent

Agents can track, manage, and reassign tickets as required

Tickets are resolved instantly and accurately
When it comes to team email management, this is a great solution for handling multiple customer support questions.
That being said, let's look at the benefits of using an inbox for teams for customer support.
5 Key Benefits of Using a Shared Inbox
All in all, there are five key benefits of using a shared inbox. They are:
#1. Access Everything on One Platform
Doesn't it get on your nerves when you need to switch tools to access customer emails?
Well, not anymore!
With a shared inbox, you can collaborate all your customer-facing inboxes on one platform. With a collaborative email in place, you don't have to log into multiple accounts to answer customer questions.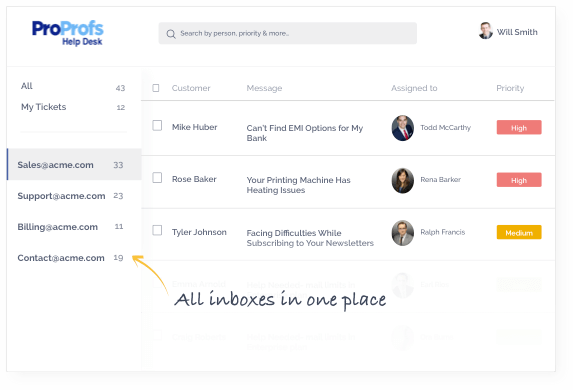 You can access all your customer questions, requests, emails, and tickets on one platform. All you have to do is sync all your support accounts, and you're good to go!
#2. Manage All Emails Efficiently
From startups to enterprises, there is always an issue of dealing with a lot of customer issues. Every company needs to have a help desk software that comes with a shared inbox, enabling easy team email management.
For example, in case of ProProfs Help Desk, you can:
Set priorities and address urgent emails in-time

Add labels and categorize tickets as per department or issue type

Add filters and get customer information instantly
With additional features, it's easy to manage all your customer-facing emails on one platform.
#3. Track Customer Emails From The Start
Did you know that about 80% of American customers agree that the most important aspect for positive customer support are:
Instant resolutions

Self-help options

Friendly customer support
Now, the only way you can reply to customers in time is when you track when the request came in. That's where a shared inbox makes your life easy.
With a Gmail shared inbox, you can track:
When it was received by your agents

Who was it assigned to

What was the first response time

How long did it take them to resolve the issue
From start to finish, you can track everything in the entire customer support process effectively.
#4. Split Customer Issues Into Sub-Issues & Reassign to Relevant Teams
Every support agent is trained for a specific type of problem a customer faces. From IT issues to information-related queries, every type of customer support question has a specialization.
With the specialization, some agents are more knowledgeable and equipped to answer certain customer questions than others.
With a help desk software like ProProfs Help Desk, you can use a shared inbox to split customer emails into child tickets and assign them to different support agents.
This way, you ensure:
Every part of the customer question is answered

Accurate resolution of the customer query
#5. Keep All Teams in The Loop
Another essential benefit of a Gmail collaborative inbox is the ability to keep all teams in the loop.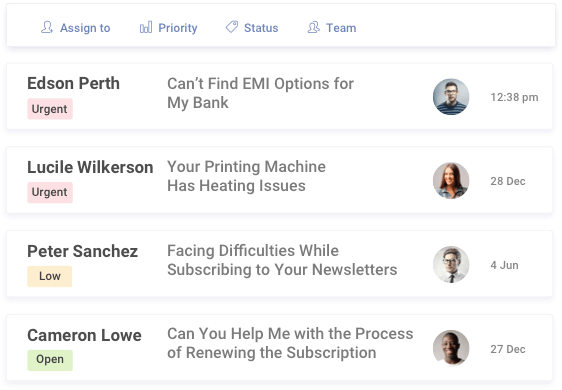 You can drop private comments and ensure all your team members know:
When the customer email was received

Who was it initially assigned to

What work has been done on the ticket

What issues need to be solved by whom

When the issues are resolved
With all this data, agents ensure transparency among all their support agents and faster ticket resolution.
Getting Started With a Shared Inbox: A Step by Step Guide
Once you do your research and find a tool that best meets your requirements, the next step is to deploy it in your company.
Getting started with a shared inbox software is extremely easy. Here's a video that'll help you understand how to set up a shared inbox.
>> Setting up a shared inbox involves two steps:
Step 1: Add Your Customer-Facing Inbox
Navigate to settings and click on inboxes. You'll get an option to add a new inbox. Click on the new inbox.

Step 2: Import Your Customer Tickets
You have two ways to import tickets:
a) Connect External Email
If you already have a dedicated customer support email for your customer-facing emails, this method is the one for you. This process helps you to:
Streamline your customer support process

Ensure that no ticket is lost, and all of them are retrieved in the inbox.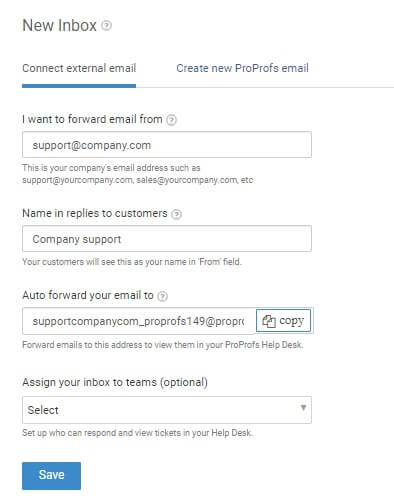 In the first text box, enter your existing customer-facing email. This is the email ID that your customer will see when you respond to their ticket.

In the second text box, enter your name/department name. For e.g. For a Customer Support inbox, you can simply use the name 'Support.'

Once you have entered the existing email ID, an auto-generated email ID will appear in the third text box. Copy it and enable the automatic forwarding feature to your support ID. And voila! Your emails will now be directly forwarded to your new inbox and automatically turned into tickets.

b) Create new ProProfs Email
This is the ideal option if you don't have one email dedicated to your customer-facing emails. With this, you can create an email address of your choice, provided the email address is available.
Enter the name that the customers will see and create a custom email ID. The custom email ID will be used for further communication with your customer. Next, assign the inbox to its designated team and click 'Save'.
Take Control & Offer Delightful Customer Support With Collaborative Email!
Now that you know what is a shared inbox, what is the need for a shared inbox, and what are its benefits, it is essential to know which tool works best for your company.
Do your research, check out help desk tools that offer a shared inbox feature, and check the pricing plans. For example, ProProfs Help Desk offers affordable pricing plans, with a shared inbox feature, and a lot more!
Streamline your customer-facing emails with a robust shared inbox, easily!
---
Q1. What is the purpose of a shared inbox?
The purpose of a shared inbox is to have a dedicated email channel for customer requests, complaints, and queries. This way, it makes it easy for agents to answer all customer issues instantly and accurately.
Q2. How do I use a shared inbox?
It's easy! All you have to do is integrate your existing customer support email or create a new one, and you are good to go. You can check all your customer emails on one platform, categorize them as per your requirement, set priorities, and resolve them in time.
Q3. What is a collaborative inbox?
A collaborative inbox is a tool that enables you to bring together all your customer-facing emails on one platform. So, instead of having to log in to multiple emails to answer different types of customer emails, you have one platform for all your customer-facing emails.
Q4 How to create team inbox in help desk software?
Just add in an email address that you want to use, check it's availability, and your customer-facing email platform is ready. Now, all you have to do is add team members to this platform and ensure all teams who are in the customer support process are a part of your team inbox.
Q5. How does a shared inbox work?
When a customer connects with a support agent, their request is created in the shared inbox as a ticket. This ticket is assigned to an available support agent automatically. Now, all customer emails will keep piling up in your shared inbox. So, to streamline the process and ensure all tickets are resolved in time, you can add labels, comments, and prioritizations to organize tickets.
Do you want a free Help Desk?
We have the #1 Online Help Desk Software for delightful customer support