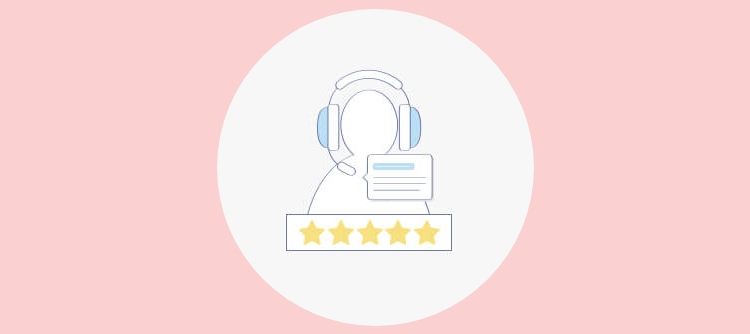 Ask customers about their go-to customer service channels for contacting any business, and you are likely to get ten different answers-
Ryan – "Hey! I love talking to service reps over the phone. Makes me feel like somebody is out there to help me."
Lisa– "As a working woman, live chat works perfectly for me. I can interact with an agent and work on my daily tasks simultaneously. Easy-peasy!"
And so on…
But here is a challenge. How do you hire people or train your team to be available on every customer service channel? Well, you don't have to be available everywhere.
This blog will help you compare 8 different support channels and choose the ones that perfectly match your business needs and customer expectations. Ready to offer awesome support?
What Are Customer Service Channels?
Customer service channels are communication mediums that are used by customers to contact a business during their customer journey. Although traditional channels such as phone support and email have always been the top preference, digital channels such as live chat, social media, chatbots, etc., are also gaining popularity due to their ease of use and device compatibility.
In an omnichannel customer service approach, your business can deliver seamless customer experiences across channels. For instance, a customer can share his problem via email and then resume the conversation on live chat for an immediate solution.
Which Channels Are the Most Effective for Customer Service?
When you ask about the most effective customer service channels, the only answer is- it depends. Successful businesses across the globe deliver exceptional customer service on the channels where their customers are.
For instance, if you are an emerging e-commerce business, offering live chat support can be a great option. Your agents will be able to assist online shoppers and explore upselling opportunities. Similarly, if your customers are avid email users, providing awesome email support will be the way forward.
If you are unsure which customer contact channels to pick for your business, read our last section dedicated to this topic.
8 Best Customer Service Channels that Every Business Should Consider
We have compiled a comprehensive list of 8 customer service types that you can include to offer delightful support. Let's check them out.
1. Phone Support
Just a decade ago, for most of us, customer support meant a phone call that started with-
"Tring! Tring! Thanks for calling. How may I assist you?"
However, even today as we speak, things have not changed much. A whopping 61% of customers still prefer the phone over other support channels. No wonder offering phone support is still paramount to high customer satisfaction.
So what makes the phone an 'indispensable support channel'?
The phone support channel is not considered the quickest way to resolve an issue. However, if you look closely, most customer support issues that start on another channel end up being escalated to a phone call. The reason is simple. During a time of inconvenience, nothing is more comforting than an empathetic human voice.
Here are some top benefits of phone support:
Resolve complex issues that cannot be solved on other channels
Nothing beats the option of interacting with an invested and attentive human agent
The call-back feature ensures customers don't have to wait on hold
Well-trained call center agents can turn a negative situation around
? Pro Tip:
To improve your call center operations, conduct empathetic training sessions for all your agents. Besides this, you must make it a point to diligently track and improve KPIs such as Average Handle Time (AHT) and First Call Resolution (FCR).
Read More: How to Improve Customer Experience in Call Centers
If you think email support is slowly dying, you need to think again. According to a Statista Report, in 2020, the number of global e-mail users amounted to roughly 4 billion, and this number is set to grow to 4.6 billion users by 2025.
"A significant proportion of customers still prefer writing emails for sharing everything from amazing service experiences to customer service horror stories."
Why is email support considered the most consistent channel?
Many individuals give more importance to the written word over a verbal interaction. The reason? There is a psychological aspect to it as customers feel that when they approach a business via email, their issues would be taken more seriously. Compared to other channels, email offers a more professional approach and helps in keeping every support conversation well-documented.
Let's quickly look at some more benefits of the email support channel.
Email is a cost-effective customer communication channel and does not require any heavy investment.
Customers can attach a range of files from small images to heavy videos.
Your support agents can quickly respond to common customer requests using saved email templates.
To capture customer feedback, surveys can be easily shared over email.
Email threads help in documenting support conversations right from the start.
? Pro Tip:
Most businesses struggle to manage the sheer amount of emails they receive from their customers. You can leverage a customer customer email management tool to track every support issue and ensure not a single email slips through the cracks. With its smart reports, you can analyze agent performance and measure customer satisfaction.
Read More: 25 Effective Email Management Tips Trending in 2023
3. Live Chat
Chat Support is considered the support channel of the present that holds great promise for the future. Why do customers love chat support? Simple, customers don't need to wait for days to get a response or listen to that 'annoying tune' while they are put on hold over the phone.
"To make your customer service super-fast and efficient, simply hop on the live chat trend."
So what makes live chat the 'fastest support channel'?
In addition to real-time conversations, live chat offers the ability to share links, attach images, collect information, and save the full chat history for later reference. All of this can happen in a matter of seconds.
Benefits of including live chat in your arsenal of support channels-
Live chat is fast and can be used to engage with customers in real-time.
Live chat improves agent efficiency as multiple chats can be handled at the same time.
Chat offers the enhanced ability to upsell with relevant deals and offers.
Customers love chat support for its conversational style where they don't need to sound too formal.
? Pro Tip:
If you decide to offer a live chat service on your website, make sure your agents are available and they respond quickly. Otherwise, you will defeat the purpose of the tool and leave your customers with a negative brand impression. To personalize the experience, add a name and picture to your live chat window.
Read Also: How to Use Live Chat Software for Lead Generation
4. Self-Service Knowledge Base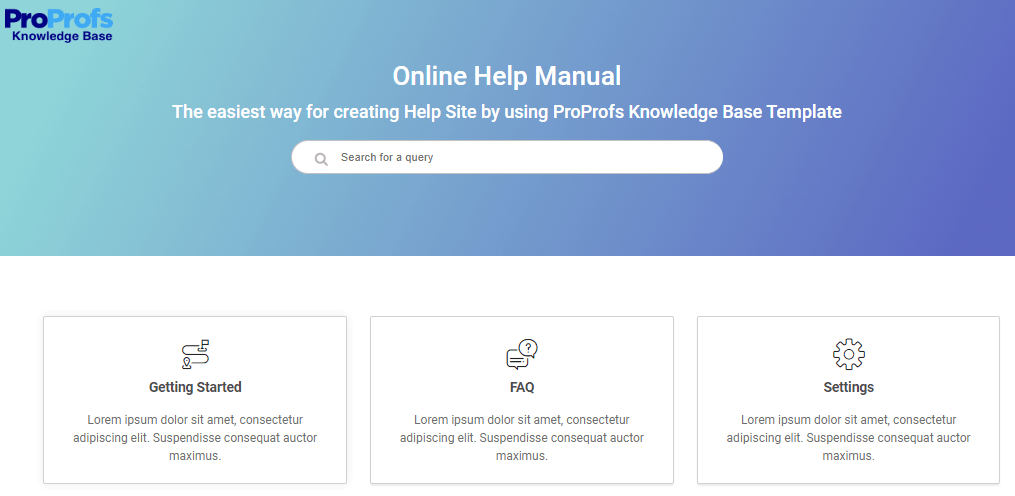 A self-service portal or knowledge base helps customers find answers to common questions, check their order status, submit support tickets, read self-help articles, and much more.
"With two-thirds of all customers trying to first solve issues on their own, self-service should be a cornerstone of any omnichannel strategy."
Why are more and more businesses investing in a knowledge base?
A dedicated knowledge base can help with ticket deflection, which means that you can put a cap on your ticket volume and you would need fewer agents to handle the same number of customers. For instance, a single how-to video on your self-service portal can help you reduce a significant amount of support tickets over time.
Let's check some popular benefits of a self-service knowledge base
Provide 24×7 customer service even when your business is closed.
Reduce the number of support tickets (ticket volume) by a significant proportion.
Gives your support agents more time to focus on other important tasks.
Creating a functional and SEO-friendly knowledge base requires less investment.
? Pro Tip:
You need to optimize your self-help portal for all devices. So, no matter what device (mobile, laptop, tablet) is used to access your help center, users can have a seamless viewing experience.
Read Also: How to Create a Knowledge Base: Step by Step Guide
5. Social Media
Social media is no longer just a place to connect with people who are close to you. Over the years, social media has evolved into a platform for customers to reach out to brands and seek necessary help.
When it comes to delivering customer service over the leading social media platforms like Twitter, Facebook, Instagram, etc., customer expectations are quite high. 48% of consumers expect brands to respond to their social media questions and complaints within 24 hours.
"Engaging customers on your social media pages is not enough. Listen to what they have to say about your brand and take every issue they post seriously."
Why has social media become a hot topic in the customer service sector?
Social media is a powerful tool. We say that because every potential post has the power to reach thousands of people – even your prospective customers. Therefore, when you promptly resolve an issue posted on social media, you can go from zero to hero in a matter of minutes.
For instance, Nike is a brand that has made sweating glamorous. When it comes to social media support, they are equally good. Here is an example of Nike offering quick help to a customer on Twitter.
Benefits of using social media as a customer service channel:
Makes you come across as a trustworthy brand that does not shy away from dealing with customer concerns in public.
You can leverage positive word of mouth and reach thousands of prospects.
Does not require heavy investment, all you need is an active social media page.
You can offer 24×7 support to customers irrespective of their geographical location.
? Pro Tip:
Social media allows you to adopt a proactive customer service approach. For instance, if your business is facing an unexpected downtime, you can share a post on social media and let your customers understand the problem before they realize it themselves.
Read More: Proactive VS Reactive Customer Service: Which One Should You Choose?
6. Community Forum
As a business, you must have thought about how you can possibly use the rich knowledge and diverse experiences of some customers to help other customers.
Well, the right solution might have been under your nose the whole time. To encourage engagement in such a way that members help each other use your product better, you can create an online community forum.
So, what exactly is a community forum, and how can it help?
An online forum is simply a virtual community where people who use your product can ask questions, share experiences, and offer tips about using your product. So simply put, an online forum can help you reduce support tickets, as customers can help each other without the need for agent intervention.
For instance, Electronic Arts has successfully built an online community of gamers who can post questions, read top answers, and check for the latest updates.
Here are some great benefits of using a forum to solve customer problems:
With a forum board, customers can create new topics and offer solutions in real-time with little effort.
You can understand customer expectations and take action to improve your products and services.
Makes customers feel that their knowledge and expertise is valued by your business.
Helps you create an army of loyal brand advocates.
? Pro Tip:
When your online forum is at a baby stage, chances are that you won't have a lot of contributors. Therefore, it becomes your job to take the lead and answer every post that goes unanswered. Encourage your service professionals to keep a firm track of every post and ensure there is no use of inappropriate language.
7. Chatbot
At some point or the other, knowingly or unknowingly, we all have interacted with a chatbot. Think of the time when you wished to know if a product was in stock or when you wanted to confirm your appointment details.
A chatbot is a computer program that is capable of simulating human-like interactions. You can use chatbot software to easily create and deploy them on your website, help center pages, or app.
Why are chatbots gaining tremendous popularity among businesses?
In the last couple of years, rapid advancements in artificial intelligence and machine learning have led to significant improvements in chatbot technology. Chatbots are no longer considered mediators between customers and human agents. In fact, they have become powerful tools that are capable enough to assist customers with their basic requests.
Benefits of deploying customer service chatbots on your website:
With chatbots, you can offer support 24×7, even when your team is offline
Chatbots help you reduce customer service costs as a large number of customers can be assisted at the same time
In addition to customer service, bots can help you generate leads and grow sales
There is no need for customers to wait in queues and they can get an instant response
? Pro Tip:
You need to give your chatbot some personality so that people can form an instant connection. Give it a name, an avatar, and design the conversation flow keeping your target audience in mind.
Read More: 15 Best AI Chatbot Software in 2023
8. Video Support
According to a study, video conferencing has witnessed a 535% rise in daily traffic in 2020. And this trend has only begun.
The way a business operates and interacts with key stakeholders has changed in the past few years. Experts believe that video conferencing is not only important for internal meetings but has also become one of the most important customer service options.
In a live video support session, an agent interacts with customers and helps them with their concerns. However, you can even create troubleshooting videos on common topics and share them with your audience.
Why has video conferencing gained popularity after the COVID-19 pandemic?
Video conferencing allows you to offer assistance to customers when visiting them is not a viable option (due to physical distances, lockdowns, etc.). This is an excellent way to ensure the safety of your support professionals as well as the customers. For instance, if a client needs help installing an electronic gadget, you can start a live video session and guide them through.
Some more benefits of using video as a support channel:
Transform the support process into a meaningful and memorable experience.
Establish rapport with your customers through face-to-face interactions.
Share your screen or gain access to a customer's screen to fix an issue.
Understand a customer's situation with the help of their facial expressions or hand gestures.
? Pro Tip:
You can record your video support sessions and upload them to your help center. The videos can be used by customers who are facing a similar issue or for training new agents.
Why is it Important to Evaluate Customer Service Channels?
Your business cannot possibly be available on every support channel. Even a billion-dollar business such as Instagram does not offer phone support. Therefore, you need to evaluate the pros of every channel and choose a combination that works for you and your audience.
Benefits of choosing the right combination of support channels:
Reduce Costs: Customer service can get expensive if you do not evaluate your service channels from time to time. On the contrary, by investing in technology and keeping up with the ongoing trends, your business can reduce costs and save more.
Enhance Efficiency: A lot of digital communication channels such as knowledge base, chatbots, etc., can help your business automate support processes. You can offer assistance without human intervention and enhance your team's efficiency.
Meet Customer Expectations: Whenever customers decide to buy from your brand, they put their trust in you. If something goes wrong, they expect your brand to assist them on a platform that they are comfortable with. By supporting customers on multiple channels, you can meet their expectations and enhance customer satisfaction.
How to Pick the Most Effective Customer Support Channels for Your Business
Are you struggling to strike the right balance between your customer contact channels? Are you unsure which channels to keep and which ones to let go of?
If the answer is a yes, then continue reading.
In order to select the most effective support channels for your business, you need to ask yourself just three important questions. Here they are-
1. "Do we have the manpower required to offer support on multiple channels?"
Now, your customer service reps cannot take phone calls and chat with customers simultaneously. That simply isn't a practical idea. You would want them to handle one channel at a time and offer their undivided attention to a customer.
If you have a small team, go for channels like live chat and email, as using these channels, a single agent can respond to multiple chats or emails simultaneously. On the other hand, for bigger teams, allocating the right human resources is still easier. Suppose, if 50% of your customers prefer phone support, you can train the majority of your service staff to handle customer calls efficiently.
2. "What type of support issues do we typically receive?"
To offer exceptional service, you need to examine the types of issues you most frequently get. For instance, if more customers contact your business to ask common questions, creating a dedicated self-service portal should get the job done.
On the contrary, if you receive a large number of tickets that demand urgent attention, you will probably need more human agents available upfront to attend to them.
3. "What do my customers want?"
Sometimes the answer to the most challenging questions can be found hidden with your customers. All you need to do is ask them directly.
Now, interacting with all your customers in-person isn't always possible. Therefore, you can share short surveys and ask them questions like: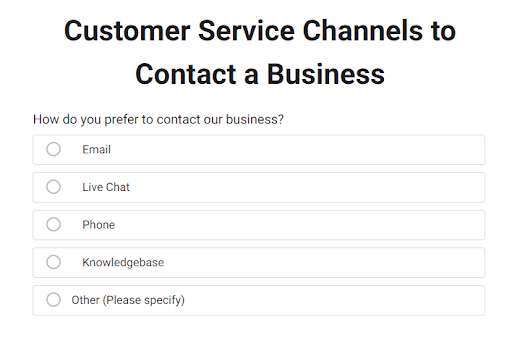 You can always tweak these questions based on your needs or ask more questions. You are the captain of your ship! Once the surveys are completed, the responses to these questions will help you frame the best multi-channel customer service strategy.
Ready to Become a 'Multi-Channel Support' Powerhouse?
The truth is that customers are simple people who desire the same thing as you do. They want their questions to be heard and problems resolved at their convenience.
When it comes to choosing the right customer service channels, the needs of your customers should dictate what support alternatives you make available to them. In addition to offering choice to your customers, you need to deliver consistent and reliable support across all channels to become a true multi-channel powerhouse.
With a tool like ProProfs Help Desk, you can give wings to your omnichannel strategy. Manage communications across channels, collaborate with other departments, prioritize urgent issues, and deliver delight!
Do you want a free Help Desk?
We have the #1 Online Help Desk Software for delightful customer support