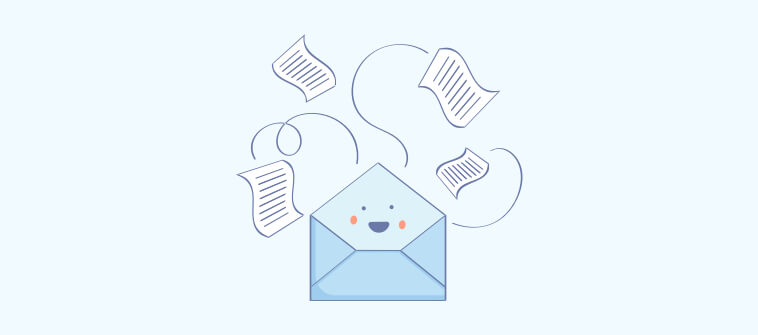 Our daily work routine revolves around emails, in fact, hundreds of them. But have you ever thought – why do some people call it 'The Snail Email'?
Let's be honest, email is slow, lacks advanced features, and was never designed for team collaboration. It's not surprising that entrepreneurs across the globe are complaining about inbox overload, lost productivity, and rising frustration.
So, is there a faster alternative?
Although email is tremendously popular, when it comes to collaborating with your team on critical projects or resolving customer problems, email can be a silent business killer.
Today, email is phasing out, and help desk software is taking its place. But why?
A help desk, also called an email ticketing system, has come across as a platform that allows for better collaboration and information sharing. Read this blog to learn about the various benefits of switching from email to a help desk.
It's time to rethink email.
When to Switch From Email to Help Desk
Making the decision to switch from email to help desk can be a tough one and if you are waiting for a sign from God, you might end up waiting forever. Here are some hypothetical situations that can prove to be red flags and indicate that it's time to rise above a sluggish email process.
"Responding to customer emails takes a ton of time"
An ever-increasing inbox can make sorting and filtering emails difficult. Sooner or later, you will find yourself caught in a vicious loop where you receive far more customer emails than you can attend.
"Urgent customer issues get lost in a sea of support emails"
Not every support email deserves your immediate attention. If you are unable to segregate urgent customer requests from not-so-urgent ones, then it's time to move to a help desk.
"Our teams find it difficult to collaborate to resolve customer issues"
Waiting for the relevant department to reply to a customer email might take days or even weeks resulting in poor customer experience. Getting everyone on the same page is not possible with email.
"Interacting with customers over a single channel is not enough"
The sad part about email is that it is just email. Your email dashboard cannot allow your agents to chat with customers, or create a knowledge base to offer 360-degree support experiences.
These were some tell-tale signs that explain exactly why you should switch from email to help desk software. Now, let's explore some top benefits that you can expect.
Get Started Free Help Desk Software
6 Benefits of Switching From Email to Help Desk
1. Keep Support Communications Well Organized
You don't have to be obsessed with cleanliness and order to understand the benefits of a well-organized inbox. A 'cluttered inbox' can act as quicksand that slowly eats up your emails.
However, with a help desk, every customer communication/message is allotted a unique ticket number. You can track the complete ticket lifecycle from the moment a request is generated through to the time when it is resolved. Moreover, you can use features like Label, Status, and Internal notes to sort tickets and have all the information at your fingertips.

2. Avoid Agent Collisions
Imagine a situation when two of your agents end up working on the same support email and, as a consequence, share multiple responses. This situation is called Agent Collision, and it can make your brand appear in a bad light.
Most modern help desks, such as ProProfs Help Desk, offer an Agent Collision Detection feature. All your support representatives can see who is working on what and work on the unattended tickets. Your agents can easily track a ticket's progress in real-time and avoid sharing multiple replies to the same issue.

3. Reduce Ticket Volume With a Knowledge Base
Email can act as a platform that allows your agents to resolve current customer issues. But what about eliminating similar issues in the future or making your customers find help themselves?
When it comes to self-service, an email falls flat on its face.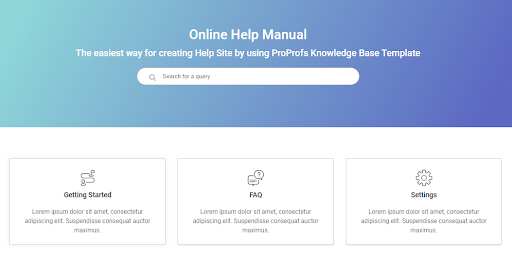 On the other hand, a help desk allows you to adopt a proactive approach to customer service. You can create a knowledge Base in minutes and upload relevant information in the form of self-help articles, FAQs, step-by-step guides, video tutorials, and more.
According to a Microsoft report, 77% of customers admit they have used a self-service portal. Therefore, it becomes all the more imperative for your business to bring self-help closer to your customers and reduce ticket volume.
Recommended Read: Different Customer Types: Issues & Solutions
4. Make Your Teams Collaborate
There must have been instances where a customer issue required the involvement of more than one department. Remember how confusing it became, looping in every department, and scrolling through a long email trail?
This is where switching from email to help desk software can make a huge difference to your business and eventually to your customers. The help desk permits you to assign tickets to relevant departments. For instance, a customer email inquiring about key product features can be assigned to the sales team with just a click.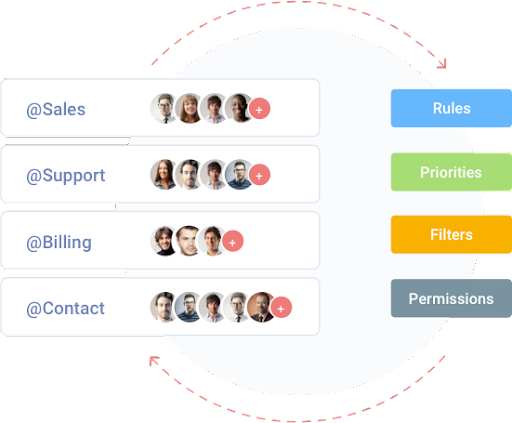 Modern help desks are designed for team collaboration. They allow multiple teams to join hands, discuss an issue internally, and offer the best possible solution to customers.
5. Break Complex Tickets into Child Tickets
In some cases, Parent-child ticketing can help you organize a large task into a group of smaller manageable tasks for faster issue resolution. For example, let's assume a customer bought 2 items online and later requested a refund for one and a replacement for the other.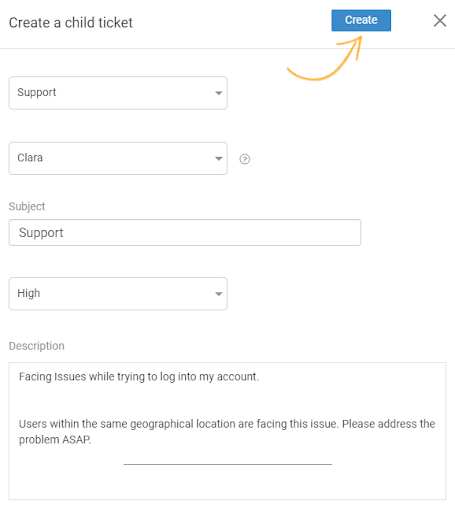 Now, a help desk can help you divide this main issue (parent ticket) into 2 smaller issues (child tickets). One child ticket can be assigned to the payments team to initiate the refund and the other can be assigned to the supplies/logistics team for replacement. Parent-child ticketing can help you organize a large task into a group of smaller manageable tasks.
6. Measure Customer Delight
A lot of businesses believe that they deliver superior customer service, but do customers feel the same?
The best way to decode what your customers think of your products, pricing, after-sales service, or your employees is by asking them via surveys. With a help desk, you can easily create, design, and share surveys to measure customer delight.
You can simply use a CSAT survey to measure customer satisfaction or an NPS survey to measure the loyalty of your audience. Surveys are automatically shared via email once a support ticket has been resolved. The responses will help you gain insights about your performance as well as improvement areas.
5 Steps to Ensure a Smooth Email to Help Desk Migration
Step 1: Get Your Team Onboard
When you introduce a new business application to your team, you need everyone to be on the same page. Allow your leaders to communicate the vision behind this positive change and how a help desk could bring out the best in them.
Now, onboarding your customer service team is not enough. Although your support agents are the ones who will use this tool the most, all other teams need to understand the importance of this tool.
Step 2: Understand How Customers Contact You
Customers today have more channels to contact any business than they did a decade ago. From phone support to email, to social media, we have come a long long way.
Like we discussed, a help desk allows you to support your customers on multiple channels such as email, chat, knowledge base, etc. Therefore, you need to understand which channels your customers love the most. This will help you prioritize the most popular customer service channels and communicate the expectations about the same to your agents.
Step 3: Choose Relevant Support Emails
In a help desk, you can club multiple customer-facing email accounts (such as support@, contact@, info@, etc.) and seamlessly manage all these inboxes from a shared dashboard.
To make the switch from email to help desk easier, you can consider a few questions like:
How many support emails does our business really need?
What support email inboxes receive the maximum customer requests?
Should we merge similar email accounts (such as contact@ and hello@)?
Once, you have found the answers, you can enable email forwarding in a help desk. This way all your emails pertaining to that inbox will be forwarded to your help desk inbox.
Step 4: Train Your Team
They say that change is the only constant and in order to adapt to any change, your agents need to be well trained.
Conduct intensive training sessions for them and give them a live walkthrough of a help desk dashboard. Allow your team enough time so that they can familiarize themselves with the interface. Educate them about the multiple features, capabilities, and answer any questions that they might have about setting up the tool and getting started.
Most online help desk vendors have a rich collection of helpful content in the form of how-to videos, blogs, guides, etc. Ask your team to leverage such valuable content and hone their skills.
Step 5: Target Key Customer Service Metrics
Unlike traditional email, email management software supplies you with all the necessary data you need to measure performance, and monitor progress.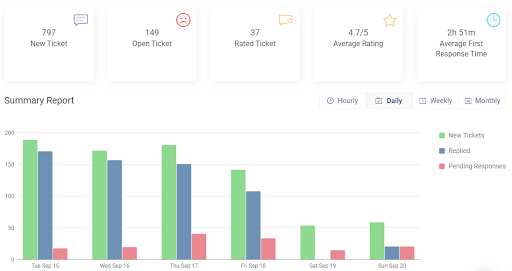 However, many businesses easily get lost in this huge pile of data and don't know which numbers to focus on. Set the right Service Level Agreements (SLAs) for your team and use customer service metrics such as average tickets resolved, average first response time, etc. to gauge performance against the set SLAs.
Consistent and close monitoring of data can take you a step closer to your end goal of offering delightful customer service by customer support software.
Ready to Switch from Emails To Help Desk System?
Although email presents its own set of challenges, it isn't dead yet. Email is still a popular channel used by customers and will continue to be so in the years to come. We need to understand that a help desk does not completely replace email, it compliments it and gives way to productive teams and happier customers. And who would not want that?
With a help desk, there is no need to reinvent the wheel. Your team can enjoy an automated workflow, share canned responses to similar customer problems, and add valuable notes to tickets for future references. If you are ready to make the big switch from email to a help desk system, there has not been a better time than now. Fortunately, ProProfs Help Desk makes it easier for you to get your hands over your first help desk, where your agents can get started in minutes.
Do you want a free Help Desk?
We have the #1 Online Help Desk Software for delightful customer support