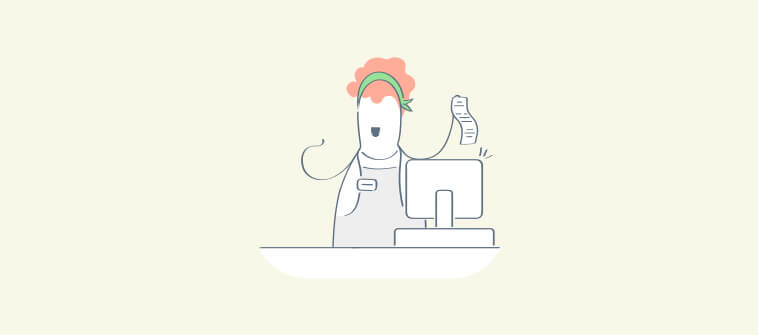 When you wish to take your business to the next level, every aspect screams for attention- development, sales, design, marketing, etc. Amidst all this chaos, why should you focus on customer service?
The answer is simple- decades worth of hard work and reputation can be demolished overnight by a single customer review. Yes, that's how fast it spreads.
Every customer has memories of interacting with your business, however, thanks to human nature, the bad experiences always stand out. And you might find it hard to believe, but bad experiences are more powerful than the good ones.
"An average American tells 15 people when they've had a poor customer service experience."
So instead of sweeping such horror stories under the carpet, how do you face them head-on?
A customer service desk holds the answer. It is a must-have business tool that can help your team collaborate effortlessly, automate repetitive tasks, and monitor the quality of services delivered to customers across the globe.
This blog explores the various benefits of a customer service desk and highlights some impeccable strategies to improve its performance. Here we go.
What Is a Customer Service Desk?
When was the last time a customer reached out to your business and you had no information about them? Or, how often do your agents transfer a service request from one department to another?
If your answer is "way too often" then keep reading.
"A customer service desk is a customer-oriented business software that allows customer service teams to manage service requests and offer instant support."
A service desk acts as a single point of contact (SPOC) between a business and its external customers, as well as internal employees. With the help of this business tool, your business can create and implement robust work-flows for your customer-facing support team. Your team will be aware of every step it needs to take to manage incidents, resolve customer issues, and ensure such problems can be prevented in the future.
Now, when we talk about IT services, most service desks are Information Technology Infrastructure Library (ITIL) compliant. ITIL lists best practices for businesses to manage the quality and delivery of their IT support services. However, there is also an evident shift.
Modern customer service desks are not limited to IT anymore. They are designed to effectively manage both IT as well as non-IT services.
Why Do You Need a Customer Service Desk?
Do you manually keep a track of your customer requests or maintain them over spreadsheets?
Well, none of them will help you sail through in the long run.
Customer expectations with regard to customer service are at an all-time high. Your business just cannot afford to offer mediocre service as a single customer service horror story can have drastic effects.
In fact, according to a Microsoft study, 47% of consumers are willing to switch to a different brand due to a bad customer service experience.
Recommended Read: Guide on Good Customer Service
How Can a Customer Service Desk Help in This Grave Situation?
"Amidst a sea of unpleasant service experiences, a customer service desk can help you take your service from poor to exceptional."
A service desk improves customer experience by:
Resolving issues and requests in the lowest turnaround time
Making it easier for customers to approach a business
Empowering them to address common problems on their own
Exploring the Difference: Help Desk VS Service Desk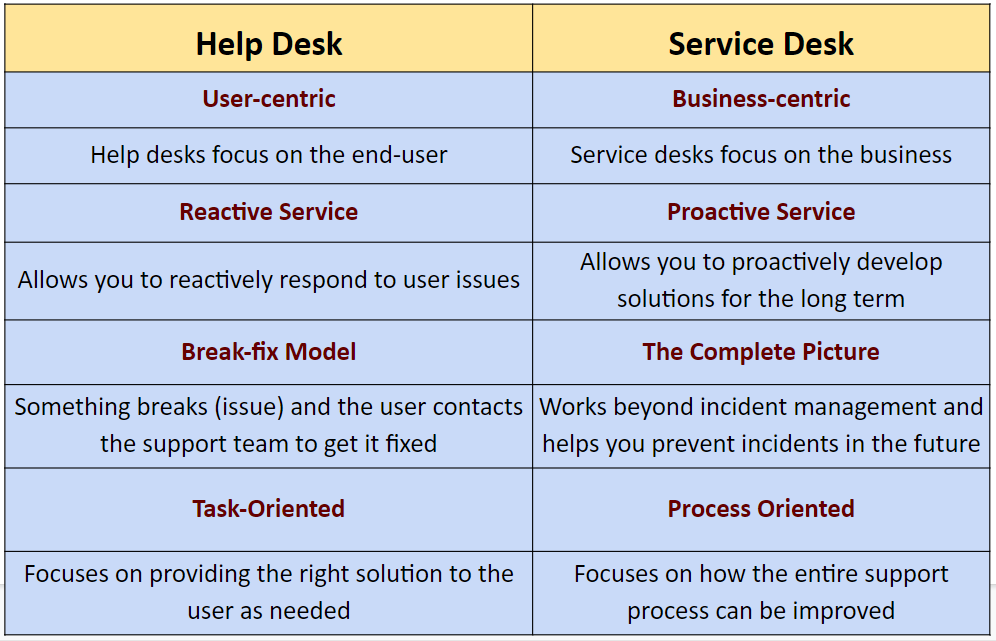 Anyone who has looked to improve customer service operations or wished to settle for the right customer service tool, must have stumbled upon an important question- what is the difference between help desk and service desk?
What Are the Benefits of Adopting a Customer Service Desk?
1. Improve Process Efficiency
Every business wants its departments to work in complete sync like a well-oiled machine. However, resolving customer problems is not the sole responsibility of the customer service department.
Every business department or team solves critical business problems. A service desk serves as a centralized location for all your customer communications and includes problems that can be solved with inputs from relevant departments. For instance, if a customer complains about repetitive software downtime, your IT team can step in and resolve the issue quickly.
2. Offer Proactive Customer Support
When most businesses think about customer service, they usually think of someone who contacted their support team for a problem and got the issue resolved. While this approach is the most common, reactive support might not lead to rigid solutions.
Instead of waiting for customers to bombard you with support tickets, a customer service desk helps you proactively support your customers. You can anticipate customer problems in advance and notify them before they start complaining. For instance, if a product delivery has been delayed due to bad weather conditions, the same can be informed to customers as soon as you get notified about it, instead of waiting for customers to complain.
Read Also: Proactive VS Reactive Customer Service: Which One Should You Choose?
3. Measure Performance With Insightful Reports
Measuring performance helps your business track growth and monitor progress against intended goals. Keeping a bird-eye view of your customer service process helps you avoid customer churn due to poor service experiences.
With its insightful reports and analytics, a service desk can prove to be a game-changer for your business. You can track individual, as well as team performance, measure performance against SLAs, and closely monitor customer-focussed KPIs like CSAT, NPS, etc. Moreover, you can identify your top performers and offer them relative incentives to encourage their positive results.
Read Also: 15 Help Desk Metrics to Improve Customer Support
4. Create a Vast Library of Information
Every business is generating an enormous amount of data that has the potential to reduce efforts, save time as well as costs. But are businesses able to tap into this valuable information?
With the help of customer service software tools, information pertaining to various customer problems can be stored in the knowledge database. Your staff can access them anytime and have all the knowledge they need about a problem, right before their eyes. On the other hand, all this crucial information can be used to create self-help articles, FAQs, interactive videos, and more for customers to resolve their problems on their own.
Strategies to Improve Your Customer Service Desk Performance
1. Focus on Improving Your First Contact Resolution (FCR)
FCR represents the number of customer issues solved by your support agents during their first interaction with your business.
"A strong FCR is an indicator of exceptional service and also shows that your customers are receiving all the right answers in a hassle-free manner."
Assign tickets to agents who have the right skill sets, training, and experience to handle them. Encourage them to act as a one-man army and escalate to second-level support only when required.
Ensure that critical customer information such as past issues, contact history, etc. are available with your agents. This would prohibit the need to escalate or transfer a case due to the lack of sufficient information at hand.
2. Enhance Your Self-Service Capabilities
When a customer encounters an issue with a company's products or services, where do they search for an answer? The internet.
Around 25% of customers search for the relevant answers for 10-15 minutes online before approaching a business. This means that your self-service portal or knowledge base has more potential than you might think.
"While creating your knowledge base the last thing you would want to do is 'assume'. If the portal is meant for your customers, it's best to ask them what works for them and what does not."
You can start by asking your customers questions like- Is the language easy to understand? Are they able to easily navigate through the portal? Are they able to find relevant content based on their search query and more.
Consistent testing of your self-service portal and imbibing valuable customer feedback should be the way forward.
3. Step Up Your Training Program
Even the most experienced employees require training when they become a part of your company. Consistent training can get your team up and running and manage customer service challenges with ease.
"According to LinkedIn, 94 percent of employees would stay with a company longer if the company had made an investment in learning."
The true benefits of a service desk can't be realized without a well-functioning team that receives ongoing training.
You need to understand that although modern customer service tools are easy-to-use, they are still known for regular updates. Every year there are new problems that arise from data breaches and new security protocols that need to be followed. Therefore, it becomes critical to keep your team well-acquainted with all the latest updates and customer service trends.
Just training your employees to use a business tool is not enough. You need to go beyond and train them on key customer service skills like empathy, patience, handling difficult customers, etc.
Recommended Read: 10 Tips for Handling Customer Service During the Holidays
4. Learn From Valuable Feedback
You might have a great customer service strategy on paper, but what if customers feel you need to improve? You service desk agents need to learn from customers' feedback about the constraints to focus on.
"Feedback is the breakfast of champions"- Ken Blanchard
To improve your service desk performance, ask customers for their feedback by sharing a survey soon after their issue has been registered or resolved. You can also share surveys to gauge the potential of your self-service portal. While positive feedback can inspire your staff, negative feedback can shed light on improvement areas.
Capturing customer feedback is only the first step. You need to carefully analyze every feedback and understand what is making customers unhappy even after a stringent process.
Instead of sweeping negative feedback under the rug, keep a close watch on trends that indicate common customer problems. Communicate with your customers that your business is working to ensure such issues can be avoided in the future.
Win Customers Over With Delightful Customer Service
It is no news that companies that focus on customer service outperform their rivals. Businesses that have mastered the art of how to delight customers are available for their customers 24×7 and use sophisticated customer service tools.
A customer service desk can help your business resolve incidents, encourage team collaboration, and manage the complete lifecycle of your customer service operations. Through effective communication, a good service desk allows you to create a customer-centric culture where customer happiness is the top priority.
Do you want a free Help Desk?
We have the #1 Help Desk for delightful customer support starting at $0