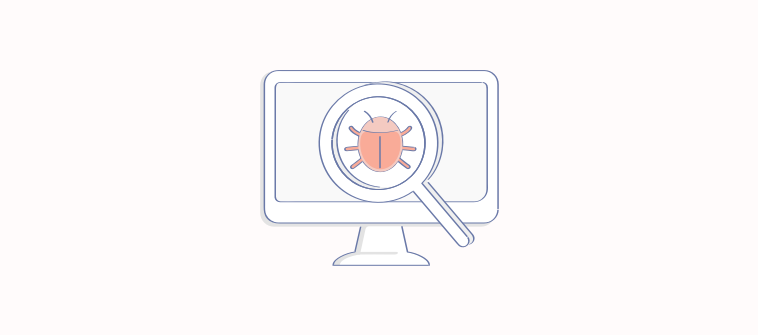 Is a bug reporting software the next step in the evolution of customer service or an unnecessary tool that doesn't need to replace the standard email inboxes?
The answers may vary here. People may have mixed opinions on bug reporting software and standard email inboxes.
With the way things are going, emails will be obsolete by 2020. So it doesn't make much sense to keep relying on them to streamline customer support services. As digital communication keeps changing, will we still be making way through unimportant messages and hunting for what is important to us through long email chains? Will we ever reach the goal of inbox zero?
Is communication changing? If yes, what is changing in communication?
Well, communication is changing for sure. Businesses are slowly, but steadily moving away from email as a primary form of business and digital communication. There is no end to alternatives here. You can either send a text message or a DM on Twitter. You may drop someone a message on Facebook or begin a chat.
People in business today connect more through social networks than sending emails to one another. In fact, they employ different types of customer support tools to make their job, and hence, life easier.
This blog throws light on the increasing relevance and use of a Cloud-Based Bug Tracking Software. Of course, businesses are shifting from email to this customer support tool. But why?
Let's begin to learn….
Advantages of Bug Tracking System
1.
All conversations in at one place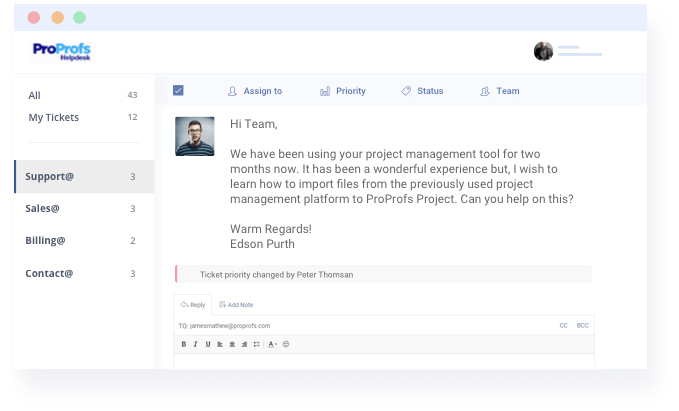 Most of the times, a number of people work on the same customer request. Tracking the status of that ticket, thus, becomes difficult. Customer support operators using emails have to jump through various hoops. In doing so, they may land somewhere else.
But, with an easily accessible and responsive bug tracking software, you can organize, prioritize, discuss, and track all customer queries and issues on a single dashboard. Teams and departments can see who is working on what, and this ultimately leads to faster ticket resolution.
2. Notifications
The most interesting feature in a bug tracking system is that it comes with "notifications". The customer receives a specific automated response because auto-replies can already be sent using emails whenever any action happens on the ticket. Email communication cannot provide this kind of support and this is what differentiates a bug reporting software from email.
You may notify the customer every time a user or an agent leaves a message on their query. In addition, the user and its team get notified when a response comes from the customer. Teams can find out if and when someone adds an internal note or comment to the ticket.
Ticket assignment, new ticket, and overdue ticket notifications enable you to deliver excellent customer support, and that too faster.
3. Team collaboration and transparency
In an email, it is impossible not only to track a customer problem but also figure out who is working on what. Most importantly, managers and system administrators can't efficiently control customer support.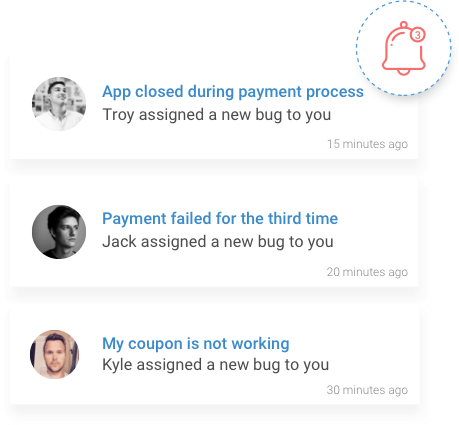 A bug tracking software, on the other hand, helps to bring about team collaboration. Individuals and teams can view tickets at the same time, make notes, and leave internal comments; pushing the ticket towards quicker resolution.
Besides, using collaboration features such as customer history, child tickets, alerts, and notes simplify the job of your operator.
The bug reporting software also enables managers to determine which teams and departments are overloaded with support requests and thus, allocate requests effectively.
They can sort, label, prioritize, and assign tickets to the concerned individuals and teams to speed up the ticket resolution process. They need to know who all are working on the same issue, the ticket status, what resolution has been given to the customer so far, and the total resolution time.
---
Recommended Read: Choosing the best Issue Tracking system for your startup
---
4. Flexibility and Efficiency
Lack of flexibility is the key reason why emails are becoming a redundant means of customer communication.
Not all email providers lend you the option to send automated messages to customers. In addition, your customer support agents grow inefficient when they have to go back and forth between their inboxes.
A help desk ticketing software, on the other hand, enables agents to send canned responses and automated messages to customers. They are sent at the time of ticket creation, updates, assignment, and resolution.
Send canned responses and automated messages to customers using the bug tracking software. These are sent at the time of ticket creation, updates, assignment, and resolution. Your customers want acknowledgment of their issues and they are not patient enough to accept delays.
As a business, you need to keep this in mind.
Configuring your support inbox with the shared inbox of ProProfs Help Desk not only leads to effective ticket tracking and management but also helps to optimize customer support.
5. Reporting and analysis
You cannot track the performance of your operators through emails and create a report card. You cannot figure out if the team is efficient at delivering excellent customer service. As a result, you cannot improve their performance through training.
Our bug reporting software features the "reports" dashboard, reflecting the summary, and the service rating.
Have a look at the data that relates to the new tickets, rated tickets, average rating, first response time, and the total open tickets. Check how customers rate their experience with support operators.
Access ratings of individual agents and train the low-performing agents. At the end of the day, customers should be happy with the support experience and rating needs to improve over time.
To understand the benefits of a Cloud–Based Simple Issue Tracker in a better manner, let us scan through a few of the frequently asked questions in this context:
---
Q1. What is a bug reporting software?
A bug tracking software is basically a software application that enables you to record and follow the progress of every customer question or request in your shared inbox, till the time problem is resolved.
Q2. An ecommerce business invites loads of customer questions. Due to the high volume of customer questions and requests, we miss on many of them, which leads to sales loss. Can we combat the same with technology?
Yes, a bug tracking software may help ecommerce businesses here, as it enables your customer support teams to view all support questions and requests in one place. The customer support tool helps to ensure that nothing is forgotten, no ticket is missed or lost. You can easily organize, prioritize, assign, and track customer questions, bugs, incidents, and requests on a single dashboard.
Q3. Can I opt for a bug reporting software plan as per my business needs?
Yes, each issue tracker system caters to a wide range of organizations, big and small. Choose the plan that suits your business requirements the most. There are different plans for every kind of business and its needs. Choose the one suitable for your business wisely.
Do you want a free Help Desk?
We have the #1 Online Help Desk Software for delightful customer support