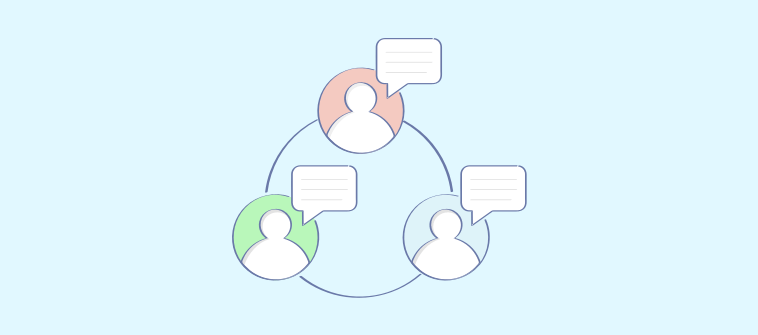 Imagine a situation where your customers are leaving your business due to inefficient customer support. You get a clear indication that your customer support department lacks the resources to timely resolve customer queries.
Then it's high time you make up for your inefficient customer support and enhance customer service. Train your operators and offer abundant resources to the support department of your organization. Your operators should never miss on any kind of resources or tools that can change the game of customer service.
Here, through this blog, we try and learn how you can leverage the collective knowledge, skills, experience, and expertise of teams to deliver excellent support to your customers.
Develop a Team Approach
One of the ideas for improving customer service is to develop a team approach. But before that, you need to note that just like a customer query can erupt from anywhere, help can also come from any department. Operators know about their customers' requirements and offer the best possible support to their clients. But there are times when the best solution can come from another team or department.
Most successful firms, thus, employ a collaboration technology like a collaborative email. This kind of support tool for customer service collaboration connects team members for faster and more effective issue resolution. A ticketing tool that extends support to team collaboration effectively brings together all the stakeholders to resolve customer issues. The result would ensure delightful customer support.
"Develop a team approach that uses your company resources to the optimum level"
Remember the best customer support experience has its roots in team collaboration. When multiple teams and departments work together, not only does the cost per incident and resolution time get reduced, but also there is a remarkable improvement in the overall customer experience and of course, you enhance customer service.
Employ a Help Desk Ticketing Software
Help desk software enables individuals and teams to collaborate. Deploying a service desk software hosted in the cloud is prudent since software-as-a-service (SaaS) can connect agents with different teams wherever and whenever they are online. SaaS-based customer support tools are highly cost-effective and need no dedicated infrastructure.
In addition, SaaS service providers automatically fix bugs, acquaint their clients of any new features and upgrades in the help desk software. This way, customer support teams are enabled to focus on supporting customers without investing resources in on-premise IT.
---
Related Read: All Things About SaaS Customer Service
---
Shared Inbox

Shared inbox is a critical feature of a help desk software that makes it what it is. In short, it enables people in an organization to work collaboratively as the team inbox is configured as a shared mailbox, where everyone can view customer tickets. Operators can see who is working on what customer query, issue or request. Additionally, there is categorization, labeling, prioritization, and assignment of tickets to the concerned individuals, teams, and departments.
Shared inboxes provide various benefits. They include organizing and managing tickets as emails, not losing track of emails, escalating tickets to reduce the overall time of resolution, and boosting teamwork. Team email management is comparatively difficult as compared to managing a shared inbox. There are no longer CC emails when your company uses a shared inbox. Most importantly, they don't lose track of any customer issues or requests.
Managers and system administrators can assign a single ticket to a team, due to which a large number of people can see it. Isn't it great you can make notes and internal comments for quicker ticket resolution? Workflow rules can even be set up around filters, priorities and service level agreements.
Customer support agents can even send canned responses and rule-based automated messages to customers when they lack an instant resolution to their problems. Such messages help in brand consistency as well.
Shared inboxes come with collaborative features of customer history, sub-tickets, notes, and alerts to simplify the job of an agent. Admin can review progress on various issues anytime by creating child tickets for tracking internal subtasks.
Internal and External Collaboration
Ideally, companies should employ a help desk software that is integrated with a knowledge base, as this integration enables internal and external collaboration. Your customers can resolve their issues on their own through the self-help center. The searchable knowledge platform lends them access to FAQs, help articles, documentation, user manuals, and guides.
In addition, teams within your organization can collaborate to create a knowledge base for internal use quickly. Contributors and editors play a crucial role in building up the internal documentation. Contributors have the right to write and edit pages, while editors can publish and manage pages.
The Bottom Line
"Adding collaboration to help desk is sensible in a strategic way, as you work towards improving your customer experience"
Adopting a collaborative model where everyone plays a significant role in supporting customers unites the whole company. It also makes them be mindful of their most critical assets – their customers.
Are you ready to improve your customer service collaboration?
If yes, here are the tips:
Be clear in stating team objectives

Track team performance through the PPP (progress, plan, problem) model

Create a sense of team belonging

Employ a collaboration software like a help desk software

Ensure that there is open, honest, and respectful communication
Do you want a free Help Desk?
We have the #1 Online Help Desk Software for delightful customer support