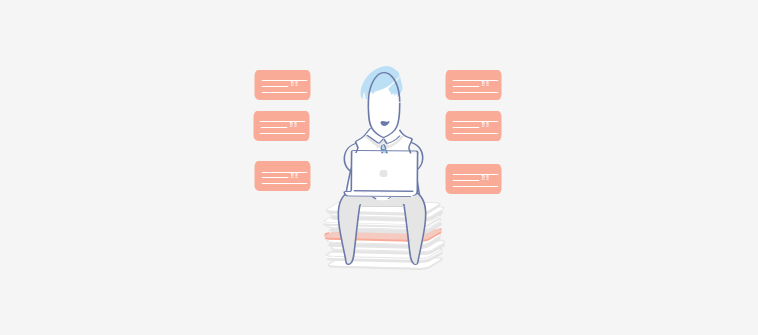 Email is still a crucial channel to master if you want to be successful. Brands have been sending more emails than ever, and marketers consider emails to be among the most effective online communication channels. Email marketing expert Dela Quist states:
To not have an email address is the digital equivalent of being homeless
However, while emails came into existence to increase our productivity, they can actually prove to be harmful when used wrongly.
Let's Make It Clear – Emails Still Matter
According to Entrepreneur magazine, the average person gets 121 emails per day. The whole human race gets 193.3 billion emails, out of which business emails account for 108.7 billion.
Let's be honest, not only do these figures but also your own experience points to the role of emails in our everyday life. Think of all the emails you receive and send each day, either for private or business purposes! As we cannot avoid them, we might as well get the most of them, right?
Here are some email marketing tips that will help you understand your current productivity score and increase it by 90%. Making use of these tips will reinvent how you write, reply, receive, organize, and even think about emails.
#1. Effectively Deal With An Overwhelmed Inbox
Did you know that employees receive more than 100 work-related emails per day and that rate is increasing? You're definitely not the only one feeling overwhelmed by your inbox. Many professionals have thousands of unread messages that create a risk of missing out on opportunities.
Here are some actionable tips on how to deal with that never-ending pile of emails:
Use other tools for task management: +2% to the productivity score.

Remember that email was not designed to be a project-management application. Instead of using it as such, choose other task management tools like Todoist, DropTask, and GetFlow. These are some great email alternatives for effective collaboration and project management.

Schedule: +5% to the productivity score.

Checking your email every 15 minutes is harming your productivity. You get distracted and turn away from other tasks every time you check what's new in your inbox. Instead, create a schedule for checking your email every 2-3 hours, or even every hour if you wish to keep up your prompt response time.

Create folders: +3% to the productivity score. If you want to avoid spending hours searching through dozens of emails, do not store all the incoming emails in the same folder. Creating designated folders based on topics will make your life way easier. Just ensure you place every email in the appropriate folder immediately after reading it.
Read once: +5% to the productivity score.

Avoid spending time on reading all the emails before writing replies. It will only result in a lot of rereading. Rather, read an email and decide immediately whether it should be deleted, responded to or saved for the future in an appropriate folder. Respond immediately and deal with one email at a time.

Create an automatic response: +5% to the productivity score.

After experiencing overwhelming amounts of emails, the founder of

Tommy John

undershirts for men,

Tom Patterson set up an automatic message

which said, "I am currently checking email before 9am and after 5pm EST so there will be a delayed response. If this is urgent, please call or text". This strategy had remarkable results.

Urgent matters were solved by phone calls, his colleagues more often chose not to interrupt him but rather make their own decisions. Additionally, Tom was able to focus on more strategic tasks and delegate responsibilities.
By effectively dealing with an overwhelmed inbox, you increase your productivity score by 20%.
#2. Learn To Spot Phishing Emails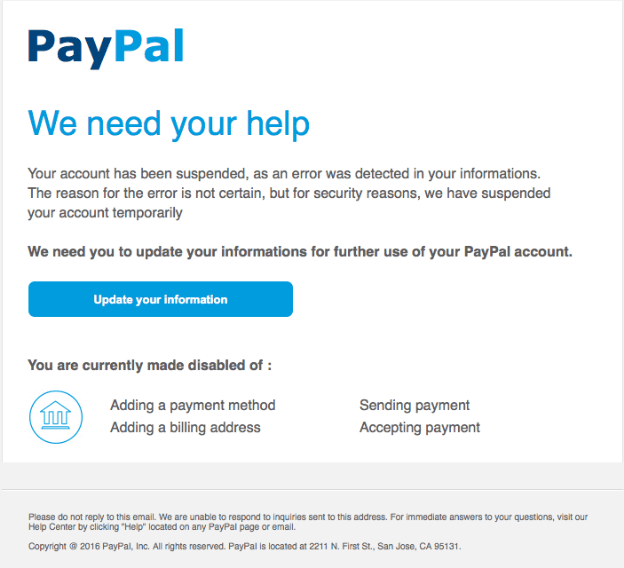 With the large amount of emails we receive every day, it's important to be aware of the security issues and measures to take in order to stay safe. Getting caught in a scam, losing money or experiencing privacy threats can harm your productivity. To avoid that, follow these rules:
Be suspicious: +1% to the productivity score.

Phishing emails often try to scare you with warnings about stolen information, closed accounts or expired subscriptions. Or the opposite – they congratulate you with winning a prize. In any case, if you have any doubts, don't click. Rather visit the company's website or log into your account to check for suspicious activities.

Pay attention to the grammar: +2% to the productivity score.

Many phishing emails are filled with spelling mistakes and bad grammar. While big companies spend a lot of money and hire professionals to ensure their emails are written in a perfect language, phishers will most certainly not do that. Thus, if you notice any mistakes, the email is very likely to be fake.

Use add-ons: +3% to the productivity score. No matter how careful you are, you still might end up clicking on a phishing link. In that case, browser add-ons such as McAfee SiteAdvisor and Web of Trust will help you and warn you. There are chances that the site contains malicious activity. If you receive this kind of warning, pay closer attention to the email that sent you there.
Rely on common sense: +2% to the productivity score. Irrespective of the information you receive, do not lose your cool. Think carefully. Have you ever participated in a contest? Is this the email address you are registered with your bank? Are you using the brand that sent you the message? Always think before you click and be extra careful with your passwords and financial information. Run an email header analyzer to check the credibility of the email domain
By learning how to avoid phishing emails, you increase your productivity score by 8%.
#3. Shorten Your Email Address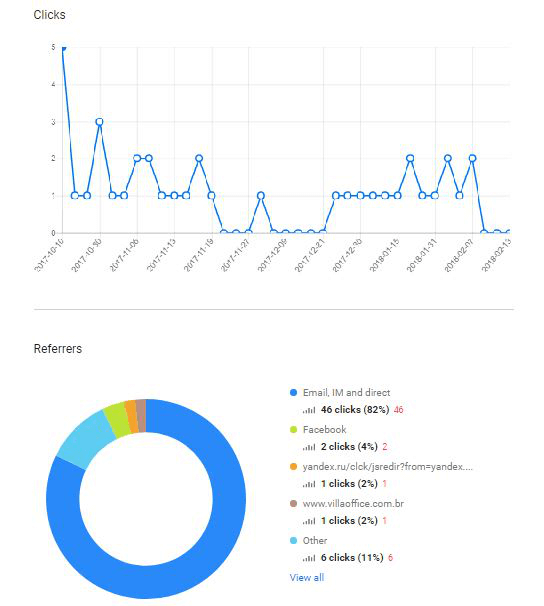 Image source: Capsulink
You can become an easy spam target if you tend to leave your email address as a plain text in forums, web pages or on social media. Shortening your email is an effective solution that does not only help you avoid spam campaigns but also, is a great way to track your email statistics.
Try out online tools like Capsulink: +10% to the productivity score.

Online tools that convert your email address to a safe and short URL can be very beneficial for everyone who

earns money online, works with the app development,etc.
When you've shortened it, your email address will look something like this: http://cli.re/hi. You can post this short link anywhere online. Once someone clicks on the link, a standard email writing window will pop up. Additionally, by adding + at the end of the link (http://cli.re/hi+) you will access detailed click statistics, including which channels and geographical locations the clicks are coming from.
By shortening your emails you increase your productivity score by 10%.
#4. Use Gmail Add-Ons
Have you ever felt like your inbox could use an upgrade? The good news is, you can easily boost the productivity powers of Gmail by using add-ons. From new practical features to time-saving interface improvements, there are many ways you can improve your email environment.
Here are a few of the Gmail add-ons that are worth note-taking:
Gmelius: +5% to the productivity score.

It offers you many useful features, such as commands for snoozing emails, scheduling drafts, and adding private notes next to individual messages.

Convert Google Docs to Gmail drafts: +5% to the productivity score

. This add-on is perfect if you wish to have a bit more control over your message appearance. It will expand your formatting powers by allowing you to open your Google Docs in Gmail. All your formatting (images, charts, graphics) will appear in your email just like in Docs.

WiseStamp: +2% to the productivity score.

This extension will help you create rich email signatures. You can easily add links to your social media accounts, add your photo or even your latest tweet. This is a great way to give your business more visibility with every email you write.
By using Gmail add-ons you increase your productivity score by 12%.
#5. Cut All of Your Emails in Half
Writing long email is not only wasting your own time but also the time of the person reading it. To increase your productivity, leave the small talk for eye-to-eye meetings and learn to write emails that get straight to the point.
Here are some tips that may help:
Avoid filler words: +5% to the productivity score.

Get rid of such words and phrases, such as "I think", "honestly", "absolutely", "literally", and other words that could be cut out without losing the meaning of the sentence.

Add bullet points: +7% to the productivity score

. If you tend to fill your emails with a lot of small (and mostly irrelevant) details, using bullet points might help. They help you write more concisely and directly.

Add documents: +5% to the productivity score.

Sometimes things you are trying to explicitly explain in your email are already explained in additional documents, presentations, websites or other sources. You do not have to rewrite the same information all over again. Just find the appropriate resource and refer your recipient to that.

Keep the small talk small: +3% to the productivity score.

While a short and pleasant "Hope you're doing fine" is a polite way to start an email, make sure you stick only to that. Remember, it's not necessary to start every message with a friendly question. Most of the time, such questions are anyways left unanswered.
By cutting your emails in half you increase your productivity score by 20%.
#6. Tame Your Inbox
Productivity expert Merlin Mann have come up with Inbox Zero – an approach to email management aimed at keeping the inbox (almost) empty at all times to increase productivity. He has identified five actions to take for each message: delete, delegate, respond, defer and do. Keep this in mind if your inbox is going out-of-control.
Additionally, there are a few other things you can do to decrease the number of incoming emails.
Unsubscribe: +10% to the productivity score.

If you're not reading a subscription email when you receive it, unsubscribe from it. It might be that you're still receiving emails every day from brands used one time or from organizations you love but never found the time for their newsletters. The app

unroll.me

can automate your unsubscribes and make the whole process way faster.

Check social media account settings: +3% to the productivity score.

Log into your social media accounts and reduce the email alerts you receive from them. Do the same for other accounts you have online.
Use some helpful apps: +7% to the productivity score. There are many apps out there that can help you deal with your emails more effectively. For instance, you can forward the email to an app like Instapaper or Pocket to read it later. In case the email asks for an action, forward it to a task management app, but if you want to keep an email for future, add it to a note-taking app like Evernote. When you've done it, delete it. This will definitely help you on your way to Inbox Zero.
By taming your email you increase your productivity score by 20%.
Wrap up
Think about how much time you spend managing your emails every day. While email has been created to improve communication, sometimes it can become a counter-productive tool. In fact, the way we habitually use email can greatly influence our productivity. Get back the control with these simple tips.
Do you have any email productivity tips yourself? Share them in the comment section below!
Do you want a free Help Desk?
We have the #1 Online Help Desk Software for delightful customer support