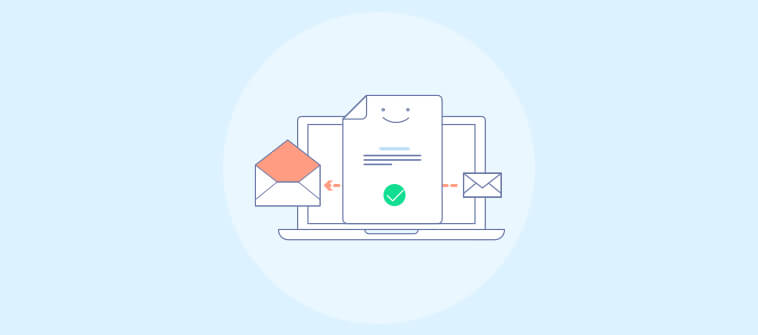 A majority of businesses are searching for the best email management software. But what can be the possible reasons?
We all know that as your company grows, emails can flood your inbox and cause a tsunami of problems. Important emails get lost, your team sends out multiple responses to a single email, and conversations lack a personalized touch. And amidst all this chaos, no real work gets done.
By investing in the right email management tool, you can manage your customer, sales, and internal emails with ease. Not just email, you can leverage other digital channels to communicate with customers, employees, businesses, and key stakeholders.
So if you are struggling to stay on top of your emails, this blog is for you. We will help you understand what this tool is all about and share 15 options that will help your team reach inbox zero faster.
Let's get started!
What Is Email Management Software?
Email management software can be used by professionals to organize, prioritize, and respond to a vast quantity of customer, business, or internal emails. You can track the progress of every email from the moment it is received in your inbox to the time an appropriate response is shared with the concerned individual or group.
According to a McKinsey study, the average worker spends nearly 28% of their workweek on emails which amounts to more than 11 hours every week. Considering the time lost in managing work emails, the right tool can help you track every conversation, enhance internal collaboration, and improve your email response times.
Read More: 20 Effective Email Management Tips to Achieve Email Success
A Quick Feature & Price Comparison Table of Email Management Tools
Software
Key Features
Price
ProProfs Help Desk
Round-robin assignment
Self-service knowledge base
Measure customer satisfaction
Develop chatbots
Automated email surveys
Starts at $20/user/month
Hiver
Distribute workload equally
Create custom reports
Organize emails with tags
Connect with other tools
Leverage mobile apps
Starts at $12/user/month
Help Scout
Automate workflows
Advanced search capabilities
Receive notifications
Capture customer feedback
Create a knowledge base
Starts at $20/user/month
Mailbird
Dark & Lite theme
Intuitive keyboard shortcuts
17+ languages
Mailbird contacts manager
Connect with social media apps
Starts at $2.28/user/month
Zoho Mail
Review emails before sharing
Organize email attachments
Advanced search feature
Create email signatures
Two-factor authentication
Starts at $1/user/month
Gmail
Custom email accounts
Connect using Google Meet or Chat
Get grammar suggestions
Block spam emails
Unlimited cloud storage
Starts at $6/user/month
Front
One unified inbox
Effortless internal collaboration
Create routing rules
Get email reminders
Rich reports & insights
Starts at $59/user/month
Groove
Intuitive dashboard
Analyze conversation trends
Facebook and Twitter integrations
SEO-friendly knowledge base
Canned email replies
Starts at $12/user/month
Helpwise
Assign emails and chats
Chat with team members
Give email access
Collision detection
Leverage mobile apps
Starts at $15/user/month
LiveAgent
Monitor social media interactions
Receive email notifications
Automated spam filtering
Forward incoming emails
Generate reports
Starts at $9/user/month
HubSpot Marketing Hub
Drag-and-drop email builder
Conduct A/B testing
Send personalized outreach
Integrate with HubSpot CRM
Leverage shared inbox
Starts at $800/month
SaneBox
Email reminders
Store email attachments
Email snooze feature
Create a folder for newsletters
Schedule breaks from emails
Starts at $3.49/month
Microsoft Outlook
Powerful search functionality
Simplify email scheduling
Prioritize urgent emails
Intuitive mobile app
Up to 1 TB of cloud storage
Starts at $5/user/month
Brevo
Share automated emails
Monitor email campaigns
Track click & open rates
Leverage API libraries
99% email delivery rate
Starts at $25/month
Missive
Organize emails with Labels
Live chat feature
Assign tasks to coworkers
Monitor WhatsApp messages
Create automation rules
Starts at $14/user/month
15 Best Email Management Software Options
After exploring the definition, it is clear that the right tool can make your team members' lives much easier. Let's look at the 15 best email management tools that can help you manage your inbound and outbound emails like a pro.
ProProfs Help Desk is one of the best email management solutions that offer a shared inbox that has a Gmail-like clean and user-friendly interface. As soon as you log in, you can access all your shared inboxes, such as support@, inquiry@, sales@, team@, etc., from the left corner of the dashboard.
As a free email management software, ProProfs Help Desk helps you create professional email signatures that can include designation, contact number, and useful links to your website. Team members can collaborate with private notes, prioritize urgent emails, and search for the right conversation using the advanced search functionality. With the live chat and knowledge base integration, you can further streamline your business communications.
Top Features of ProProfs Help Desk:
Use round-robin assignment to automatically route emails to team members
Reduce emails and phone calls by creating a dedicated self-service knowledge base
Capture average response times, customer satisfaction, and agent performance
Develop chatbots to assist customers 24×7 with their basic queries
Share automated email surveys with customers to capture their valuable feedback
Pricing:
Starts at $20/user/month (Single plan with all premium features)
Hiver is a popular Gmail-based help desk solution that helps you manage customer conversations right from the world's most-used email client – Gmail. The tool helps your customer service agents easily access, assign, track, and respond to emails based on your shared customer service account.
As an email management solution, Hiver ensures complete accountability of customer emails. Every email that arrives in your inbox has a clear status and ownership, which ensures your team members know exactly what they need to work on. Agents can easily collaborate on support emails by adding notes that are only visible to team members. Such notes can be used to discuss complex issues or simply to provide future context.
Top Features of Hiver:
Distribute workload equally using the round-robin assignment feature
Create custom reports to measure customer service metrics specific to your business
Organize and filter customer emails by assigning tags to them
Connect Hiver with other tools such as Slack and Zapier
Respond to customers on-the-go with Hiver's iOS and Android mobile apps
Pricing:
Starts at $12/user/month
HelpScout is another important email management system that helps you manage your support requests in a shared inbox and leverage all the collaboration features your team needs. For instance, your agents can send private notes with @mentions, create email templates, and avoid collision by seeing if someone else is replying to a ticket.
HelpScout offers your team useful customer context and information right in the sidebar. For instance, agents can view customer contact information, ticket history, and other crucial activities. Another unique aspect of this tool is that you get 75+ keyboard shortcuts that can help agents work more quickly.
Top Features of HelpScout:
Tag customer conversations to automate workflows and keep your inbox organized
Find exactly what you need with advanced search capabilities
Receive notifications in your email inbox, browser, and mobile device
Capture customer feedback and satisfaction ratings to improve your process
Create a knowledge base designed for customer self-service
Pricing:
Starts at $20/user/month
Mailbird is an email client for Windows that helps your team manage all your emails and contacts easily in one unified Inbox. The tool offers great customization options and helps you choose from tons of free color themes. This way, you can rise above a boring interface and adjust how your email inboxes look and feel.
Mailbird offers some of the best integration options that can help your team become more productive. For instance, you can connect the tool with apps such as Facebook, Twitter, Evernote, Dropbox, Google Calendar, and more.
Top Features of Mailbird:
Switch between the Dark or Lite theme depending on your mood or time of the day
Leverage intuitive keyboard shortcuts for replying, forwarding, and other email activities
Manage your dashboard in over 17+ languages
Unify your contacts in the best way possible using Mailbird's contacts manager
Integrate with social media apps such as WeChat, Facebook, and Twitter
Pricing:
Starts at $2.28/user/month
Zoho Mail is a popular ad-free email management service that helps you manage your business emails with ease. With the Tasks module of Zoho Mail, you can break down your daily work into manageable tasks. Moreover, you can even easily draft emails and schedule them to be sent at the right time.
Whether you deal with customers or other businesses, Zoho mail helps your business stay professional. For instance, you can create a domain for your business and set up custom email addresses for different team members, such as 'Jake@business.com'. Such email accounts give unique visibility and authenticity to your business.
Top Features of Zoho Mail:
Share email drafts with team members to get your email reviewed before you send it
Organize all your email attachments in one place
With Zoho Mail's advanced search feature, find any important conversation easily
Create email signatures that include your company's logo and links to your website
Offer secure access to email accounts and protect data with two-factor authentication
Pricing:
Starts at $1/user/month
Gmail is undoubtedly one of the most popular email clients that allow users to access their personal as well as business email accounts on any device – desktop, laptop, or mobile. With the help of its neat design, users can see new messages or notifications at a glance and decide what they wish to read and respond to.
Gmail consistently shares nudges that remind users to follow up and respond to pending emails. This ensures that no important email can slip through the cracks. In addition to this, the tool automatically blocks around 99.9% of emails that can pose a threat to your business data, privacy, or system.
Top Features of Gmail:
Get custom @yourcompany email accounts for your employees and win customer trust
Connect with coworkers anytime, anywhere using Google Meet or Google Chat
Get grammar suggestions as you compose your emails
Block spam or suspicious emails that can cause harm to your data
You can enjoy anywhere from 30GB to unlimited cloud storage
Pricing:
Starts at $6/user/month
Front is another intuitive email organization software that allows businesses from across the globe to offer tailor-made services at scale. The tool offers the simplicity of an email interface along with powerful automation and insights of a CRM. It can also be integrated with some popular business applications ranging from Github to Salesforce
With Front, employees belonging to different teams can easily work together. They can collaborate effortlessly, share faster responses, and keep all email conversations well organized. So whether you have a team of 5 members or 500, you can use this tool to hold personalized interactions at scale.
Top Features of Front:
Consolidate messages from email and social media into one unified inbox
Agents can collaborate with each other without impacting each other's work
Create rules to automatically route emails to relevant members of your team
Set reminders and ensure follow-ups are always met
Get insights into important activities and spot areas to improve the customer experience
Pricing:
Starts at $59/user/month
Groove is a leading customer service email management software that allows you to manage conversations on multiple channels. In addition to email, you can talk to customers via chat, phone, social media, etc., and deliver a personalized experience. Moreover, you can even create a self-service knowledge base that helps customers find the right answers 24×7.
When it comes to valuable insights and reports, Groove does not lag behind. You can capture metrics such as resolution time, customer satisfaction (CSAT), and measure agent performance from time to time. Moreover, easy integrations with social media and business apps such Facebook, Twitter, Slack, Shopify, etc., make this a complete tool.
Top Features of Groove:
Organize, prioritize, and solve customer problems from an intuitive dashboard
Analyze conversation trends to build a better customer experience
Enhance social media conversations with Facebook and Twitter integrations
Create an SEO-friendly knowledge base and use customizable themes to match your brand
Create canned email replies and respond to customers in minutes
Pricing:
Starts at $12/user/month
Helpwise is another noteworthy shared inbox software that helps you manage all your customer communications in one place. With shared inboxes for email, WhatsApp, chat, and social media, you can easily collaborate across your organization. You can even install the live chat widget on your website to assist customers and convert prospects into buying customers.
Rather than communicating with team members using messy emails, your agents can tag, assign, or chat with teammates using the shared inbox. You can even make the most of reports and analytics on your email frequency, response rates, and other important metrics.
Top Features of Helpwise:
Assign emails and chats to relevant owners or decision-makers
Chat and interact with team members within email threads
Give email access to different team members so that there is no need to forward emails
Get notified when someone else is replying or viewing an email thread
Easily access your team emails from the web app or mobile apps
Pricing:
Starts at $15/user/month
LiveAgent is a free email management software that helps you gain control over your customer service emails. In addition to email, you can use its live chat widget to enhance customer engagement and make it easier for them to buy from your brand. You can even invite customers to chat depending on the time they have spent on your website.
With LiveAgent, you can create ready-to-use email templates for both your customers as well as agents. Moreover, users can use the drag and drop feature to add attachments such as images, music, video, documents, etc. to emails. LiveAgent even allows you to add an online ticket history link to emails that you share with customers.
Top Features of LiveAgent:
Capture customer interactions from multiple social media platforms and organize them in one place
Automatically receive email notifications when a new ticket is created
Avoid spam emails with the help of the automated spam filtering feature
Forward incoming emails to your help desk inbox
Leverage reports for monitoring your team's productivity and performance
Pricing:
Starts at $9/user/month
HubSpot offers a host of email tools in their comprehensive Marketing Hub software. This option covers almost every aspect of email management, from creating gorgeous, on-brand newsletters, to tracking your open rates and A/B testing different designs. Marketing Hub tracks and analyzes each email, empowering you to see what customers engage with and where they click the most.
Marketing Hub lets your team share an inbox, segment your email lists, and set up automated email responses based on how users interact with your website. Besides the email tools, their Marketing Hub also includes bots, live chat, forms, and CRM integration. You can easily automate list building and optimize your marketing efforts.
Top Features of HubSpot Marketing Hub:
A fully customizable drag-and-drop email builder
Email performance tracking, including CTR analysis and A/B testing
Segmented email lists to send more personalized outreach
Integrate with HubSpot's CRM and over 800 other third-party apps
Shared inboxes and team emails that can create tickets and track customer interactions
Pricing:
Starts at $800/month
SaneBox is an AI-powered email managing software that automatically identifies important emails and organizes them to help your team stay on track. Your team members can use this versatile tool to train, snooze, trash, move, or archive email conversations in a single click.
Another great feature of this tool is that you can snooze your email conversations at a specified time in the future. For instance, you can snooze emails for a few hours, days, or until the next week.
Top Features of SaneBox:
Set up email reminders so you never forget to share important emails
Move your email attachments into the cloud
Delay email messages with the snooze feature
Create a folder specifically for all your newsletters
Schedule breaks from email notifications
Pricing:
Starts at $3.49/month (Single email account)
Microsoft Outlook helps your team send, receive, and manage their work emails using a simple inbox. Moreover, you can use its built-in calendar to stay on top of all upcoming events and appointments.
Microsoft Outlook takes the data security of its users very seriously, which is evident in the features its offers. For example, the tool automatically deactivates that contain viruses, malware, or can lead to phishing scams.
Top Features of Microsoft Outlook:
Easily locate messages, docs, and people with Outlook's search functionality
Share your availability to simplify email scheduling
Prioritize your work tasks with Microsoft To Do
Manage your emails on the go with a dedicated mobile app
Enjoy up to 1 TB of cloud storage per user
Pricing:
Starts at $5/user/month
Formerly known as Sendinblue, Brevo helps your business build customer relationships via email and multiple other channels. This email marketing tool comes with a simple drag-and-drop editor, which allows effortless email design.
Brevo lets you customize your outgoing emails with the help of expert-designed templates. For instance, you can customize template elements such as customer name, products, and pricing.
Top Features of Brevo:
Share automated emails to reduce cart abandonment rates
Create and monitor campaigns across email, live chat, and SMS
Monitor your email click and open rates
Make the most of API libraries for faster setup
Enjoy a 99% email delivery rate
Pricing:
Starts at $25/month
Missive is one of the most popular inbox management tools available in the market. With this tool, your team members can enjoy a collaborative experience and access all important communications in one place.
Missive allows you to create custom signatures using suitable text, images, and links. Another remarkable thing about this tool is that it can be integrated with many popular business apps, such as Aircall, Asana, ClickUp, Google Drive, Grammarly, Dropbox, and more.
Top Features of Missive:
Organize conversations for your whole organization using Labels
Use the live chat feature to interact with website visitors in real-time
Create and assign tasks to your coworkers
Monitor WhatsApp and Instagram messages
Create multiple rules to automate your workflows
Pricing:
Starts at $14/user/month
How to Choose the Right Email Management Software
Choosing the right email management software is essential for efficient communication and organization. Here are five steps to help you make an informed decision:
1. Assess Your Requirements
Start by understanding your specific needs and goals. Consider factors such as the size of your organization, the number of email accounts, the desired features (e.g., inbox organization, email tracking, automation), and any integration requirements with other tools or platforms.
2. Research Available Options
Conduct thorough research to identify email management software that aligns with your requirements. Look for reputable providers and compare their features, pricing plans, user reviews, and customer support. Consider both standalone email management tools and those integrated into larger productivity suites.
3. Evaluate Features
Make a list of all the essential features you need in email management software. Some common features to consider include inbox labels, email templates, email tracking, reminders, team collaboration, integration with other apps, and security measures. Prioritize the features based on your organization's unique needs.
4. Test & Compare
Take advantage of free trials or demo versions to test the shortlisted email management software. Use real-life scenarios or sample data to assess their usability, performance, and overall user experience. Evaluate how well each software meets your requirements and addresses pain points in your current email management process.
5. Consider Scalability & Pricing
Consider your organization's future growth and scalability when choosing an email management system. Assess whether the software can accommodate increased email volumes, additional users, and new features or functionalities. Compare the pricing plans and ensure they fit within your budget while providing value for the features and support you require.
Reach Inbox Zero With the Best Email Management Software
When you have just started your business, new emails can excite you. But the situation can soon turn into a nightmare when you have more on your plate than you can chew. With the best email management tool, you can enhance internal communication, and collaboration, and improve your email support.
While choosing email management software, look for features such as shared inbox, canned responses, collision detection, and smart reporting capabilities. It is also important to ensure the software can integrate with your existing business tools for a well-streamlined process.
All the tools mentioned in this blog have been handpicked after considerable research. If you are looking for a tool to manage customer service emails, you can go with ProProfs Help Desk. However, if you need a tool to simply manage your business or internal emails then Mailbird can be a good option.
Do you want a free Help Desk?
We have the #1 Online Help Desk Software for delightful customer support