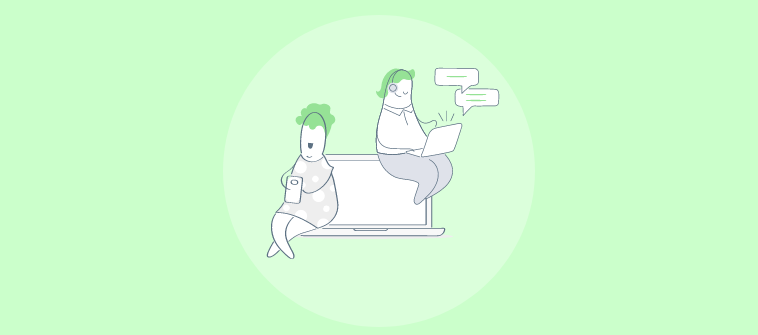 In this battle of CRM vs ticketing system, which tool deserves your attention?
If you prepare a list of the most popular tools used by modern organizations, you will likely find CRM and help desk ticketing systems in the top five.
A CRM is primarily used by sales and marketing teams to access customer data and enhance customer relationships. Whereas a help desk ticketing system plays a crucial role in tracking customer communications and improving the customer experience.
There is no surprise that most people use the terms CRM and ticketing system interchangeably. So are there any similarities between the two tools? If not, what are the differences? Frankly, both tools are designed to address different challenges at different touchpoints of the customer journey.
For a clear-cut answer, we need to compare CRM with help desk. Just sit back and relax, as we have already done the heavy lifting for you. Before we start drawing any conclusions, we'd like first to define each software and the unique benefits they bring to the table. Later, we will explore the major areas of difference.
Let's go!
What Is a CRM?
Customer Relationship Management, or CRM, is a popular business tool that helps you manage the company's interactions with customers and prospects in one place. A dedicated CRM software helps a business store crucial information, build better customer relationships, and enhance profitability.
Decades ago, customer information was scattered all around the place. While the CEO had info about some of the top clients, the sales staff members had some information about others. However, all that has changed today. A CRM system combines all communications (forms, calls, social media inquiries, emails, text messages, quotes, purchase orders, etc.) for better visibility.
Why Use CRM for Your Business?
Modern marketing and sales operations are incomplete without a dedicated CRM tool. Don't believe us yet?
Here are the top benefits of using a customer relationship management system:
1. Centralize Important Customer Data
CRM systems help you store all customer data in one place so your team members can access it anytime and anywhere. You can store different types of information in your CRM database – contact name, email address, contact history, order history, social profiles, health score, and other metrics.
A centralized data storage platform is important, especially when your sales, service, and marketing teams operate from different locations. When the right customer data is available at everyone's fingertips, the entire organization can join hands to foster long-term customer relationships.
2. Track & Convert Leads
A lead refers to a prospect who is interested in your business – any specific product or service. Now, your marketing team is responsible for generating leads using a variety of channels such as social media, email marketing, PPC ads, and more.
All these leads can be stored in your CRM, and your team can track the lifecycle of each lead from a shared dashboard. No matter where you have attracted your leads, you can stay on top of every lead information. The sales team can access lead information and reach out to convert them into paying customers.
3. Segment Your Audience
For any business, there are different customers at different stages of the buyer journey. While one may have recently shown interest in your product during an event, another might be a loyal brand advocate.
CRM tool enables your sales and marketing teams to reach out to different customers using different techniques. For example, a rep can filter the customer list by age, location, company size, product, and more. If your business has launched a new product for the age group of 18 to 35, the rep can easily identify the target audience.
4. Automate Your Sales Process
Another crucial benefit of a CRM tool is that it can free your team from repetitive and error-prone tasks. With powerful automation features, your team can avoid manual work and accomplish more in less time.
For example, you can share outreach emails with thousands of customers and prospects in a single click. Similarly, your team members can receive automated reminders, which helps them know when they need to follow up with customers. In addition, you can even automate the process of distributing new leads amongst sales professionals.
5. Improve Decision-Making With Reports
Data is pivotal for any business when it comes to reliable decision-making. However, data is of no use until it is cleansed, organized, and presented via visually attractive graphs and charts.
CRM platforms can help you unlock data and insights that are not visible to the naked eye. With the help of relevant metrics, you can monitor the performance of your sales agents and track the performance of different marketing campaigns. Moreover, CRM systems even give you the option to filter, download, and share reports with key stakeholders.
What Is a Ticketing System?
A ticketing system is a powerful tool that can help your business convert customer requests, issues, and complaints into support tickets. Customer service agents can take necessary actions on tickets, such as adding labels, prioritizing urgent issues, assigning them to different departments, and marking them as closed once the problem is resolved.
Modern help desk tools allow users to create a dedicated self-service portal. This allows customers to find answers to their basic queries using help articles, video tutorials, FAQ pages, and more. Moreover, automation features ensure your team can focus less on mundane tasks and more on delivering delight.
Read More: Top 10 Ticketing System Best Practices & Tips
Why Use a Ticketing System for Your Business?
Ticketing systems can help your business deal with high volumes of issues and complaints. But that's not all.
Here are the top 5 benefits that show how ticketing systems can help your business grow:
1. Capture Issues From Mulitple Channels
Gone are the days when customers would visit your office to drop a complaint. Modern costumes are quick to reach out to brands and share their negative experiences.
According to Statista, 64% of customers stated that email was their favorite channel for contacting a business for support. 36% prefer social media, and 30% choose phone support.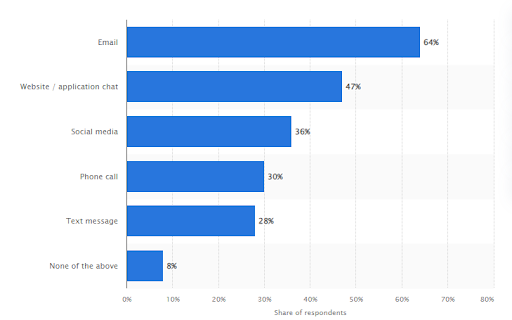 Whether customers contact you via email or live chat, a ticketing system can record all conversations from start to finish. This way, agents do not have to waste time switching between different tools and can view all support-related messages in one place.
Read More: What Is An Omnichannel Customer Experience? Benefits + Examples
2. Facilitate Team Collaboration
You can take your customer service to the next level when all your team members join hands to resolve complex customer issues. A ticketing system gives you the right platform to encourage team collaboration.
For example, agents can add private notes to tickets to share inputs or seek help from other agents. This is what a private note looks like: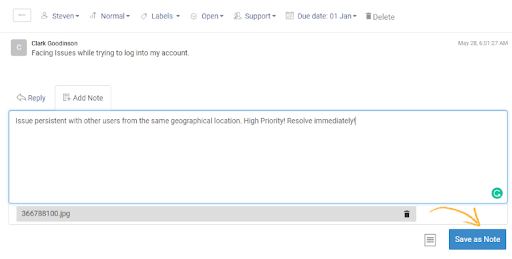 Another great example would be the agent collision detection feature which allows your team members to see who is working on which ticket. This simple feature helps you avoid duplicate work and offers better work transparency.
Read More: Ten Tips to Motivate Your Customer Support Team
3. Organize Issues With Labels, Statuses & Priorities
Which issue needs urgent attention? Which complaint needs assistance from the logistics team? You will only know the answers to these questions once a ticketing system in place.
Labels are tags that can be used to differentiate between tickets. For example, an agent can add the label "Billing" to a ticket to convey that it requires attention from the accounts or the billing department.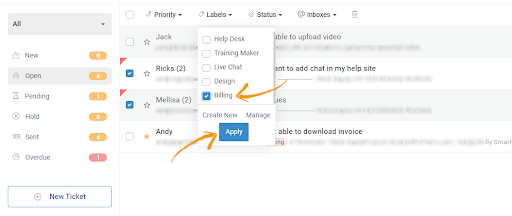 Similarly, agents can even organize tickets based on their priorities (High, Low, or Normal). Moreover, different statuses (New, Open, Pending, Overdue, Closed, etc.) can be allotted to support tickets for better categorization.
4. Track Valuable Service Metrics
Online ticketing systems offer built-in reports and analytics to help you make the right decisions at the right time. Support managers can see which areas are doing well and which areas demand more effort.
You can track the most popular customer service metrics, such as average ticket response time, ticket resolution time, open tickets, rated tickets, customer satisfaction, and more. Based on your team's objectives, you can prioritize these metrics to evaluate your team's performance.
Read More: 15 Help Desk Metrics to Improve Customer Support
5. Improve With Customer Feedback
You may hire the best customer service professionals or invest in AI technology. But what do customers really feel about your service? Well, there is only one way to find out.
A help desk ticketing system enables you to share email surveys with customers right after their support interaction. Customers can rate their experience on a given scale (1-5 or 1-10) and share what went well or what could be improved.

Monitoring these ratings over time can help customer service managers track agent performance. If an agent consistently receives high ratings, you can encourage this behavior through recognition or incentives.
Read More: Customer Satisfaction Surveys: 100+ Questions & Examples
CRM vs. Ticketing System – How They Are Similar
Are you wondering if CRM and help desk have anything in common? Yes, they do.
Both business platforms are focussed on storing and tracking customer communications. Your team members can easily track the conversations taking place on different channels such as email, phone, live chat, social media, SMS, etc.
In addition to this, there is another important similarity between the two. Both tools can help you drive customer loyalty and boost profitability by enhancing the customer experience at different touch points.
Now that we have explored the similarities, it's time to focus on the differences between help desk and CRM.
CRM vs. Ticketing System – What Are the Differences
On comparing CRM with ticketing system, you will notice that there are some stark differences between the two. While some differences are common, others you will be surprised to find out.
1. Strategic vs. Reactive
Both tools are quite different in their overall approach. CRM tools adopt a strategic approach to enhance customer lifetime value (CLV). Sales experts can observe customers' buying behavior, segment their audience, and reach out to them with unique strategies. On the other hand, a help desk adopts a more reactive approach – agents resolve issues only when they are brought to their attention by customers.
2. Sales vs. Customer Service
Ask any layman about the difference between CRM and a ticketing system, and they will tell you that the former is meant for the sales team while the latter is for support teams. CRM platforms are popularly used by marketing professionals for lead generation and sales reps for lead conversion. On the other hand, a ticketing system is primarily operated by customer service agents to track requests and complaints in one place.
3. Customer Relationship vs. Service Experience
The CRM database stores important information that can be used by marketing and sales professionals to build long-term customer relationships. The focus area is quite broad as it encompasses multiple touchpoints in the customer journey. On the contrary, a ticketing system only focuses on the service experience, which is a small part of the customer journey.
4. Encourages Communication vs. Prevents Unnecessary Communications
There is another major area of difference between CRM and ticketing solutions. Marketing teams are always looking to start a conversation with prospects to spark their interest in the products or services they sell. For example, they share marketing emails in the hope of a response or sales inquiry. On the other hand, a ticketing system can help you reduce your ticket volume. For example, you can create a knowledge base to encourage self-service and prevent unnecessary contacts.
Which One Should You Choose?
CRM vs. ticketing system, which one should you choose?
"The reality is that help desk tools and CRM platforms were never designed to compete against one another. In fact, most businesses give equal consideration to these tools to enhance their sales and customer service processes."
If you wish to consolidate your ever-growing customer data in one place, a CRM database can be the ideal solution. Your marketing and sales professionals can work together, track the progress of leads, and monitor the overall health of each customer.
If you wish to automate your customer service process and track agent performance, a help desk ticketing system is a great bet. You can start with a basic plan and, later, switch to higher-priced plans as your requirements grow.
What if there was a single tool that met both these needs perfectly?
That magical tool does exist. A help desk with CRM integration can help you bridge the gap between your sales and support teams. Support agents can access 360-degree customer information to offer highly personalized service experiences. Even the leads generated through live chat (an important feature of a help desk) can be stored in your favorite CRM.
Help Desk and CRM: The Perfect Partnership!
CRMs and ticketing systems are adopted by organizations to attain a common goal – retain customers and boost revenue. However, as we move closer to their features and functionalities, we observe that there are quite many differences.
A CRM tool is used primarily by the sales team to improve customer relationships. On the other hand, a ticketing system is used by support agents to enhance the service experience. While CRM adopts a more strategic approach, a help desk is more reactive in nature.
If you are looking for a single tool that can meet both needs, you have come to the right place. ProProfs Help Desk is a cloud-based ticketing solution that can be integrated with leading CRM tools such as Salesforce and MS Dynamics. It's the perfect platform that facilitates real-time collaboration between sales and support teams.
Do you want a free Help Desk?
We have the #1 Online Help Desk Software for delightful customer support