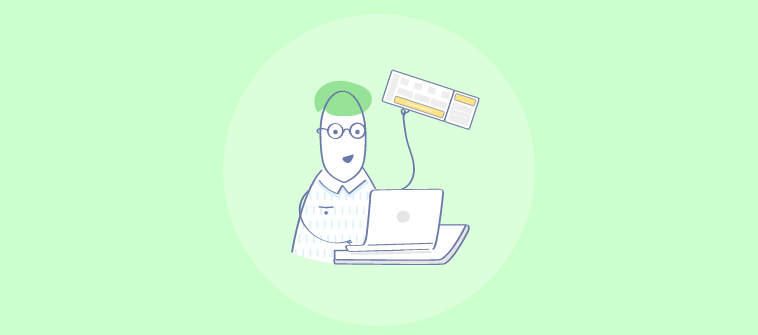 Human resource professionals are considered the unsung heroes of any organization. But increasing attrition rates, employee expectations, and hiring challenges have put these heroes in deep water.
So what can you do to support those who support your valuable employees?
An HR ticketing system can help your team rise above hundreds of paper resumes and thousands of unread emails. You can track every employee request from start to finish, prioritize urgent issues, encourage self-service, and measure the employee experience.
It is wonderful to see that employee support and engagement are finally taking center stage in the business world. When employees can get their issues resolved quickly, they can perform better and align with the company's values and mission.
In this blog, we will understand what HR ticketing software is and its various use cases. Later, we will discuss the top 10 benefits of an HR ticketing system that will help you delight employees and retain your best talents.
What Is an HR Ticketing System?
An HR ticketing system is a software platform that stores all the communications taking place between the HR team and employees of the organization. You can communicate with potential candidates, new joiners, and existing employees on different channels like email, live chat, help center, web forms, chatbots, etc.
The best HR ticketing system can help you improve your interview, onboarding, training, and exit processes. HR reps can prioritize urgent employee issues and leverage automation to share faster responses.
The tool offers multiple self-service solutions, such as a knowledge base and chatbots. Ultimately, they can reduce the workload on your HR professionals and help them focus on critical tasks. Moreover, HR managers can track response times and other metrics to enhance the employee experience.
How Does an HR Ticketing System Work?
HR ticketing systems work like any other ticketing system used by customer service or IT support teams. The process starts when an issue is received by the HR department and ends when it gets resolved. Here are some crucial steps that will help you understand this better:
Step 1: It all starts when an employee registers an issue or request through any active channel such as email, live chat, phone, etc. The employee can also choose to raise a ticket on your internal knowledge base or HR portal.
Step 2: As soon as the message is received in the HR help desk inbox, HR reps are automatically notified of a new ticket. They can receive a 'New Ticket Notification' via email or SMS. Similarly, you can share automated notifications with employees stating that a new ticket has been created for their issue or request.
Step 3: The new ticket can either be manually picked by HR reps or assigned to them automatically based on their current availability. Once a ticket is assigned, other team members can see its status in real-time and avoid sharing duplicate responses.
Step 4: In this step, the ticket resolution process begins. The HR rep can share the best solution with the employee or discuss the issue with fellow team members. Here are some actions that can be taken:
The HR reply can reply to the ticket explaining the solution
Discuss the issue with other team members using internal notes
Escalate the ticket to a senior or HR manager
Break the ticket into smaller child tickets and assign them to other departments
Step 5: In this final step, the HR professional shares the solution with the employee and marks the ticket as 'Resolved' or 'Closed'. An automated survey is immediately shared with the employee asking them to rate their service experience.
Use Cases of HR Ticketing Software
HR help desk ticketing system can help you resolve employee requests and issues. But that is just one small aspect of it. Here are some popular use cases you should know:
1. Hiring
HR recruitment professionals are always scanning through hundreds of resumes to find that one ideal candidate. It is possible to lose track of important emails and miss out on talented people.
With HR ticketing software, you can manage all your hiring email accounts, such as recruitment@company, careers@company, or talent@company, etc., in one place. Hiring managers can even discuss resumes with each other using private notes. This way, the process of resume tracking gets simplified as everything is in plain sight.
2. Onboarding and Training
Employee onboarding and orientation require a lot of documentation. You have to explain to new joiners about leave policies, company structure, roles and responsibilities, code of conduct, and so on.
Instead of handing out paper, you can give employees access to your internal knowledge base. They can easily scan through all the company policies and get themselves well-acquainted with the work culture. Moreover, they can even access training materials that will help them learn, grow, and perform better at their jobs.
3. Employee Satisfaction
Did you know that around 31% of workers report high levels of stress at work? This makes it all the more important for you to monitor your employee satisfaction and happiness levels.
Most modern-day ticketing systems allow you to share meaningful surveys with your employees. You can share these surveys via email, social media, or website embedding and view all survey responses in real-time. Consistent monitoring of employee satisfaction will help your business create the best work environment.
Top 10 Benefits of an HR Ticketing System
If you are looking to invest in ticketing software for your team, there has not been a better time. Here are 10 HR ticketing system benefits that deserve your attention:
1. Centralize All Employee-HR Communications
HR professionals are one of the busiest people in the office. A single sight of them is enough for employees to run after them with their questions or requests. As a result, critical issues and requests can be easily forgotten or lost.
HR ticketing system software can help you centralize all HR-employee communications. You can allow employees to report their issues via email, chat, phone, or web forms and track them in one place.
For example, if an employee shares a complaint via email, a ticket is automatically created in the HR help desk portal. This gives HR professionals greater visibility into issues and helps them track everything in one place.
Even staff members can get insight into their tickets' progress. They can log in to the portal to view all ongoing or past help tickets and submit new ones if needed.
2. Gain Complete Control of Team Email Accounts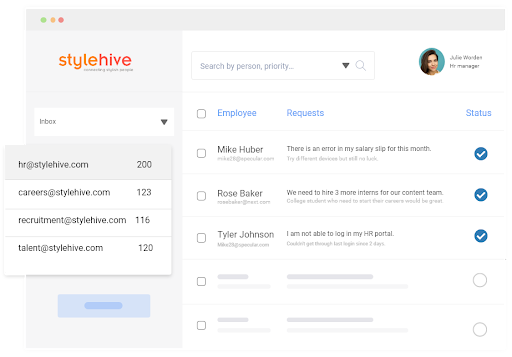 HR teams receive hundreds of emails every day. While potential candidates share their resumes, existing employees make leave requests or harassment complaints. In such a case, switching between different email accounts can impact productivity and performance.
With the shared inbox feature, HR team members can access multiple team email accounts, such as hr@company, careers@company, recruitment@company, talent@company, etc., in one place.
Whether you use Gmail, Yahoo, Outlook, or any other email client, you can enable email forwarding to receive email conversations directly in your help desk inbox.
Your reputation is at stake with every outgoing email you share with staff members, candidates, or the leadership. A shared inbox tool helps you develop custom email signatures to send professional-looking emails to people.
Read More: 10 Shared Inbox Best Practices For Email Success
3. Save Time With Canned Responses
Most HR inquiries are repetitive in nature – Are we hiring for position X? Where can I find our company's leave policies? And so on.
Canned responses are pre-designed response templates that can be used to share faster email and chat replies. You can create different canned responses for different employee inquiries.
For example, imagine an employee sharing an inquiry, "Where can I find our leave policies?" Now, instead of typing a long reply, the HR professional can simply use a relevant canned response and save everyone's valuable time.
However, simply copy-pasting response templates can make your message look impersonal. To personalize your message, include the recipient's name and other details, and add a healthy dose of empathy.
Read More: 11 Best Canned Response Templates for Customer Support Emails
4. Collaborate With Other Departments
HR teams need to communicate consistently with other departments to fix problems and make life easier for everyone.
Go for a help desk tool that offers great internal collaboration and communication features. Workplace collaboration will help you streamline processes and enhance team productivity.
There are multiple internal collaboration features that you can expect in your ticketing system. For example, HR reps can discuss employee issues using private notes that are only visible to them.
If they feel a request demands assistance from a different department, they can break the ticket into multiple child tickets and assign it to them. In addition,
5. Enhance Work Accountability
Does your HR team struggle with work accountability? Do HR reps keep stepping on each other's toes?
With a ticketing system for HR, your team can gain better visibility into their daily work and tasks. Team members can see who is working on which ticket to avoid sharing duplicate responses.
A ticketing system ensures every incoming support ticket has a unique owner. HR professionals can manually pick tickets for themselves, or you can choose to assign tickets automatically with the round-robin method. This is a great way to ensure that no conversation is lost or kept unassigned for long.
You can even assign different roles and permissions to HR members to restrict their access to the help desk platform. For example, people with the Manager role can access reports and take bulk actions on tickets. Similarly, people with the Staff role can only view and reply to tickets.
6. Add More Value With an Internal Knowledge Base
We often see companies create a simple website page or a small help section to tackle employee issues. But this will only make your business appear unprofessional.
An internal knowledge base designed to host FAQ pages, video tutorials, technical troubleshooting guides, etc., is a whole different ball game. It is a great way to encourage self-service and make it easier for employees to find answers on their own.
Employees can access the knowledge base from anywhere as long as they have an internet connection. They can easily scan through HR policies, leave applications, training materials, company documentation, procedures, and other articles.
You can control who gets to view these documents by keeping your help center public for everyone or private for employees. To improve your company's knowledge management, you can capture customer feedback on the helpfulness of different articles or pages.
Read More: How to Create an Internal Knowledge Base
7. Manage Remote Workforce With Ease
After the COVID-19 outbreak, most companies have embraced remote working with open arms. But going remote is one thing and striking a balance between office and remote teams is another.
Buffer State of Remote Work 2022 states that nearly 49% of workers operate fully remotely. Only 11% of workers work from the office where remote is allowed sometimes.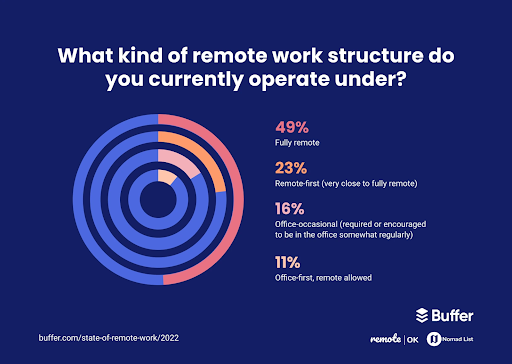 When we talk about this hybrid work model, communication is a huge barrier. However, an HR ticketing system simplifies this by allowing employees to share their grievances and requests from any part of the world.
Moreover, even HR professionals can use the help desk mobile app to connect with employees on the move. They can view messages, prioritize issues, and connect with employees despite geographical boundaries.
Read More: 16 Tips for Managing a Remote Customer Service Team
8. Track Response Times
Employee issues, if not handled in time, can hamper your reputation or even jeopardize your business. For example, if a sexual harassment complaint is kept unnoticed for weeks, it can raise serious questions on your team.
With an HR ticketing system, managers can keep a firm tab on individual and team performance. You can track metrics such as average ticket response time, ticket resolution time, open tickets, and more.
It is important to note that your average ticket response time can differ from one channel to another. For example, for live chat, ART can be anywhere from 1-2 minutes, and 6-24 hours for email.
In addition, you can send an automated survey right after an interaction and allow employees to instant rate their experience. Such ratings will help you dig deeper into employee sentiments and identify improvement opportunities for your team.
Read More: 15 Help Desk Metrics to Improve Customer Support
9. Monitor Employee Experience (EX) With Surveys
One of the KRAs of an HR team includes measuring and improving the employee experience (EX). When done right, it can lead to low attrition rates and help you attract potential talent to your organization.
Many companies struggle to get a realistic picture of how their employees feel about the workplace, their relationship with managers, or their work responsibilities.
According to a study, staff members who don't feel comfortable providing upward feedback are 16% less likely to stick with a company.
So what can be the way out? An HR services ticketing system helps you share automated surveys with employees to gauge their sentiments. Here are some questions you can ask in your survey:
How satisfied are you with the solution offered to you by the HR team?
Does your manager value your feedback?
Do your superiors communicate company news effectively and in a timely manner?
Do you think work is distributed equally across your team?
What can we do to improve our human resource department?
While taking feedback is important, it is equally important to act on it. Share frequent surveys, take necessary actions, and make your employees feel heard.
Read More: 40 Employee Satisfaction Survey Questions That You Can't Ignore
10. Capture Relevant Data With Forms
Online forms are a great tool for capturing in-depth data and employee details. HR teams are always dealing with forms for candidate evaluation, employee onboarding, training registration, exit feedback, and more.
HR ticketing tool helps you create forms for different purposes. You can customize your fields and upload them on your website or help center so that employees can download them anytime.
What are the benefits of using online forms?
Online forms are cheaper & faster: There is no need to print paper or waste money on postage stamps. You can easily create a form and share it with thousands of employees with a single click.
Customize to suit your needs: Online forms can be designed keeping your audience in mind. You can skip questions that are not relevant to your research and add a company logo for better branding.
Store data in one place: The HR ticketing system can help you store all your form and survey data in one place. This way, you can access critical information such as employee feedback, recruitment details, etc., anytime you want.
Read More: 75+ Human Resources Survey Questions To Ask Your Employees
Improve Workforce Management With HR Ticketing System
Employee experience isn't just another buzzword. It can decide your company's fate. You need to invest in the right HR ticketing system software to offer uninterrupted and quality support to your employees.
There are wholesome benefits you can expect for your team and organization. The best ticketing system can help you centralize all employee communications, save time with automation features, encourage collaboration, manage your remote workforce with ease, and improve your response times for enhanced productivity.
If you are looking for the best HR help desk software for your organization, your search ends right here. ProProfs Help Desk comes with all the features and capabilities you need to support internal employees and external customers. In addition to a powerful ticketing system, you can create a knowledge base and develop chatbots to automate interactions.
Do you want a free Help Desk?
We have the #1 Online Help Desk Software for delightful customer support